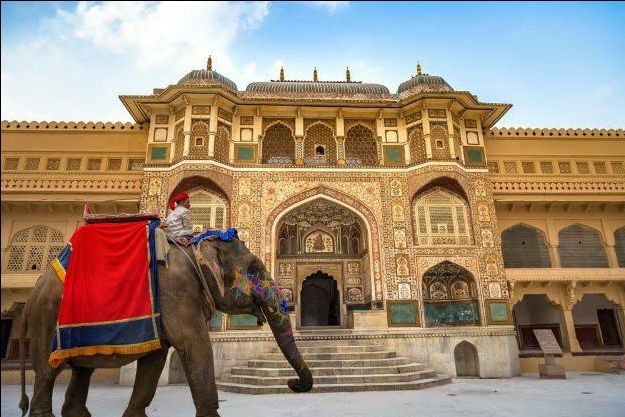 PETA India, an Animal Rights Organization, works under the the simple principle that animals are not ours to eat, wear, experiment on or to use for any kind of entertainment.
No matter how much we may ignore, more often than not, the animal rights are violated in the travel and tourism industry. Especially when it comes to zoos and safaris, the innocent animals are used for the purpose of rides and various time they are even made to parade across temples drawing huge crowds. The level of cruelty inflicted upon animals is boundless.
Elephant Rides at Amer Fort
Around the forts of Rajasthan, elephant rides happen to be a significant attraction for the tourists. Although elephants are large and strong, they are not built to carry weight on their backs. Carrying just one adult on its back can cause the elephant pain and over time, potentially even spinal injury. PETA representatives also submitted a factsheet to the Chief Secretary citing shocking instances in which captive elephants have reacted to the abuse they had to deal with at Amer fort. This incident had led to serious injuries, deaths and destruction of property. A request was made to safeguard tourists and the general public from such health and safety risks.
PETA to the Rescue: An Initiative Taken That Will Safeguard Both Animals and Tourists
PETA, soon after the recommendations, collaborated with a leading design company Desmania Design to create a modern electric vehicle. The unique design, which PETA in collaboration with Desmania Design suggested, is to be named as Maharaja and it resembles a royal chariot. The Managing Director Anuj Prasad of the designing company said, "Desmania is delighted to offer this eco and animal-friendly electric vehicle design, which would deliver a memorable experience for visitors while helping to end cruel and archaic elephant rides."
It is a delight to know Amer Fort is one of those tourist places in India that won't allow animals for entertainment purposes. Here's hoping more sites follow suit.
Ready to travel for free? Earn credits and redeem them on Tripoto's weekend getaways, hotel stays and vacation packages!
Explore the best of travel inspiration on Tripoto Instagram!