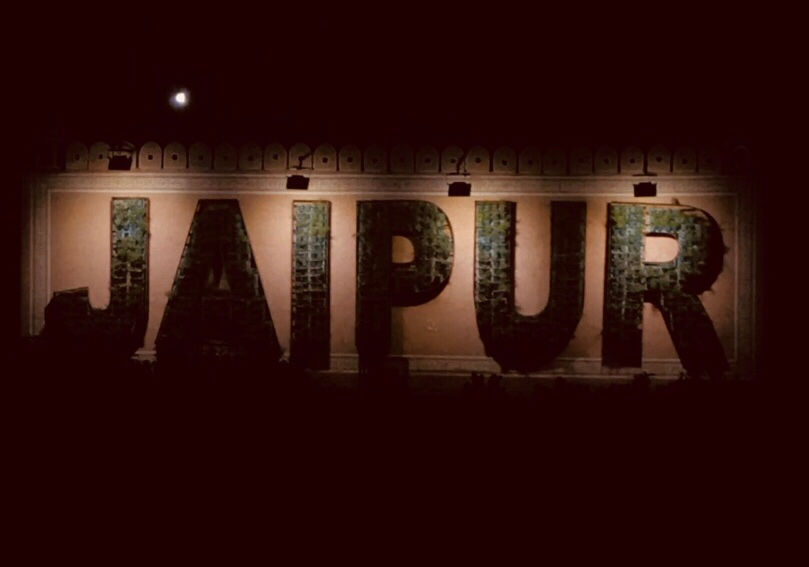 Life is a book, and one who has not travelled has read only one chapter!
Let me start with a disclaimer: What you are going to read is certainly to guide you about key places of Jaipur, but there's going to be hell lot food in it, so beware!!! ????
Mind was boggled with so many work off lately that it badly craved it's travel shots. It was in a long while that I travelled to some place other than work so this was quite a break to be taken. The weeks been full of travel and meeting and cetera cetera. Closing the final meeting in Chandigarh, I got a seat reserved in train which dropped me delhi by 10 at night. Hiring a cab I reached Chhatarpur to a friend's who was going to drive us to Jaipur. Yes it was finally happening and for the very first time with him. It did not took us more than 30 minutes to leave home and by 11:30 or so we were already on the go.
So Jaipur it was. As the people call it- The Pink City! Being a heritage city, most of the places are clean and beautiful. Be it during day or night, whatever time you take the city tour, it has its own charm. Good roads and managed traffic makes it a way bit easier to commute. The chirps of the city keeps you going and if you are happened to be there during the weekends, that will be an icing on the cake. Jaipur jogs, Jaipur eats Jaipur roams, Jaipur shops and Jaipur parties like crazy monster on with no inhibitions.
We reached Jaipur early morning and hit the bed straight away. It was only by 10 that we could think of other things happening around. By the time we stepped out of the house, Mr Sun told us, Honey, You are late! We felt the scorching might kill the fun to roam but after a while we got used to of it and headed straight towards Namo Tea stall. The city has some wonderful tea joints which serves you some amazing Tandoori chai which they offer you varieties in flavours. Being operated by lady brigade, they served some delicious food as well. We tried Bun Makkhan, Keema Pav and Tandoor waali Maggi. All of them were a scale of taste in themselves. The overall mahoul at the joint felt so much Indian. If you know any ounce of Indian politics you would already have imagined the colour of the shop. Yes it was Saffron! There were some 4 other chaps sitting besides us who were, seemed to be over passing the Lalit Modi's idea of cricket very soon. Their rocket talks were the only entertainer that we got with tea and snacks, and that too, exclusively!
After spending some lovely time, we decided to do some shopping and bird watching so we headed towards Worlds Trade Park. WTP is the most visited and crowded mall of the city and is quite in capacity as well. Shopping, we headed back home, took shower and left to see sunset at Nahargarh!
Nahargarh is a Fort atop hill which gives you mesmerising view of Sunrise, Sunset and the city of Jaipur. It's recommended if you visit Nahargarh, go there with ample of time. Do kick your ass to take a walk around the circumference along with the fort's fence. When you are taking a walk around, you will get various platforms in between that might have been used by the soldiers to keep a good watch. These are so designed that they give a fantastic aireal view of the city. Don't miss the chance to stop and observe the light of the city turn on one by one till it seems like diamonds scattered on the earth. We waited there till it went real dark before moving ahead.
When you get down the hill of Nahargarh you are almost at Jal Mahal. It's basically a palace in midst of a lake which in the evening, looks fabulous with the lightings done around it. The reflection of mahal in water is such an admirable beauty to see. This is one more adda of the city where the locals love to spend their evenings, and you will specially find families here. There's a long walking bay at the circumference of the lake that makes easier for people to walk and roam. You can munch street food while at the place as they are at rife there. The crowd on weekend might make it way too tougher for you to get a parking. Overall, I liked the place as it was really very vibrant.
We decided to keep the evening light and went to Gaurav Tower after Jal Mahal. Mark my words, if someone has been to Jaipur and covered it good, he will surely know the colours of GT, especially during evening. It's real Happening! There's offices, shops and other stuffs in the tower and there is an artium at the entry which has some superb eateries and a juice shop. It seemed whole Jaipur has come to GT for their evening. All food joints full, long waiting at the counters and even the loo was not relented. We sat there for some good time eating the street food. By 10 or so we decided to get our foods packed and head back to place.
Next morning was usual- late and lazy. Tea being the constant, we decided to try another joint this time- Sikhora. This place has beautiful outdoor seating under tree and has quite a clean surrounding. The host was quite happy to show us the entire process how a tandoor waali chai is prepared and let us record it too. We have couple of teas here with some delicious Misal Pav (Marathi cuisine) which is highly recommended if you happen to be at this outlet.
Filling our food tanks we left to see Hawa Mahal in the old city. It is advised to be very judicious to choose a right time to plan a visit to this side of the city as it is generally too very packed with traffic during the day time. The old construction and planning does not suffices the entry of so much of vehicles at the same time and the traffic management goes for a toss. It took us quite a time to finally reach to this Monument which again speaks the quality of architecture that was being practiced past then. Hawa Mahal, as the name suggests, is very windy due to the abundance of ventilators or say small windows in the structure. The Pink colour to the heritage makes it even better a tonic to the eyes especially during the dark, when lights are splashing on to it. I so wanted to believe that it's just a humongous piece of sketch and not a structure of brick and cement.
When you are already in the old city, you should not, by any chance leave any opportunity to visit Choti Chaupad and Badi Chaupad. These two are basically well planned complexes of shops which echos the same heritage and the theme colour of Pink. It has double road and almost all the shops are facing towards the main road. Alas, this is also very congested and has a lot of traffic signals, making the commute tough over all, but one need to bear with it once in the old cities. This place is good if you want to purchase some authentic Rajasthani stuffs. We had no such plans in our minds as it was already preoccupied with thoughts of Malpua and Rabdi. And why not! I swear on God, I have never had a tastier version of them in my life. We all repeated and repeated till we got obsessed with too much of sweets. Our obsession reached to an extent that we had to had some Pani Puri (they call it Patasi) to neutralise the sugar.
You can visit Albert museum too when in that area as it is not that far away but being short of time and with majority vote we decided to go to Amer Palace. We decided to see it from outside as it was already nearing twilight and it is not very much closer to the city as well. We spent some time there and left to see how Jaipur parties. We reached a cafe by 7:30 in the evening and ordered our things. There was good music, ambience and crowd was so so. We had to follow up for DJ being played as it did not started by 10! We thought that there must be some cutoff timings for loud music but we were amazed to see the crowd still coming in and party getting hotter. We were there till 12 and till we left, we still had a feeling of party getting started. Don't know till what time these people dance and party. But it was a high voltage affair!
The next day we spent the entire first half of the day resting our digestive system and let the body recover to normal. It was only by 2 on the noon that we decided to roam in the city again. We have been to Sudani sweets where we had this must eat Pyaaz Kachori which everyone has to have when in Jaipur. We also had some wonderful lassis and Imarti. Later we chose to drive pass Jawahar circle which, I can tell you, is the lungs of the city. This is the place from where the city breathes. Mornings and evenings here are splendid and joggers are all set to the rhytm of the plentiful chirps of the birds buoying up their energy levels. One must see this place functioning. Then we headed towards the old city through Raj Mandir theatre. Though we were very crisp due to our timings but localites talks very high about why you should watch a movie or two in Raj Mandir. If you get to manage some hours from your schedule and have a good flick on its release, you should catch a cinema here.
Doing this we had a city tour and we went to GT by sunset and had some street food there. Late evening, we went to RJ-14, a good fine dine restaurant where we waited for around 30-40 minutes to get a table. It was a birthday in the group and it called for another round of massive eating. This place has a lovely ambience and top of the world food which justifies the extra time you wait outside. I will call it a glorified dhaba with excellent quality.
Next was what is kind of compulsory to be done- Paan! Located in Kumhoron ki talai, this place has plethora of varieties on their list which tastes damn good. I don't remember which one did i opted to have but trust me, it is not even nearer to the Paan that you will have at rest of the places. The size to just too very big to fit in your mouth at once. I took the challenge and stuffed it that really bad that I was in no condition to speak for some 10-15 minutes. The place was jam packed even at 10:30 at night and took us time to get the order serviced.
Happily we went home with tummies full till top to leave the city next morning.
And this is how first chapter of Jaipur comes to an end.
You don't roam in Jaipur, you live it!