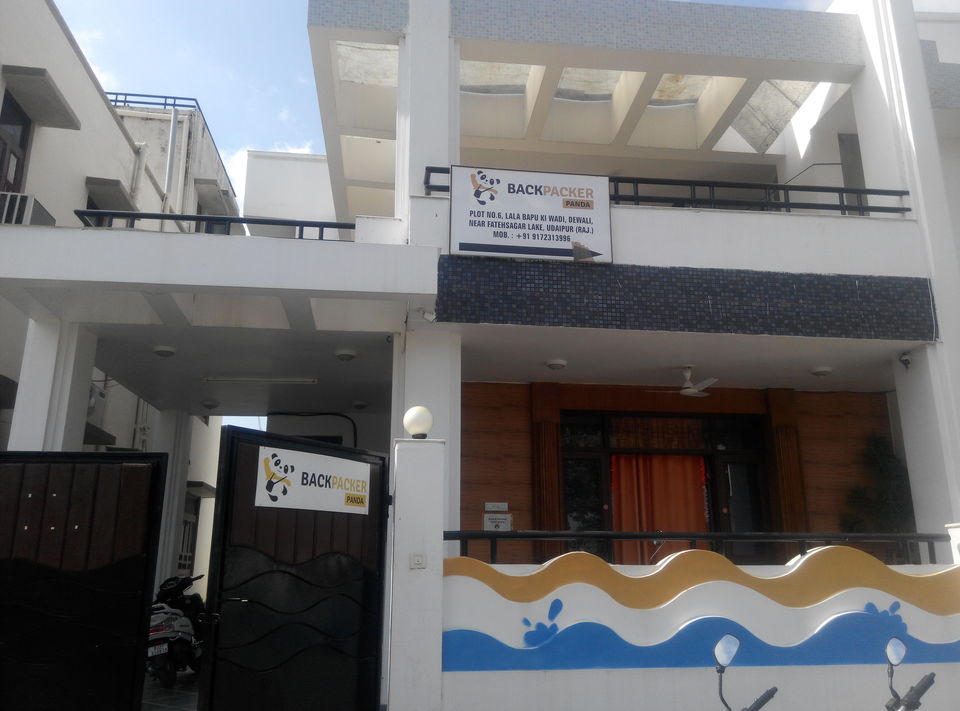 This blog is an extension of my udaipur bike trip blog. Being a solo rider or a traveler I always prefer to stay in a good place keeping in mind that its economical too. When i was planning my udaipur bike ride i was in search of a place that is best for a solo traveler. i.e it must be economical, must be neat & clean and must have an environment where i can indulge with strangers sharing their travel experience. So after doing an extensive search i came across backpacker panda udaipur. After reading the reviews about backpacker panda, I booked two night stay from 10.09.2016 to 12.09.2016. A day before my bike ride i made all preparations and on the morning of 10.09.2016 i started my bike at 0500 hours to cruise towards udaipur for exploring the city of lakes. I was cruising at a steady speed of 75 kmph and took my first break for breakfast @ 0900. at "Hotel Highway king" somewhere around shahpura.
After having breakfast i started cruising again crossed jaipur by pass and took a coffee break at cafe coffee day which is on highway itself somewhere on jaipur---- ajmer stretch.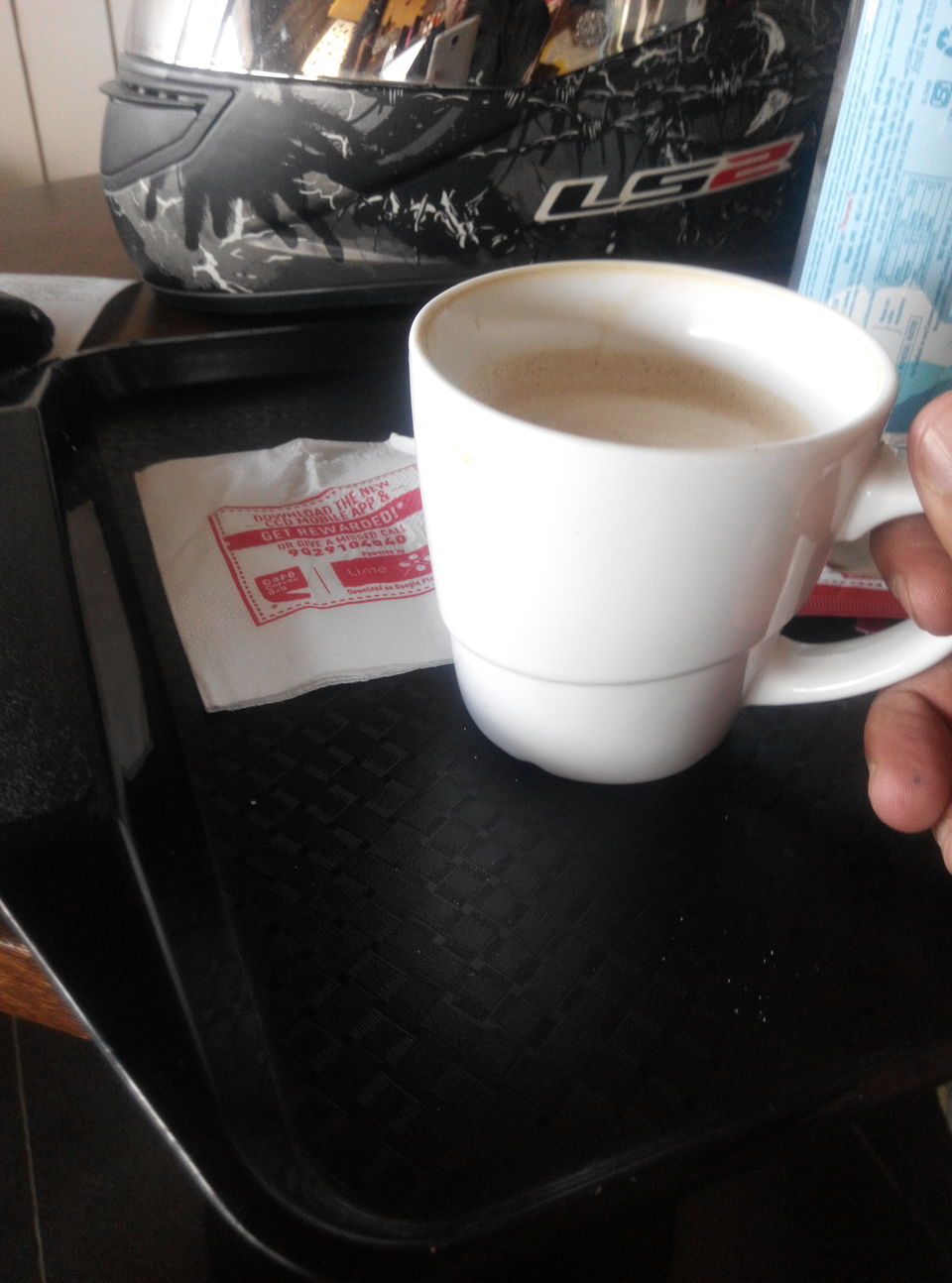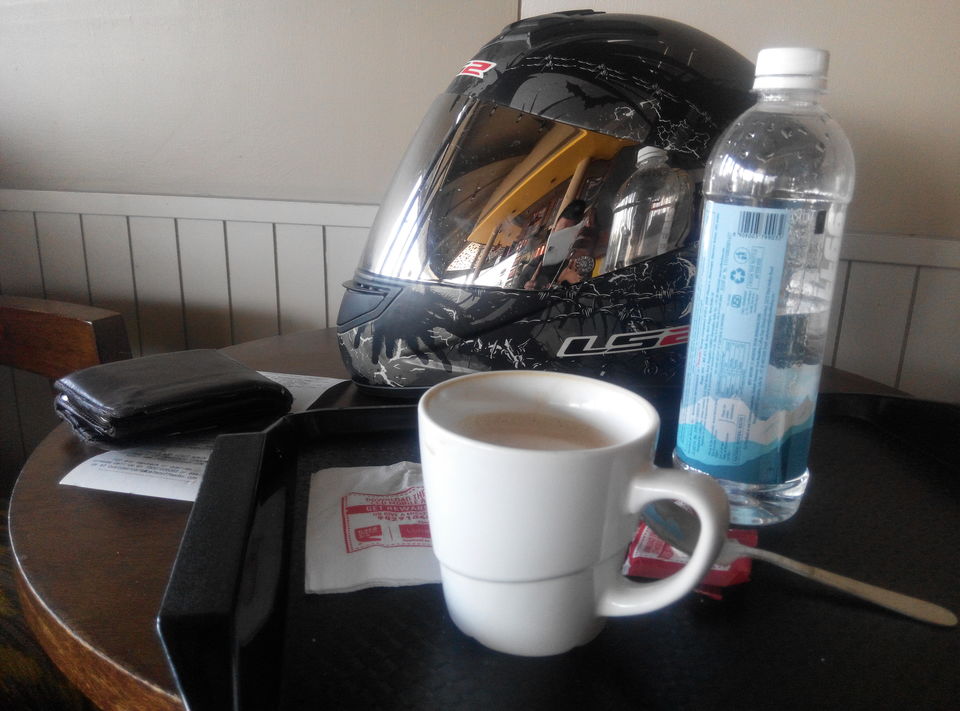 After having a strong coffee again started to cruise crossed kishangarh, ajmer bypass , beawar toll and now was on the highway that goes to mumbai via udaipur and ahmedabad. As i was moving towards udaipur i observed number of cars bearing gujarat number increased on highway. At around 1500 when my stomach literally kicked me i stopped my bull in a very raw local dhaba to have my lunch.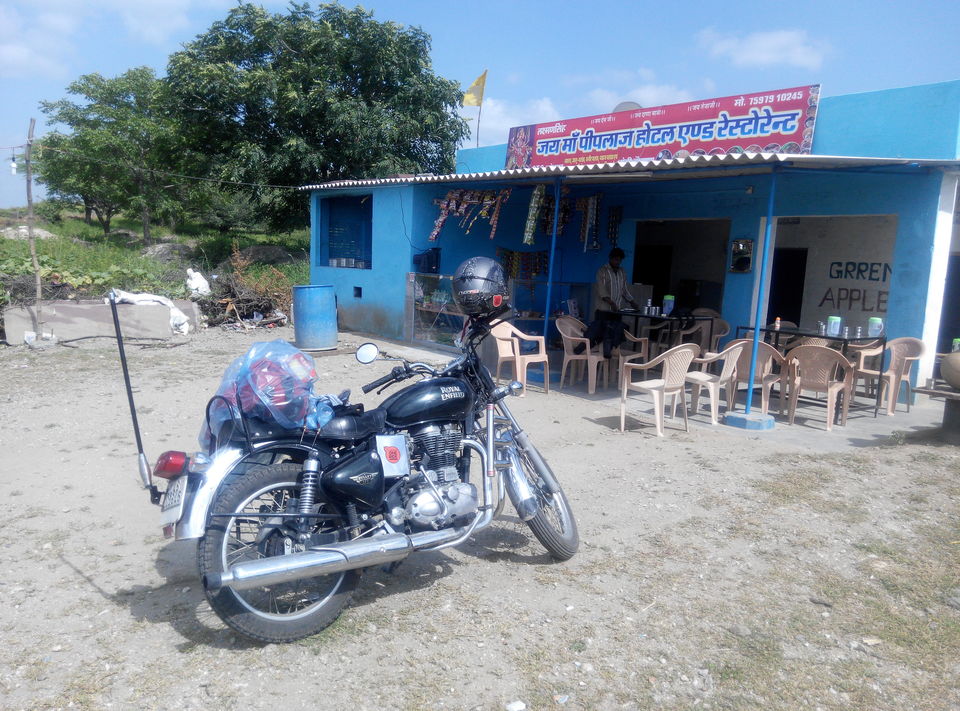 After having lunch i again kick started and continued my journey to udaipur. The highway was getting better and better with great roads and nice scenic all around. Just stopped in between highway for random click.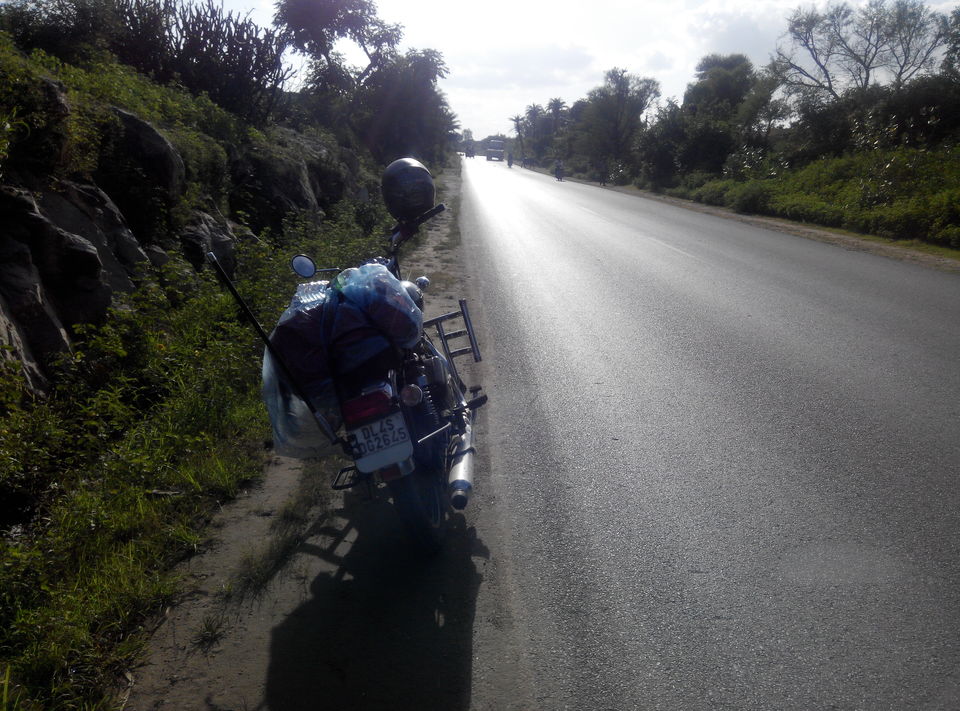 Heading steadily i reached nathdwara by 1630 and stopped for tea. After having tea i again started riding. I was enjoying my ride when i finally saw the udaipur signboard on highway after riding 650 kms. Have a view of the welcoming sign board. I was proud to reach this sign board before dark and now udaipur was just 12 kms.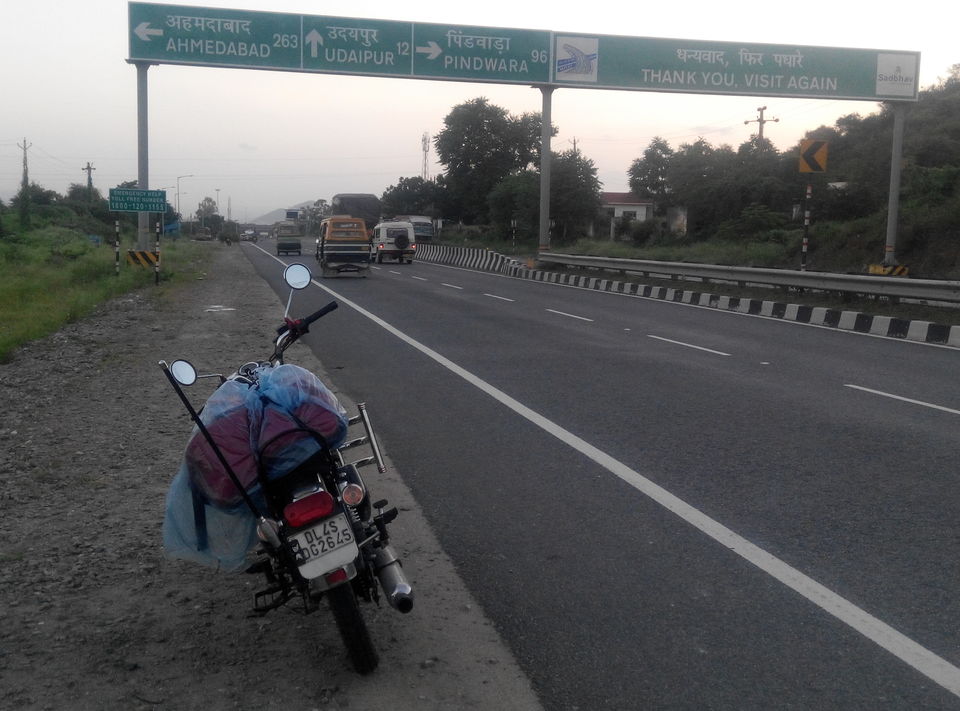 I quickly covered 12 kms to enter the udaipur city it was 1830 hours now and sun was already settled down. I stopped to observe the city crowd it was like any other city becoming busy at 1830 hours. I inquired about backpacker panda location from one of the local guy who guided me towards the road to fatehsagar lake. Yes i had done my booking in backpacker panda AC dormitory stay for just Rs 600 for two nights. Goibibo given me Rs 200 discount so i just landed up paying Rs 400 rupees for two night stay.
I found back packer panda after asking directions,After reaching backpacker panda I stopped my bike entered the reception and was surprised to see such a neat environment with couple of foreigners having chit chat and enjoying guitar played by one of them.
I checked in took my luggage and entered the dormitory allotted to me there were four double Decker beds and there was no body in the room when i checked in as all might have been gone out to admire the night life of udaipur.
I took a warm bath and changed my dress to have dinner in the city of lakes.
I asked the receptionist to guide me for a place to have nice dinner near lake. He (very decent staff) recommended me one, i forgot the name but really enjoyed my dinner beside lake in dim light of candle. It was a great way to end the long ride (700 kms till backpacker panda). Although i forgot the name of the place where i had my dinner.
After coming back i asked the receptionist that i need to park my bike inside and he said sure sir, so my bike was safely parked inside the backpacker panda.
Next morning i took morning walk near fatehsagar lake.
Would like to share few pics of backpacker panda property and fatehsagar lake :-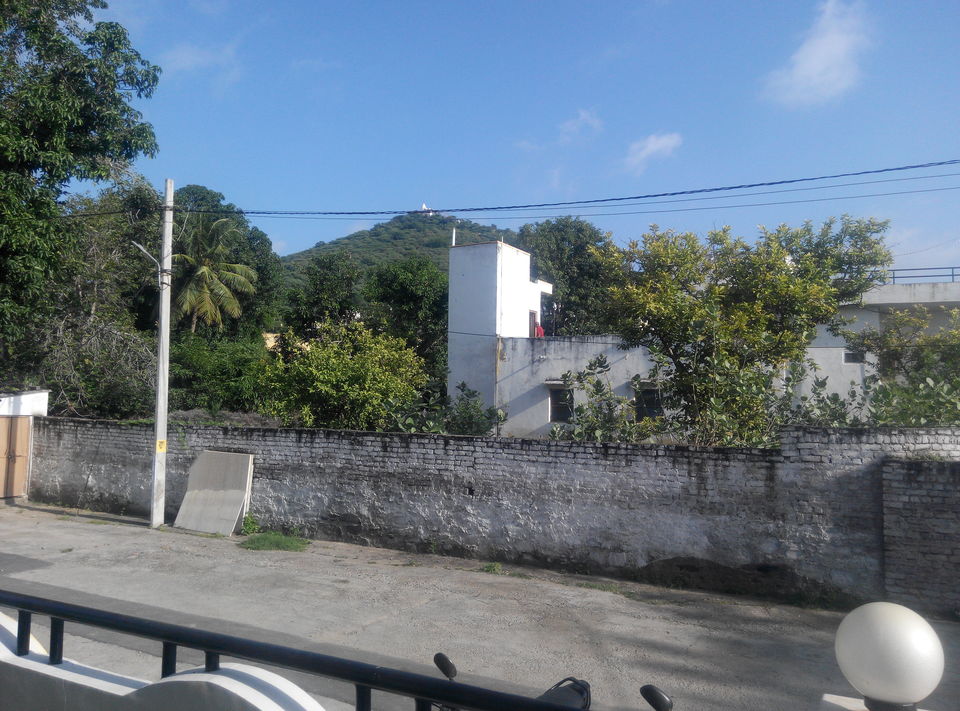 My stay at backpacker panda was nice, its truly a great place for solo travelers, pocket friendly. The backpacker panda also have a fully equipped kitchen that can be used by residents for preparing there own food. I strongly recommend this place to solo backpackers as its very neat at such a low tariff. Have an exterior look :-
Sorry i could not take the internal pics of dorm as other fellow mates were residing.
Finally i would like to end this blog for the entire udaipur experience kindly read by blog "Exploring the city of lakes...Bike ride delhi--udaipur--chittorgarh---delhiI" on this site itself.
Being a solo traveler i found Backpacker panda amazing. Very neat & clean dorm. Neat washroom (that is must). Lively common room. Very great staff. Also they have fully equipped kitchen wherein you can cook your own meal. Economical travelling is possible because of the existence of such places in India. And the location is just great near to one of the important tourist site in udaipur i.e lake fatehsagar, where one can enjoy morning walk. Overall i found this place so peaceful. Recommend to all as they have private rooms also apart from dorm.
One can look out for there other properties and booking information on www.backpackerpanda.com.
So signing off now to write another travel blog soon.
Frequent Searches Leading To This Page:-
udaipur tour and travel, udaipur tour package for couple, udaipur tour package from delhi, udaipur tour package for 2 days, udaipur travel package