There Are Million ways people round the world Celebrate new year! Few Uncommon, Few Romantic, Few Luxurious, Few Pocket Emptying! But than there's a WAYFARER'S WAY! To Name It?? Well.. I have "Wilderness" in mind!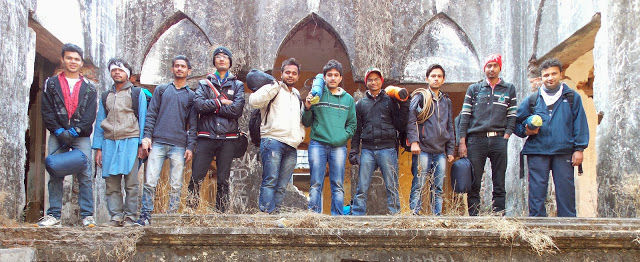 But further going deep into to the description, there is an apology to be ask and a confession to make. Apology for being away from all our viewers for more than a year! And a confession that "We Missed You All"!! ;)
Wondering where were we? Well, you can say that We Were Everywhere! But am not ruining the surprise here. There are further blogs coming to unfold the curtain!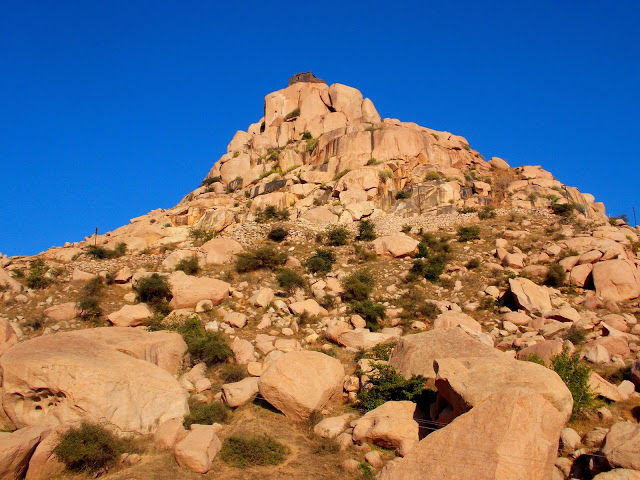 Back to recalling the eve of 31st. We were sorting out a way to celebrate the NYE! This time we were determined for it to be "Different", "Wilder", and more Wayfarerer! We had also showcased a special series on our fb page on "15 ways to celebrate New Year's Eve in Gujarat"! It is than when our most furious and out of head wayfarer Nikat and Shreyansh came up with the out of box, well i can say out of world idea of spending the New Year Eve at the Fort of Idar! Surprised? We were too! In fact I was Stumbled! But than.. We are Wayfarers! Craziness to banti hai Boss!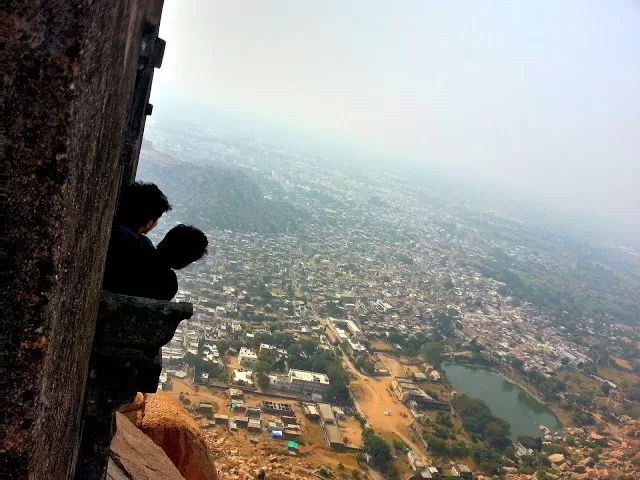 Than what? Grab your Gears (if any), Gather your Wayfarers And "Everyone to IDAR"! When Nikat and Shreyansh did the Research trip and shared the pic and their views from there, we were like "WTF! Is this Gujarat?" "Literaly, Everyone to Idar"!
The idea of camping in Mountains, Staying at a Haunted Place, And a Hike through mountains is enough to charge up any wayfarer!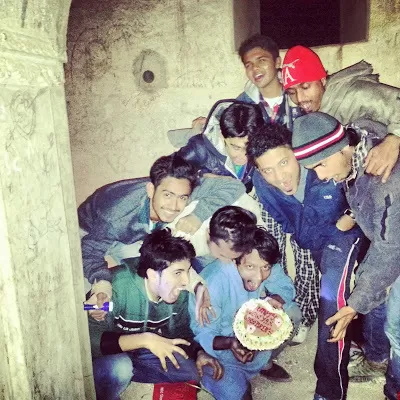 This time the idea was to introduce as many new wayfarers as possible! 4 New faces! Success in our own way! Breezeful New Year Eve in the midst of little idarian mountains under the scary roof of Idar Castle! Yes everyone opt their positive vote as soon as they hear! (Yes! I am being Sarcastic!)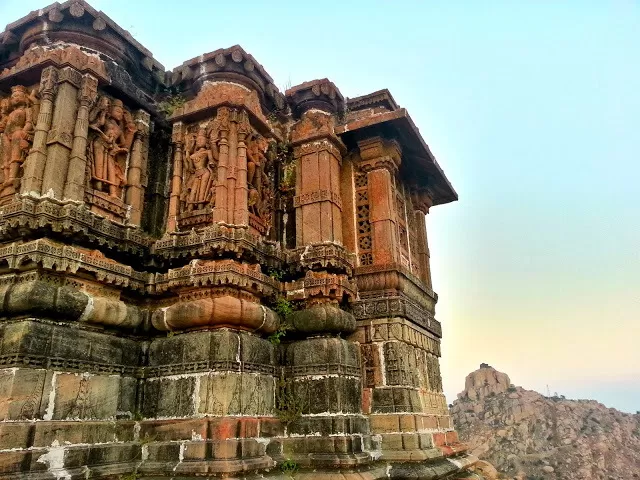 Now that everything has decided and everyone has made their mind to go for the most adventurous New Year eve, laying out the plan, schedule, requirements are usual! The plan was to get a good night sleep on 30th's night than travel to idar by bus in the morning, reach the place and prepare for the eve! Everything went as per plan except the "sleep" thing. When all the lafangas gather at headquarter and have cards to play, who gives a damn about sleep! And also our secret to waking up early in morning is 'Do Not Sleep at Night'! ;)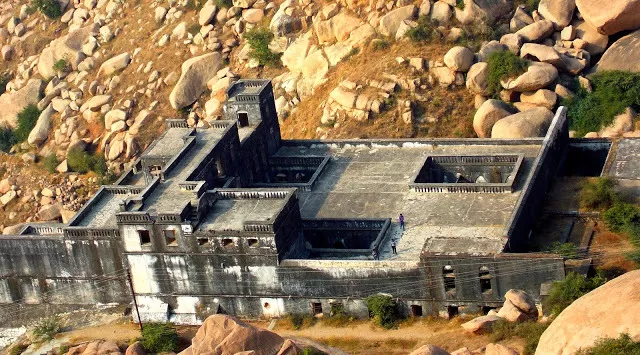 So 7 of us got on to 4.30AM Bus. Rajkot to Idar. GSRTC zindabad! 1 was to meet us directly at idar from mahuva and 2 from anand! Yes! This is how we roll! If you want it, you get it anyhow! As we reached Idar, the main thing to worry about was "CAKE"! But honestly, Wayfarer DO NOT recommend Idarian Cake! Per kya kare, NYE pe cake na ho, to NYE ka matlab nahi! There are few signature pics that we Capture Every New Year! CAKE RAP!
Its about 4 pm and all of us got to our base camp! None other than DAULAT Castle, Idar! This Castle, though in Ruins, has its own untold Tale to tell! Many rooms, Complex Architecture, Giant Windows! As soon as you get in, the famous Gujarati folk song plays in your mind "Ame Idario Gadh Jitya Re Lol"! Not Literally! First thing required was Wood, for campfire. Idar is Rock Mountain, so smart idea is to go back into the city and buy some wood. And this is exactly what we did. Now above the mountain, keeping Daulat Castle in center, hike for about 30 mins towards West take us to Old Jain Temple, perfect Sunset point with perfect city view. In winter it is recommended to reach the point by 6.00 pm. Perfect timing to endure the view of sunset and see the city night lights turn on. "Wow Feeling"!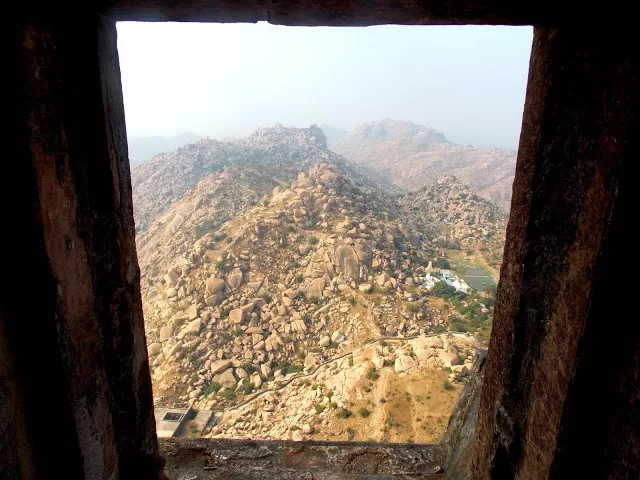 As the sun has already set, hiking back to base in dark is little scary! But when you have a Ranger like Shreyansh, Good Arrangement of Torches and Hanuman Chalisa to Recite, to phir darne ki kya baat?! Following the basic drill of hiking "Stay in line, Stay Together, Keep Communicating and Let the best one Lead", we all hiked back to our base even in dark! The daulat castle is not so far from city, so for any requirement, going back into city is more than possible. And this time, dinner was the requirement and Pau-Bhaji was the demand! (Alright! It was the only option!) Dinner and wait till clock ticks 12! Am I missing something? O yeah! The Camp-Fire! In A midst of December night, against the chilling breeze, trust me, 'Fire' is your best friend. So always arrange the fuels and woods from the beginning itself, when you are expecting a cold night. Also Campfires gives a moment to sing and share!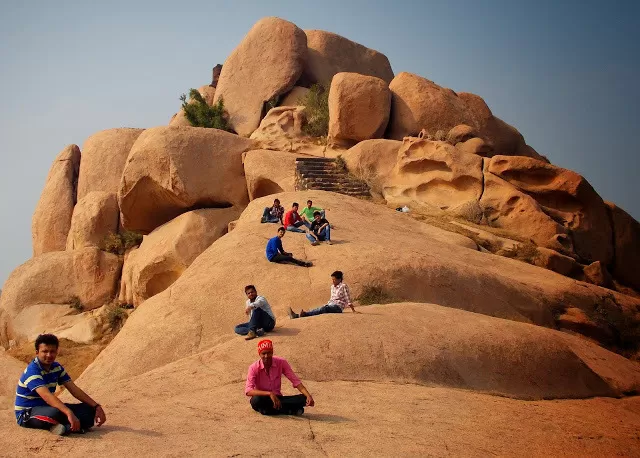 12:00 am of New Year eve is always a cake cutting time! But 1 thing I don't get is 'why is it always that, at the time of cake cutting, we don't have knife?' and then one of the Stationery from someone's bag is to be sacrificed. Stencil for one time before and Plastic Ruler Scale this time! But there is fun In Unusual! It was not the taste we endured, but it was the moment!
Day2 was supposed to be hike to witness the sunrise from Ruthi Rani! But this time "We Forgot The Secret"! Sleep And Lost! But still its Ruthi Rani Mahel, Highest point of Idar. Little architecture at a high point, towards east of our base is place i nicknamed "Amazing"! A 2 room structure above Idar hill has window arrangement that does remind us "Temple Run"! And being a wayfarer, targeting above the top is our habit and thus here was roof top of Roothi Rani Mahel! Dhinga Masti there and Dhinka Chika in mahel! May the Video be on air! May all forces stop it from being telecasted! ;)
All enjoyed and suffered and endured.. The trip can be tagged as "Best New Year Eve Ever"!!! So we suggest that usual DJ and Party is what we can do every now! But some day unusual NYE will give you the moments to remember forever!
This post was originally published on Wayfarer's Club.