I was coming close up to more than two years of Insomnia. I wasn't able to sleep and found myself exhausted every time I try to do anything. For the first time in my life I was having panic attacks and my migraine got chronic. I was frustrated and was having anger issues, then I decided to retreat to the place which has always been helpful, THE ART OF LIVING'S RISHIKESH VVK.
11th of April, this was the date on which we were leaving to Rishikesh from Delhi. Whole AOL youth group of Delhi was going there. Our charted bus waiting for us at The Bangla Sahib Gurudwara, we took the blessings at Gurudwara and then started our journey towards the magical land of Rishikesh situated at the foothills of Garhwal Himalayan Ranges.
5:30am in the morning at 1368ft above sea level our bus reached the world famous pilgrimage town. The VVK (AOL RISHIKESH ASHRAM) is situated at the holy banks of River Ganga. Just the Aura of that place is capable to heal your exhausted soul and fill it with energy. Melodious sound was originating from the continuously flowing river Ganges coming down from the Himalayan foothills. Watching the continuous flow of ganga was meditating itself, this was the time I realise that this is the place and my search for the relaxation and inner peace ends here.
First day was full of excitements as we all were going for water sports, after doing some yoga followed by satvik breakfast (food without onion and garlic) we started to prepare our self for River Rafting. At 10:30 we reached there for Rafting. After signing undertaking and with basic instructions we begin our adventure. We were equipped with life jackets, helmets and a very professional instructor. Every rapid during the rafting made me realise that how important yet fragile this life is.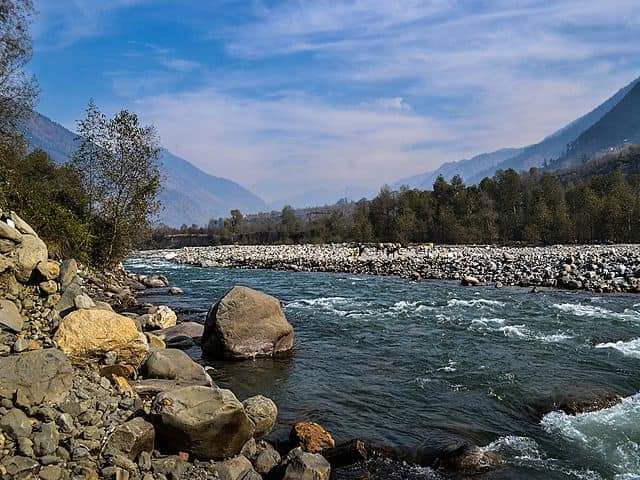 Now the place came where we had planned to do cliff jumping. I was excited as hell, but as soon as I climbed at the top of the cliff there were second thoughts coming in my mind. I enquired and cliff was 35fts and down there was Ganges flowing at very high rate. I took a deep breath and decided to jump but some thing was holding me that I wasn't able to jump. I asked my instructor to push me when I ask and he did that in no time. "That's it, I am gonna die", thoughts were keep coming in my mind, but while I was going down there was huge rush of adrenaline in my veins, I haven't felt like that in years. I cannot describe the feeling it was just out of the world. And I finally plunge into the river, this time I wasn't feeling any kind of fear, my life jacket helped me to come to the surface and I swim to the corner.
I decided to jump again and this time I didn't need any push. I just climbed up there and plunged myself into the river in no time.
After Rafting the real journey was about to begin.
I will tell you about the Meditation in next post..
One thing I can tell you for sure that my life has been changed forever the day I boarded that bus to Rishikesh.
JGD
Yours @d_urban_monk (Instagram)