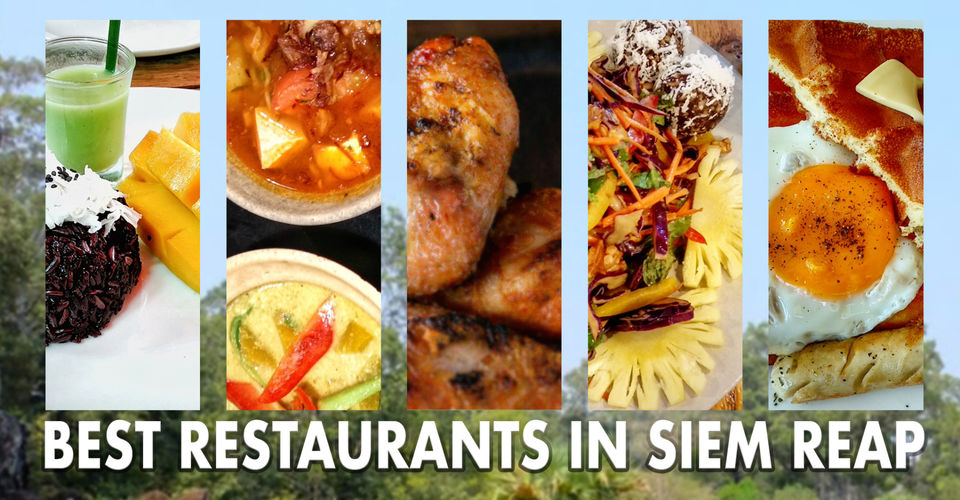 Thanks to Angkor Wat temples, Siem Reap is a very touristy city, with plenty of restaurants and a big variety of local and international dishes. Here are the best restaurants in Siem Reap. Or at least the ones we like the most and want to recommend. Not in any particular order.
After almost two months in Cambodia we finally arrived in Siem Reap to visit Angkor Temples and of course, enjoy the city and try some restaurants. Here are our favorites that we want to recommend!
We spend nearly a week in the city and we loved it! First we had some days with a lot of free time to walk around, try foods and later we got busy visiting the temples of Angkor. So, if you are staying in the city and want to treat yourself with good meals, try these places!
Marum Restaurant
Marum is a training restaurant run by Kaliyan Mith, an NGO that has been working with street children and other marginalized young people since 2005 in the city.
The restaurant is located in a quiet area and it has a beautiful garden entrance and some outdoor tables. You can see they pay special attention to service since there are constantly waiters (trainees) around ready to serve you.
The menu offers a variety of dishes specially vegetarian and seafood. Including Khmer cuisine and some fusion.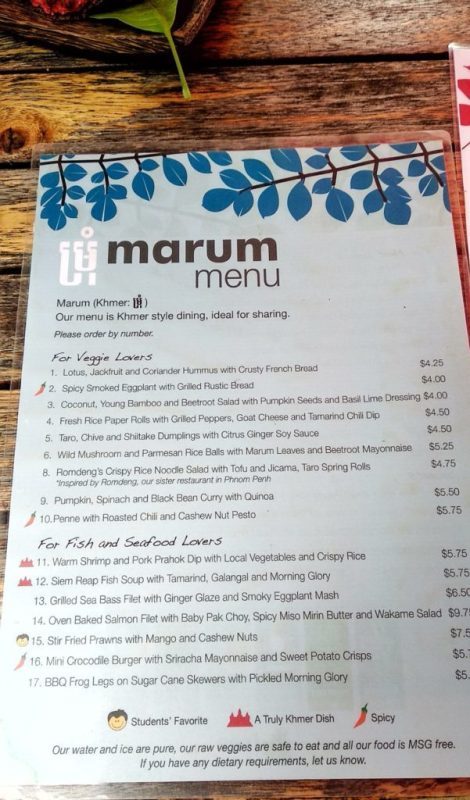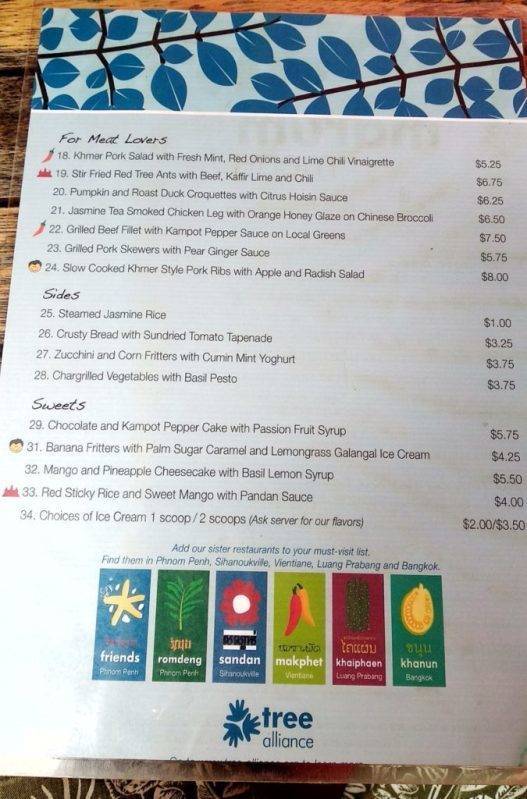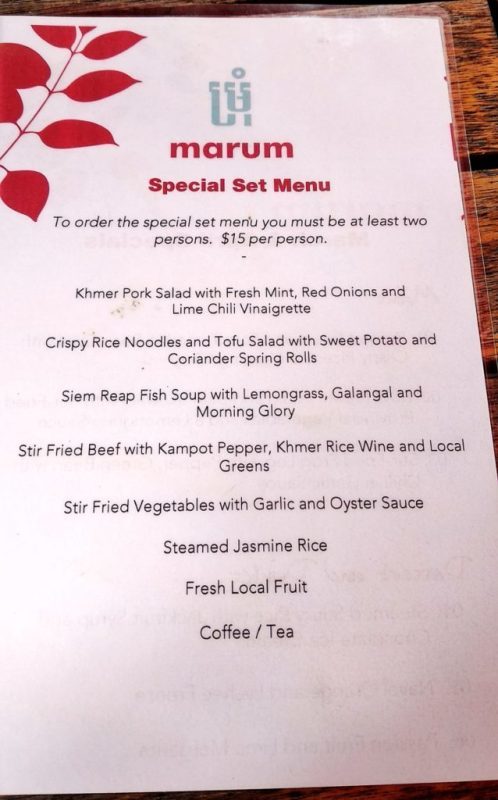 We usually don't order drinks, but those on the menu sound too delicious. We had a young coconut and lime shake and a strawberry shake with Kampot green peppercorns (remember we talked about Kampot pepper?). Both perfect. Fruit shakes are always good, but when they are a little more creative we get more excited.
We had difficulties deciding the food. Everything on the menu looks so delicious. But we went didn't think much and ordered the BBQ prawn, squid and beef skewers with veggies and lemongrass sauce and the jasmine tea smoked chicken leg with orange honey glaze on Chinese broccoli.
At first it seemed the amounts were not very big, but we got satisfied and left with a smile.
We could miss the opportunity of trying one of those mouthwatering desserts. We got the red sticky rice with sweet mango and pandan sauce. We thought we could order more of those instead of the meals!
Chamkar House
Chamkar House is a vegetarian restaurant not far from the touristy area of the city. But far enough to avoid noise and crowds. It serves mostly Khmer food, other kinds of curries and vegetarian dishes. The day we went there we had our friend Moira and two of her friends joining us.
Being five people eating was an advantage because we could order a bunch of different dishes to share and try all of them.
Among them there was some eggplant curry, some tomato and tofu soup, We enjoyed all of them, specially the xxx. We didn't expect it would be so delicious.
We don't know why we were the only costumers at the restaurant. Maybe we picked an unusual time for dinner. Anyway, the atmosphere was nice. The restaurant has some small urban garden growing some veggies right there.
We are not vegetarian (yet), but we enjoyed the freshness of the ingredients and the combination of flavors of every dish.
Sister Srey Café
On our first day visiting Angkor Wat, we ended up tired and hungry, so when we went back to the city we were looking for something to eat nearby the Siem Reap river. We found Sister Srey Café as a welcoming cafe with some empty tables and it seemed worth to try.
While reading the menu we started getting excited and getting hungrier. We finally decided to get an apple and mint shake and a watermelon and lime shake. They were so refreshing, something necessary with all that heat on us during all day.
Once we calmed our thirst, time to order food: we went with the bowl of goodness and a detox salad. We know, the names sound a bit ambiguous or fancy, but once the dishes arrived we smiled and devoured them happily. The salad tasted so fresh and it was a nice mix of ingredients including pineapple and fresh mint and two balls of nuts and coconut. The bowl of goodness was whole rice with some lettuce, cucumber and 2 falafel croquets and some beer sauce. Delicious!
We fell in love with the atmosphere and the story of the place. And there we got flyers for some interesting things to do around the city.
We left fully satisfied after all day walking and climbing stairs around the temples of Angkor.
The Hangout
One of the things we like to do when we have a long stay in one place is to check the events going on.
Since we knew we would spend a few days in the city, we checked Facebook events for some special deals in restaurants around. It's a good way to know quickly the area nearby and see recent reviews of users (someday we will dedicate a full post to how we do this).This is how we found The Hangout.
The Hangout is a cafe bar and small guesthouse located in Some San road, the center of Siem Reap. The event we found was their bçBig BBQ Bash, a vegan and mixed all you can eat buffet. There was a good variety of pasta, salads, breads and meats. We washed it down with some Cambodia draft beers. They also have plenty of cocktails.
It seemed an interesting place, they hold many different events throughout the week, so check they're Facebook page to decide when is best to go there.
The Missing Socks Laundry Cafe
On our last day in Siem Reap it was Jordi's birthday. We we're done visiting the Angkor temples, the museums, and done with some little shopping.
It was probably noon and we hadn't had breakfast yet. We were starving and we knew this was the place to go. So we endured a little more the heat and finally arrived.
Missing Socks Laundry Cafe is, as the name says, a laundry and a cafe. It is located in a backpacker area with many guesthouses and tour companies. People go there to wash their clothes, or to have a coffee, or both things. Our clothes weren't that dirty, so we went there just for the food.
It was a very hot day and we were hungry. We ordered the sunrise in Siem Reap: sunny side egg on a waffle and some sausage, ham and syrup and the Holiday Waffle: with rum and raisin ice cream, raspberry jam and whipped cream. (Sorry Chris, we didn't dare going for the waffle burger). For drinks, a coffee and, since it was our last day in Siem Reap, and it was Jordi's birthday, we had a tinto de verano a Spanish red wine and soda mix. Very Nice.
We felt happy eating those delicious waffles and the atmosphere was nice. Also, they provide some cool maps with interesting spots to visit around the city. Too bad we went there on our last day!
These are our favorite restaurants we tried in the city of Siem Reap. We tried more, but maybe we will talk about them on another post. Do you have any other recommendation to eat in Siem Reap?
Don't forget to check our post: Best Restaurants in Kampot.