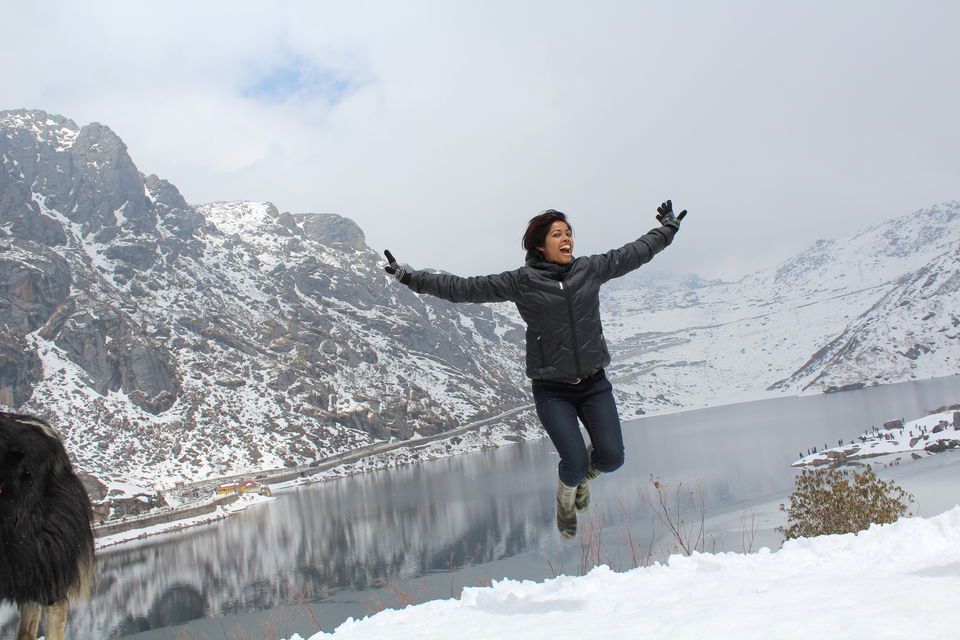 My breathing got a bit heavier as I trudged along the narrow roads,the Moon shone brightly that night, making the snow capped Mountains look beyond magical, while taking my breath away. Something so brilliant ought to be experienced, for it will give you that contentment you didn't know you were always looking for.
…..
(Please click on the pictures to view them)
I always had a thing for the mountains, for they feel like home. I wanted to take the trip to Bhutan since ages however it never worked out. So this time, arbitrarily I chose to fly to Sikkim. The closest thing to paradise, I tell you. Even the voices in my head were hushed as I decided to take this solo trip, it was important and they knew it.
I scrolled through the airlines departing for Sikkim, closest airport is at Bagdogra, West Bengal. Since I had only a week for the trip, flying seemed like the best option. The nearest Railway station is at Jalpaiguri in West Bengal.
The prior days were full of anxiety for I was travelling alone and was recovering from an accident. Concerned, that I couldn't wear any shoes and it would be freezing out there, was nerve wrecking. But then I just left with my slippers on.
I landed in Bagdogra but Gangtok was still approx. 124km away. There are prepaid taxi services that can be availed at the airport itself, which is brilliant if you were to travel in a group, but an entirely different scene when you're travelling alone. I waited for almost half and hour hoping to squeeze in with any gang heading that way but it felt like a far fetched dream. Finally, I found another traveler looking for a ride. So, we decided to hire a car and leave, for the weather was very unpleasant. The ride however was bumpy due to the heavy rainfall, but I wouldn't have it any other way for the scenery was to die for. And there's something about road tripping in the rain that feels so sensational.
Ride to Sikkim: 1500/-
I reached at around 9:30 PM(took me around 6 hours because of the weather). I stayed at this wonderful hotel known as 100 petals in Gangtok at Indira By Pass Road. The owners were the most warmest, sweetest and fun-filled couple I have ever met. I would blindly recommend anybody to reach out to Karma and you will be sorted. He is this vibrant person who assists riders around Sikkim, yet agreed to help me since it was my first visit there.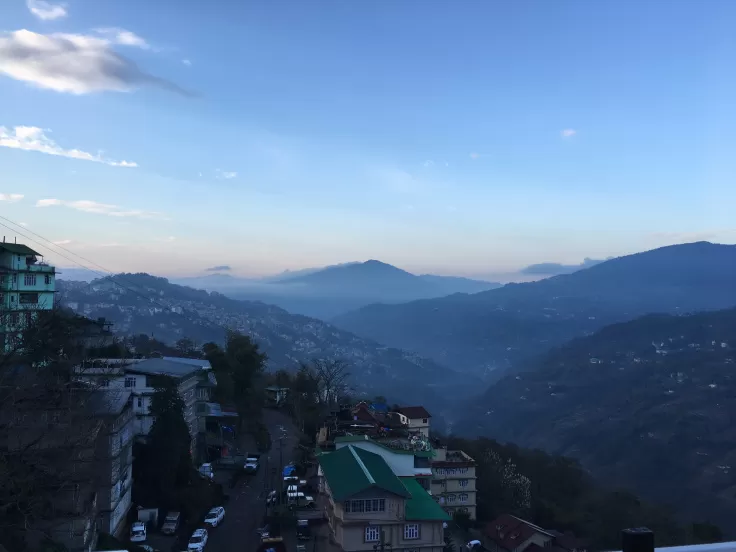 Beautiful rooms, amazing hosts and waking up to witness this view was beyond any expectations I had set. And I am not paid to say so ????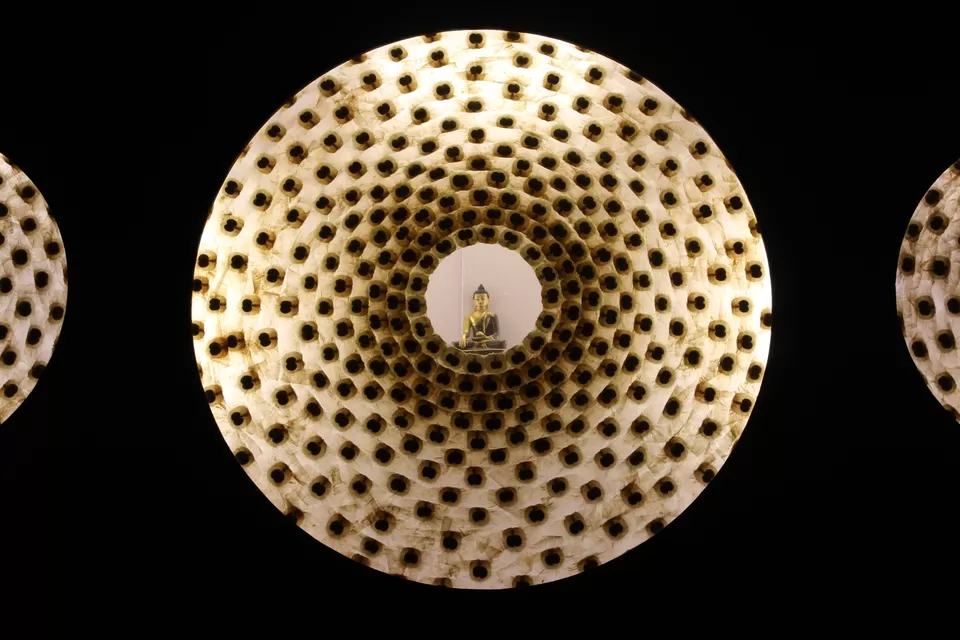 Crafted using a local flower – known as "Meto Champa / Totola / Paskam Metho" & Bamboo looked unerringly beautiful. And they have this cutest little lab, and I could go on and on about him, but I'll let you decide.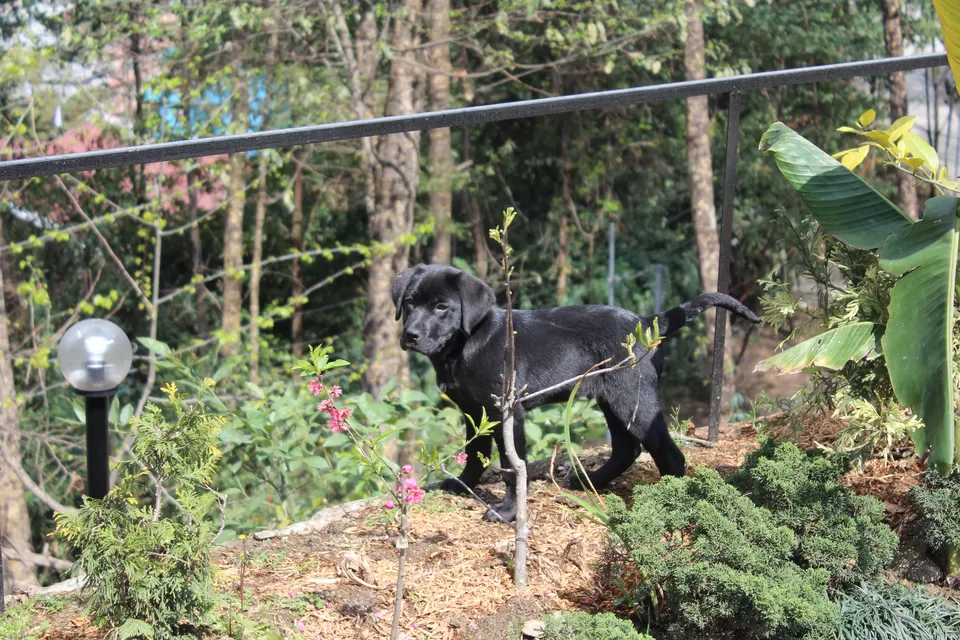 I prepared this perfect itinerary to see every place possible, but it's the imperfection on the plan that will take me back. More info on that later.
Tashi View Point
I was lucky that Karma showed me around and insisted I had breakfast at this local restaurant in front of Tashi View Point. One can however hire local taxis which is available on shared (to be boarded from the Taxi Stand) or reserved basis.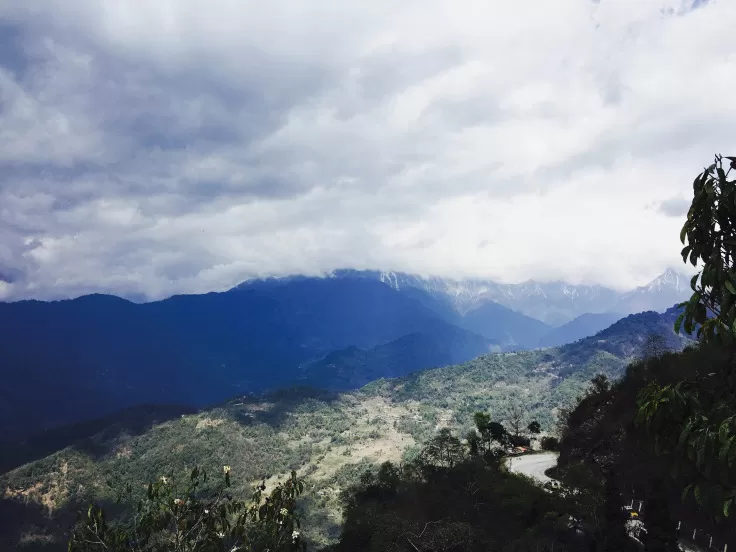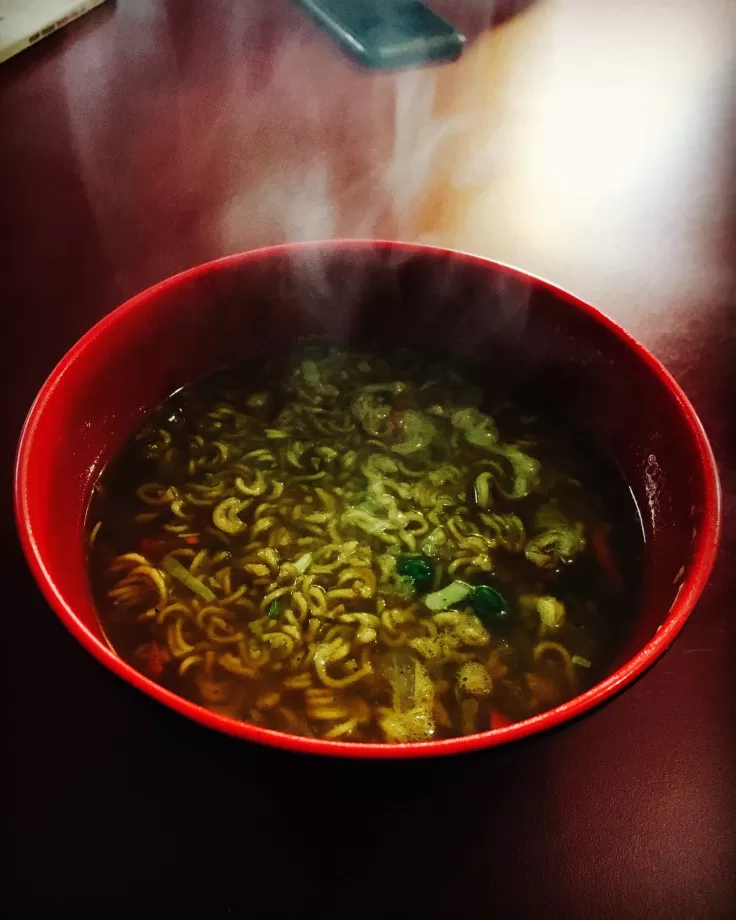 The views were extraordinary, but it's the roads that were my favorite part. If you move a little ahead, the scenery slowly starts unveiling itself, waking up your senses and preparing you for the journey to come. Preparing you to be blown away. I insist you roam around aimlessly, for every part demands your sincere attention.
Enchey Monastery
Next we stopped by the Enchey Monastery. Approximately 200 years old, this site is visually and architecturally poetic.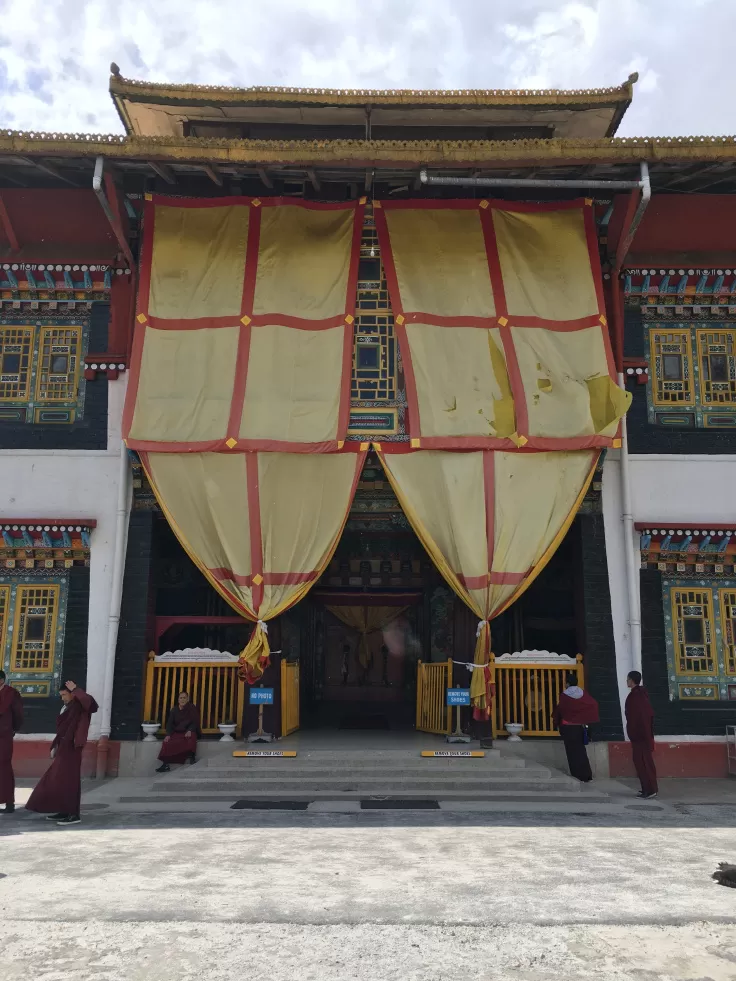 I, for reasons unknown didn't cover the entire monastery for which I am in dilemma.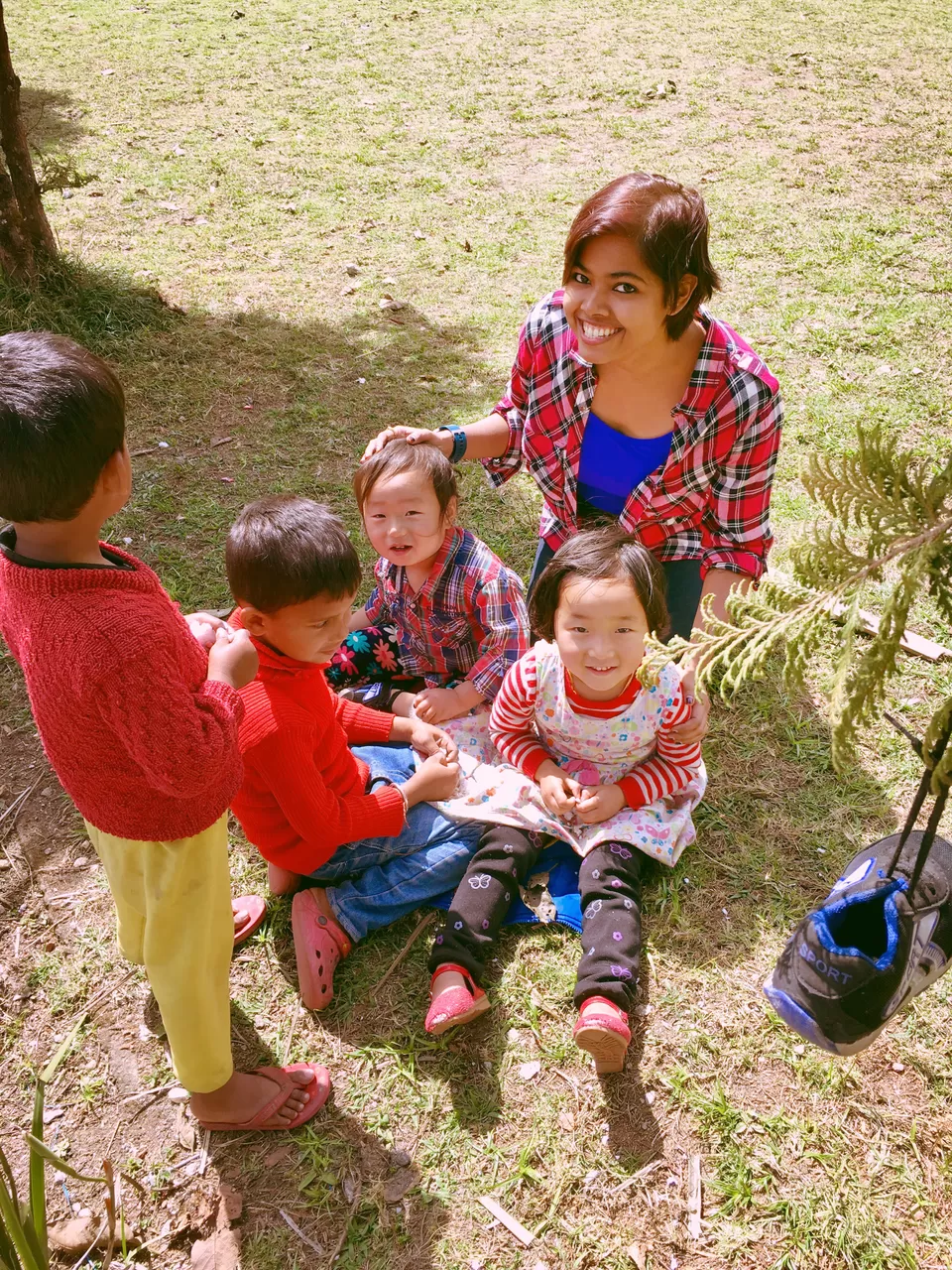 Met these munchkins and NO, I did not kidnap them and sigh! I didn't get any information regarding the mysterious hanging shoe either. The place was so much more than what meets the eye. There were monk kids playing football, and some just chilling under the hot sun.
Although It looks all warm now, the weather wasn't too friendly after.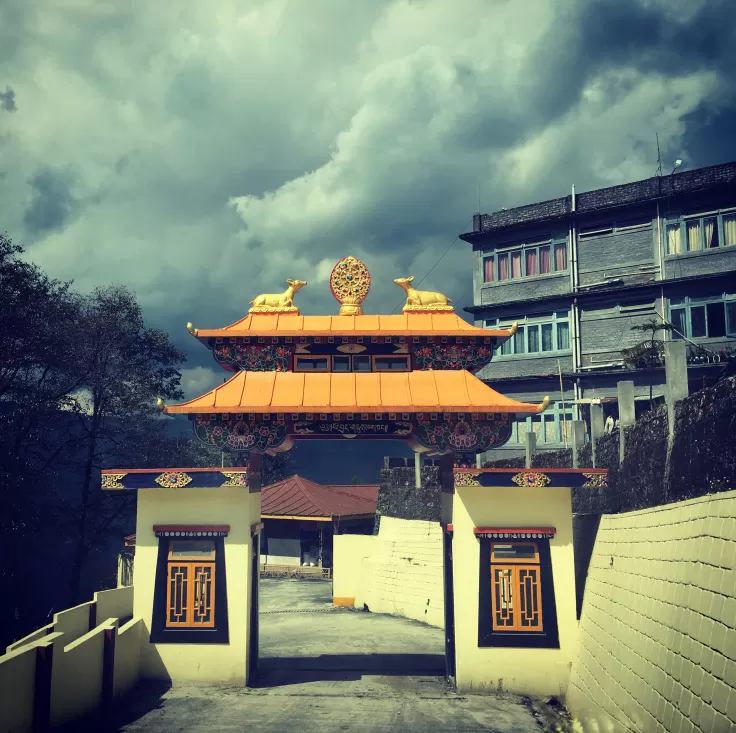 Deer holds an important significance in Buddhism. They receive a place of honor above the entryways to many monasteries and temples. They are placed facing the Dharma Wheel (Wheel of the Teachings) in accordance to the time where Lord Buddha gave his first sermon at Deer Park.
Tuning in to the stories of Lord Buddha, I bid farewell.
Rumtek Monastery
The largest Monastery in Sikkim, Rumtek Monastery holds Karmapa Lama, the third highest monk in Tibetan Buddhism is a treat to the eyes.
The Slow driven walk through the monastery was so healing. As I walked around, I met a monk who was humming, and upon insisting he finally sang a song, a Bollywood number, blushing so hard that his cheeks were almost red. As the Sun was ready to shine on the other part of the world, I wrapped my day.
…………….
After reaching the Hotel, I decided to walk around and explore the neighborhood. It was so scenic that mere words cannot describe the beauty. One can get the view of Gangtok while taking a stroll, and the butterflies wouldn't stop flying. I walked a little further in search of any restaurant, and finally landed upon a tiny local one by the road. I tell you, it's the people who will make your want to spend you eternity there, such warmth and hospitality which I don't remember experiencing in the past few years. I had Roti (Indian Bread) and Aloo Dum (Potato Gravy) and Kaali Dal (Split Black gram), and you're right, it was beyond delicious. Spoke to the locals for a while and I left with a happy tummy.
Next Day:
As mentioned, it's pretty convenient to hire a local taxi and roam around. I on the other hand, rented a Scooter to roam around aimlessly. My first attempt was to experience Paragliding on Ranka road, but I happen to have this bad luck tailing me. Long story short, they were not taking any more bookings on the grounds that the climate was turning more regrettable, and I missed flying. I intended to visit Namgyal Institute of Tibetology, a library that holds one of the largest collections of Tibetan works in the world outside Tibet. But it was Holi, and everything was closed. *sigh*
I instead found Do Drul Chorten Stupa.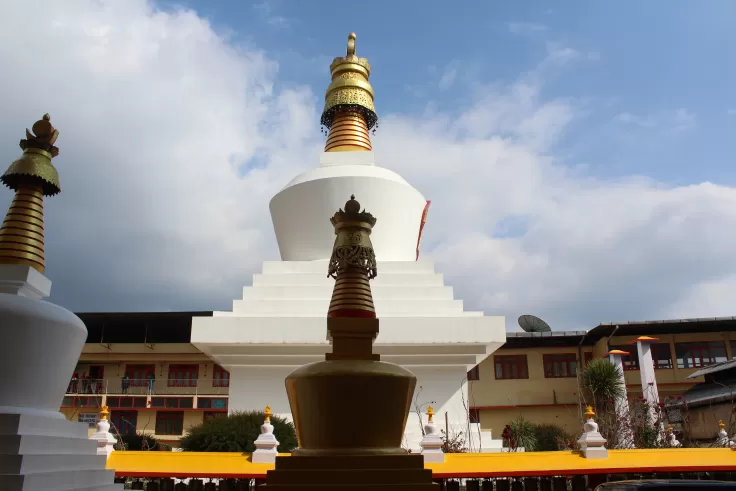 It is believed that many years ago, this ground was haunted and later an extremely regarded and commended lama of Tibet Trulshig Rinpoche who followed Nyingma Order of Buddhism came to this place for hermitage. He built this stupa in 1946 to drive away the spirits. I walked around spinning the prayer wheel, wondering just how the simpler things take the most important parts of your life.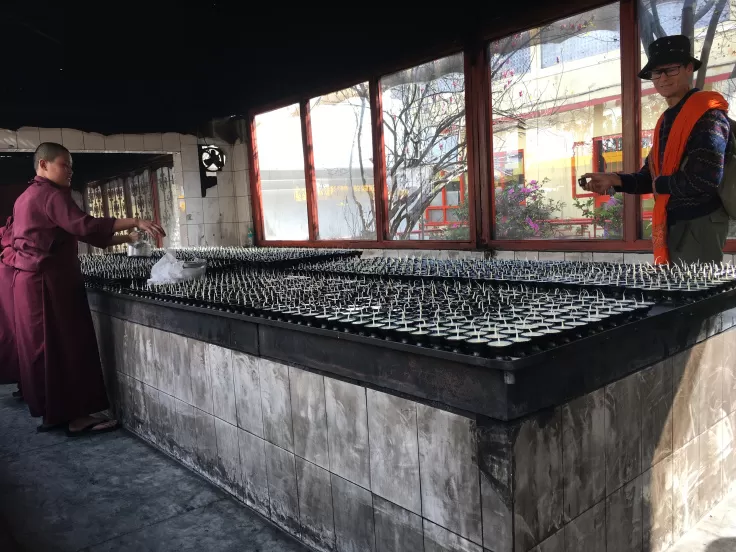 North Sikkim
I left for North Sikkim early morning. It was one of the times I was too anxious, and moody for no apparent reason. May be because my travel mates were not that friendly, but any who, as the drive began, my memories were on making.
You require permission to enter North and it can be arranged by any travel agency (if you're going through any) or you can just ask your Hotel staff to help you with it and you're all set to go.You can either opt for a shared jeep (3500 for 3 nights and 2 days) or reserve a car (5000) according to your preference. They provide a package for travel, food and stay. I chose to share a jeep and it was, well, uncomfortable.
My luck was pretty bad for the weather seem to just get bad to worse and the roads were simply closed. North offers you some amazing spots.
Gurudongmar lake is one such must visit spot.
You stop at Lachen for the night and then head to Gurudongmar Lake
Yumthang Valley and Zero Point
You stop at Lachung for the night and then head in the morning.
And I could visit none of it, because SNOWFALL! The roads were closed and I went there for a reason. As planned I was supposed to be at Gurudongmar Lake the next morning, on my Birthday. But instead, I was somewhere close to Yumthang. Lachen was closed because of a Land Slide, but I have zero regrets, I am sure the scenery might have been magnificent up there. But I got an idea of how beautiful it would have been.
The ride to Lachung was, as I have said this a numerous times, supercalifragilisticexpialidocious. A series of waterfalls to picture perfect sceneries.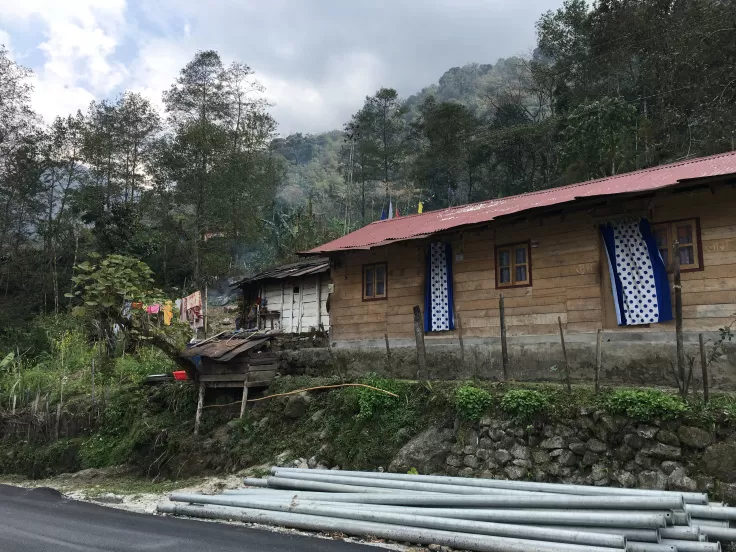 After a tiring 6 hrs drive, I reached Lachung. A small village, which is a stop for the night. It was evening by the time I reached and there was snowfall. I have to tell you that this was my first ever experience with Snow. And it was nothing short of what I had in mind. Just heavenly. And the mountains, I could give you a picture, but I am telling you it's a scenery that demands presence, nothing in the world will be able to make you feel the way your eyes would do. Snow capped, enormous mountains, but they do not make you feel tiny, they make you feel rather empowered. They take away all your thoughts and anxieties, and teach you the value of the moment. The full moon was the only source of light, glowing up the mountain ranges, making them look more divine, like you're in a different era altogether.
It was too cold and I wasn't prepared for such a climate, I was still wearing slippers. I bought a pair of thick gloves and socks to keep me warm. Right next to my Hotel was a local tea stall. I went in to find bon fire. I was relieved beyond anything and sat there talking to the locals through the night. I might have slipped in saying that it would be my birthday in few hours and they so generously brought a candle and a rusk at midnight and sang Happy Birthday to me. It was the most serene moment ever. And also their bathroom was facing the mountains, and it was the coolest spot I've ever peed in. Bathroom with a view!
Next day we left for, actually nowhere, it was on the way to Yumthang Valley and since that road was closed, we just hanged around this beauty for a while.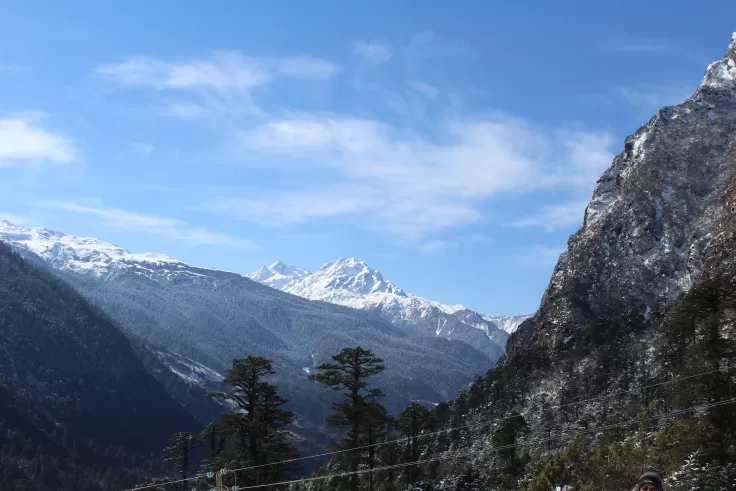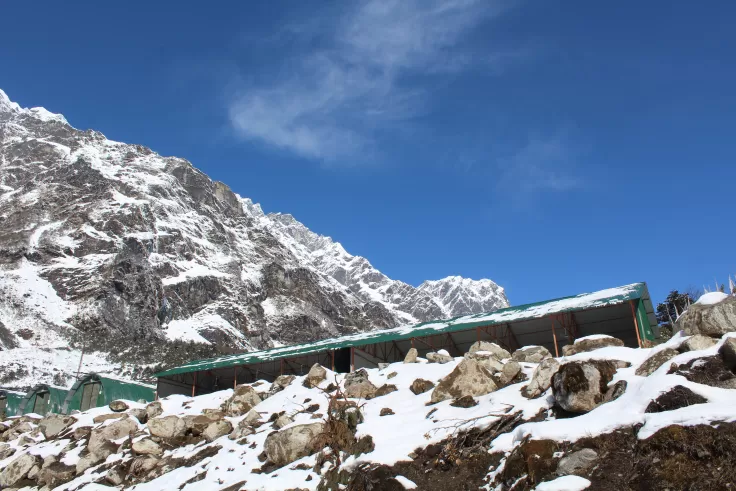 Isn't this the coolest thing ever? Pun very much intended. On behalf of Snow virgins, I can say that it was the most amazing feeling ever. I was just walking around taking in the scenery, trying to take as much as I can carry. And letting it sew my broken parts, and opening up portals of wonder I didn't even know I had.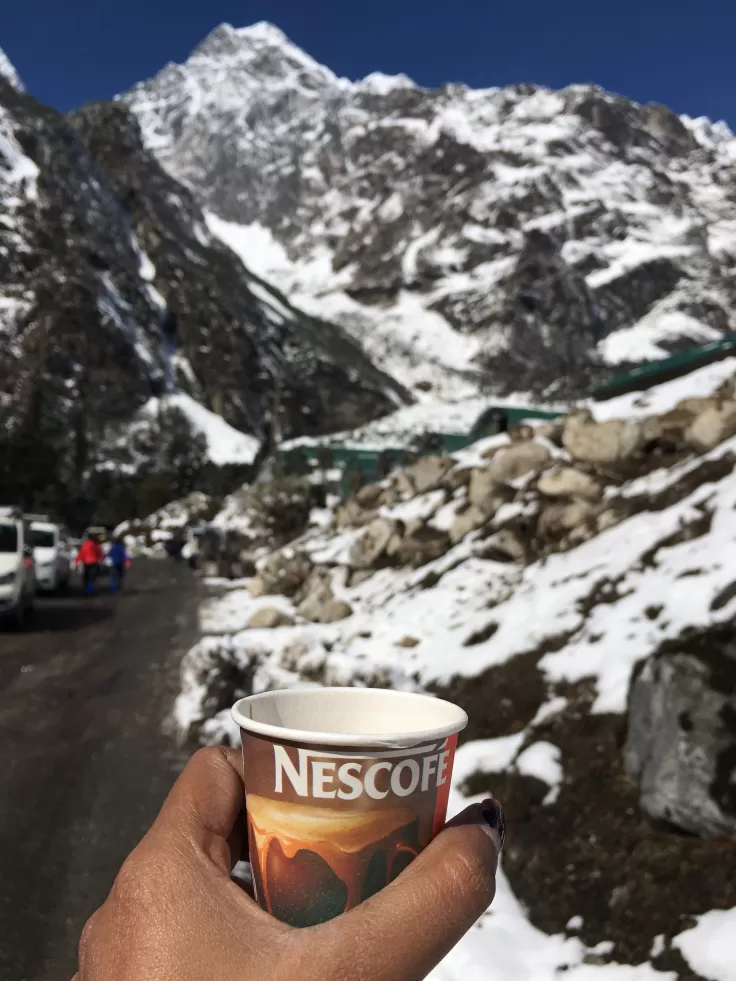 Then we left for the Hotel to have our lunch and ride back to Gangtok. It was a short stay but it was just so worth it. And it gives me another to reason to go back.
And I come back to this.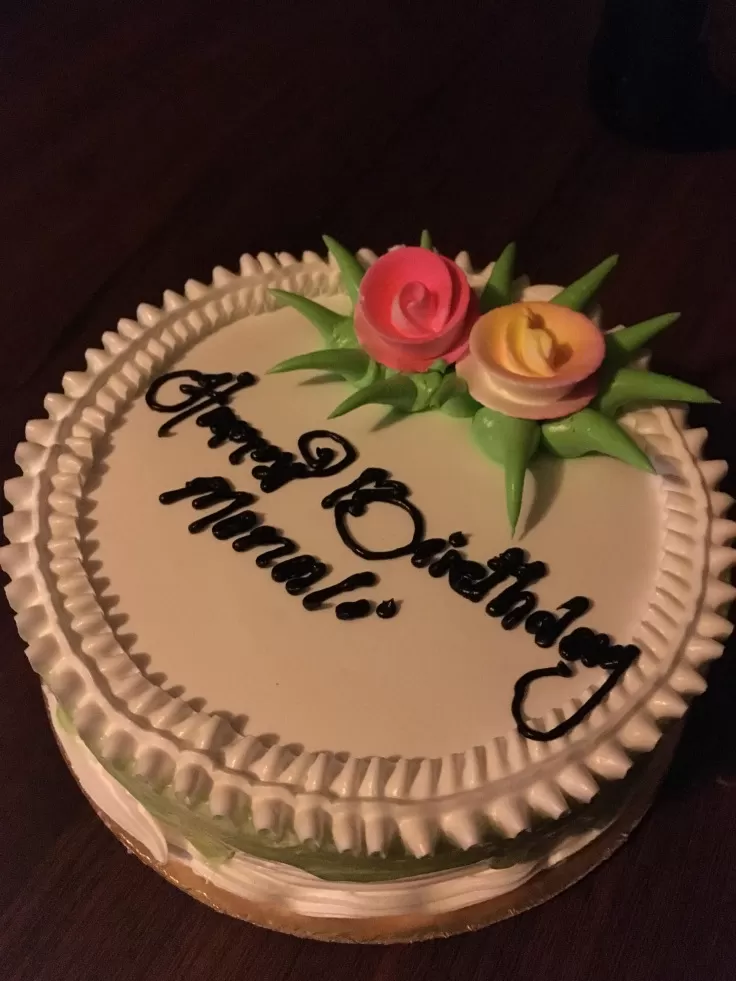 Karma and his wife brought this cake and left me speechless. I don't think I could have asked for anything more.
………..
There are a few sites that you got to go. These also need prior permission which can be arranged by the Hotel staff upon request:
Tsomgo Lake
Baba Mandir
Nathula Pass
And all these were closed during my visit because of heavy snowfall. It was sheer luck that the day I got back from Lachung, the road were cleared up till Lake TSomgo.
Lake Tsomgo (East Sikkim)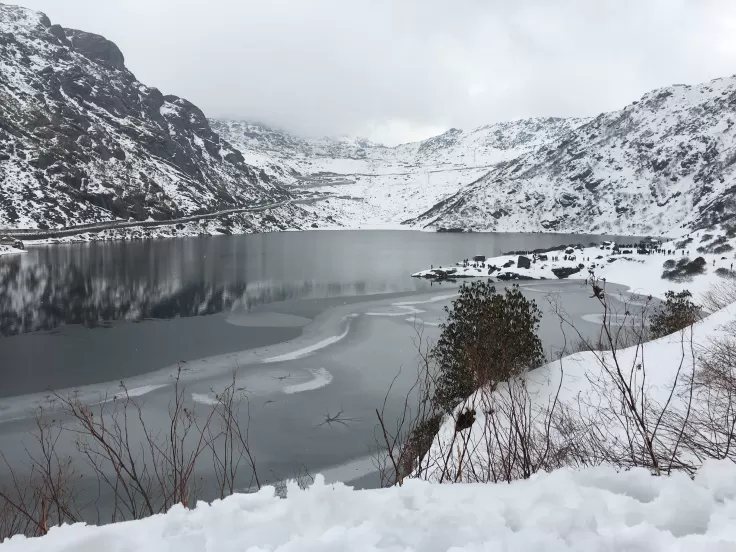 If something were to be extraordinarily perfect then this was it. In Bhutia language the name Tsomgo is a combination of two words 'Tso' meaning "lake" and 'Mgo' meaning "head", meaning as "source of the lake". The lake usually remains frozen during the winters and is said to change colors with seasons.
The path was covered with snow, you have to rent rubber boots, available in most of the shops along your journey. As I somehow managed to carry myself and my camera through the icy stairs, I finally made atop and couldn't stop starring for the place was heavily crowded. Scenic yes, but crowded.
I went ahead and found Yaks, and for some reason I decided to ride them, it was one hell of an experience.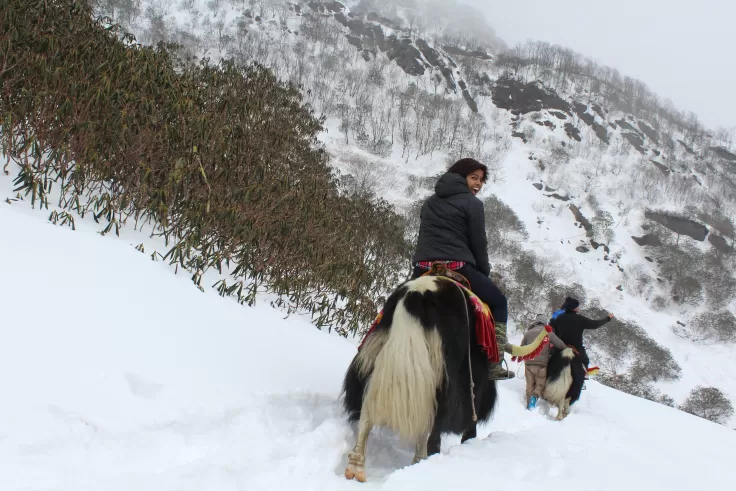 I left as the weather went nuts again. The army was insisting us to leave as the roads could get dangerous if it snows and that was a perfect end to a much perfect day.
Lingdum Monastery
The next day I decided to visit Lingdum Monastery. I started pretty late in the afternoon, for it was raining the entire day. I just couldn't stay back in the room. I hired a taxi (800) and left.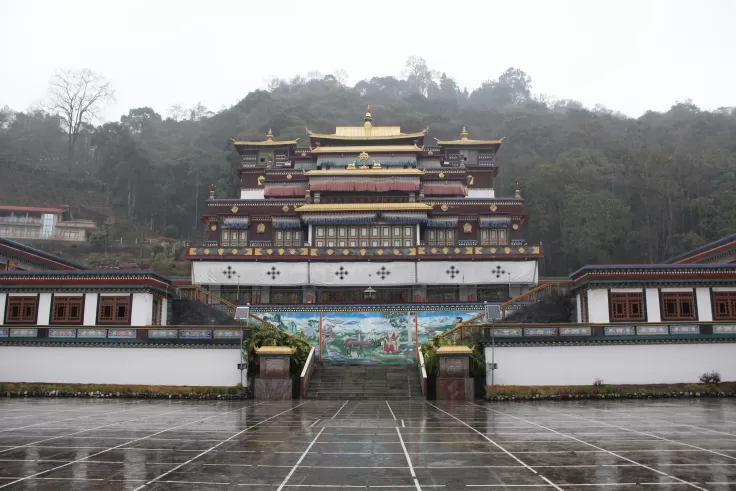 The rain was pretty heavy and so, I couldn't explore much of the area. Instead I had some hot coffee and noodles. I think I did good.
South Sikkim
I hired a taxi and left to explore South Sikkim. I reserved it and paid around 3000.
Temi Tea Garden
A sight to behold on your ride to South Sikkim.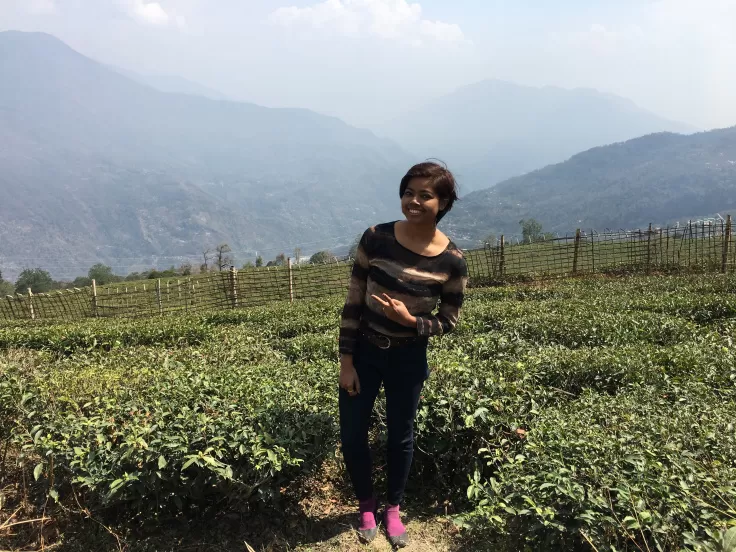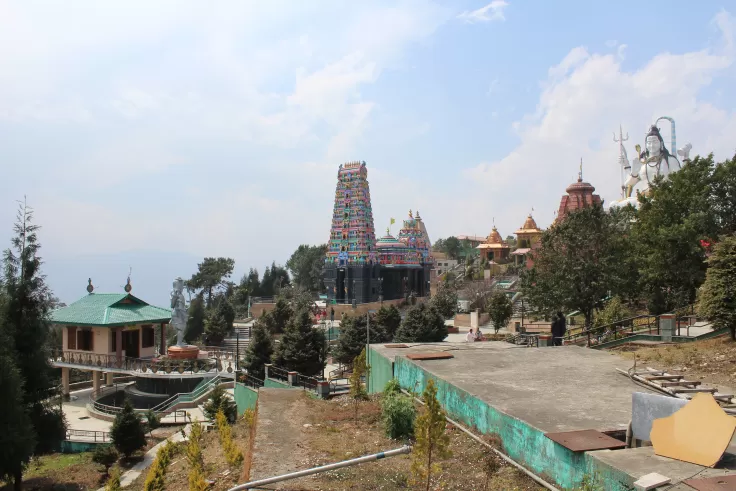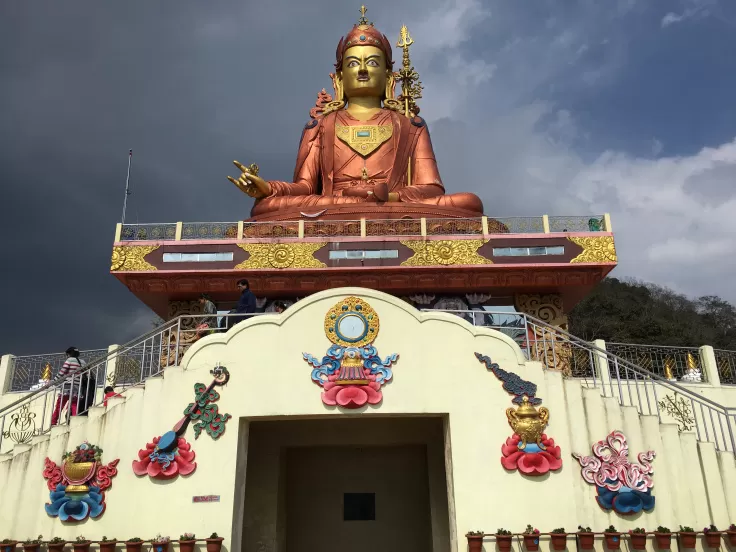 This was eerily beautiful. And they had free WiFi!
Buddha Park
The place I heard a lot about, did not disappoint. These gigantic architectures, with the mountains behind, will make you want to believe in the Legends.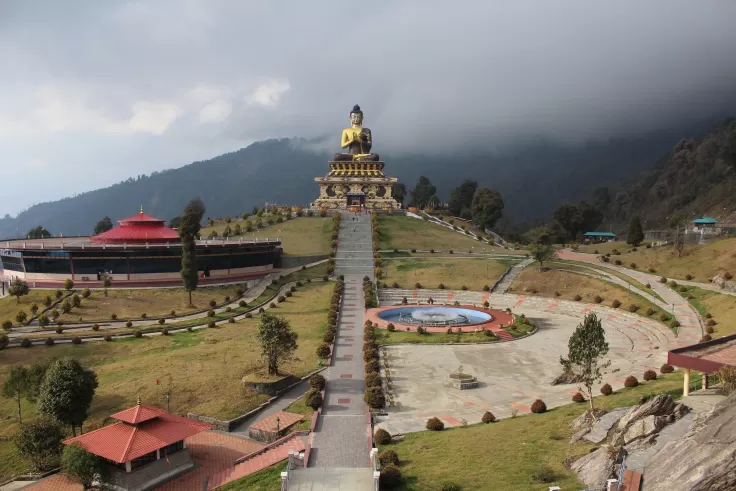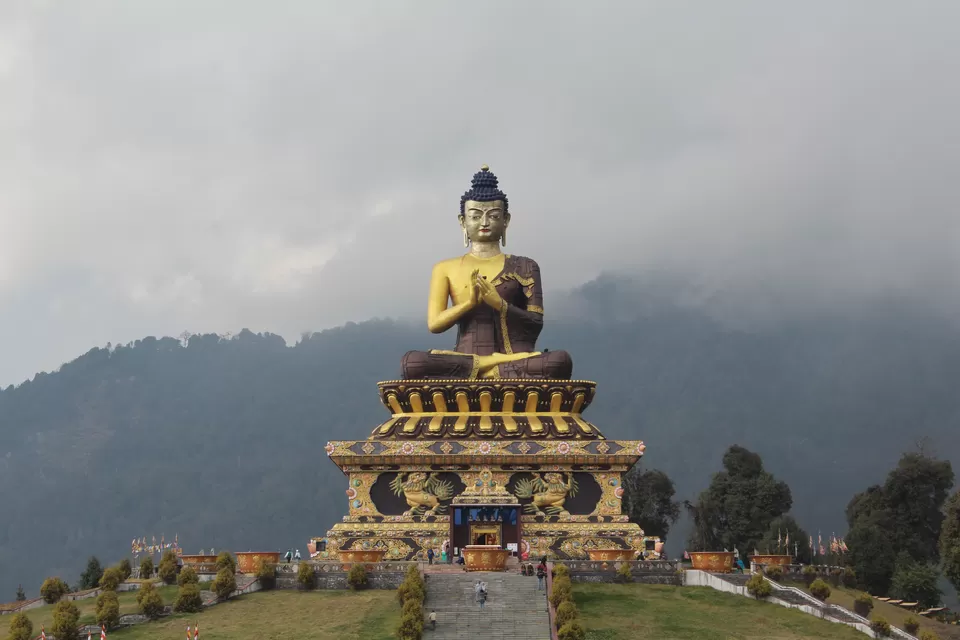 Inside, Buddha's whole life is presented in paintings. Describing in detail about the 12 deeds, which talks from the Birth of Buddha to when he attained enlightenment to when he left his mortal body. It was a combination of exhilaration and serenity.
And with that my longing was calmed. I decided to head back for I wanted to buy some souvenirs. The rain was upon on, thus making the ride much more tiresome and dangerous.
This trip helped me find a new side of me, much more open and enthusiastic. I was, walking for the first time, listening for the first time, seeing for the first time, believing for the first time and falling in love with myself for the first time. And first times are the ones we carry with ourselves, they are the ones that makes us and I am grateful that I could choose mine, and I hope that you find yours.
And with that I had to bid this beautiful little place, goodbye.
"Never say goodbye because goodbye means going away and going away means forgetting."
― J.M. Barrie, Peter Pan
Frequent searches leading to this page:-
gangtok family tour package, gangtok trip itinerary, pelling gangtok tour, darjeeling gangtok nathula tour package, gangtok tourism packages prices, sikkim gangtok and darjeeling, gangtok and north sikkim tour package, sikkim darjeeling gangtok tour package from chennai, gangtok honeymoon trip, 3 night 4 days gangtok tour package, gangtok lachung lachen package tour cost, thomas cook gangtok