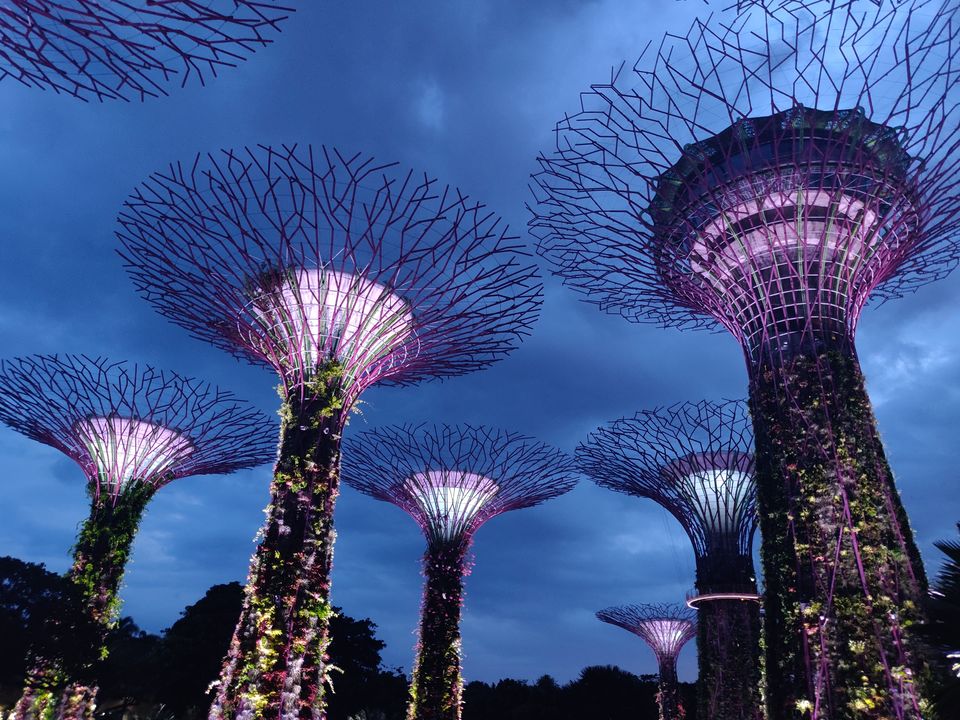 Singapore is known as "Garden City" for good reason- although its native Malay name Singapura literally means "lion city". It is one of the greenest cities I have visited, achieving that fine balance between green cover and concrete buildings. Cosmopolitan in its truest sense, it was once famous as a "stopover" city, rather than a destination that travellers sought to visit in itself- although this is changing.
Expensive by South Asian standards, it is more popular amongst business travellers and families than with backpackers. However, based on my recent visit to Singapore, I found that this island-state has quite a few interesting experiences on offer, not all of which are heavy on the pocket! Here are ten offbeat experiences that aren't to be missed - beyond the usual tourist itinerary:
1. Street Art in Chinatown
There's nothing quite like exploring a neighbourhood on foot. Chinatown and CBD are popular with expats and locals alike and can be quite busy during weekdays and weeknights. There are tonnes of restaurants and bars here, catering to the hundreds of offices in the district. However, the real magic lies in the inner lanes and alleys of Chinatown. Displaying beautiful murals at unlikely places, it's a joy to walk around and discover them for yourself!
2. Underwater Life at S.E.A. Aquarium
Sentosa island is perhaps on everyone's checklist when they visit Singapore. While the Universal Studios is the most popular hangout apart from the beach, the S.E.A. aquarium is the most underrated and must not be missed! From sharks and seahorses, to jellyfish and even manta rays- you'll find them all here! This place is truly a delight and transports you underwater without even getting wet. The experience is only second to snorkelling or scuba diving!
For the more adventurous and peace-seeking travellers (yes, the irony is not lost on me), try out floatation therapy at the Palm Ave Float Club!
Enjoy a 90-minute float in a sensory deprivation tank filled with Epsom salt and lose all sensations - instead, focus on your mind, your thoughts. Let go.
This unique experience is relaxing, meditative, and truly fascinating. More about it here.
Explore Haji Lane in the early evening as well as night. Laced with street art, quirky stores, and artsy pubs amidst a Muslim neighbourhood with the most gorgeous mosque and food stalls serving yummy delicacies, an evening here is sure to be a highlight of your trip.
5. Foodgasms Galore
Where do I start when it comes to food in Singapore? Or should I say where do I end?? Truly multicultural, there are a gazillion options for all budgets and palates. From the food courts to the Michelin star restaurants, if you're a foodie you're sure to overeat every meal in this gourmet paradise!
Don't forget to try the laksa, barbeque stingray, chicken rice, bakkwa.... the list is endless!
6. Music & Nature at Gardens By The Bay
Every evening at 7.45 PM and 8.45 PM, the Gardens By The Bay come alive with music and lights for the daily Sound and Light show. The experience is magical and transports you to your childhood wonderland! Carry a mat, lie down, look up, and be enthralled. It is quite the sensory carnival!
7. Concert at Esplanade Hall
Enjoy a concert at the Esplanade Hall. I was fortunate to catch my favourite pianist Ludovico Einaudi perform live here earlier this year - something I'd never imagined I'd get to experience outside of Italy!
The Esplanade library is equally fascinating- with a superb collection of books, records and musical instruments.
If you're visiting Singapore and haven't tried the famous Singapore Sling, have you even visited Singapore?
Created by the mixologist at Raffles Hotel, it's now a popular cocktail at most bars. Have it at a place that suits your budget.
If you're more adventurous, check out the tiny hole-in-the-wall pub called Nutmeg & Clove in Chinatown. They make the most unique artisanal cocktails inspired by local cuisines!
9. Magical Night-walks
With humid weather throughout the year, the best time to walk around Singapore is once the sun goes down! The city comes alive with lights and is particularly beautiful to walk by the river - especially the stretch from Robertson Quay to Fullerton Hotel.
10. Weekend Trip to Bintan
If you're sick of city life and want to get a taste of Indonesia, hop onto the ferry and head to Bintan island for the weekend. Perfect for a staycation, or some mangrove-exploration and paddle-boarding - whatever you prefer, this is a favourite amongst expats and Singaporeans as it's merely two hours away! More about Bintan here.