The largest country in the world- yet most of us in India choose to stick to only two famous cities! Whether it's the origin of vodka, ballet, it's rich history of monarchs and kings, we only have Russia to thank for our cocktails, entertainment and Anna Karenina!
What makes Russia most special though, is the fact that it's one of the safest countries for solo women travelers. As a woman traveling alone, you're less likely to get in trouble here than any other country in the world. Just like most European countries, Russia is a little deserted at night, with the streets relatively empty. That said, the capital city has few bats hanging from it's trees. From opera performances, pubs and parties, all the way to strip clubs- evenings in Moscow are as exciting as "nightlife" can get! Russians embrace culture, whether it's through theater, art, opera and architecture, or simply through sex. There's the question of the Russian Mafia of course, but that's hardly a factor anymore. There are a few important things to know before you visit Russia, and this article with cover the basics of planning your trip.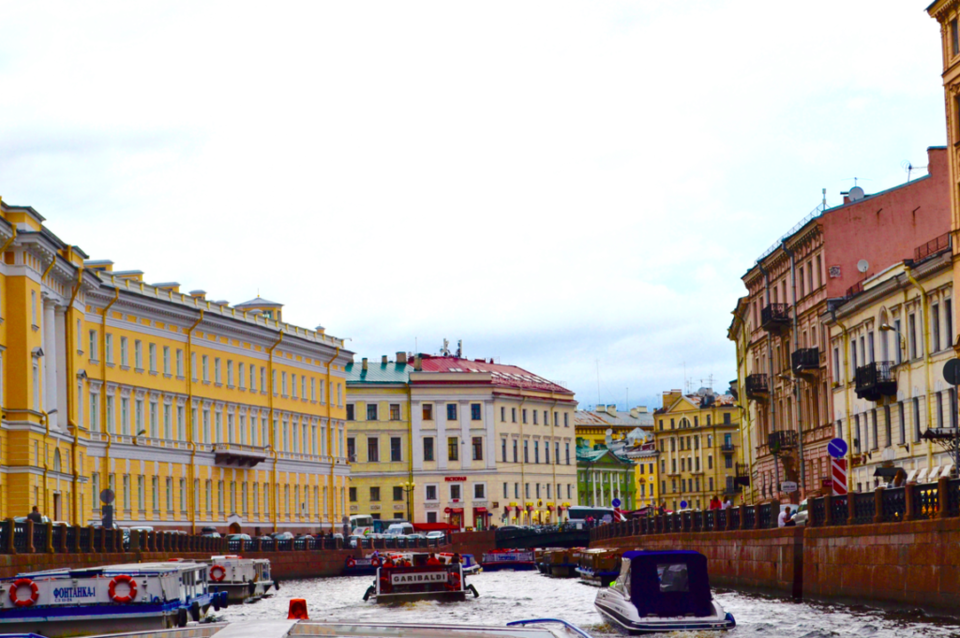 Why Go:
Russia had kept it's doors shut for the longest time, and few tourists (specially from India, unless on business) pick this country for their annual summer holiday. After the Rouble fluctuation, Russia might just be the best country to visit this year! The hotels, transport and food is cheap. The flights (barring the non-stop flights) are economical, the visa isn't a problem. Find out more on Why 2016 is the Best Year to Visit Russia.
Cities to visit:
During a quick 6 day trip, I decided to stick to the two most famous cities in Russia: Moscow and St. Petersburg! While St. Petersburg will give you a more artistic, small-town feeling, Moscow is just like any other cities that's still hanging on to a tinge of it's culture. Petersburg is an inspiration, while Moscow is for the traveler who prefers a fast-paced city life. There are many reasons to visit St. Petersburg, many castles to see and lamp posts to admire; many parks to stroll through and a lot of things to do in St. Petersburg. In Moscow, there are ballet and theatre performances at the Bolshoi Theatre, plenty discounts at the malls, museums (The Vodka Museum, The Kremlin.. you name it) and Circus performances to check out.
Visa:
While the visa process is fairly uncomplicated, and doesn't come with the hassle of submitting heaps of papers, you would need to get an invitation letter from the hotels you're booking as part of the documents required for the visa application. Most hotels provide these visa documents free of charge, but you should be check to be sure. It's an easy process, and the documents in most cases reach you within 24-48 hours. You could also opt to book through travel companies in India. Make My Trip pioneered Russia in India and offers the best quality trips.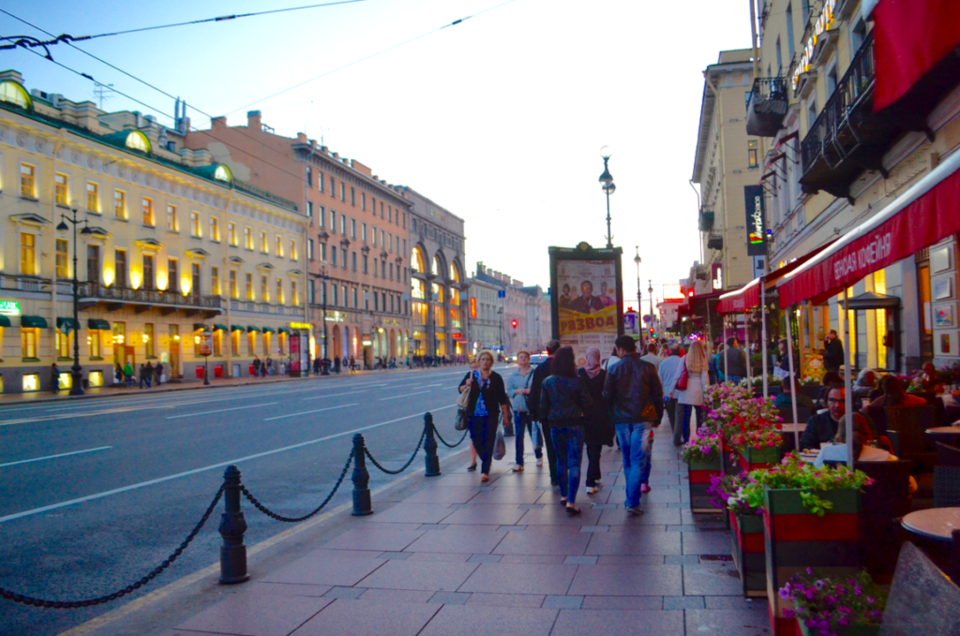 How long should you go for:
I would say a minimum of 6 days should be considered if you're looking at two cities. Anything less than 3 days in each city would do justice to either. Since Russia is such a massive country, and remains so little explored, I would recommend adding Sochi to your trip with an additional two days if possible.
Where to Stay:
In St. Petersburg, you don't need to worry too much about the location of your hotel, as long as there's a metro station within walking distance. It's a small city and the best thing to do is to pick a hotel that offers a shuttle service to the city center. I stayed at the Park Inn Prebaltiskaya, and the hotel was one of the better deluxe (4 star) hotels, apart from the supplement of 300 roubles they charge for in-room delivery. In Moscow, it's best to book a hotel closer to the city center, or one that's within 3 or 4 metro stops. This will ensure you're close to the heart of the city, since it's huge and could easily cost you an hour or so in commute. Given that the thriving nightlife of this city is worth exploring, it makes little sense to book a hotel that would keep you from venturing out too late at night.
Azimut Olympic is the ideal hotel for an Indian traveler. It isn't expensive for a 4 star hotel, yet hosts an Indoor swimming pool as well as an Indian restaurant. It's within comfortable distance from the main sight-seeings as well. Another one I recommend is Izmailovo Delta, though it's considerably far from the main areas worth exploring. The rooms are comfortable and clean, the hotel is walking distance from the metro and a couple of fast-food restaurants. If you're on a lower budget, this hotel is ideal.
What to do:
There's plenty to do in Moscow and St. Petersburg to keep you occupied for 3 full days! While Petersburg doesn't have much to offer for children beside it's zoo, there are enough options to pick from in Moscow. Whatever your age and interests, something is sure to click. A Neva river cruise, visit to the Hermitage and Catherine's Palace should be at the top of your bucket list, right alongside watching a ballet performance at the Bolshoi Theatre in Moscow and dining at Cafe Pushkin! Check out: 12 Things You Must Do in Moscow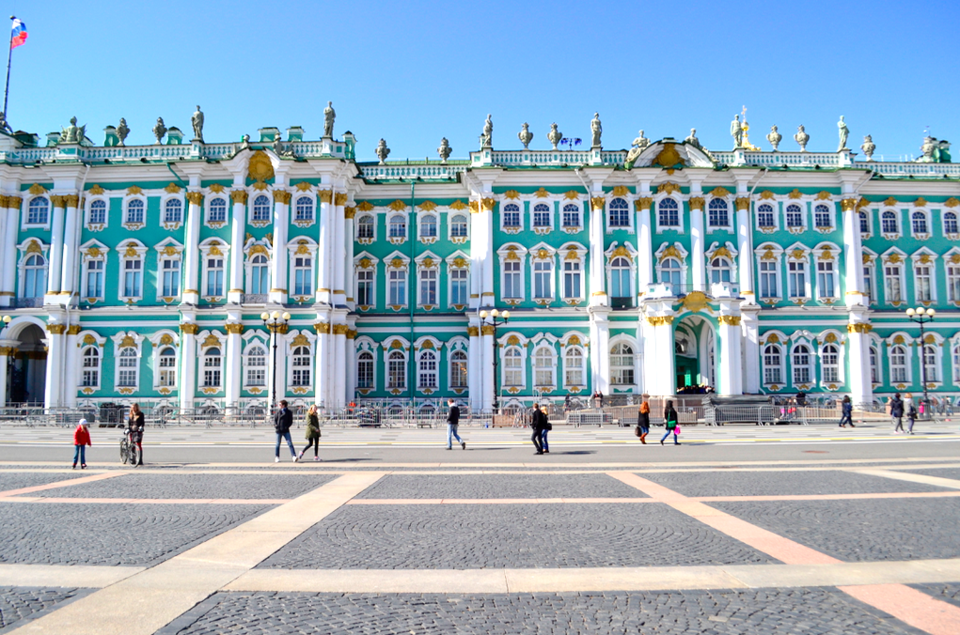 Where to shop:
For souvenirs, head to Arbat Street. For brands and other stores, the TSUM Shopping Mall is the best place to go. They have clearance sales on and off, as long as you have the passion to scout through plenty stores, you'll be able to find some classic pieces for your wardrobe! Stroll into GUM shopping arcade for luxury brands and expensive dining options.
What to take home:
Gifts! The question of souvenirs and presents for loved ones. Luckily for Russia, Vodka is the easiest and best present to carry home with you. You could also shop for Matryoshka Dolls (we've all received them at some point in our lives!), Ushanka (Russian caps) and paintings of the beautiful monuments and Russian landscape. Don't walk into fancy souvenir stores and blow up all your cash. Load up some caviar for those who have a taste for it! Arbat Street in Moscow is the best place to buy tid-bits, as long as you bargain hard! Flea markets keep coming up in different corners of Moscow as well. You'll find artifacts and food items from around the country here.
This blog was originally published on Stumbling Around Delhi.