Be it school time, a break at the university or a lean period at work, summer brings with it the excitement of taking a much-awaited break. This year, summer is even more special than usual. How, you ask? International travel is once again on the rise so you can start planning a sunny escape to an exotic paradise. Fruity drinks, poolside fun, tan lines that tell tales and a breeze with the promise of adventure, this season surely is inviting.
In fact, I am busy planning one of the most epic trips of my life as I intend on heading to Spain! Daydreaming is in full swing as I meticulously read through itineraries, salivate over the cuisines that I'll try and make some laughable attempts at learning Espanol. While discussing this trip with a friend, we were going over the different required documentation when the topic of travel insurance came up. My friend remarked how we should get a basic one as it would suffice. You see, most of us deem travel insurance to be something that we only get for a visa or other paperwork requirements. However, we forget that a misplaced passport or baggage, an accident in a foreign land or a burglary that leaves you without any cash in hand, are not just dramatic scenes from movies. They are very real possibilities with the scope of not only ruining your trip but even your bank balance! Thus, travel insurance is something that one must carefully pick because a good one, such as the Bajaj Allianz General Insurance travel insurance will save you a bucket load of money and help you pursue your travel plans worry-free! *
Expect the unexpected, including medical emergencies!
Gone are the days of superstitious jinxing. Today, one must be a realist when it comes to adversities that can arise during or even leading up to a trip. We often make non-refundable bookings to cut costs, but God forbid, unavoidable commitments may prevent us from taking the trip. That invariably means all your money goes down the drain, right? Wrong. With proper insurance coverage, you can actually be protected even in case of last-minute cancellations.
Post covid-19, medical emergencies have become a legitimate fear. What if one meets with an accident or catches an unexpected illness? The truth is that healthcare charges can cost 5x the amount in a foreign nation; that could even amount to more than the total of your trip's entire budget! Travel insurance allows you to seek medical recourse without leaving heavy dents on your bank account.
The policy covers 216 countries and islands globally, so no matter where you go, you know you can depend on your insurance. Medical expenses costing above a certain amounts are covered in the policy and those below the said amount can simply be claimed for reimbursement. Disabilities, bodily injuries and more cases of medical cover are available.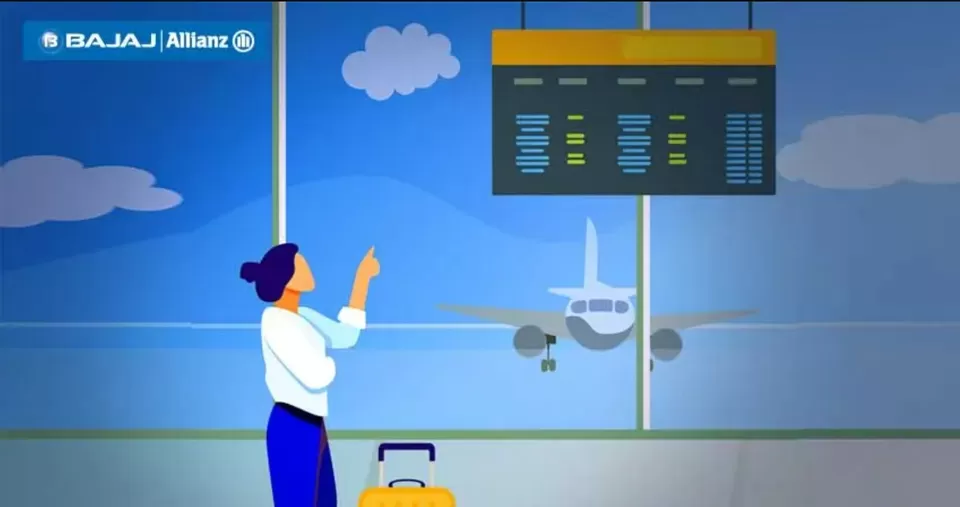 For those on the lookout for a serious adrenaline rush, there are add-ons available for adventure sports. This lets you climb up high-altitude terrains or learn new skills with the cushion of medical care if needed. Moreover, you can opt for the cashless facility at hospitals in your insurance to help you avoid the horror of arranging funds during an unexpected adversity during your holiday! *
Travel light but what if you lose your bag or worse, your passport?
When you start planning a trip, you start picturing the little details too! Your favourite backpack, the essential gadgets and all sorts of necessary items that you deem a 'must have'. When we pack our bags, that's when we get in the groove of a trip. The worst nightmare for all travellers has to be losing their bag or worse, their passport!
In the movie Queen when the main protagonist clung to her purse with all her might against a burglar and it represented our conviction towards protecting our precious belongings. As per a BBC News article, approximately 25 million bags are misplaced annually by airlines. Yikes! Buying new essentials to carry on with your trip can be an exorbitant affair unless you are reimbursed for the same. If you happen to be one among these unfortunate 25 million, good travel insurance safeguards you!
Another nightmare is that of losing your passport! A policy cannot recover your lost passport but it can ease the loss by covering the expenses incurred by you in obtaining a new passport. A key feature to look out for in either of these scenarios is emergency cash assistance. It is a facility through which you can get some cash in hand when faced with such mishaps. It helps you get some monetary flexibility to take care of your essential needs while you figure out your next course of action. *
In an era of FOMO, imagine missing your connecting flight
Lately, news related to airlines have become as much a matter of headlines as the rumour mills that flash across tabloids! Passengers have taken incorrect flights, been abandoned on a bus on the runway, been misinformed about departure locations and even been left behind by airlines! Let's just say that the newsworthy headlines are comical from afar but an absolute torture when you're confronted with flight-related issues on the day of your departure. Your insurance can cover you in multiple scenarios.
In case of a missed connecting flight or a cancelled flight, you can present a letter and if you have valid reasons (specified under the policy), then you are eligible for compensation related to expenses incurred in these situations. In certain cases, the insurer will also reimburse you for the re-booking of a fresh flight. One can even be compensated for the emotional distress that one undergoes during a hijacking situation! Better yet is the fact that you can be eligible for an automatic claim settlement. If you use Bajaj Allianz General Insurance's Caringly Yours app, the app automatically tracks your flights, so, in case of delays it handles payouts automatically. The tedious affair of chasing flight operators for your due refunds can be a thing of the past in this day and age with the right family travel insurance. *
Seek help instantly, anywhere, anytime!
As my discussion with a friend about the mishaps one can face on an international trip progressed, she mentioned how a number of policies sound really lucrative on paper but in reality, it's a whole other story. The thought of being across continents and dealing with the repercussions of an accident or a lost passport is rather daunting. What makes this particular policy more reliable is the fact that they extend 24/7 assistance. They have a dedicated in-house team for ensuring faster processing of claims. So, you could be in a completely different time zone and still get assistance when you need it. They even have a missed call feature wherein you get a callback. So, romanticized answers apart, if someone asks us, "Who would be your first call in a tough situation?", we know our answer! *
Here's what to consider before you choose 'The ONE'
This travel insurance comes with a broad range of options and add-ons, allowing it to be tailor-made to your specific requirements. For instance, if you are getting insurance for your parents or elders you can get features suited to their requirements, as they can be more vulnerable. Similarly, if you are travelling with a group, whether for work (corporate) or personally, you can choose a group cover too. Frequent travelers can also go for multiple-trip insurance as opposed to a single-trip one. There are multiple types of insurance you can pick from depending on the kind of travel you're planning.
So, do you reckon yourself to be a pro-traveller? You can bookmark your favourite attractions in different locations and activities to try, test out packing hacks or indulge in some really authentic experiences but a pro-traveller must be a smart traveller. And, having proper travel insurance in place makes you one! It's a decision that can help you save so much money! Luckily, now that you know of Bajaj Allianz General Insurance's travel insurance and the manifold benefits it presents, you can get it right away and go back to getting set for an unforgettable summer vacation this year! Tropical drinks, bright colours and stories for the ages are all waiting to unfold. *
*All savings are provided by the insurer as per the IRDAI approved insurance plan.
Standard T&C Apply
Insurance is the subject matter of solicitation. For more details on benefits, exclusions, limitations, terms and conditions, please read sales brochure/policy wording carefully before concluding a sale.
In association with Bajaj Allianz General Insurance.
Ready to travel for free? Earn credits and redeem them on Tripoto's weekend getaways, hotel stays and vacation packages after the pandemic is over!
Explore the best of travel inspiration on Tripoto Instagram!