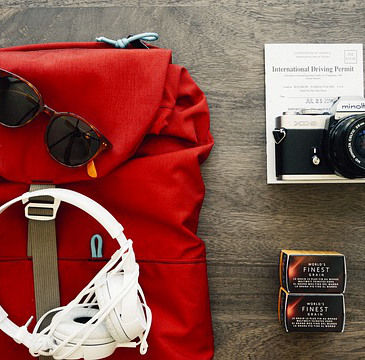 What to pack? It is the question often asked when the day before travelling is approaching. There are so many things to consider when preparing luggage. How is the weather like? Is it going to rain? Do I need to bring a towel? How many shoes shall I pack?
It might be helpful, first of all, to look at the weather forecast for the particular city I'm travelling to. In a week's time I am flying to Gothenburg, and then making my way to Stockholm for a few days. The weather predictions are between 18 to 20 degrees, with some rain, sadly! I also know that I will be kayaking and camping, so packing accordingly is important, In order for me to enjoy my time away. Here is the list of my 7 packing essentials:
1. Rain coat: I don't need a super heavy coat, the intent is to protect myself from the rain, not the cold. Rain coats can be super light and easy to carry, not occupying a lot of room in my luggage.
2. Comfy trainers: The pair of trainers I take are going to depend on the type of activities I am planning on doing. I normally take a pair of Converse, they are quite easy to carry, comfortable, and stylish!
3. Good pair of jeans: I always take one or two pairs with me, it is enough for a week, and they can be combined with different tops. Recently I have been loving the boyfriend style of jeans, they are so comfy!
4. Little black dress: I always try and take one that can be used in both formal or casual occasions. This way I save space in the luggage.
5. Small Backpack: Very useful to carry gadgets and wallet around. I am currently obsessed with Kanken, seriously can't decide what colour to get!!
6. SPF15 face cream: When traveling, if nothing else, I always moisturize my skin and protect it from the sun. It is not always easy to keep up with cleansing routines, so I need to make sure my skin is happy and protected!
7.My camera: How else am I going to record all the beautiful moments? Lately I've been looking to buy a GoPro, they are super small, easy to carry, and also have amazing quality! They are a bit expensive, but my birthday is approaching… (hope my friends are reading this! xD).
What about you? What are your travel essentials?