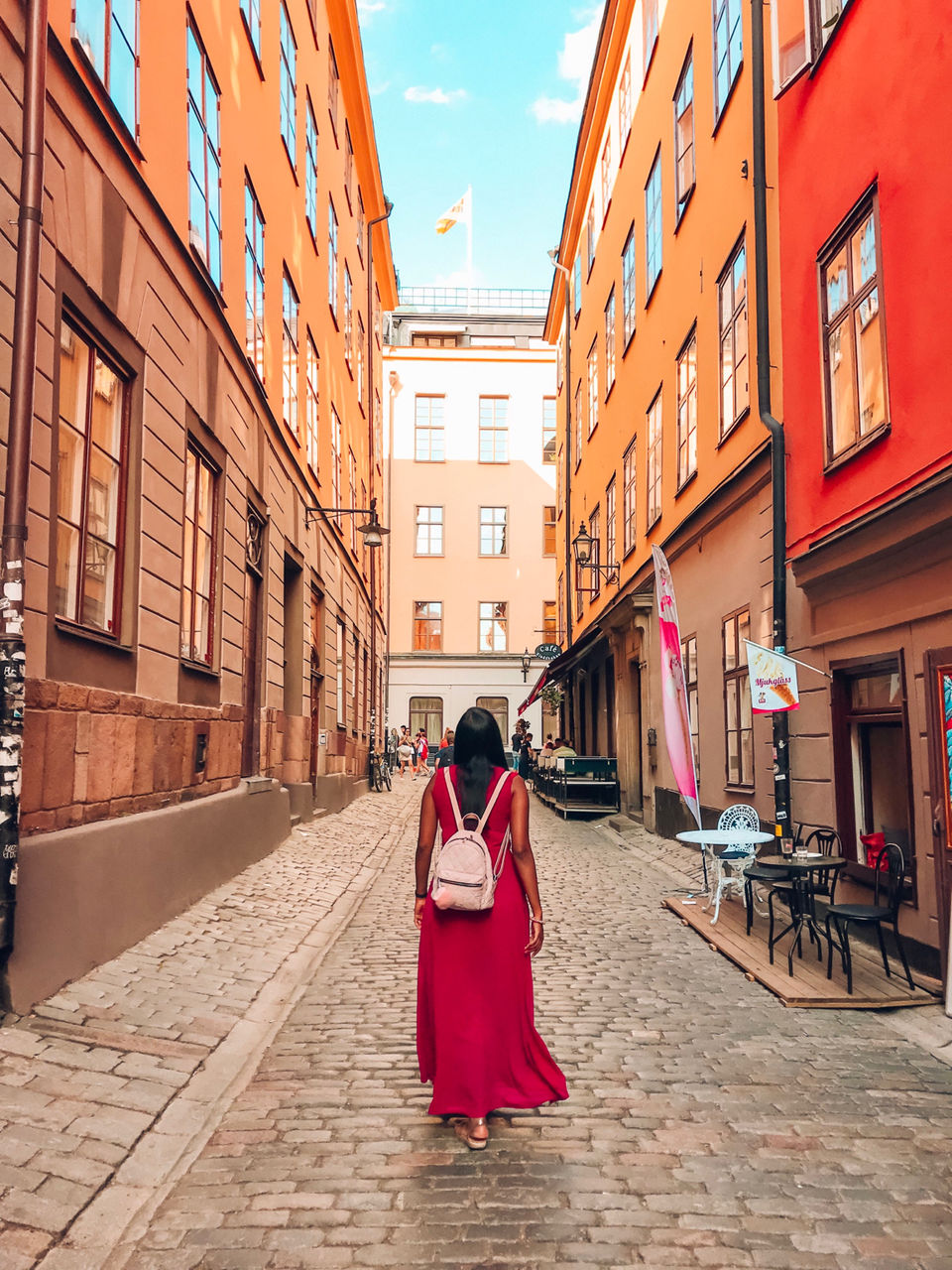 Stockholm is one of the most beautiful cities in the world with a history of over 750 years. It is spread across 14 islands connected by 57 bridges, and each neighborhood has its own unique character. Everything is just so photogenic and picturesque.
Stockholm is a trend-setting city with inventive cuisine, parks, islands, harbor and historic colored houses dating back hundreds of years! No wonder Stockholm has so many top things to do. We have curated some of the top things that we did when we went to Sweden for our Summer trip!
Did you know that Sweden managed to stay neutral during WWII? That is why it was never bombed, and the old town is greatly preserved.
Top things to do:
1. Stroll through Gamla Stan (Old town)
Wandering one of the best preserved and largest of the medieval city centers of Europe, Gamla Stan was one my favorite part of the whole trip! Discovering this charming Old Town is one of the most popular attractions of Stockholm. The best way to experience this medieval jewel is by wandering along the charming cobblestone streets of Vsterlnggatan and sterlnggatan which together make up this charming district. The streets here are dotted with several shops, restaurants, cafes, bars, souvenirs, handicrafts, and curio shops.
And don't forget to Fika - it is a Swedish type of Spanish siesta, a time of the day when you enjoy a cup of coffee, or tea with local pastries.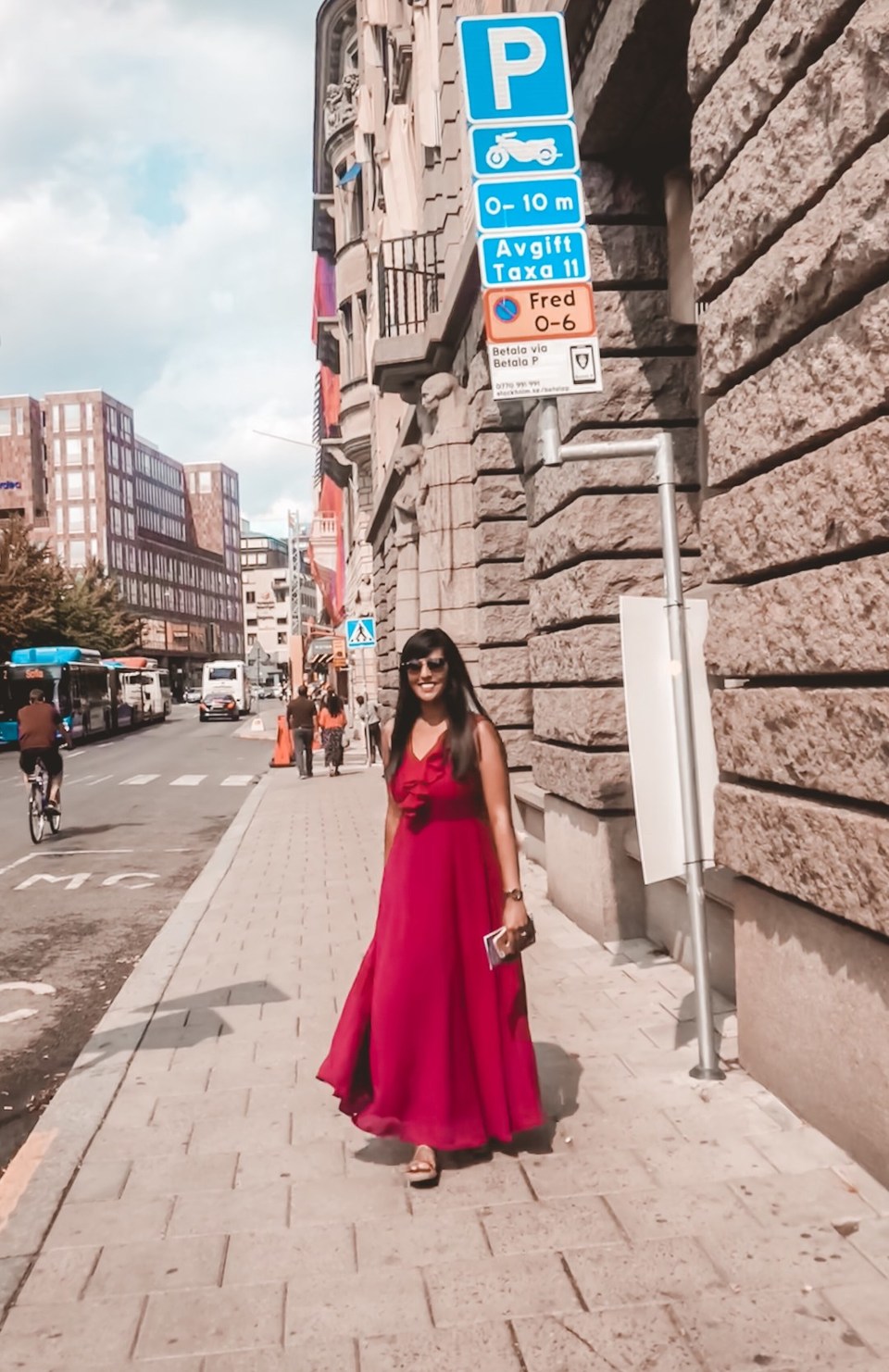 2. Archipalego
About 20 min by boat or a water taxi ride from Stockholm city lie cluster of almost 30,000 islands and rocks spread into the Baltic Sea that make the charming Stockholm Archipelago. This impressive destination has something for everyone with the islands offering a variety of sightings, activities and more.
Engaging in activities such as swimming, surfing, hiking, kayaking, fishing, sailing, swimming, and more are perfect to spend your summer days. It is also ideal to book an island hopping tour to visit the old towns and fishing villages or go on seal and sea eagle sailing excursion, or simply camp on one of the islands. The most popular islands to visit are Grinda, Vaxholm, Svartso, and Sandhamn.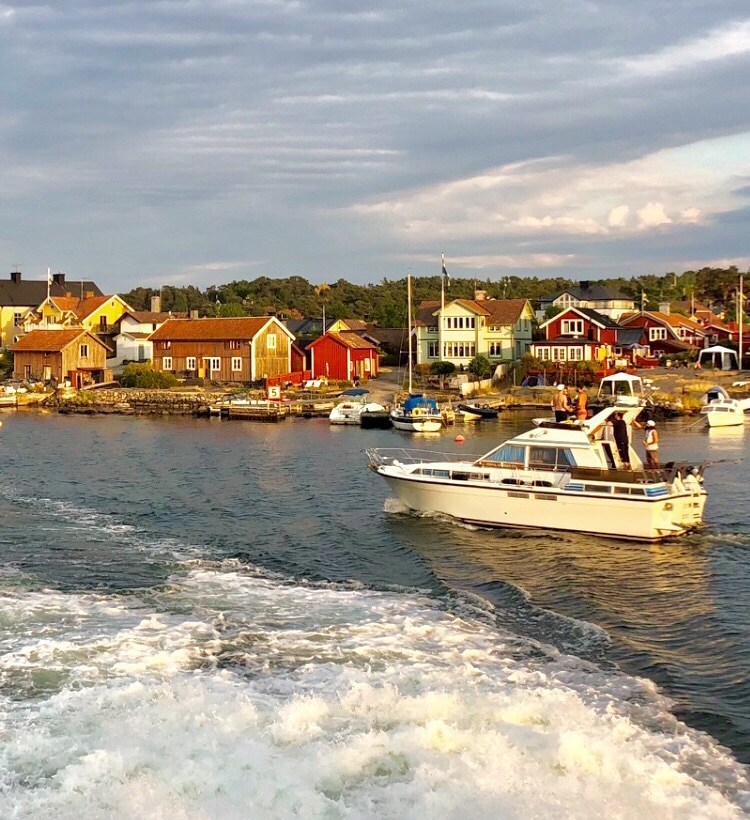 On a tight schedule?
Want to explore the unique archipelago, but don't have much time? In less than an hour, you can get to the closest spots and still experience that true archipelago feeling. Here are three places to visit in the archipelago for those on a tight schedule.
Full day Island Hopping:
If you are in for a perfect Summer getaway or Day trip Island hopping is a perfect hing to explore in Stockholm.
When buying a ticket or pass, ask for a Waxholmsbolaget's island hopping map. It has suggestions for different routes and things to do along the way. The area is divided into the northern, central, and southern archipelago. You can download Waxholmsbolaget's app (search for "Waxholmsbolaget") and use it to plan your journey.
There are many different lodging options on the islands. Camp, stay at hostels or check into hotels. Make reservations well in advance during high season.
Our choice:
Day Trip to Sandhamn from Stockhholm
Since we had rented car in Stockholm we decided to drive till Vaxholm as there are road that connect to this island.
Vaxholm: Idyllic archipelago town with many well-preserved wooden houses from the turn of the last century painted in the archipelago's typical delicate pastel tones. Vaxholm has numerous charming restaurants, cafés, and shops.
After spending couple of hours in Vxholm, we had plans to experience the northern archipelago, Sandhamn.
Sandhamn: From Vaxholm we took ferry to Vaxholm which was a 90 min ride crossing all the beautiful islands in the Archipelago.
As we reached, we found a shop, Peak Performance, where we rented mountain bikes. We rented four bikes and started our exploration of the island. We walked in the forest, found beautiful hidden beaches and beautiful vantage points to explore some pretty views in the island.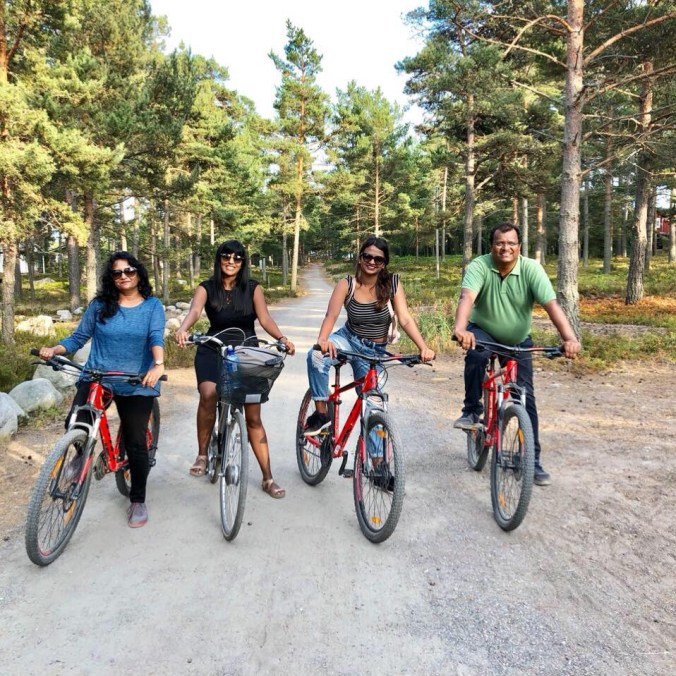 3.Vasa Museum
Whatever museums you choose, the main one that should be on your list is, no doubt, the Vasa Museum!
This museum houses the world's only preserved 17th-century ship. The Vasa was a ship built so poorly it sank a mile from the dock on its very first voyage in 1628 and was recovered in 1961, after 333 years. Today, about 95 per cent of the ship has been restored to its former glory.
The museum does a wonderful job in putting the ship into historical context and gives a glimpse on life aboard it.
Browse through various interactive exhibits and do watch the film Vasa Piglet. Admission fee is 130 SEK.
Here is the schedule of the guided tours in English that is included in the admission.
Helpful Tip: If you plan on exploring several museums and attractions in the city, it may be worth buying a Stockholm card, which combines transport, sightseeing tours and access to 80 museums for one price. It's a great investment which gives unlimited access to almost all the activities in the city.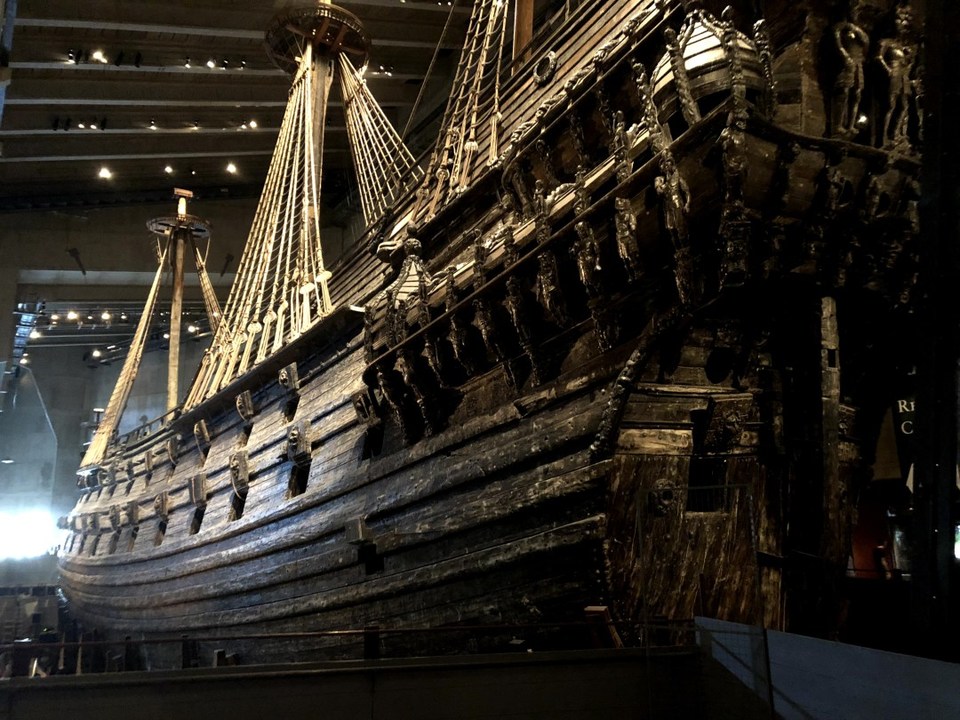 OPTIONAL - there are other great museums that are located just in the city centre:
Nordiska museum Skansen - open air museum and Zoo in one. It is huge, take at least a couple of hours if you go! ABBA museum - Guess what, except H&M and Ikea, Sweden exports some good music!Visit the ABBA museum if you are familiar with the legendary band. ABBA is the icon of the 70s. While there is a lot of ABBA going on (I mean, it is their museum) it's actually really well done and enjoyable even for those who just know the songs and aren't ride or die fans.
4. Go underground - Metro stations tour
Taking a metro in Stockholm is one of those situations where paying for the ticket will get you much more than just point A to point B. Go in the evening, after you visit all the museums etc. Ride along the Kungstrdgrden and Rdhuseti stations on the Blue Line, Htorget and Thorilds on the Green Line and Tekniska Hgskolan and Stadion on the Red Line to view amazing artworks that represent various subjects such as history, politics, environmental issues, and womens rights.
Here is the list of the most beautiful metro stations in Stockholm.
Source: Google
5. Stockholm Public Library
For all my Instagram lovers out there - visit Stockholm Public Library, it is known as one of the most beautiful libraries in the world! I wanted to go there, but we ran out of time.
P.S. If you are traveling with kids you can visit Tivoli amusement park located in the museum island, they will love it!
Source: Google
6. Fotografiska
My favourite museum in Stockholm has to be Fotografiska, the modern photography museum. Situated along the water, it houses beautiful photographs from Swedish and international photographers. I didn't expect to love it as much as I did but it ended up being a real highlight for me!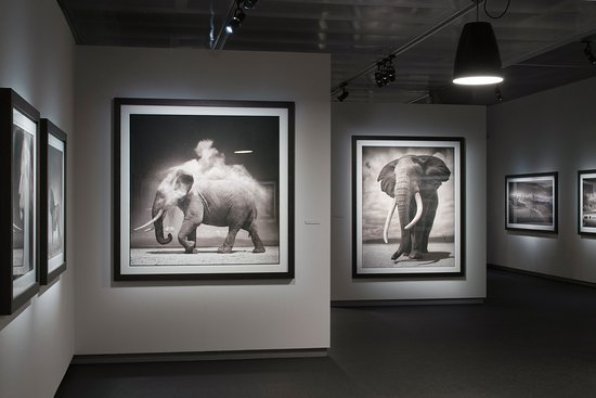 7. The City Hall
With a towering height of 106 m, the City Hall overlooking the beautiful Lake Mlaren has three crowns, which is the Swedish national coat of arms, at its apex. Since it houses the government offices, it can be visited only via guided tours; hear interesting details about its historical background, architectural style, events hosted here. Walk through the opulent ceremonial halls such as the Blue Hall and the Golden Hall featuring 18 million gold mosaic tiles, where the Nobel Prize Banquet event is held. Climb to the top of the City Hall Tower and enjoy great views. Also, do visit the Tower Museum located in the middle of the tower.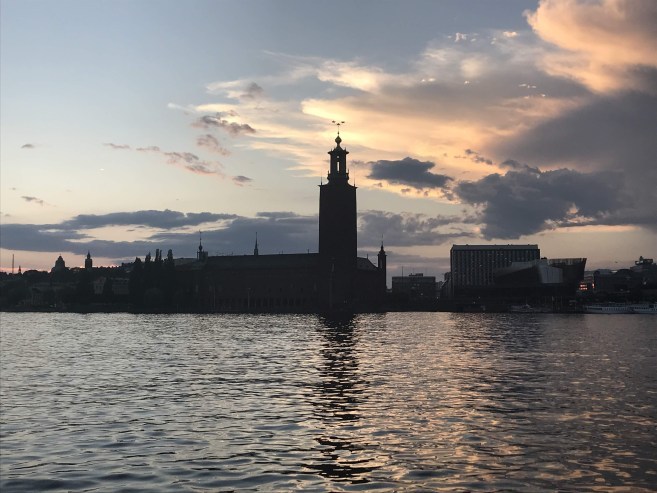 8. Skyview
Keen to take in some stunning views of Stockholm? Head directly to SkyView, located at the top of the world's largest spherical building, Ericsson Globe. The gondola tour will take you around 20 minutes and you'll be treated to unbeatable views of Stockholm.
Tip: Be sure to check the weather forecast and aim for a nice clear day if possible and pre-purchase your tickets online to skip the queue!
Getting around Stockholm:
The public transport in Stockholm is extremely efficient, but not particularly cheap. It is almost always better value to get passes for longer periods than for individual rides. If you are a student or a senior, ask for a 50% discount.
The metro will get you to many touristic places, if not, it can be easily substituted by bus.
There are also boats in Stockholm! With over 30 routes, the boats are just like the underground, but over water (it is public transport). The tickets are sold on board.
See the up-to-date fares here.
Is Stockholm that expensive as they say?
Sweden is known for being notoriously expensive. Eating out and taking taxis will add up quickly so, if you're traveling on a budget, consider getting a metro pass and, do as the locals do, by eating at a lunch buffet.
Here are some tips on how to not break the bank while in Stockholm:
If you are planning to visit many sights, consider the Stockholm Card; it will save you a lot of money! All those places mentioned in the post above will be free of charge for you if you buy the card. If you get accommodation in advance, it can be quite affordable too. And if you are on a budget, you don't have to eat out every day. As usual, if you are a student, try to show it everywhere as there are tons of discounts for students!
Where to Stay?
Our Hotel: Clarion Hotel Amaranten
Clarion Hotel Amaranten is located on Kungsholmen, next to Rådhuset Metro Station and 7 minutes' walk from Stockholm City Hall and Central Station.
Insider Tip: The breakfast is really great. Don't miss to make your own waffles. Worth staying there just for them! And the staff were very friendly and helpful!
Our Favourite Flight/Hotel Booking sites:
After traveling consistently for over 10 years, we've come to trust and rely on a few websites to help us find the best deals on flights and accommodation.
Flights: Skyscanner is the first place we check when searching for cheap flights. It searches hundreds of sites for the best fare and includes both standard and budget airlines. The price calendar feature shows the cheapest days to fly in your preferred month of travel.
Accommodation: Hotelscombined,com cuts through availability and prices from all the top travel websites from around the world, including Booking.com, Expedia, Hotels.com, Agoda, AccorHotels, Hilton and many more. In one quick and easy search, we show you only the information you want to know and need to know. You'll find just what you're after and can be sure you got the most out of your booking.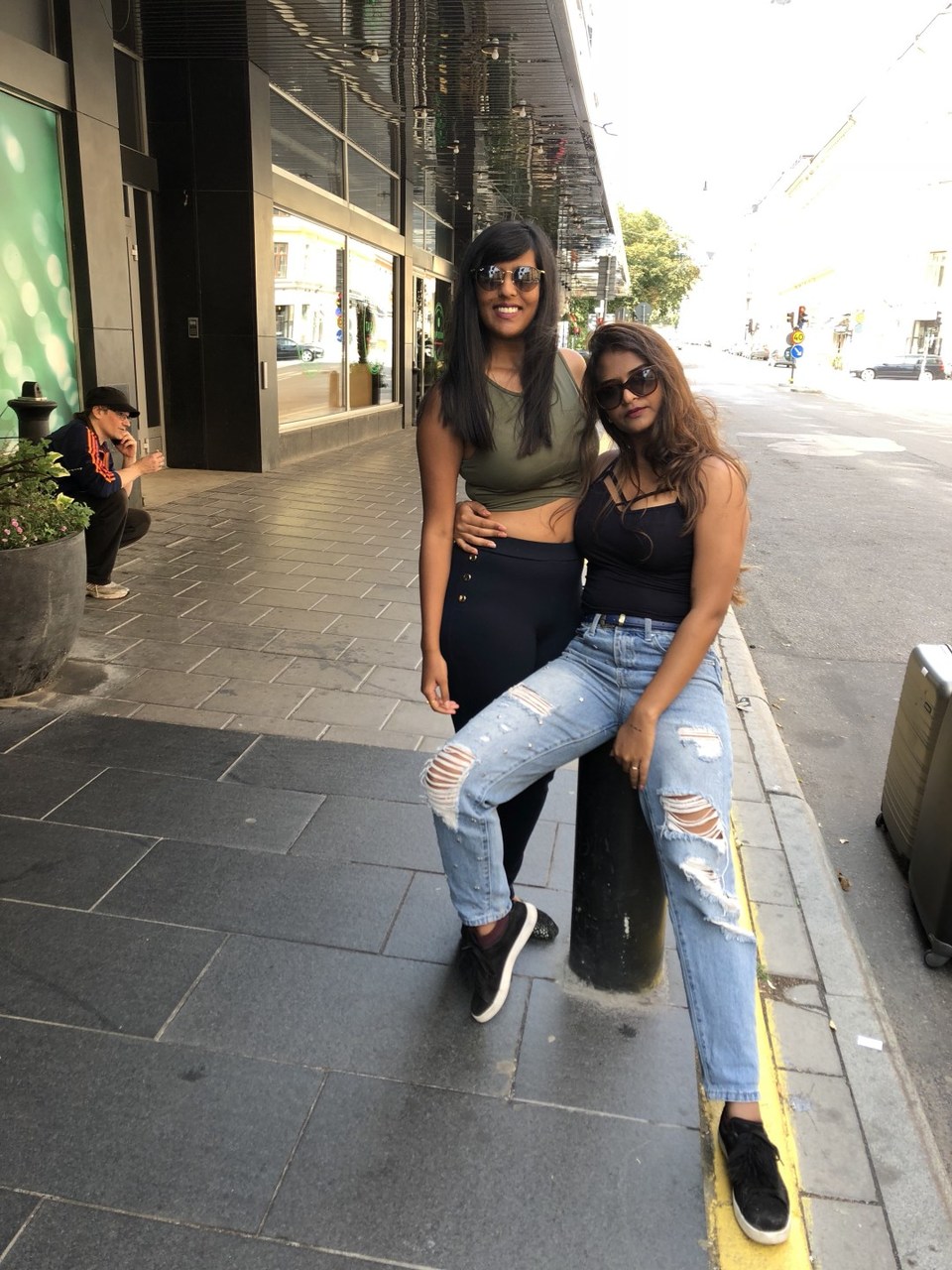 So that's it, I have tried to sum up my recommendations with the best things to do in Stockholm and it can be well explored in three days!
But as I say, every traveler is different, and so you can easily stay longer and discover more!!!!!
h