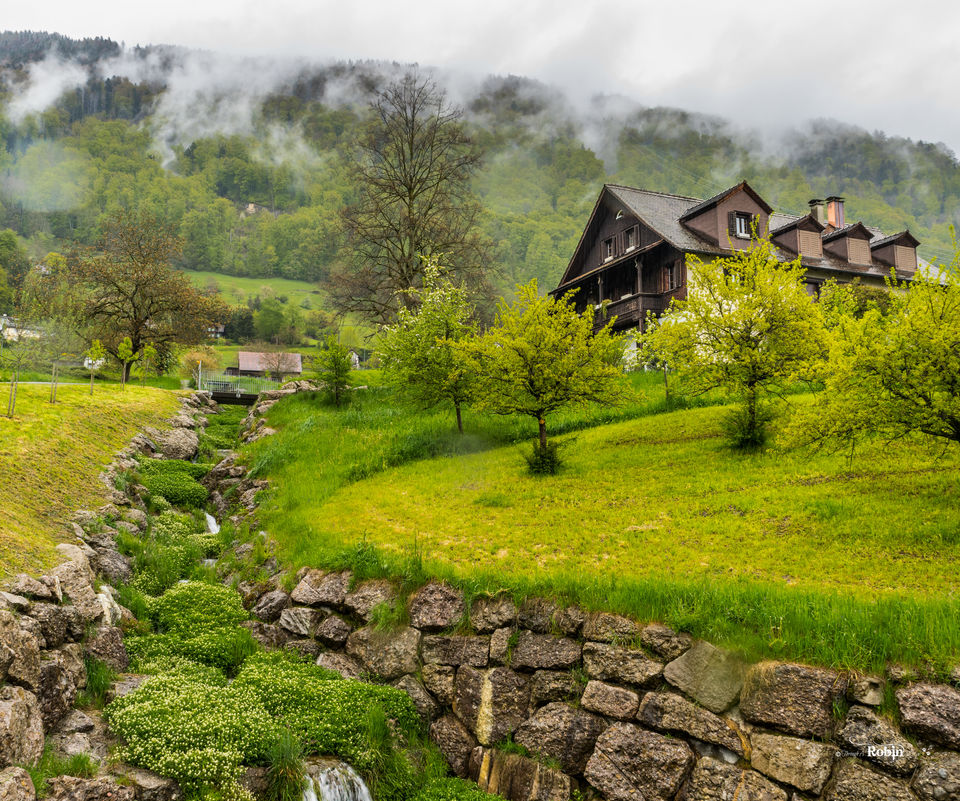 As I recollected fragments of my memories across Swiss landscapes and penned them down on my 7 day itinerary to Switzerland, I also remembered what a lot of my friends had told me about the country - that you need to give some time for your relationship with Switzerland to flourish and provide the warmth you crave for!! Away from the hustle of tourists trying to cover the country in a few days, since that is what most people's European itinerary afford them the time (and money) for, you need to give it a few more days and deep dive into the rich diversity of landscapes and culture the alpine country has to offer. So, how do you make use of the additional 1 week you decided to give yourself in this country? You take yourself on a memorable journey across the length and width of this pristine country, indulge in the beauty of unsullied meadows and immerse in clear reflection of alpine lakes - and it all starts from Zurich!!
Day 1 :
Offering experiences suited for casual tourists, nature enthusiasts and experiential travelers in search of rich culture alike, this multi-cultural cosmopolitan hub of Switzerland knows how to welcome guests coming in with diverse expectations. Wander around the quaint Old Town, sampling the small shops and souvenirs on display along the narrow streets. If you are lucky with the sun then spending some time in Lindenhofplatz will treat you to some pleasant views of the city as well. A visit to the imposing churches in Grossmünster and Fraumünster will bring you up close with the history etched on their walls. A tasting of traditional Swiss chocolate at Maestrani's is definitely recommended, while a culinary walking tour across the town should unmistakably be on the cards.
Day 2 :
After an enjoyable welcoming day and a lively evening at District 5 in Zurich, it's time to take the first road/rail trip across the Alps. Located 3 hours away from Zurich is the widely heralded Queen of Switzerland's alpine resorts and the place for indulgence, adventure and pretty landscapes - the picturesque town of St. Moritz. This luxurious and breathtaking resort is a favorite among celebrities, tourists and outdoor adventure enthusiasts and a visit to the city will make it clear why it is so. Surrounded by towering alpine mountain peaks, with the clear waters of St. Moritz at the foothills, the town deserves all the attention it draws from across the world.
Indulge in the unique experience of a dip in the highest hot tub in the world at Diavolezza mountain. For hiking lovers, there are the four barefoot hiking trails in St Moritz, providing you unmatched experience of tramping barefoot over the beautiful mountain landscapes in the region. Grab some of the best flame-grilled ribs at Restaurant Uondas before you call it a day.
Day 3 & 4
So much has been said about the alpine mountain beauty of Switzerland that the Italian-influenced southern corner of the country remains relatively unknown to many. Located around 200 kilometers away from St. Moritz is Ascona on the shores of the beautiful Lake Maggiore, which is the perfect place to enjoy warmer climate and a touch of Mediterranean culture. Spend the first day at one of the smallest islands in Europe, Brissago Islands. Located within 30 mins of boat ride from Ascona, Brissago is a beautiful world indeed. With sprawling historic villa and sights to keep you thoroughly engaged, a trip to Brissago definitely livens up your day.
Lake Maggiore shares the same standards of spectacular beauty as the beautiful Italian ones in Como and Garda. Once you have feasted your eyes on the colorful houses and delightful cuisines, you can also explore the nearby town of Locarno. Apart from a beautiful lakeside promenade, you can also find a funicular to Cardada for some spectacular views.
Day 5 and 6
Lucerne is a definite must on any traveler's list, given it's proximity to spectacular mountain views. You can easily spend two days here, with your heart yearning for little more time - such are the options available to you in this region. An absolute must is a trip on the steepest cogwheel railway up to Mount Pilatus at around 2000 meters - at 48% incline it is really steep indeed!! You can even board the steamer and take a memorable trip on Lake Lucerne, with the majestic Mount Rigi providing a perfect backdrop and welcoming everybody to walk into its embrace. Walks across the 14th century Kapellbrücke are definitely worth the hype and you cannot help but fall in love with the charming Old Town of this city.
Day 8, 9 and 10
Located between the spectacular turquoise water-bodies of Lake Brienz and Lake Thun, Interlaken is one of the most popular and favorite part of Switzerland for the very best of Alpine landscapes. From towering Jungfraujoch to rolling meadows and sleepy alpine villages, this region has everything you could ever dream in terms of bountiful natural beauty.
Interlaken is also heralded as the adventure sport capital of Switzerland, which will be made obvious to you as soon as you step in the town. The prospects of capturing the entire landscape in your memory through paragliding or sky diving is simply irresistible - after all it's not everyday that you get a bird-eye view of a breathtaking region like this!! Also, a funicular to the top of Harder Kulm is highly recommended for capturing those splendid landscapes photographs.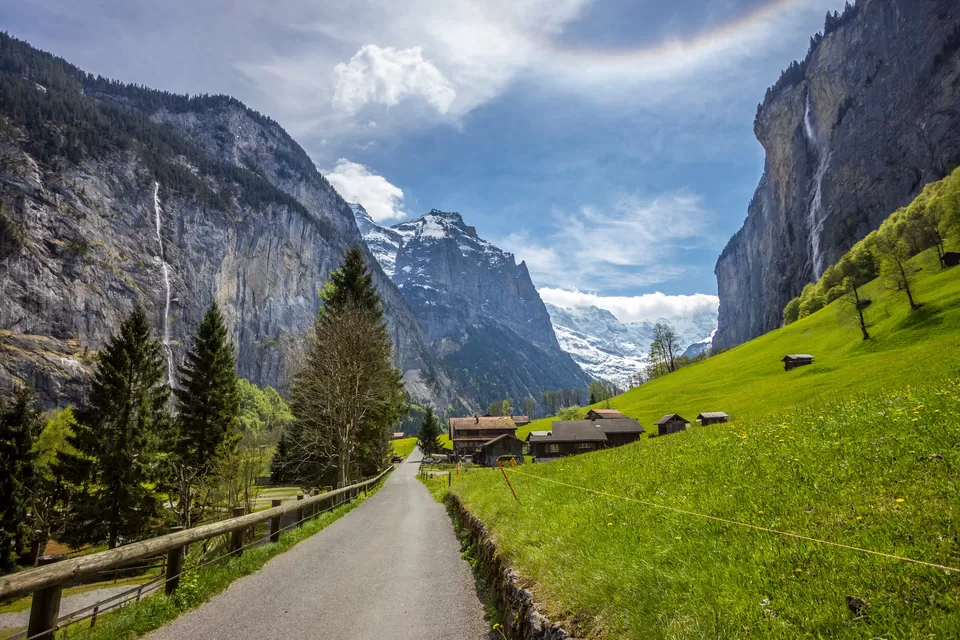 A journey to the top of Jungfraujoch is the most sought-after experience in this part of Switzerland, with the highest train station in the world welcoming you to the UNESCO World Heritage Sight - "The Top Of Europe", as it is commonly called. You can read all about the train route and plan the round trip here.
The round trip on rail involves a visit to my personal recommendation too - the beautiful Schynige Platte region. The small alpine town of Lauterbrunnen offers a perfect base to explore the entire region and nature lovers will find plenty of hiking trails, offering off-the-beaten-path views of the entire valley below. Also, before you return to Interlaken for the next leg, do make an attempt to savor the beauty and serenity of Grindelwald - for you don't get to visit picture-perfect villages like these so often.
Day 11 & 12
Located along probably the most scenic classical routes in Switzerland, the "Golden Pass", Montreux is truly a jewel of the Swiss Rivera region. Located on the shores of Lake Geneva, Montreux is an entirely different treat to the senses than the lush green of Interlaken. Spending a few days in this pristine town by the lake is an absolute must, although your heart will be left craving for more irrespective of how many days you end up spending here.
Spend a day exploring the breathtaking Château de Chillon perched on top of the island on the shores of Lake Geneva, with the mighty alps providing the perfect backdrop. Montreux also boasts a splendid and beautiful promenade along the lake shore, which makes this pretty walkway lined with colorful flowers perfect for long walks along the pristine waters.
You may also choose to visit the pretty little town of Vevey on the second day, located very close to Montreux. This picturesque town surely charms you with its colorful cafes, pretty homes and splendid restaurants. Not to mention, you will not be able to help but fall in love with its Old Town!!
Day 13 & 14
Bring your dream trip to an end by visiting the really underrated but immensely pretty capital city of Bern. Unlike other European capitals, this one has consistently been staying somewhat under the radar, but that only ends up adding onto the charm this city has been able to retain even now. From architecture, places of historical significance to beautiful hiking trails around the city, Bern is a perfect place to have your last sip of the exhilarating and intoxicating cocktail of experiences and landscapes that Switzerland really is!!
Where to stay
Switzerland is a relatively expensive country to travel to. Dorm rooms in hostels start from 30 CHF to 80 CHF near city centers. Hotels are pretty expensive with prices ranging from 100-120 CHF for the most basic of rooms. AirBnb is a great and economical option, with a shared room costing around 30 CHF and an entire apartment for 60 CHF. Check this link to discover the accommodation best suited to your travel style and budget.
What to eat
This is what particularly pinches a traveler the most when traveling in Switzerland. I've never enjoyed paying for a regular meal roughly 3 times the cost I would have incurred upon the same in Germany!! You know food is expensive when McDonald itself does not offer you anything below 15 CHF. Bars and cafes are your best bet for lunch special menus going for 5-9 CHF. A meal in the restaurants will cost you around 20-35 CHF. If you are on budget then the best option is to stick with supermarket pre-packed food.
How to get around
To travel around and within the cities, you can use the public bus system at most places. You can buy 1-day bus pass at most places which are quite economical. To travel between places look to book your train tickets early through the extensive network of Swiss Rail. Normally you can expect to pay anywhere between 2--50 CHF for second class inter-city train tickets. Also, you can check the Swiss Rail website here to know all about the various rail pass options available. Alternatively, if you want to cut down on the travel expenses then you can try carpooling or BlaBla cars, although be prepared for any unfortunate last minute cancellations.
-----------------------------------------------------------------------------------------------------------------------
From doing my bit towards the environment by working in electric mobility research field, often finding myself wandering aimlessly through landscapes, to continuously seeking thoughtful conversations with travelers from across the world, I am a travel experience narrator. A firm believer in the philosophy that a human should experience everything and do everything in his lifetime (for specialization is for insects....), you can say "hi" to my photographer alter-ego @througharobinseye on Instagram, read through my mind as I narrate my personal travel experiences at www.talesofarobin.wordpress.com or sing along with me @undrkn5trk5hn
-----------------------------------------------------------------------------------------------------------------------