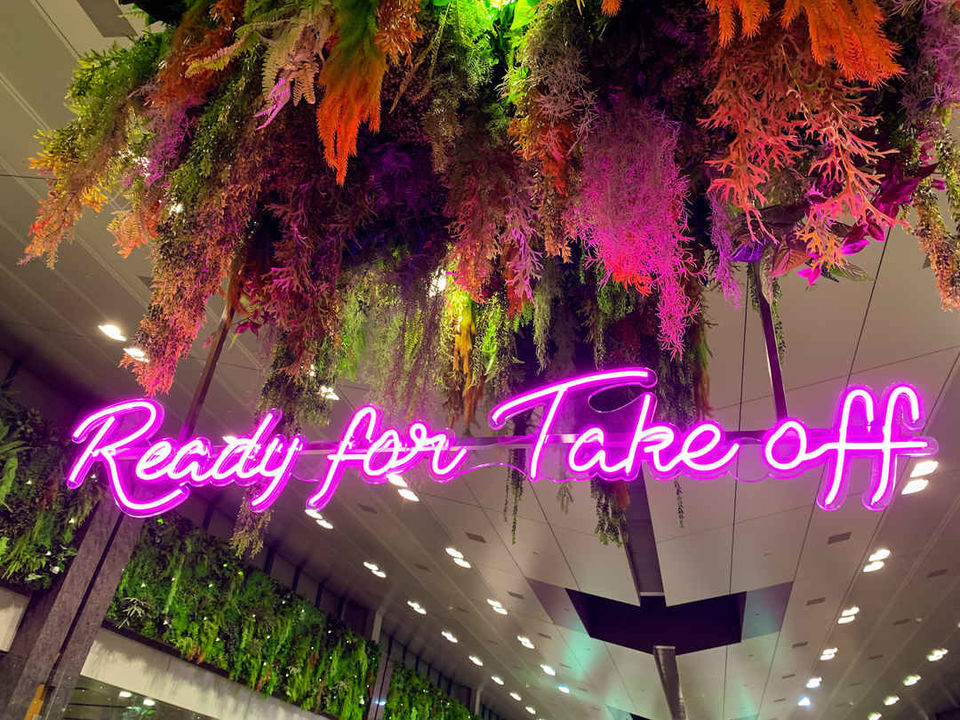 I have always been intimidated by airport lounges. As a child, they always seemed like hidden nooks that only the "rich" knew about. I admired men and women dressed in crisp business suits and the latest in vogue as they confidently tottered into this posh space. And I, on the other hand, would get visions of my almost empty bank account every time I would gather the courage to look into the receptionist's judgemental eyes.
As a novice traveller, I often felt like the lounge area was prohibited for people like me! People who couldn't afford a first class ticket or travelled without a premium lounge access card on them. I wasn't ready to be judged for my 'airport look' that was nothing less than my workout gear. Until one day after many years of visiting various airports and treading slowly outside the lounges, I actually stepped in! Thanks to my friend, I needed a place to crash and a shower during a long 27 hour journey!
So, if you are like me, anxious about such little things in life, or even if you aren't, it doesn't matter; this article is for you who loves to travel but wants to know about the world of lounges. Let me shine some light on how you can travel in style and leisure during a long layover, and get some rest and shower!
You don't need to buy a first class ticket to have lounge access!
1. Use Your Charm or Points to Upgrade
I always ask this question! "Can I get an upgrade please?" Sometimes the flight is empty and the ground staff will agree to give you an upgrade for free! And other times, if you have points accumulated, you can use them to get an upgrade. Why would you do that? Because that way you can travel in a business or first class and get a lounge access for free!
2. Buy Hourly Lounge Access for Single Entry
I know what you are thinking, "But can I pay right at the lounge doorstep?"
You don't always need to have a business class ticket in hand to get lounge access. Almost all lounges provide hourly access for a small fee. I highly suggest going to the concierge of the airlines lounge area and asking the staff. You can even buy the lounge pass online before leaving home. If you have more than 5 hours or an overnight layover, this option is perfect since it includes all meals, shower, and sometimes bed/resting areas too!
Changi Airport Paid Lounge - Singapore airport even has a gym access and a massage with the lounge!
3. Debit and Credit Cards That Allow Lounge Access
I learnt from Kritika Goel's tips on YouTube that some debit and credit cards give you access to lounges. Some bank cards come with airlines affiliations, which in turn provides you lounge access. Now you should definitely check this option with your bank if you are a frequent traveller!
Follow this link to know more about "How can I get lounge access on my debit card?"
4. Sign up for Airlines Membership
Every airlines comes with free membership. Don't be lazy, and sign up for free because this has many perks like free upgrades, priority check in and lounge access. You can get this done physically at the airlines counter incase you don't want to sit and do it yourself.
Check this link for a guide to frequent flyer programs and how they work.
5. Accompany Someone Who has Lounge Access
The easiest way to get lounge access is if you accompany a friend who either has business class ticket or a lounge membership. Many times, a guest is allowed for free (I have done this myself at Changi Airport), and sometimes, there's a small fee which is equivalent to a small meal you may pay or while waiting otherwise.
But What Facilities Am I Getting in Return?
For all of you who can live without food, water and air but cannot live without Wifi and free flowing coffee or food, the lounge gives everything! Once you pay for the entry you are entitled to use the Wifi, eat all courses of food as many times as you get hungry, beverages that include alcohol as well, use resting areas or beds to get some sleep, or simple some comfy couches to chill while you work or read a book!
Check out other ways in which you can get lounge pass
You can look up for lounge pass offers in these below websites. Some of them have on going offers and if you pre-plan your trip you can get pass at a very cheap rate starting $25!
1. Lounge pass - A website solely dedicated for infrequent travellers to buy lounge passes.
2. Prioritypass.com - If you are a frequent traveller, you should get a priority pass membership!
3. Loungebuddy.com - This is another website which gives lounge passes for a very low price!
Check Out Some of These Well Known Airline Lounges
1. Qatar Airways Al Mourjan Business Lounge, Doha
2. Turkish Airlines Business Lounge, Istanbul
3. Cathay Pacific The Wing, Hong Kong
4. Singapore Airlines Silverkris Lounge, Singapore
5. Qantas First Class Lounge, Sydney, Australia
So are you going to use the lounge next time or you are fine waiting by the airline gate instead? Let me know in comments if you have any other suggestions!
Follow me for more travel stories and tips on Tripoto or Instagram @curlytravelmess.
Ready to travel for free? Earn credits and redeem them on Tripoto's weekend getaways, hotel stays and vacation packages!
Explore the best of travel inspiration on Tripoto Instagram!