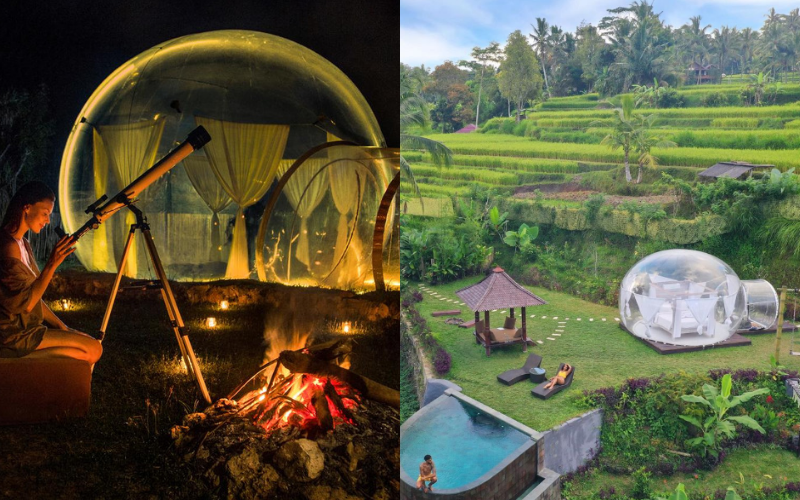 If you think sleek infinity-pools and thatched-roof bamboo villas are over-done in Bali and that the whole point of travelling is to get out of your bubble, the right way to do that might just be by sleeping in one.
These Instagrammable romantic bubble domes are installed in a jungle clearing, that overlooks the sea and come with a private gazebo for dining, a swing, and an outdoor hammock bed.
While there are bubble hotels popping up around the world, in photogenic locations all over the world like Iceland, Sydney, Baja, and Mauritius, to name a few, let me share the experience of living in a bubble hotel in one of my favourite holiday countries – Bali!
Comprised of six small-to-medium bubble tents perched on a beach south of Uluwatu, Bubble Hotel Bali is the current blogger host-spot and what all the Instagrammers are raving about.
Ideal for:
For a mini-moon, this one can help you strike of not one, but two things off your bucket list - to spend the night under the open sky with Bae as you fall asleep to the music of crashing waves and to go camping in a giant see-through bubble!
Rooms:
With transparent walls and nothing but a bed, the tents boast of magnificent ocean and sky views.
While there will be other bubbles near yours, they are almost entirely concealed by different types of palm trees. You can ideally choose from three different types of bubbles: small, big, and 'big with curtains'. (yes, for those keen to maintain a level of privacy, some tents have curtains, while each bubble is surrounded by trees for added seclusion.)
The inflatable rooms are powered by electricity and, while the vast majority of visitors' belongings will be stored at reception by staff, there are security boxes for the bits and bobs you need to keep with you. The bubble itself is blown up by a constant stream of air from a generator that will constantly be making a humming sound.
When you enter and exit the bubble you have to be extremely careful both doors are zipped open together or the bubble would deflate on you! Inside there is a double bed, a small air conditioning unit and a side-table.
The bigger bubbles also come along with a day-bed, a swing, a camp-fire shade and an breath-taking infinity swimming pool.
The bathroom:
Of course, you must be curious about the toilet.
Honestly, when it comes to amenities, things here really go back to nature. Each bubble tent has its own outdoor shower and toilet, protected by little privacy screens. (Just don't leave the door open when you pop out to use the bathroom – unless you want to see how your accommodation looks when it's deflated.)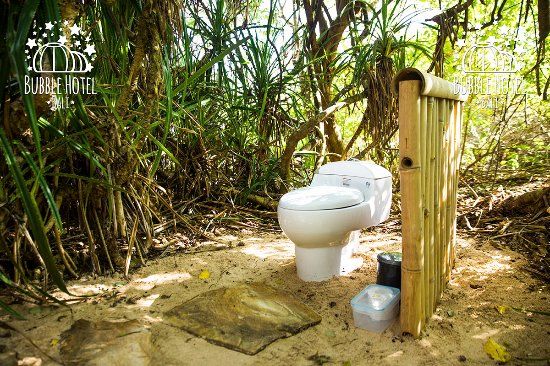 It's like a clearing in the jungle behind your campsite with a shower head (#outdoorshower goals) and a porcelain toilet just stuck to the ground.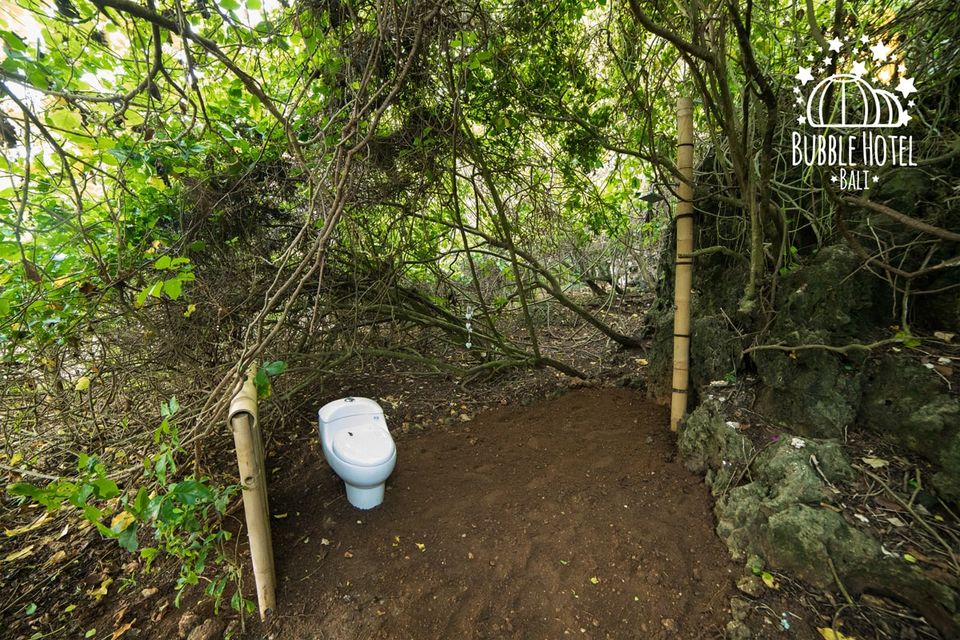 The toilets are kept clean and they give toilet paper in a Tupperware container, the shower too is stocked with body wash and shampoo and you get two clean towels.
Highlights:
1. The Nyang Nyang beach all to yourself
2. View of the open starry sky from the bed in the bubble
3. BBQ, campfire, treasure-hunts, candles, romantic decorations, massage services and hookah
5. Swings and day-beds with mind-boggling views
6. Flavoured marshmallows and crusty baguettes


Only a few miles to Tirta Empul, one of Bali's famous water temples, or Gunung Kawi, an 11th-century shrine carved into the mountainside.
There is literally no place to buy food on the beach unless you want to hike back up almost another 15 minutes or so to get to some warungs located towards the top of the trail — and they're not open early or late. So, you order food and drinks from a menu sent via WhatsApp.
You will also be asked a few days ahead of your stay if you want to order any food off the menu, the menu has a few variations of Indonesian nasi goreng (fried rice) as well as Italian dishes. They have vegetarian options too.
Breakfast and lunch choices include things like a mixed fruit plate, smoothie bowls, bagel and jam, burgers and other fast food too.
Cost: Rs 7,886 including taxes
Best time to go:
Winters and the monsoon season is recommended, because it can get hot and stuffy inside the huge plastic blobs in the summer.
Booking:
Reservations for the hotel can be made on a few platforms — Airbnb, Booking.com, or the hotel's own website.
How to get there:
Fly into Ngurah Rai International Airport, Denpasar (13 km from the hotel) Transfer from the airport or from Ubud to the hotel can be arranged by the management.
Get travel inspiration from us daily! Save our number and send a Whatsapp message on 9599147110 to begin!
Watch travel stories come to life with Tripoto on Youtube!