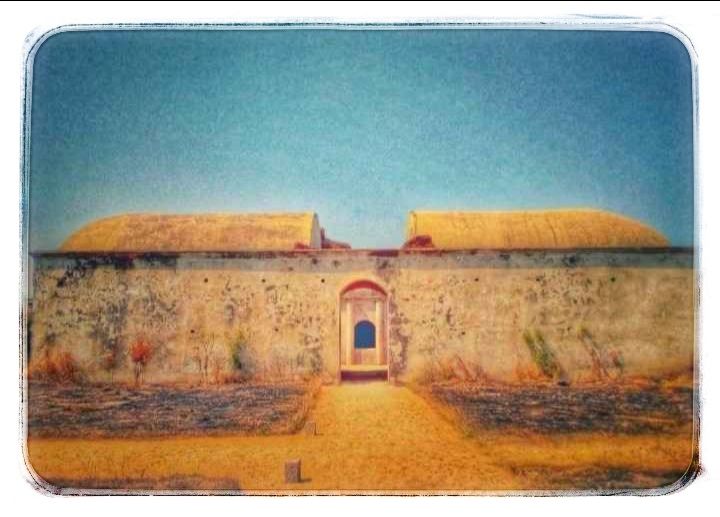 Here I wanna let you know a place near kalpakkam (near Atomic Energy power plant) there exists a fort, which is less noticed by others. This fort is located in Sadras ( sadurangapattinam in Tamil). Sadras is the name offered by Dutch when they stayed over here. Sadurangapattinam is named after a Vishnu temple there, initially called as Sadiravasagan pattinam, then later changed as Sadurangapattinam. Dutch lived over here, around 18th century. This fort is used for commerical purposes, and at the same time, there were prepared for attacks too.
Entrance of the fort still in good condition with 2 cannons in front of the gate. Walls are above medium level, not over height either. There exists a well immediately at the left of the entrance. During that time itself, they got good technical ideas, near the well, they had a pump room to pump water up. It is used to fill water in four open tanks. I can sense this well area is used as water supplying area to the full fort. There exists a small sitting arrangement, for people to relax. And I found an inscription in Dutch language dated back 1700. There exists a cementary exactly at the right of entrance. It is still now in better condition. As it is closed, I can describe only from out. I found all the soliders, respected the dead importantly, and preserved it with due respect. It is built with stones rather than bricks. Full fort is built with bricks while a cementary is built with strong stones, that is the reason it is preserved till now.
There are two storage rooms in this fort after this. In the way of storage rooms, I found a unique place for commander to watch full fort. They can watch anything around the village when they stand there. One storage room consists of only room, above that there were steps, from there we can view beach very clearly. If you visit this around evening in winter time, surely you all will enjoy little moments. Another storage room consists of 5 rooms, and none of these rooms are linked. It's all connected to main open space. In both these storage rooms, there are many holes, purposefully. Even if the fort is captured, they would have still fought from these rooms. Practically speaking, Dutch didn't have plans for India, so this place isn't protected well as they didn't invest much. Here, whoever the Dutch soliders came, lost their lives, to the greater power of companies, English East India company. other than entrance, the walls of this fort is damaged to the worst level. Behind this fort, there exists our Bay of Bengal, so if this place renews by little effort and money, it can become a good spot to visit for short trips. There are good places around the beach, this beach is maintained pure, as none visits much. So, families can enjoy their time here without worrying about the sanitation of water.
If we go little south, there is DAE township. In which I should recommend a place for all to visit, in this township, there is a bridge in between, where u can see sea and backwaters, this place is amazing to view. It's rare to find a place like this, in East coast. Here, they are using permanent nets to catch fishes, as it comes in good amount too. It's truly a mother nature's gift and township people are maintaining this area very well. Township maintenance is getting better nowadays, as they are painting along the road to enjoy the journey. And also there is a rememberance monument for the people lost their lives due to tsunami. It's good for walking around the evening along the beach, it will surely give healing and peace.