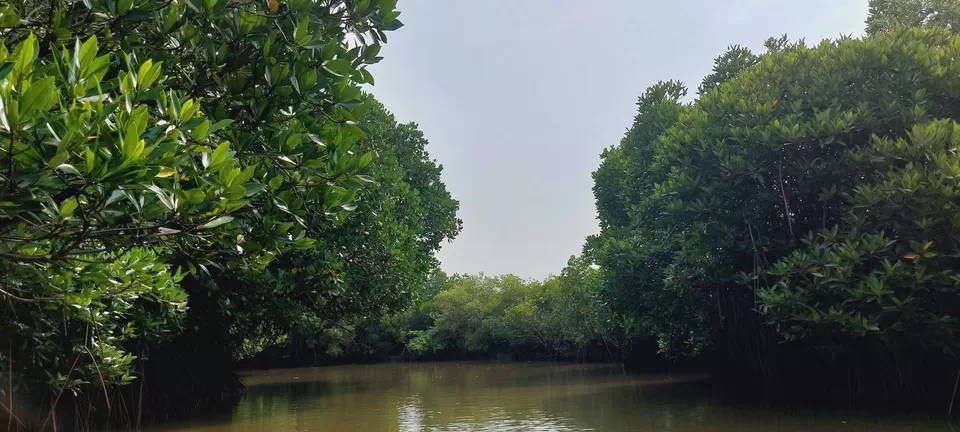 This can planned as a day trip in your Pondicherry plan, being I was travelling to Tanjore I visited them on the way.
Started the journey at 7am, the Pichavaram boating opens at 8.30. I ate the croissants and cinnamon roll bought from Bakers street as my breakfast. I was the second person to reach, you should plan to reach early because the forest route is narrow and with multiple boats flocking in, the beauty of the boat ride is gone. You won't be able to click the pics are there will be boats all around.
You can hire the entire boat for an hour only, the rower will take you inside the mangroves passing through the canopy mangrove branches. Its in total a different experience, passing by you can see birds species and other plants.
I had quick coffee at the canteen and started off to Chidambaram. The inner sanctum of temples in south remain closed from 12 noon to 4pm.
I hired a guide to explain the history and architecture of temple. It's a huge temple, it took me 1.5hrs to cover around. There is a huge pond on the right side of temple, worshipping the deity I started off to Tanjore. Kumbhakonam can also be covered on the way.
I has booked a heritage stay svatma, it was on the list for long time. They greeted me with tilak and a fresh floral bracelet. The property is amazing, being in residential area its peaceful and the food it the best in town. Its only a km from the Big temple, they get you auto to go around the town.
I miss the post dinner sea side stroll, here I had swimming pool to soak my legs and relax. It was pretty hot and I was tired badly. Tomorrow I plan to visit Brihadeshwar early in the day and then work for the rest of the day.
Accomodation: Svatma, there are budget hotel near the temple complex
Food: I ate my hotel, not much options are available outside
What to buy: Brass idols, dancing dolls, tanjore paintings, chettinad masalas, millet laddoos