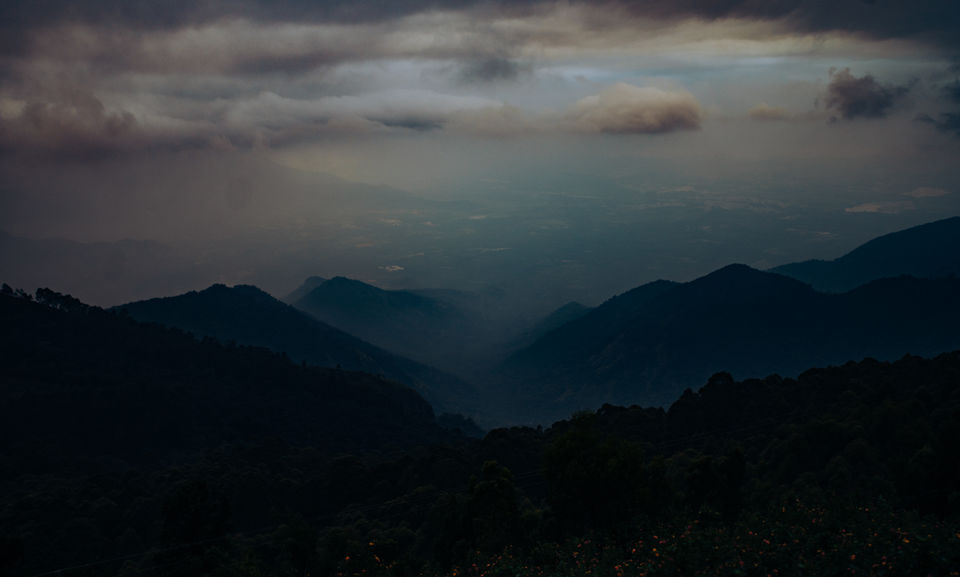 I am about to write something dreamy which just came to reality and I still can't believe it :)
You'll might have heard a lot about Kodaikanal or may have seen it in pictures or videos? It ain't anything like it until you actually experience it by yourself. I was completely awestruck even before I reached there, as the sides of the roads were completely covered with green giant plants, trees and beautiful variety of flowers.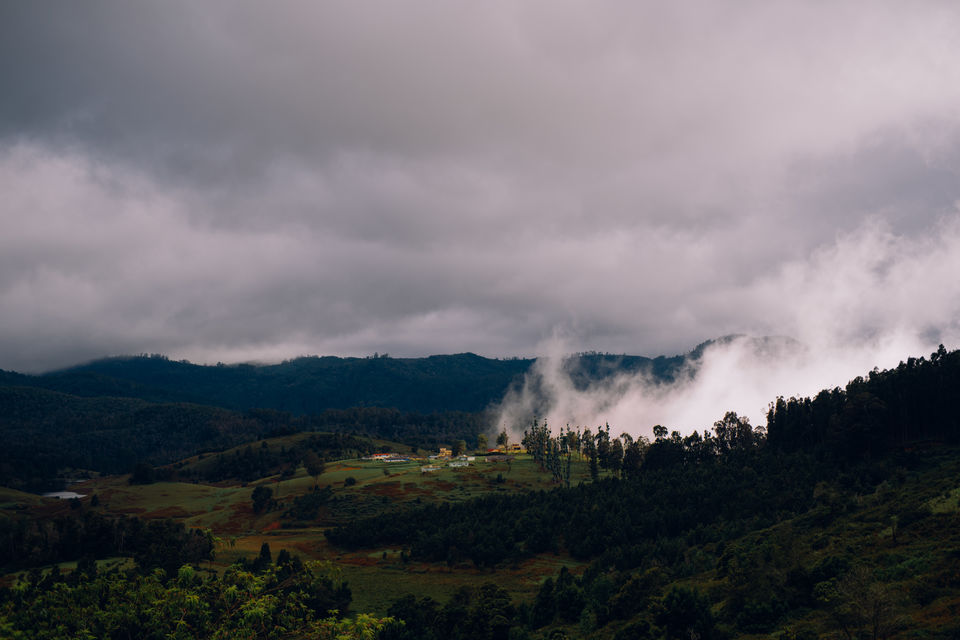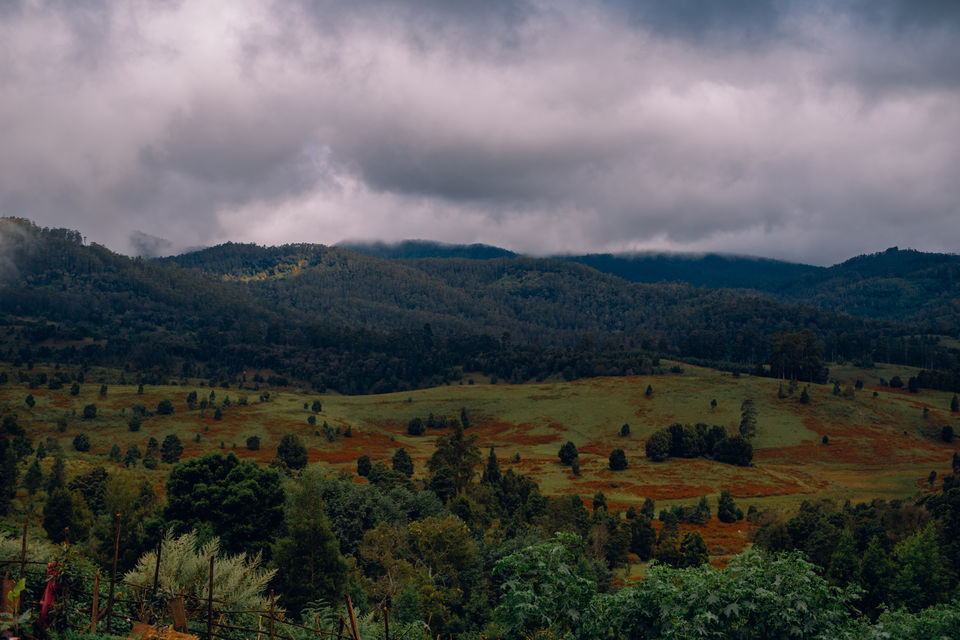 A different story, a different scenic beauty.
Yes! All of that, I am going to try to put it in here as you read :) I hope I do justice without wasting much of your time.
Just like I am and I have been, it was a sudden plan to which I said a confirmed YESSS!!!
It's a real tale of three crazy friends (Chandni, Nili and Me) up for some serious trippy business :D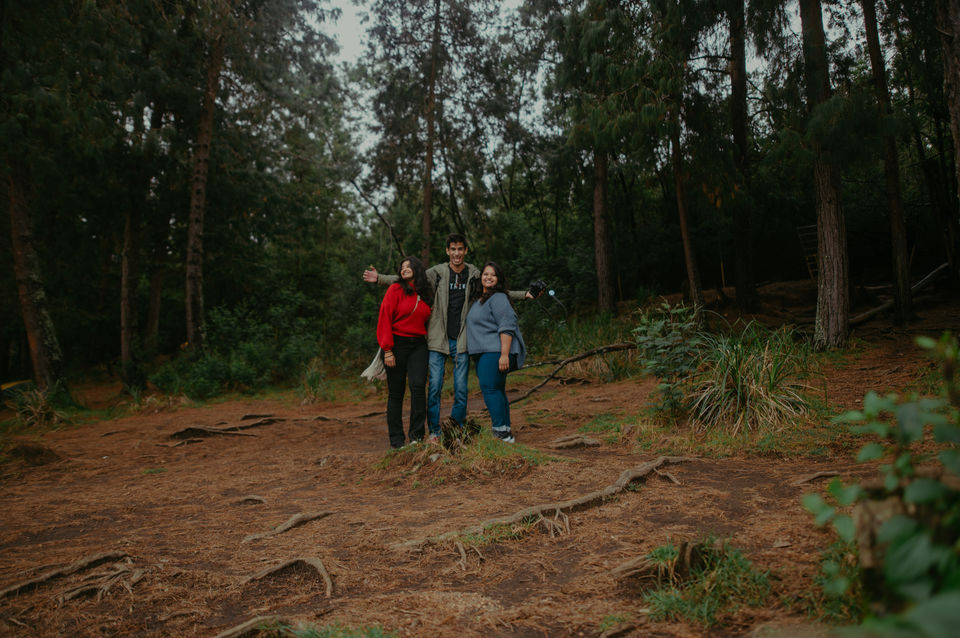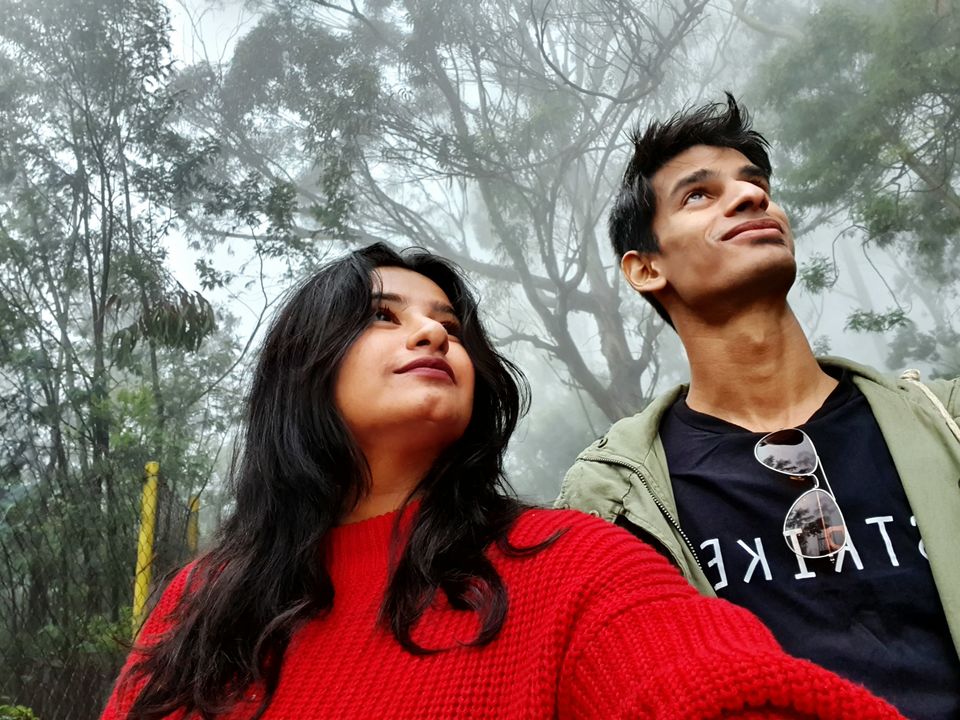 For us, it was like a reunion and it happened to be a big celebration as we almost completed 10 years of friendship and an amazing bond with each other.
Just a week before the journey, I met Chandni and we were talking about serious things going on in our lives and suddenly moved our topic towards a trip. Of course, a break is the solution to everything? Isn't it?
We instantly planned it and were up for it. Due to our busy schedules, we didn't meet or talk much about it and had no time to plan this trip. The only thing we were sure about was that we had to do this and so we did.
Thanks to make my trip and Goibibo- Our stay and my flights were sorted without much efforts.

Chandni and Nili were already in Chennai completing a wedding shoot and I reached Chennai via flight on 22nd November.
Yes! The best part is, all three of us are photographers. So, we understand our lifestyle, work, requirements very well :D
Not to mention, good pictures were coming in for sure :)
Unlike my other trips, I was excited that I'd have good pictures of mine in this trip :)
So, it was just an added bonus. Plus, having similar tastes also helps coz we were all geared up to cover almost all part of Kodai or as much as we could and take the most amazing and crazy pictures possible.
Unfortunately we didn't have much time to explore Chennai as it was just a few hours halt and not much of a good experience. We had to book hotels twice because they wouldn't allow a guy and two girls in a room! Unmarried couples are allowed though! So, we had to cancel both the times and book another once again.
We finally left by bus for Kodaikanal in the evening, damn exhausted and equally excited about the adventure that was about to begin :D
Luckily, we got a luxurious bus (Tranzking) to travel in and it was really comfortable. So, the journey was good. It was morning in no time and as we were about to reach, we could see the beautiful roads, variety of plants and different shades of green spread all over the place with colourful flowers that I have never seen before (huge plants and leaves and trees). I was already screaming with excitement from the inside and I couldn't just wait to get down from the bus and take a peaceful breath to feel alive again.
As we reached in the morning, it was all mist and just a little bit of soothing rain drops touching our faces. It was hard to decide whether it's raining or just the weather :D
We had our first tea at the bus stop and had some chit chat with the cab drivers there for tours and packages before we headed to our stay. I was surprised that everyone was so friendly even though there was a language barrier. Everyone we spoke to, would talk about things very politely and in a friendly manner which made us feel so welcomed to the place.
We took a cab to head towards our stay.
We booked a heavenly place because we were quite motivated with the "love yourself and treat yourself well" mode :D
The place - Saffronstays Kurinji estate was quite more than the pictures suggested.
It's a huge property - created, arranged and decorated with lots of love + nature which is already so beautiful. I guess we were there at the right time. All of you would agree after looking at the pictures.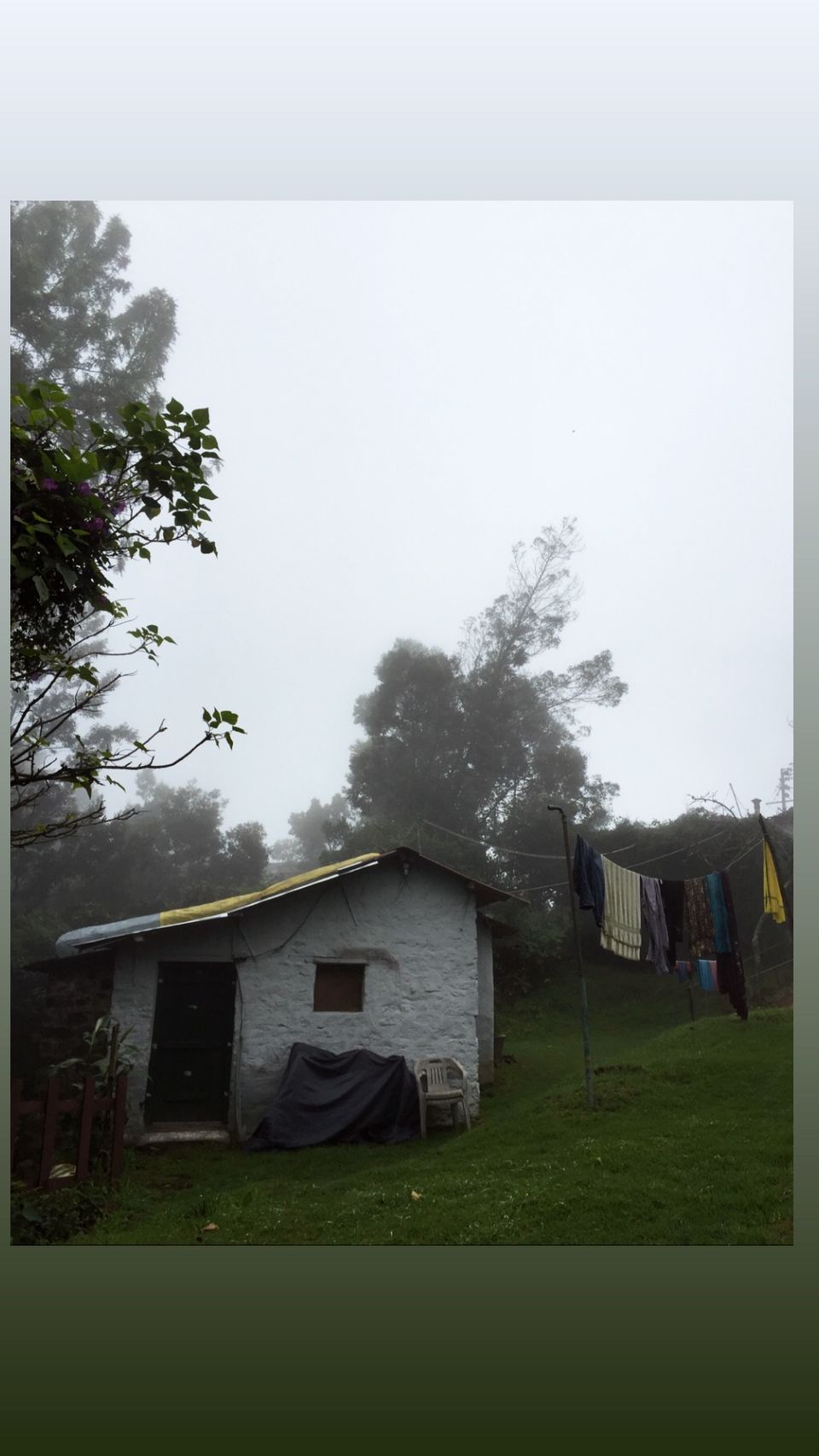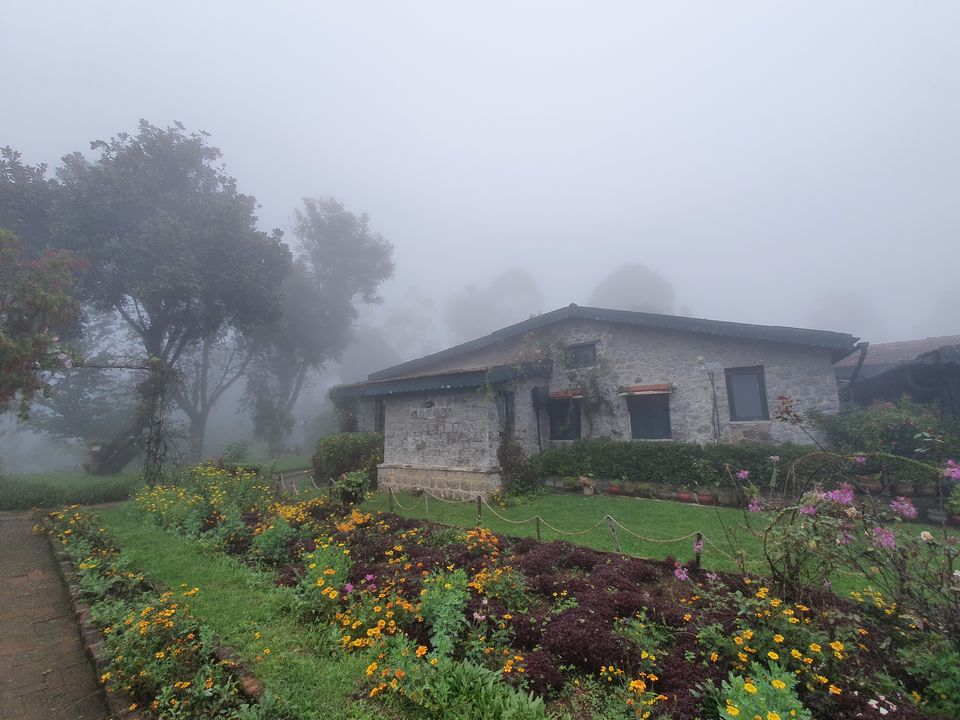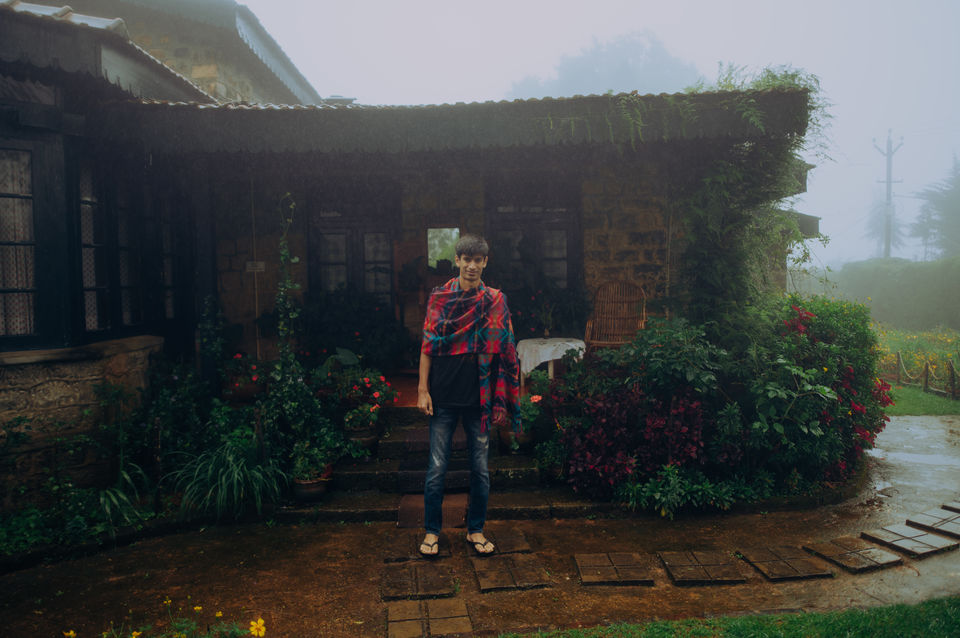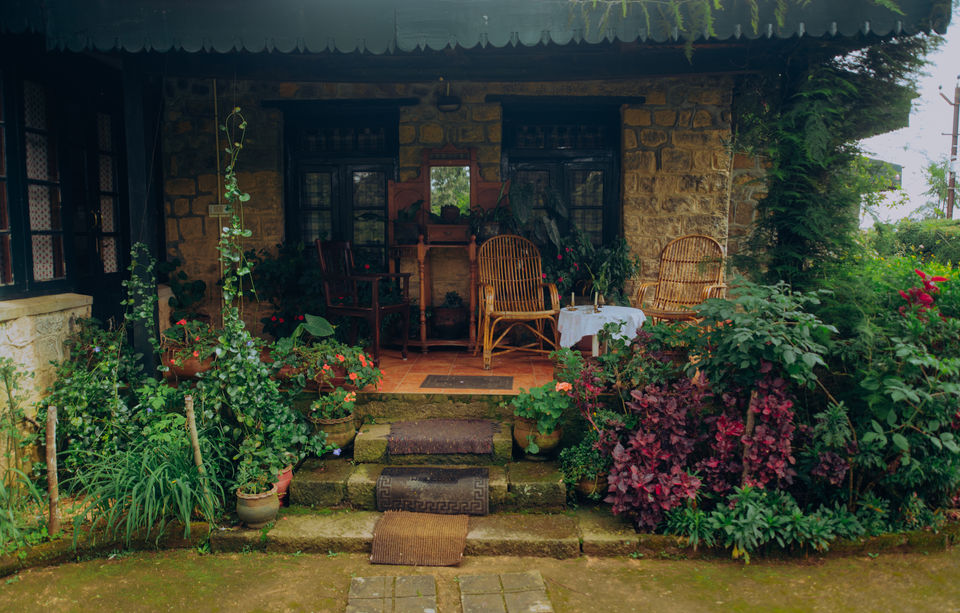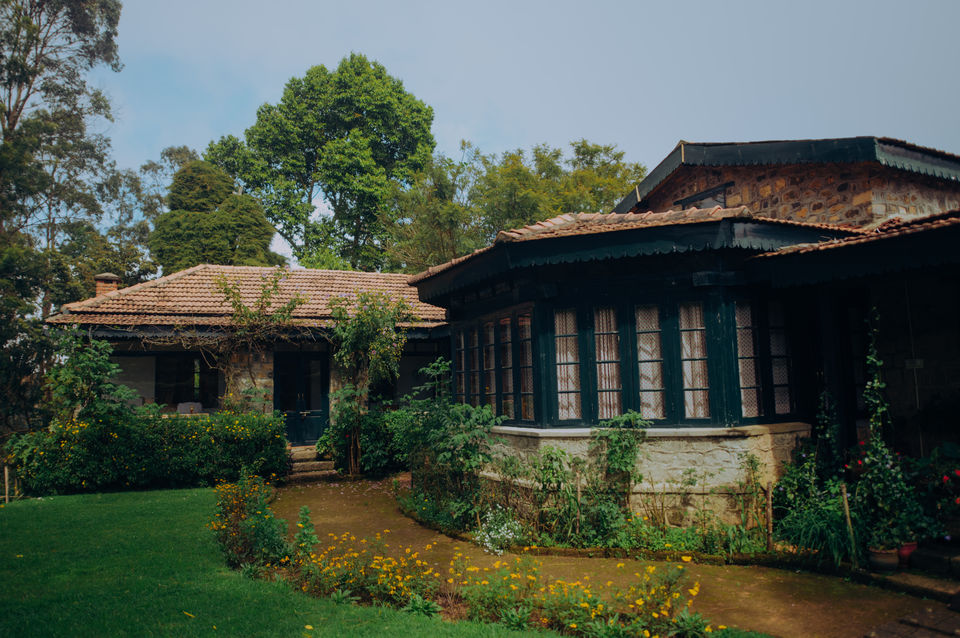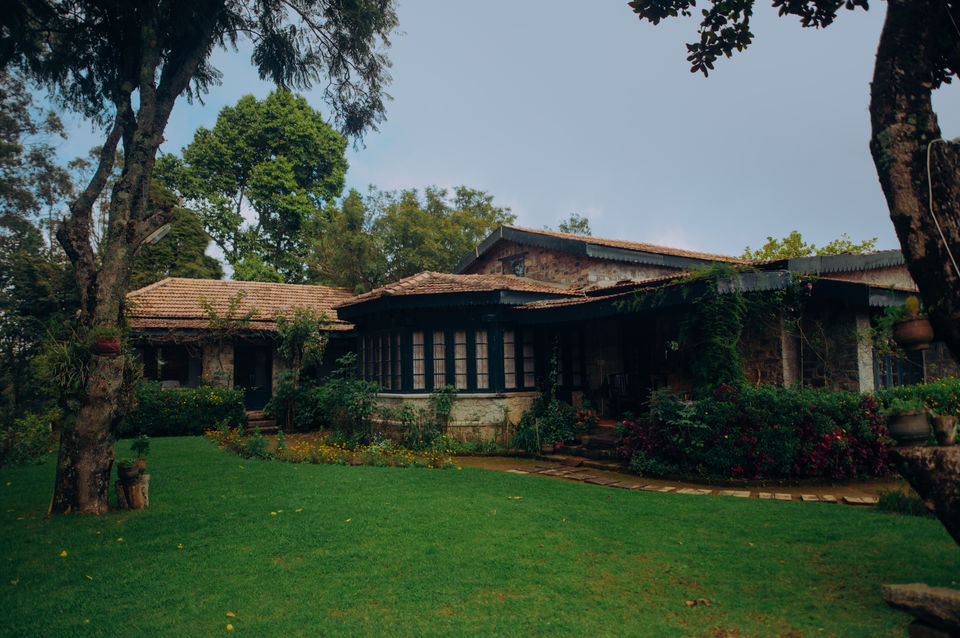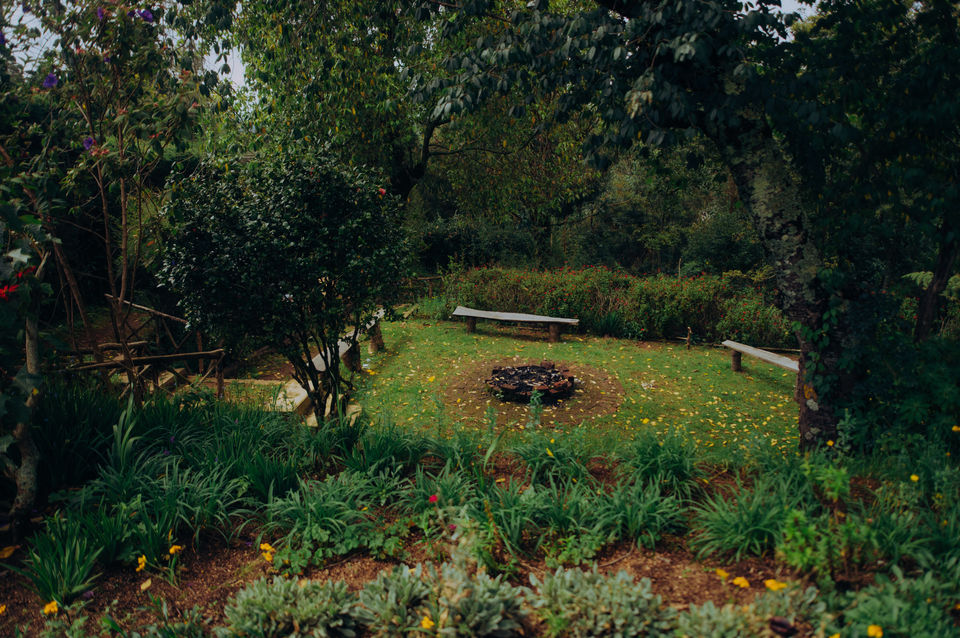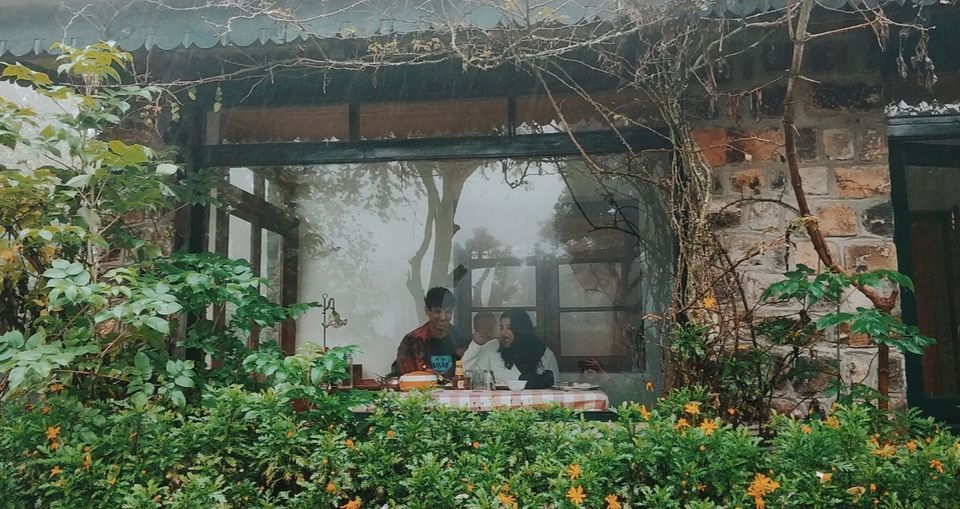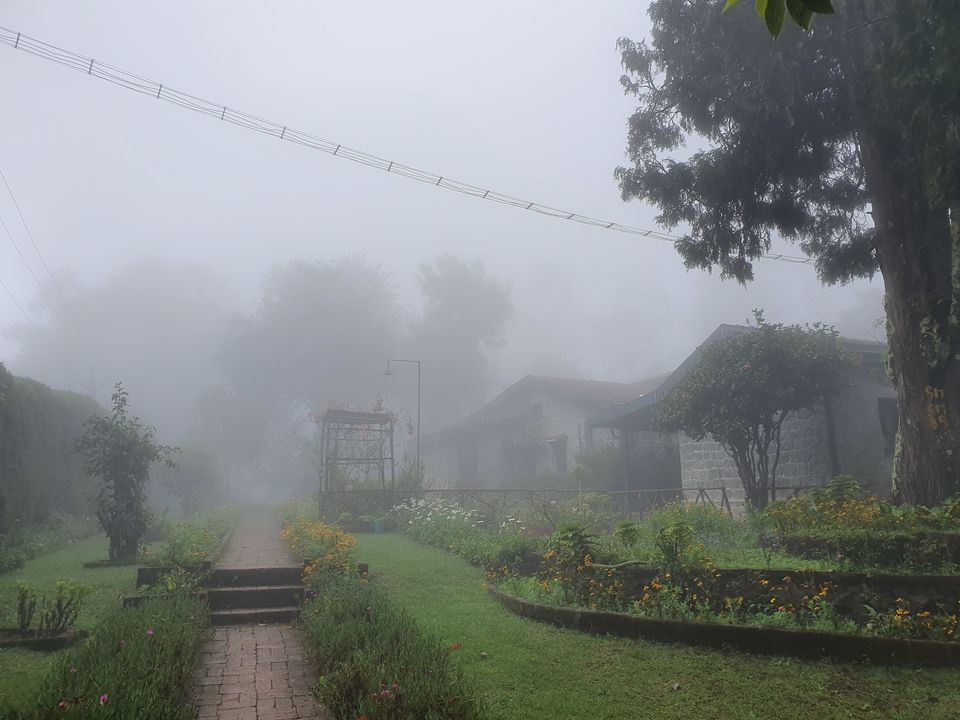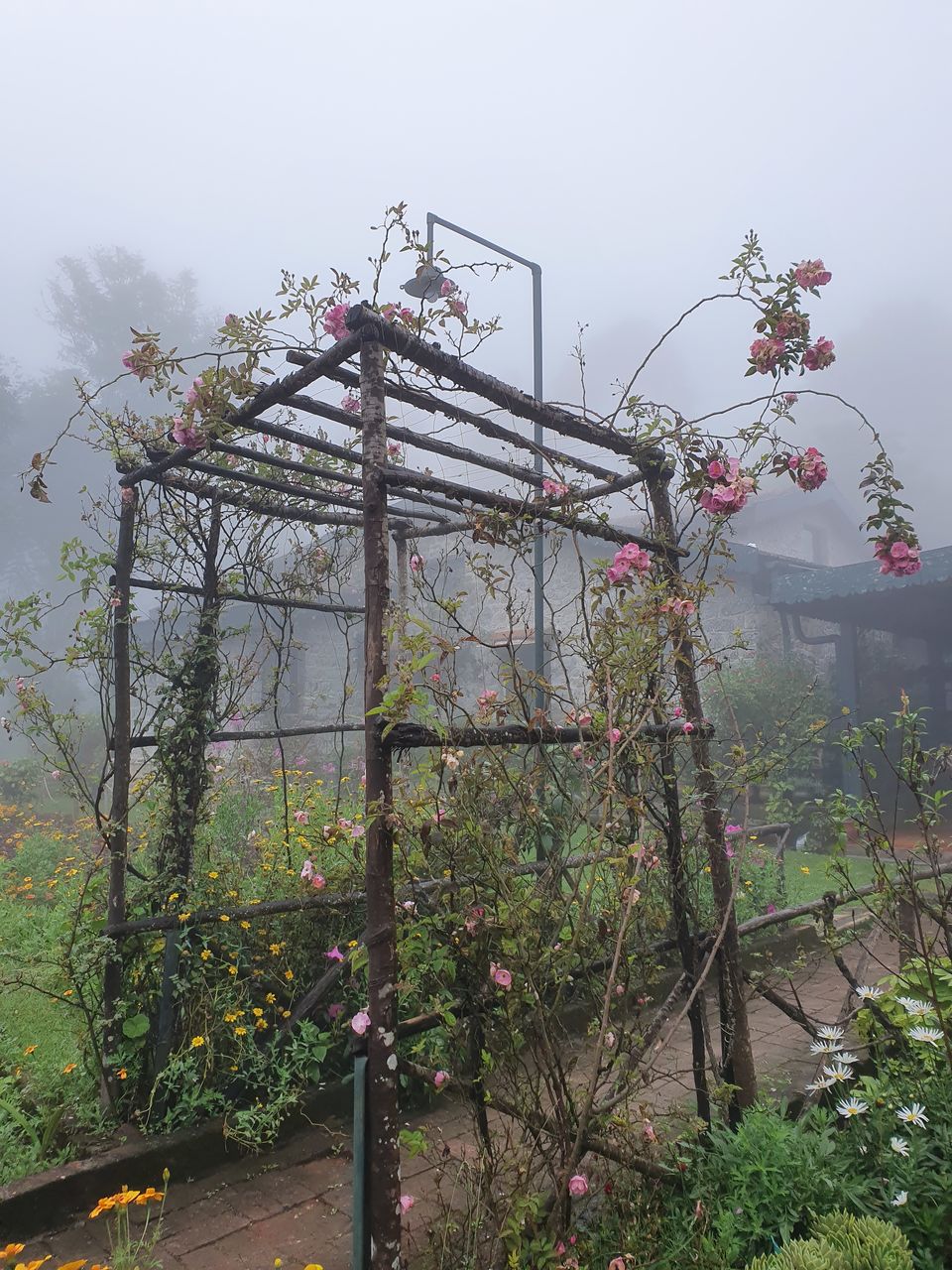 As we checked in, we were dancing and screaming for being the only guests at that time and the place was lit. It was cold, it was covered with mist. Even the bathroom had a window which gave a beautiful view outside! I mean, you literally take a dump having a beautiful view of the outside world - just like you dreamt of!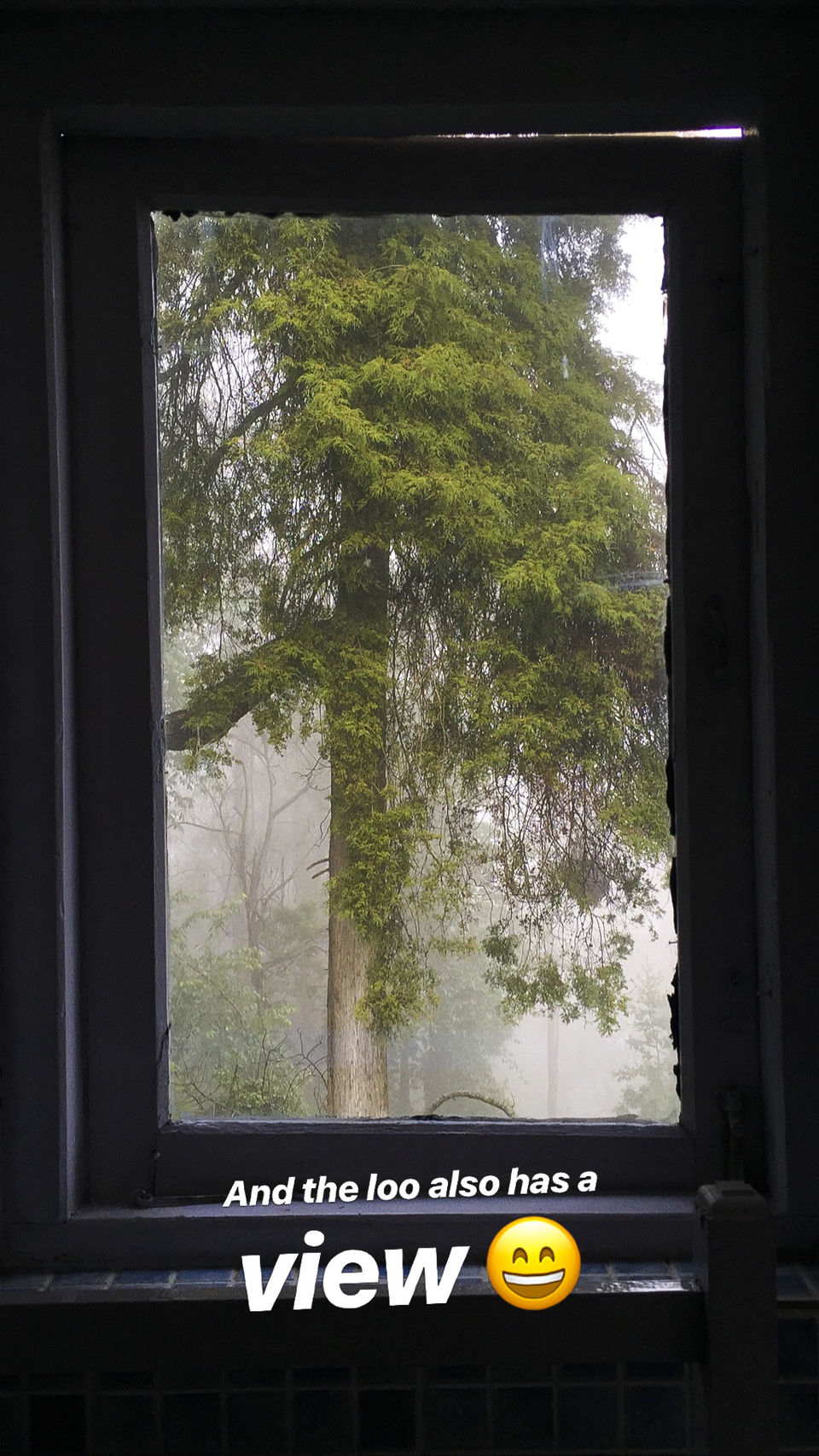 We had a pretty cool breakfast and then geared up - dressed up for our first tour - The one in the forest 🌳 (150 bucks per person for the day)
The places we covered were: Silent Valley, Medicine forests, Berijam lake and more
We saw big wild Squirrels black and orange in colour, so cute! Also, black monkeys, Bisons, wild crows. I love the fact that these places have animals and birds mostly so fluffed up to protect themselves against the weather.
We took so many pictures mainly at the Berijam lake and Silent Valley and also randomly on the way into the forest: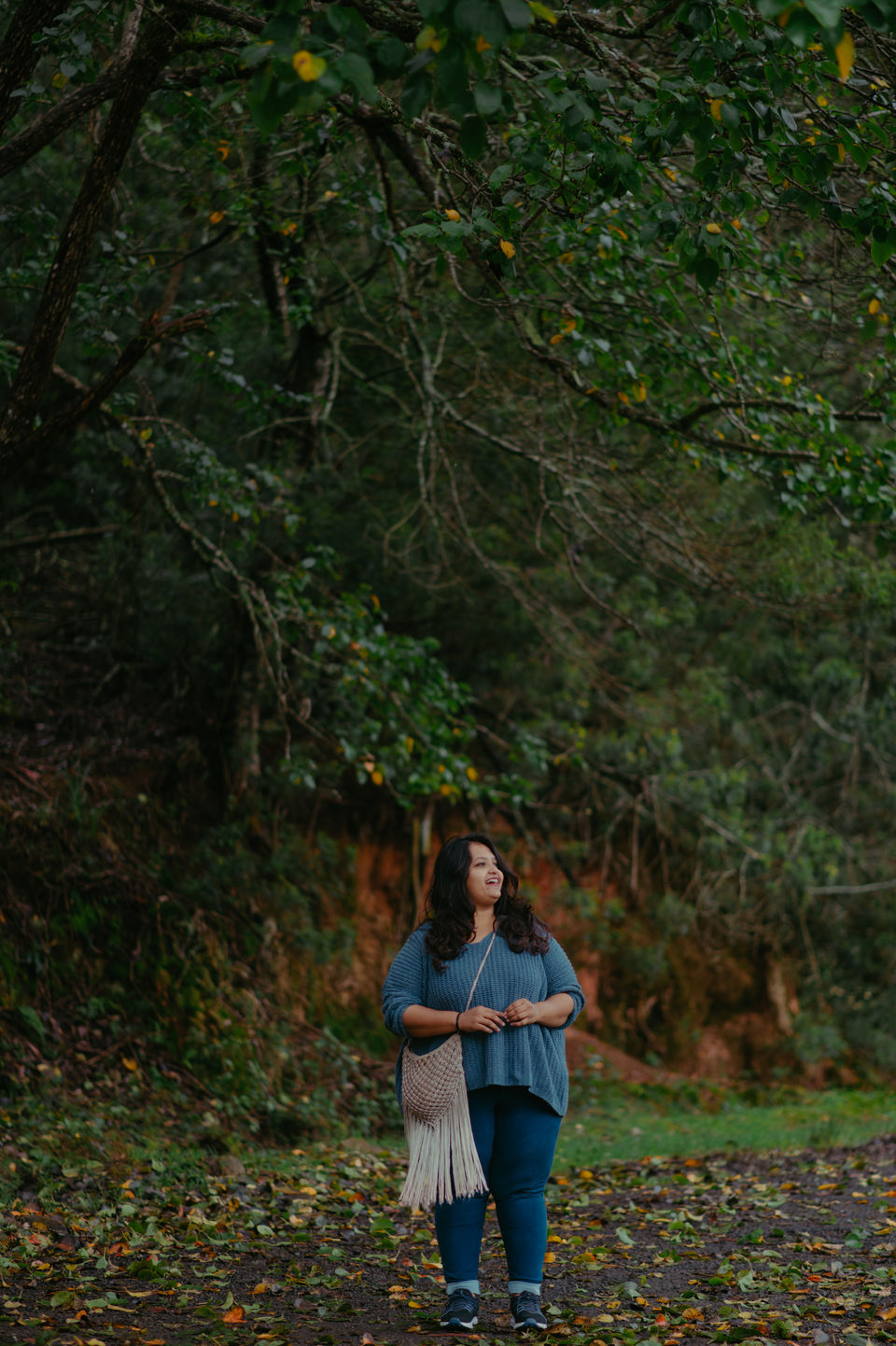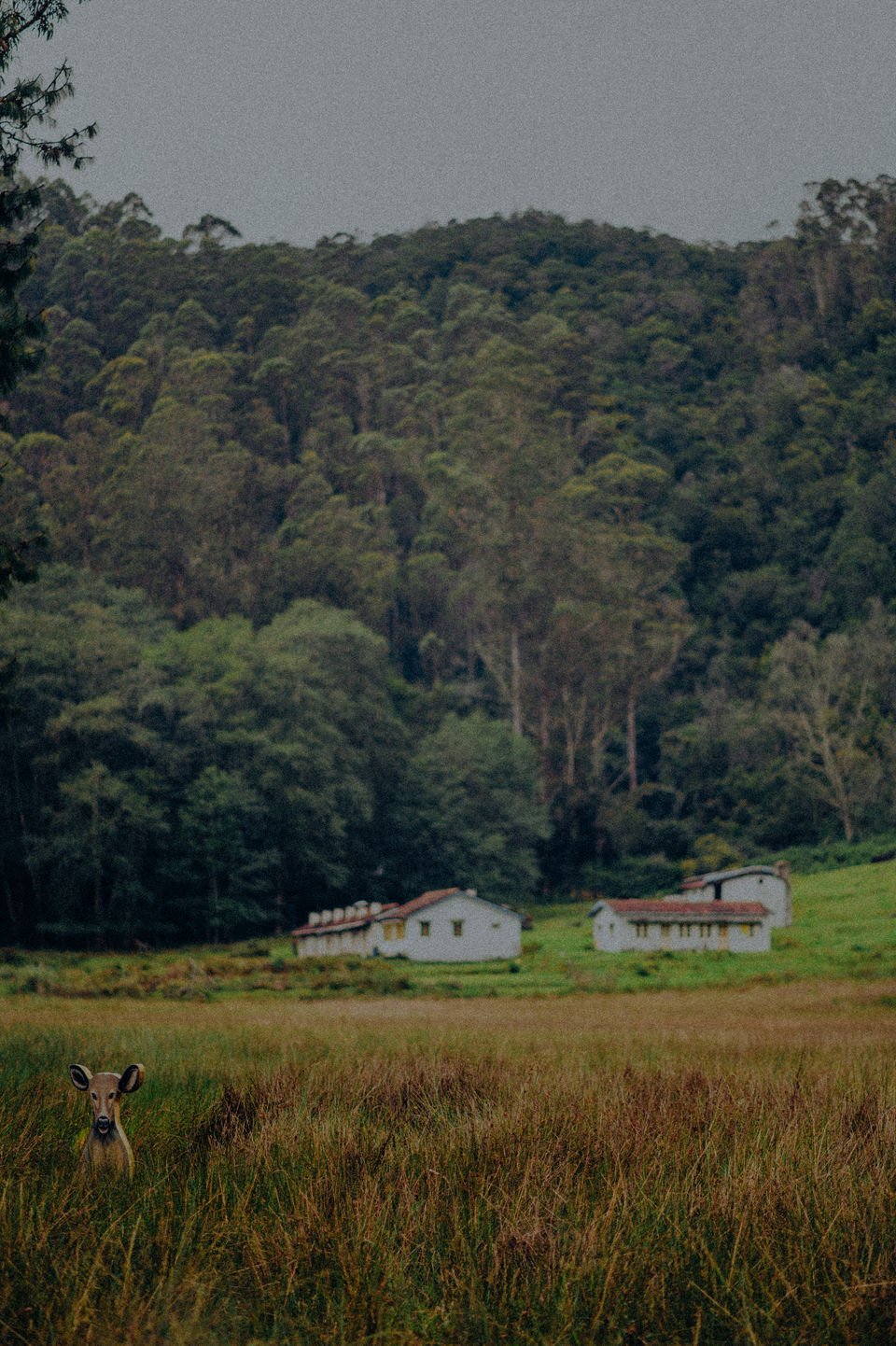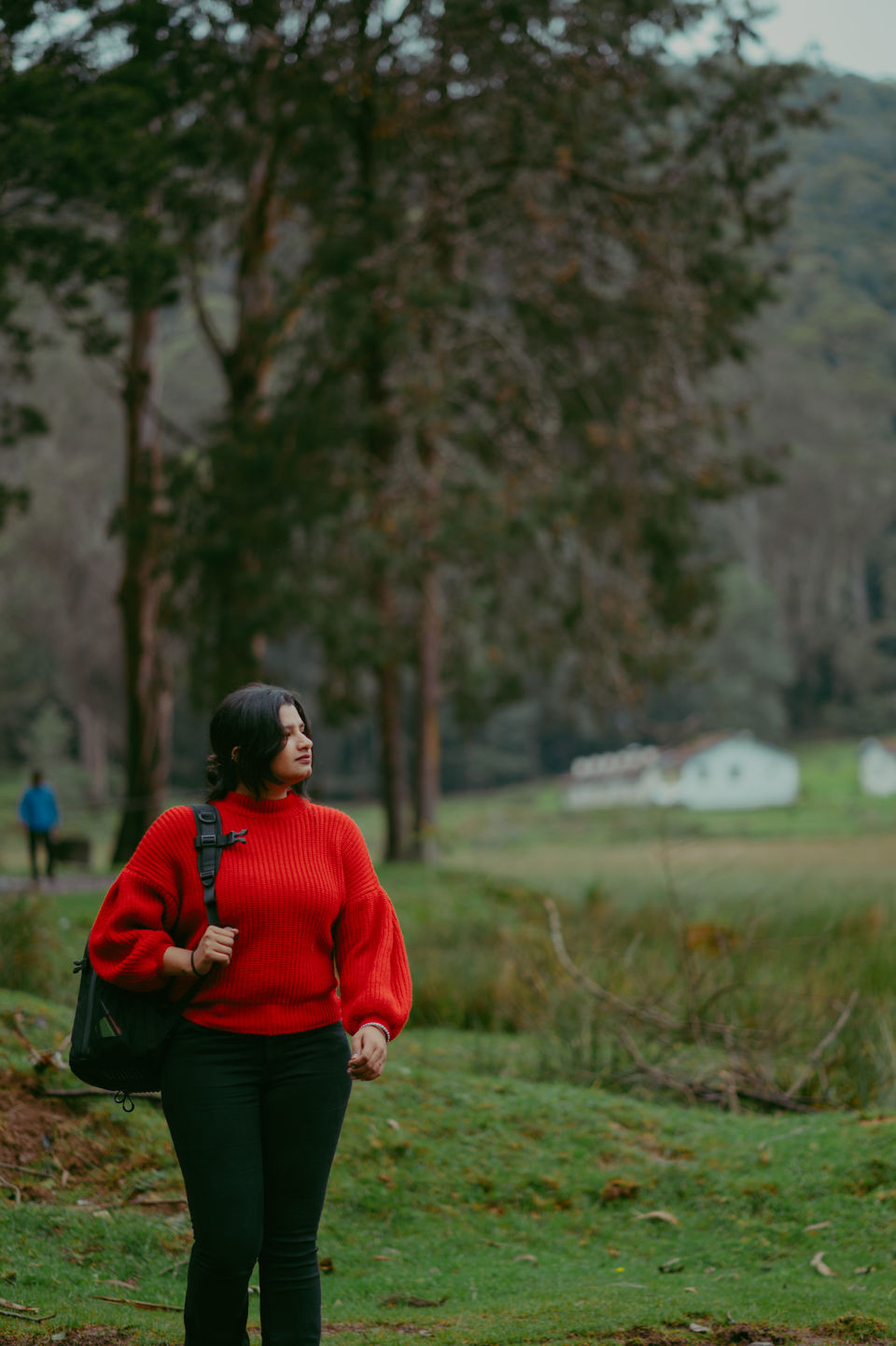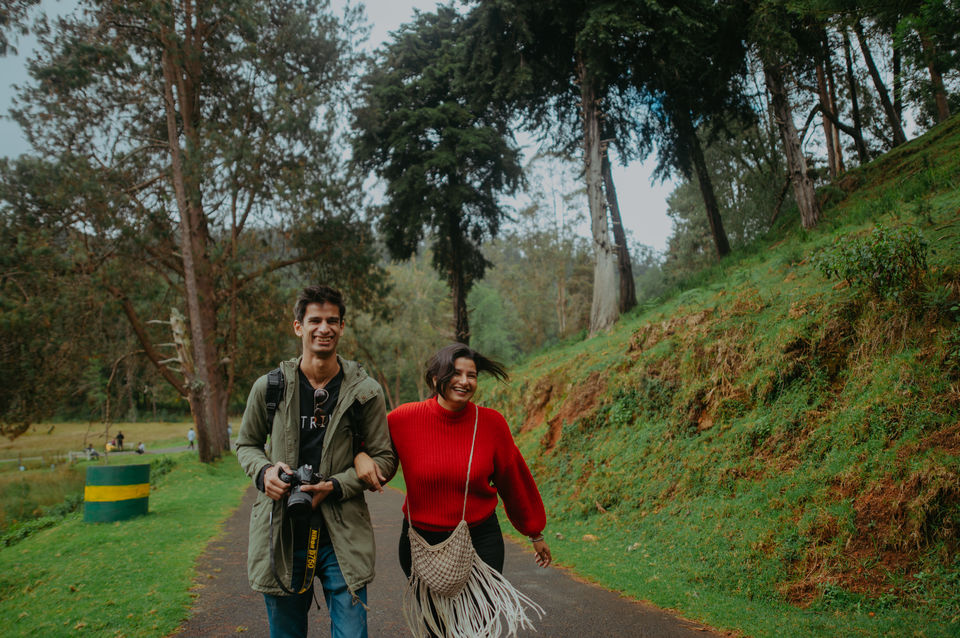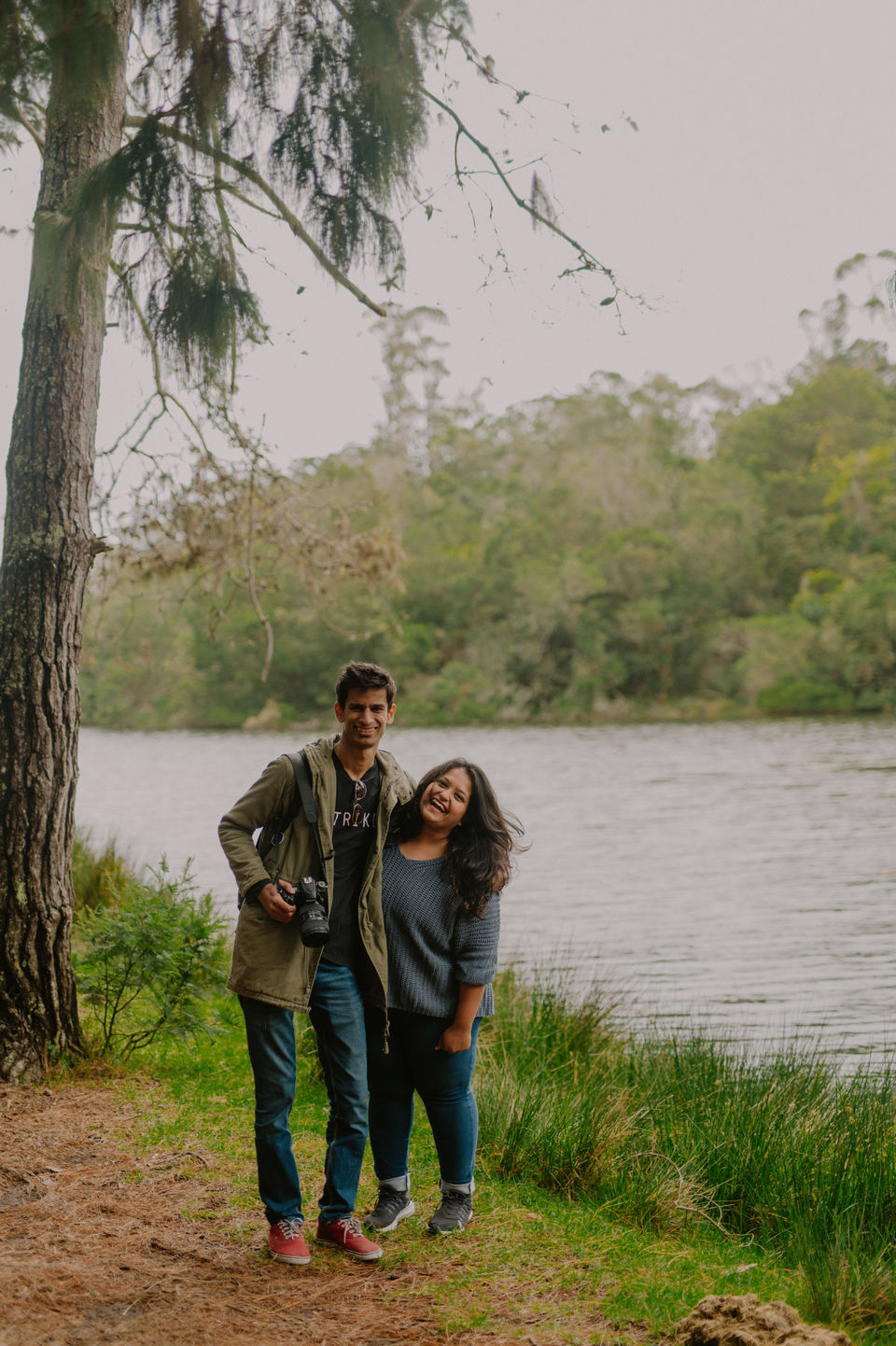 We got back to the city area after realising that our lunch time just got skipped!
We stopped at a restaurant - 10 degrees. Loved the ambience there + good food + welcoming staff again = sorted life.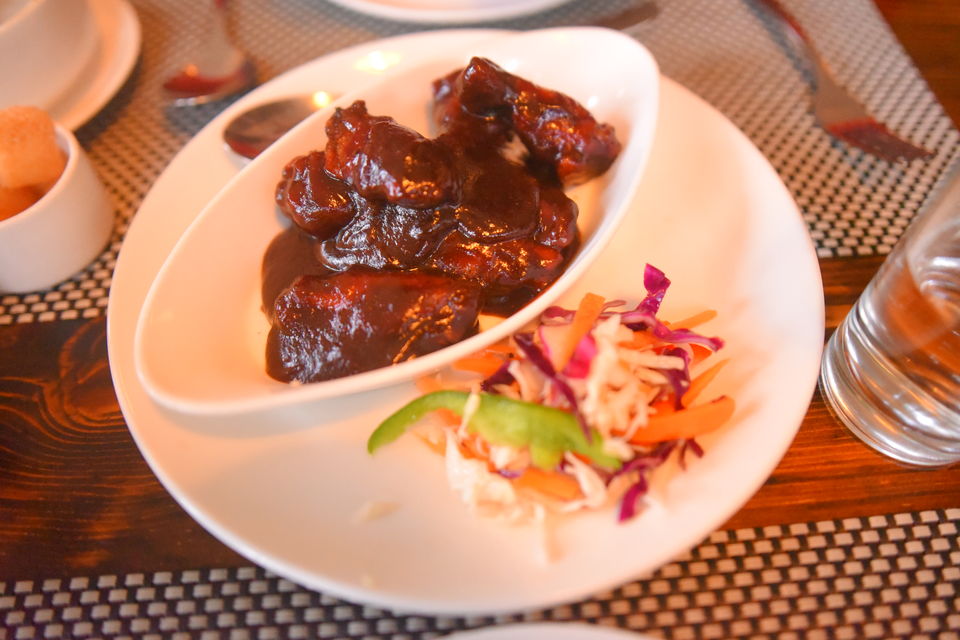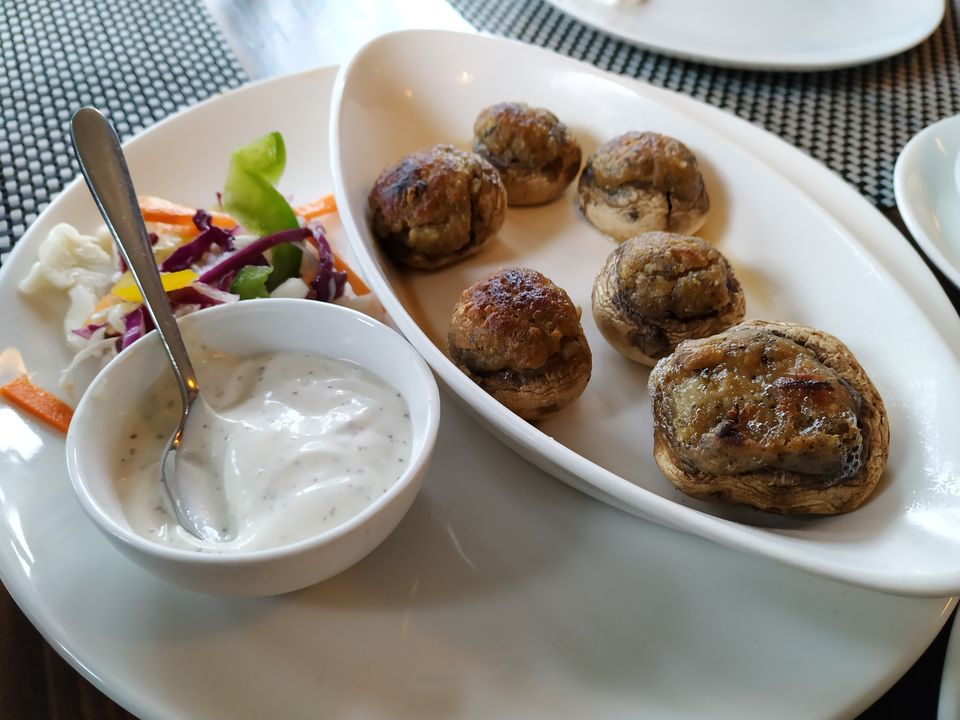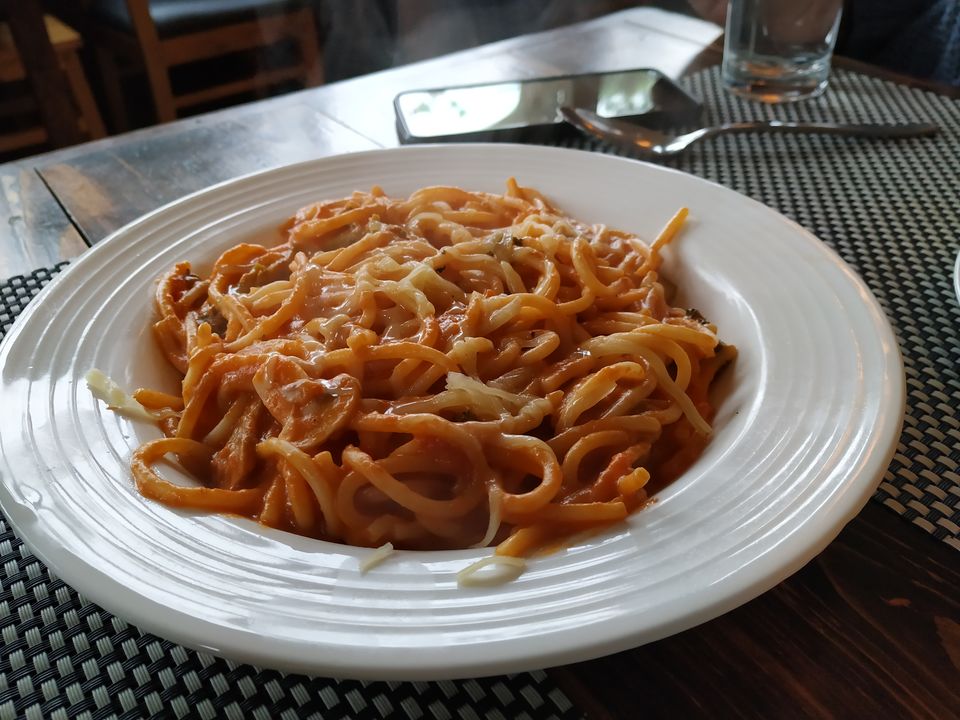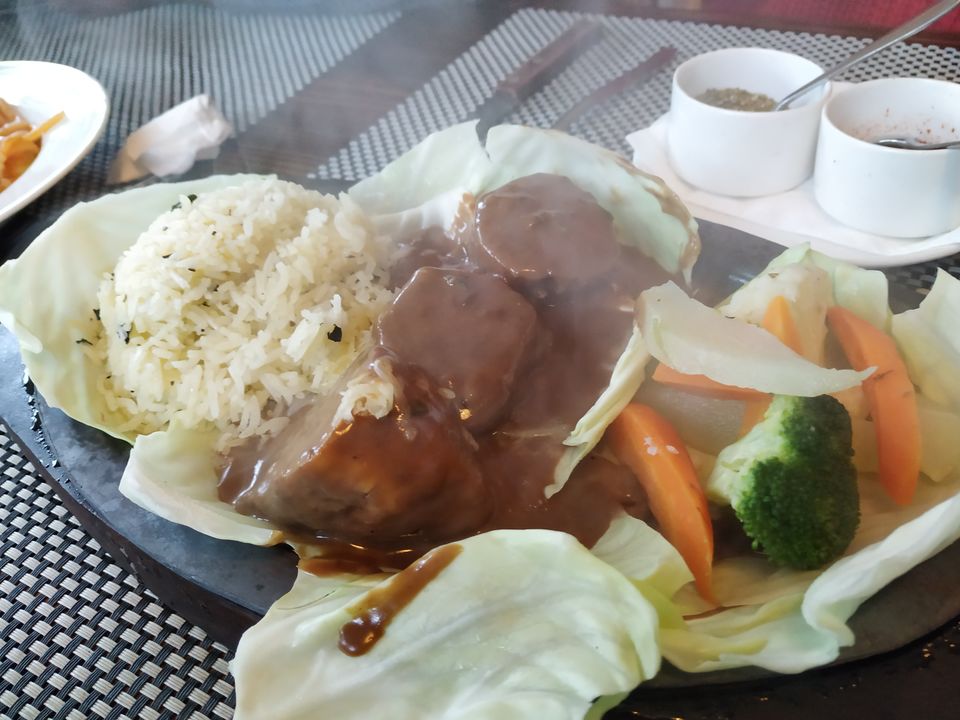 Even though we didn't rest at all, Kodai had so much to offer, we couldn't really just take rest as the entire time was already so peaceful and soothing.
It was 6pm and dark. So, we were done for the day already and got back to Safronstays.
We took a good nap at night and woke up early morning all charged up for the 2nd day.
We went to the famous SheepFarm near Mannavanur lake. You get to see bisons, fluffed up sheep, rabbits and horses there and vast area covered with shades of green as far as your eyes can see.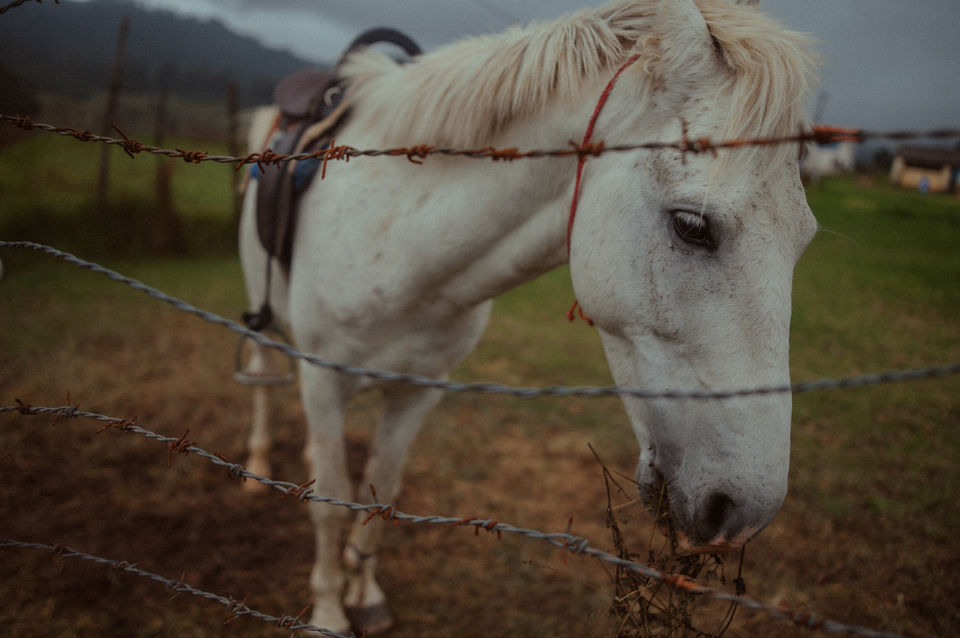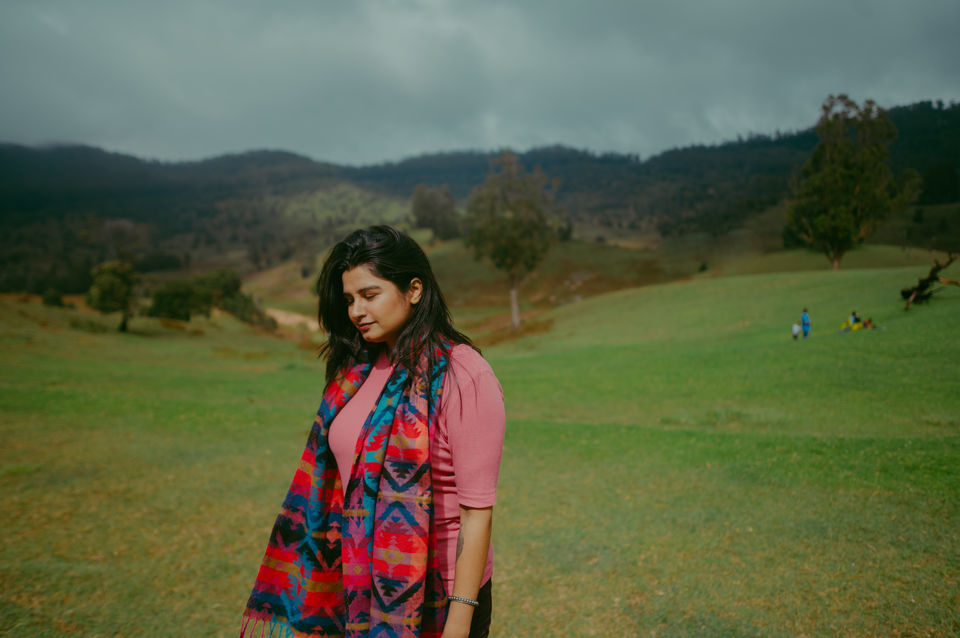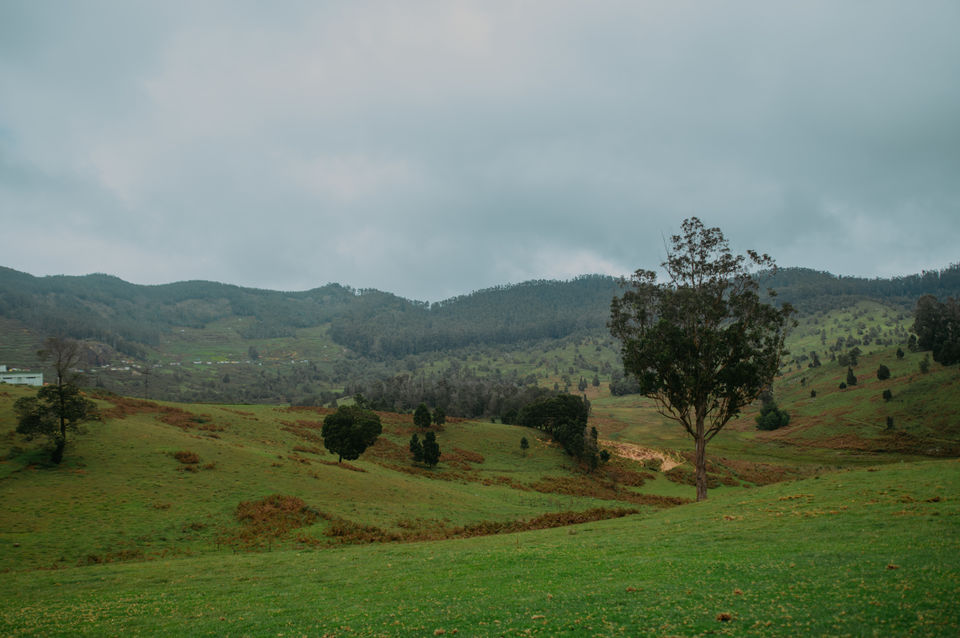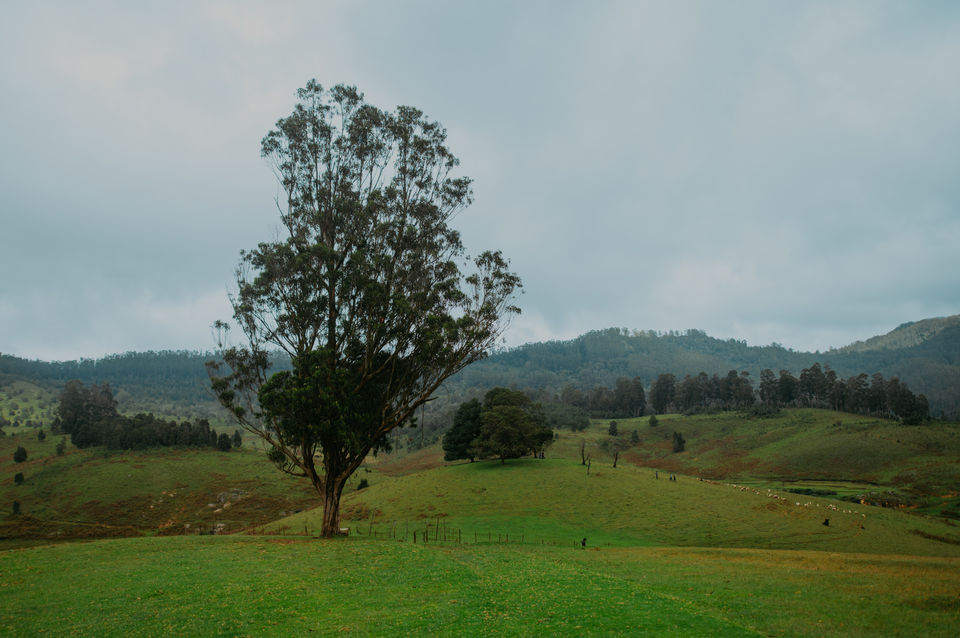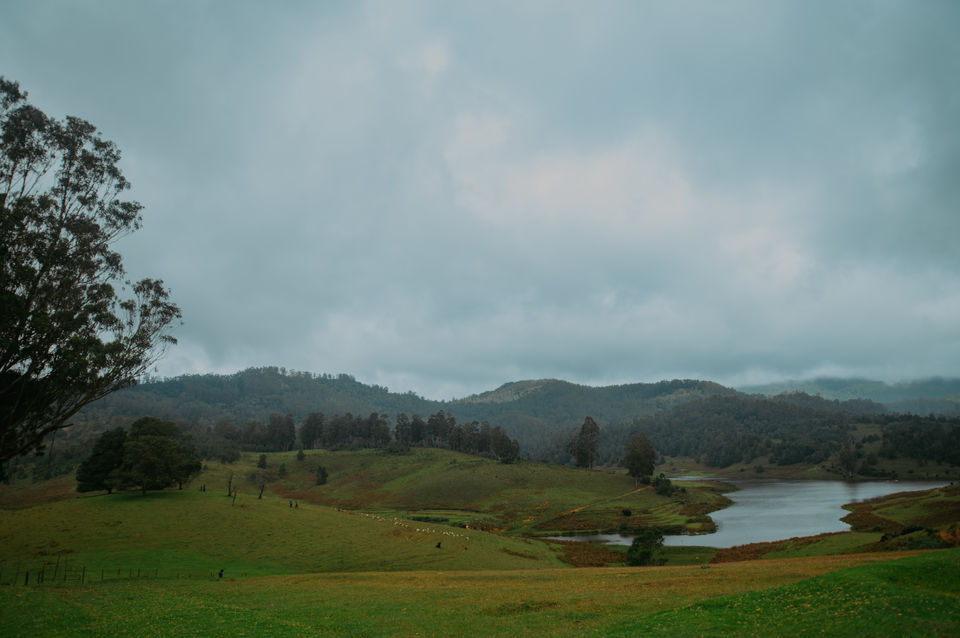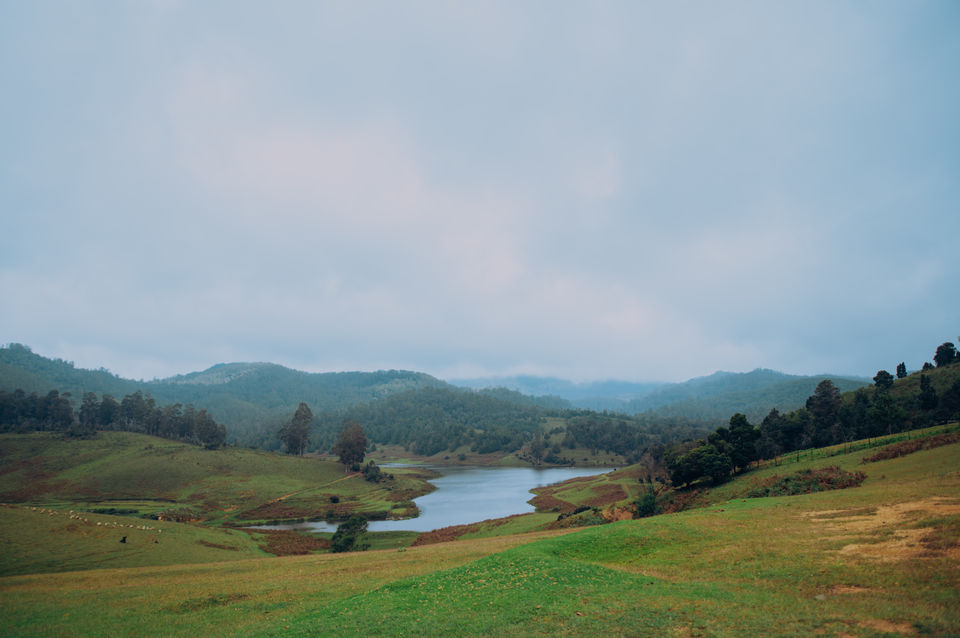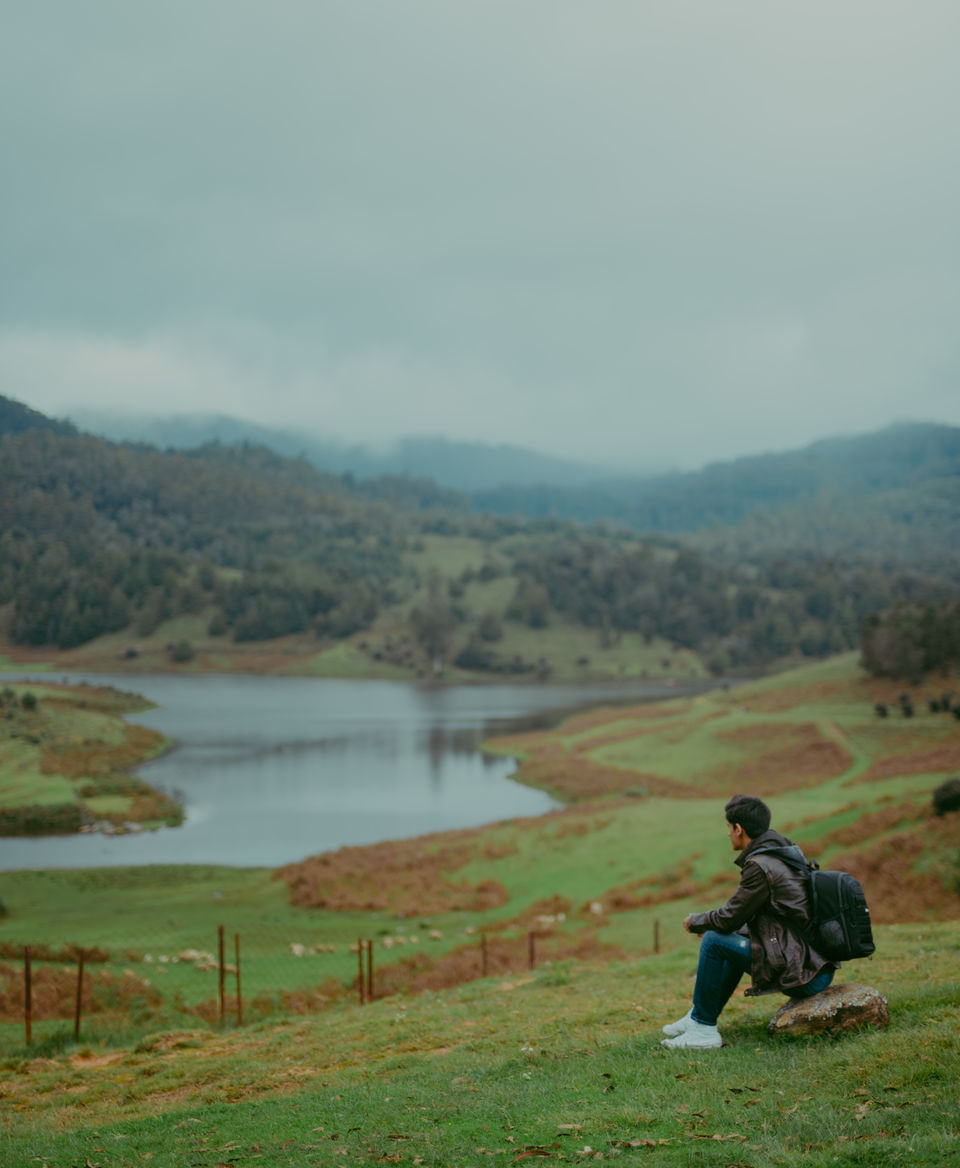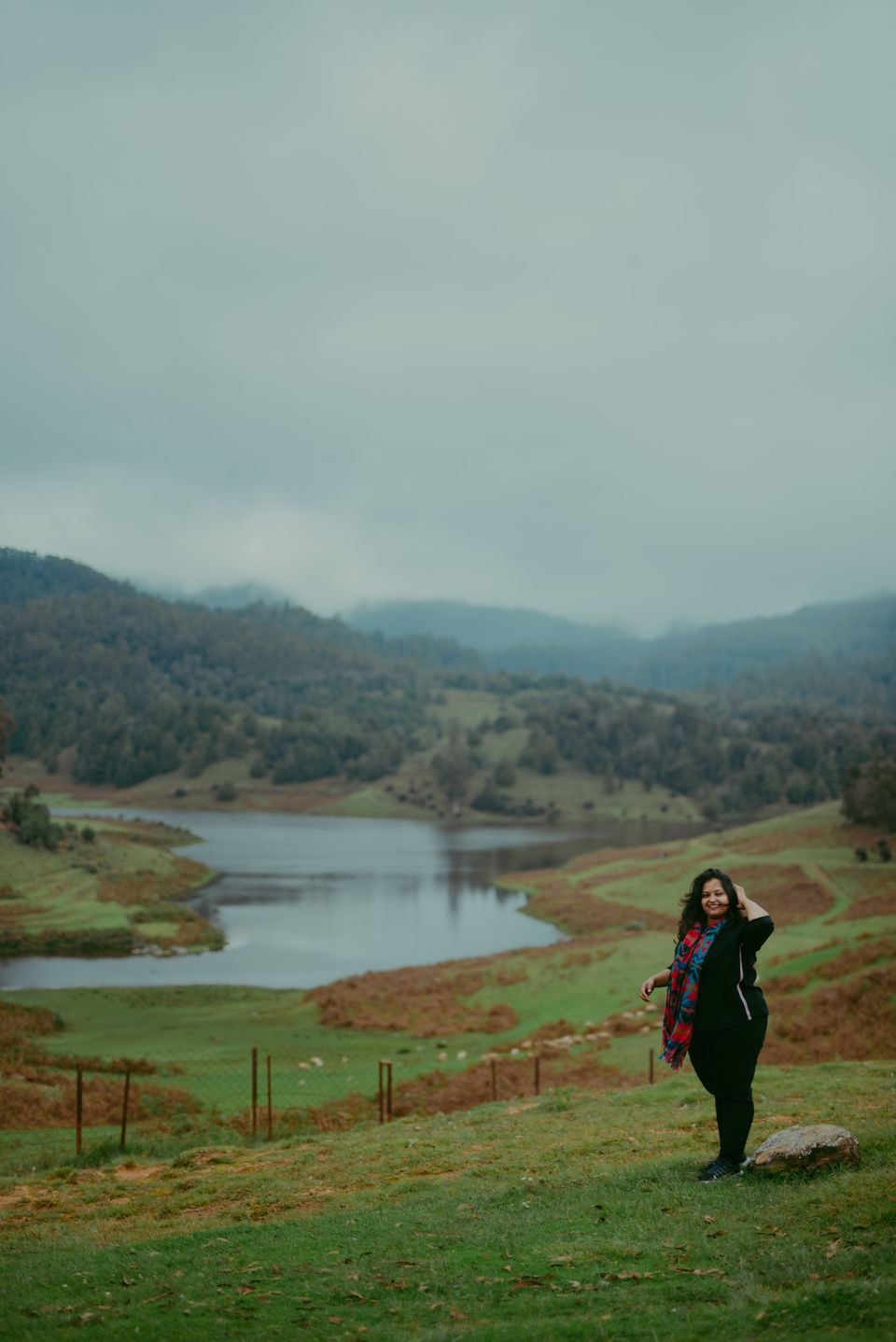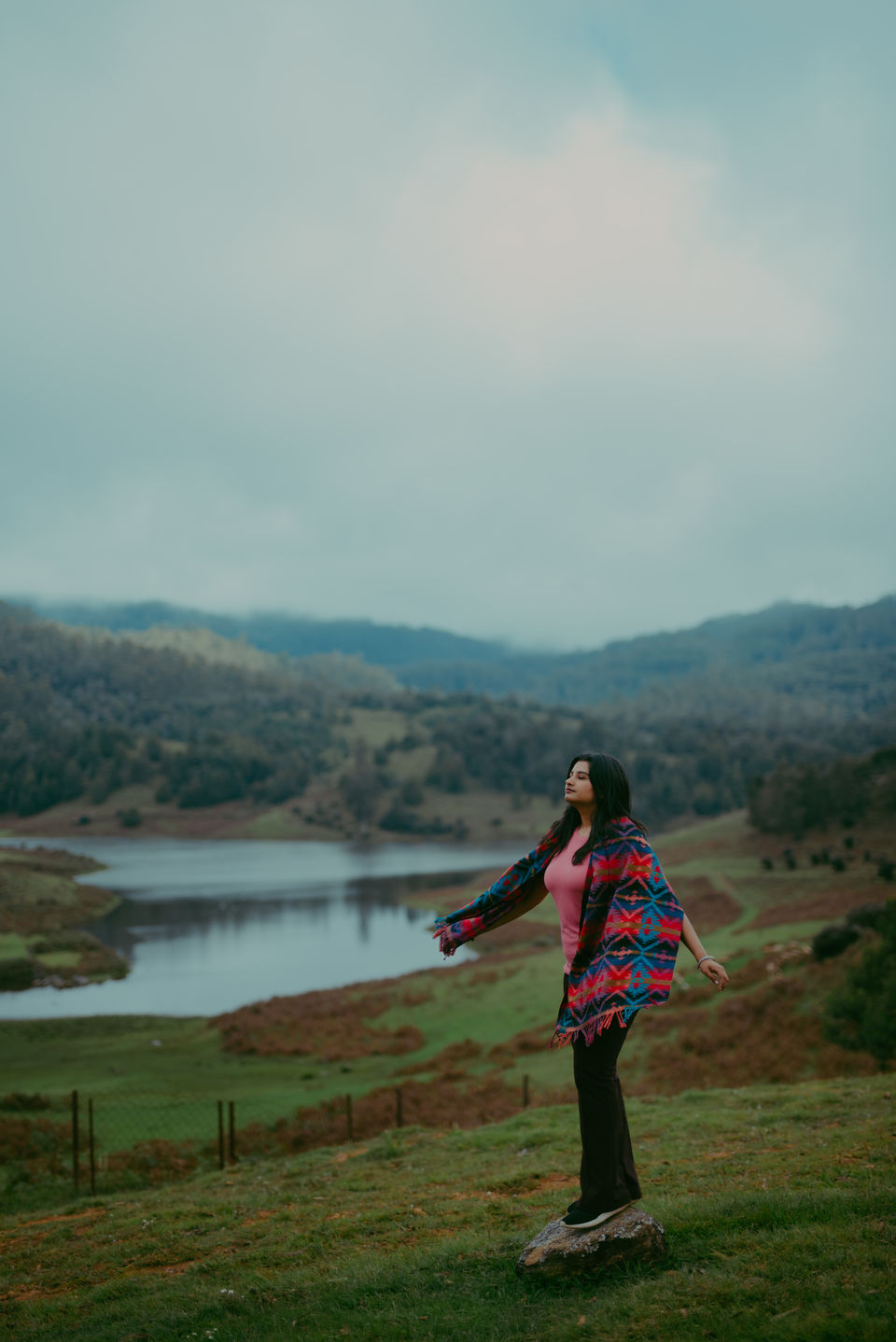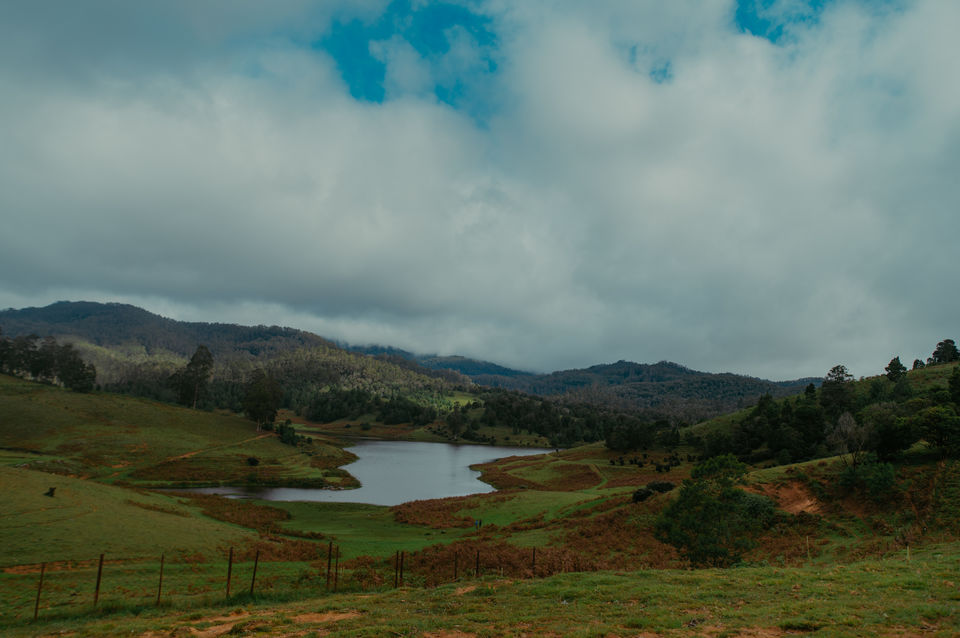 On the way we also crossed the Pine forest.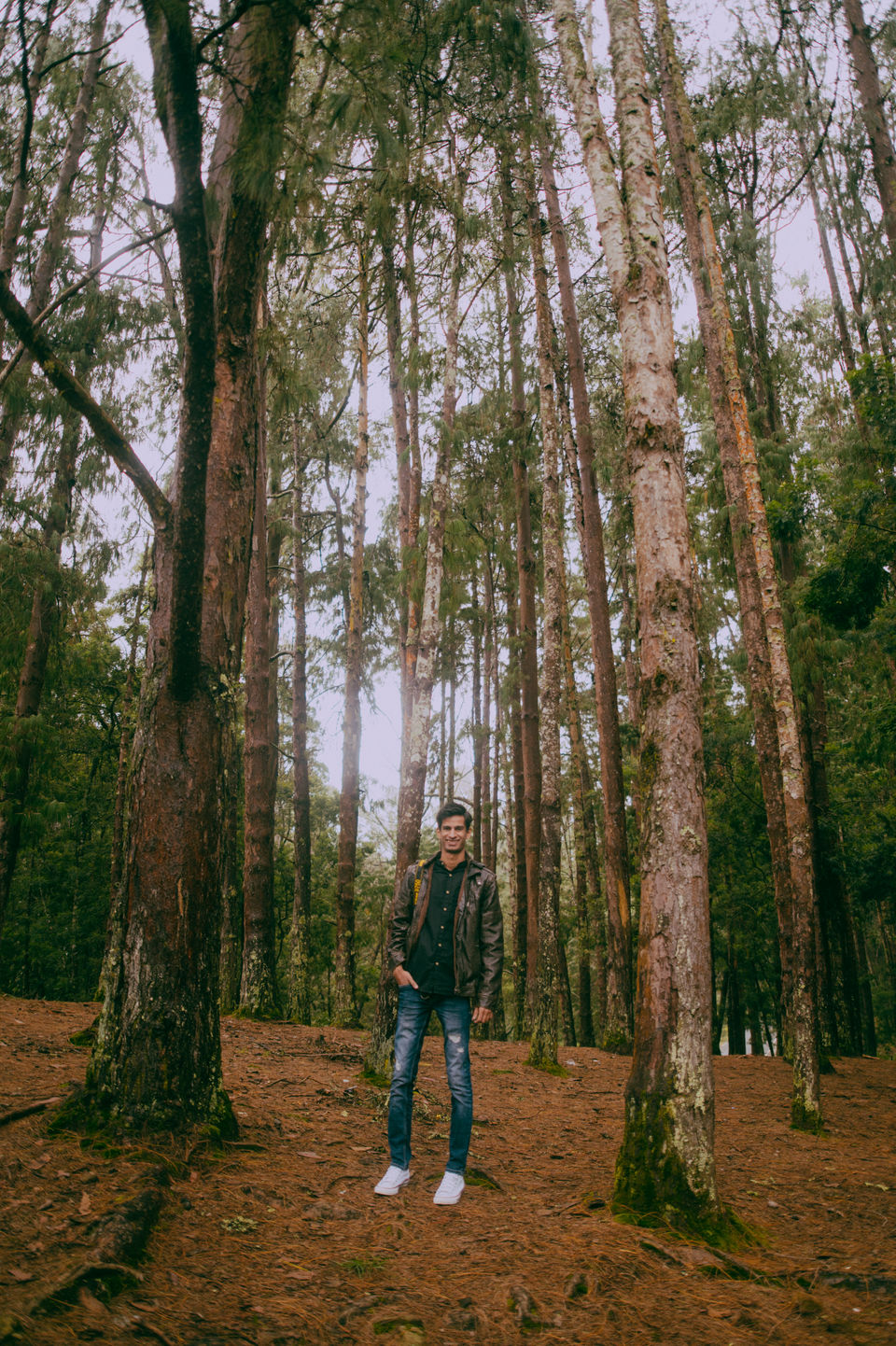 It's one of the famous locations to peer. It is so good to see that nature has been preserved so cautiously there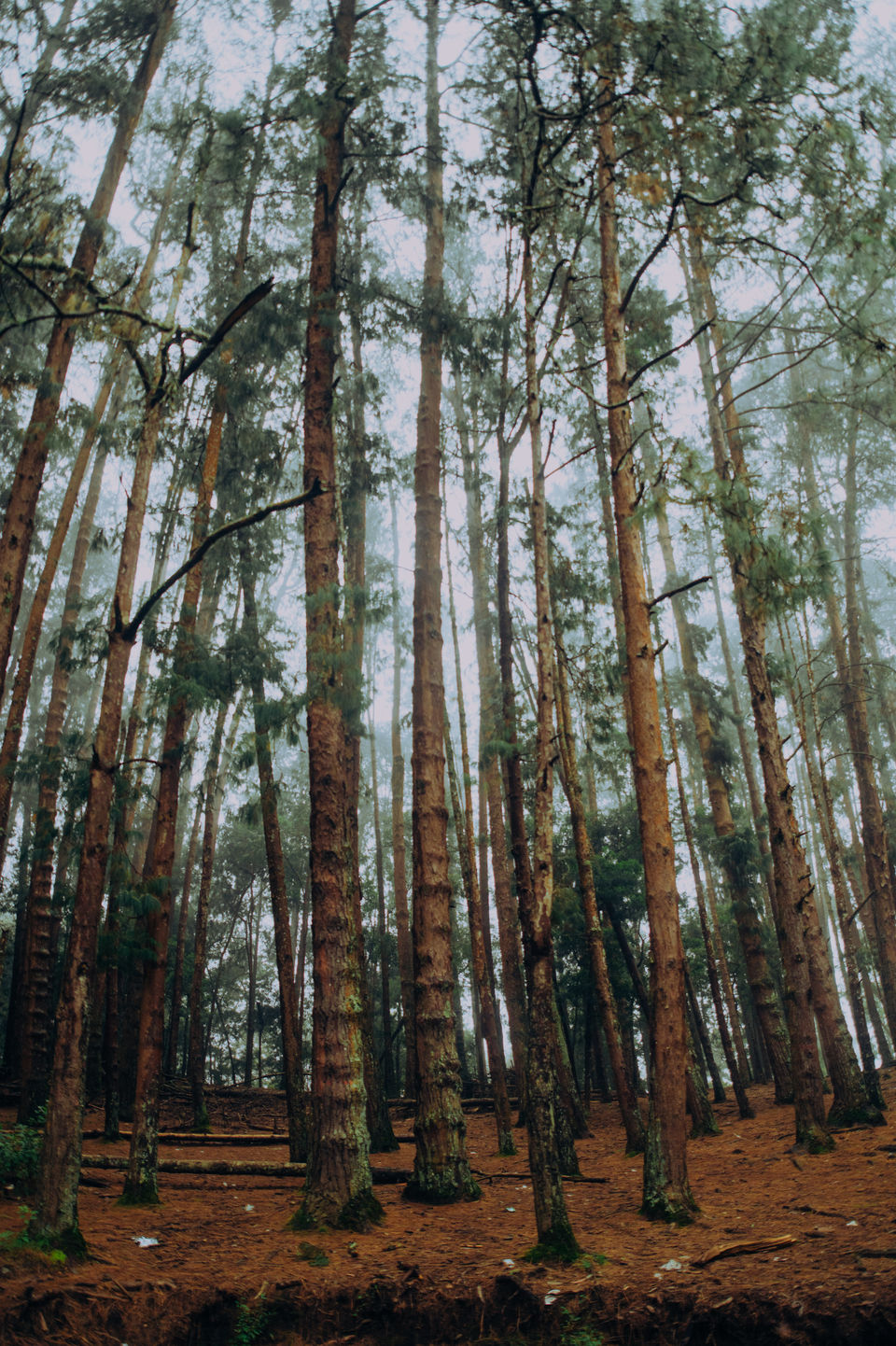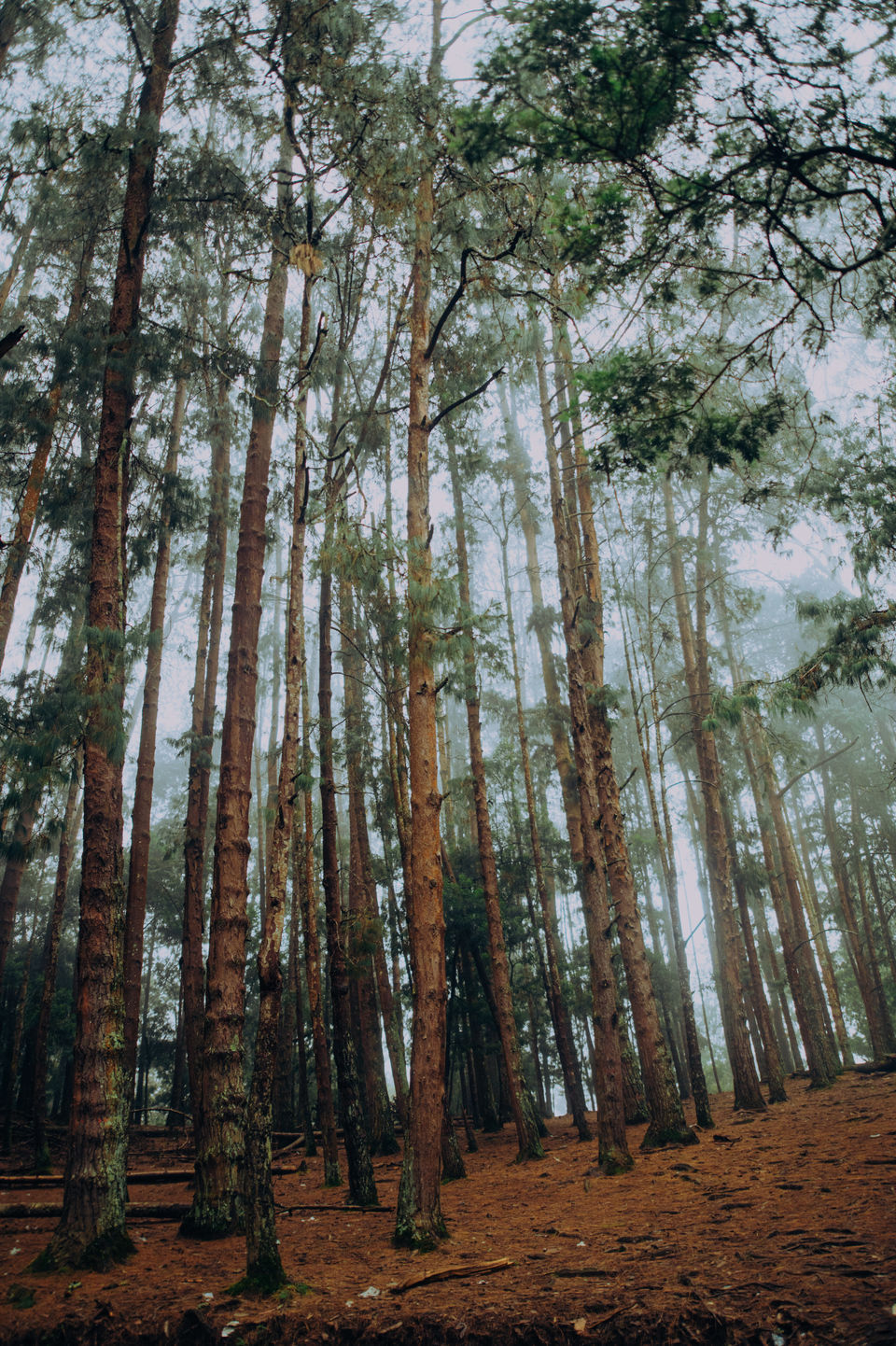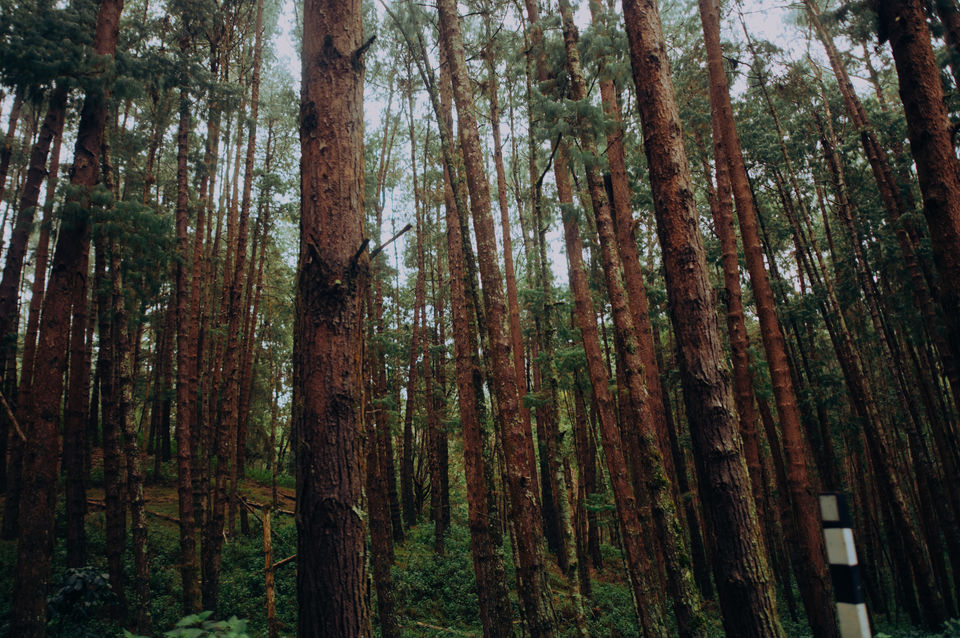 The whole pine forest seem Grey with dried cones and leaves. It's surrounded with aid of flowers of mushrooms, often referred to as magic mushrooms (known in Kodai and said to be hallucinogenic). Ideal place for walks and best forest pictures in any weather.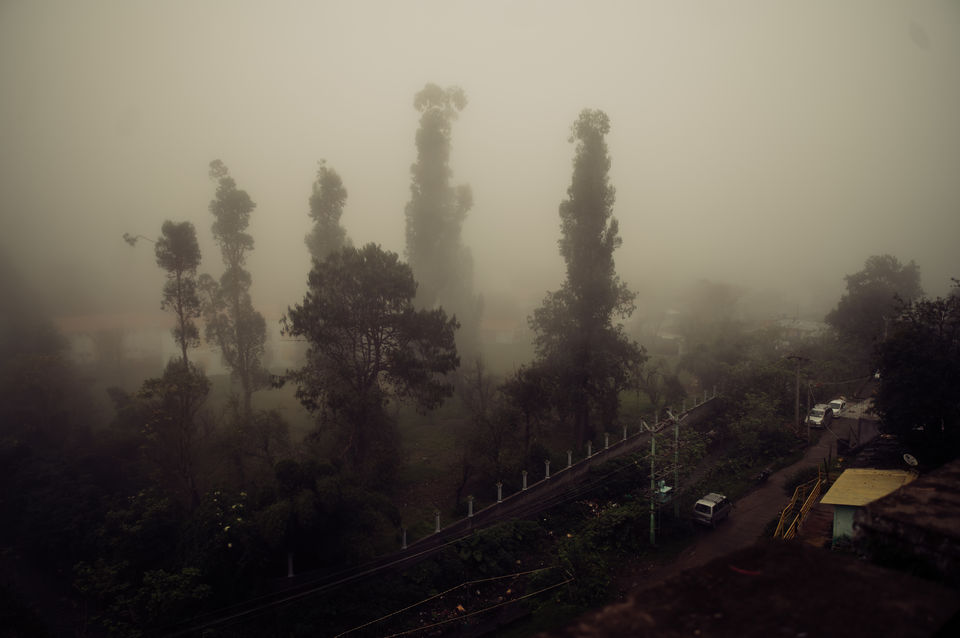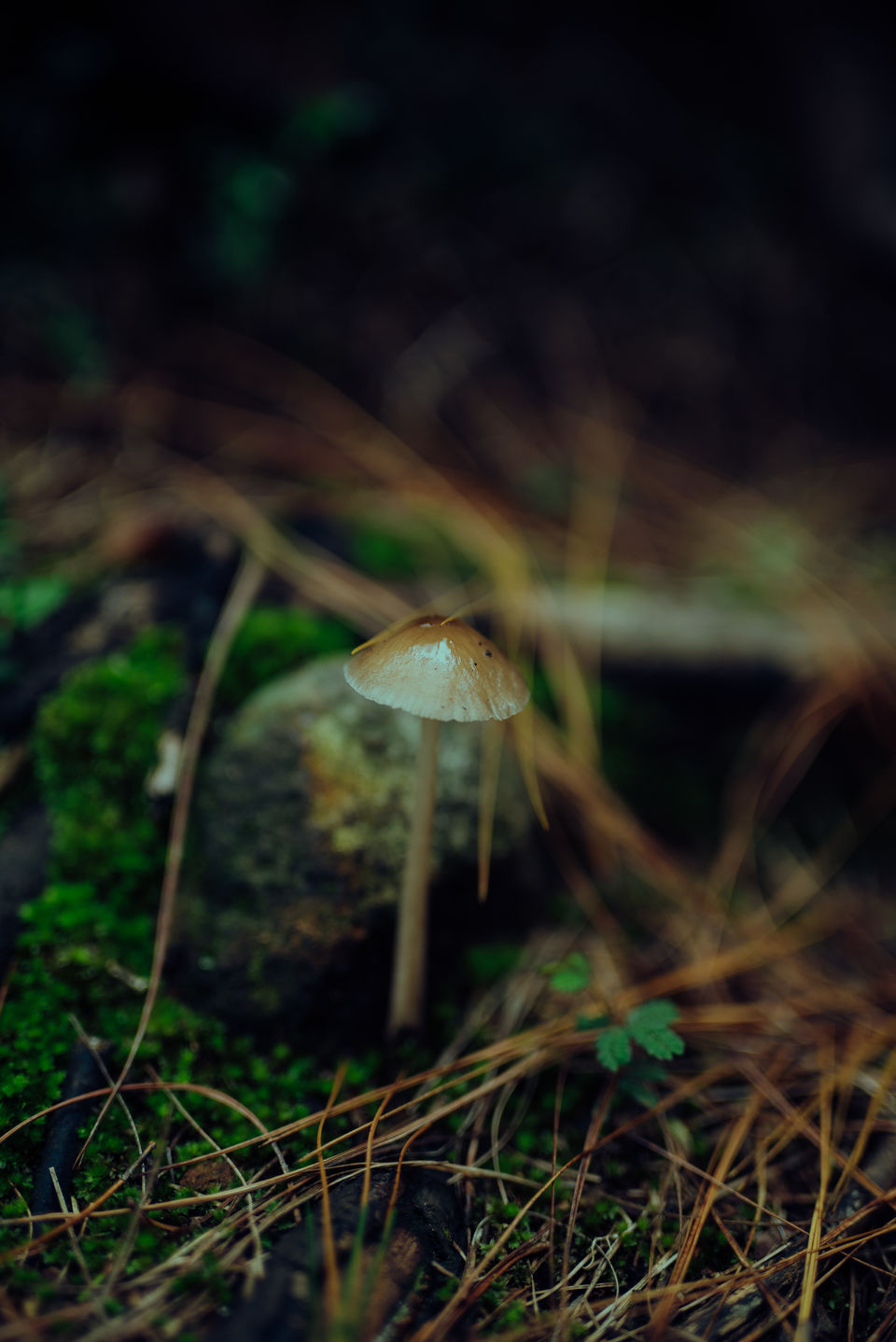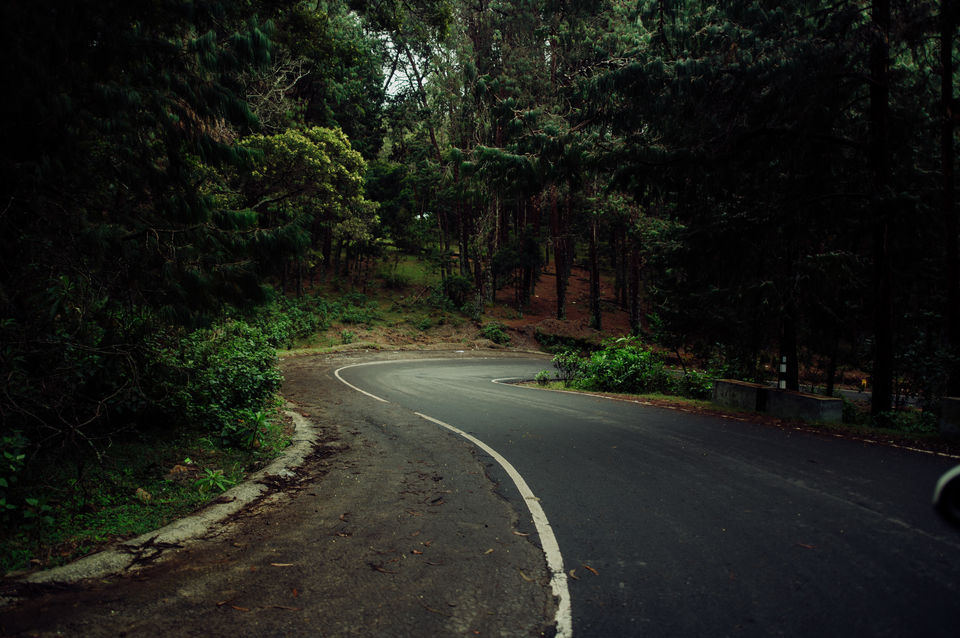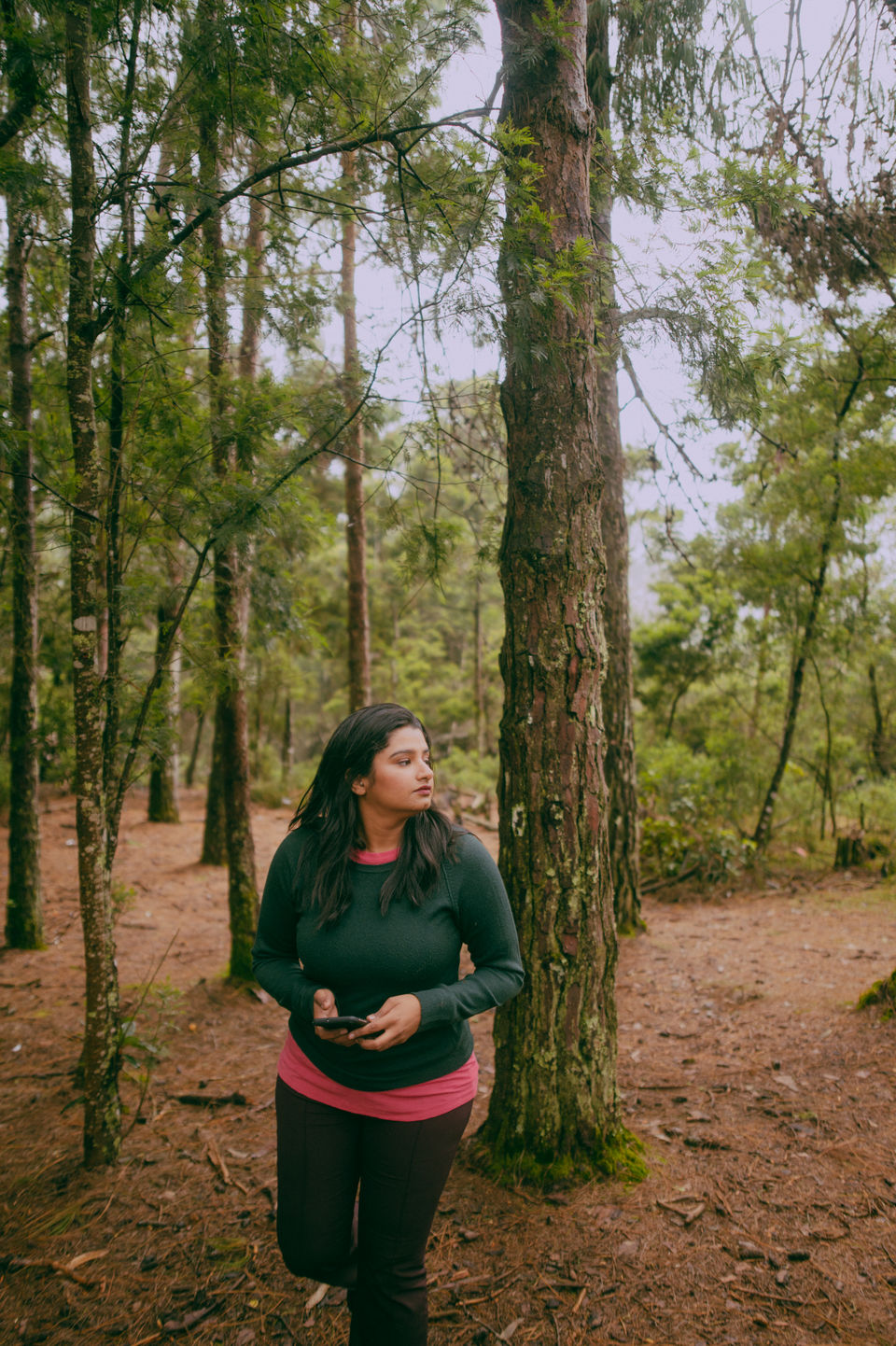 It was now time for Coakers Walk. It's a beautiful man-made 1km long walking plaza built on the mountains from where you can get an entire view into the quaint environment of the beautiful and refreshing surroundings of the city. The entrance fee is 20 bucks per person.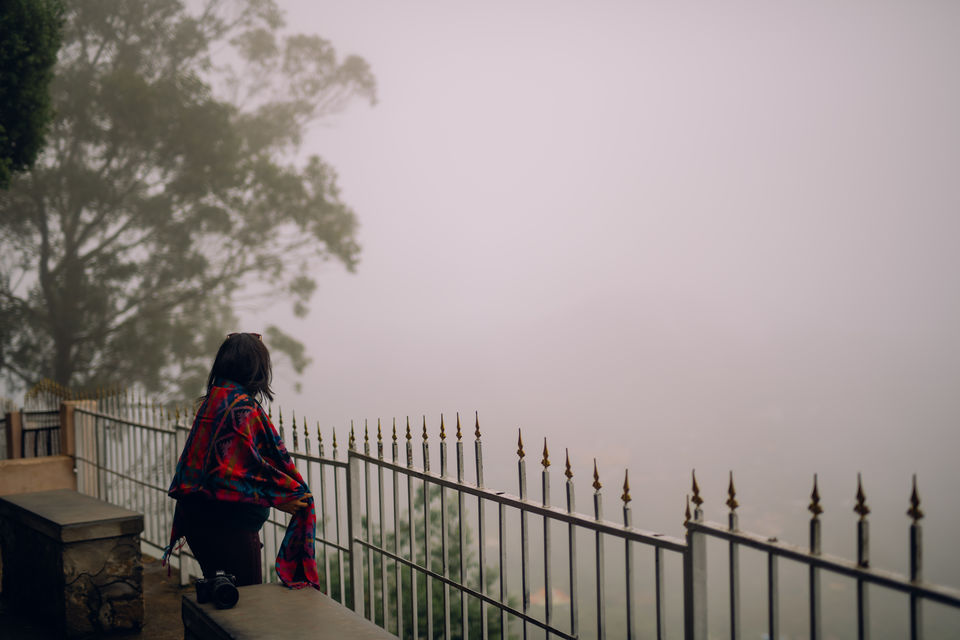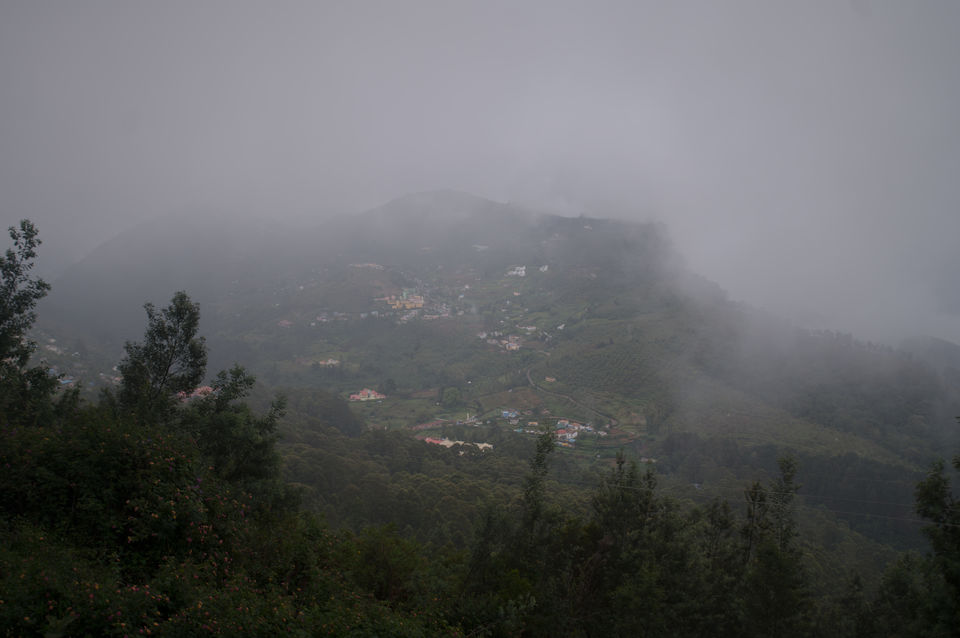 After a long long time I got to see sparrows here and different species of birds ever seen or heard before. Took me back to the time where sparrows used to be in our cities too.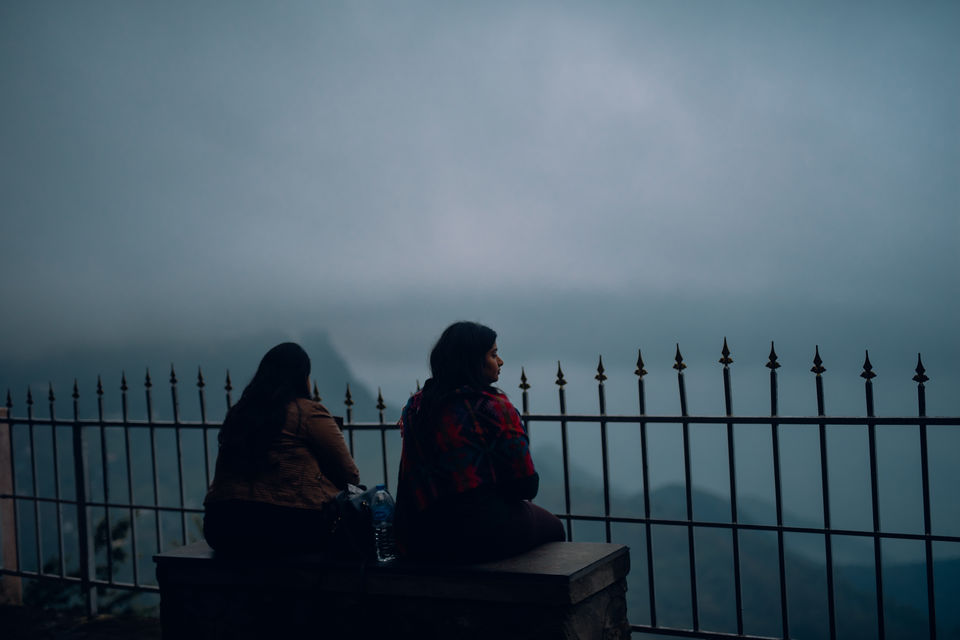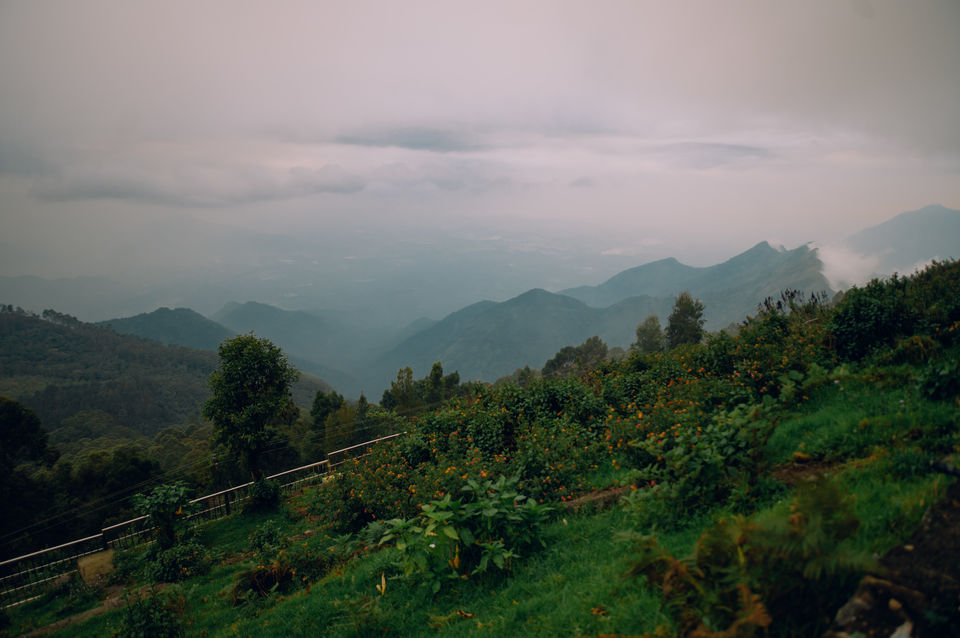 All of these places are at a point. So, at the most you can get Maggi, omelet, tea and coffee which are also preferred to eat rather than taking the risks of other things available as it may not suit your tastes or stomach :D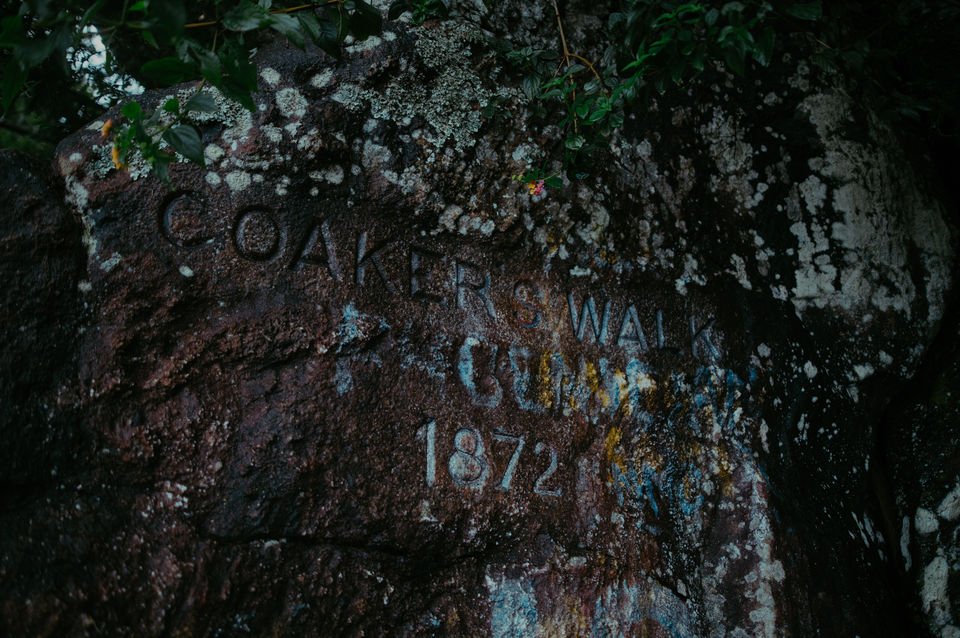 We were mostly surviving on Maggi anytime we got a chance and were hungry while we were out coz Maggi always works ;)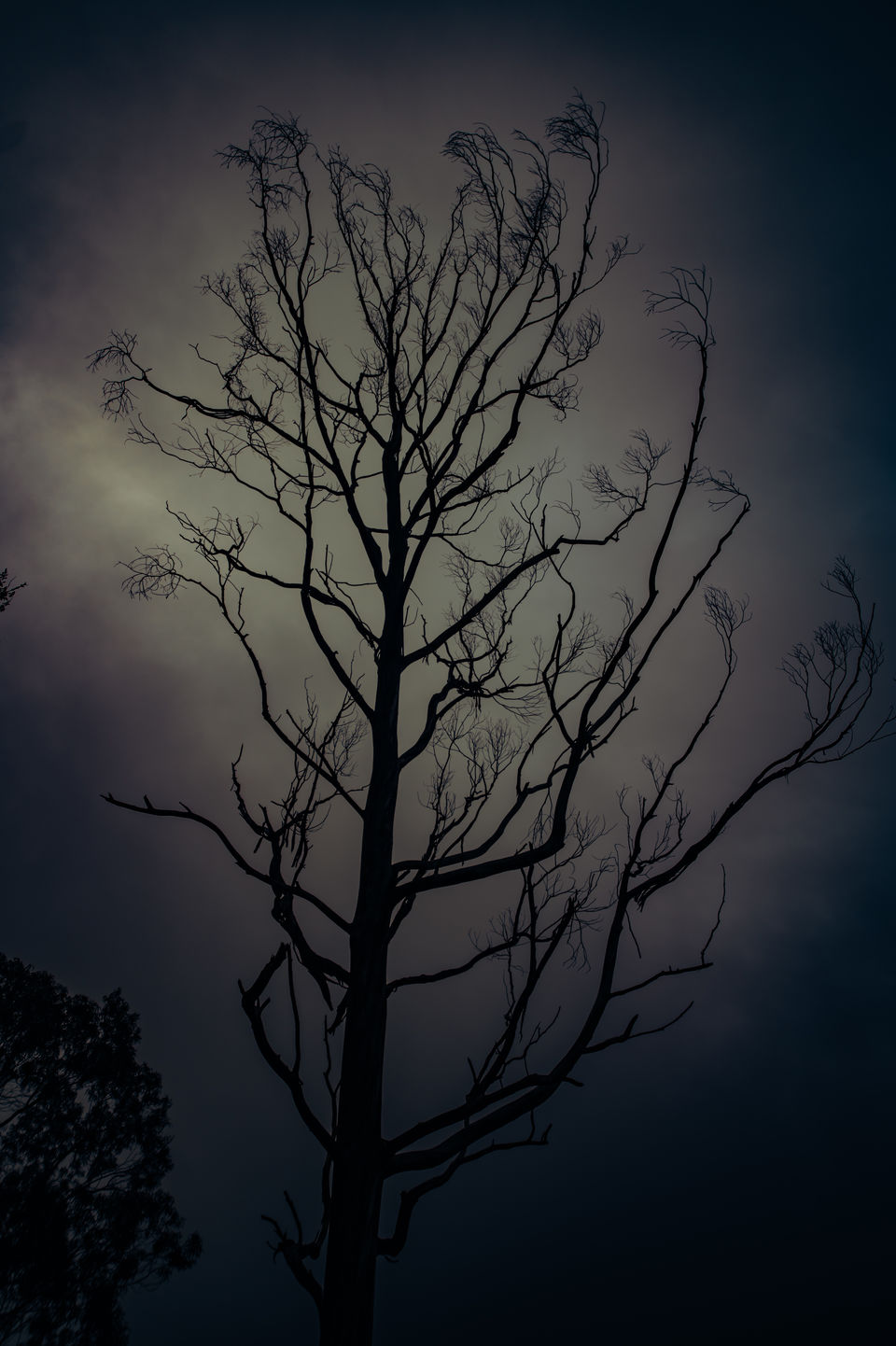 After completing the walk we were back to the city area for dinner as it was evening time already. We tried Royal Tibet as referred by our Hotel care taker or manager whoever he was. I'm not sure if they usually serve good food but the ones we ordered was not something we could actually eat so we just left the place and survived on chicken momos (the most we could have). Just besides the place, we had hot chocolate which was a big thumbs up. Never had a hot chocolate like that before. We also got some beautiful shots in the market with the darkness, people walking by and street lights visible in the mist.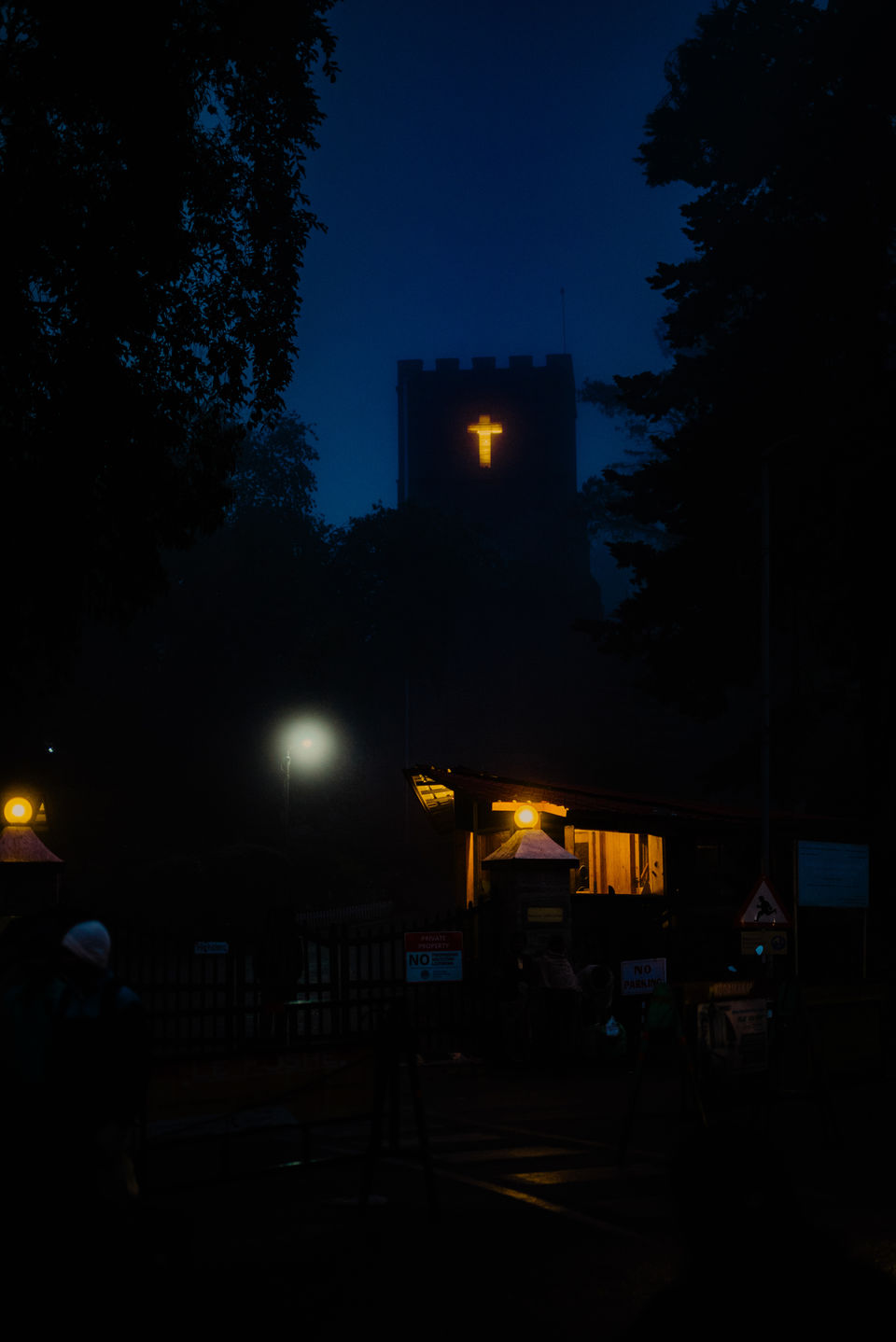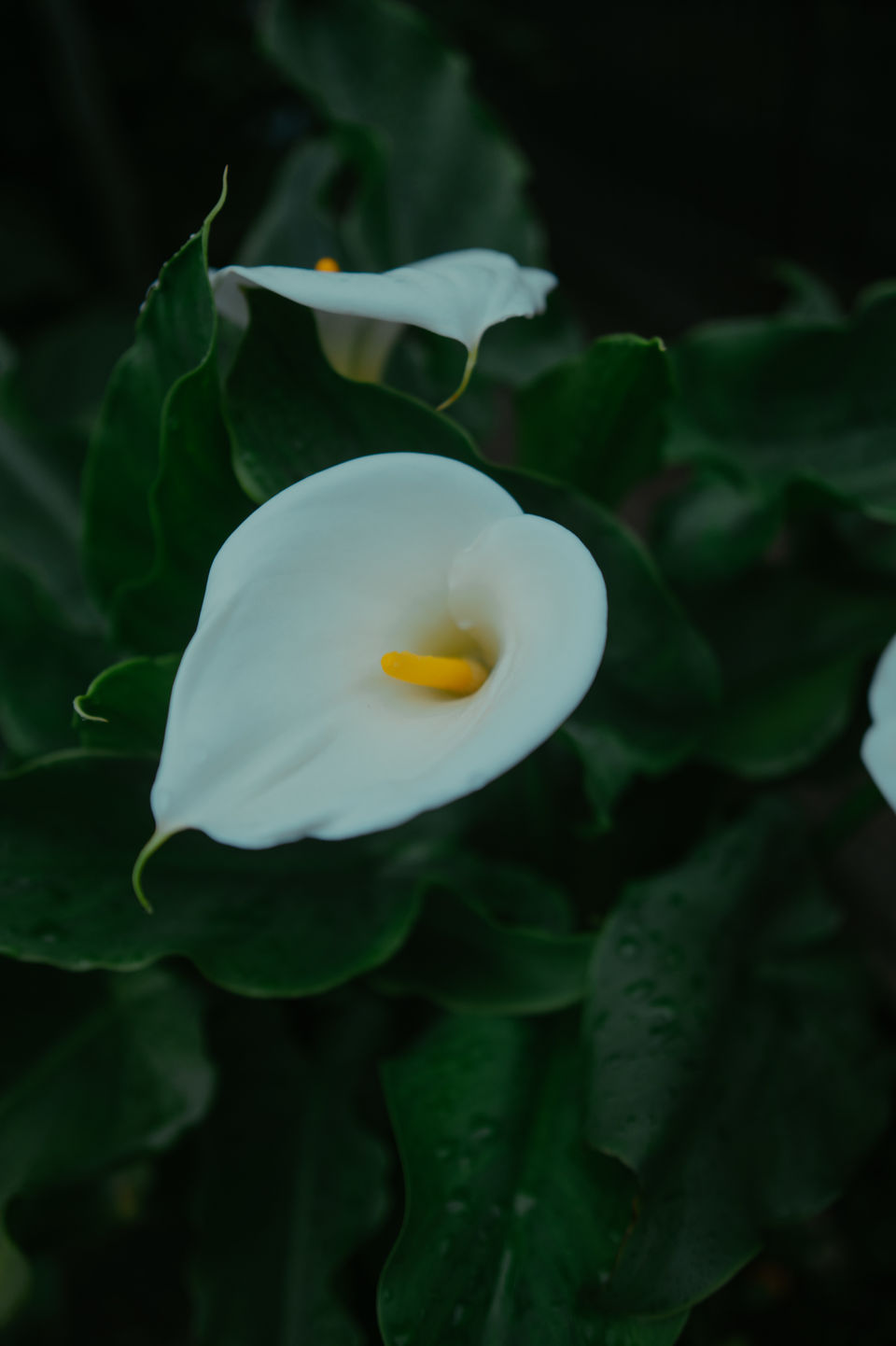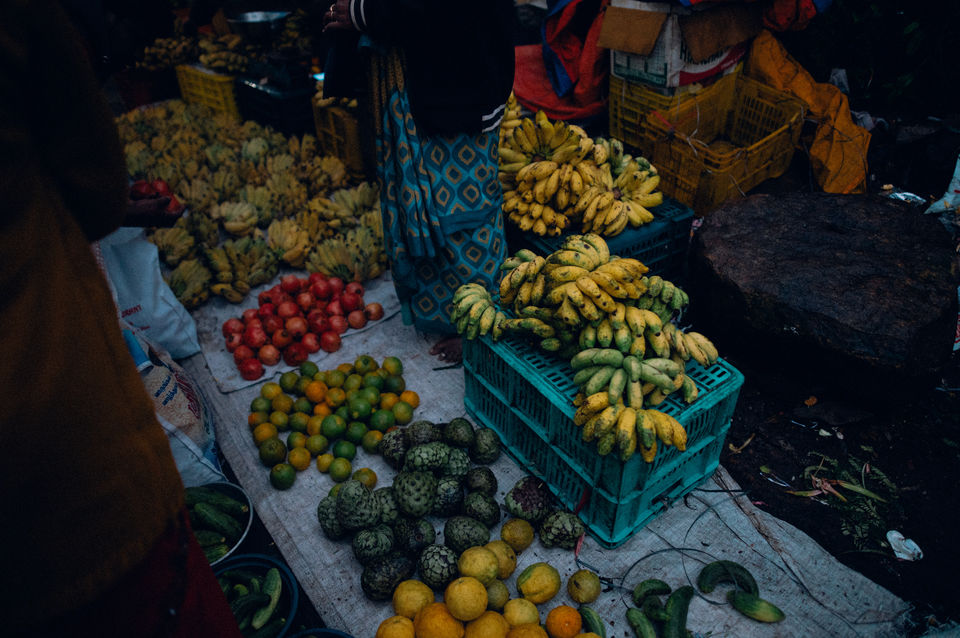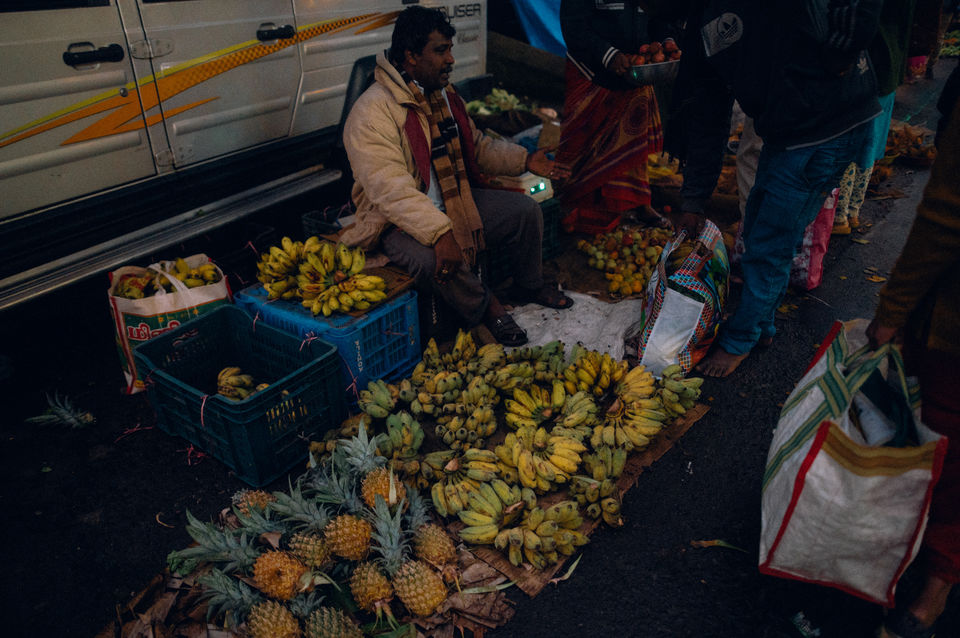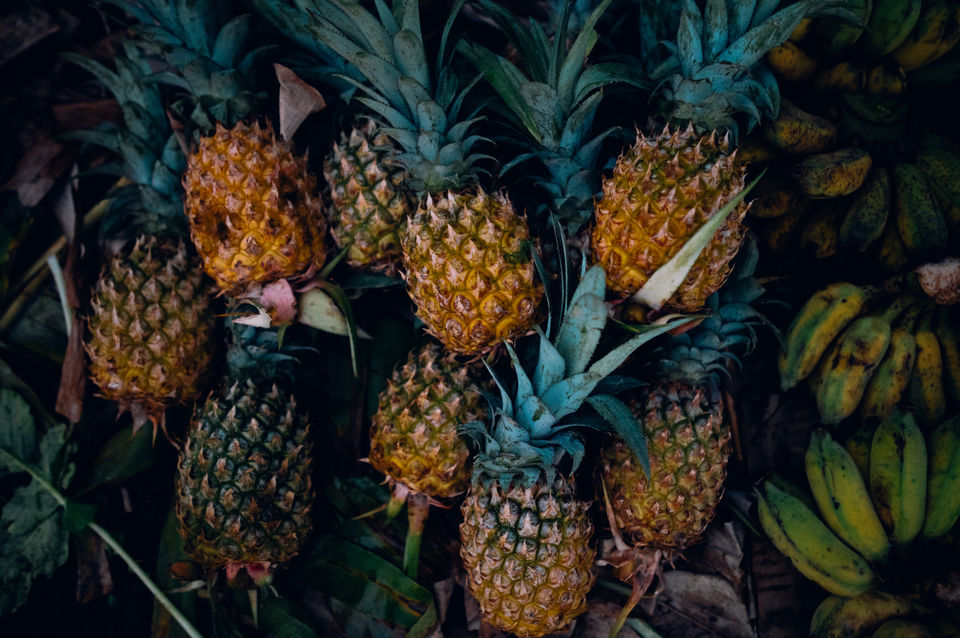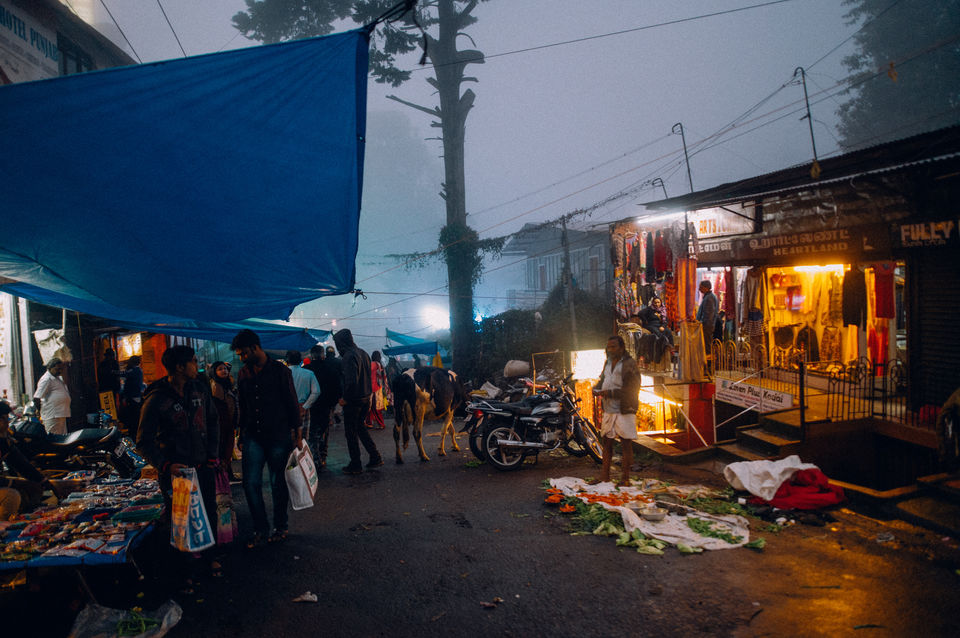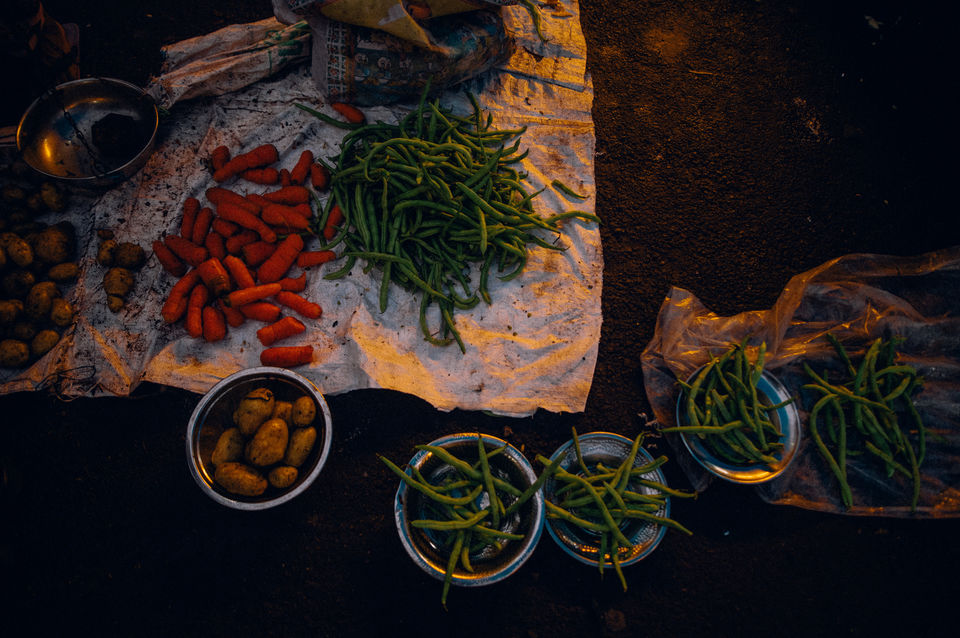 Getting back to our hotel we always made sure we had big bunch of memories captured.
It was all so Dope - The time, place and company. We were already high enough in life at that moment. The freezing weather with randomness just made it more beautiful. At times it rained and sometime it would just be all misty and we also had the luck to see sunlight for few minutes. The weather just kept changing drastically.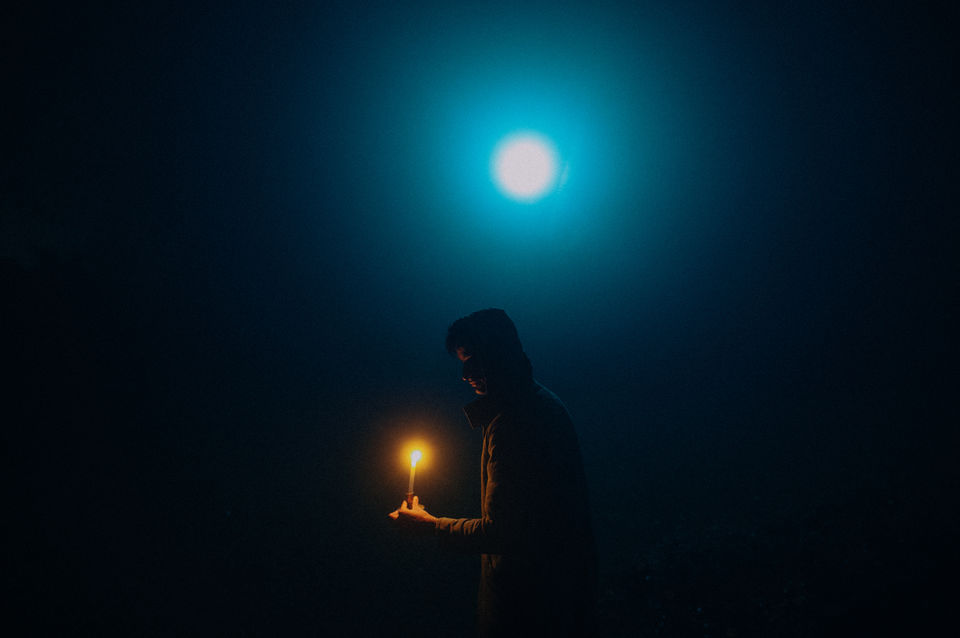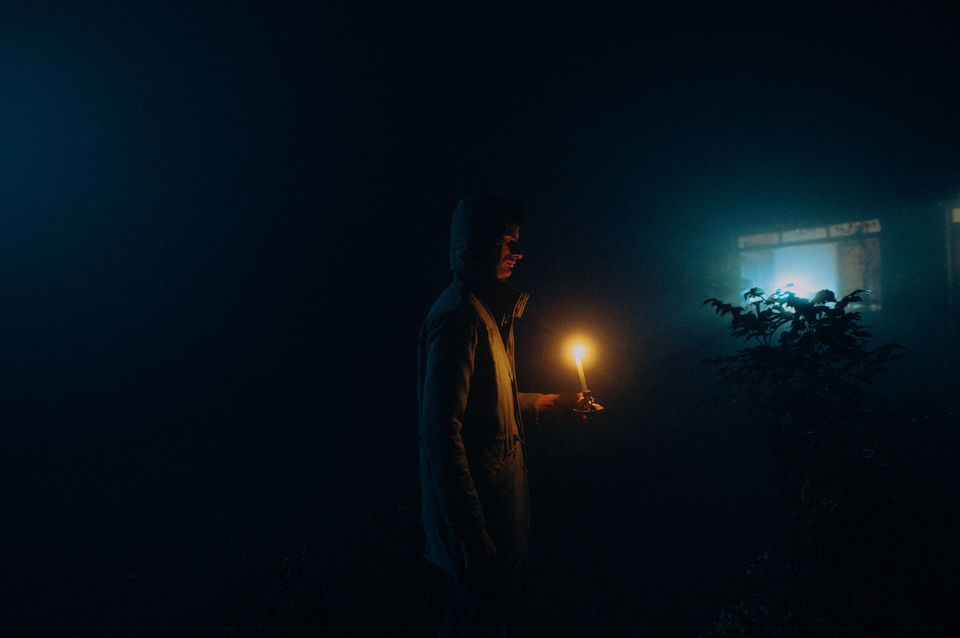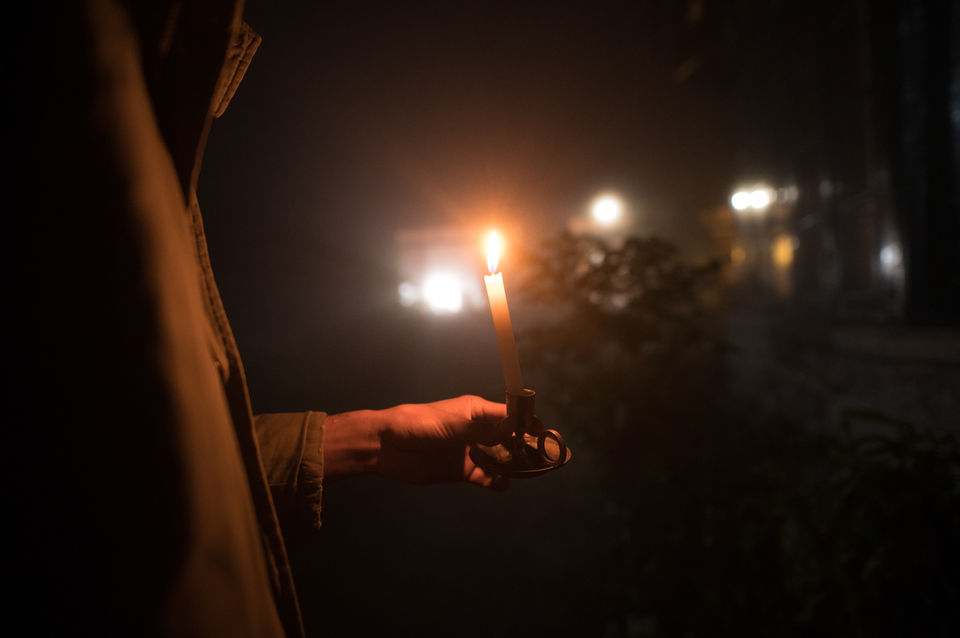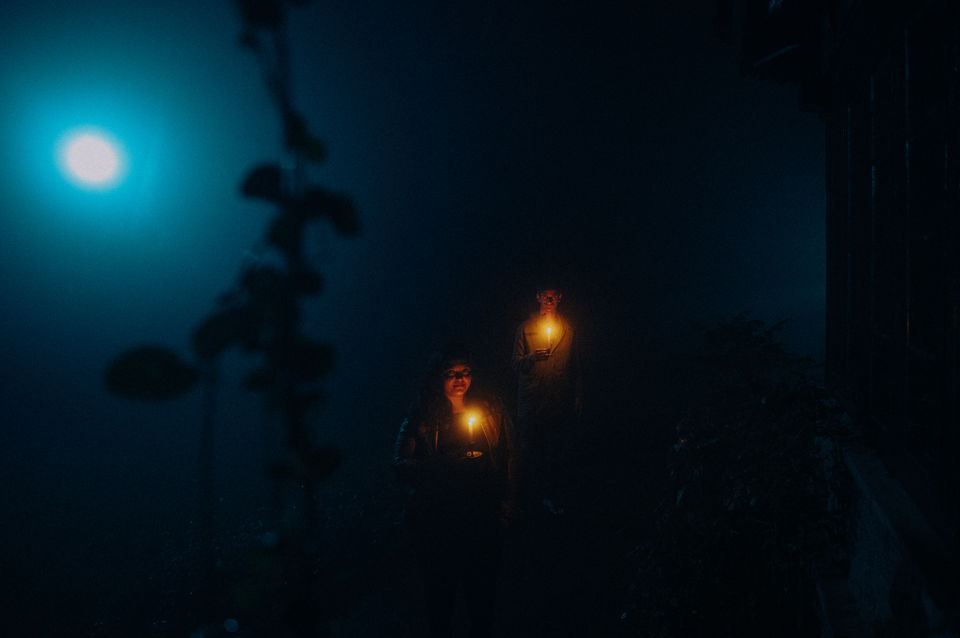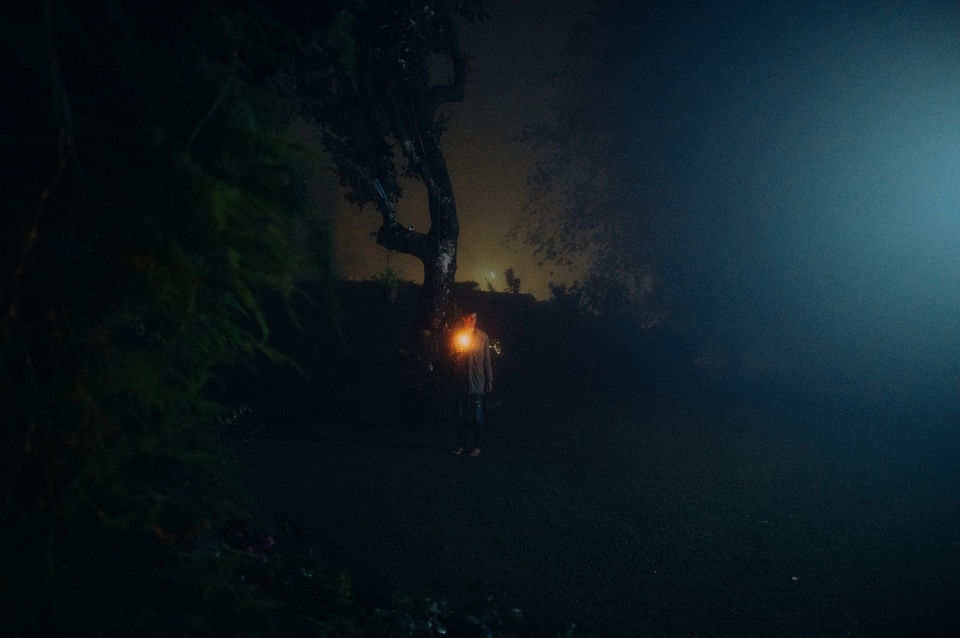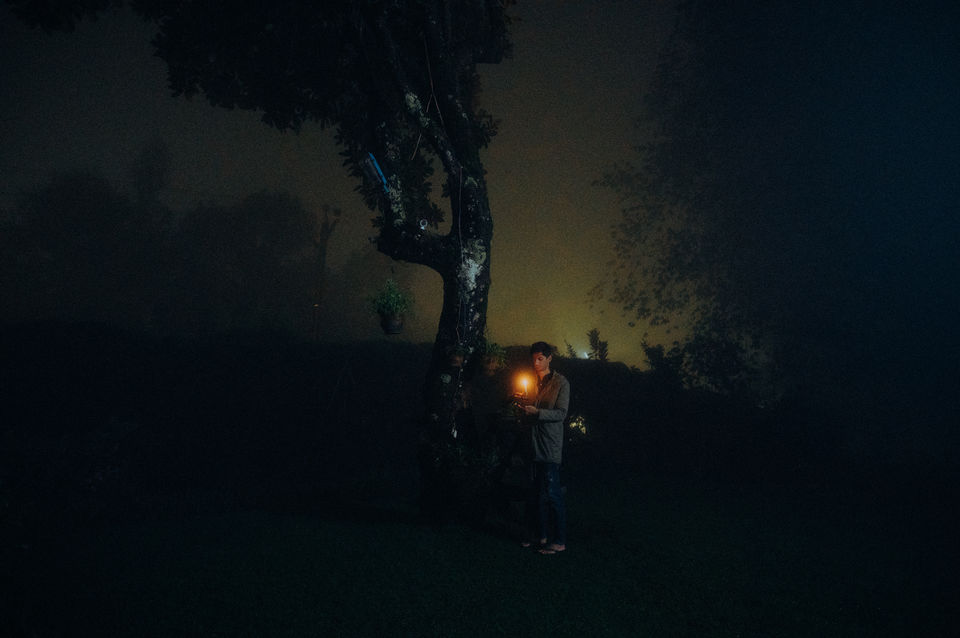 After getting back home we got freshened up and were then relaxing in the dark, roaming with candles and enjoying the slow drizzle, taking pictures obviously and a lil bit of drinks you can say.
The last day before we checked out, we made sure we covered most part of the property. We took pictures of almost all the beautiful and colourful flowers there.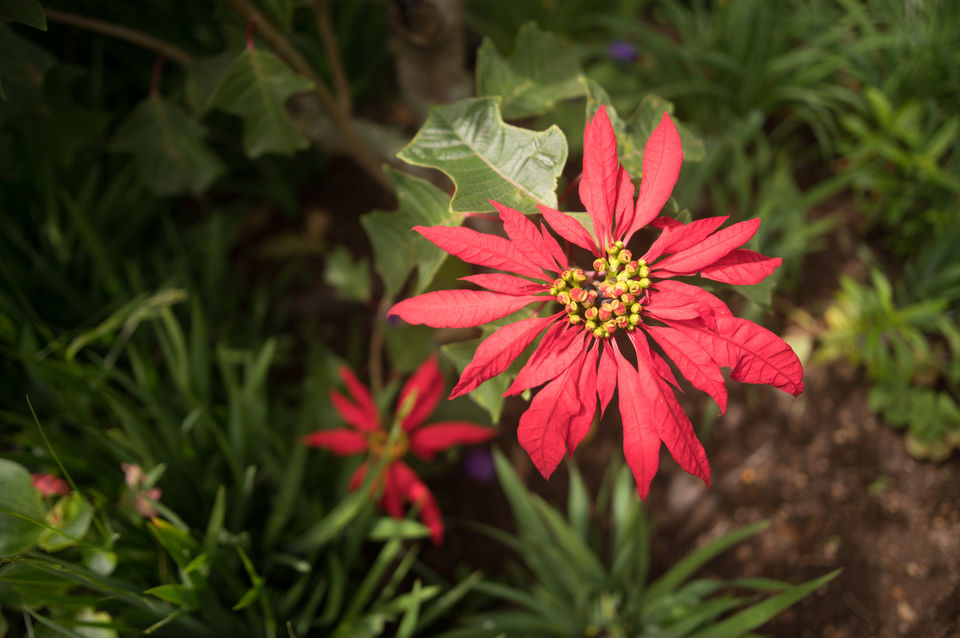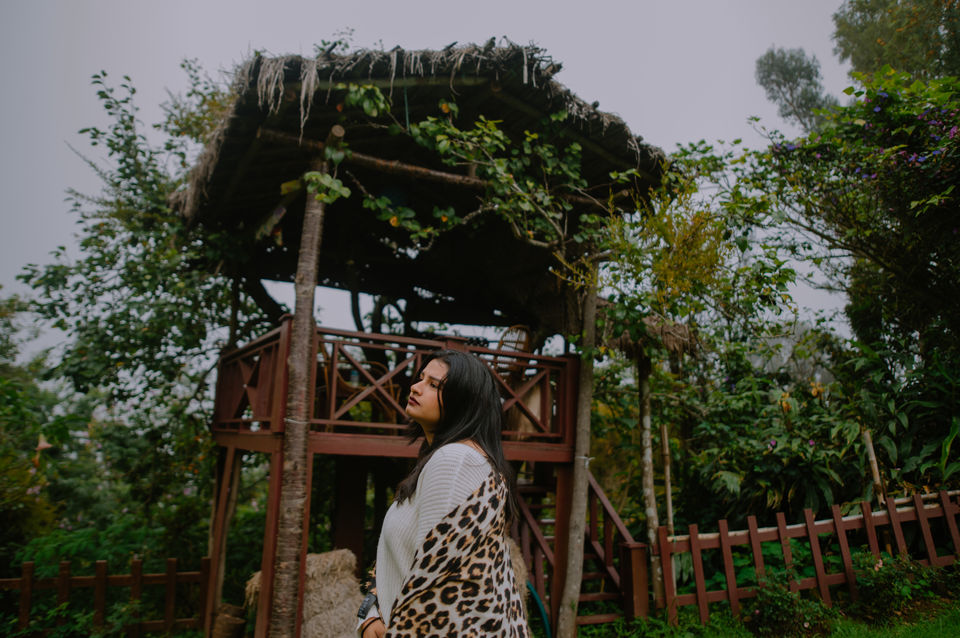 We spent so much of our time on the tree house, sitting peacefully, listening to music and dancing to it - being our crazy selves coz there was no one watching - no one judging - no one caring. We were just ourselves. Just three old friends adding some more memories to cherish.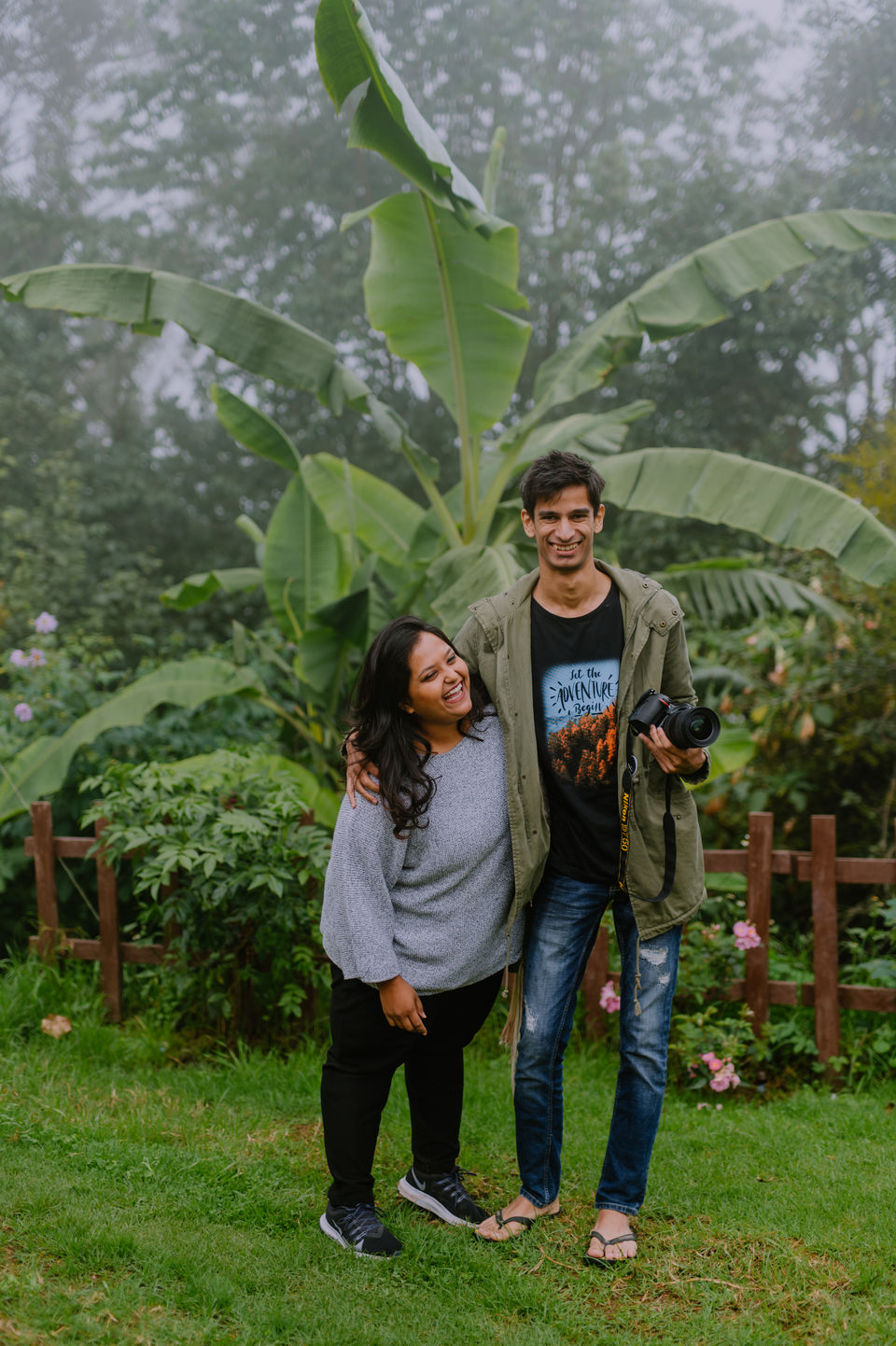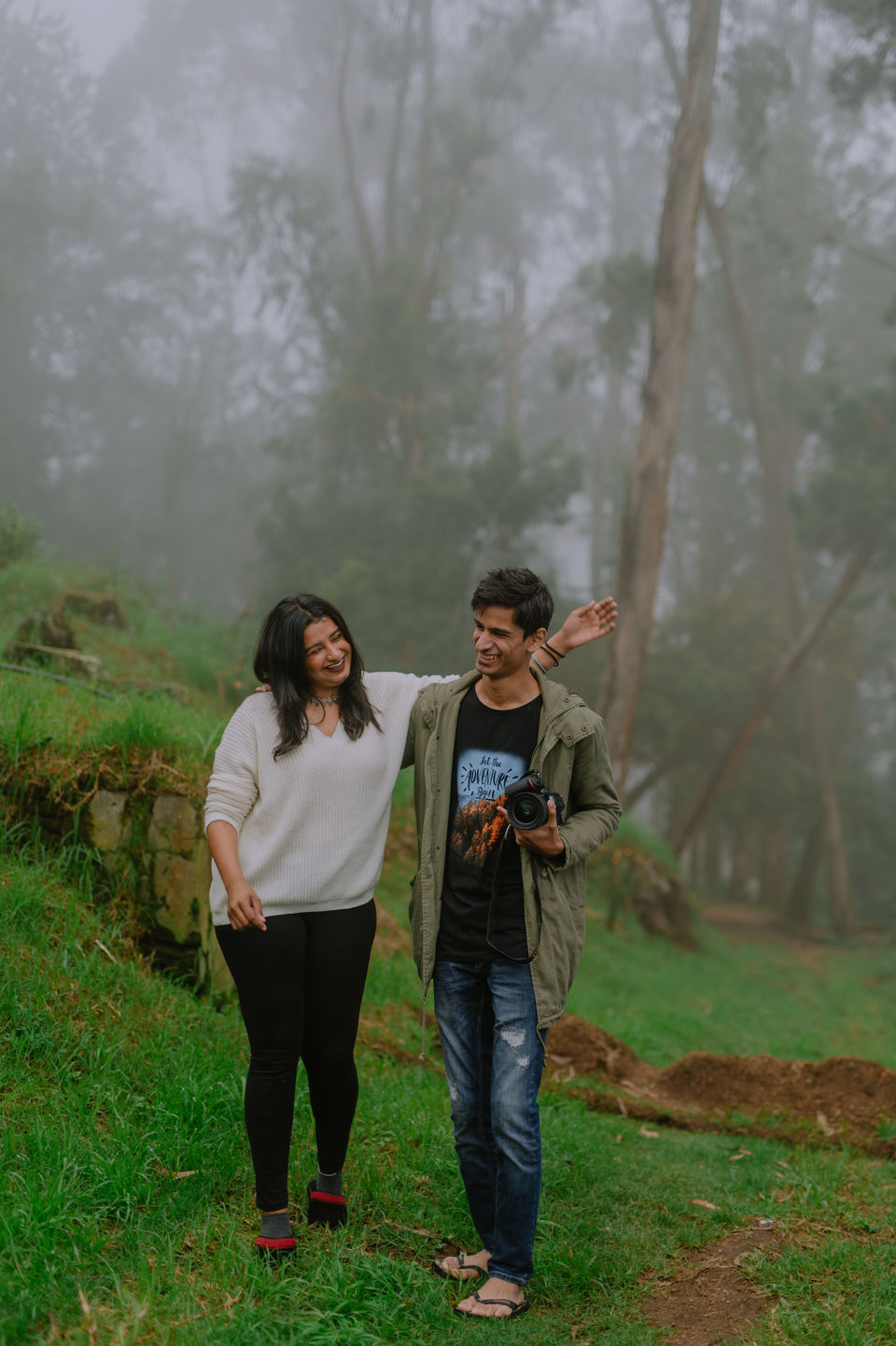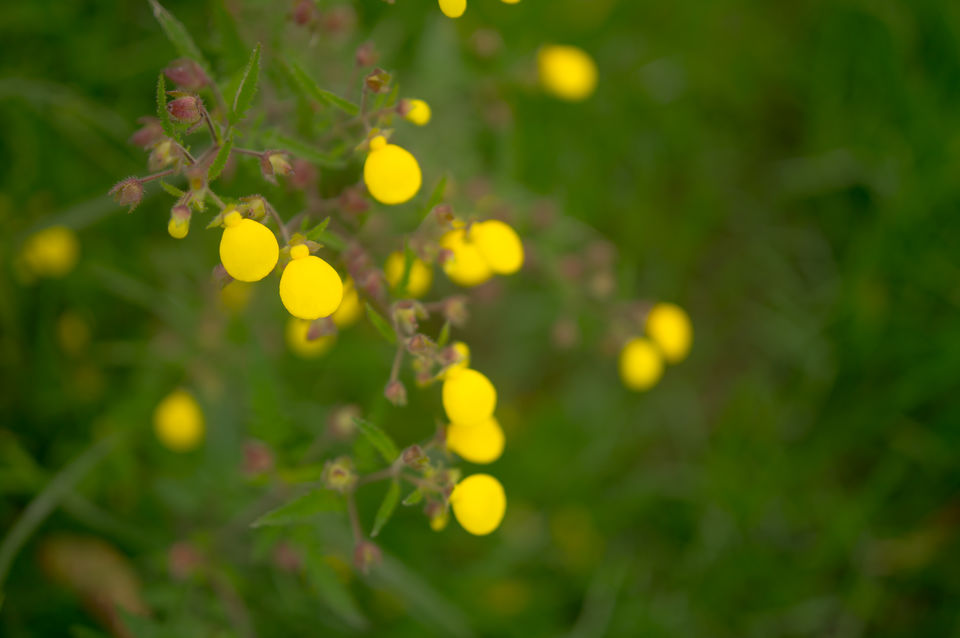 Before we ended the time in Kodaikanal, we also visited vattakanal where you get to see waterfalls and going ahead, there are few famous points. It's locally knows as tranquil hill station surrounded ,by breathtaking cliffs and dense forests.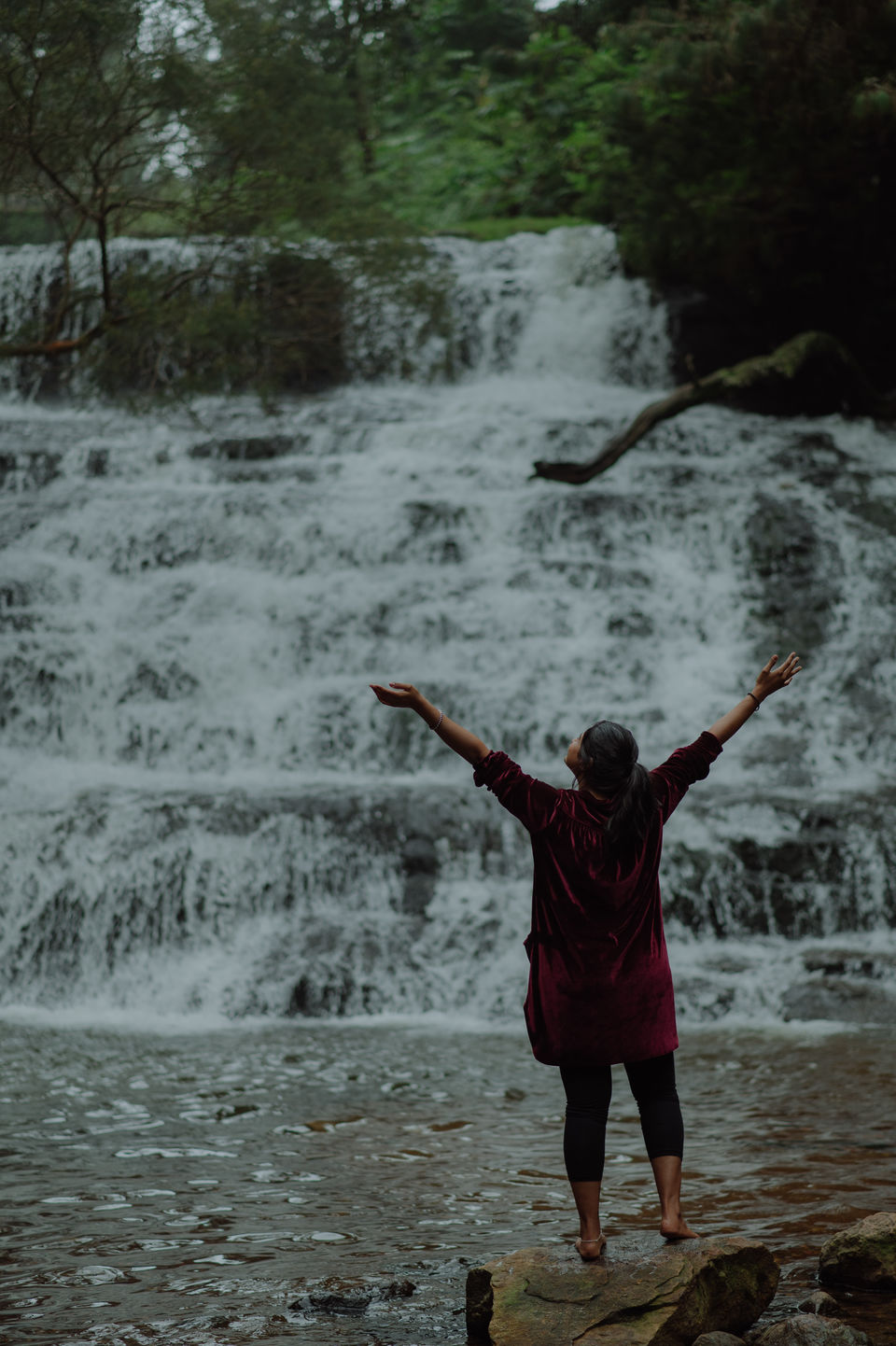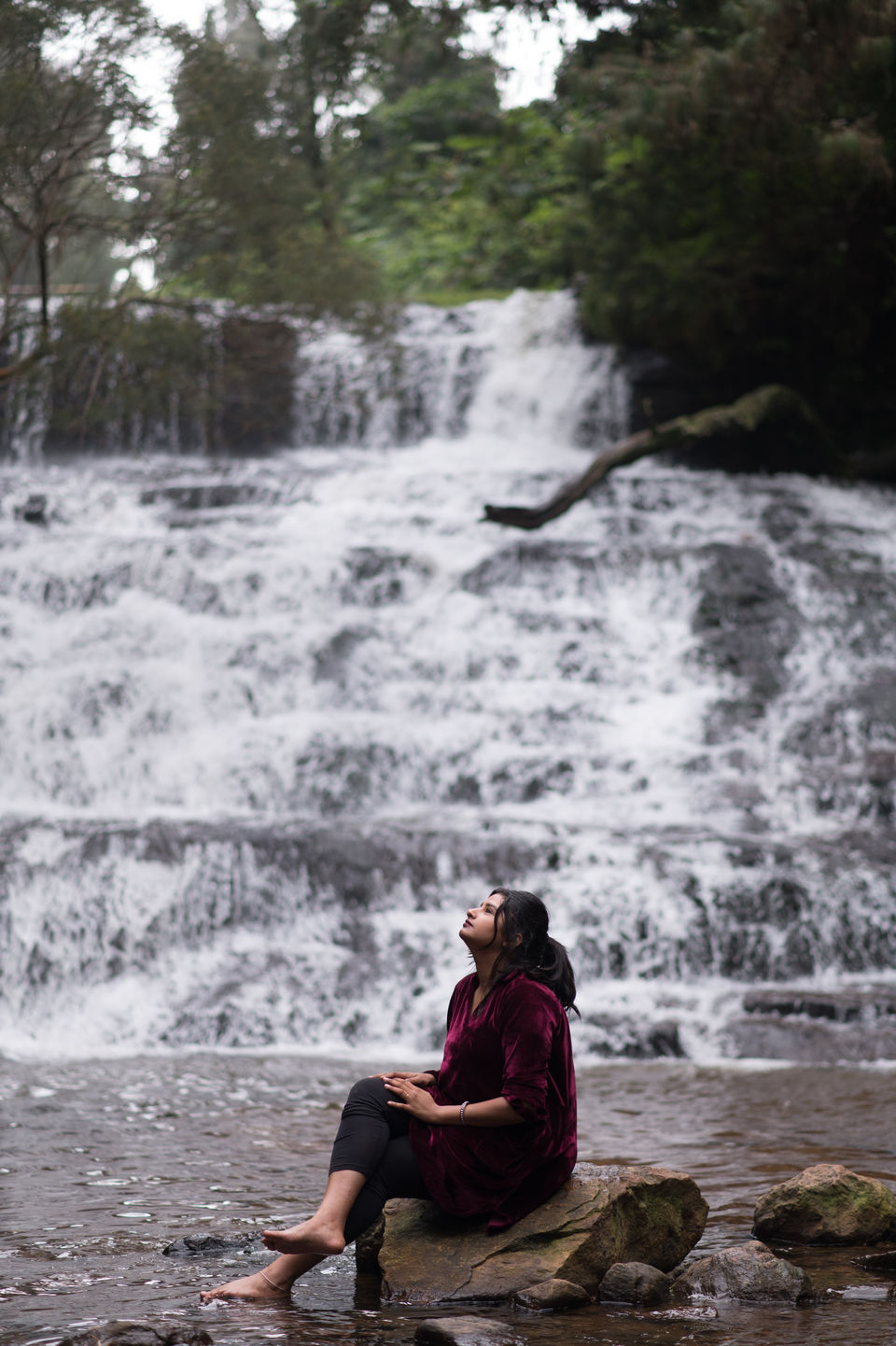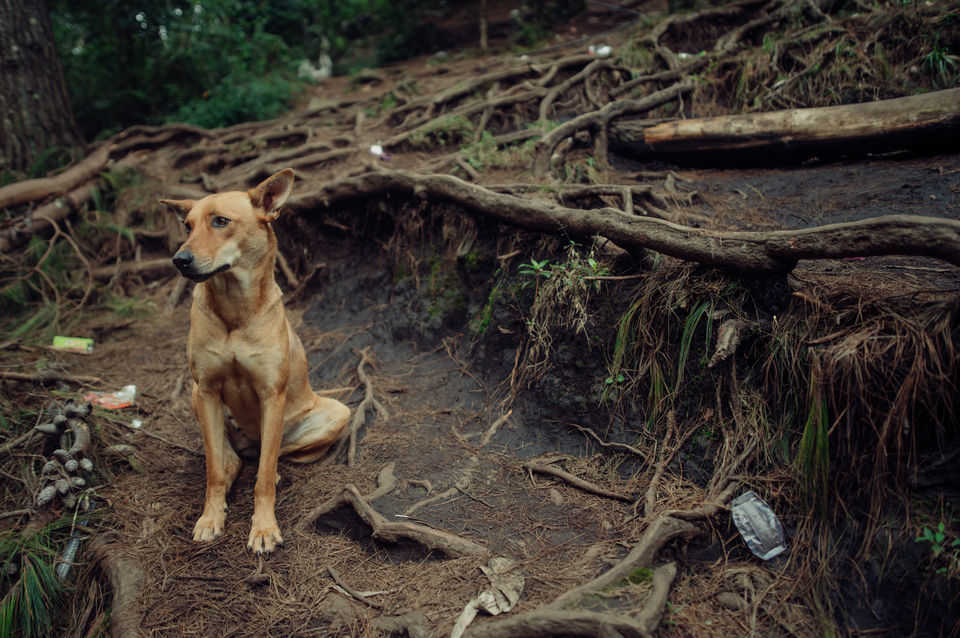 There's Dolphin's nose - a 40-45mins walk downhill trek from Altaf's cafe. It was time for realisation that we need to workout regularly in life to be fit enough to walk down so much. We almost did though, unfortunately the mist covered the whole place so there was zero visibility. So, we headed back to the Vattakanal waterfalls and spent sometime there, took pictures, felt the cold freezing water and then headed to the Kodai lake to end the evening and our fun filled trip as well.
We were standing there thinking of our past and the future realising that this present time is so important in life. We gazed at the sunset filled view of the lake where the reflection of the blue sky fell right into the water.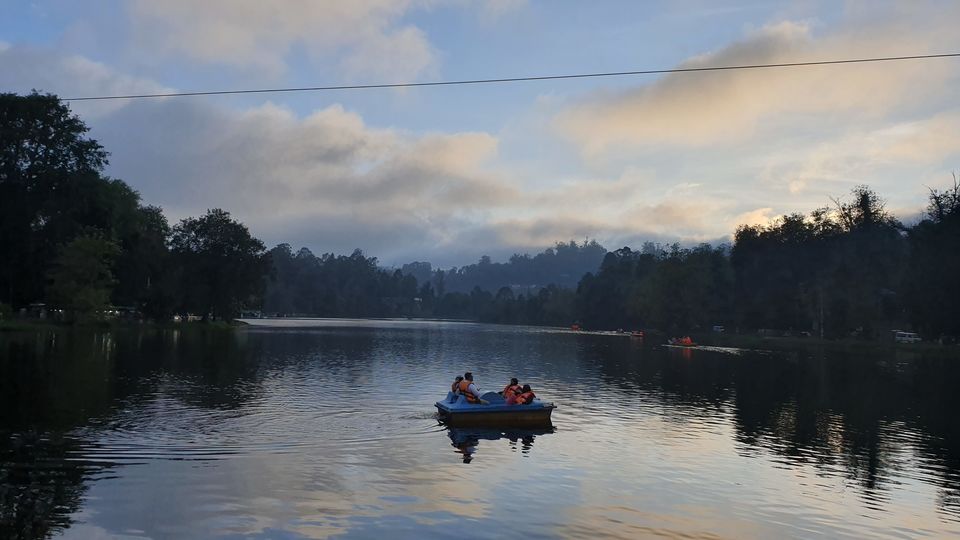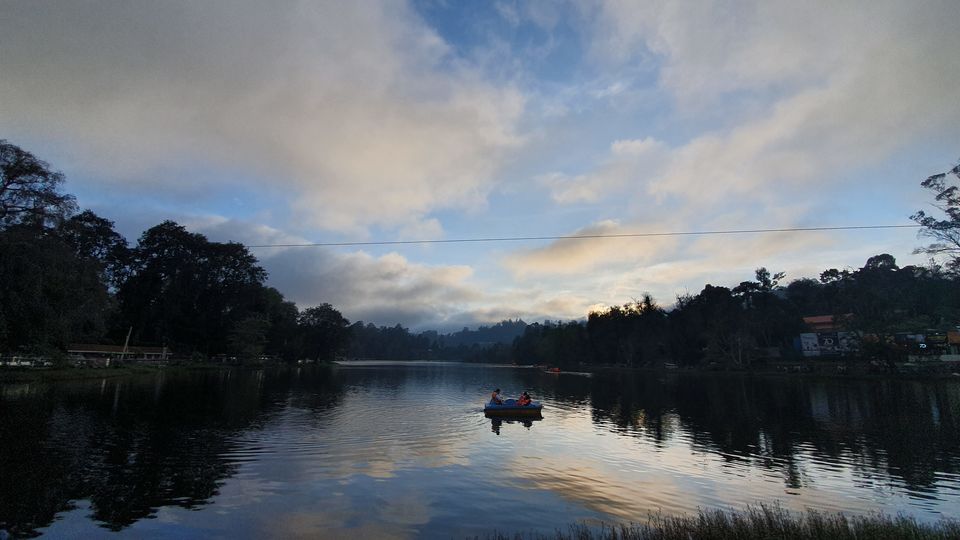 Note: For all three days we hired a cab. They are very friendly ppl out there. So, you can mostly rely on the rates they give. On negotiating, they'll surely give you the best price without charging you extra bucks. The tours are mostly ranging between 1100 - 2500 Rupees based on the places you wish to visit.
It's indeed a long description for ones to read, I know. So, I am hoping that I've mentioned most of what I experienced while in Kodaikanal and also made it worth the read.
Next day was our flight from Chennai. So, we thought of trying one of the famous breakfast place - Eating circles. It was indeed a place worth to visit for any food lover. They have limited but scrumptuous menu which includes Dosas, Idlis and vadas. Never miss to visit this place if you're in Chennai!!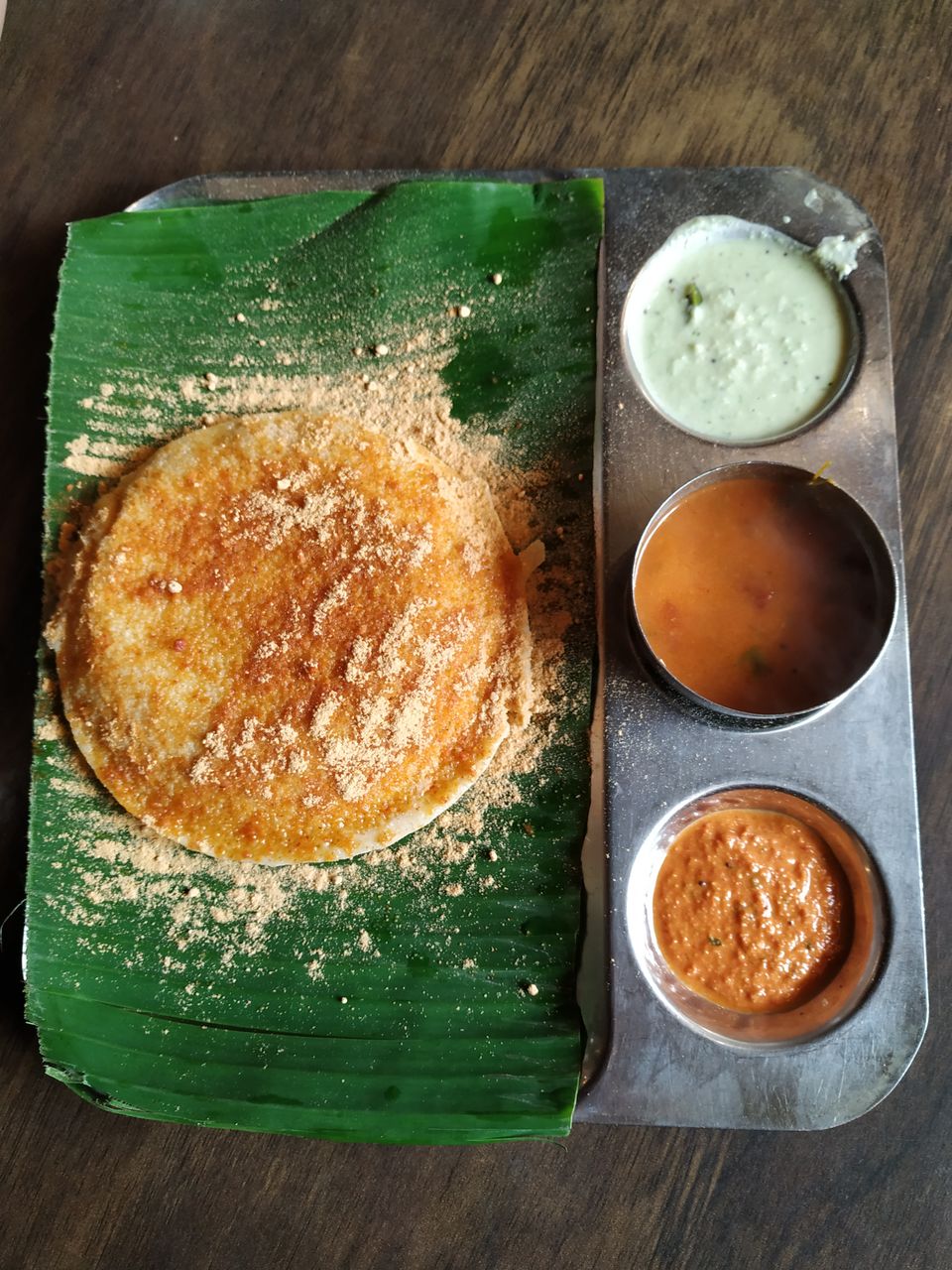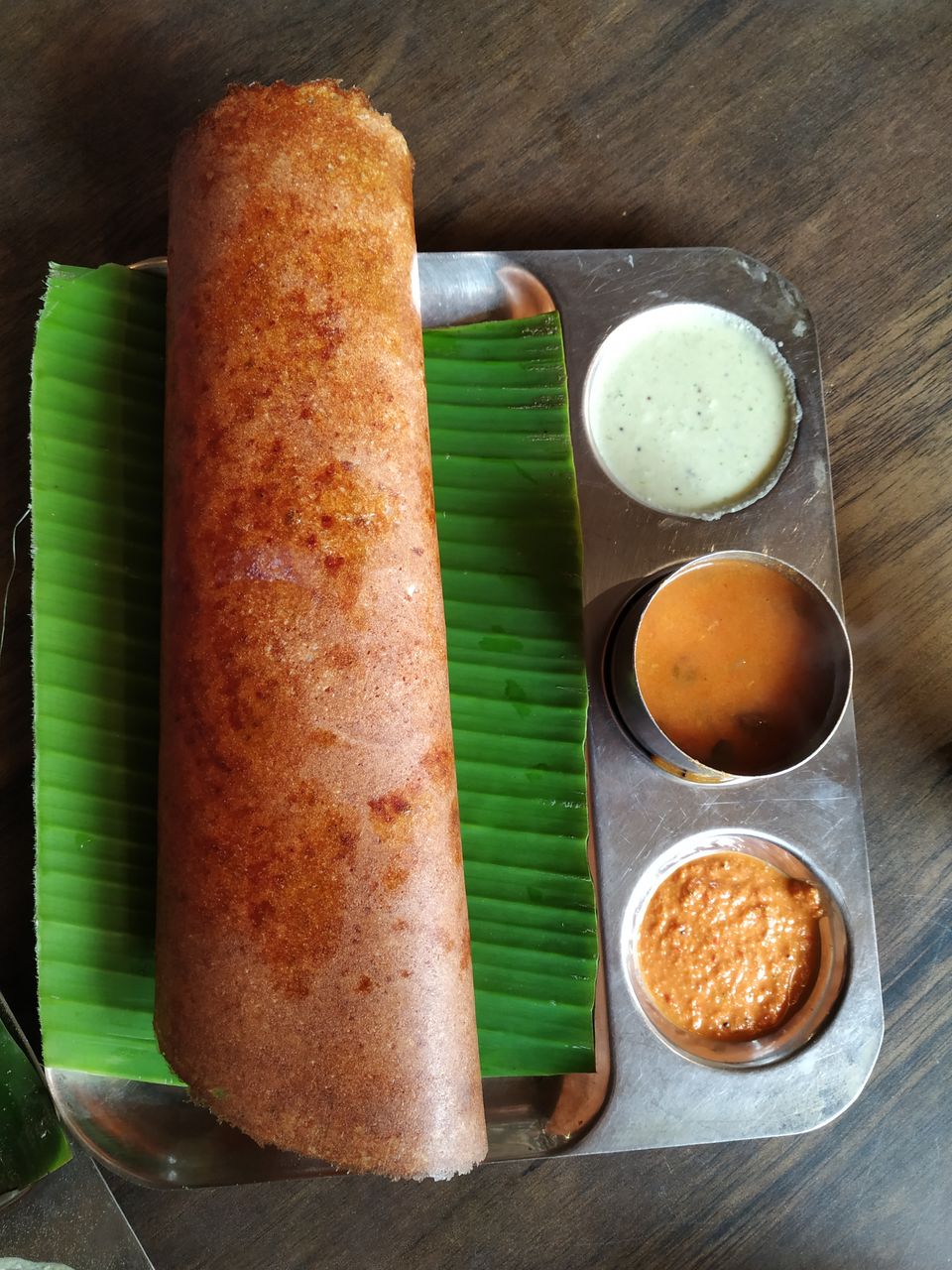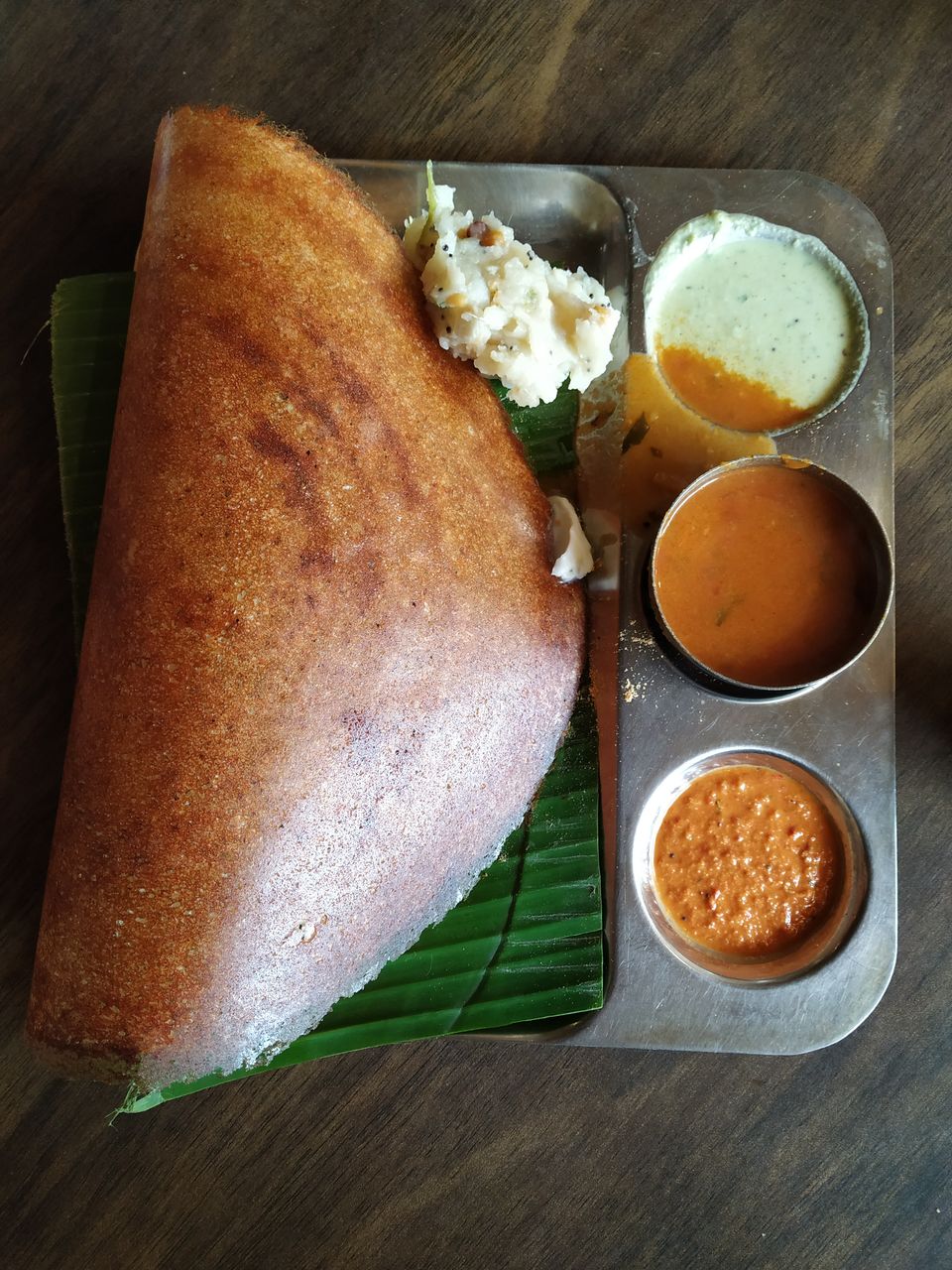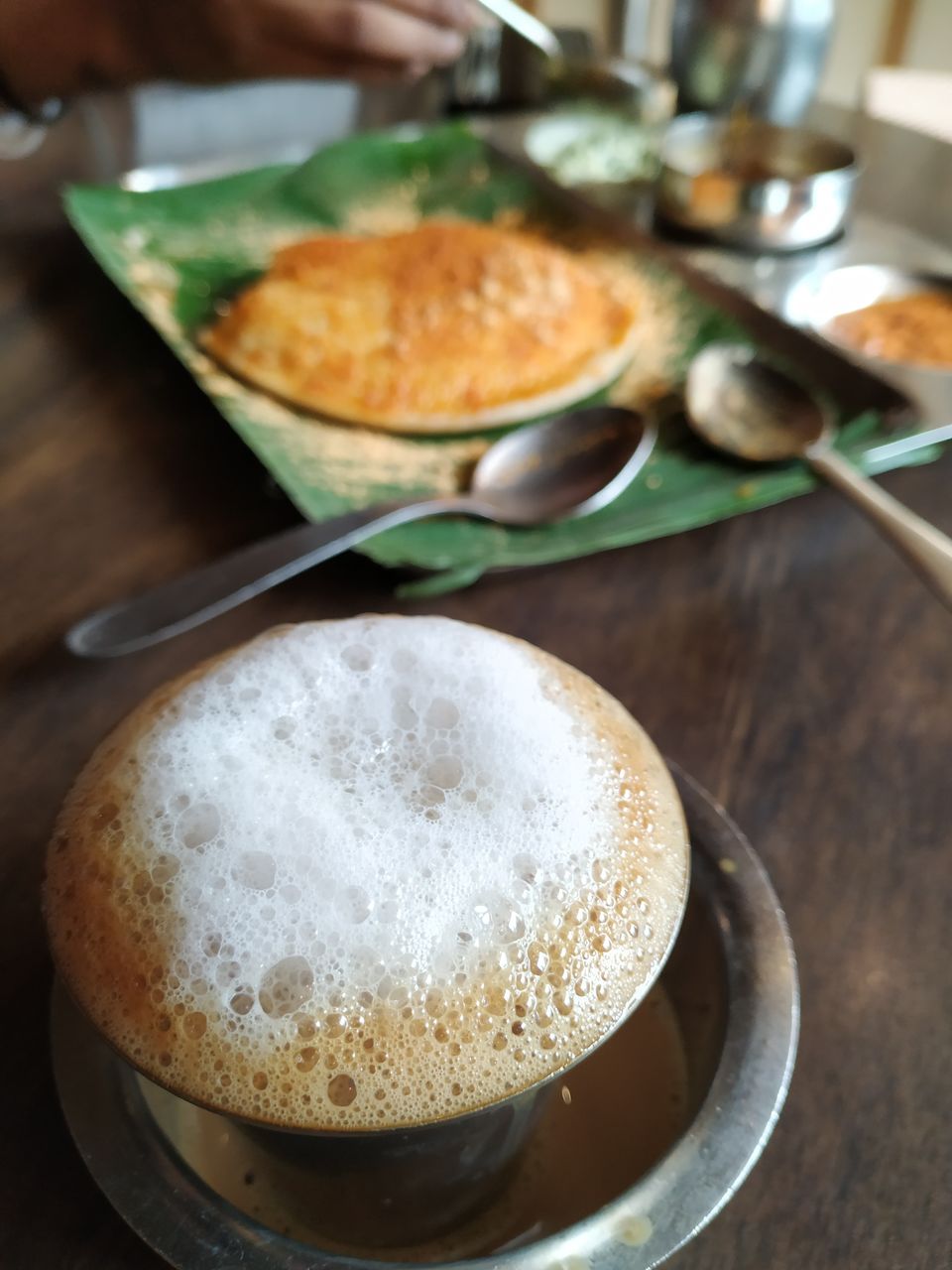 It was now time to head back home :( It was a big transition for all three of us after the time we had in these 4-5 days.
It's very important to give ourselves the opportunity to explore, make peace with ourselves. So, go ahead! Say yes for that unusual trip. At times, don't think twice and just go for it. Trust yourself and believe that this is something you are doing, is right and I am sure it will be the most amazing decision you took :)
Cheers to all lovely and amazing people out there who choose to get out there and take a chance to explore the beautiful places created for us :)
Important Note: The pictures included have been taken by all three of us and have been edited by the one and only Chandni Dua with so much love and brilliance.