Rameshwaram and the ghost city of Dhanushkodi had been on my list since 3-4 years now.
We had taken a flight from Mumbai to Chennai and had boarded a train from Chennai to Rameshwaram
Train#: 16101
Train time: 21:40
Travel time: 13 hrs 30 mins
We were pretty excited to take the train to Rameshwaram as we would be crossing the famous Pamban Bridge. After crossing Mandapan station, we hurried towards the door just to get a perfect view. While standing precariously over the foot step of the train, the scene of the train over the sea is one that I shall cherish forever.
Rameshwaram welcomed us with overcast skies and mild rainfall which had eventually turned into a heavy downpour. We reached Rameshwaram at around 11:15 in the morning and took an auto to our hotel: Brindavan Residency. The staff was very friendly and helpful. The only major drawback is that it does not have a restaurant of its own. So, one will have to go out to eat.
Our initial plan was to travel to Dhannushkodi on day 1 but looking at the weather condition everyone advised us against it. Hence, we postponed it to the next day.
Rameshwaram is considered as one of the four main Dhams as per Hindu religion. Situated at a walking distance from our hotel, we decided to first visit the Agnee Teertham and Ramanathaswamy Temple. One needs to first take a dip at the Agnee Teertham and then visit the Ramanathaswamy Temple. It is said that taking a bath at the Agnee Teertham absolves one from his sins. However, the water was so polluted that let alone take a bath, I did not find it conducive enough to even dip my foot in it. We then headed towards the Ramanathaswamy Temple. By this time, due to the heavy rainfall, the road that led to the temple was flooded ankle deep.
After our darshan, we decided to head back to the hotel. On our way we got our dinner packed as it was still raining and the roads were too secluded so setting foot outside the hotel was not an idea that either of us considered. We then decided to call it a day hoping that the rain Gods would be merciful the next day thereby making our visit to Dhanushkodi successful.
Day 2
We had set our alarm for 6 the next morning. My friend headed to the window to check on the weather. "Pooja, jaldi aao", she said, "and apna camera leke aao". I sprang from the bed and in one jump was at the window.
Man!! The view was something that I feel that words cannot do justice to.
We started for Dhanushkodi at around 7 in an auto whose driver had agreed to show us around. After driving for approx 20 minutes, we reached the ghost town of Dhanushkodi. Dhanushkodi derives its name from Dhanush, meaning bow and Kodi, meaning end. The driver had agreed to drop us off at the starting point of the van that would take us on a bumpy ride across the sea into Dhanushkodi town. Many pelicans were to be found along the mushy shores of the sea.
Dhanushkodi is basically in ruins now. One can still see the old dilapidated church, temple, railway station and light house.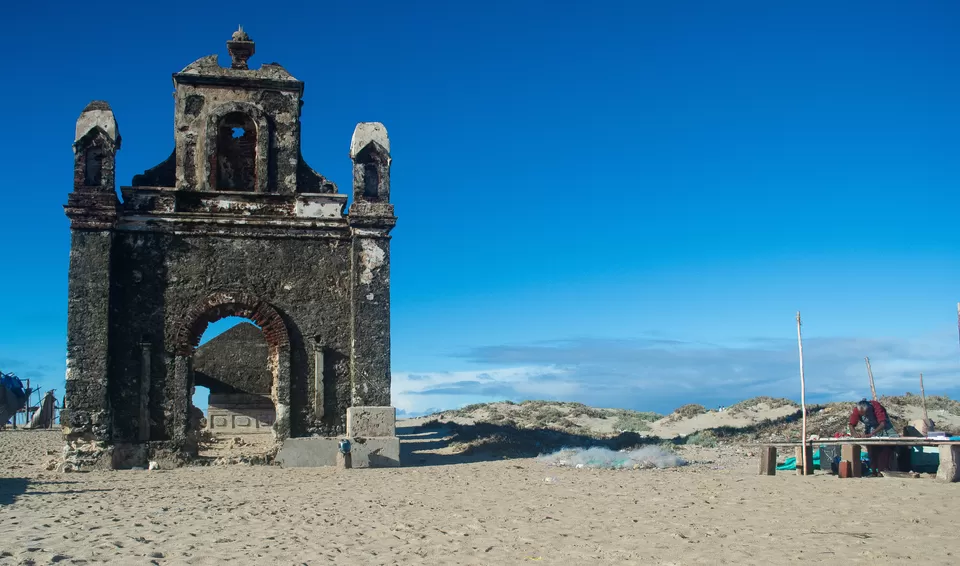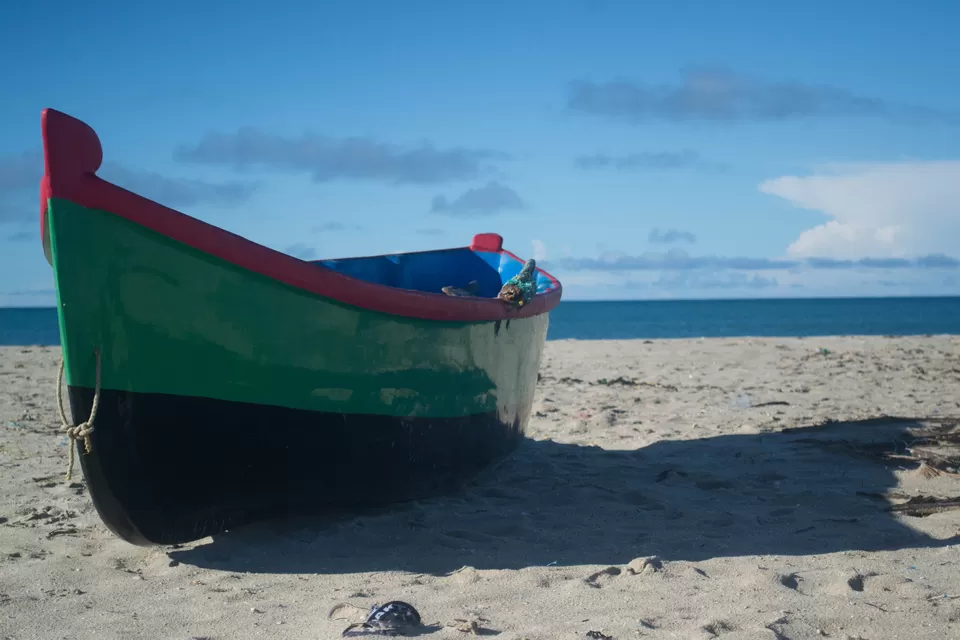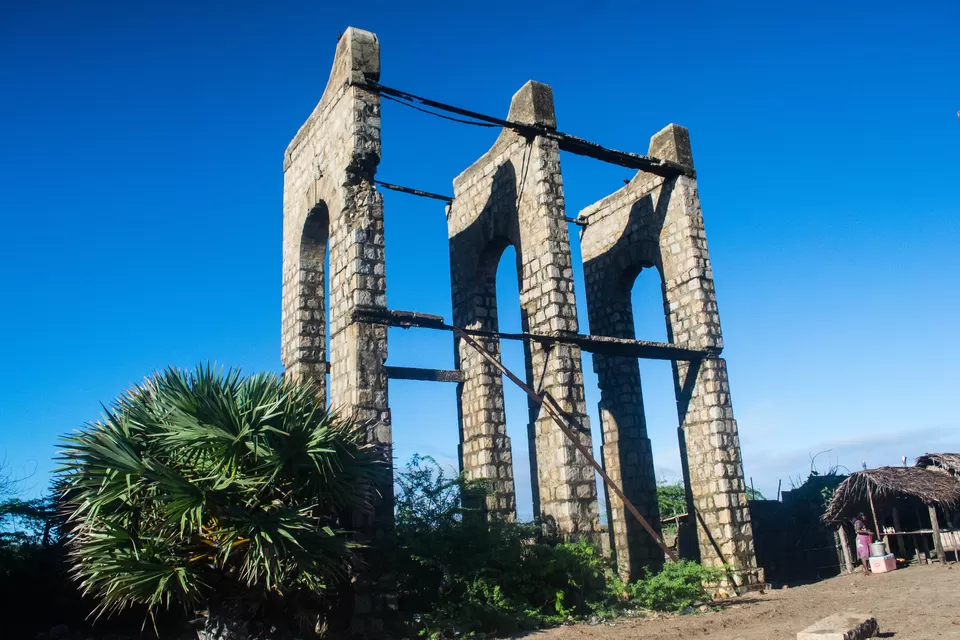 The van driver had given everyone a time limit of half an hour to see all the places. Unfortunately, we would not be able to see the Ram Setu in the designated time span. Our hearts sank at this idea. So my friend and I decided to chuck the idea of taking the bus back and instead thought of taking the risk to walk upto Ram Setu and doing actually what we wanted to in Dhanushkodi. After enquiring with a local on how far Ram Setu was (who said it was just for 4 kms), we started walking. By this time the sun was smiling at us and I guess at our audacity to leave our only means of transport which would take us back to the point where our auto was waiting for us.
I have realised one thing in all my trips so far that the best way to explore a place is on foot. It has been truly said that the journey is better than the destination. Just then a man, dressed in a tee and 3/4th shorts, on an Activa stopped right next to us. He asked us to hop on to his bike. We got a bit scared, but immediately we realised that he was one of the van driver's friend and had been asked to escort us back to the vehicle. We asked him to inform the van driver not to wait and go back without us. This surprised him a bit but then he did not coax us much and left from there. As usual, we were a bit apprehensive if we had made the right decision by leaving the van and soon enough we realised that we were not wrong. The clean roads with the Bay of Bengal on your left and the Indian Ocean on your right along with the vast expanse of the clear blue skies, interspersed with a few clouds here and there, meeting at the horizon is a view to behold. There were some green pastures on our left where there were a few horses grazing. And, yeah, I know, it was one thing again that would be embedded in my mind forever.
As we kept on walking we realised that it was not just 4 kms that we had to walk. Ram Setu was actually pretty far off and we were wondering if we should ask for a lift from someone. Just at that time a few bikers crossed us and we looked at them enviously.
After walking for a few more kms we saw this sign post and were thrilled.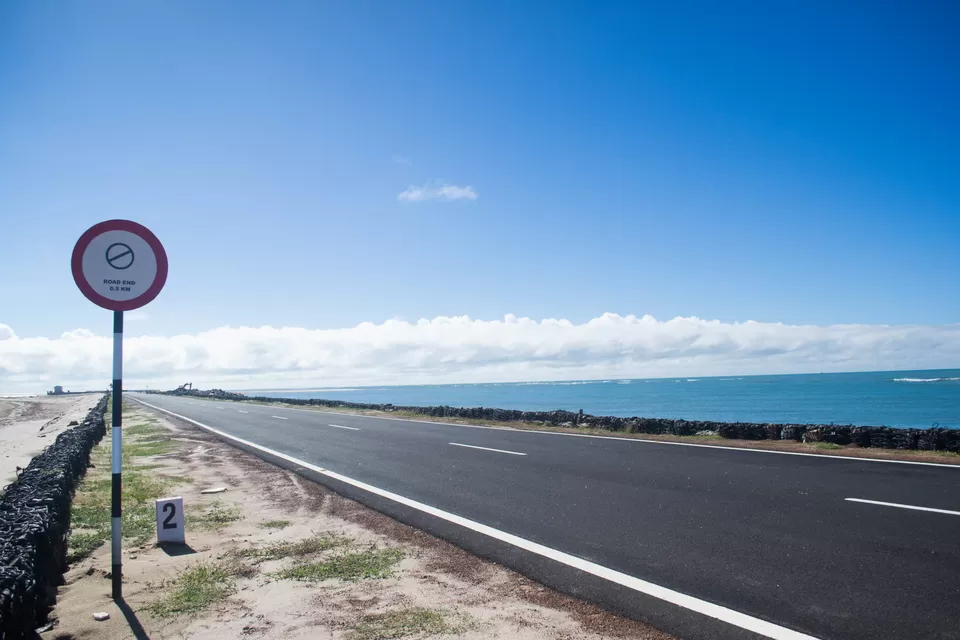 We had finally reached Dhanushkodi point which is basically the end point of Dhanushkodi.
There is a point where there is a confluence of the Bay of Bengal and the Indian Ocean which is clearly demarcated by the different colors of the two water bodies: green and royal blue respectively. One thing that I would definitely like to add here is that the Adam's Bridge (Ram Setu) is not visible from the shore. So, if that is exactly what you are looking for then you shall be in for a disappointment just like us.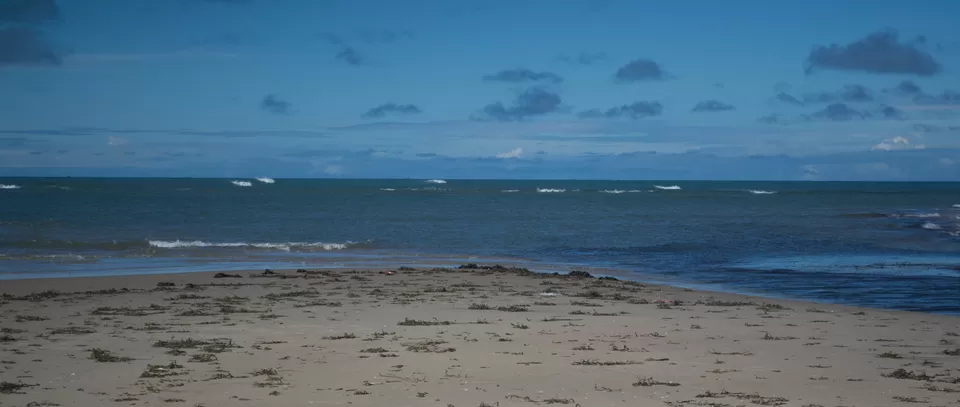 Some people over there were kind enough to drop us back to the point where our auto was waiting for us. We then started for Rameshwaram. On our way back we halted at Vibhishan Temple and at APJ Abdul Kalam's place which has now been converted to a museum. All the awards that he had received in his lifetime have been put up for display.
With this we concluded our trip to Rameshwaram and Dhanushkodi