I consider all the trips I make Big and Fat. Not really on the Budget part, but on the fun part. This time we went to Georgia. By we, I meant Me, my Husband my son, my sister, her husband, her 2 naughty kids and my mom. Typical Indian Family thing. We flock together. "THE MORE, THE MERRIER". This is my first of penning things down. I just wanted all moms out there who intend to take their kids to these exotic places to know that its super kids friendly. I have given some tips below on what are the fun things I did with my kid during the vacation.
Georgia is a less load on the pocket trip. We stayed in Georgia for 8 days. Oh my, the people were so good. I read in a lot of blogs before going there that the people there are a lil on the ruder side. May be they met the wrong kind. Everybody we met were so welcoming and pleasant.
Month of Travel: October
Budget: 60K per person
We landed in Tiblisi airport. Our most efficient and friendly driver (Mr Adam) came to pick us up. Adam charged us 100 $ per day and additional 20 $ for any place other than tiblisi where he would need an accommodation. He is an amazing driver and a great human being. We took a local telecom connection at the airport. This is his number in case you want to travel to Georgia, +995596107608. Also got the currency exchanged to GEL (Lari is what they call it). We relaxed for the rest of the day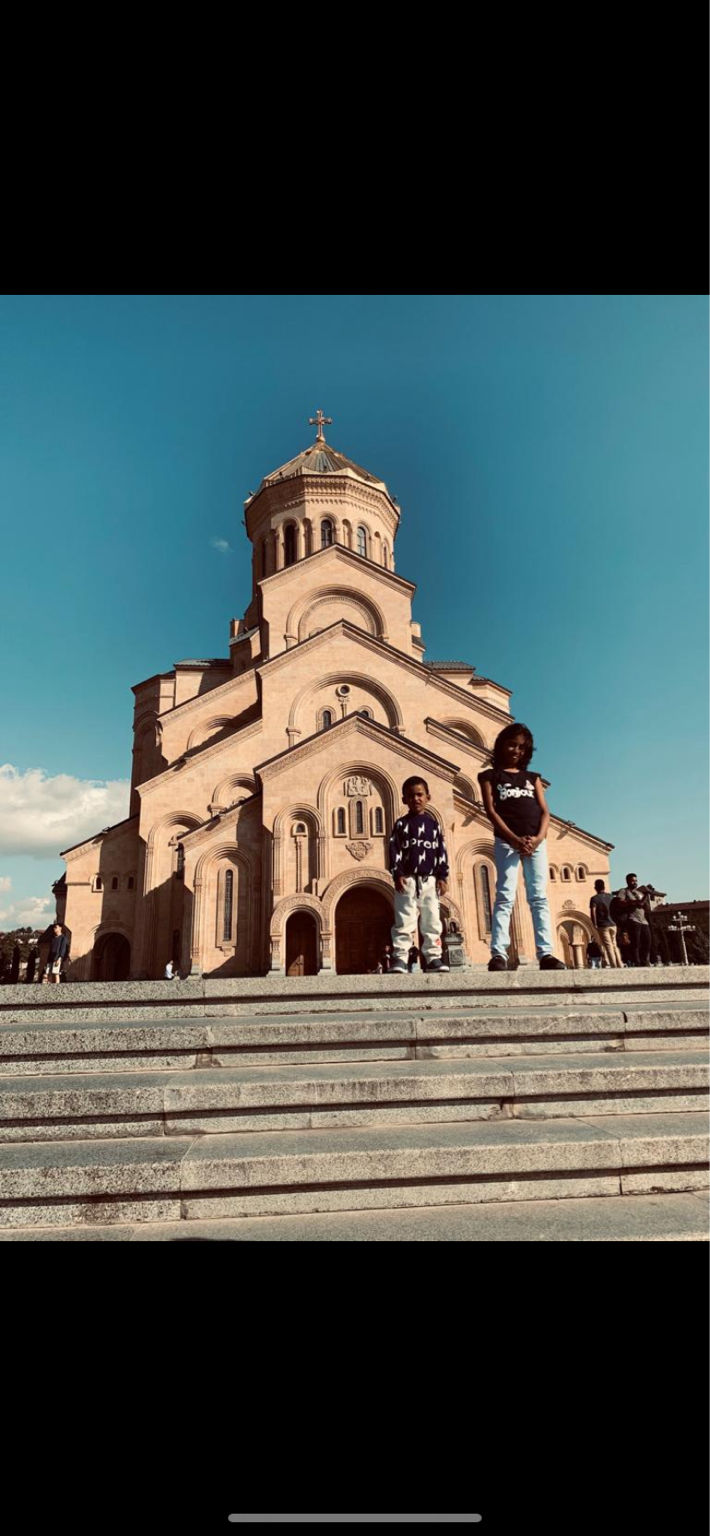 During the day we visited Rustaveli Avanue, Narika Fortress and mother of Georgia (cable car) and the Holy Trinity Cathedral. We visited the cathedral in the night too just to enjoy the beautiful lights. The city in the night was so beautiful. It felt like living in the story of Alif-laila (That's for people who know Alif and Laila) For the others it felt like Alladdin. Lighted up everywhere, It was an Arabian night.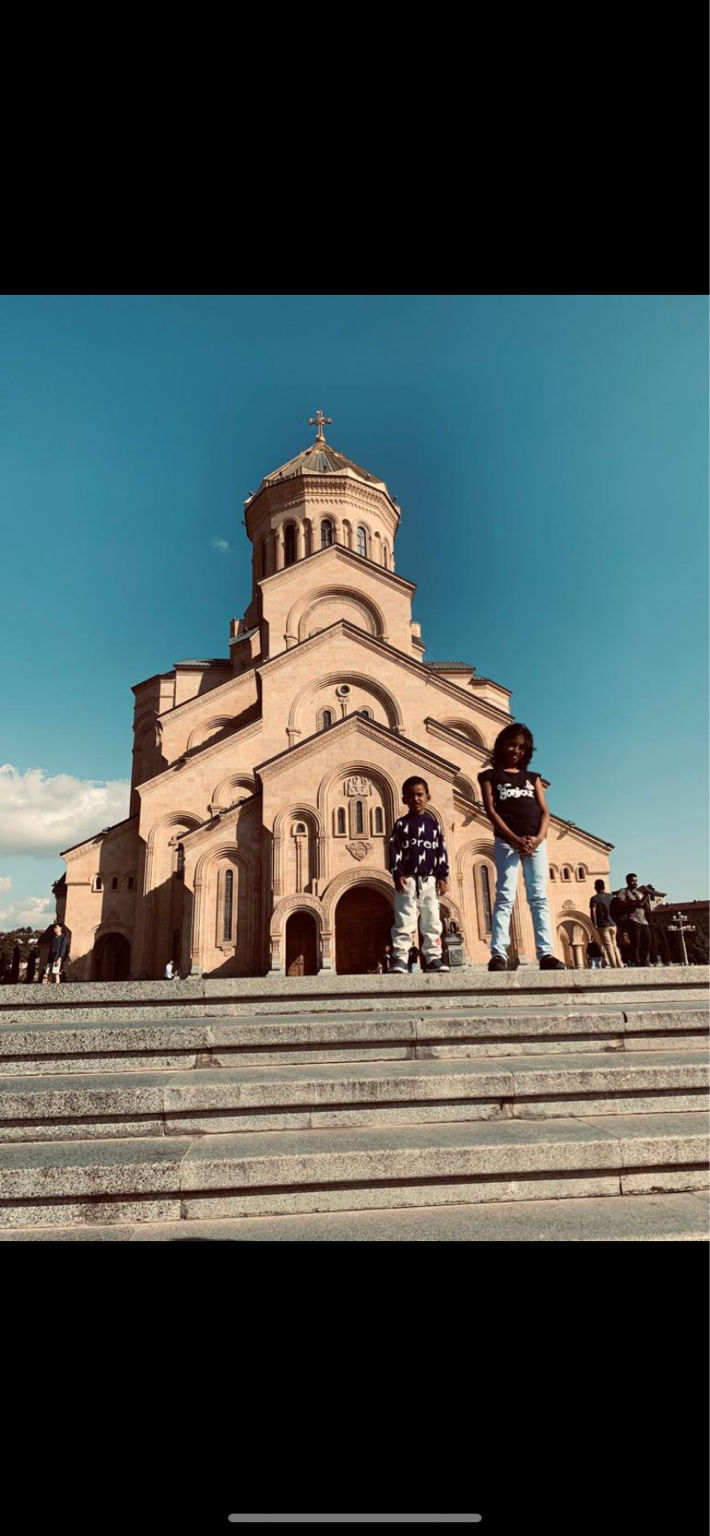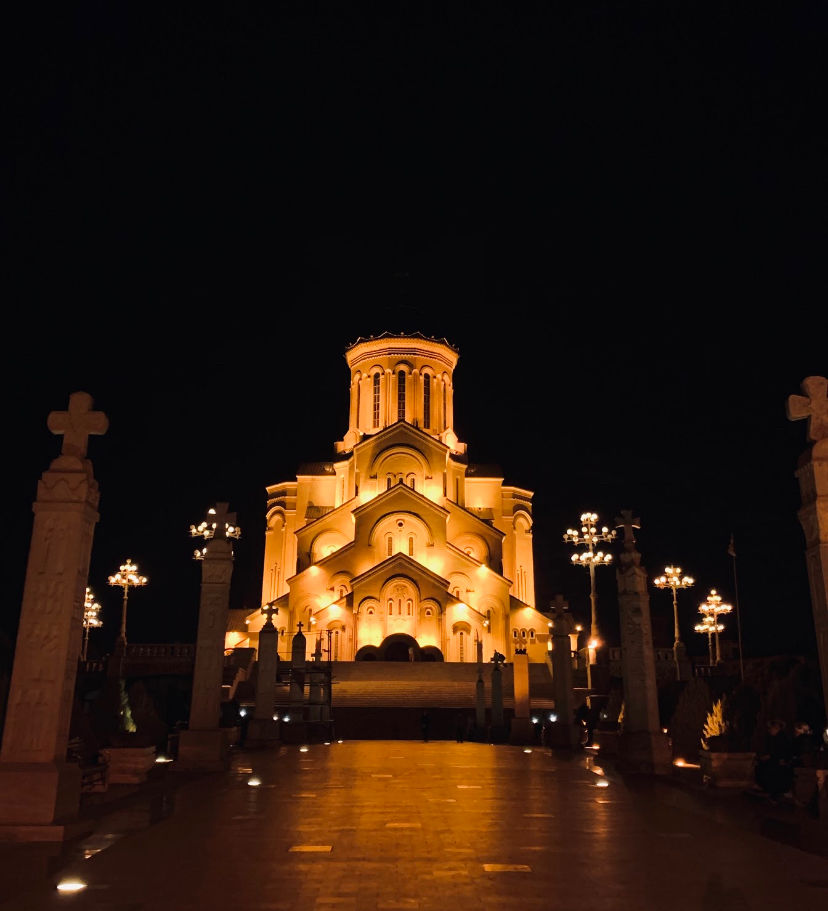 We started the next day from Tiblisi and visited Uplistsikhe (Monolithe structures). There are two options that generally people consider. One being Vardzia and the other is uplistsikhe. Apparently Vardzia is bigger and mightier than Uplistsikhe. But it was quite a detour so we settled for uplistsikhe. It was definitely not disappointing. We then saw where the big guy Stalin stayed and sneaked into his personal wagon only for the smartypants wagon keeper to shooo us off. We got a pretty decent look around though. What do you say, the guy had a wagon and everything. Long drive there after took us to Arabian Nights part two, BATUMI. I was awed by the breathtaking beauty of these places. Not joking, it was like Alif- Laila.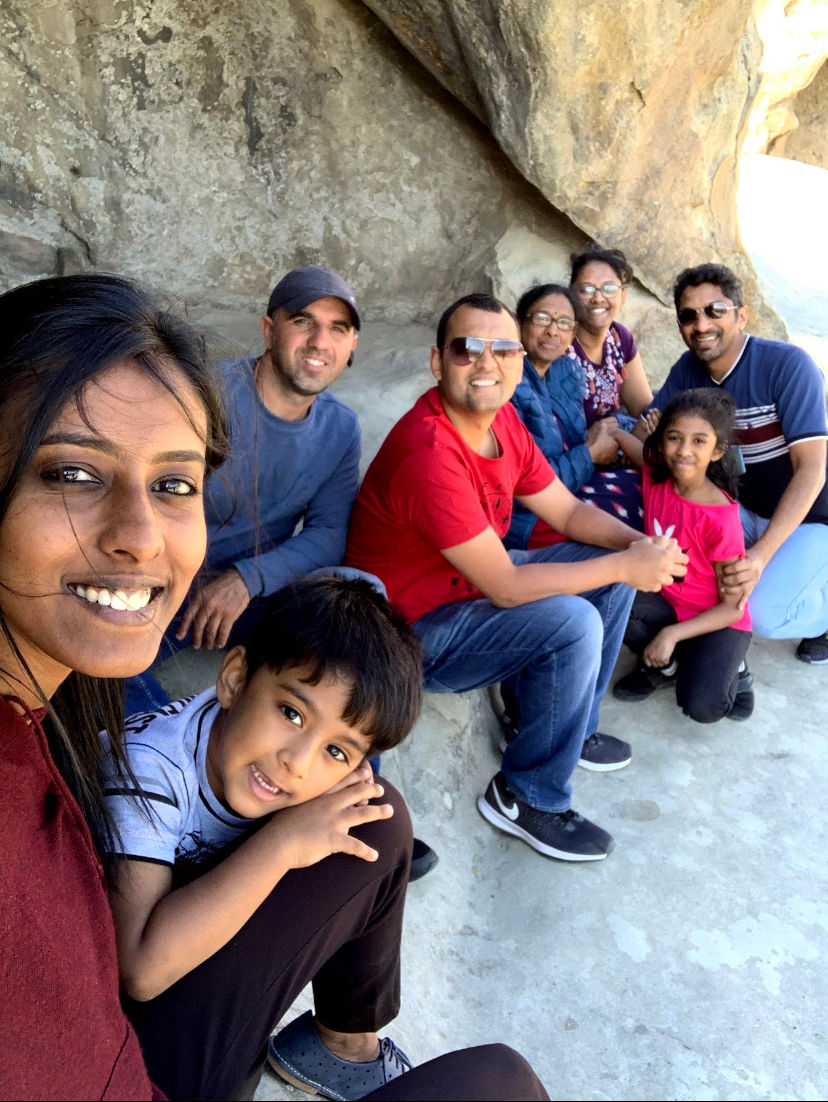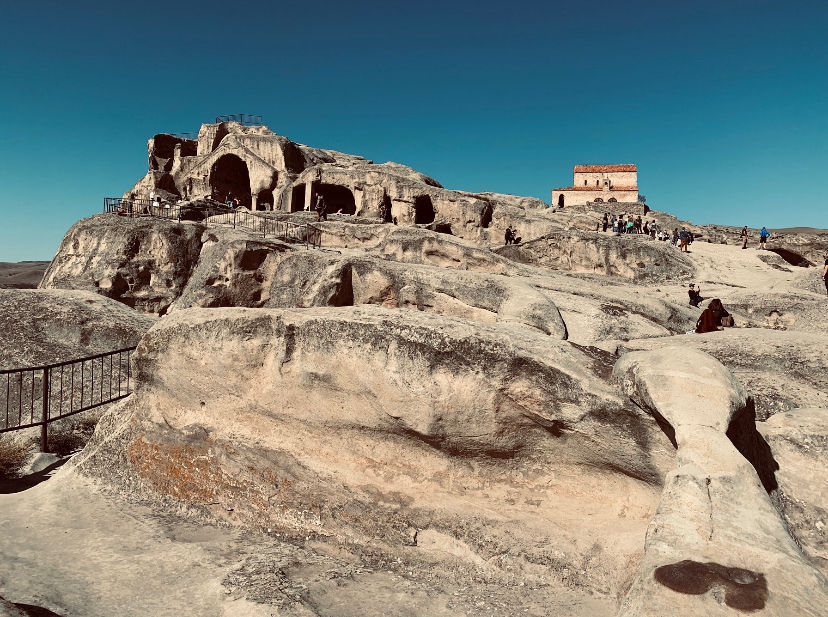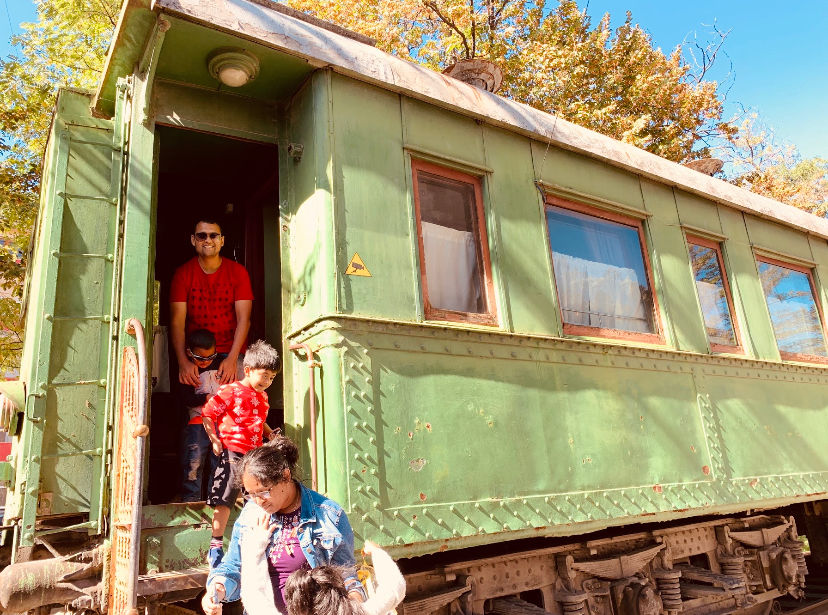 Batumi was a lil hotter than the other places. Because it had a greatttt Beach. So we wore the smallest of what we had and headed for the beach. And the beach was amazing. Not crowded at all, hardly anybody. Looked more like my personal beach, atleast at some stretches. The water was really cold so we didn't bother getting wet any more than our feet. But there were some really bold and beautiful people swimming their ass off. The kids had great fun on the beach. We saw the alphabet tower from far. That was enough. Then came Ali and Nino. There is a beautiful romantic story behind that art. It's a sight. Then we went to the dophinarium. One of the best dolphin shows I have seen (and I have seen some good ones). We went for the 4'0 clock show (Tip: don't sit in the front row)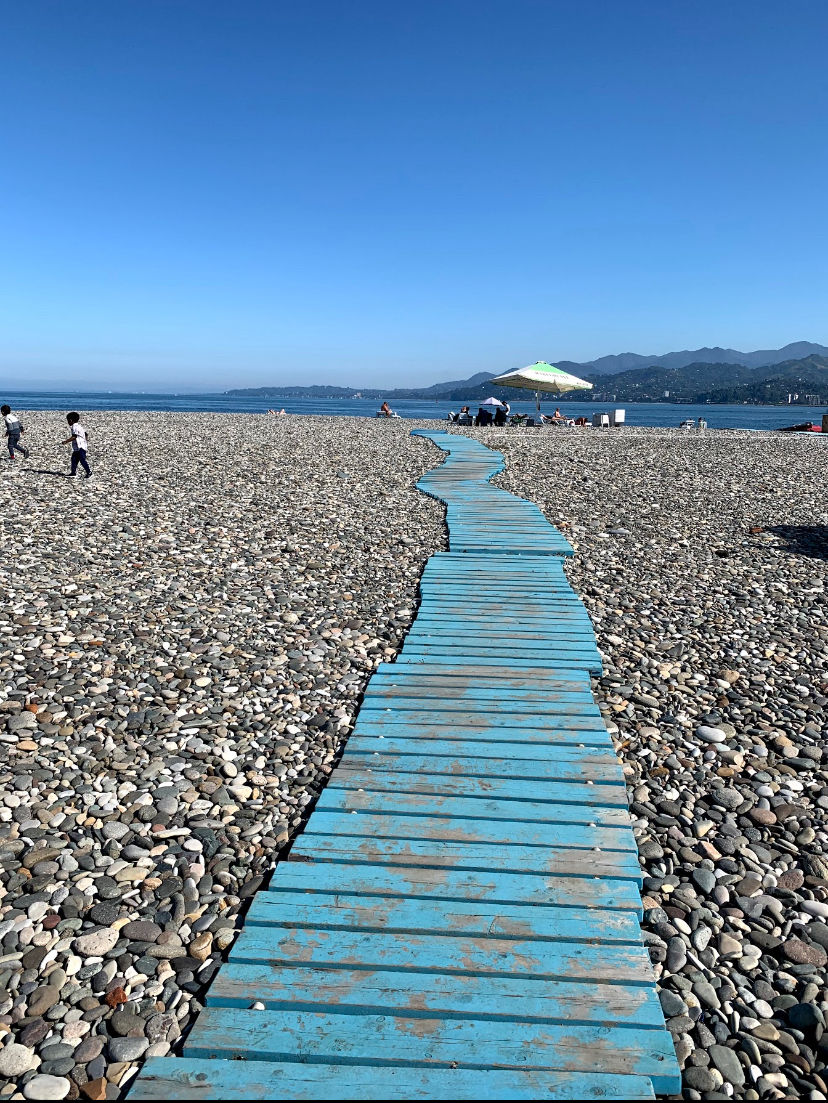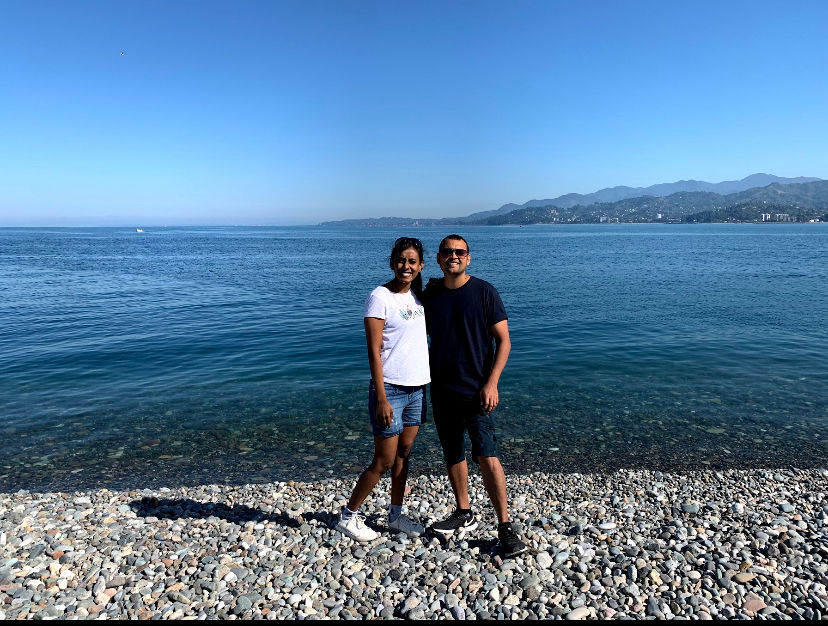 So I tried to sound original everytime I tried to pronounce the name of this place. I got it wrong always. However I tried, Adam just could'n approve it. In Mtskheta we visited the prometeus cave. 80 feet below ground is the last point in the cave that is open to tourists. It's a nice experience if you also take the boat ride. There is a lot to walk and we had three kids so we had a little tough time explaining to them why the lights couldn be turned on. The other places we visited had a lot of monasteries and cathedrals like Bagrati Cathedral, Gelati Monastery, Mostameta Monastery. They were all unique in their own ways. Really old and traditional structures.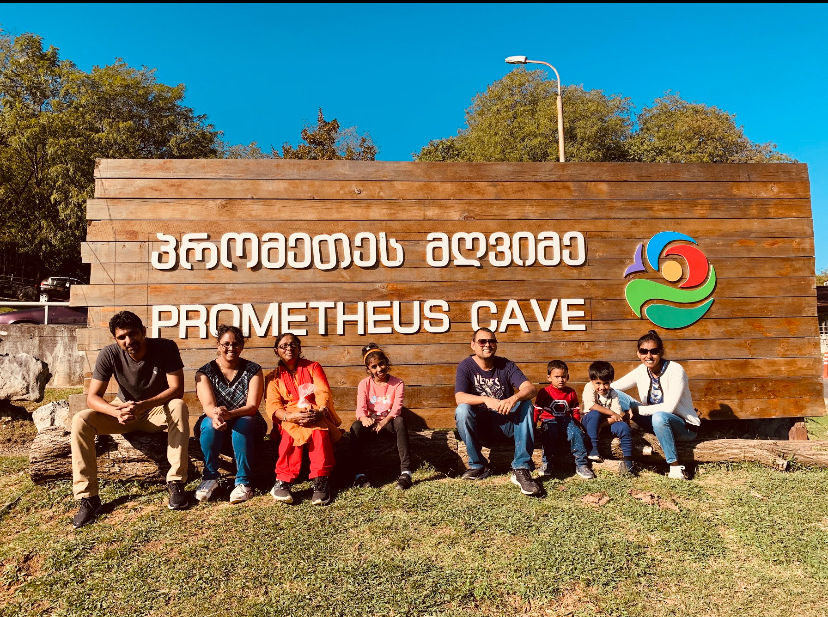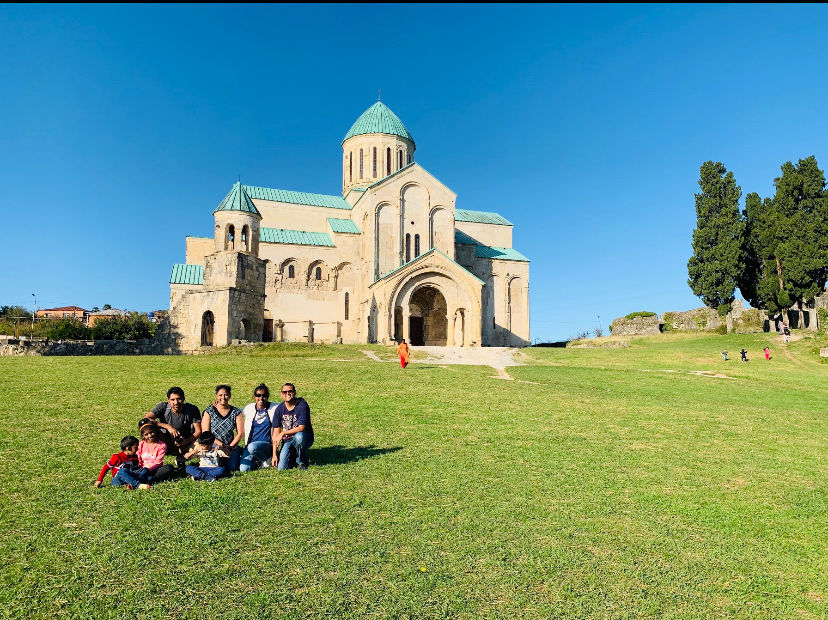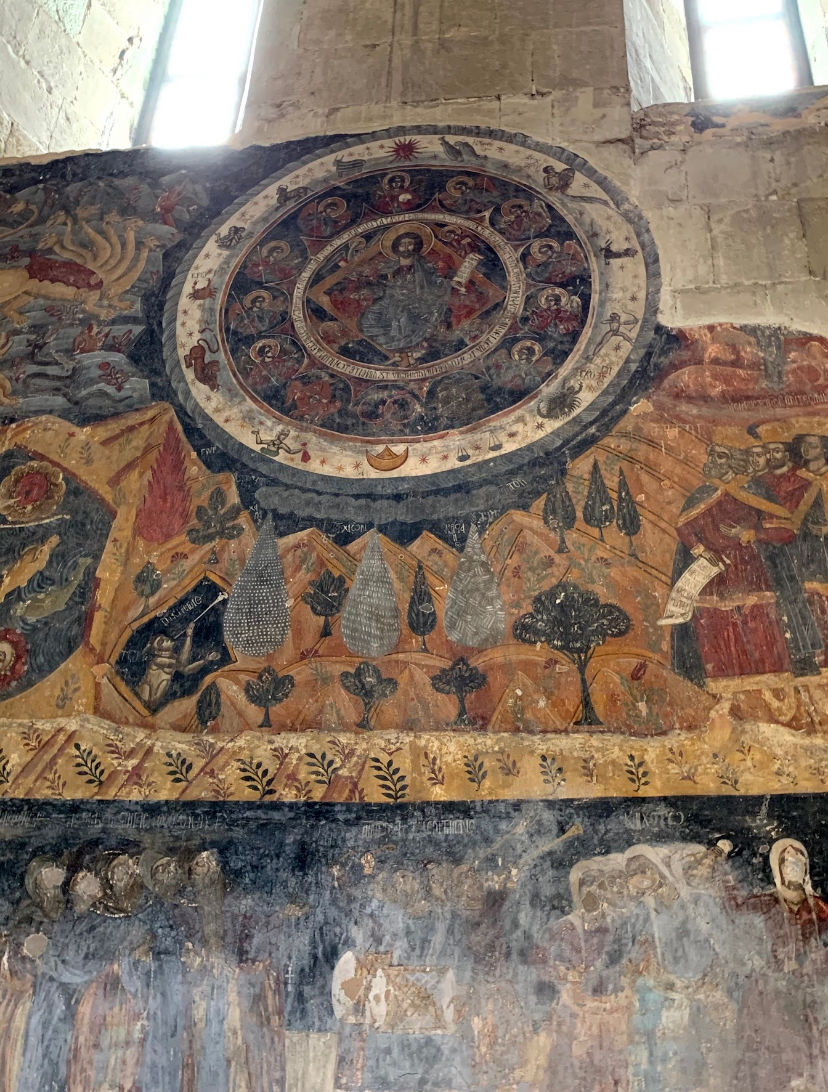 Gudauri was cold. We expected colder. But it was just ok cold. We went to Kazbegi. Saw some patches of snow clad mountain. Would have looked amazing if it was more than a few patches. Lesson learned; Gudauri at its best is in November end or December. But on the brighter side, we could visit the Gveleti waterfalls. So this is not one of those touristy places. It's a lil off track. But its so worth. We took our 3 years olds too. Well that is not advised because we had to stop in between. The route to the top is messy and too narrow for kids of that age. One of us had to stay back with the kids, while the others saw the waterfall. SO we don't have a group pic but we all definitely enjoyed the waterfall. We also went to the Russian Border, more like Georgian exit to Russia. We stayed two days in Gudauri and flew back to India on the 8th day.