There are places in the world that leave their mark and the floating market of Amphawa, in Thailand, is one of them. I could see everything from the most blatant opulence to the most absolute misery. I made an excursion to the floating market of Amphawa, about 80 kilometers from Bangkok. We took a van that had been arranged by the guide we had hired. We left early in the morning and headed to the Amphawa floating market. To get there you must hire a boat that takes you through some channels that run through the closest thing I've ever known to a jungle.

The truth that imposes, I guess we are not used to this type of vegetation. In the boat, you arrive well. You go through the channels to get to the port for a long time, I would say half an hour or so, although I do not remember it at all well. The fact is that as you go through the channels you find huts, authentic shacks where you live on, on either side of the canal, and next to them, as if that, precious houses, newly built.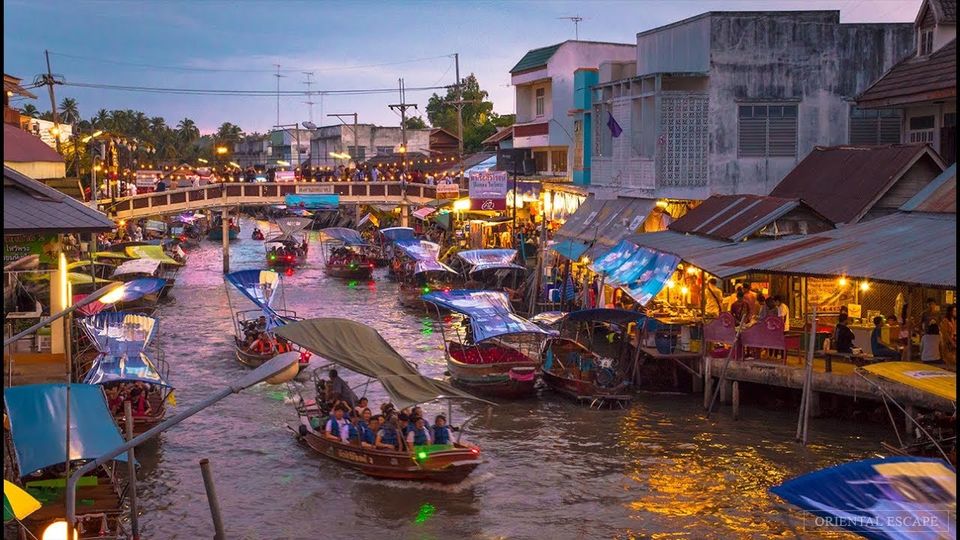 I had the opportunity to take some photos, although I would have liked to show the contrast with only one. As we progressed through the canal, the constructions are emerging more usual, until it is done continuously.
The floating market of Amphawa dates from at least the eighteenth century, originally was an internal market that took advantage of the channels to transport the goods more easily.
Nowadays it is a center of tourist attraction that has allowed that the inhabitants of this region have improved notably their conditions of life and their income, in comparison with the conditions of 20 or 30 years ago. You are going to see a market with an intense life, where you can not walk 5 meters without haggling for an article, or come to you to show you their floating escape.
You can find everything from fruits, vegetables, fish, meat, clothing, gift items, imitations of luxury, etc. It is not recommended to eat anything that is not very cooked or drinks water that is not bottled. If you have touched the river water, wash your hands well before eating anything. Better be careful.
There are boats where they have a stove and they prepare the food for you at the moment. I liked it I can not say the same about others. What is certain is that they are cultures where you eat what you have hunted or caught in the day. In that sense I was calm. Be more careful with water. It is without a doubt a place that from my point of view has been benefited by tourism and what it entails, without having lost its essence.
The people are very affable and welcome tourists and travelers with a smile. I had the opportunity to chat with some people who spoke some English. Immediately they take confidence and honor the hospitality of which they presume.