For those who have been avoiding Thailand for being super mainstream, modernised and a probable tourist trap, you've got it all wrong. Beyond the travel packages and larger-than-life resorts, there are abundant less touristy things to do in Thailand. Though most first-time tourists stay off the beaten track to avoid the awkwardness of mixing with people who know only the local language and the unease of travelling on "non-touristy" transport, the effort is well worth it.
And to push this case further to you, I've listed down 10 lesser-known things to do in Thailand. Here we go.
Take a bike ride on the misty and gorgeous Mae Hong Son loop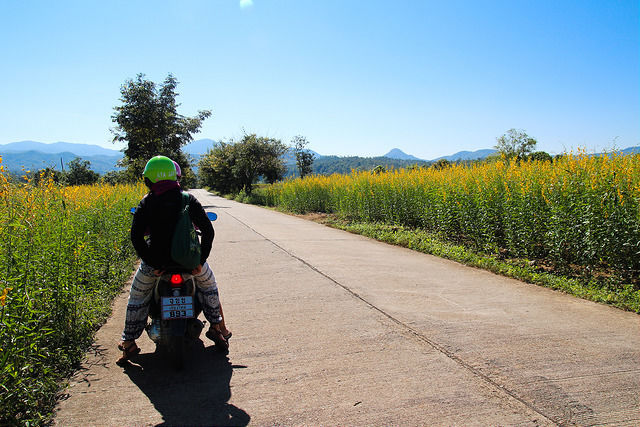 The Mae Hong Son loop is a gorgeous 600km journey through varied terrains of northern Thailand. Two roads set off in opposite directions from Chiang Mai and make up the loop, ultimately meeting at the ethnically diverse city of Mae Hong Son. If you are looking for adventurous things to do in Thailand that take you through beautiful sceneries, farming valleys, tumbling waterfalls, quaint Thai towns, caves and much more, then this bike road will fulfil your desires.
Rent a semi-automatic scooter or a proper motorcycle from Chiang Mai to enjoy this route to the fullest. You will need a minimum of four days to take in all that this journey offers, while stopping at the main towns of Pai, Mae Sariang and Mae Hong Son.
Route: Start in a clockwise direction; head to Mae Sariang first, so you can get a handle on the flat terrain, before eventually tackling the steep hilly curves towards Pai and Mae Hong Son.
Learn fire dancing and rock climbing at Ton Sai Beach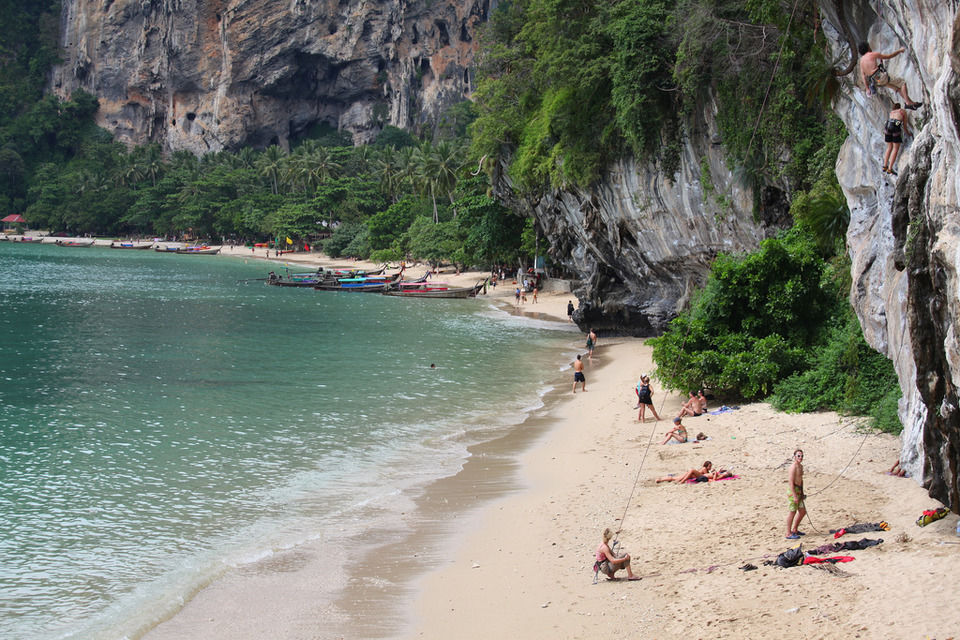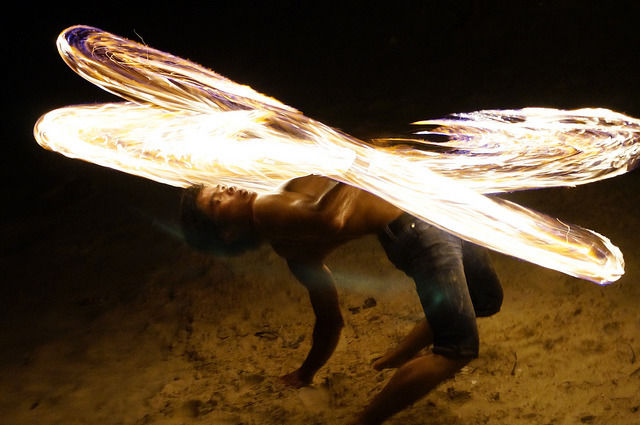 If you're looking for some time away from the mad crowds of Krabi and the main beaches of Thailand, Ton Sai Beach is your best bet. Located between Railey Beach and Ao Nang, this beach and its gentle breeze is perfect for relaxing with a cup of freshly ground coffee or tea, or a cold glass of beer at its many beach bars. But if you want a bit more action, then rent some gear and climb the many stalagmites and rock formations on this beach for around 800-1000 baht. You can even take a 5-day course to learn the many nuances of rock climbing. Come evening, you'll see a lot of Thais dancing with fire. This unique dance is dazzling and is definitely one of the best things to do in Thailand. Ask them to teach you, and you won't be disappointed.
Other activities offered here: Slacklining, kayaking, underwater diving, snorkelling, deep-water solo climbing, hiking through the forest, massage and yoga.
Getting here: From Krabi airport, you can take the airport bus typically till the Wang Sei Restaurant, from where you can get a longtail boat to the beach for 150 baht.
Hike the seven-tiered waterfall at Erawan National Park in Kanchanaburi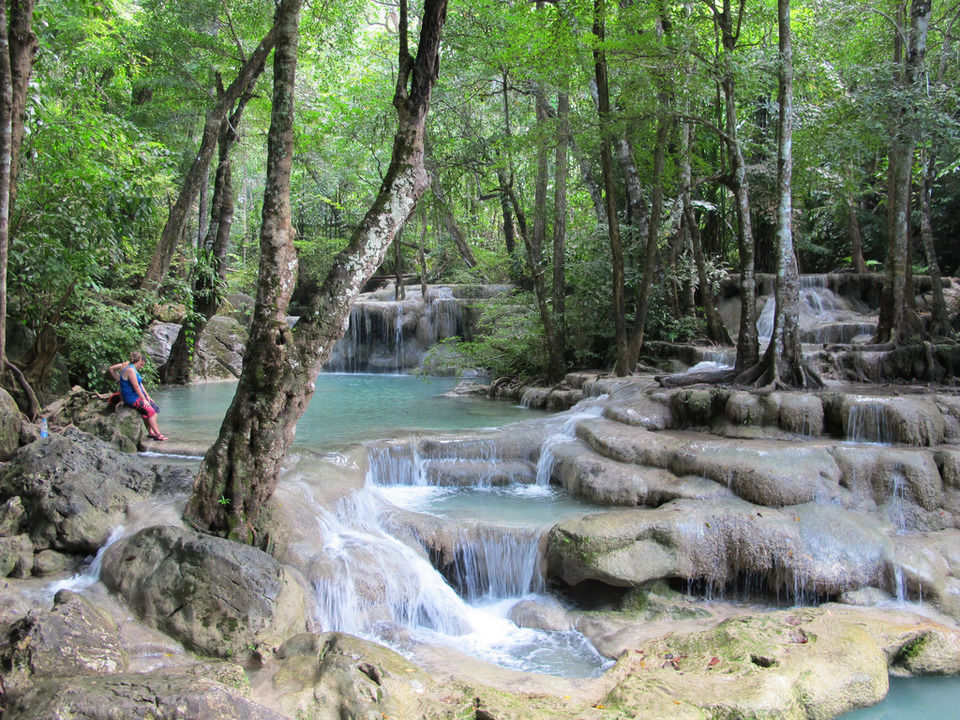 About a three-hour drive from Bangkok is the green and serene Erawan National Park. Spread over 550 sq km, around 80% of the park is covered by mixed deciduous forest and is home to some endearing wildlife such as sambar deer, gibbons, Indian muntjac, tigers, elephants, red giant flying squirrels, hornbills and even king cobras. But the most exquisite site to see here is the seven-tiered Erawan Waterfall. Named after the the three-headed white elephant of Hindu mythology, the emerald green pools of this waterfall are divided into six levels, three of which are accessible easily on foot. A 2km semi-tough hike is needed to get to the other levels. Your efforts, however, are rewarded with a massage by the hundreds of fish, which nibble at the dead skin on your feet. Level four even has a natural rock slide to crash into the water!
Timings: Erawan National Park is open from 7 am to 4.30pm on all days of the year.
Getting here: Bus #8170 leaves every hour from the Kanchanaburi Bus Station and drops you at Srinakarind Market. From here, the park is a 1km walk.
Trace the beginning of Thai architecture at the historic town of Sukhothai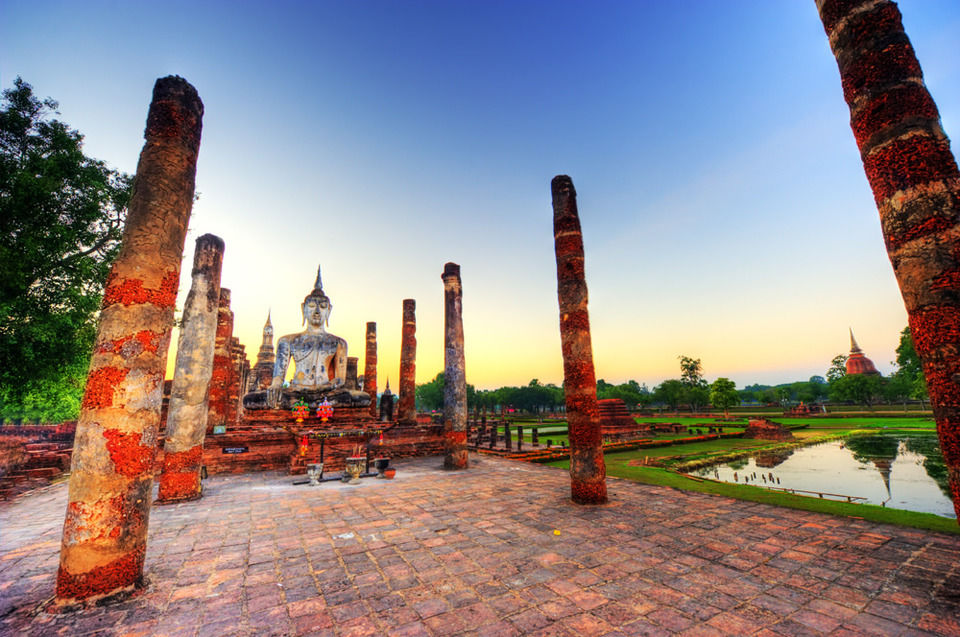 Thailand's first ancient capital city, Sukhothai is split into two towns – the old and new. The old town houses the remains of the Sukhothai Kingdom, which flourished from the 13th to 14th century, while the new is a small town where most guest houses and homestays are located. You want at least a day or two to see the historic ruins of Sukhothai, a UNESCO World Heritage Site, which promise to impress even those not intrigued by history. The 200 odd ruins located inside a complex called the Sukhothai Historic Park, which runs over 70 square kilometres, is one of those things to do in Thailand that you just can't miss.
Getting around: You can walk if you like, but since the area is so big, you'll get tired soon and end up missing chunks of ruins. A better option is to either rent a bicycle for 10 baht or take the electric tram that takes you around the central ruins.
Entrance fees and timings: 100 baht to enter the complex, which opens from 6am to 6pm.
Laze around on the super-soft sands of Ko Kut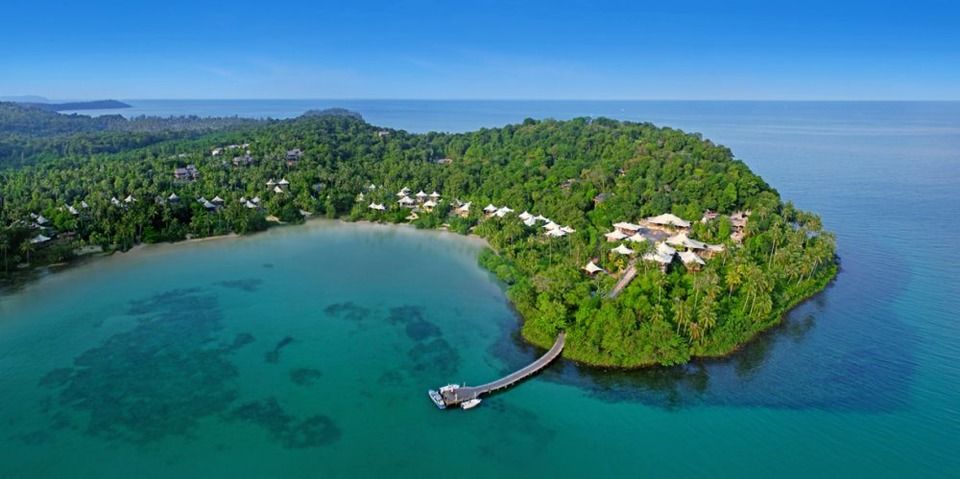 Frequently hailed as the "last unspoilt island" of Thailand, Ko Kut is the perfect fairy tale place to get some shut eye in a hammock while looking out at the picturesque coconut palms and calm warm waters. There are no distractions here; no crowds, no traffic and no nightlife. Electricity is minimal, with most establishments using solar power. The internet access in Ko Kut is also spotty. So you have nothing better to do than take long strolls on the super soft, pale sand, kayak on its clear waters and snorkel for a sight of its colourful marine life.
Stay: Being a destination that is still under wraps, you will find some special luxury resorts on the beach. But it is still possible to find homestays and budget hotels in the vicinity. Getting there?
Weather: Stay away during the monsoon time of May to October.
Explore the stunning countryside of Nan Province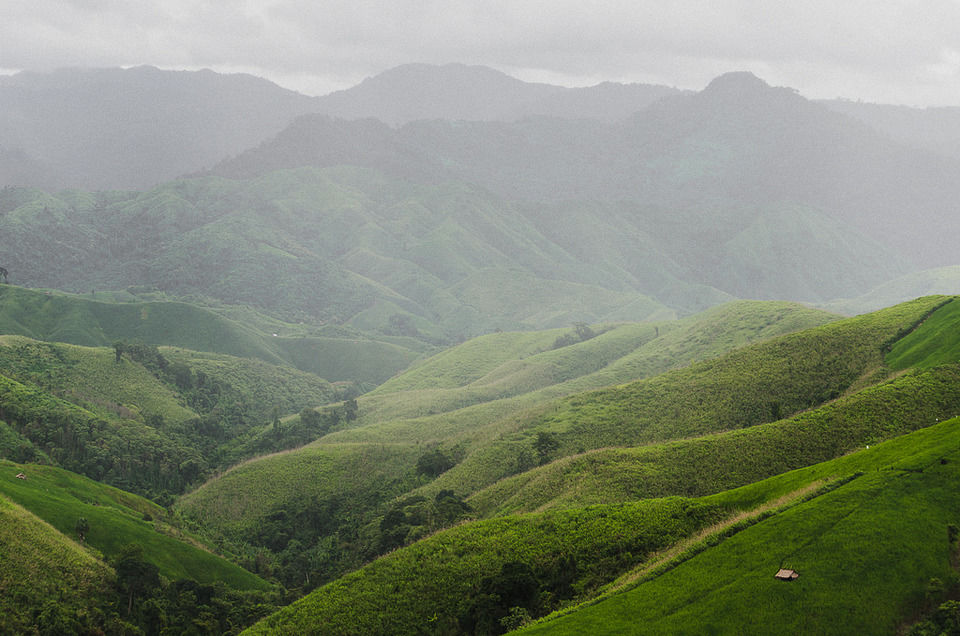 Lush and laid-back, the province of Nan is situated 300km east of Chiang Mai. With a population of just around 24,000, this little-known gem is simple, away from the urban crowds and scenic. You will see sprawling rice fields dotting the landscape and rolling mountains stretching everywhere. Locals are friendly and the food is authentic and wholesome. Several national parks with stunning caves are located at a few hours drive from Nan, as are charming waterfalls, such as the Sila Phet.
Tip: Rent a bike and go see the Bo Klua salt wells outside of Nan. Almost a two-and-a-half-hour ride, but seeing the locals make salt is a special and intriguing experience.
Getting here: Buses are the best means of transportation to Nan, and you can get one from all major destinations such as Chiang Mai, Bangkok, Chiang Rai etc.
Sip on homegrown coffee and experience the incredible Doy Din Dang pottery studio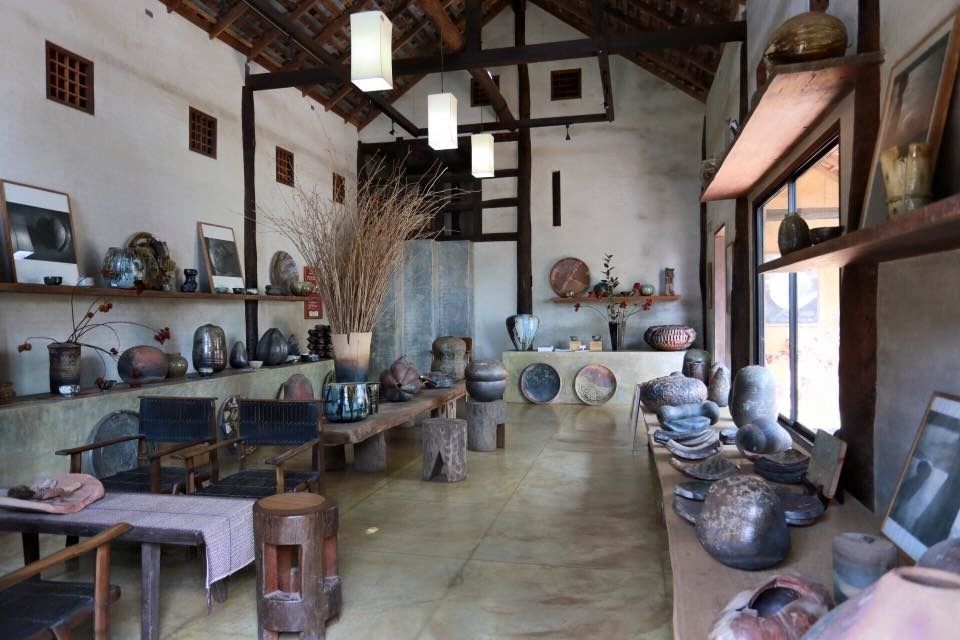 If you enjoy pottery or simply a unique cultural experience, then a day trip to the Doy Din Dang pottery studio should make you very happy. Situated around 12km from Chiang Rai, this studio was founded by a Thai artist, who studied ceramics in Japan for 5 years. Today, the studio produces functional and decorative pottery pieces from locally-sourced and natural materials, such as ash from hay, bamboo and soil. The pieces are displayed in several pottery sheds and range around 200 baht to 500 baht. Take home a handmade piece – it'll surely become a conversation starter. The studio also has an open-air cafe that serves some delicious homegrown coffee. Take a sip and enjoy the tranquil landscape at this hidden gem.
Getting here: When travelling north or south on the superhighway, look out for signs reading "Long Neck Karen Village". Follow them to the studio, which is about 2km from the main road. If you're coming from the Chiang Rai Airport, then the studio is only 6km away.
Indulge in silkworm rearing at a farm tour in Nakhon Ratchasima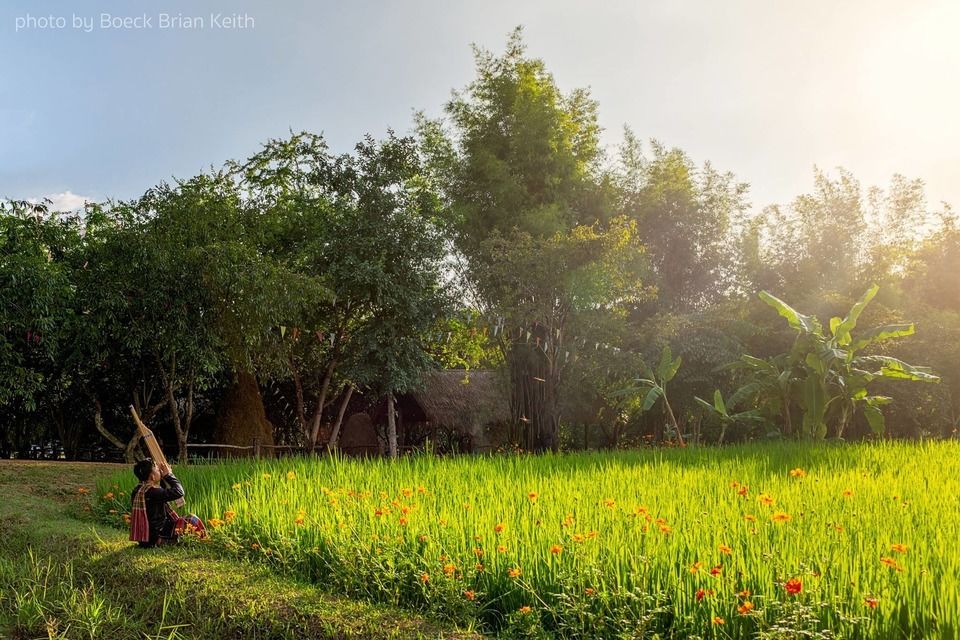 If you think agrotourism or a dose of local farm life sounds like a good way to spend the day, then make your way to Nakhon Ratchasima, a province in northeast Thailand. Also known as Korat, the villages here produce indigenous silk thread and fabric by growing mulberry trees and raising their own silkworms. It's quite a fascinating process and you can witness it first hand with an incredible farm tour! The farm houses orchards of fruits and gardens full of colourful plants against a stunning view of rolling hills. The tour gives you an opportunity to witness the full life cycle of silkworms, observe the silk farming process, pick vegetables and fruits, roam about the giant pumpkin patch and take part in the mushroom cultivation process.
Months open: The Jim Thompson Farm Tour opens only once a year from December to January.
Have a typical beach vacation at the non-typical Koh Lipe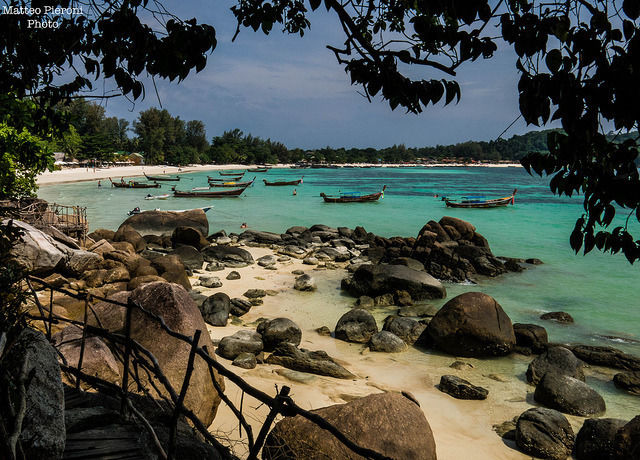 The jury's still out on whether Koh Lipe will become the next Phi Phi Islands. While the island was far off the radar of tourists some 20 years ago, the tourism scene has exploded here today. It is still not overdeveloped like most of Thailand's very popular islands, which is why it is still very much possible to enjoy its pristine salt-white beaches, a national marine park with great snorkelling opportunities, an almost untouched jungle-y interior, fresh seafood and super friendly locals. This is the Thailand beach vacation you need!
Other things to do on the island: Hike the Cha Doa cliff; get a massage, which will be cheaper than those available in other parts of Thailand; take a Batik painting course at the Lipe Resort; hit the reggae bars on the island.
Spend a night at a rainforest bungalow at the Khao Sok National Park
The Khao Sok National Park is an evergreen rainforest that is almost 1.5 million years old. And with its giant flowers, limestone karsts, waterfalls and a stunning lake, it is gorgeous beyond belief. Now why would you stay in a concrete building, when you can spend the night in this rainforest, on the river in a lovely bungalow listening to the gibbons call out from the treetops. There are several resorts that offer treehouses and riverside bungalows in the national park.
Things to do here: Jungle trek on foot or aboard an elephant; kayak river cruises; bamboo rafting; boat tour of the Cheow Larn Lake.
Getting here: Fly to Phuket airport and take a 4-hour bus ride (for around 160 baht) from the city to the park. Take an overnight train from Bangkok's Hualanphong Station to the Surat Thani train station. From there you can get a bus to Khao Sok.
Have I missed out on some crucial offbeat things to do in Thailand ? Or do you think the mainstream parts of the country make for a better vacation? Whatever be your thoughts on Thailand, the Tripoto community wants to know. Write your own travelogue and share it with 2 million + travellers.
Frequent searches leading to this page:-
Thailand tour package from India, things to do in thailand with kids, things to do in thailand for couples, things to do in thailand for honeymoon