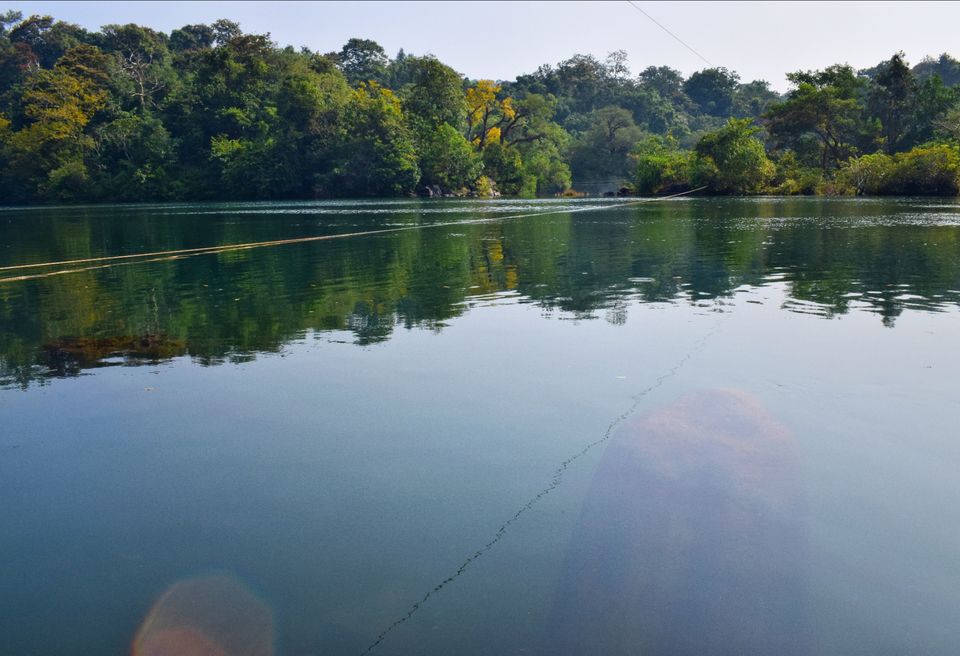 River rafting:
Dandeli is the second best place in India for rafting. If you really want to feel the waters then rafting is the best you could do. There are two types of ride, one with 1km another with 5km. The one with 1km can be done at the resort itself and the latter one will start near supa dam (transportation will be provided). It's an amazing experience to do once in your life time. The 1km ride will cost you Rs.600 and 5km ride will cost you Rs.1200. It's thrilling and exciting to row and raft in the midst of the forest. Try out this adventure that will give you an endeavoring experience.
Stay in the woods:
There are really good number of resorts in dandeli. The place where I stayed at was  Bison river resort. It is a beautiful place with pleasurable view and with very warm and delighted hospitality and delicious food. The rooms are cozy and comfy and the premise is in the woods so you can take a walk within the resort and you'll feel amazing. You feel you are in the arms of nature. The other resorts are fairly good with good food and stay. One of the resorts named 'whistling woods' provide many types of massages and spa. So just to relax for a while with natural oils you can grab a spa or a massage in that resort.  The resorts in dandeli offer tree house, tent stay, room stay and cottage stay. So be it 2 or 50 people, accommodation isn't a problem here. The stay will cost around Rs.2500 per person per night if room if tent it is around Rs. 1800. The package is inclusive of lunch, dinner, breakfast and also three activities which are (nature walk, boating and camp fire). The camp fire will truly give you a perfect end to the day.
Activities:
Dandeli wouldn't stop surprising you with fun activities. Be it a day trip or a stay trip you can do all the activities and adventures if rightly planned. There are many rope activities and water activities like: Burma bridge, kayaking, zorbing, boating, rappelling, zip lining, river crossing, natural Jacuzzi, rafting etc. All the activities can also be done in package. Each ride will cost you Rs. 250 to Rs. 350 (depends on the activity and the resort). You can find these activities in almost all the resorts.
Sightseeing:
There are many nearby places to visit like falls and few view points. There is syntheri rocks, moulangi falls, sathodi falls,magod falls,kali river and the like. There is even kavala caves, sykes point, shiroli peak,  Crocodile Park and supa dam back waters.
Trekking & Jungle safari:
When it comes to trek dandeli is the most preferred cause it gives you lot many options. There are few agencies who conduct treks and even at the resort there can be arrangement of trek (if people are more in number) or you can go on a trek on your own. Going on a trek is quite an adventure.  You'll know your strengths, you'll enjoy, you'll fell you have achieved something and you'll go for a trek again for sure.
Jungle safari is something very thrilling and exciting to do. When you are in the woods you gotta take a chance visiting a forest, you may never know what wonderful things you might get to see. Going in an open jeep with lots of hopes and excitement will really give you a happy time. The safari I went for was pansoli jungle safari in pansoli near kulgi. The entry fee is approx Rs.550 (camera excluded) and the timings are 6:00am to 8:00am and 4:00 pm to 6:00pm. We could spot few deer's, tortoises, sloth bear and wild squirrels and yes our national bird peacocks. They say 'when you are in dandeli, if you spot a black panther then you are the luckiest'. May be god was in favor of us that day when the safari came to end *almost*we saw a Black Panther right in front of us. We were astound and shocked. Gosh! Those eyes and the way it runs was amazing. In just three leaps it almost covered 30 feet. Phew! We were lucky enough to spot a black panther and the other animals. If you love to have an adventurous trip never miss on a safari. 
If you are planning a day out or a trip, be it with your mate,family, friends or colleague or if you just want to relax then dandeli is the right place to spend some time in the woods. The approximate cost will be around 5600/- prices may vary as per season.
I hope you liked the content and it helped you.   Let me know in the comments section below. Happy reading... 😊