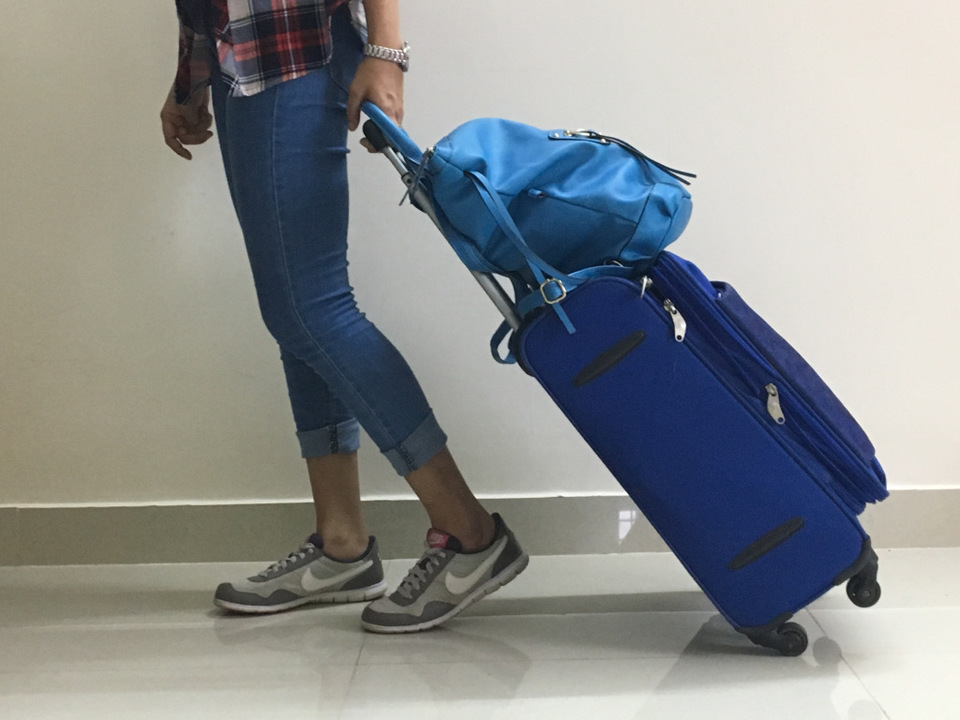 What is a carry-on luggage?
A hand luggage or a cabin luggage is considered as a carry-on-luggage, which is allowed to carry along with you inside the air craft instead moving it to the cargo compartment.
So basically, it's the small bag or trolley which is allowed inside the flight, without considering it as a check in luggage.
What should be the size of a carry-on luggage?
Though different airlines has different sizes, still you can consider the standard size as-22" x 14" x 9", which includes the handles and the wheels (for a trolley), this size is based on the size of overhead cabins so that your bag can be easily put inside it. Airlines usually provide a place to check the size of your carry-on near the check-in counter. If your bag fits in the hole, it is OK to take it onto the plane. Talking about the weight it shouldn't be more than 7 kgs.
How many carry-on luggage I can carry-
It is just one dear. Yes you cannot carry more than one carry one luggage with you.
What all are not considered as a carry-on luggage-
Your personal items are not considers as carry-on-luggage, so you can carry it along with you, below are few examples of the same-
Camera bag
Purse
Sling bags
Laptop bags
Diaper bag
Coats or jacket.
Magazines/books
Pillows
Now let's see what are the advantages of travelling only with a carry-on-luggage-
1. You can save on check-in luggage money-
Most of the airlines(domestic or International) give you options to choose your travel mode, like you can choose if you want to travel only with your hand luhggage or you want to go with a check-in and hand luggage both. If you choose only hand luggage your fare will be way lesser than a normal fare.
2. No extra weight-
If there is no other luggage, no need to worry about extra weight, you can travel light. Trust me it's awesome.
We are always in hurry, whether we are travelling or doing something else. While in hurry we always hustle we don't want miss out on our belongings, if you are carrying more, you have to worry more but if there is only one, there is no way losing it. Common you are enough mature to take care of at least one bag!
You can walk around searching for the best accommodation, squeeze on a crowded bus, and run to catch a train-tasks that would be stressful, or impossible, with a large amount of luggage.
If you're carrying only one, it is easier to keep it safe. And you can always have an eye on it. Less risk to get your stuff stolen or lost.
At airports-
If you are travelling with only hand luggage, there is no need to stand in the long baggage drop queue, you can check-in only collect your boarding pass and you are good to go. No need to wait for baggage after landing, just get down from the flight and head towards your destination.
Packing-
Less space, means less packing, pack only the essential stuff saves a lot of time
Pro tip: pack those items (wearable) which you can mix and match, and create more outfits.
Finding things -
I know it's always a struggle to find something out from our packed suitcase, but if you carry less, it's easier to find anything out in a go.
In a word it's liberating. With less luggage you are free to do anything, you can go anywhere you want, and you can explore more, no need of worrying too much. You can be you when you are travelling!!!