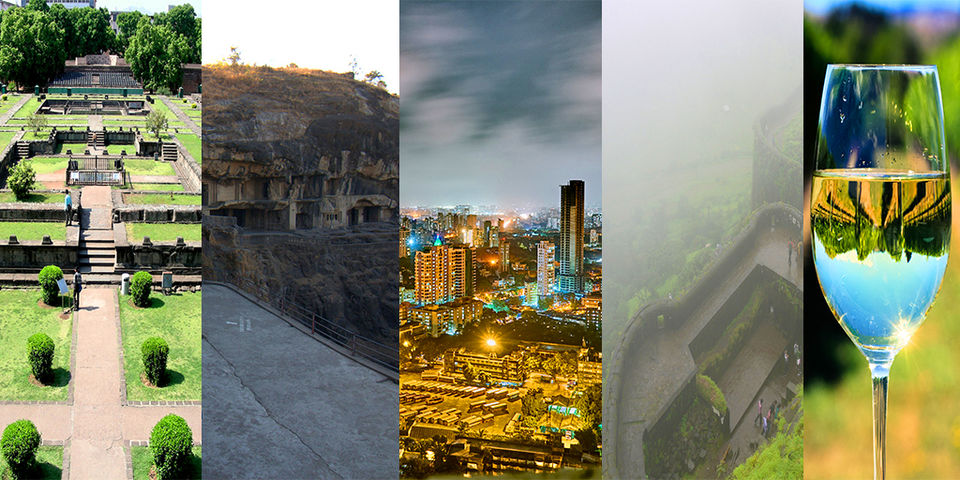 Maharashtra is one of the most culturally and geographically diverse states of India. From the financial capital of the country, Mumbai, you can scale the sprawling Sahyadri mountains, to the Deccan plateau, and even make your way down to the 720-kilometre coastline that forms the western boundary of the state. Every part of this state has a distinct identity that is manifested through its people, food, occupations; yet the hospitality and enthusiasm shown to anyone who visits here ties it all together.
While exploring this state thoroughly will take you a long time; you can visit a lot of the most important places in 5 days. So, put those Kolhapuri chappals on! (Or don't; they're not the most comfortable footwear to pull off the kind of exhilarating things you're going to be doing, if we're being honest.)
Let's start off your trip with a jaunt down the Konkan coast. Keeping Mumbai as your base, make sure to get an early start. Board a ferry from the Gateway of India to Mandwa Jetty. There are a number of ferry operators that provide services from 6:15 am onwards, ticket prices being between Rs. 100 and Rs. 150 one way. From the jetty, take the bus service included in your ticket fare which will drop you at Alibaug. From here, hop on a state transport bus to Murud ST bus depot (available at regular intervals) and a rickshaw from there to the Rajapuri jetty.
From the jetty you will be able to see the Murud Janjira, which is a sea fort built by Abyssinian Siddis that stands strong on an island in the Arabian Sea, off the coast of Maharashtra. It will take you a 20-minute boat-ride to reach the fort from Rajapuri jetty, and the fare is Rs. 61 for adults and Rs. 30 for children, which includes the ferry and fort entry fees. You can also avail a guide for Rs. 250-300, if you would like to know the rich history behind each and every bastion, cannon, hidden tunnel, mosque and lake.
It is truly an architectural wonder; neither the British, Portuguese nor the Marathas were successful in taking over the fort despite multiple attempts. Maharashtra is the only state in India where you can visit such sea forts, so it's a must visit!
Opening hours are 7:00 am to 6:00 pm. Note, the ferry service from Mumbai to Mandwa, and the fort remain closed during the monsoon months (June to September), so plan accordingly.
Taking a rickshaw from the Rajapuri jetty to Murud, get off at Patil Khanawal which is on the south end of Murud Beach. This is a rustic, outdoor restaurant that serves up some authentic Konkani cuisine. We recommend trying the fish thali, to get a taste of the region.
Tracing your steps back, take the bus from Murud ST and get off at Kashid. Kashid is an easy-going Konkan beach-town that is your stop for this afternoon. You can spend a couple of lazy hours on this clean stretch of sand, with a few shacks to avail snacks and soft drinks from, as you lay on a hammock or frolic in the clear water. Alternatively, you can also partake in activities like water sports and horse riding on the beach.
From Kashid- take a bus or rickshaw to Alibaug, and another bus to Mandwa Jetty. Here, you can visit Boardwalk, a seaside restaurant right off the jetty, with a beautiful Greek décor. Open from 11:30 am to 11:00 pm everyday but Monday; it's a good place to spend the late afternoon while snacking and indulging in some much-needed drinks.
Catch the ferry back to Mumbai, the last ones being at 6:30, 7:00, and 7:30 pm. Make sure to get some rest because the next day is going to be an exciting, jam-packed one!
Accommodation (Mumbai)- Budget: Carlton Hotel, Mid-Range: Abode Bombay, Luxury: Taj Mahal Palace/Gordon House Hotel.
Hill forts dominate the landscape of the Sahyadri range in Maharashtra and have been under various rulers including the Mughals and the Marathas. These forts are dramatically situated on the hills and peaks of the Western Ghats, from where you can get unobstructed vistas of the surrounding regions. The origins of the Lohagad Fort date back to the Satvahana period and have changed hands from Shivaji Maharaj to Aurangzeb. The trek to Lohagad is decent for beginners, and especially beautiful in the mid-monsoon season (around July) although the price to pay is extreme caution and footwear with a good grip. Start the trek in the early morning to get the most pleasant climate.
To reach here from Mumbai, take the Indrayani SF Express (5:40 am – 7:58 am). A ticket will cost you Rs. 90 for non-AC and Rs. 305 for AC sitting, and should be booked in advance online (www.irctc.co.in). From Lonavala, take a Lonavala-Pune local train and get off at the next station which is Malavli (Rs. 7 per ticket). Once you are at Malavli, you can either take a rickshaw to Bhaje (Rs. 15 per person), or start your trek from the station which will take you about 30 minutes for the first leg. From Bhaje, the next leg of your trek is to the base village of Lohagadwadi. This is a single path and will take you approximately 1½-2 hours. You can stop for a quick breakfast here at any of the home-style restaurants serving you delicious Maharashtrian fare to give you some fuel for the final ascent. From the base village, you have to climb a couple hundred stone steps (20 minutes) to reach the fort, which will transport you back to the times of yore. Explore the hilltop of the fort with places such as the dargah, or Vinchu Kada for an hour. Take the same path back down to Malavli station.
A 15-minute rickshaw ride from Malavli station should get you to Sheetal Da Dhaba for a late lunch. As names are often deceiving, this is far from an ordinary roadside dhaba. Sheetal Da Dhaba has contemporary seating laid out in a huge, breezy canopy, and their North Indian and Mughlai food is absolutely delicious. They also have swings, comfortable couches, and games like foosball (charged). Just what you need after a tiring trek! A sumptuous meal for two should cost you Rs. 650.
10 minutes by rickshaw from Sheetal Da Dhaba are the Karla Caves. These are a group of ancient Buddhist caves that are cut from a rocky hillside dating back to the 2nd century AD. From the parking lot, it is a climb of 20 minutes up steep steps to reach the caves. Combining the various entry fees, it comes to a total of Rs. 60. The caves themselves are marvels to experience with the Great Chaitya cave being the highlight. It is the largest rock-cut chaitya in South Asia, with its magnificent Hall with fifteen towering pillars lining either side of this space measuring 45 feet in height. A truly humbling and sacred experience. The caves remain open to public every day from 9:00 am to 7:00 pm.
Take a rickshaw to the Adventure Nirvana site on the banks of the Uksan Lake in Kamshet for an adventurous experience you won't forget easily. Nirvana Adventures provides tandem paragliding flights for those who want to glide through the air like a bird, without having any prior experience! For a 5-10 minute flight, the costs are Rs. 2500 on weekdays and Rs. 3000 on weekends and holidays, per person. They also provide 15-20 minute "Acro" flights in which the experienced pilots make you experience some gravity defying stunts mid-air (Rs. 4500 on weekdays and Rs. 5000 on weekends and holidays, per person). Keep in mind, services are not functional during the monsoon months of June, July and September. Further, the flights depend on wind conditions, and so you might have to wait for your turn. The best time to include this activity in your itinerary is when the sun sets late during spring and summer months. Are you up for the challenge? For bookings, check out http://www.flynirvana.com/tandem-paragliding.html.
From Kamshet railway station, take a local train to Pune.
Koregaon Park is the one of the most happening places in Pune when it comes to cafés and bars. An affluent neighbourhood, it is an upcoming commercial hub for the city. Dario's, your dinner destination for tonight, is the epitome of the Koregaon Park dining experience; with quaint indoor and outdoor seating amidst abundant greenery. But a definite winner apart from the ambience is the Italian food that this place serves, along with a multitude of healthy options (The international Osho Ashram next door probably rubbed off). From risotto to ravioli, this is as authentic as it gets; being that the owner Mr. Dario Dezio founded the Little Italy group of restaurants introducing Italian cuisine all across the country. A little detail that would alarm most meat-eaters is that this place only serves vegetarian dishes. However, when the food is this sincere to its cuisine, you really don't miss out. A meal for two here would cost you about Rs. 1500 for two people.
Accommodation (Pune)- Budget: Treebo Olive, Mid-Range: Ramee Grand Hotel/Shantai Hotel, Luxury: JW Marriott Hotel Pune/Sheraton Grand Pune Bund Garden Hotel.
A sacrosanct establishment that every Punekar swears by; Appa is a small place that churns out some unique inventions that have now become a part of the city's staple street food. The pièce de résistance is what is known as 'Khichdi Kakdi' which is a preparation of sabudana khichdi (tapioca pearls) with cucumber raita on the side with crushed peanuts mixed into it. Other regular fare like misal, bata vada with chutney, and dahi vada are also available. Reach this place for an early breakfast today. A typical Puneri breakfast here wouldn't cost you a paisa more than Rs. 150 for two people.
A 10-minute walk from Appa along the Mutha River will get you to the Shaniwar Wada fort. This historical fort was the capital building of the Peshwas of the Maratha Empire for 85 years. A true representation to the imperial architecture of the Marathas, it has an imposing façade that hides palaces with jharokhas and beautiful gardens with fountains behind its five darwazas (doors). The entry fee for Indians is Rs. 5 and foreigners is Rs. 125. The fort is open to visitors from 9:30 am to 5:30 pm every day. Make sure you have enough time to catch your bus to Nashik from Shivaji Nagar Bus Station.
You will need to book a 10:45, 11:30, or 11:40 MSRTC Bus from Pune to Nashik in advance.
Your bus will reach Nashik Road between 3:00 and 4:00 pm (depending on which bus you take), after which you can book an Ola/Uber or any taxi from the bus stand to Sula Vineyards, on the outskirts of the city. This will cost you approximately Rs. 550, and take you approximately 45 minutes. Make sure to reach on time to book a slot for the last winery tour and wine tasting at 5:30pm, as the sun sets over the vineyards. The tour of the winery lasts 30 minutes, followed by a 15-minute wine tasting of 6 different types of wine. They charge Rs. 375 per head for this tour. Post sunset, you can treat yourself to a dinner at one of the two restaurants at Sula- Little Italy or Soma, for about Rs. 1500 for two.
Accommodation (Sula Vineyards): Mid-Range: The Source at Sula, Luxury: Beyond by Sula
Take a morning train from Nashik Road to Jalgaon (book in advance), and a state-run bus or taxi to the Ajanta Caves Main Entry. From the Visitor Centre you can avail an audio guide, or a government approved guide for Rs. 1400 for 4 people. The entry fee is Rs. 30 for Indians and Rs. 500 for foreign nationals. The caves are open from Rs. 8:00 am to 5:00 pm, and closed on Mondays.
The Ajanta Caves are a group of Buddhist rock-cut caves, that are a UNESCO World Heritage Site. There are about 29 caves in total that were created between the 2nd century BC to 480 AD. This group of caves with monasteries, halls, sculptures and paintings are some of the most vivid and exceptional examples of ancient Indian architecture and art. You'll feel as if you are on a film set, because such levels of construction seem to be almost impossible to create in today's age, let alone more than 2000 years ago. One can easily spend 3 to 4 hours in the caves, so it is important to start in the morning and keep the rest of the day at leisure. Take a bus from Ajanta to Aurangabad where you will stay the night.
Accommodation (Aurangabad)- Budget: Hotel Panchavati/Hotel Gurjas, Mid-Range: Hotel Green Olive/ Keys Hotel The Aures, Luxury: Vivanta by Taj Aurangabad/WelcomHotel Rama International.
From the Central Bus Stand in Aurangabad, take a local red bus to Ellora which is 45 minutes away, the ticket costing Rs. 33 per passenger. At the Ellora Caves ticket counter, you purchase your tickets (Rs. 30 for Indians, and Rs. 500 for foreigners), and also avail a guide for Rs. 1300 for 4 people or a very informative guide book for Rs. 60.
The Ellora Caves, a UNESCO World Heritage Site, are a group of 34 caves cut out from a rock-face. The complex contains 12 Buddhist caves (Caves 1-12), 17 Hindu caves (Caves 13-29), and 5 Jain Caves (Caves 30-34), dating from the period 600-1000 AD. Each cave has its own exquisite beauty, however one of the main attractions is Cave 16 – The Kailasa temple, which is a Shiva temple entirely carved out of a single rock; the largest megalith in the world. It is an honour to be able to visit this art and architectural marvel. The monuments are open on all days except Tuesday from 6:00 am to 6:00 pm. 2 hours is the average time on spends at these caves, after which you can take a bus back to Aurangabad.
Often recognised as the "Taj of the Deccan" due to its striking resemblance to the Taj Mahal in Agra, it has other similarities that do not meet the eye. The construction of the Bibi Ka Maqbara was authorised by Azam Shah, the son of Aurangzeb and the grandson of Shah Jahan (who built the Taj Mahal), in the memory of his mother. The entry fee for this monument is Rs. 10 for Indians and Rs. 250 for international tourists. It is open to the public everyday between 8:00 am and 8:00 pm.
And with this, your mission across Maharashtra comes to an end. Rest assured, you're going to finish this journey with a forever changed perception of Maharashtra, and memories of a lifetime!