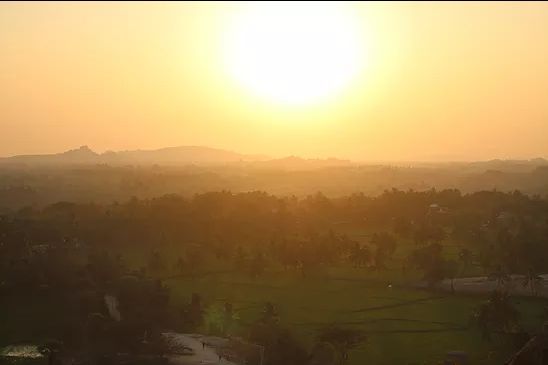 Escaping the hustle and bustle of Bengaluru, we decided to venture out into a quite and relaxing place . As we stumbled upon Hampi , we weren't quite sure if all we wanted to visit are the temples and architecture . But to my surprise it has been one of the greatest trips I've made in Karnataka,  I was taken aback by the number of cool things we could do there apart from History and Temples!!
Hampi is a blissful combination of pristine nature and it's historic symbolism . For me the best part was that it was all packed within a small perimeter, it has everything from beautiful ancient temples alongside the Tungabhadra river and scenic nature as a backdrop that can be covered within two or three days .
                   Hampi is even well suited for a relaxed long stay travel where travellers can enjoy the beautiful nature on a hammock , go off-driving along the river belt , practice some rock climbing , indulge in visiting the trail of temples , yoga and meditation ,the options are multiple. 
Tip 1 : Hampi is a warm and windy area . Carry light and breezy clothes to suit the weather . Carry a scarf/ sarong (for women) to cover up at the temples .
HOW TO REACH :
         Hampi is situated in the state of Karnataka , India. One can access the place by travelling through air , rail and road.
Air :
Domestic flights will bring you to the closest city Hubli - Hubli Airport (HBX) that is 144 km away from hampi or Jindal Vijayanagar Airport - Bellary that is 13 km ,continued by a cab/taxi till destination.
International flights land at Sambre Airport - Belgaum (IXG) that is 216 km away and travellers can opt for cab/taxi to reach the destination. 
Rail:
The best way to reach Hampi by train is to get down at Hosapet JN (HPT) that is about 15km away . Cab/Taxi and Auto - Rikshaw can be easily found outside the station .
Road:
There is a wide variety of connectivity from all major cities of India to Hampi .
Tip 2 : To commute in and around Hampi you can rent various bikes and bicycles for cheap . We rented a bike for Rs.250 /- for 12 hours .
Tip 3 : There are various opportunities for trekking and rock climbing around Hampi island , waterfalls ,etc , therefore its essential to pack a pair of sports shoes and first aid for emergency .
WHERE TO STAY :
   To find an accommodation in Hampi is very easy as it is full of inns, hotels and resorts of all kinds - budget, luxury and ultra-luxury. Moreover , there are amazing cottages and campsites hidden under lush trees . 
Camping : To indulge in a complete new experience as it was for me , one can opt to camp in one of many campsites in Hampi at easily affordable prices . 
Tip 4 : In my opinion , camping was one of the reasons why my trip was so amazing . Carry a camping tent !
Tip 5 : Make sure to have a campfire / bonfire on the river bed keeping in mind the water levels and just relax gazing at the night sky. I bet you wont see such a view everyday .
Tip 6 : It is better to pitch a tent in a campsite than out in the open in case of wild animals and just in general with facilities like bathroom , free wifi , drinking water , security  etc .
Tip 7 : If you are staying for a while then please do opt for off-road bike riding to explore the unseen areas , roads of Hampi ( trust me its beautiful ! ) . Rent a bike and hop on for off-roading !
WHAT TO SEE :
 
As I said before Hampi is a combination of majestic history and sublime nature . It seemed like this ancient city was shielded under vast boulders, paddy fields , banana plantations and forest .
As you reach Hampi , go on a walking tour across the island to visit the holy temples . one can visit various heritage sites like the Hanuman Temple , Nandi , Vijay Vitthala Temple , Virupaksha temple and so much more . You can go on a Temple trail alongside the Tungabhadra river .
In the evening , do not miss out on the epic sunset from top of the rocks at sunset point . It is the perfect picturesque area where you will wittness sunset and moonrise at the same time . I went here every evening of the days I stayed in hampi . It was one of the most relaxing thing to do . I was lucky enough to catch a blood moon eclipse .
Visit the Tungabhadra dam and trail / trek / off-road biking along the dam and the canal . The scenery is just mesmerising .
Visit the Hampi fort ! The ride till there is beautiful.
Go cliff diving but with utmost caution as it is said to be very risky .
Go on a night trek / night rock climbing under Moonlight .
Visit Hampi waterfalls , bathe and relax ! 
Watch sloth bears at Daroji Bear sanctuary ; it is also a good spot to catch the sunset .  
Indulge in yoga , dancing , meditation , professional rock climbing and so much more . 
Tip 8 : Tour around Hampi can be covered in about three days . so sit back and relax in its beauty .
Tip 9 : Make sure you carry sunglasses , sunscreen to protect from the sun 
WHAT TO EAT :
 
       Food is one thing you wont have to worry in Hampi . Eateries , restaurants and cafe are all over covering extensive cuisines like Indian , French , German and more . 
  We had food in the best recommended cafes and restaurants on internet and even cooked a meal on fire ! 
Tip 10 : Try German and French baked goodies . They provide fresh products .
Tip 11 : Huge advantage for Vegans (yay) as there are wide variety of vegan cafe and restaurants serving all courses of food.
WHERE TO SHOP :  
Hampi is a paradise for ancient artefacts and bohemian / hippie inspires jewellery , clothes , bags and shoes , even gifts and home-ware .
There is an ally of various stalls at the island where travellers can go for an evening stroll.
You should also checkout the Hampi bazaar located in the main heritage area .
Tip 12 : Do look for bohemian inspired jewellery and bags . You can get them on some great deals .
Tip 13 : Don't forget to bargain ! 
WHAT TO WEAR :
Hampi is quite warm and breezy most of the time . Do wear light clothes of cotton or other soft materials . Do not layer your clothes as it is not necessary .
Carry sunglasses and funky jewellery to match outfits
Carry sportswear for trekking , rock climbing , etc
Carry a scarf or a sarong for women  to cover up at holy places .  
Tip 14 : Do carry mosquito repellent and cream for bites . you can chill much peacefully in open areas .
Tip 15 : Alcohol and Drugs are strictly prohibited as this is a heritage city . Enjoy the view for a change ! 
                                And that's about evrything to know about Hampi as I described according to my personal experience , It is a quite , relaxed and content place where you can head to ; to attain some innerpeace . Hope you have a Wonderful Trip .
LOVE