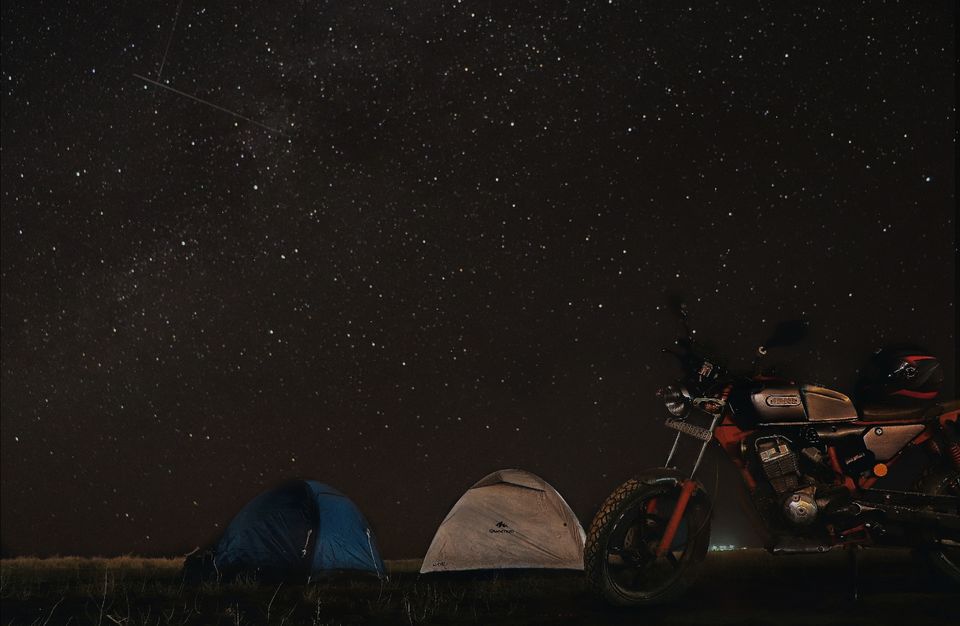 So, I'm from Bhuj and due to I'm with some travel group on Facebook i frequently get chances to meet new travelers through the group who comes to visit Kutch.
On the 31st of December i had hosted a group from Bangalore and travelled with them as well.
It was 31st of December and they want to make it special, so i took them at Bhujiya dungar which is known as highest place around city. The view was so damn amazing and peaceful. From the top we enjoyed crackers and a bit of good music. We danced, we shared stories and pinched our tents over there. Doing campaign at Bhujiya was always in my wishlist and it accomplished by 4 unknown travellers whom i met just an hour before.
Morning of 1st January 2019 started with an amazing sunrise at the top of city. We woke up early, witnessed the sunrise and windup our tents. Afterwards i took them to have some local breakfast (which is Jalebi Fafda) and I'm glad that they liked it alot. After that we freshen up at my home and create an itinerary.
.
It was almost around 1 in noon we had our lunch and planned to go towards Kalo dungar. So we fill up our tanks and started driving. After driving almost around an hour we reached at Bhirandiyari which is our usual weekend dinner place. We dropped our bags at Kishan bhai's place which is good resort And move towards kalo dungar.
.
You know what's good thing about traveling?
.
You meet new people.
.
So, i already met 4 new people from Bangalore and while driving towards kalo dungar we met a biker (@dinomotography) who's also from Bangalore. Ohh what a coincidence it was. And what gave me goosebumps is that he was on his almighty thunderbird from all the way to Bangalore.
.
We stopped, we had conversation and we asked him to join us for the entire journey and luckily he agreed. .
We reached at Kala dungar when the sun was about to set, so we did enjoyed the same. And stayed there till 10 in the night. After clicking alot of pictures of stars we drove back to the resort where we left our bags, we had good local dinner over there only. After dinner Akshay tried to convince us that we should pinch our tent in dhordo, which is not permissible but still he wanted to go and check whether they allow us to pinch.
.
One of us stayed at the resort and the other 4 drove towards white dessert. As i already knew we didn't get the permit to pinch Tent in white dessert but we got the permission to pinch near by White dessert. .
And i had another beautiful night experience.
I've been listening to @roshan1970 's "A Road Less Travelled" lately.
We shared alot of stories and knowledge with each other on 2nd day's night. I'm so glad that i met @dinomotography he's one hell of a person who's living his life on his own way on his motorcycle.
On 3rd day some of us has to woke up a bit early so that they can build their castles and mark their territory in the dark.(because in white dessert one cannot find a place to hide) 😂😂 It was around 6:30 or something when Vivek woke me and @dinomotography up to experience the beautiful sunrise over the white planet. I shot one good picture which i recently posted in my story.
We got freshen up, and who bath on travel period right??😂😂 Afterwards we drove directly to the view point on our bikes because we reached there earlier (otherwise one would have to take a walk of around 2 kms). The other 5 got so damn lost in those moment that they kept going inside the dessert (i still don't know why). After then we reached back to the resort where one of our friend stayed at night, we had good lunch and we left around 2 for Lakhpat fort taking road from hajipir. The roads are soooo damn amazing, one must drive there if get chance.
We reached Lakhpat fort around 8 in the night, the temperature level there was so freaking cold that it became hard to go on. This night we had dinner at gurudwara and stayed there as well, people there are so sweet as sugar.
There's so much around Kutch Which is yet to explore.
And as @roshan1970 said in the TEDx talk,
Build a campfire on your journey towards your adventures, so that fellow travelers could see you and join you if they too are on "The Road Less Traveled" just like you.
Always say Yes to those who shows interest to join you.
It's been 4th day,
We woke up bit late on this day, because we stayed at gurudwara so we didn't have worry about anything else.
We freshen up and took bath. Spent some quality time with people of there, and we geared up again.
Visit places in Lakhpat, if you're planning to go there don't miss to go to the wall you'll love that place.
Around 11:30 we left for Mandavi beach which happens to be around 130 kms from there roads to Mandavi is pretty good, less traffic, less speed breakers. But we were driving slowly so that we can have the pictures for our memories as many as possible. We took break at dhaba around 1 had cup of chay some biscuits and we left again.
The other 4 were reached Mandavi on time, me and my other friends left behind due to some help (we saved a female camel that evening). And due to being late we didn't get a chance to say goodbye to our bike Friend Dinesh bhai who has his own itinerary and he drove further.
We had local food for our dinner and camped at Mandavi beach. Camping along side the beach was on of the best experience I've ever had.
We clicked alot of pictures and tried alot of new tricks in photography.
And that's how our 4th day ended.
It was 5th and the last day of our journey.
The other e were having their bus tickets to Ahmedabad around 7:30 in ther morning from Bhuj.
We stayed at Mandavi on 4th day's night which is around 58 kms away from Bhuj.
So we woke up around 5:30, windup everything as early as possible so that the other 3 could reach before the bus departure time. We left from Beach around 6.
It was cold mornings, everyone was shivering badly and due to less time everyone has to drive fast and carefully to reach to the bus safely.
After driving around 30 Kms i had clutch wire breakdown in my bike. And when i found that the other 4 was already around 5-8 kms away from me.
I called them, ask to go on so that they can catch the bus. And they done the same. Luckily they reached to the place at time and parked my bikes at safe place.
I replaced my bike's wire from a local mechanic late in the morning and reached home.
The trip was so wonderful that I'm not able to describe it through words. I had so much joy in those days, and those 5 unknown became really good friends of mine.
But the sad part is, i didn't get a chance to say goodbye to any of them. May be God don't wanted to set apart and may be another journey is waiting for us to get a chance to be together again.