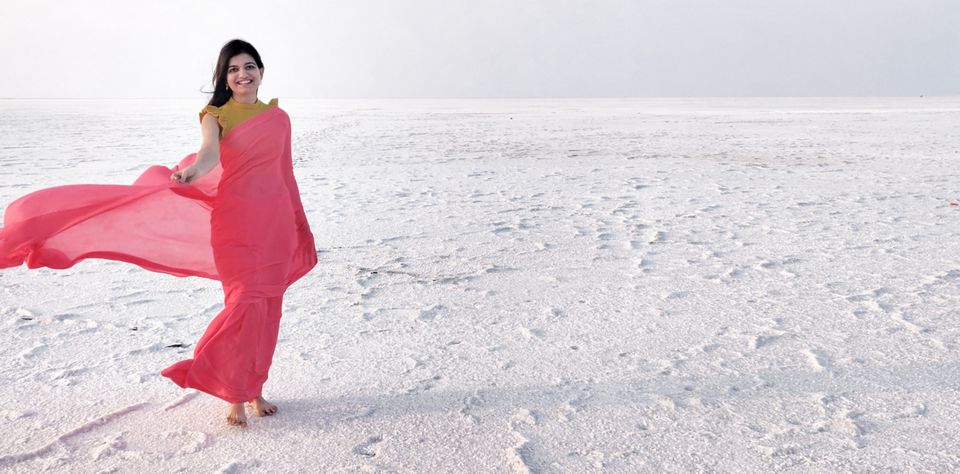 As Amitabh Bachchan says in promotional video of Gujarat tourism " Kutch Nahi Dekha, To Kuch Nahi Dekha", I also felt same after visiting this place. Because I am from Gujarat only, I wanted to visit this place since two years. Last year, I was not able to visit it somehow, so I was fully determined to explore the place, this year 2020. Actually I decided to gift myself this trip on my birthday and it turned out very memorable one.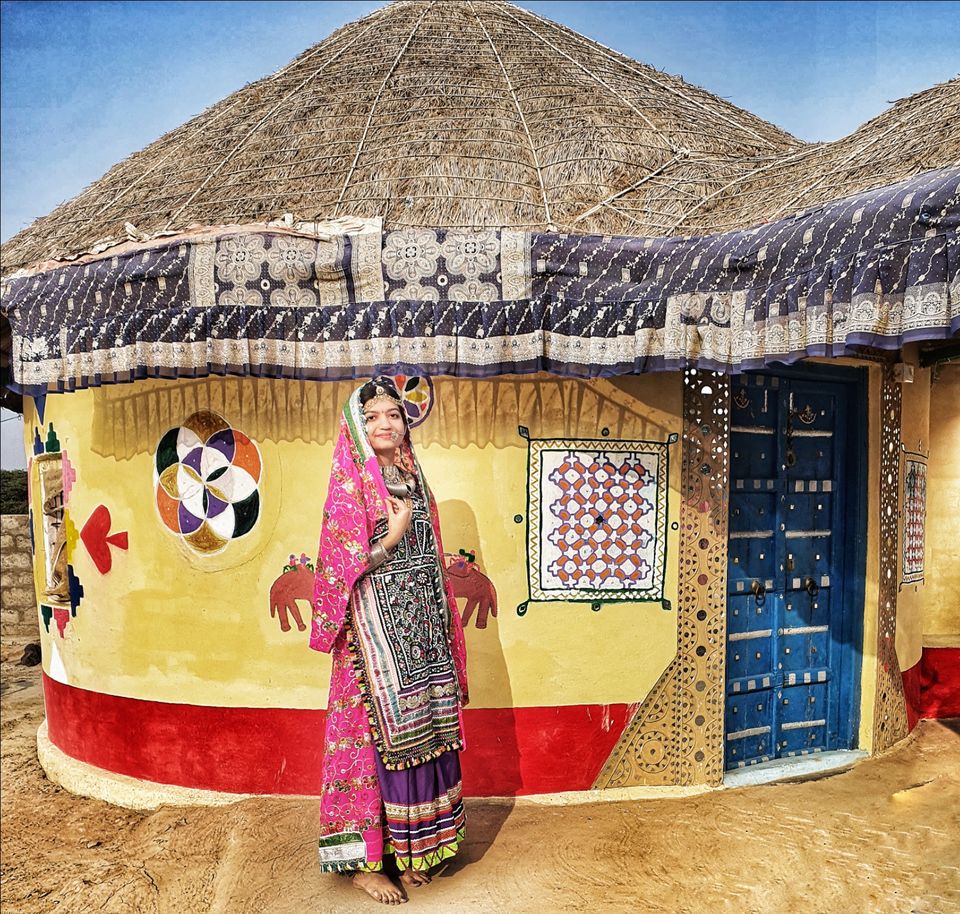 INTRODUCTION OF KUTCH : It is a district of Gujarat state which counts as largest district of India. Kutch is surrounded by Arabian Sea & gulf of Kutch in west & south. East & Northern parts are surrounded by great and little runn. Bhuj is the main city of the region apart from other centres like Mandavi, Gandhidham, Mundra, Kandala, Anjaar, Bhachau, Rapar etc.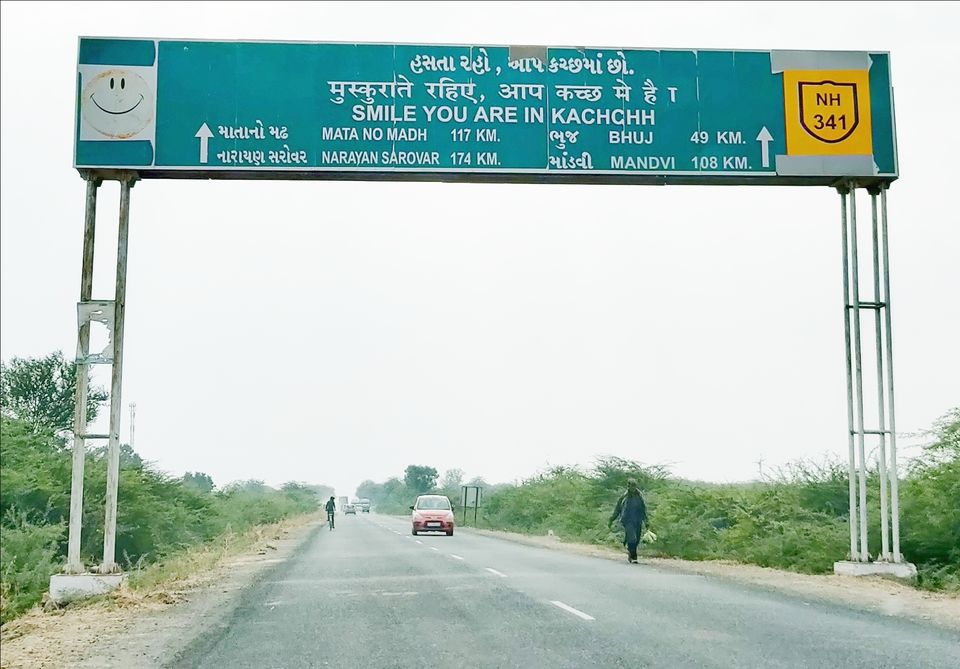 WHAT IS WHITE DESERT OF KUTCH ?? It is world's largest salt marsh spread over 7500 km square area in the THAR Desert, Kutch district. In actual, its low tide area where sea water come and remained stagnant. Post monsoon, this water gets evaporated and left its salt sediments in soil, making it white coloured salt marsh.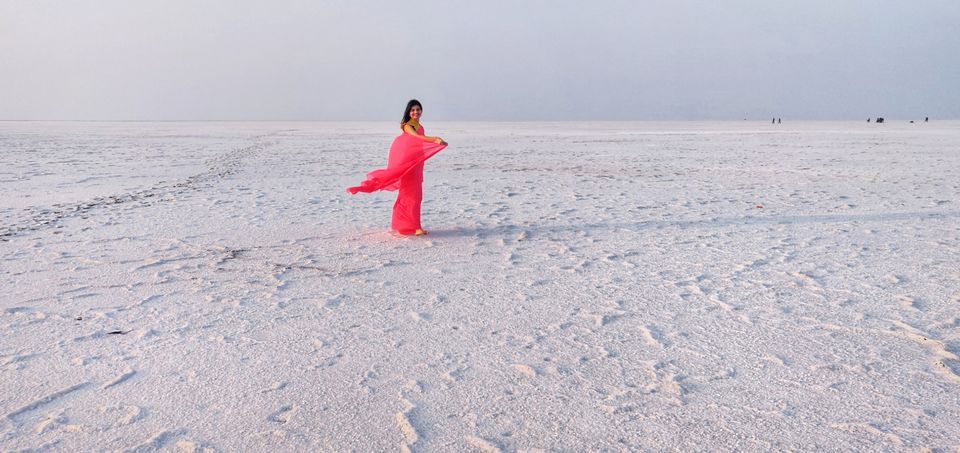 BESTTIME TO VISIT IT : Rann-utsav starts from November month of the year till February. If there is more rain in previous monsoon, then possibility to find some water at white runn. So better to visit after mid-December till February. Full moon day is the best time to visit it.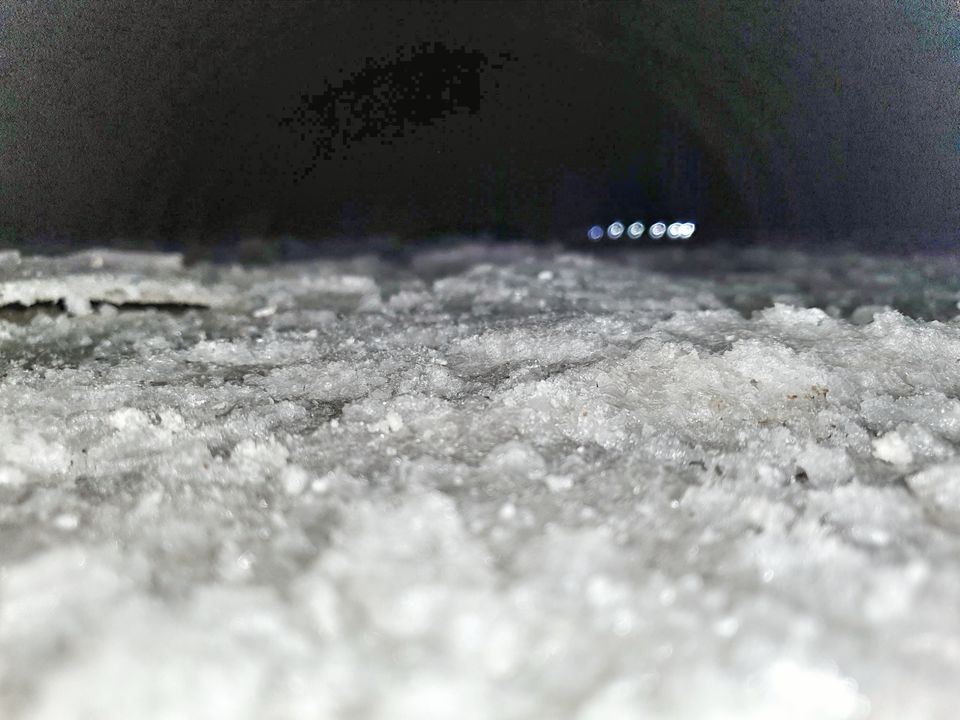 ACCOMODATION OPTIONS :
TENT CITY : If you have enough budget, then stay at tent city, located at Dhordo, 1-2 km from white runn of Kutch. Two categories of tents are available. AC and Non-AC. You will have first class facilities from arrival to departure. All meals are included in the tariff. Warmers are provided if requested well before to combat chilly nights of desert. Although electric buses are available inside the tent city for inside transportation. If you do not want to wait for these electric buses, be ready for some walk. For transportation from tent city to desert, big buses are there. Other good resorts are also available for accommodation.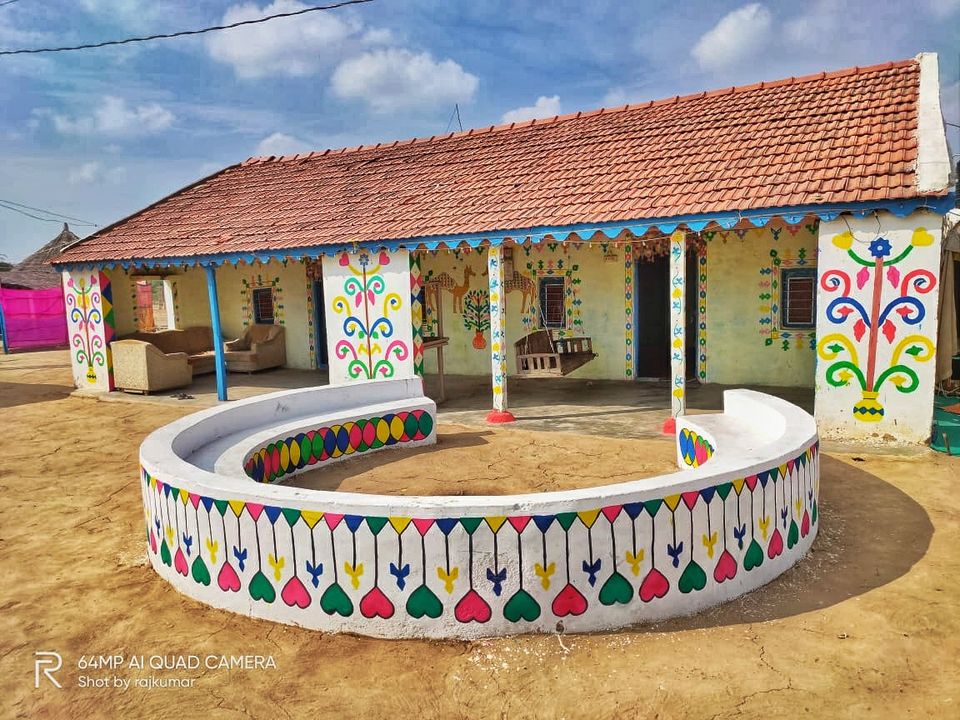 HOMESTAY : Mine was budget trip, so I chose this option. I wanted to visit white rann on full moon days, but these days tarrifs of all accommodation options get very high. I chose Happy Family Homestay which is in the village of Gorewali, 5-6 kilometres from the white runn of Kutch. I had booked one room, 1 month well before. Ideally, if you book at least 2-3 month before, than you can get best room, decorated traditionally with room size attached bathroom. Tarrif of all the huts are almost same.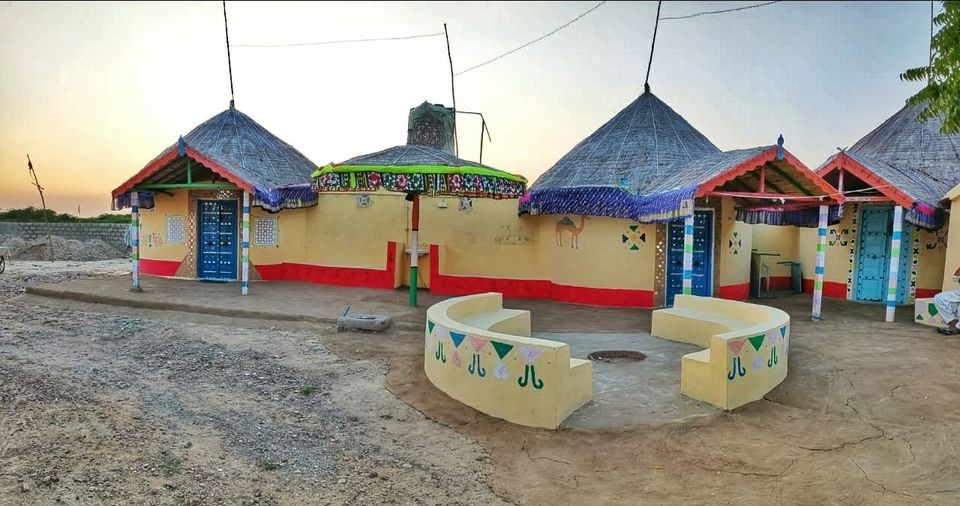 FOOD :
If you are in tent city, then all three meals are included in the Tarrif. Menu is so much delicious with different kind of Gujarati and non-Gujarati food dishes.
If you are staying at homestay or any other resort, then you will be served their local food like roti, bajra no rotlo, Bharthu, kadhi, khichri, sweet, buttermilk etc.
Third option of having food at Rann-Utsav is also good. You will get different kinds of fast food and snacks options here.
TIPS :
PERMIT : Either you take the permit online or take it offline from the entry gate. Its just 100 rupees per person, valid for 24 hours. For online link is – www.rannpermit.com
PACKING : Daytime temperature will be around 20 degree suitable for any kind of clothes, but do pack wooden clothes for chilly nights, as temperature drops upto 5 degree.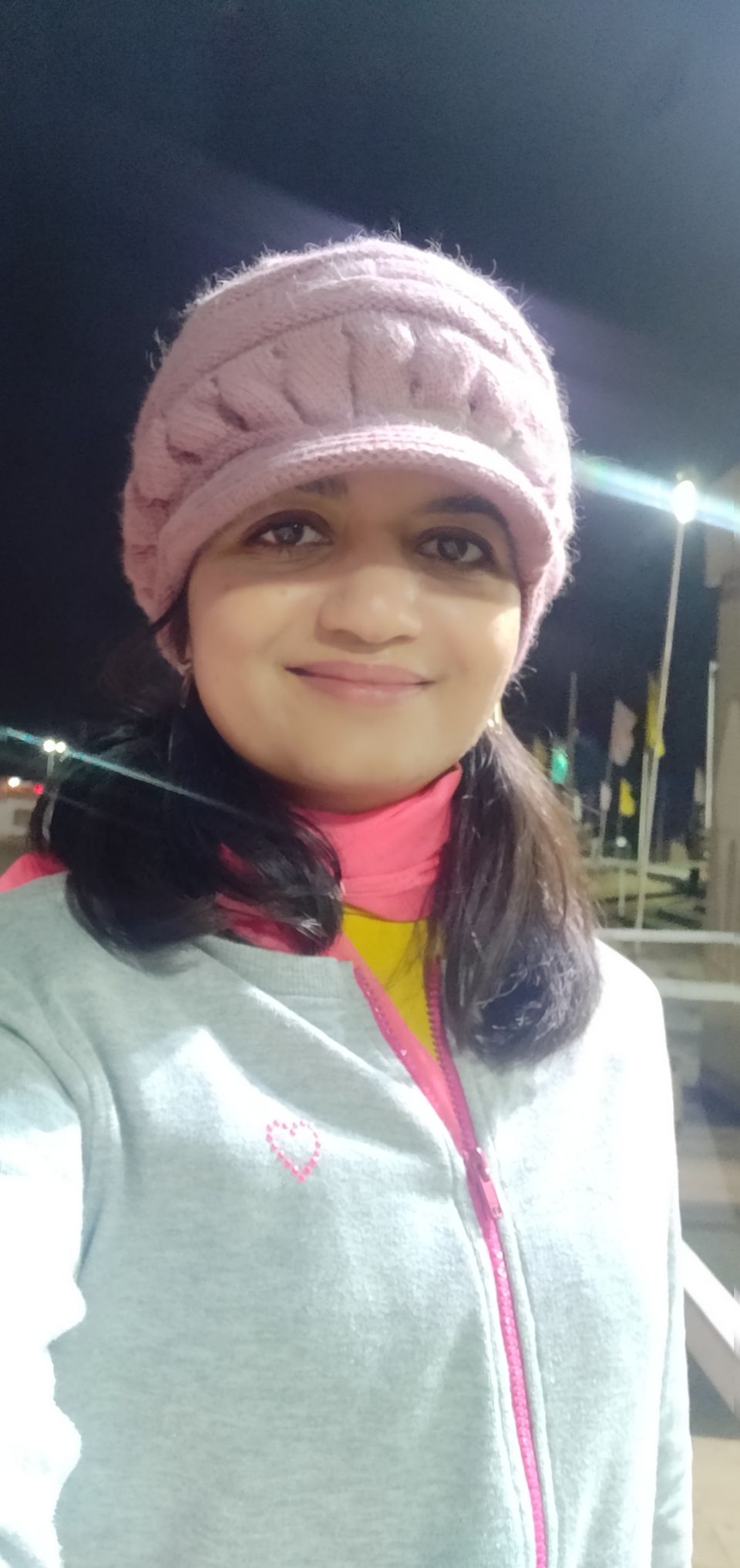 HOW TO REACH : Bhuj has good connectivity with airport, railway station and national highways.
BY CAR : You can hire a car from Bhuj city. Either you can rent self-drive car or car with a driver. Both options are available. If you are a group of 4-5 people, then car is best option to explore.
BY BIKE : If you are travelling solo or duo, and its your budget trip, then bike is best option to hire from Bhuj. White runn of Kutch is just 100 km from the Bhuj. All types of bike, bullets and access/activa are available on rent from Bhuj.
BY BUS : I think, Bus is not a convenient option here, bcoz you will get a local bus from Bhuj to Dhordo which will take very long time to reach there in comparison to other vehicles.
RESPONSIBLE TRAVELLING : We were a group of four people in this trip and wandered for two days in white rann of Kutch and kalo Dungar. We had not used any single used plastic bottle in whole trip. We had two steel bottles with us, which we used to refill and reuse.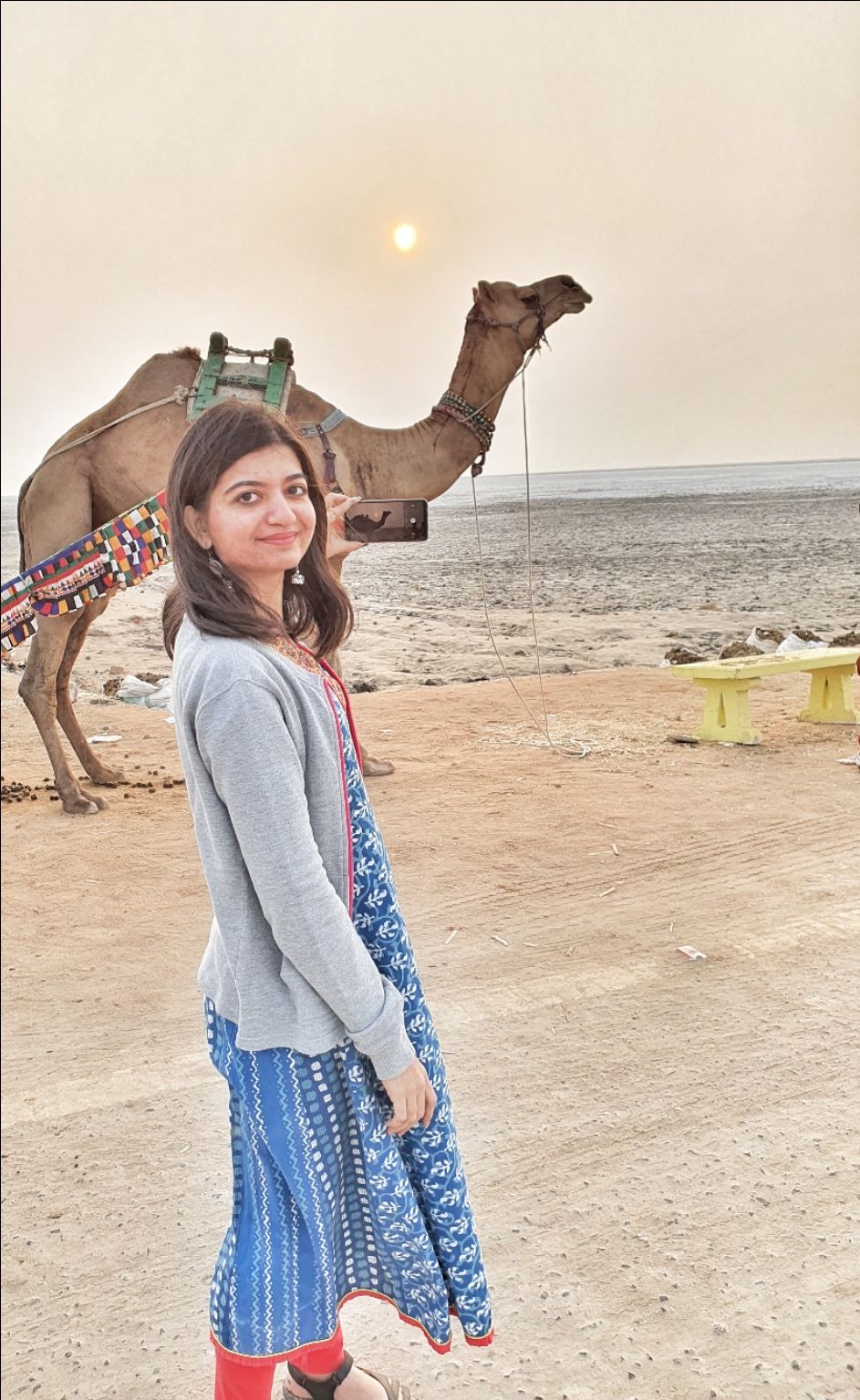 ITINERARY :
DAY 1 : We left Ahmedabad early in morning at 5 am. We had our own car. We reached at our at our Happy Family Homestay, around 1 pm. Road condition is good throughout . It was a lunch time, so we took lunch first, then took online permit for entry in white desert. I took some information from Rajkumar ( 9427759630 ) who is handling the homestay. Lunch was good, home cooked including roti, sabji, salt, dal-rice,gol-ghee,butter milk etc. I love such "desi" food. We refilled our steel bottles and headed towards "Rann-Utsav". Tent city comes on the way while going to rann-utsav. Entry is not allowed without booking. Tent city has different cultural shows after dinner. I had this picture outside the tent city. Then we went to rann-utsav.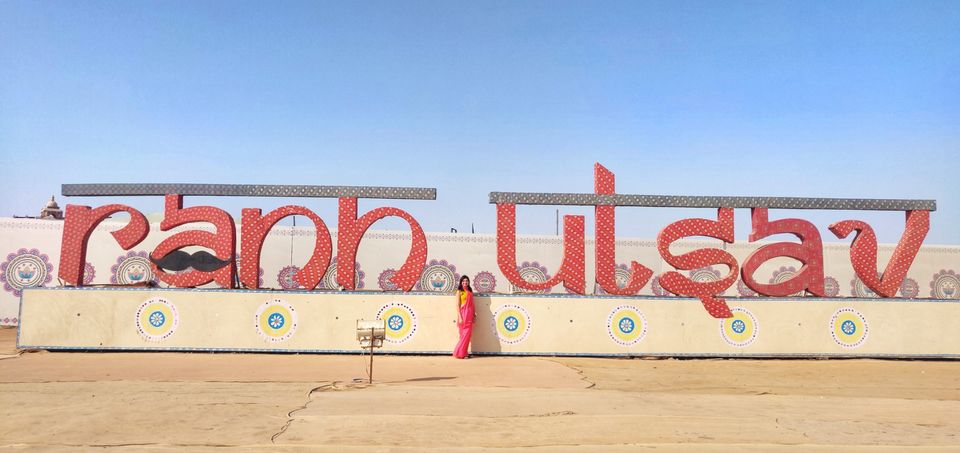 RANN-UTSAV :
It is like a big exhibition centre, in which lots of stalls are created. You can find stalls for food, jewellery, clothes, handicrafts, gifts, art, decoration, etc They have built some cute photo booths also.
We quickly took a round of all the stalls and bought different things like embroidered jackets & umbrella, hand-crafted ring, few patch having kutchi embroidery work, wallet etc.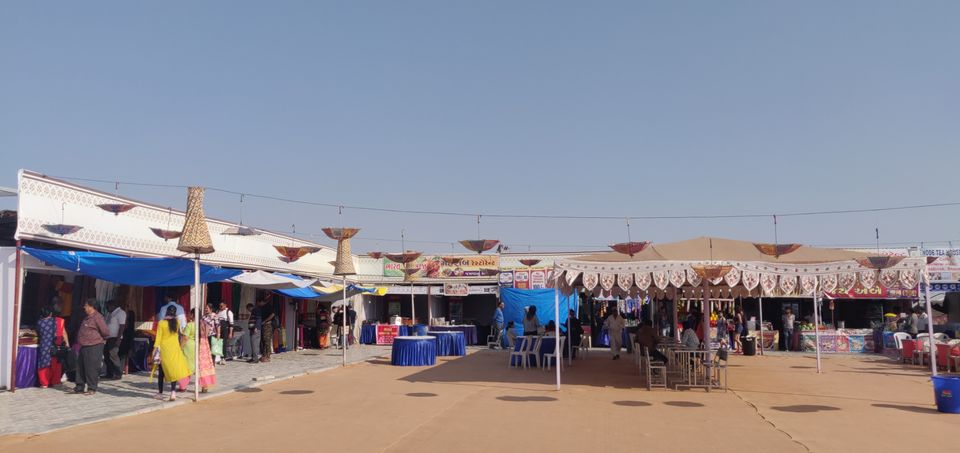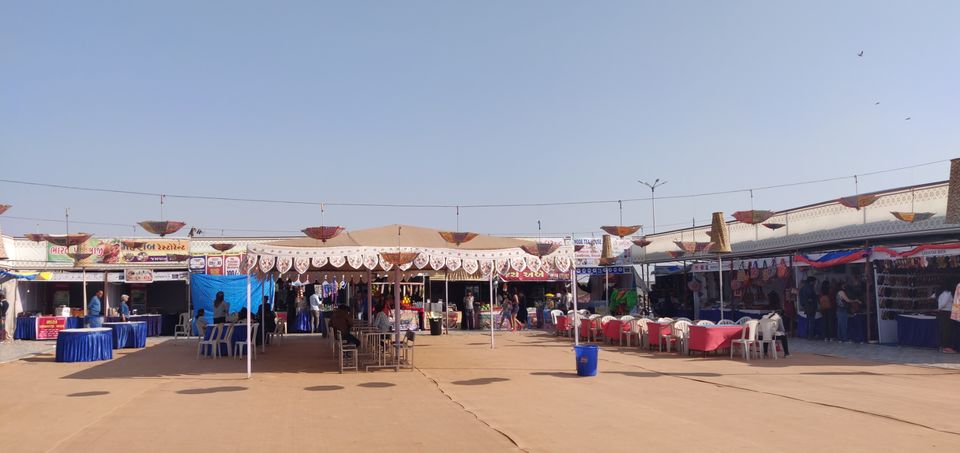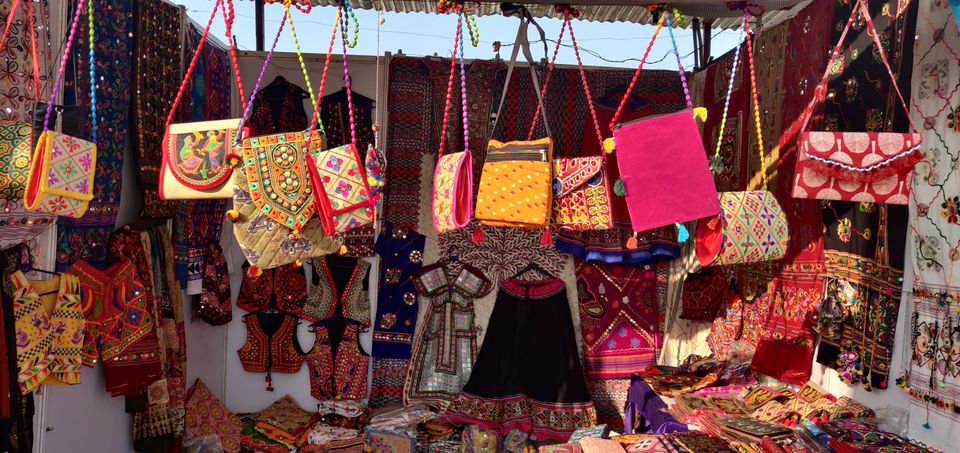 Then we headed towards white desert of Kutch. Its less than 1 km in distance from the exhibition centre. As we got down from the car, I felt aww, watching the snowy white coloured desert all around. I just started running towards it. I got crazy. It took 10-15 minutes to be normal. meanwhile I removed my sandles and felt the crackling textured soil with salt particles.
After sunset, sky changed its colours from yellow orange to pinkish peach. Total treat for the eyes, it was !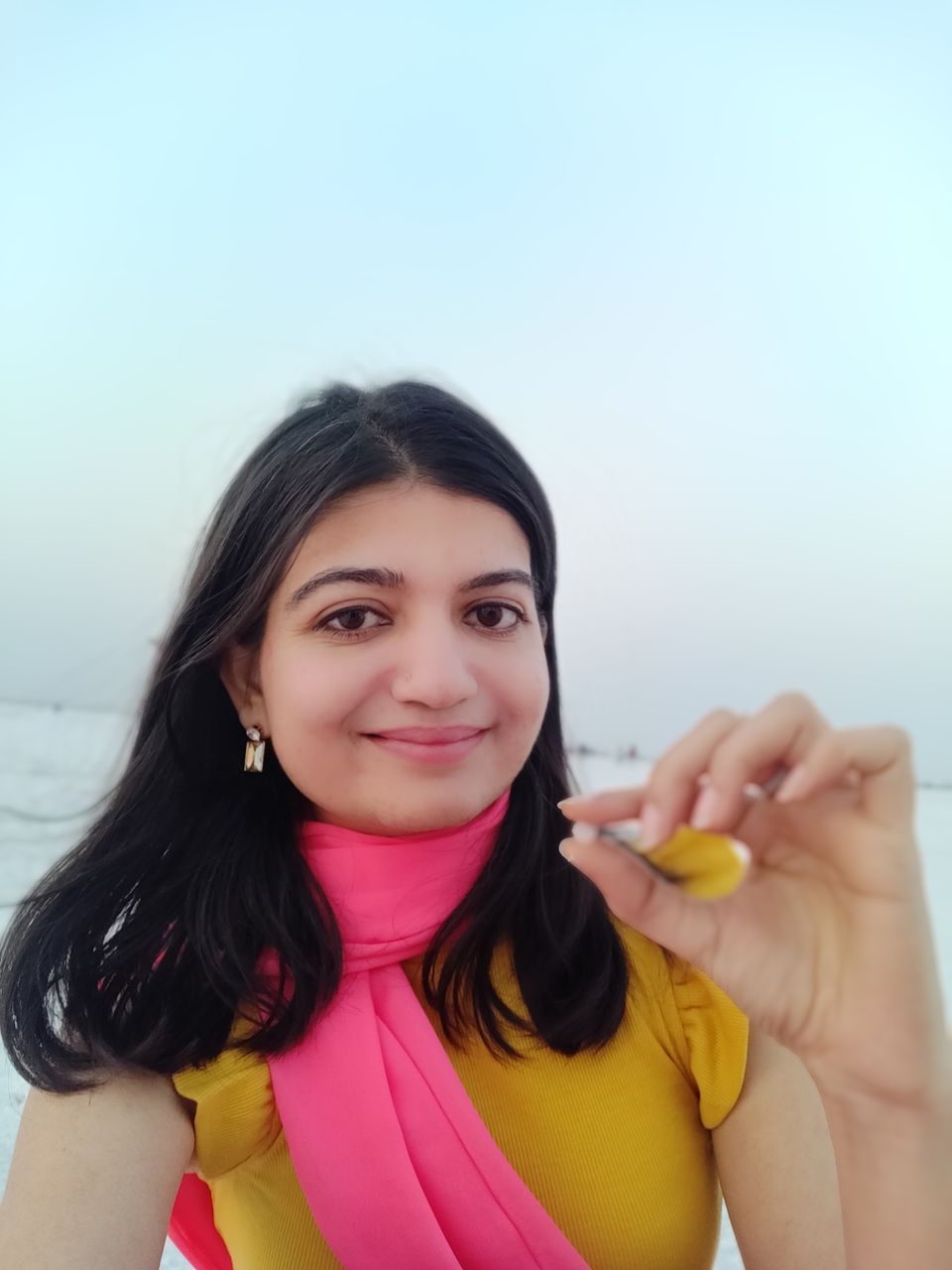 I wanted to wear saree at such exotic location since long. So I had photo shoot in saree here. Oh, it was time for sunset. So, we just sitted on white soil facing the sunset. Colors of the sky were mesmerising. Very memorable sunset , it was !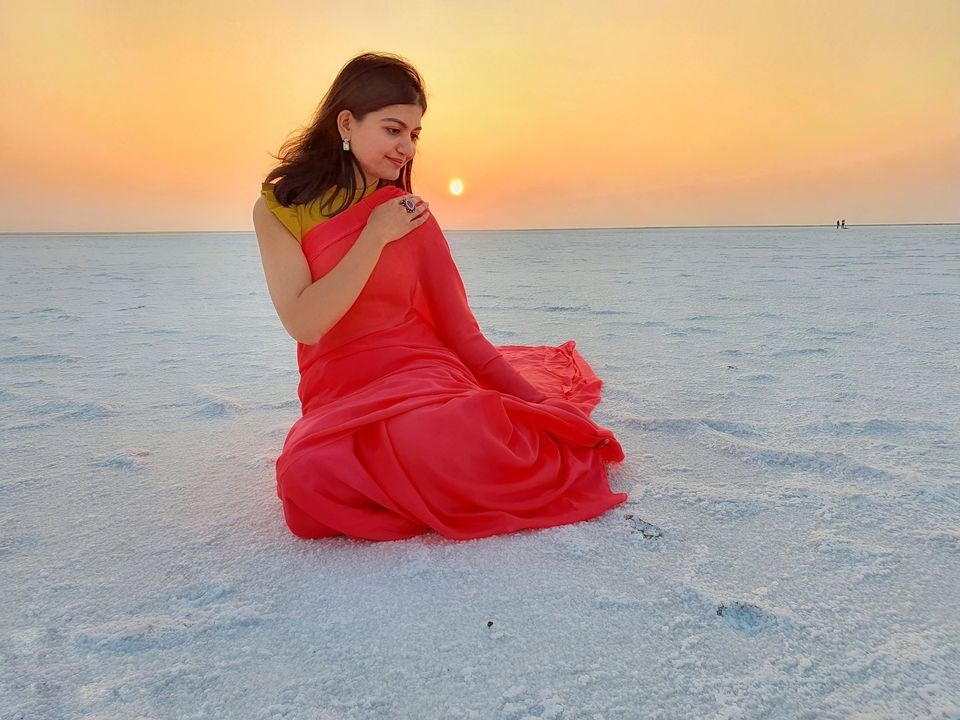 There was a concert of live performance going on there. People has started playing garba on the music. We also joined them. Enjoyed a lot. Then it was time for dinner, which we completed at exhibition centre only.
After sunset, sky changed its colours from yellow orange to pinkish peach. Total treat for the eyes, it was !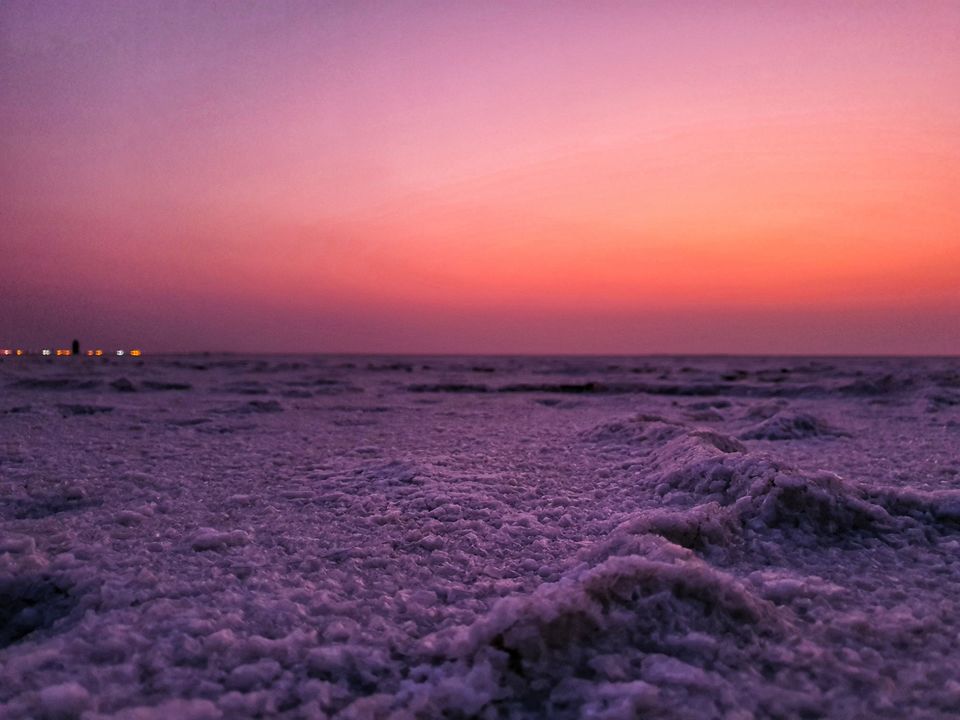 We were same excited for the moonrise also. Atmosphere was started getting chilly. Suddenly our eyes catched the moon, rising from the opposite side of sunset. Moon was red coloured first, then turned into white gradually. It was first day after full moon day.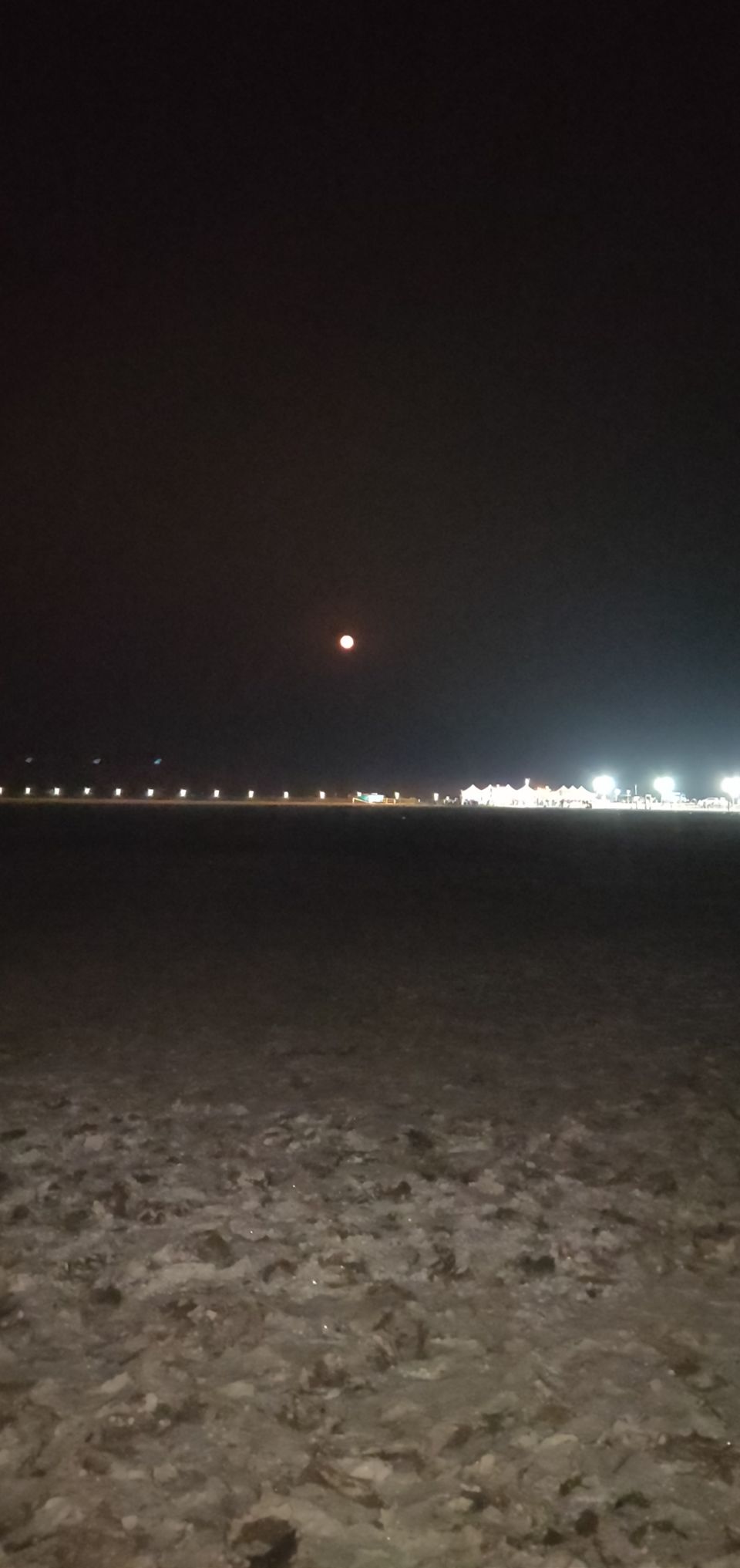 There was a concert of live performance going on there. People has started playing garba on the music. We also joined them. Enjoyed a lot. Then it was time for dinner, which we completed at exhibition centre only.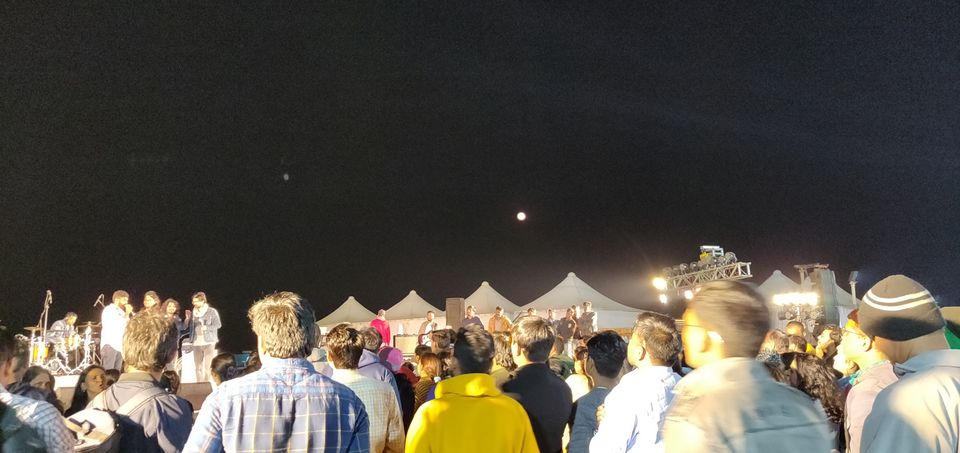 FULL MOON : White desert shines beautifully in full moon nights. It was memorable experience to witness such magic of the nature. But, you have to wait till 10-11 pm to get this view in optimum. It is not practical for many people to wait till midnight. Sky also needs to be clear to get such view.
We got so happy and grateful to experience this one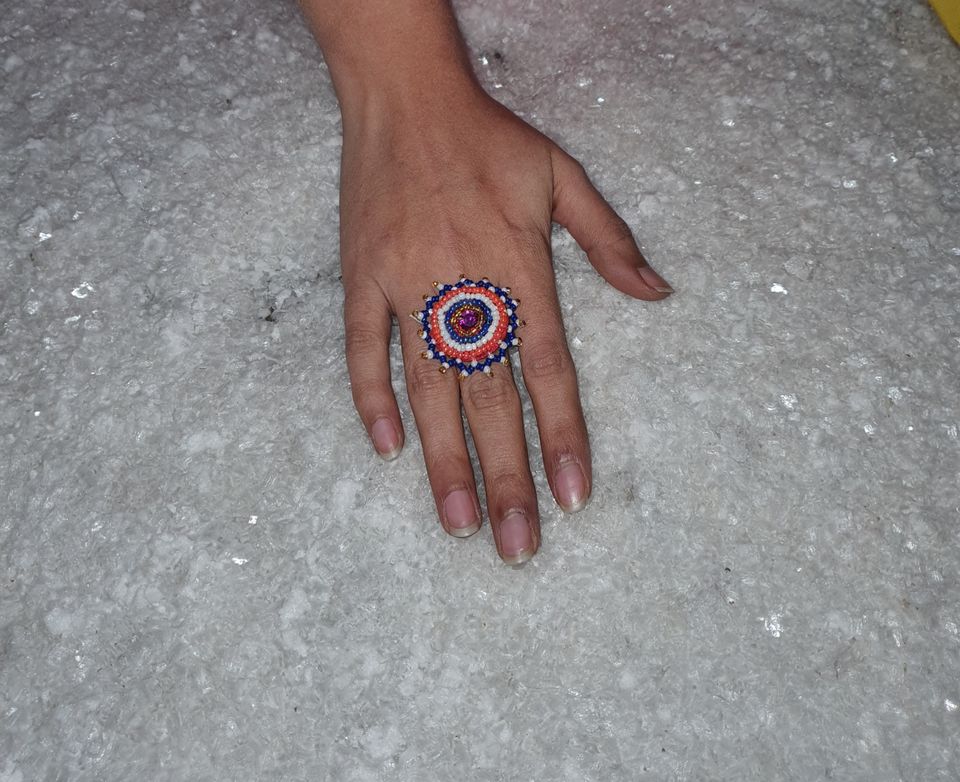 DAY 2 :
I was determined to see the sunrise also from the white desert. So I got up early in the morning and reached at desert again. There were many people at watch tower to witness the sunrise. But, sky was cloudy and chances of getting clear view was very less. Half of the people left due to this reason. We were about to leave the place and suddenly sky changed its colour into orange.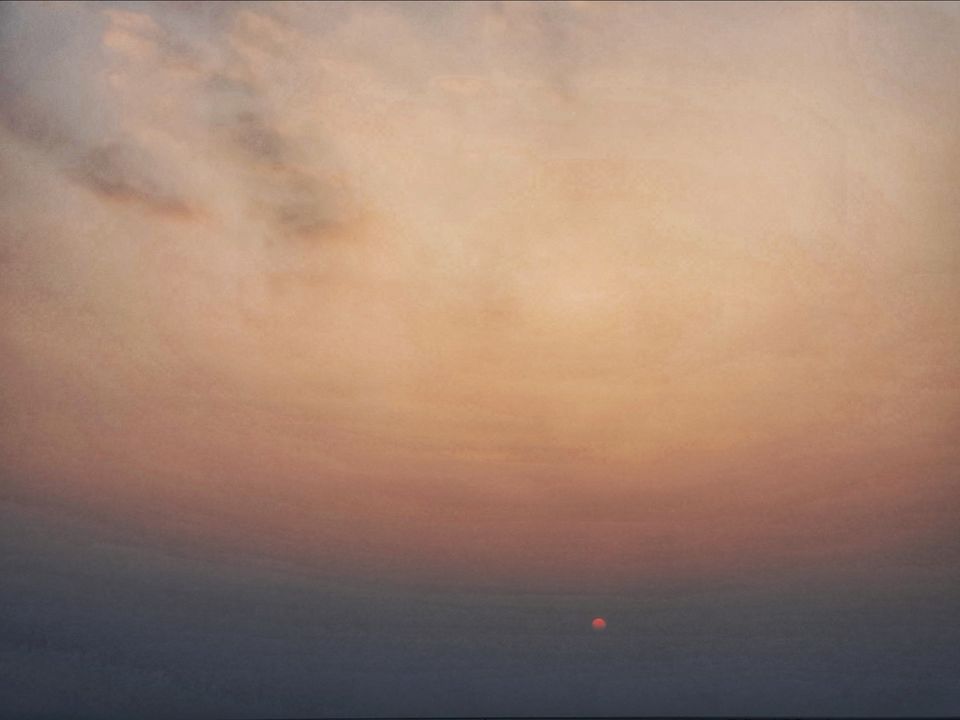 We got so happy and grateful to experience this one.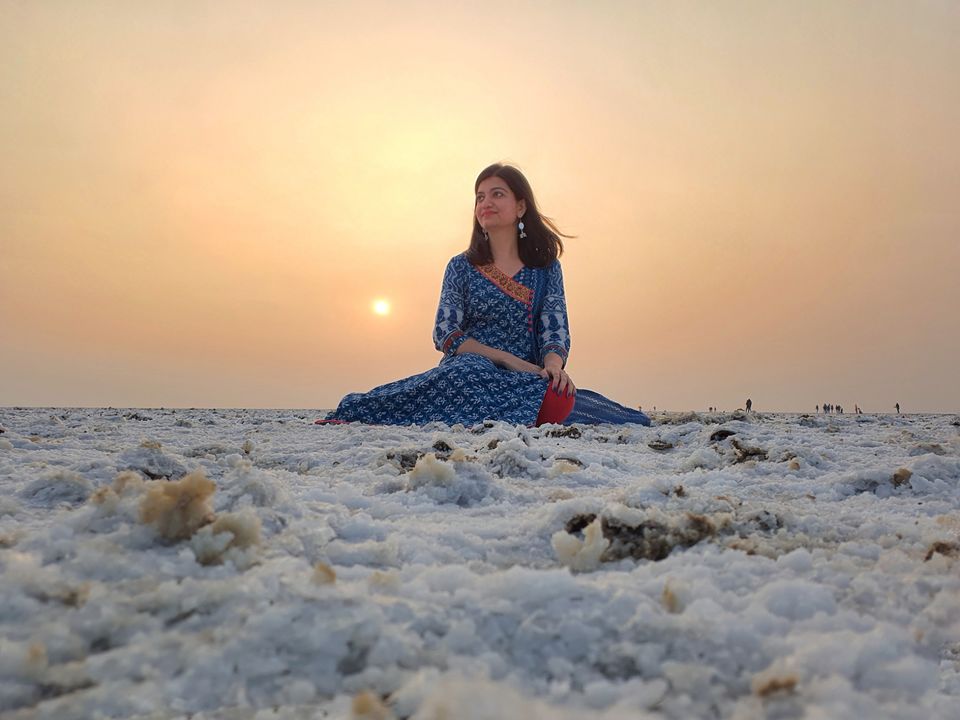 CULTURE : After completing the break-fast, I tried traditional dress of Kutch. The girl of the homestay was so generous that she opened up her cupboard and told me to pick any dress I like. Then she helped me to wear the dress and ornaments. It was very sweet memory. Even all the local people were simple, humble, generous, helping and warm hearted. They have maintained their ancient culture in very expressive way. They are expert in handicrafts.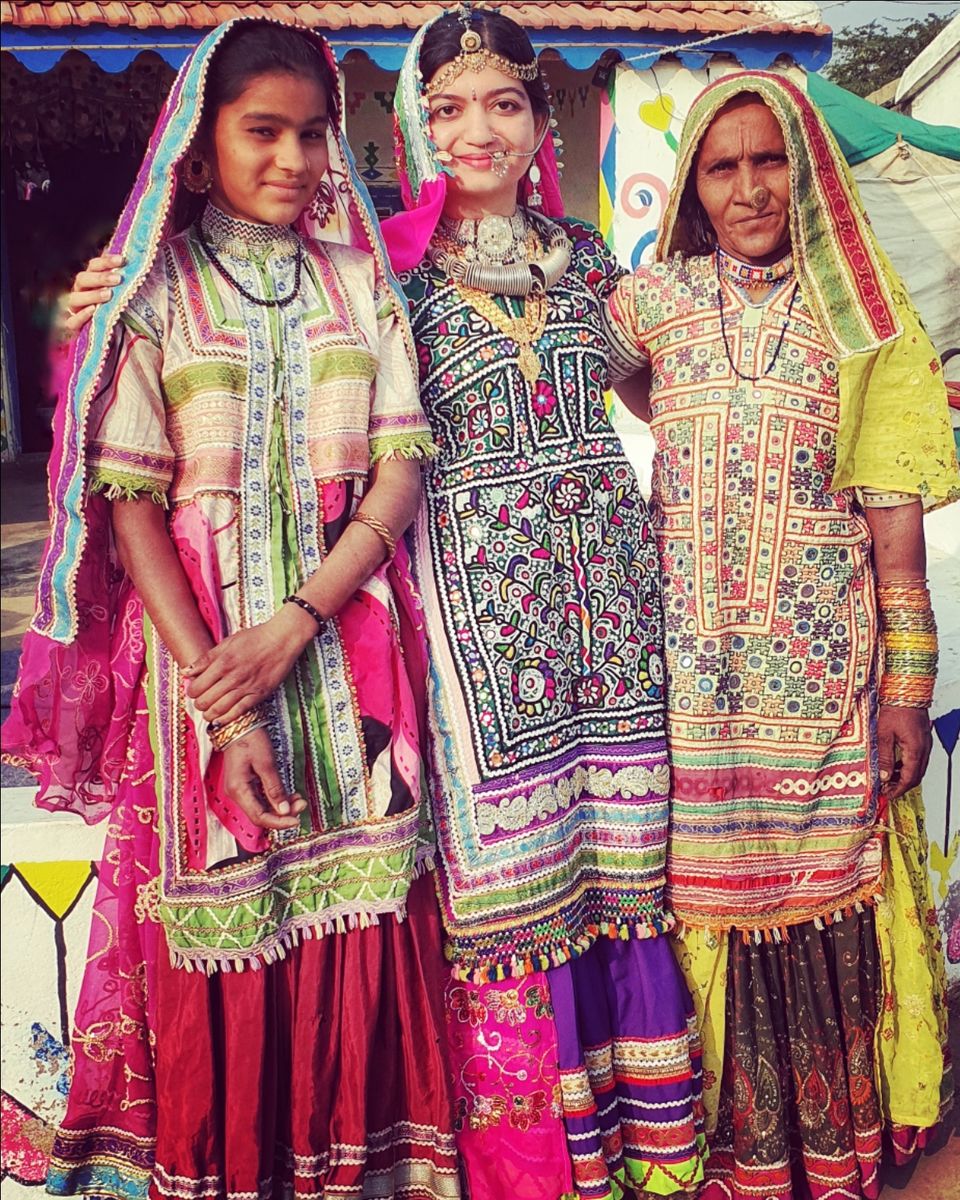 Then we headed towards "KALO-DUNGAR" – which is the highest point of the Kutch district. We played with our car at "MAGNETIC POINT", which is on the way to kalo-dungar. It was total fun.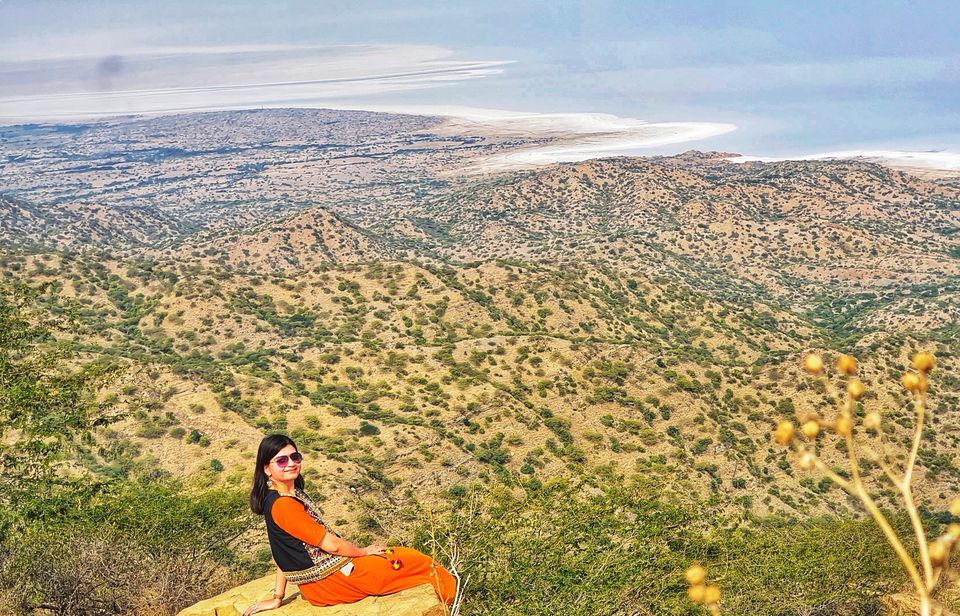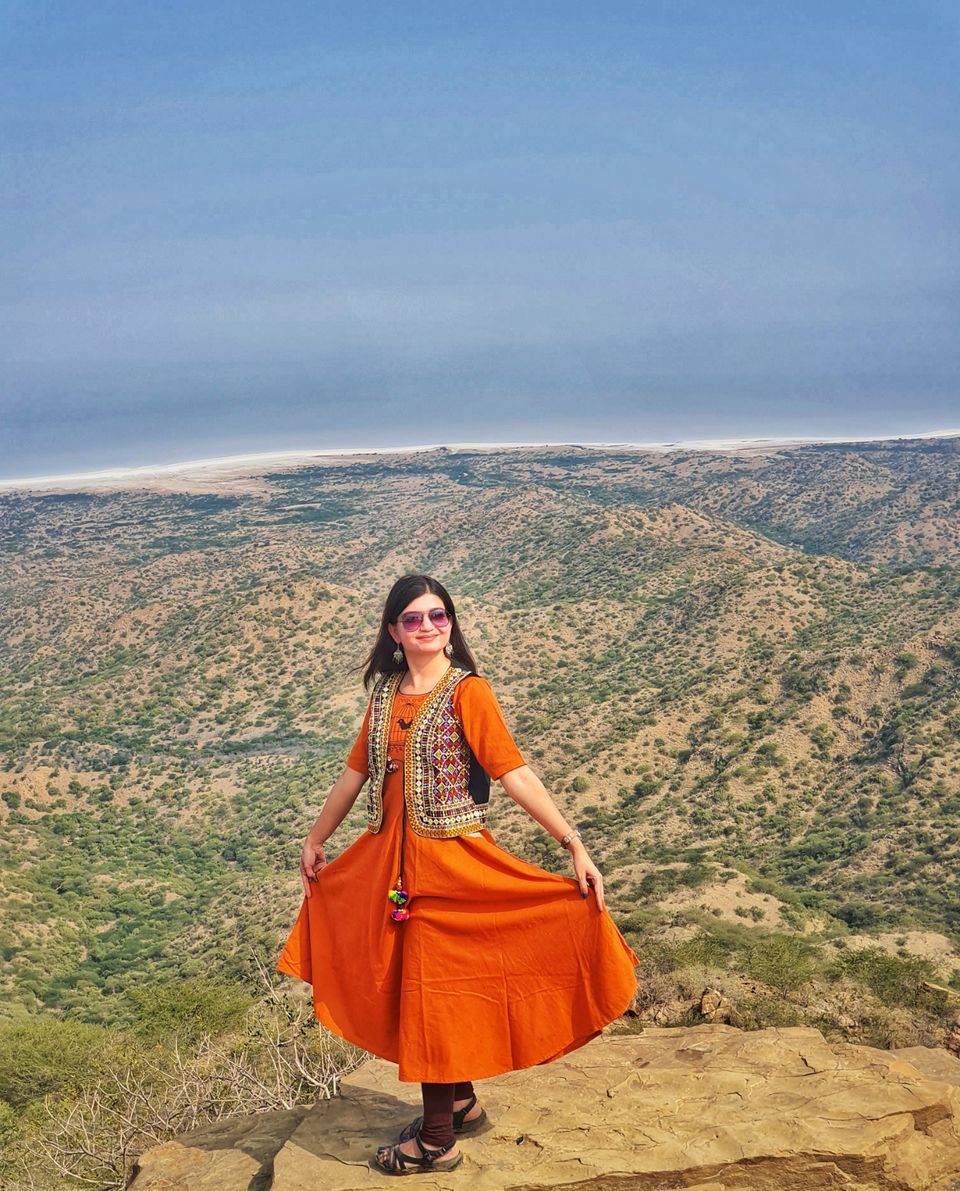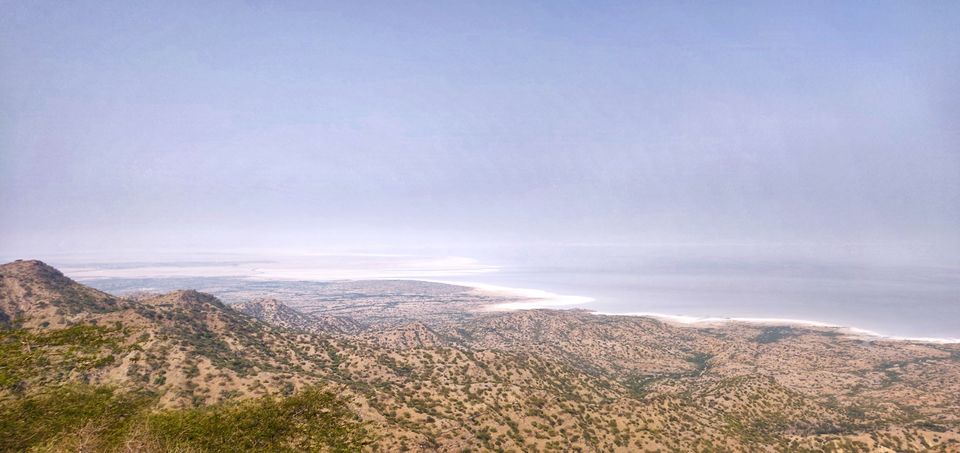 Panoramic view from this mountain is breath-taking. You can see the white desert and sea together from this point. We took lunch at Bhuj and reached ahmedabad by midnight.
If you have three days, then can visit mandavi also. Vijayvilas palace , step well and mandavi beach are worth visiting there. Bhuj city is best for shopping.
We spent two days with lots of unforgettable memories of nature and unique culture of Kutch people.