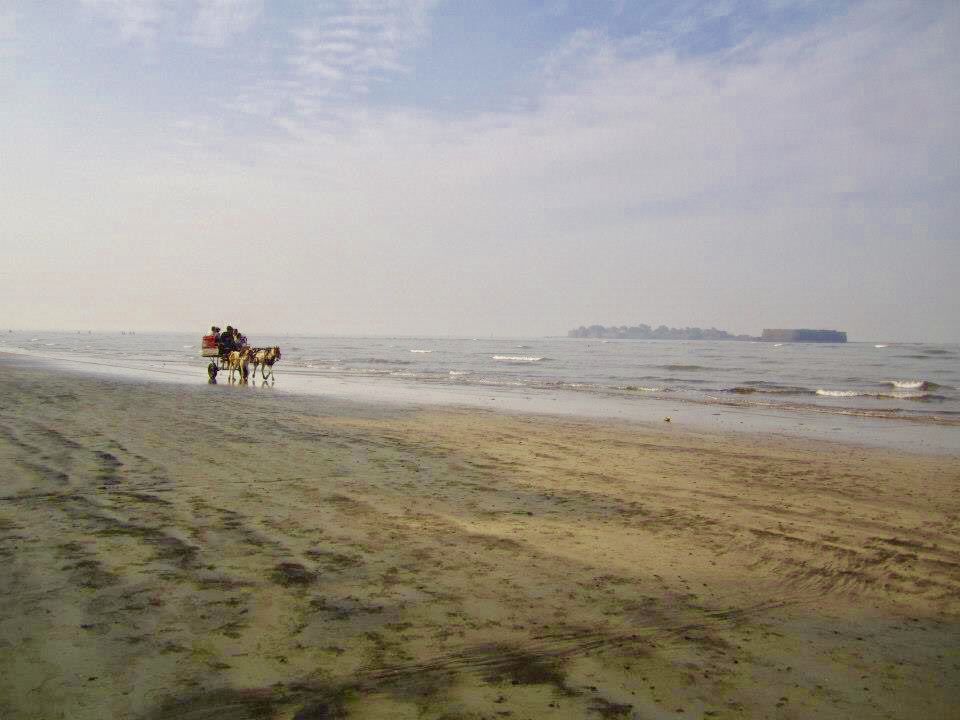 Alibaug, a coastal town in Maharashtra, is a hidden gem with a lot of places and sights to visit and see. Located about 93 km away from Mumbai in the Raigad district, this town is filled with beautiful beaches and places of visit that make it an absolute go to place for a trip on a budget.
Enjoy the ample number of beaches here that give you a spectacular view of the Arabian Sea. It's known for its beaches like Alibaug Beach, Nagaon Beach, Varsoli Beach. Brimming with history and being an important part of the Maratha Empire and the Portuguese culture, this is an ideal place for those who enjoy history and places associated with it as Alibaug has a lot to offer with its forts and its temples. From museums to observatories, this place has it all. Just offshore, 17th-century Kolaba Fort has carvings of tigers and elephants, and temples dedicated to Hindu gods. To the south, Portuguese-built Korlai Fort dates from 1521 and includes a lighthouse. The island fort of Janjira has high walls, turrets and cannons. Not to forget that Alibaug is a total sea-food lover's paradise and one can have a feast with variety of sea-food options available. Pure vegetarians need not worry at all, as there many 'Pure Veg' restaurants as well.
So, take a trip to beautiful Alibaug and you can explore the town through multiple ways:
Alibaug beach – Pristine and filled with hustle and bustle with multiple options to eat – be it the famous Anand's Bhel puri or the famous coconut water or activities like the horse riding, boating to keep you busy. The best thing about this beach is that you can enjoy the sight of the Colaba Fort. Take a short boat ride to the popular fort which gives a magnificent view or just walk across on the beach during low tide. The fort has a Ganesh temple which is 400 years old. The fort also houses several houses, shops and people residing time their entry and exit to the fort based on the high/ low tides which is very interesting to note. The most astonishing fact is the fort houses a pond and a sweet water well right in middle of the ocean.
How to Reach: Alibaug town is 108 km from Mumbai and the fastest way to travel is travel is through a Ferry from Gateway which drops at Mandawa and has a bus from Mandawa to Alibaug which is approx.. 30 mins drive. Alternatively, owned vehicle would be best.
Nagaon Beach - If you are looking for some adventure water sport activities than this beach is the best option for you. The beach is an ideal place for the tourist where they can indulge in some activities like snorkeling and scuba diving.
The beach is at a distance of 7 Km from Alibaug. This beach is also known as Satad beach.
How to Reach: The best way to reach the beach is through Alibaug is owned vehicle or through local autos.
Kihim Beach – If you are looking for a serene and a peaceful beach-side break then this is your place. The shoreline is best known for its encompassing with the perfectly clear water and the thick vegetation up and down the shore. Many villagers offer home stay or Lunch/ Dinner facilities. It is advisable to pre-book your lunch/ dinner before you visit the beach to avoid last minute disappointment of not having anything to eat. Other nearby attractions include the Kihim Pond, Kankeshwar Temple near Mapgaon and Karmarkar Museum in Sasawane Kihim shoreline is around 12 km from S.T. Stop. The beach is also known for its sandy beach and the coconut trees which grows in abundance in this region.
How to Reach: The easiest way to reach Kihim beach is by ST Bus from Alibaug ST deport of hire a 'Sitara' – local Auto from ST stand.
Varsoli Beach - Its 3 kilometers from the Alibaug, Varsoli Beach lined with Casuarina groves is one of those places where one can ski, para glide or even bask in sun. Stretching almost three kilometers, Varsoli is one of the beaches where one can take part in the water sports activities. The beach has an entire family-friendly complex attached, with rental accommodations, and shacks. Banana ride, scooter ride, and paragliding are some of the adventure activities that one must take up at Varsoli Beach.
How to Reach-. Auto rickshaws and buses are easily available from anywhere in Alibaug to reach the beach.
If you have time by your side and want to explore other places than beaches, you can visit by hiring a local cab/ auto /ST Bus– Murud-Janjira Fort, Birla Mandir, Sasavanne, Kankeshwar Fort, Revas Jetty, Mandwa Jetty, Awas Beach. Do spend time shopping in local markets for farm fresh vegetables.