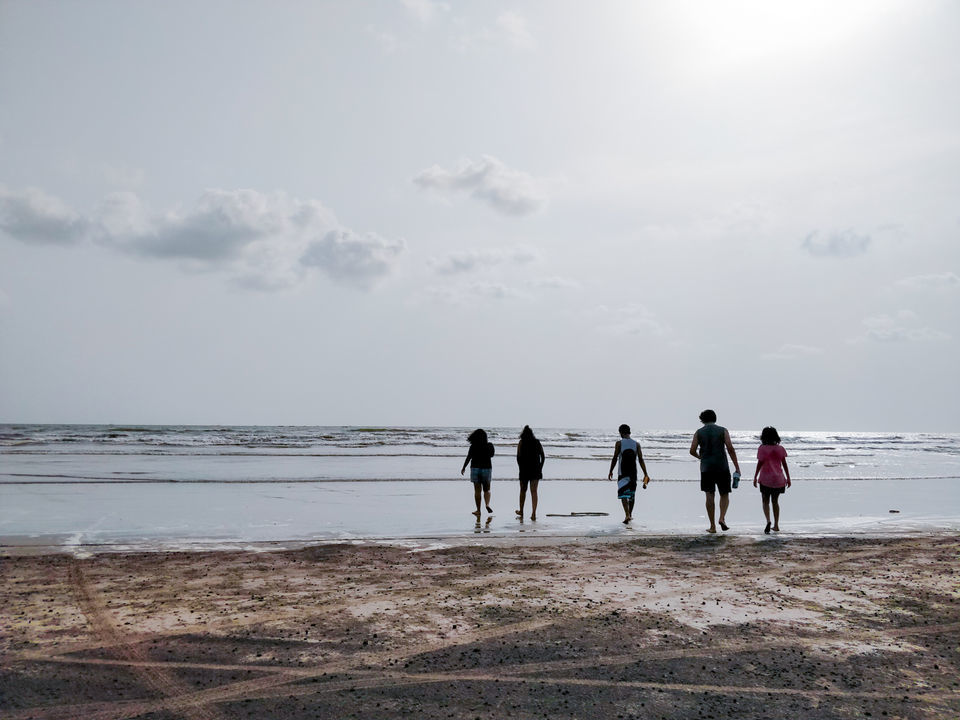 We walked on the beach with a hot cup of simmering tea in our hands, as the sea started roaring in and the sun set lazily into the clouds with the winds gushing in our ears. It was a walk to remember. The ocean breeze had cured us of our exhaustion from all the travelling we had undertaken to get there and rejuvenated us to keep going on in our fight against the tide.
Getting To Alibaug
We took a state transport semi luxury bus from Thane bus depot to Alibaug, that was supposed to leave at 7am but was running a little late. The bus ticket costed us around Rs. 150 each. The bus ride was smooth and did not take too long compared to personal vehicles. The seats were decently comfortable for a 3-4 hour journey. The bus left by 7:45am from Thane and reached Alibaug by 11:30am. There are many buses leaving from various places in Mumbai like Mumbai Central, Mulund, Thane, Panvel and others. You could check the bus timings on the mobile app "m-indicator" or by simply calling a bus depot.
The route to Alibaug is not one of the most scenic routes one can come across, which leaves you with a more exciting option of taking a ferry from Gateway of India, sailing the open oceans, watching the seagulls fly by. The cost of a ferry ticket is a little less compared to the bus fare, but might take you similar time. The cost of ferry includes the bus ride from Mandwa to Alibaug.
NOTE: The ferry from Gateway of India is closed from early June to early September, due to rains.
Things we did in Alibaug
1. Sanman Restaurant
After reaching Alibaug, we were starving and started walking through the streets of the city in search of Sanman restaurant famous for sea food. We had a prawns biryani and it proved completely worth walking in the sun. The prawns were huge and juicy and blended really well with all the masalas in the biryani. So this for all the people who have or have never tried this drink called sol kadi, Alibaug is one of the right places to have it. It is this cooling drink made out of coconut milk and kokum(a sour fruit). We liked it so much that we might have downed around 5 glasses. The restaurant was decently cheap, the biryani was around Rs. 300 but the quantity was good enough for two people.
After our lunch we took a shared ride in a tum tum(bigger version of rickshaw) to Nagoan beach road that is around 10km away from Alibaug and costs Rs. 20 per person. You will find these shared tum tums from the city close to hotel Ramakant.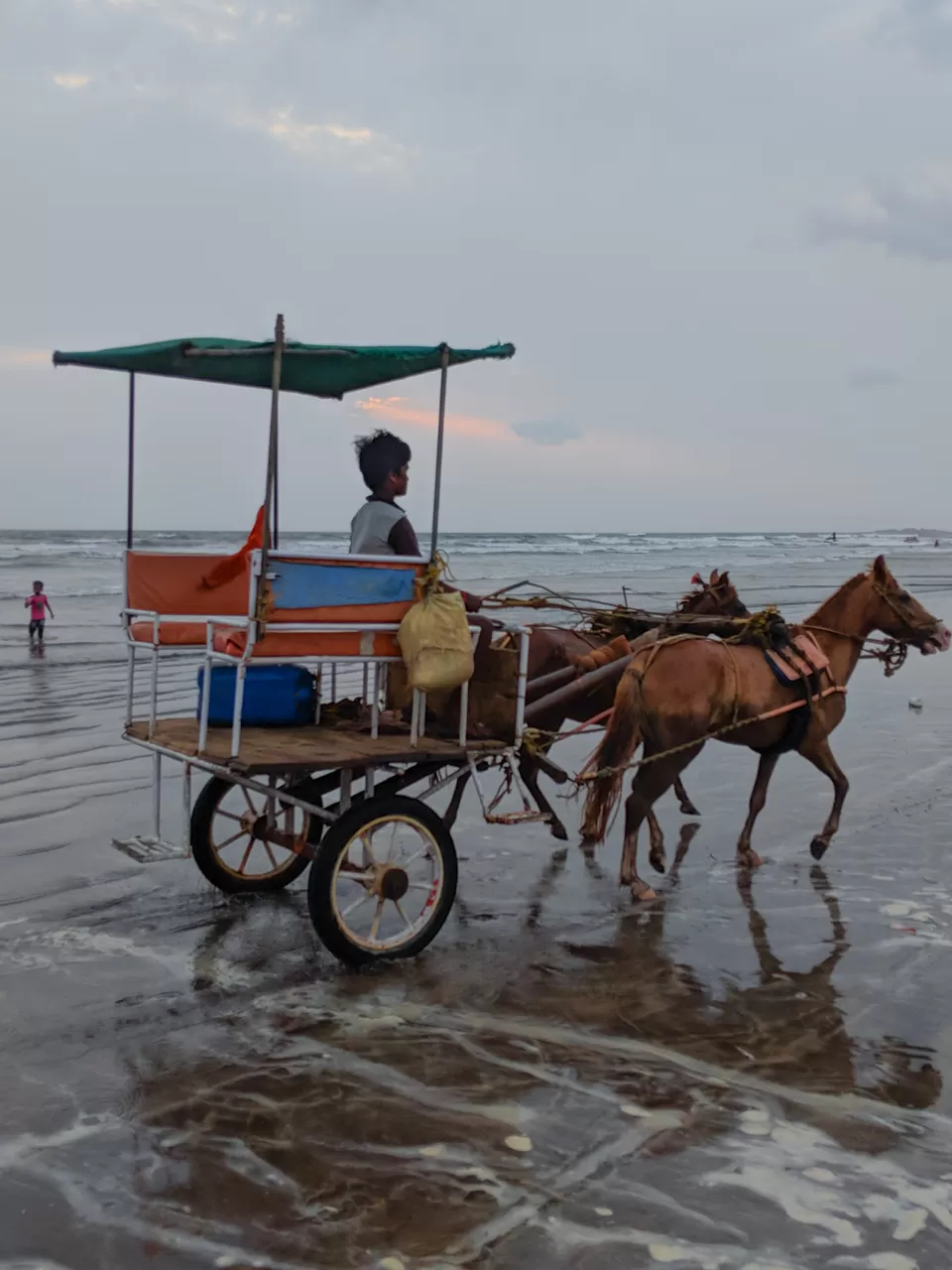 You will have many options for places to stay in Nagoan with different price ranges but we had a friend's bungalow to live at that saved us some money. Lucky Us.
If you like the sun, then Nagoan beach is a good place to go bask in the sunlight and if you don't like the sun you could spend the time inside playing fun games like Jenga, Uno, Monopoly or simply take a nap.
We left our room and headed for the beach late in the afternoon. I would not say Nagoan beach is one of the cleanest around Alibaug but it has a ton of activities to do. If you like water sports, visit this place during summers and you can spend hours enjoying yourself. There is para sailing and horse riding also available for the extra adventurous kinds. And if you are there only to relax, go dip your feet into the nice soothing ocean waters or grab a hot refreshing tea with some freshly cooked pakodas and wait for the sun to set into the big Arabian Sea.
We grabbed a hot cup of tea and started walking on the beach in the direction of our room. The sun was setting in the far west and the tide was coming in faster than us. It became a race against the tide, but it was a walk we will always remember.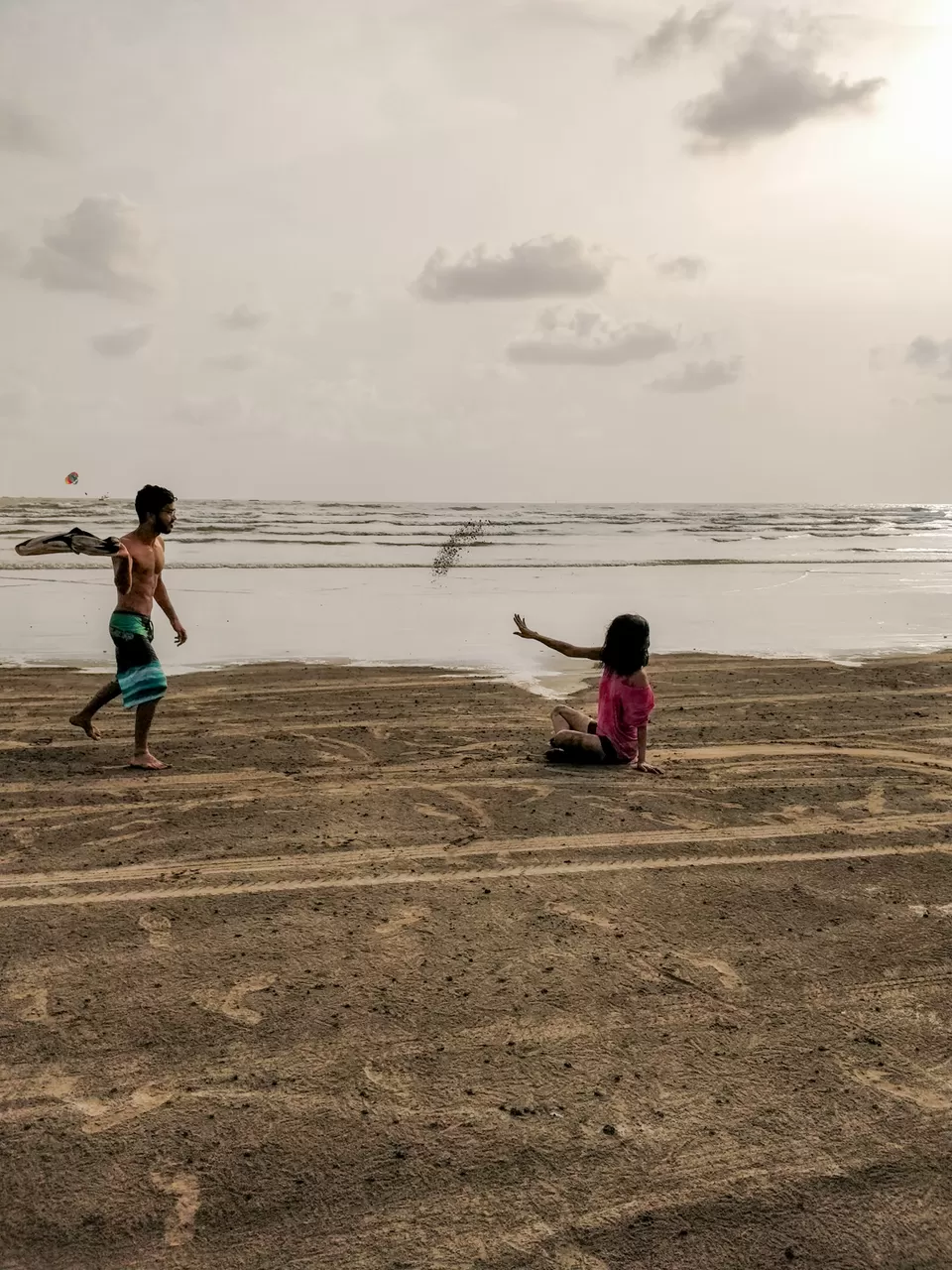 3. Night Drive To Korlai Fort
We came back to our room, freshened up and left again for dinner. There are a lot of places to eat in Nagoan, but most of them close early so keep a look on the time. After dinner we went for a night drive to Korlai fort in search of a lighthouse, but could not find one. Though the drive under the moonlight with a view of ISPAT lit up at night like Diwali lights was great.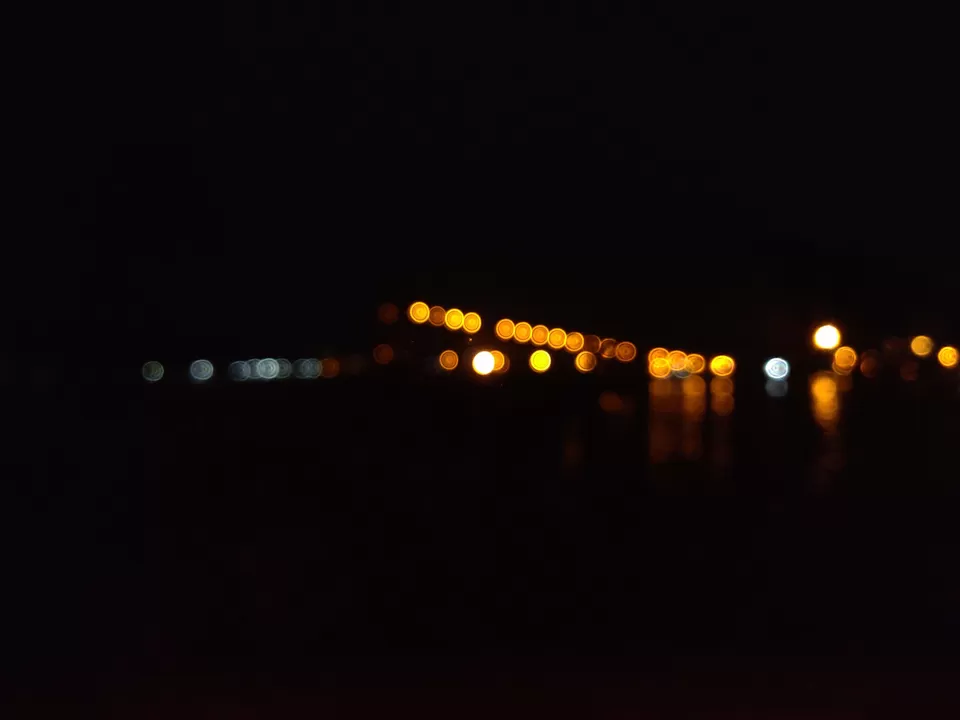 4. Birla Temple
The next morning we got up, enjoyed a hot bowl of maggi and left for Birla temple. There is no entry fee but if you need a parking space there is some minimal parking fee of Rs. 30. The temple is quiet and peaceful, and the garden around the temple is well maintained.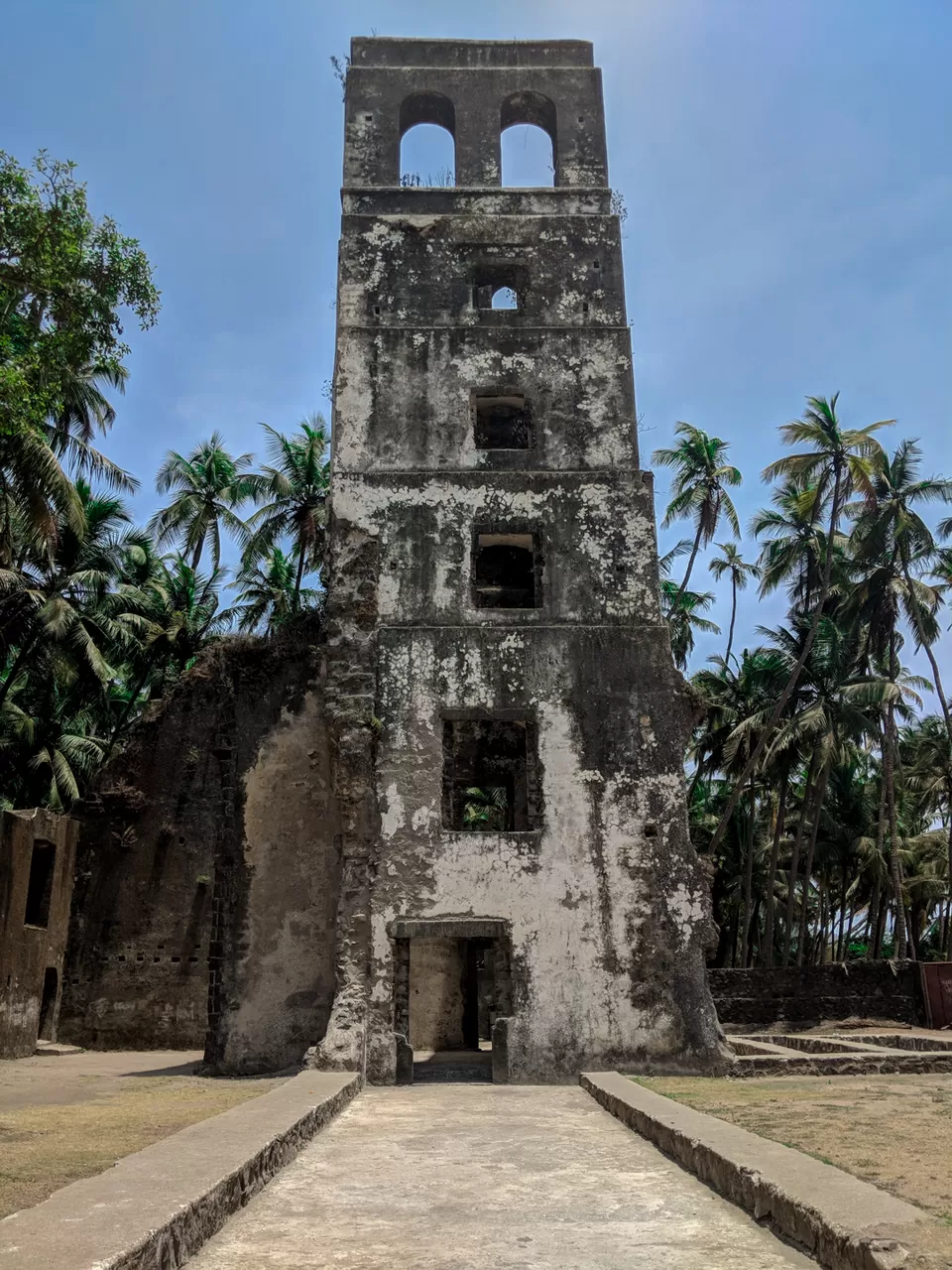 Next we went to Revdanda fort, or more like the ruins of the fort yet architecturally beautiful. The fort was built by Portuguese in 1524 and was under their control until 1806, which was then captured my Marathas and finally by British in 1818. One fort with three different rules, should take you back in time. The fort is very windy and a great place for photography.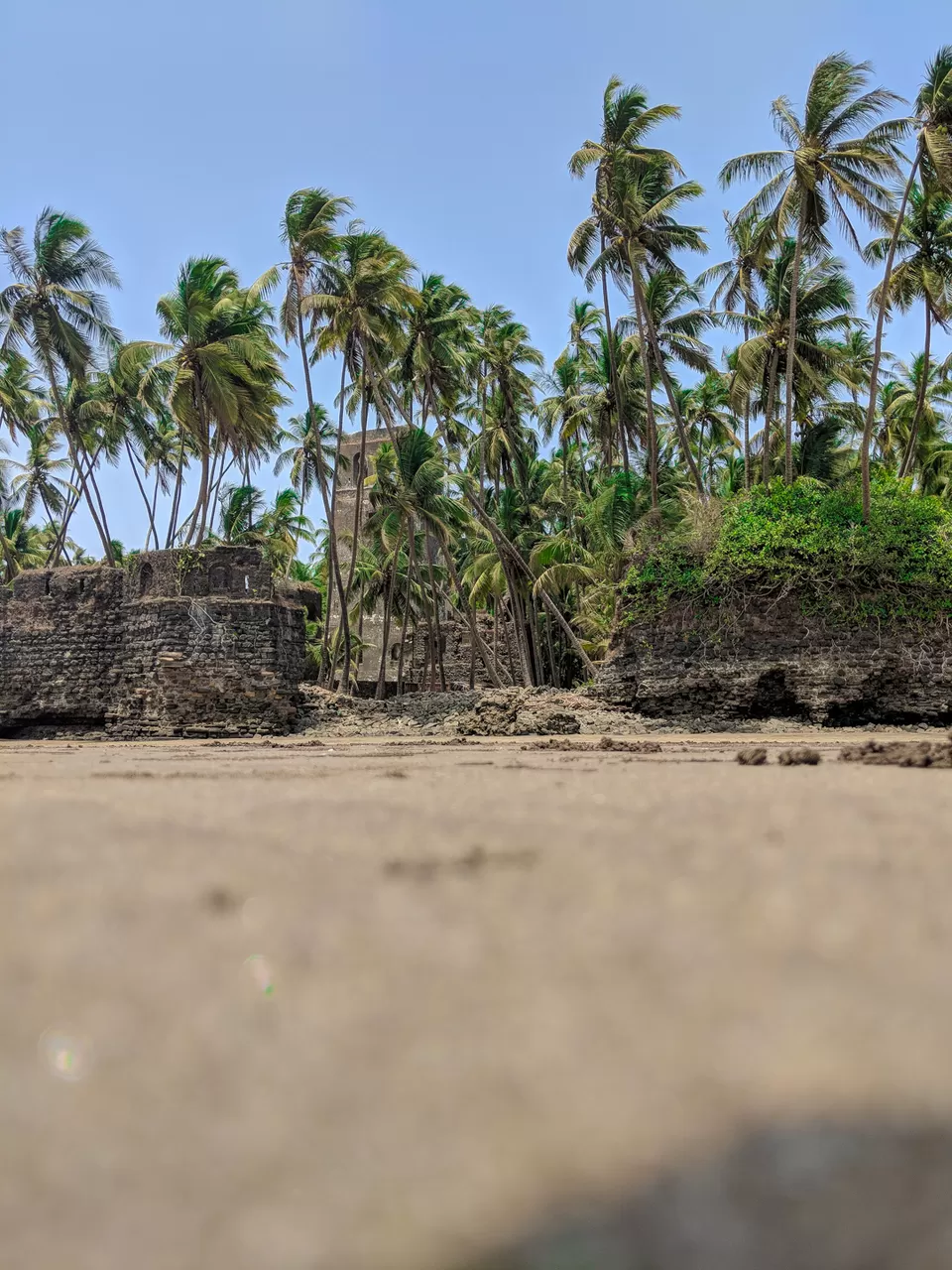 6. Fulora Restaurant
The last thing we did in Alibaug was eating at this restaurant in Alibaug city. Again the food is amazing and the ambiance is great as well. If you haven't had clamps before cooked in Maharashtrian way this is a great place to try it. As before we drank a lot of sol kadi to beat the heat.
Do have the locally grown tender coconut when you are in Alibaug, great way to keep yourself hydrated. Also try this sweet drink called neera that is a specialty around here and is only available in the morning and later gets fermented into alcoholic drink taadi.
Other Things To Do In Alibaug
1. Visit Varsoli Beach
2. Kolaba Fort(might be close due to heavy rains)
3. Trek To Kankeshwar Temple
4. Trek To Sagargad Fort
Getting Back
You could take a state transport bus or a ferry back from Mandwa. According to our information the last ferry leaves around 4pm and last bus around 9pm, please do your own research.
Best Time To Visit
Alibaug will show you different colors in different months. If you wish to enjoy the beach summer and winter would be a great time although it could get very hot mid summer. Monsoon would be a great time to trek although not heavy rains.