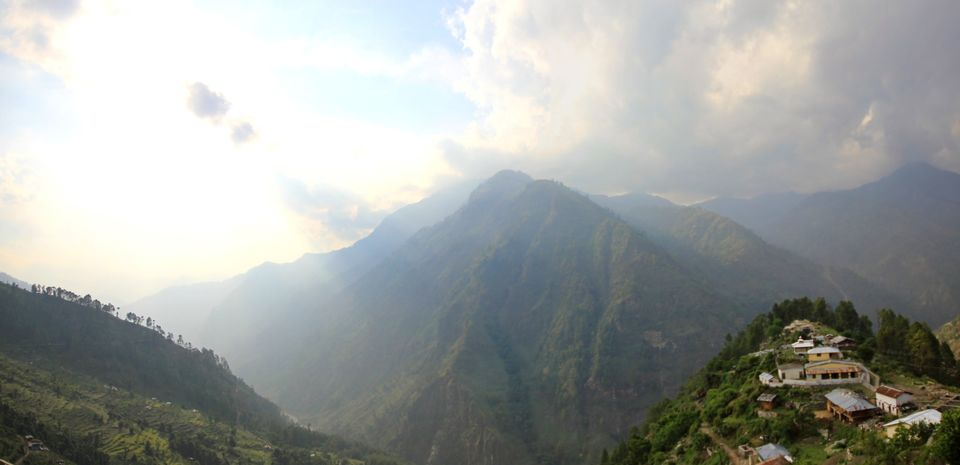 Adorned with mighty snow-clad Himalayas and home to India's sacred river Ganga, Uttarakhand is the epitome of divinity and natural beauty. Set in the lap of nature, this Himalayan state is a paradise for peace seekers and adventure buffs who are always looking out for an adrenaline rush. Trekking in Uttarakhand is one of the most amazing way to get close to nature and unwind.
From a buffet of treks nestled in Uttarakhand, Phulara Ridge Trek is one of the very few ridge treks in India. Blessed with gorgeous landscapes, this unheard trek in Uttarakhand will leave an everlasting impact on your heart and eye. Trek to Phulara Ridge starts from Sankri - a quaint village in Garhwal region, and offers breathtaking vistas of Himalayas, lush green forest cover and refreshing alpine meadows. Sankri village also acts as a base camp for other amazing nearby treks like Kedarkantha.
What Makes This Trek a MUST VISIT?
1. Thrill and delightful landscapes at the same time - Snow-clad Himalayan range at eye level, walking on a ridge at 12,000 ft and clouds floating at your feet; now that's truly an experience in itself. So unlike other treks, the panoramic views of mighty mountains stays with you throughout.
2. Majestic forest region - The trekking trail to Phulara passes through different forest regions. You will be amazed walking through trees like oaks, pines, maples, silver birches and dwarf rhodos.
3. Alpine meadows of Pushtara - After lush green forest cover, alpine meadows welcomes you wholeheartedly while moving ahead on this trail. Walking on this endless green carpet will give you an immense pleasure. Wild flowers can be spotted on these alpine meadows during Spring season (March-April).
4. Bird watching - This unheard ridge trek in Uttarakhand offers a wide range of flora and fauna. You can easily spot Himalayan Monals who are very shy birds and are rarely seen. Other bird species which can be found are barbets, woodpeckers and Himalayan whistling thrushes to name a few.
Short Trekking Itinerary
Arrive at Sankri from Dehradun, relax and chill wandering in the village.
Start the trek from Sankri to Sikolta, enjoy amazing flora and fauna and enroute, reach Sikolta via Marikoda, overnight stay in camps.
Start from Sikolta to Bhoj Gadi via Karsu Thatch, take a walk on the hill on reaching Bhoj Gadi, overnight stay in camps.
Start from Bhoj Gadi to Pushtara via Phulara Ridge, pass through areas like Sarutal and Valley of Purola and finally reach Taloti, overnight stay in camps.
Start your descend from Pushtara to Taluka and drive back to Sankri.
When To Go?
The best seasons suited to go on Phulara Ridge Trek is during summers (March-June) and early Winters (September-November). Heavy snowfall and extreme geographical conditions makes it difficult to go here during months like December, January and February.
During Summers, the temperature in this region ranges from 5° C to 15° C.
Getting There
Positioned in Uttarkashi district (Uttarakhand), the 30 km trekking trail to Phulara Ridge begins from Sankri village. You can easily reach till Sankri by following means.
By Air: Nearest airport is Jolly Grant in Dehradun. Take a private taxi or local bus to reach Sankri.
By Train: Nearest railhead is at Dehradun. Take a private taxi or local bus to reach Sankri.
By Road: Sankri is well connected by motorable roads. Interstate buses are available from Delhi to reach till Dehradun and Uttarkashi. Take a taxi towards Sankri.
Accommodations
Since Sankri is a tiny hamlet with merely 250-300 houses, hence very few stay options are available here. You can stay at following accommodation:
Don't litter and travel in a responsible manner. It's our duty to keep our travel destinations and especially the Himalayan region clean.
Share your memorable trip experiences here.
Have some tips or travel-related questions? Feel free to ask your questions, get answers, meet other travellers, and share your advice on community forum.
Follow Tripoto on Youtube for a visual treat.