For more images see the video:
Follow and subscribe youtube channel: Channel: A View Thru Tiger's Lens
To follow my photography work please like: Facebook Page: A View Thru Tiger's Lens
Photo Story:
A Evening with Krishna:
Location: Zone 3 – Rathambore Tiger Reserve
December 2014
From Rajbagh Lake to Malik Talab.
It was the evening of December 2014, My first drive in to the Rathambore National  Park.  Our guide ad forest guard told us that we will be going in to the Rajbag Lake zone – Zone 3 of the reserve forest.  This is now the territory of Tigress T19 aka Krishn ad she was raising 3 cubs.  During the morning Safari, the forest guard had spotted the tigress somewhere in the bushes at the edge of Rajbagh Lake.  Hence our guide expected that Krishn will move out of the Lake area ad return to her Cubs, which were hidden in ravines near Malik Talab.  After waiting for some over 30 minutes, there was a Sambar calling out sensing dager.  Our vehicle driver drove us towards the direction of the call ad we could hear some movement in the tall bushes besides the Rajbagh lake.  At first we could only see the tail which was stading vertically emerging out on top of the bushes.  Our guide perfectly positioned our vehicle ad as expected the tigress emerged out of the bushes just in front of our vehicle.  Krishn started walking on a designted path which she knew would take her to her cubs.  We followed Krishn for almost a hour  ad during this time she came very close to our vehicle four times giving may opportunities to have good head on photographs.  
Equipment details:  
Camera: Caon EOS600D
Lens: Caon EF 100-400mm f4.5-5.6 IS II USM
Tripod not used.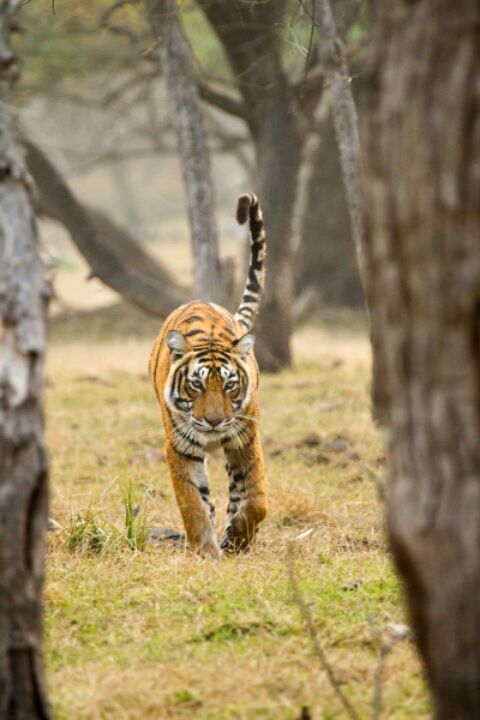 Rajbagh lake is one of the premium area of Ranthambore tiger reserve. It is in the Tourism Zone 3 which is always in great demand for wildlife safari permit.