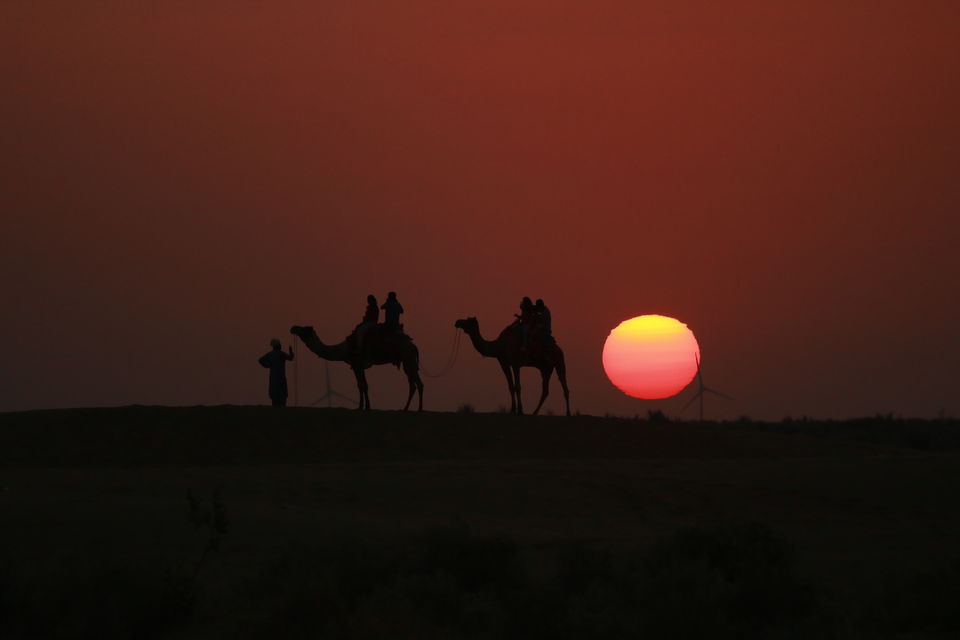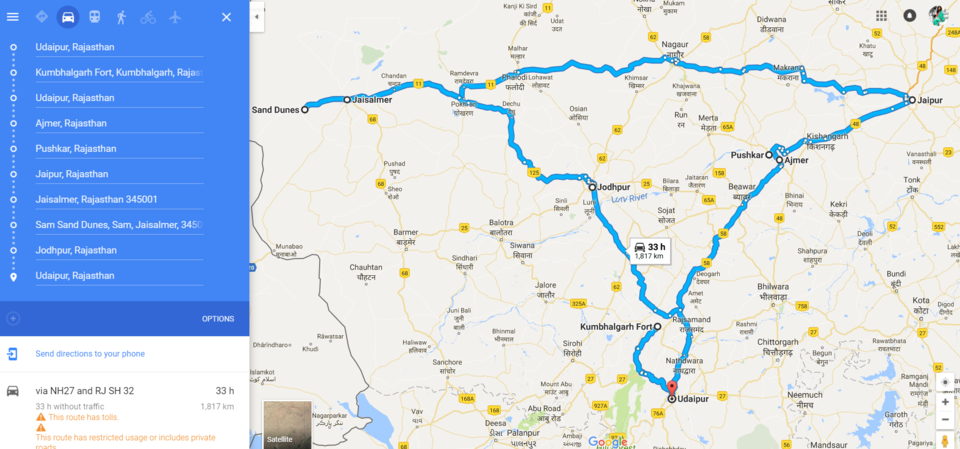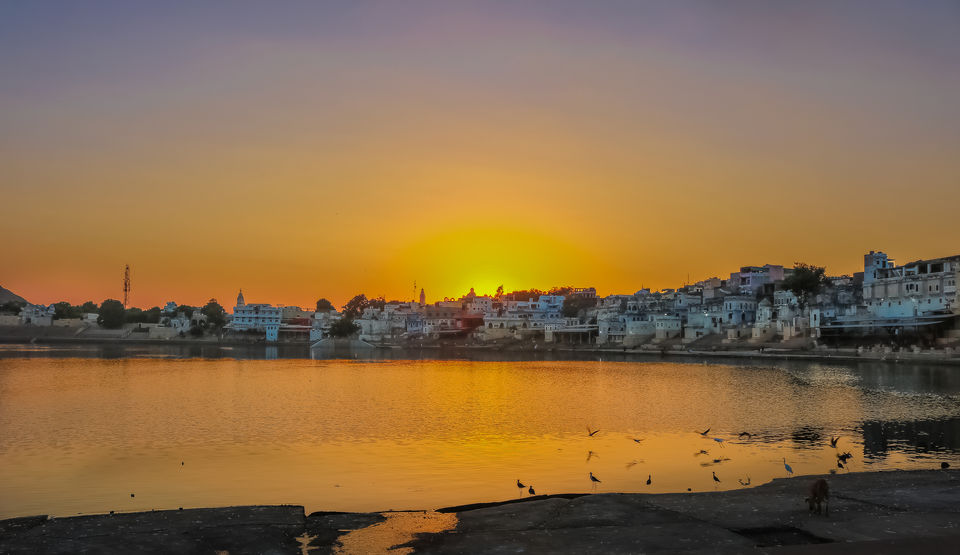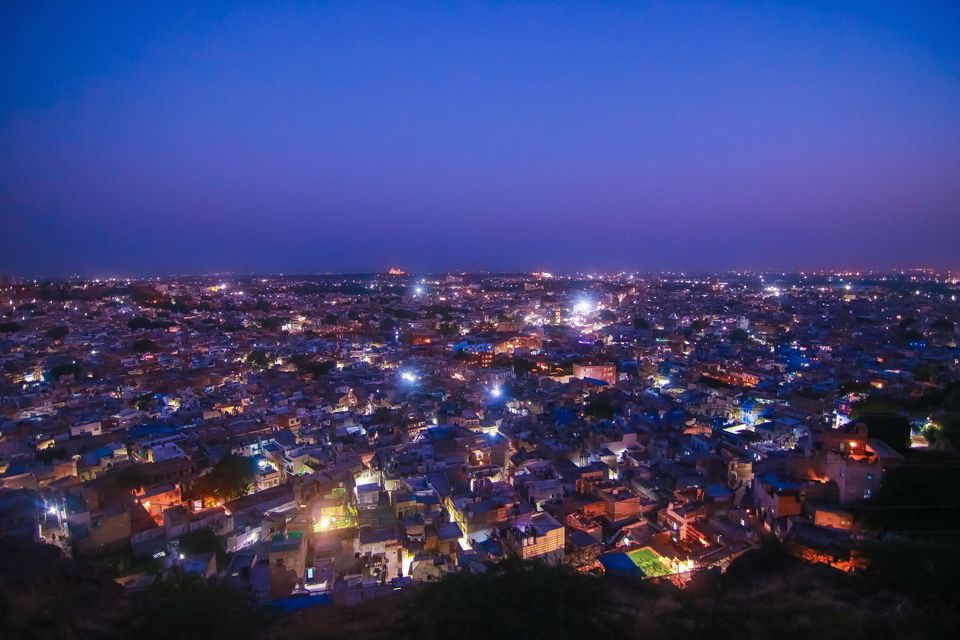 "Maati baandhe painjanee, Bangdi pehne baadli, Dedo dedo baavdo, Ghod-mathod baavdi…"
Ever since I saw the re-branded Rajasthan tourism ads, I wanted to travel to the largest state in India and visit every one of those places. The word Rajasthan is a synonym for vivid culture, grand palaces, magnificent forts and history itself.
This "Land of Kings" is one of the most visited states in India. It has a city of lakes, pink and blue city, ghost towns, wind palace, arid region of rolling sand hills, a golden city, Bikaneri bhujia, remarkable architecture, mouth watering delicacies, tribal villages, tiger reserves, pilgrimage sites and colorful festivals.
I took upon an 8 day, 1800 kilometres journey and teleported to witness the grandeur, royalty and deeply routed heritage. Travelling by local buses and rickshaws, I experienced sunrise in Sam Sand Dunes, sunset from Nahargarh fort, night view of Jodhpur, savored Daal Bhaati for breakfast, passed through the deserted ghost village and zip lined across Mehrangarh fort.
Day 1 - Bangalore to Mumbai to Udaipur
The journey started from Bangalore on a luxury sleeper bus (as the trip was planned last minute). You can also take a flight to Udaipur directly. I reached Mumbai after 16 hours. I had a couple of hours to spare before my bus to Udaipur, so I freshened up in a restaurant, filled up my stomach and took some snacks for the road. 750 kms and 13 hours later, I reached the city of lakes.
Day 2 - Kumbhalgarh fort - the second largest fort in Rajasthan
My first stop was Udaipur but the days plan was to go to Kumbhalgarh which is 100 kms from the city. I rented a room to freshen up for an hour, had aloo parantha for breakfast and started towards the Mewar fortress. One can take a bus to Nathadwara and then hire a taxi to Kumbhalgarh. I rented a two wheeler for the day at 600 INR. The ride from Udaipur to Kumbalgarh is packed with vast lands, hills and goes through multiple small villages. As you drive through, notice the slow paced rural life. You will need half a day to look around the fort. En-route you can also visit the famous Eklingji temple. By nightfall, I reached back to the city and took a bus to Ajmer, my next stop.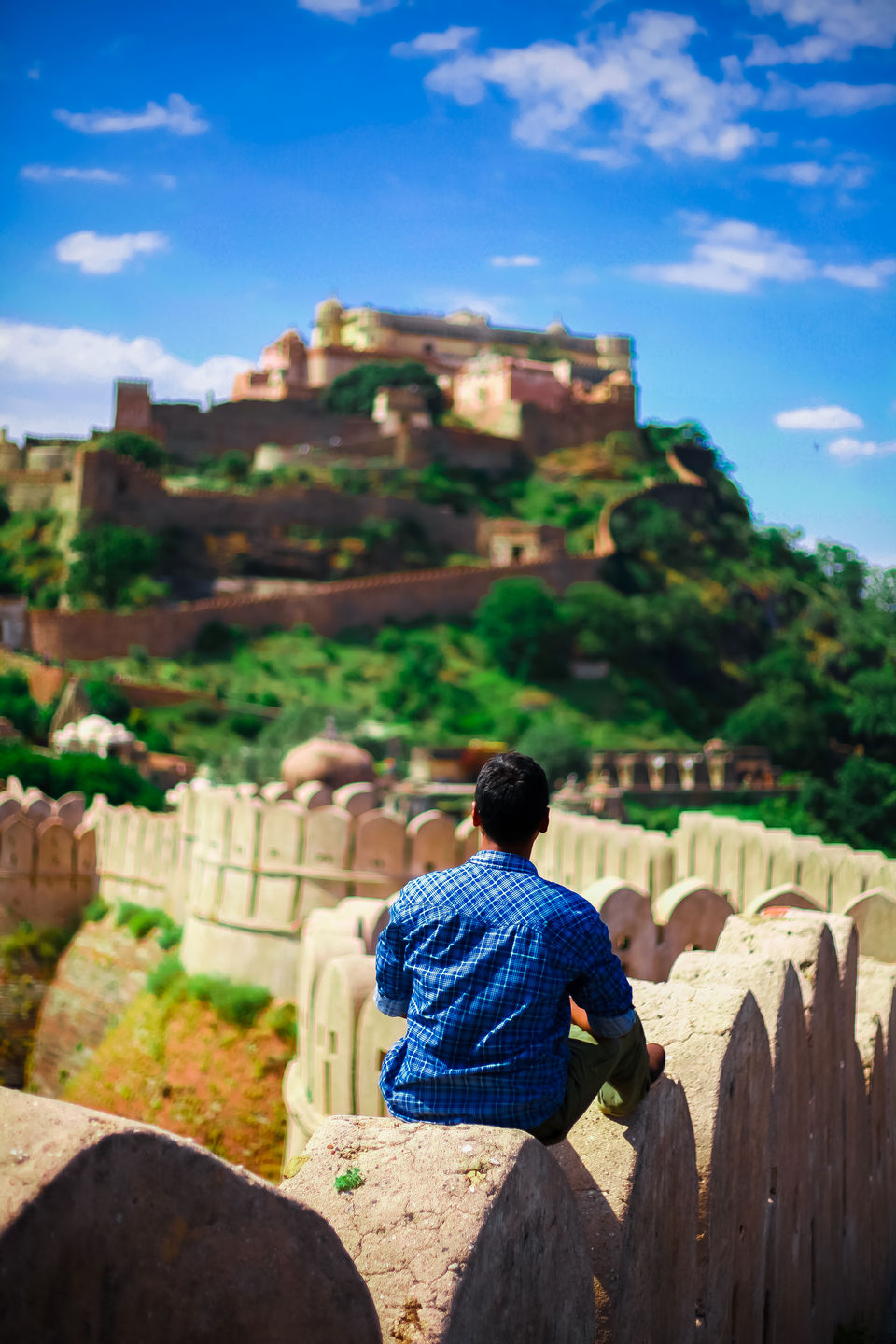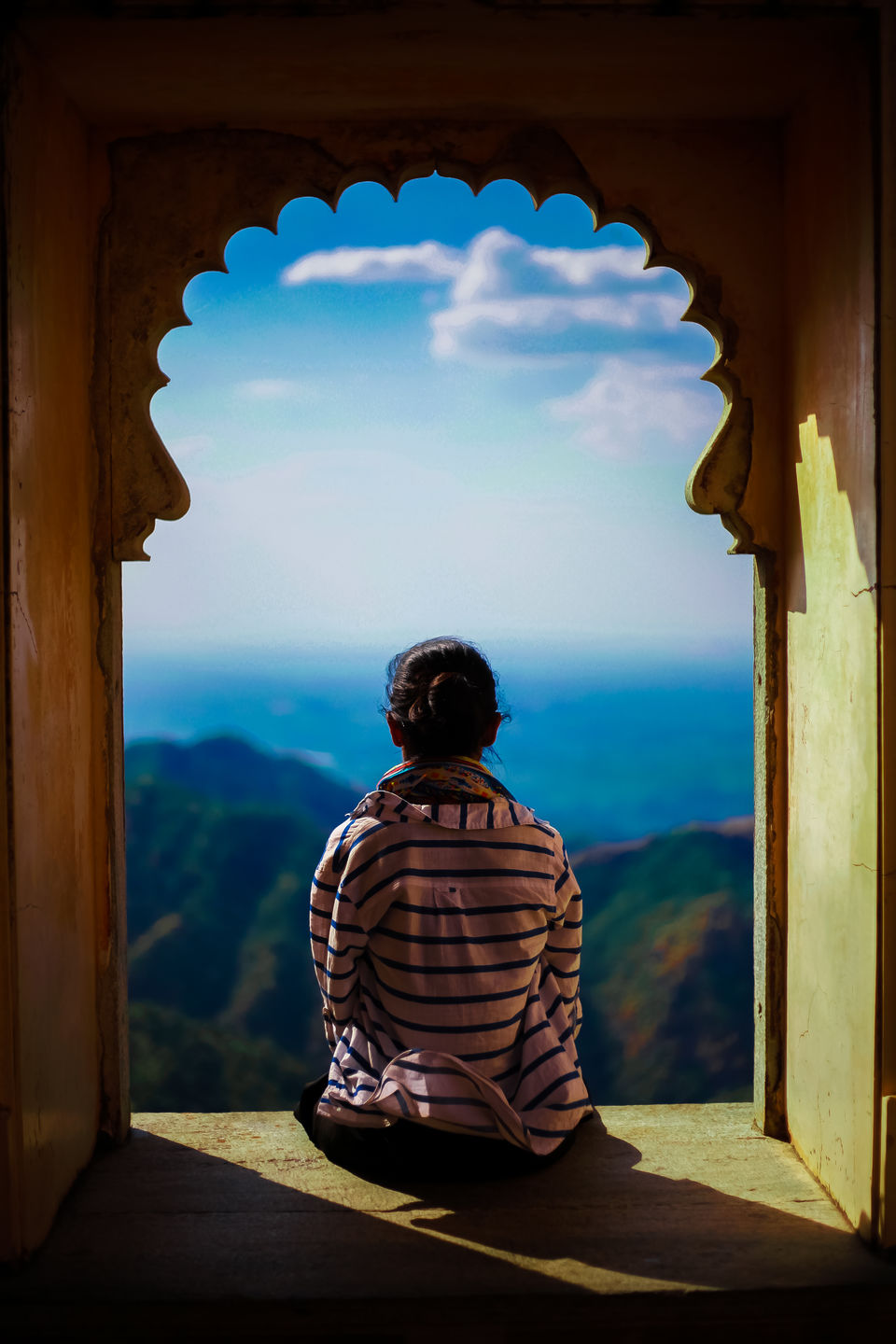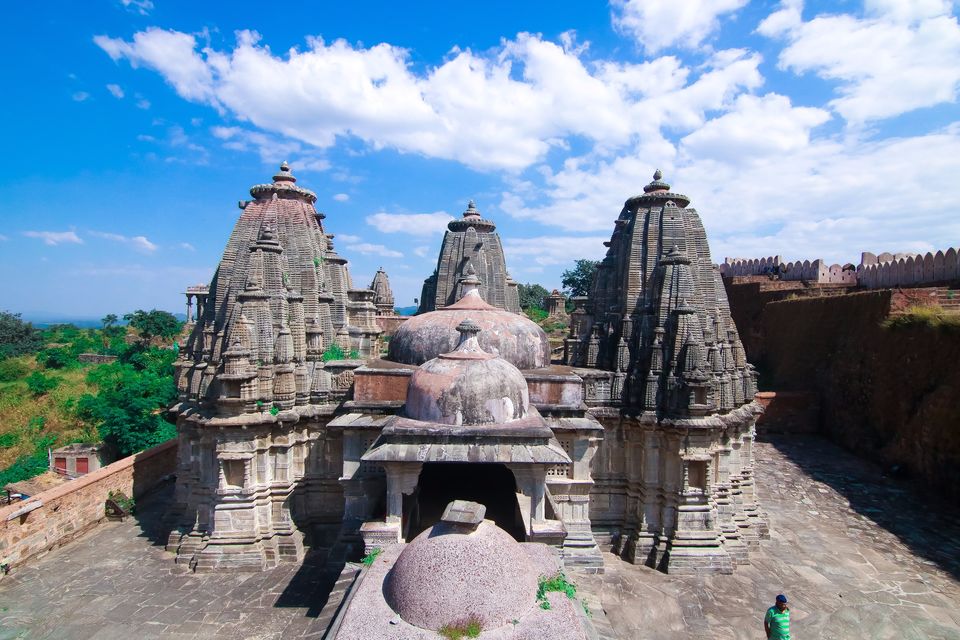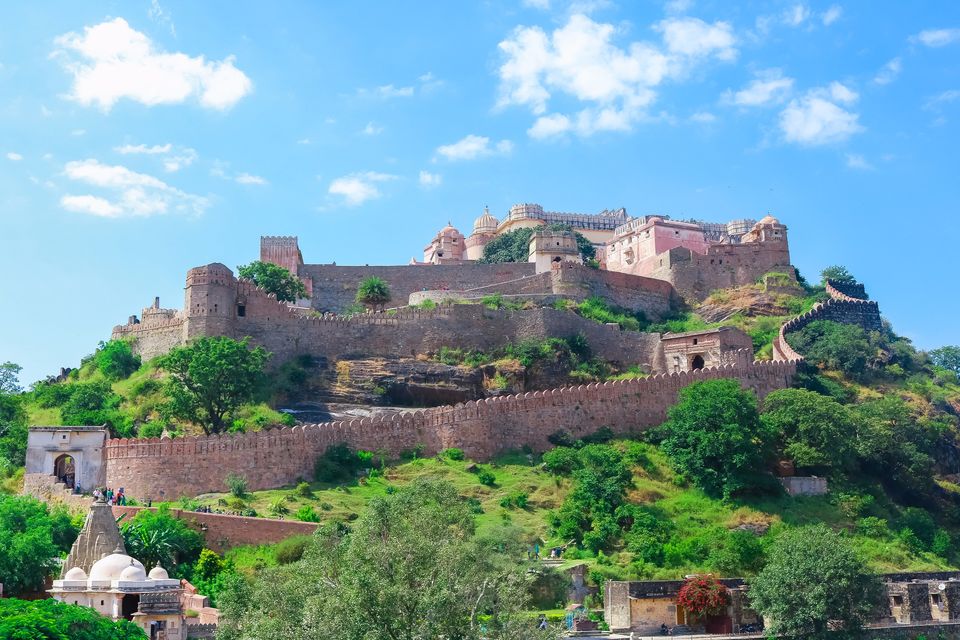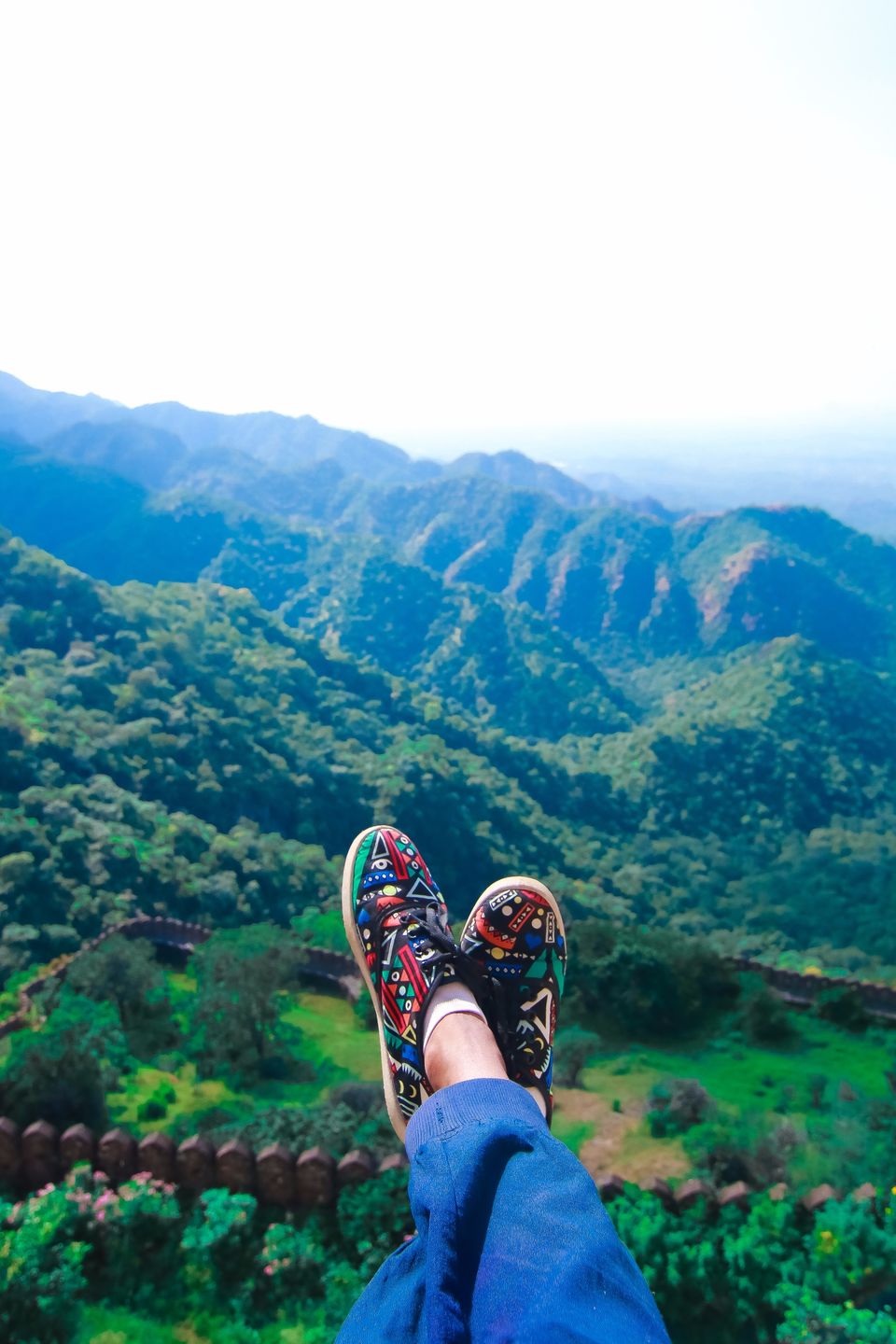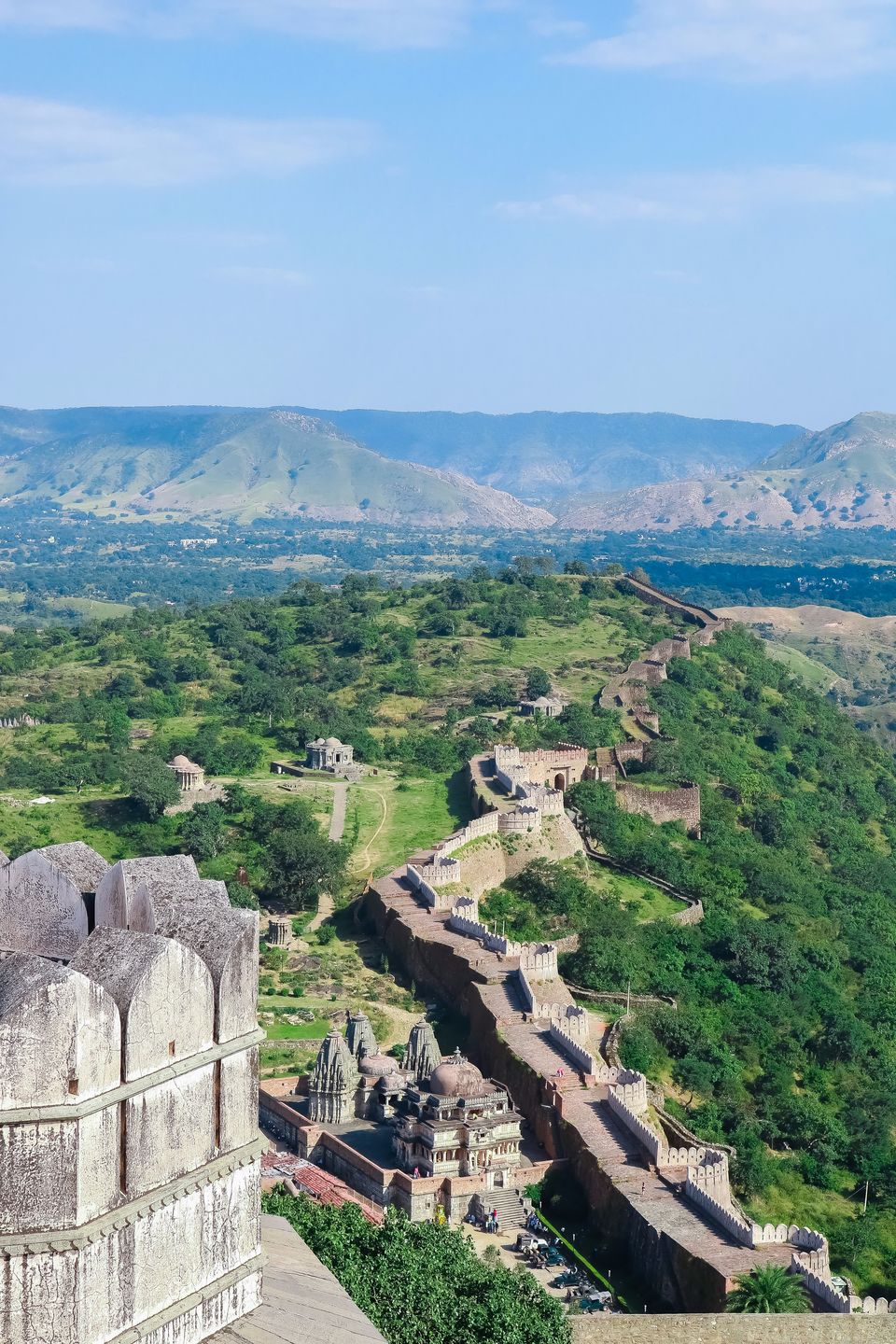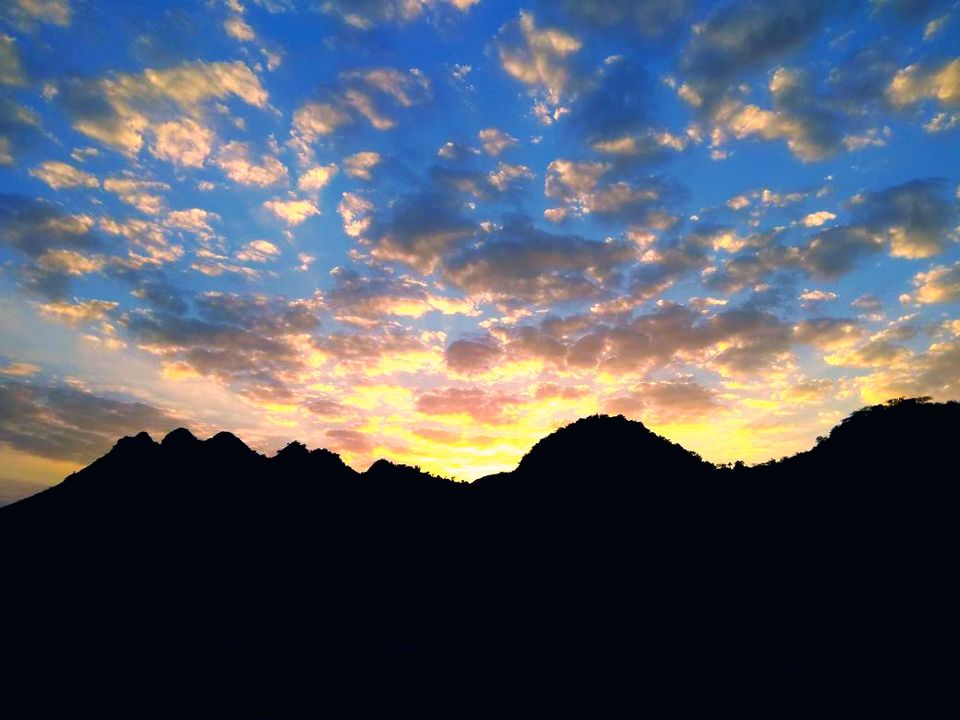 DAY 3 - Ajmer amidst Aravalli Mountains
Overnight bus to Ajmer takes 5 hours to cover 270 kms. Since I reached at 4.00 am, I rented a room, slept for a couple of hours and headed out to explore the city. The cheapest way to commute within the city is to hire a rickshaw for half a day, which will cost you ~500 INR. Dargah Sharif, Ana Sagar Lake, Mayo College, Adhai-din-ka-Jhonpra, Akbars Palace are some places to visit. Taragarh; is ruins of a fort which is situated uphill, the entire city surrounded by the Aravalli mountains can be viewed from here.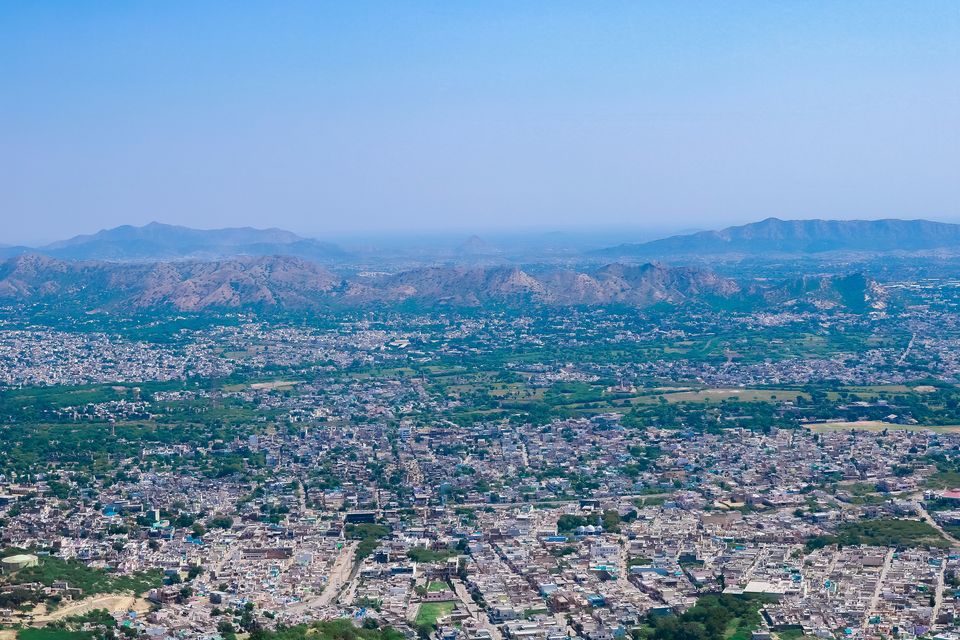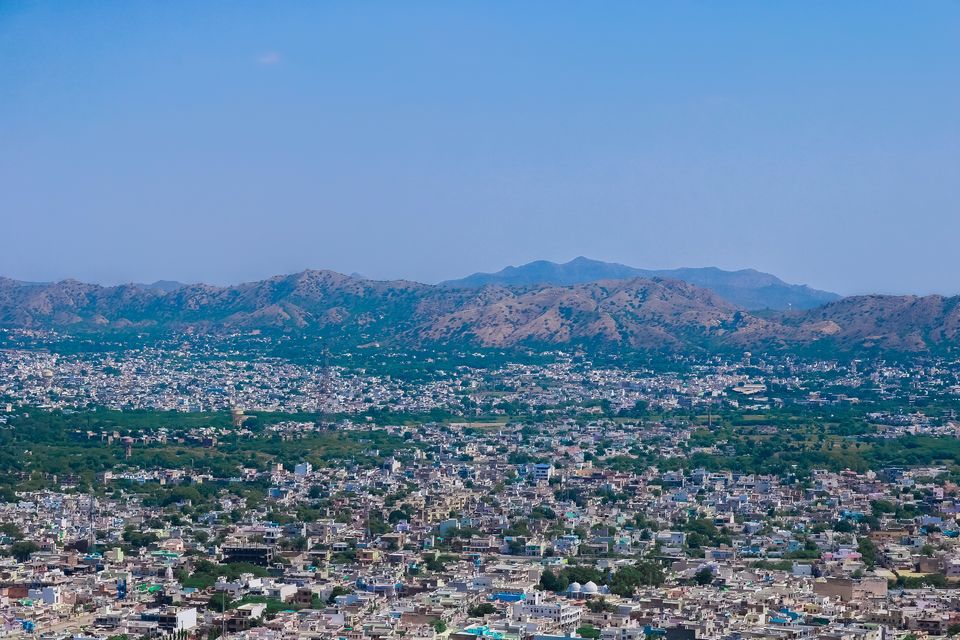 Pushkar -The blue lotus flower - At noon take a local bus to Pushkar for 16 INR (12 INR for women). The drive takes you across the mountains on rocky, dry and dusty roads. In an hour you will reach Pushkar. It is one of the oldest towns in India and the only place which has a temple dedicated to lord Brahma. With a very low population, Pushkar is absolutely stunning and off beat. There are many roof top cafes, where you can relax and spend the day with good Israeli food. The sunset view from Pushkar ghat is quite known among tourists. You will also find a couple of cafes here serving delicious snacks and beverages.
The distance between Pushkar and Jaipur can be covered in 2 and half hours on a local bus. Once the sun set, I boarded the bus at 7.00 pm and reached Jaipur by 10.30 pm.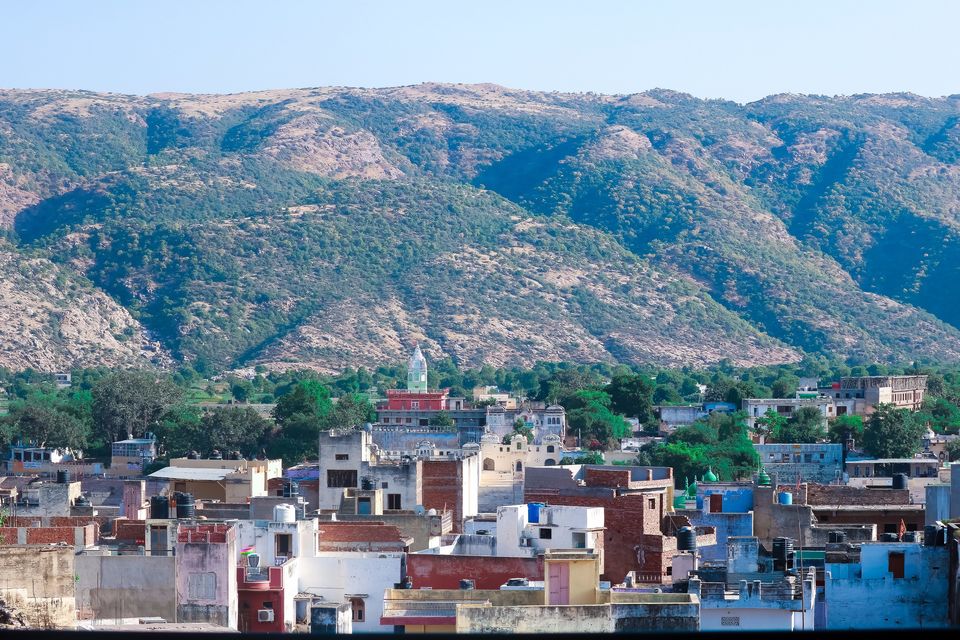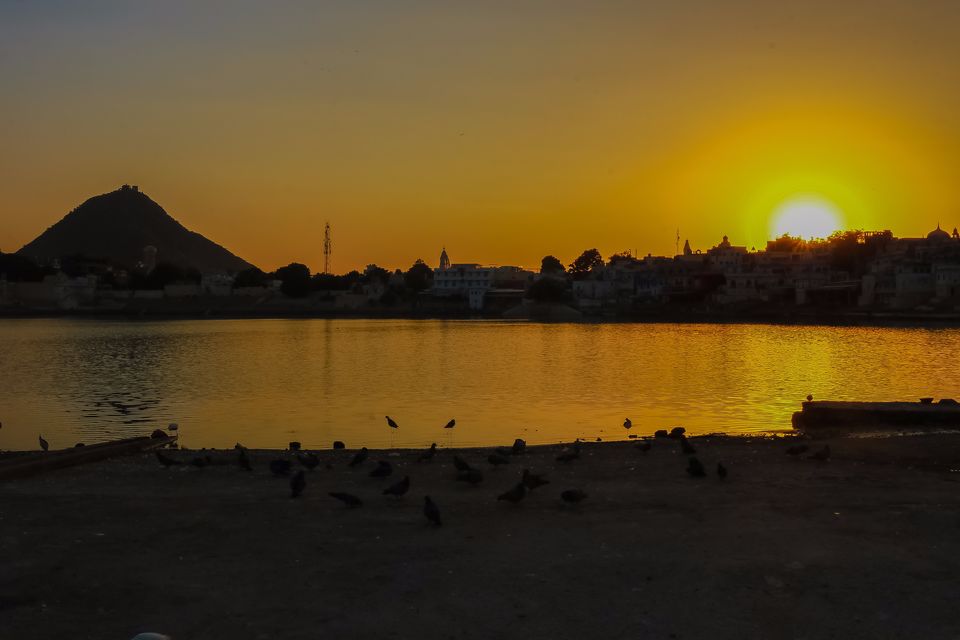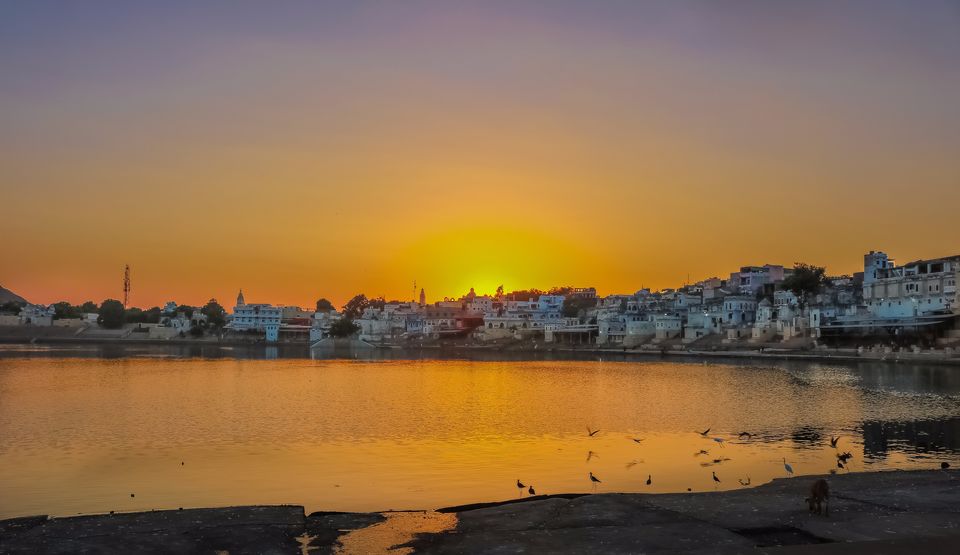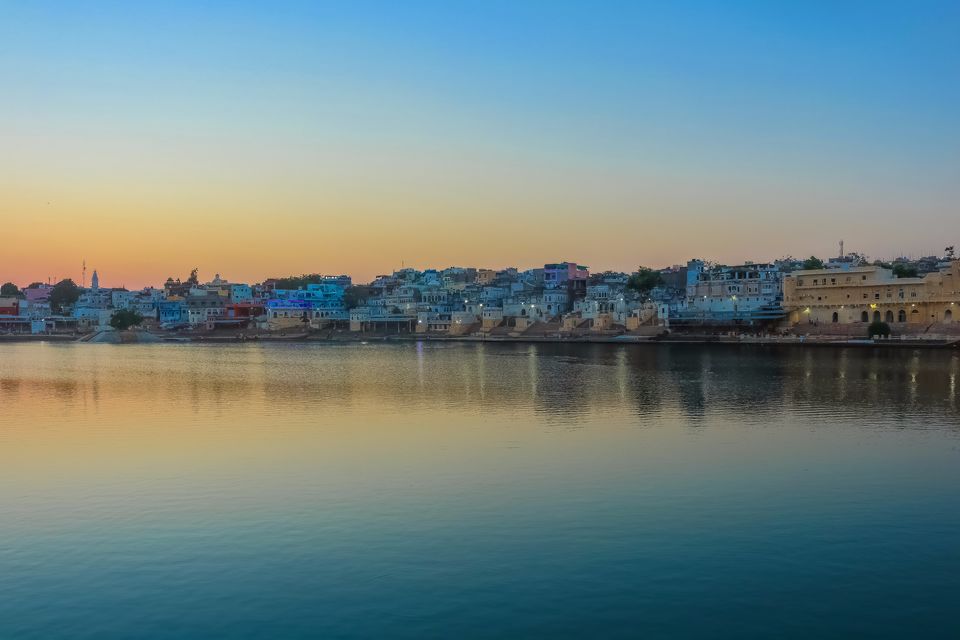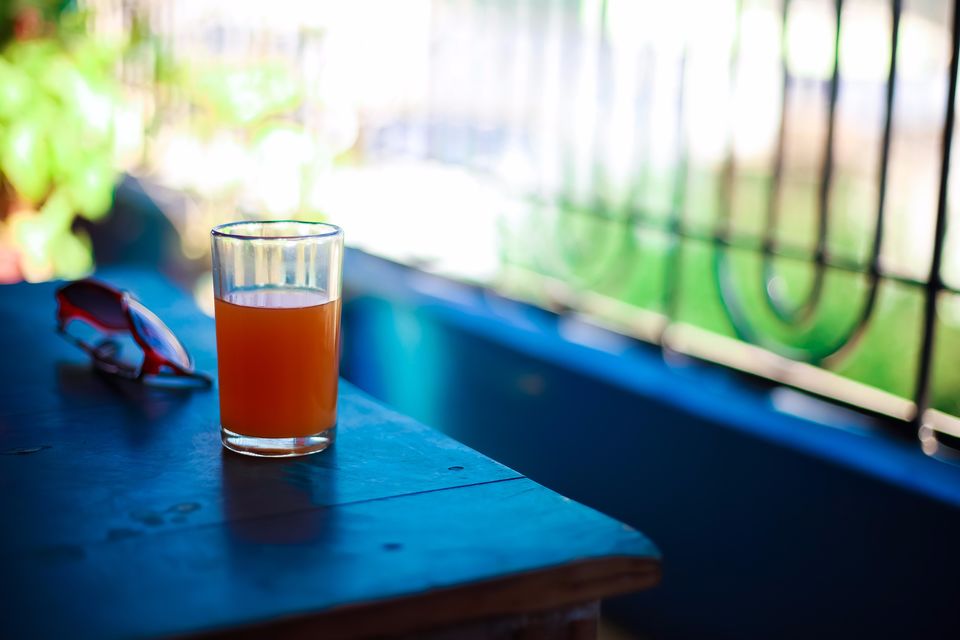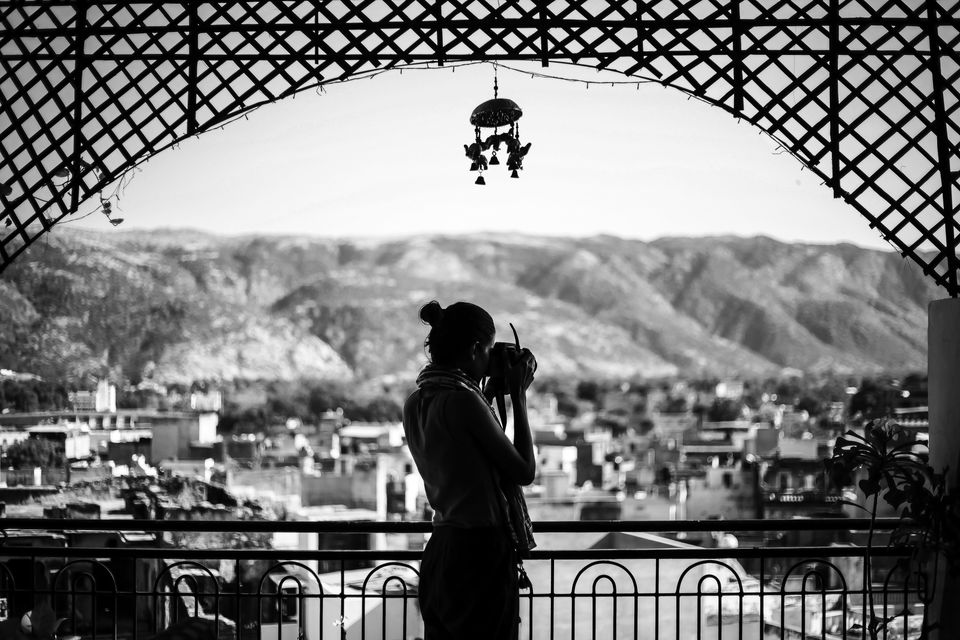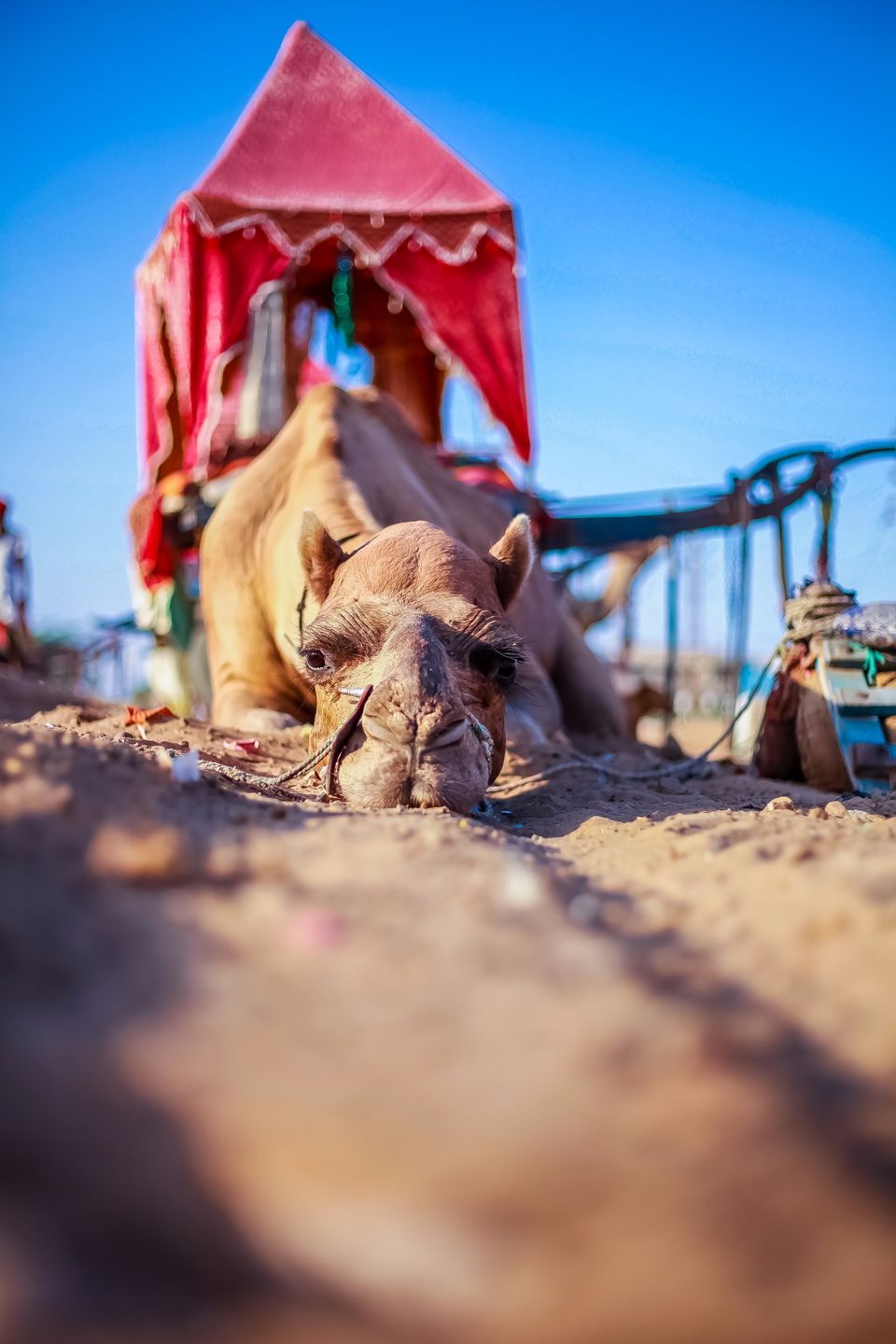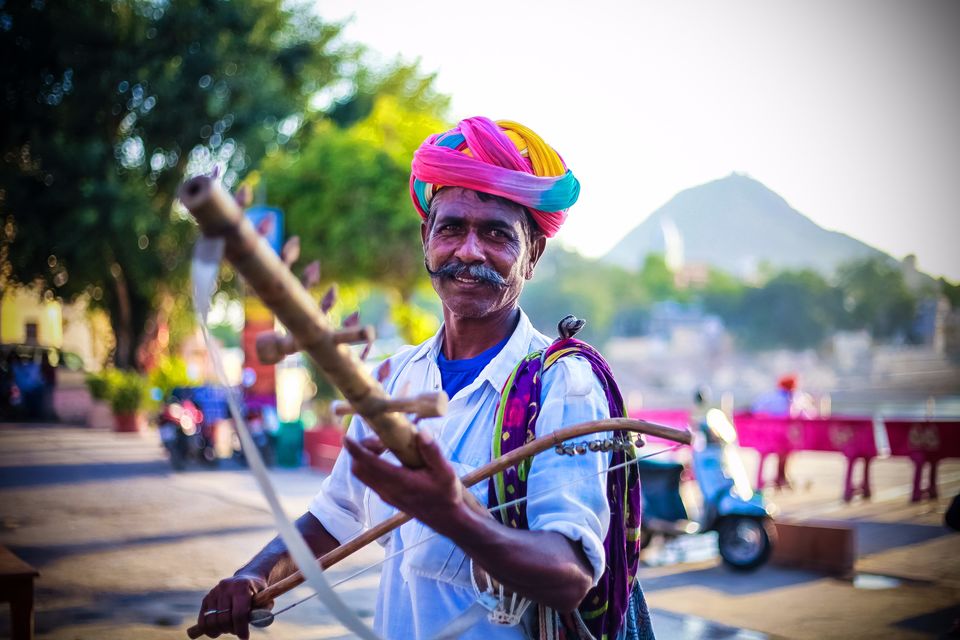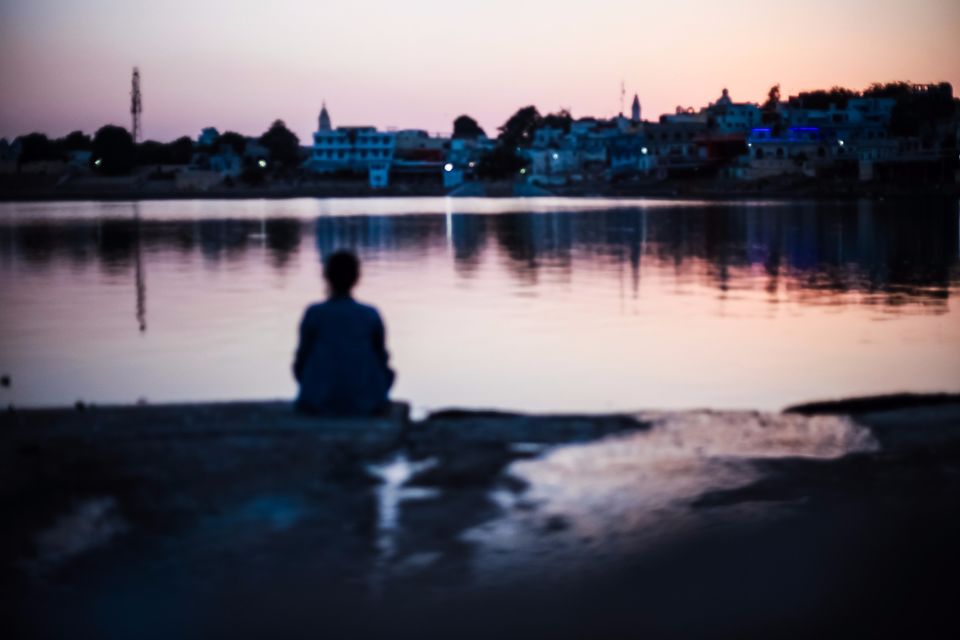 Day 4 - Jaipur - The Pink city
Checking in to a heritage hotel after 4 days was a welcome change for me. After a night of deluxe sleep, I was prepared for a spectacular day. Although entire Jaipur sight seeing can be concluded on local transport, I rented a bike for the day at 600 INR. Hawa Mahal, City palace, Jantar Mantar, Amer Fort, Jal Mahal, Nahargarh fort and Jaigarh fort are to not be missed. Opposite Hawa Mahal are a couple of cafes from where one can enjoy the street view and munch on some amazing delicacies. Overlooking the city of Jaipur, Nahargarh fort was built by the founder of Jaipur. If you want to see the pink city that stretches across the horizon surrounded by hills, this is the place to be at sunset.
Road from Jaipur to Jaisalmer ~600 kms is the longest route to be covered in this itinerary. After a sumptuous meal of chola bhatura I boarded my 10 hours bus to the golden city.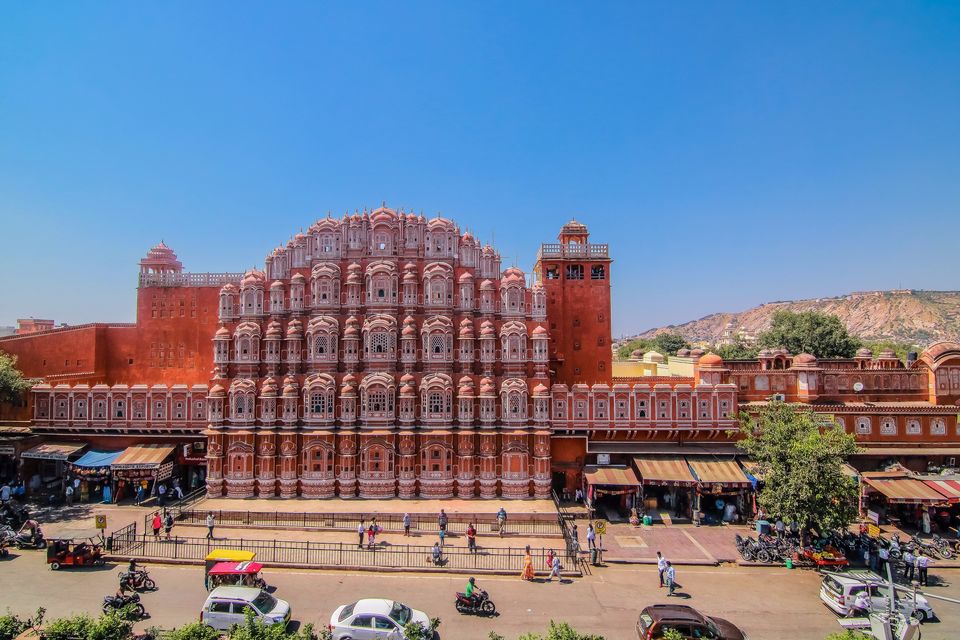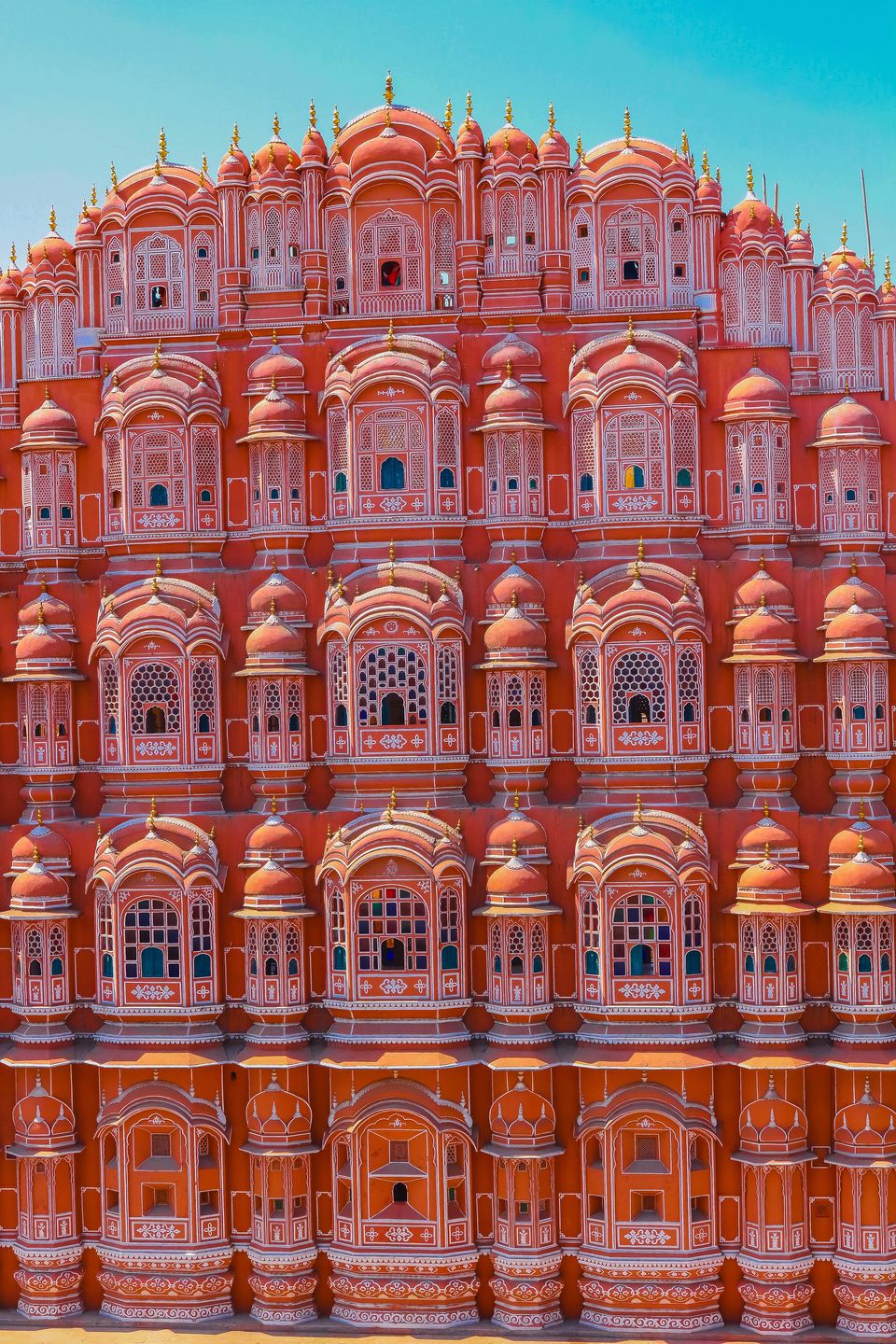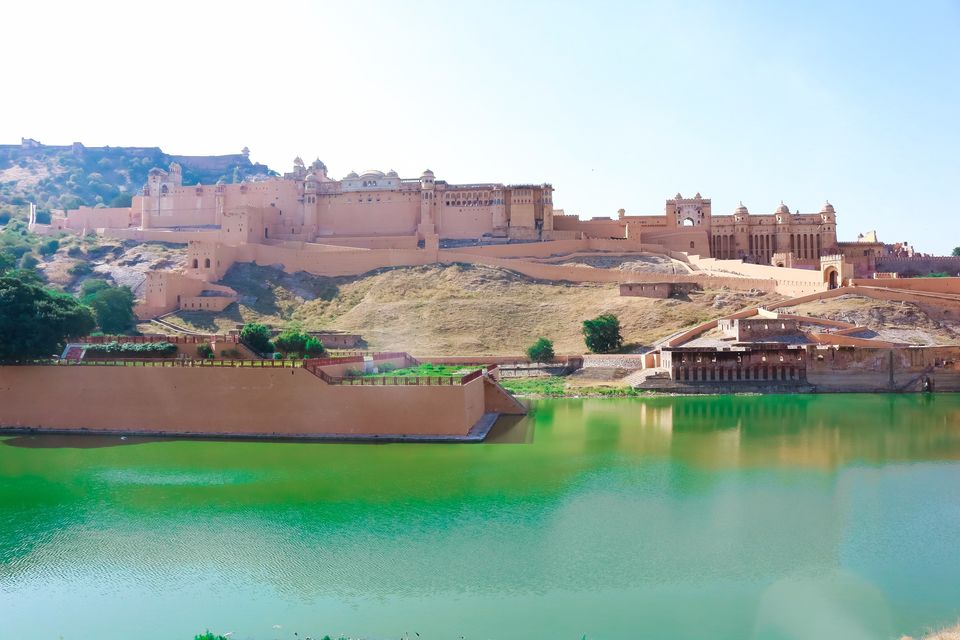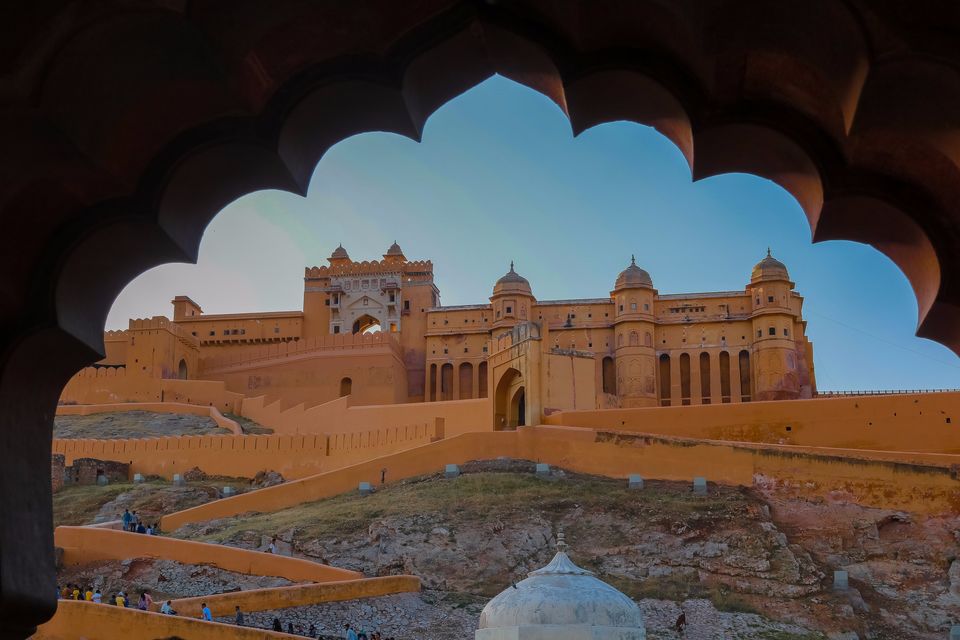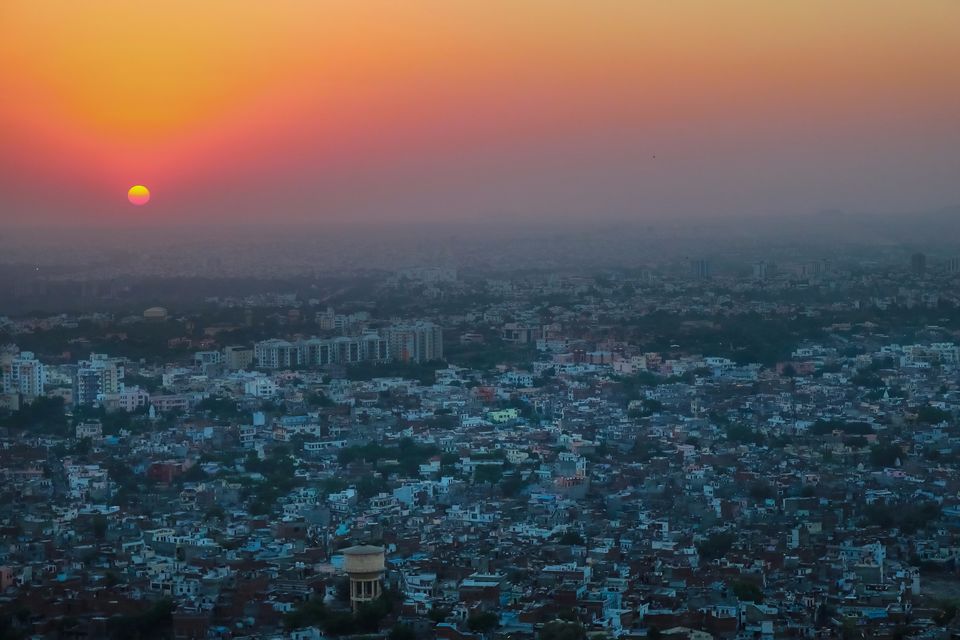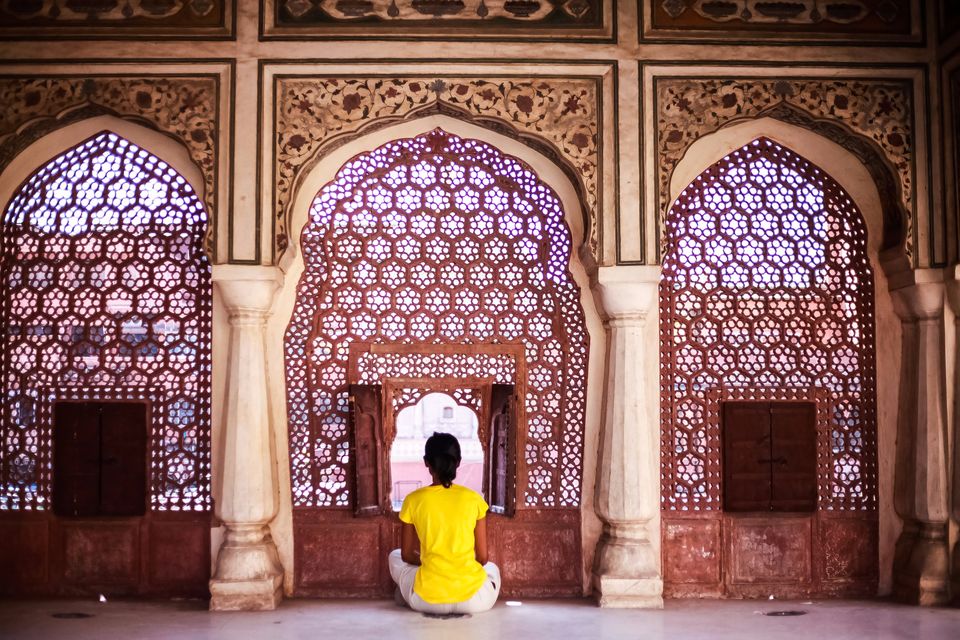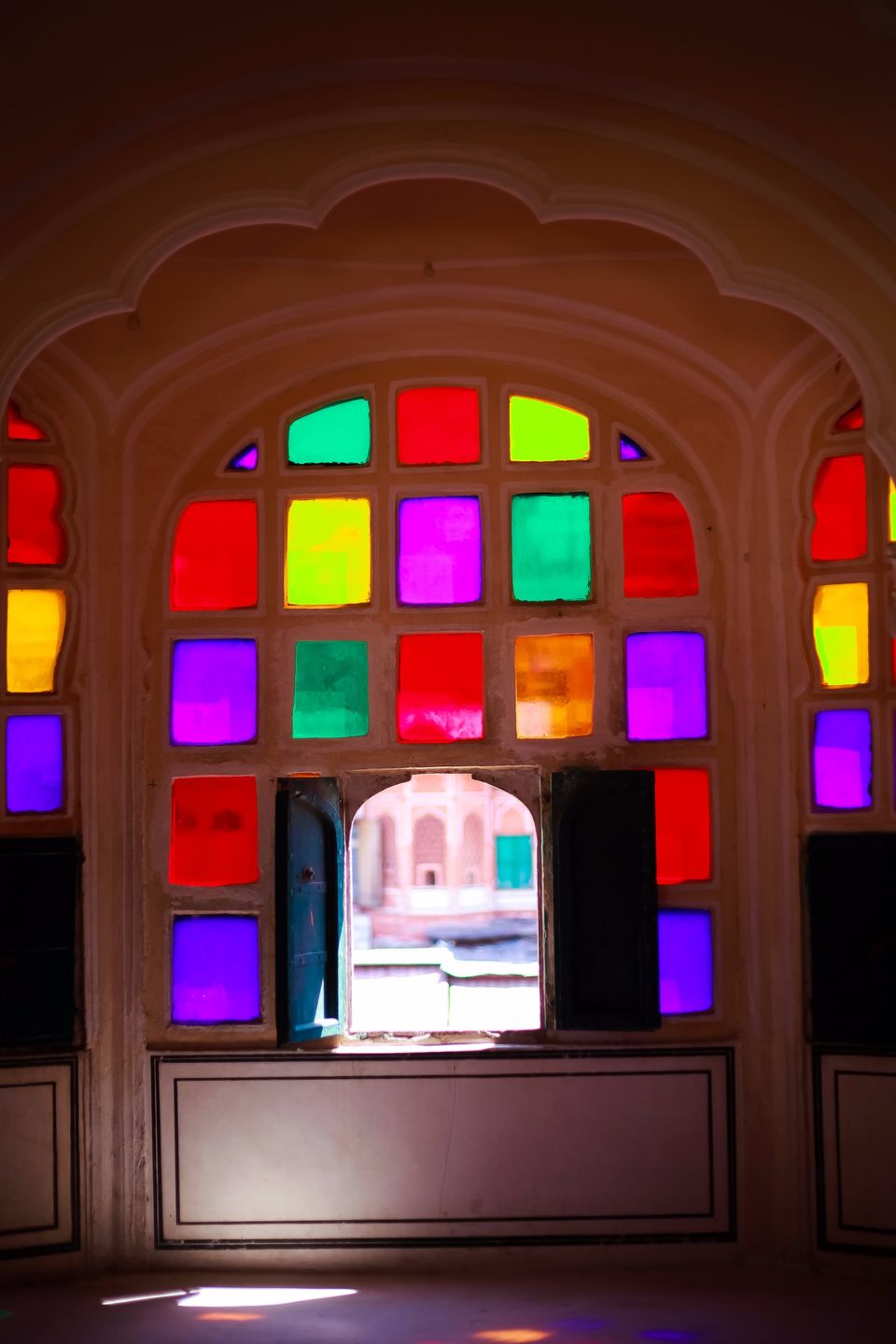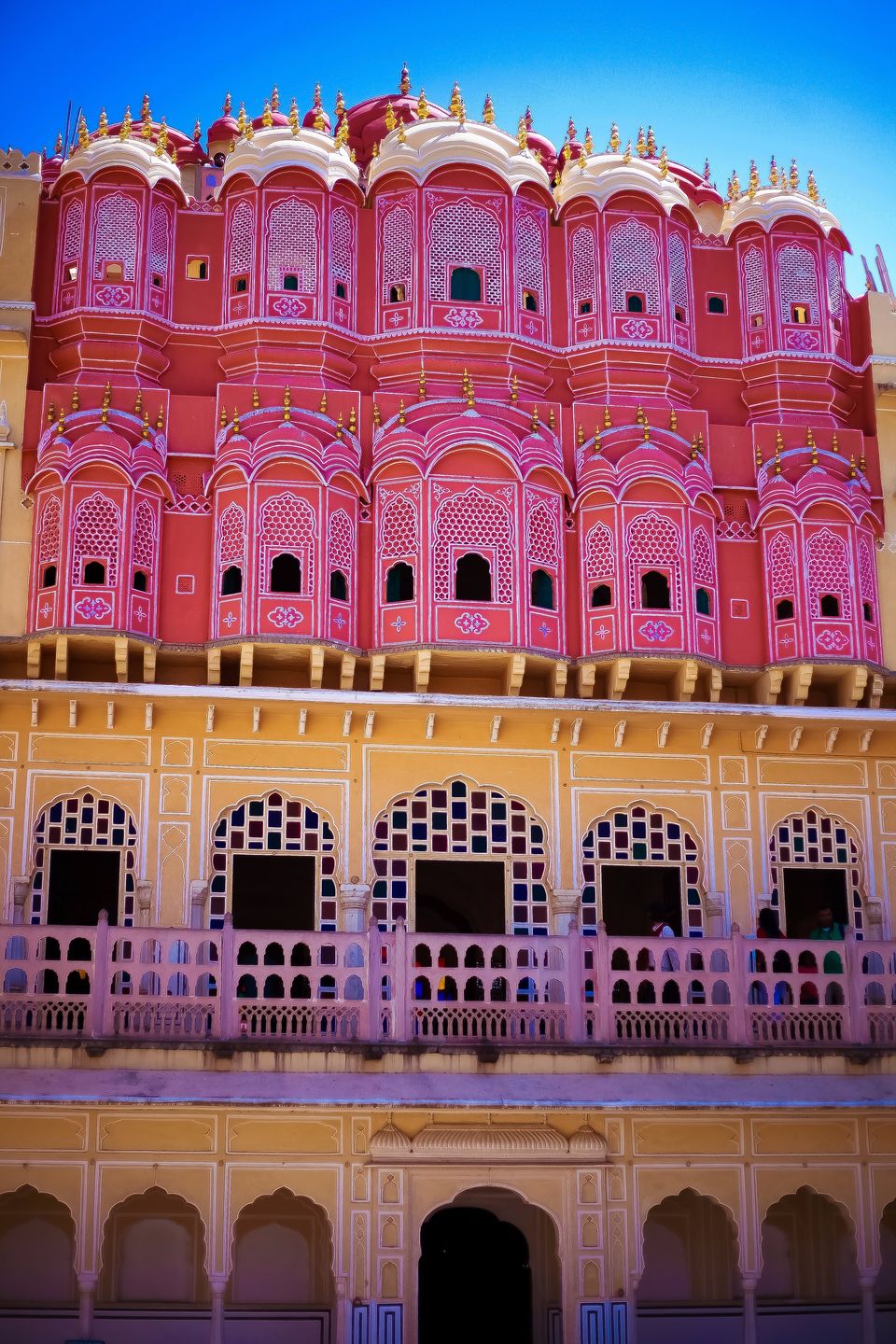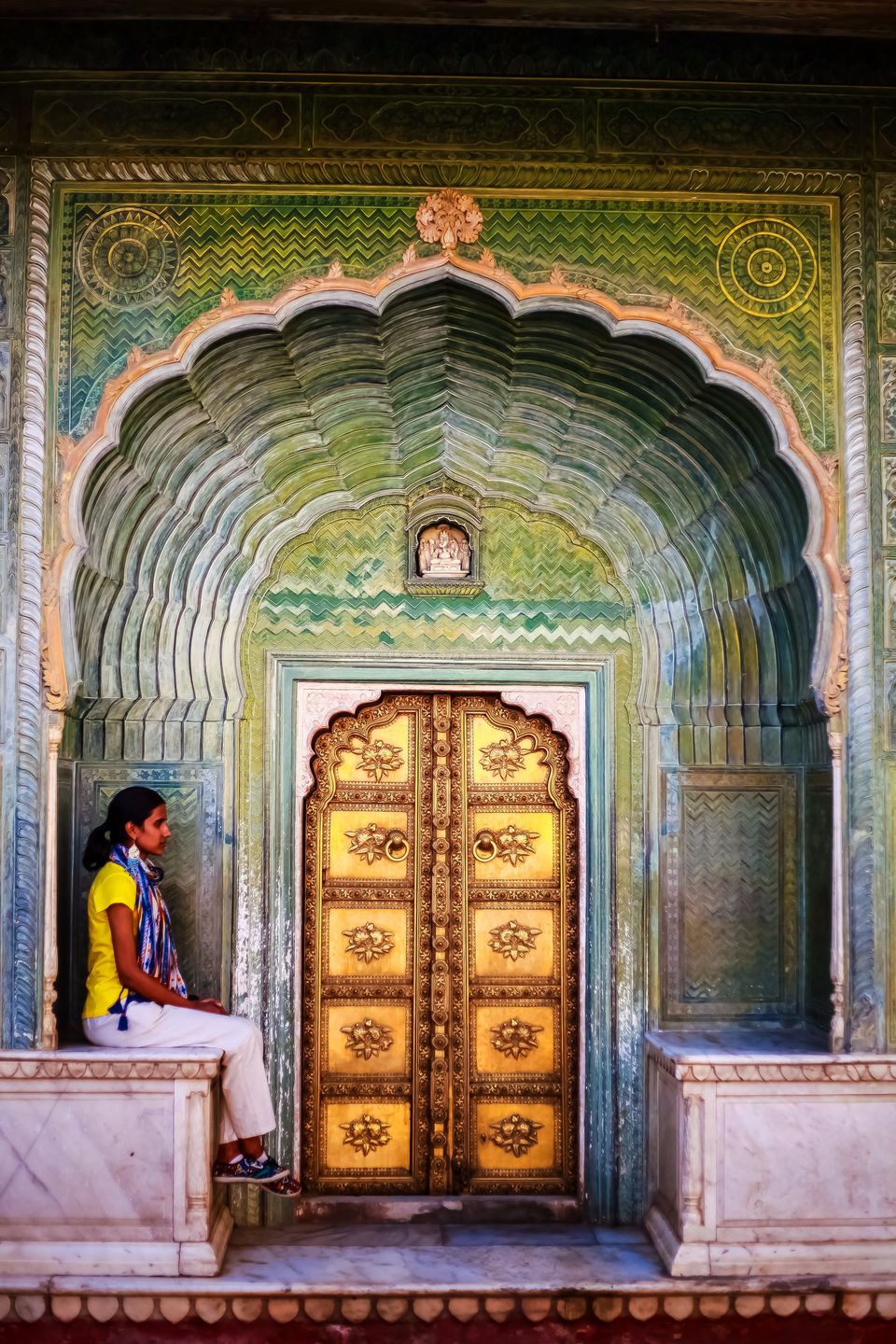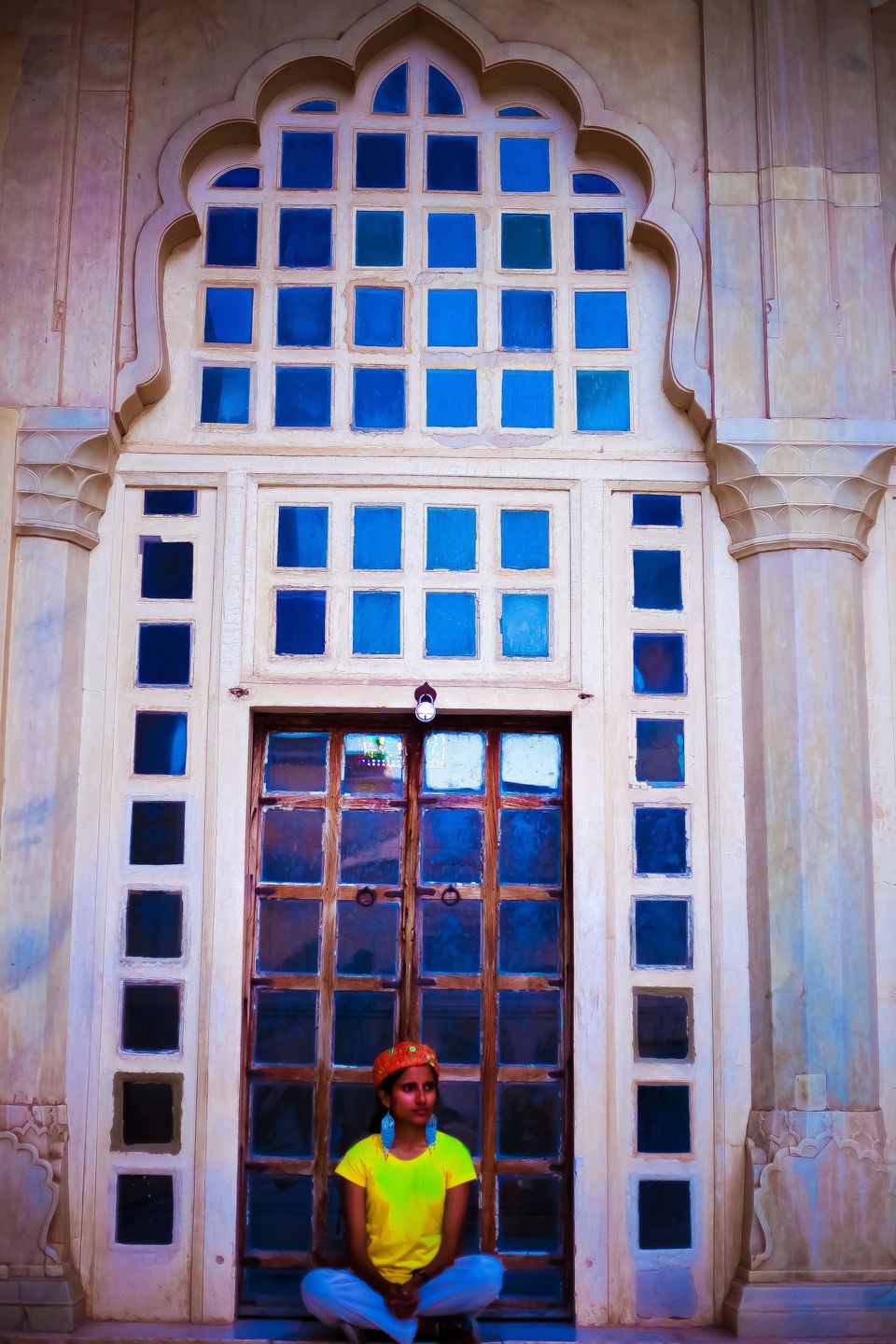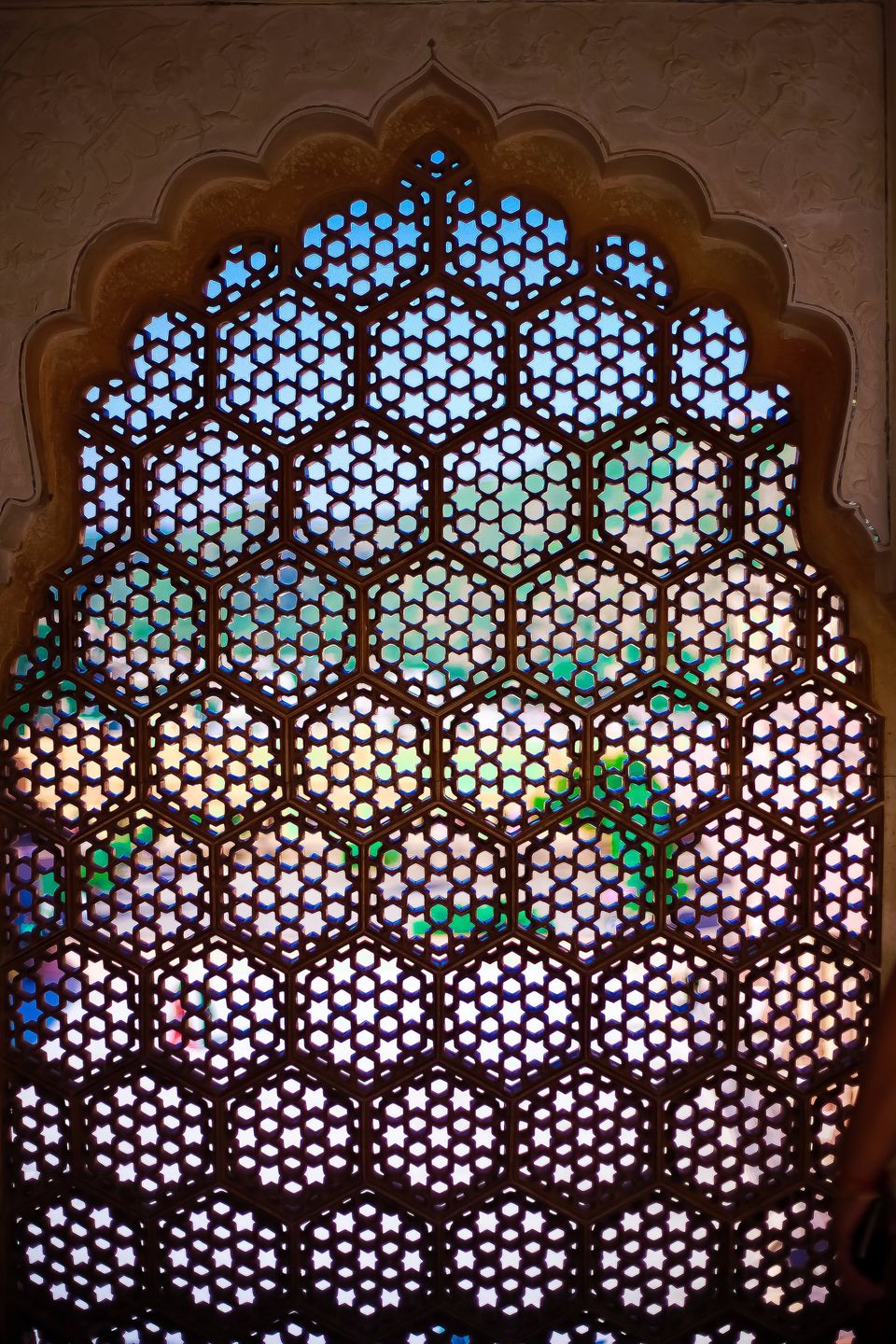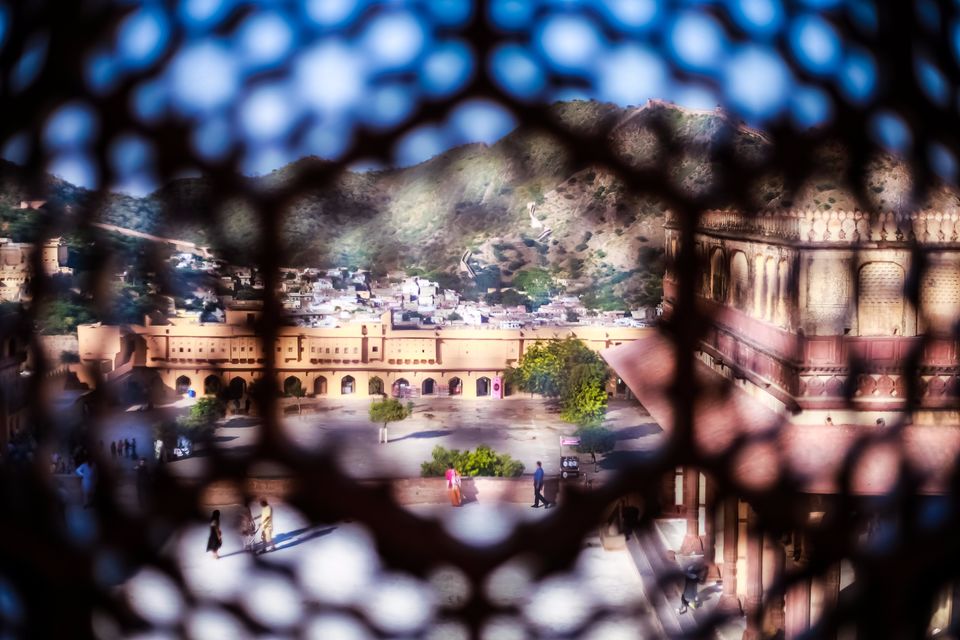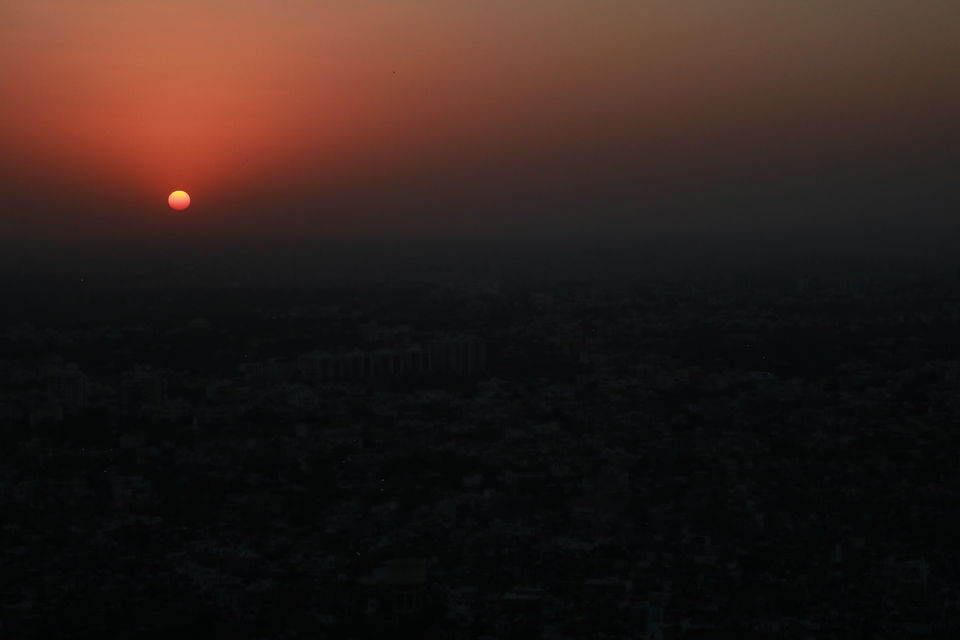 Day 5 - Jaisalmer - The Golden city
The bus stops a kilometer away from Jaisalmer fort at the outskirts of the city. I freshened up in one of the restaurants, had the best poha for breakfast and headed towards the fort. The city fort is the only inhabited fort with about 3000 people residing within the walls. From the top of the fort, one can see the golden city at its glory. 15 minutes from here is this gorgeous set of 5 palaces known as Patwon ki haveli. A narrow lane takes you to this yellow sandstone palace. Opposite to the haveli are some great cafes and restaurants. I enjoyed a lavish Rajasthani and Marwadi thali for 300 INR whilst adoring the gorgeous heritage site.
Bada Bagh, Thar heritage museum, Nathmal ki haveli, Gadisar lake are some other places you can visit. Next stop was tiny mounts of brown pearls: Sam sand dunes which is 40 kms from the city. You can go there in shared taxi but I rented a bike for 500 INR as I was planning to stay at Sam for the night.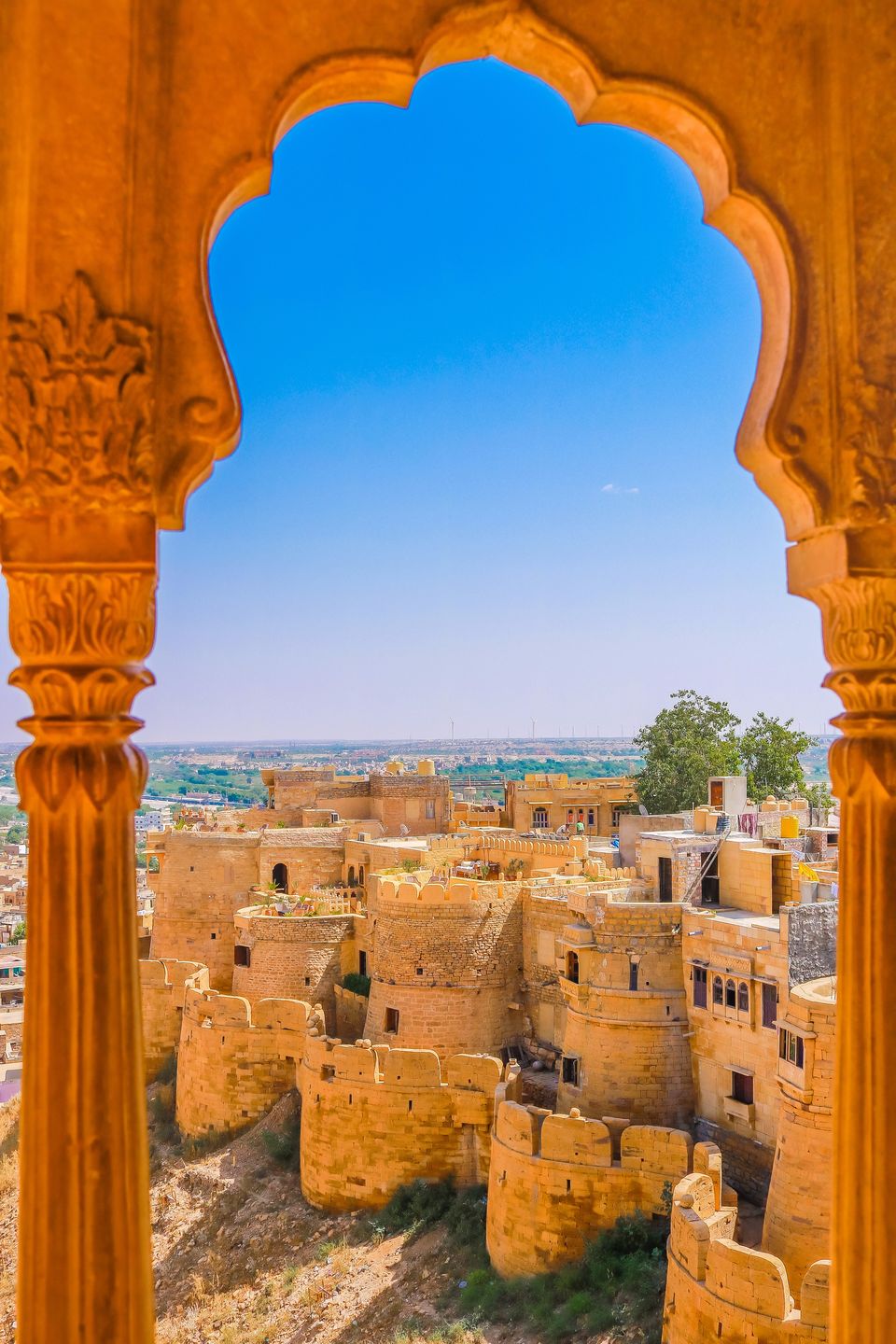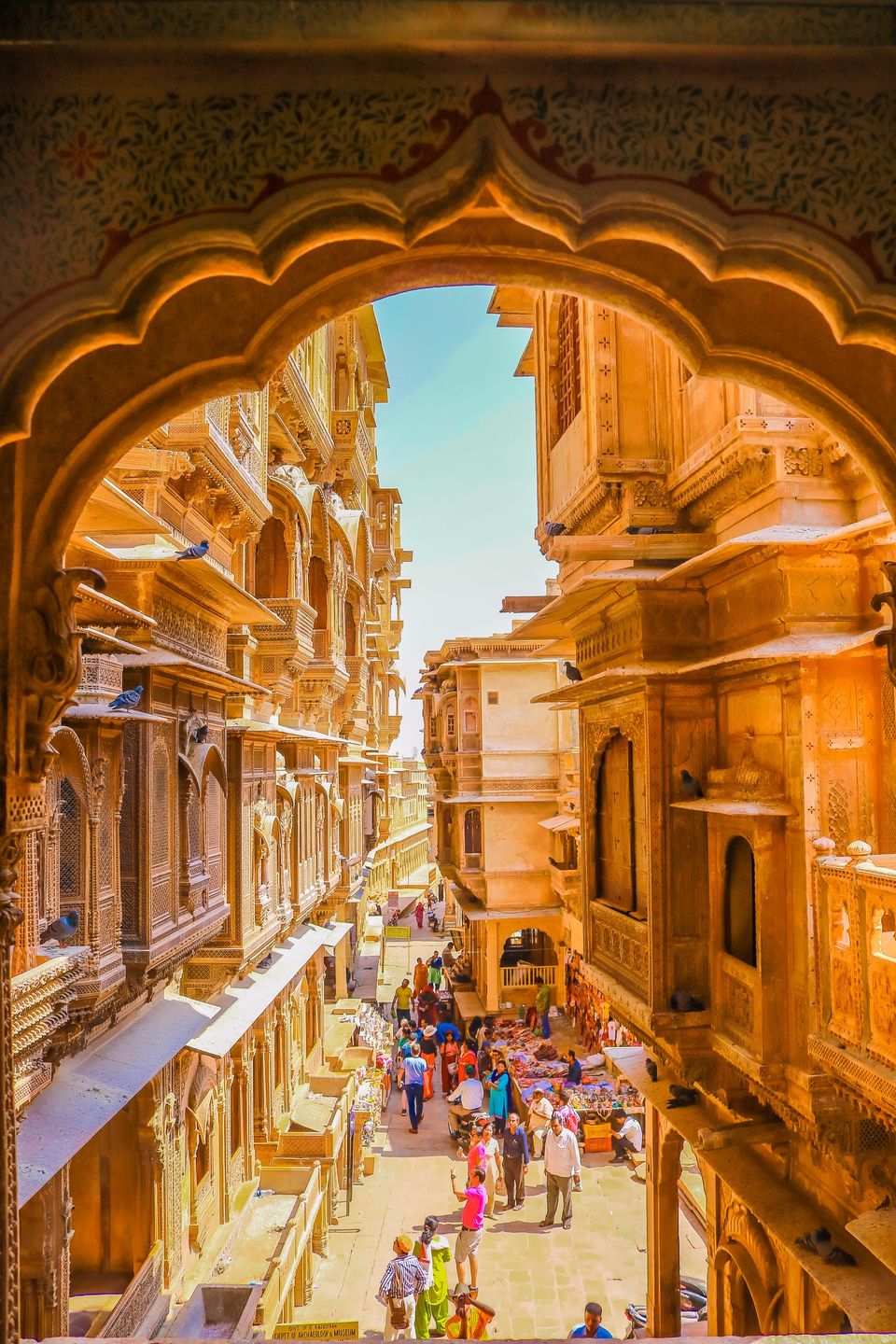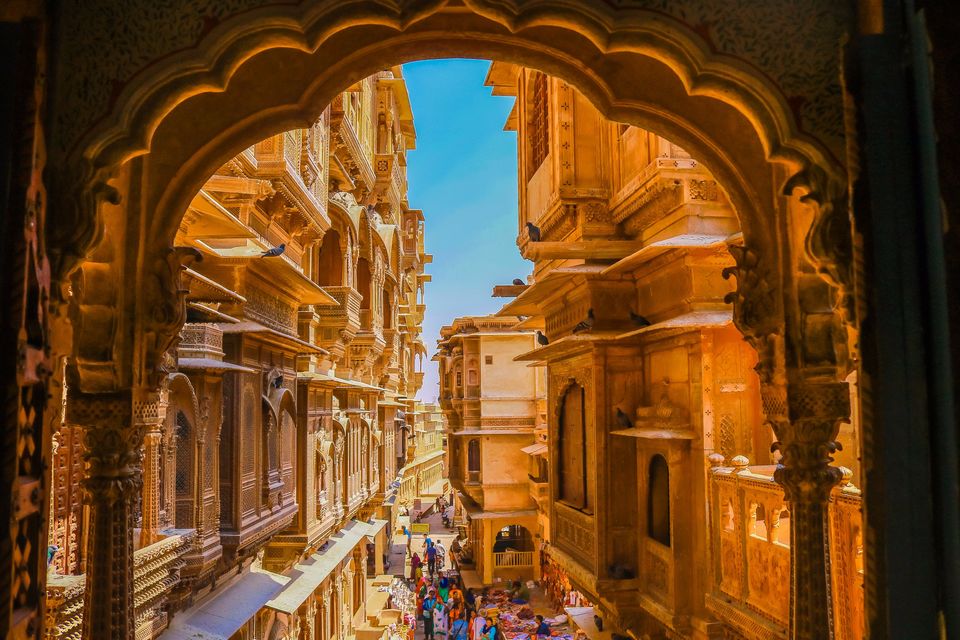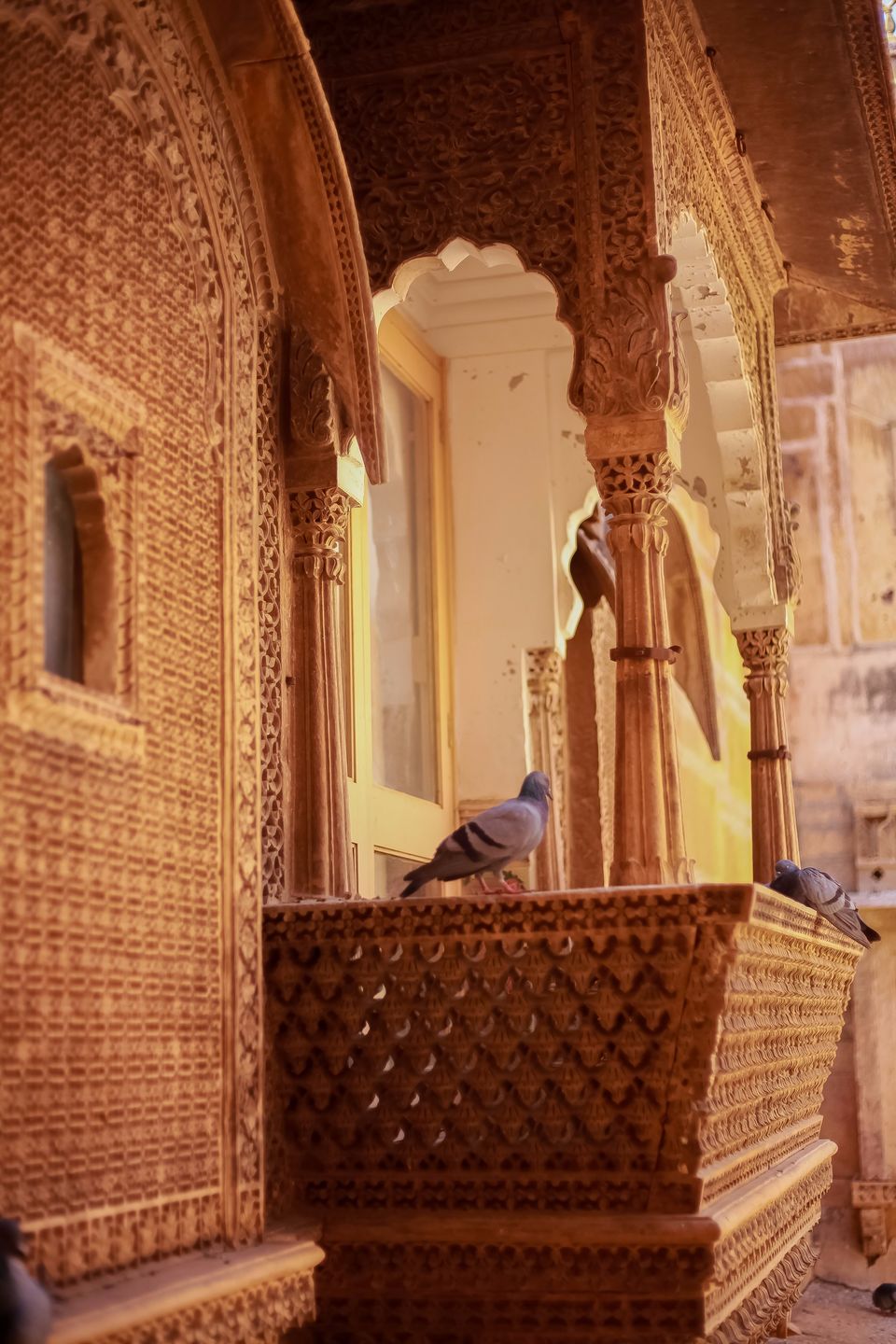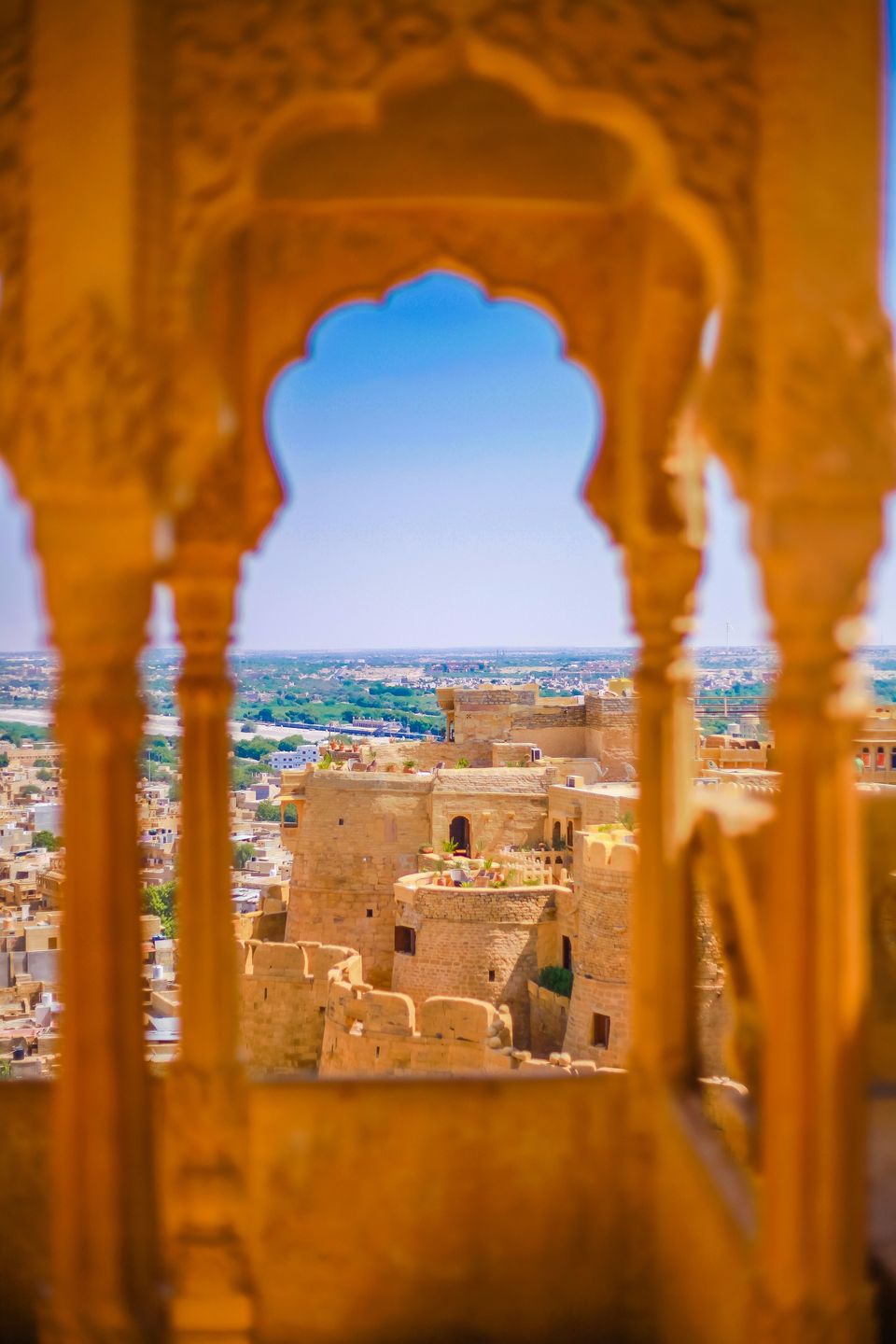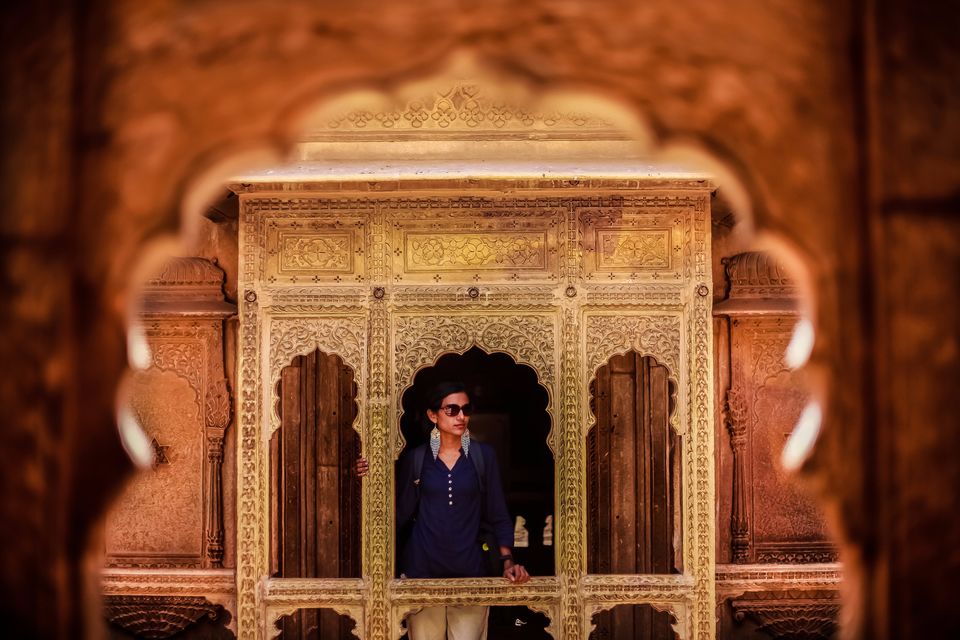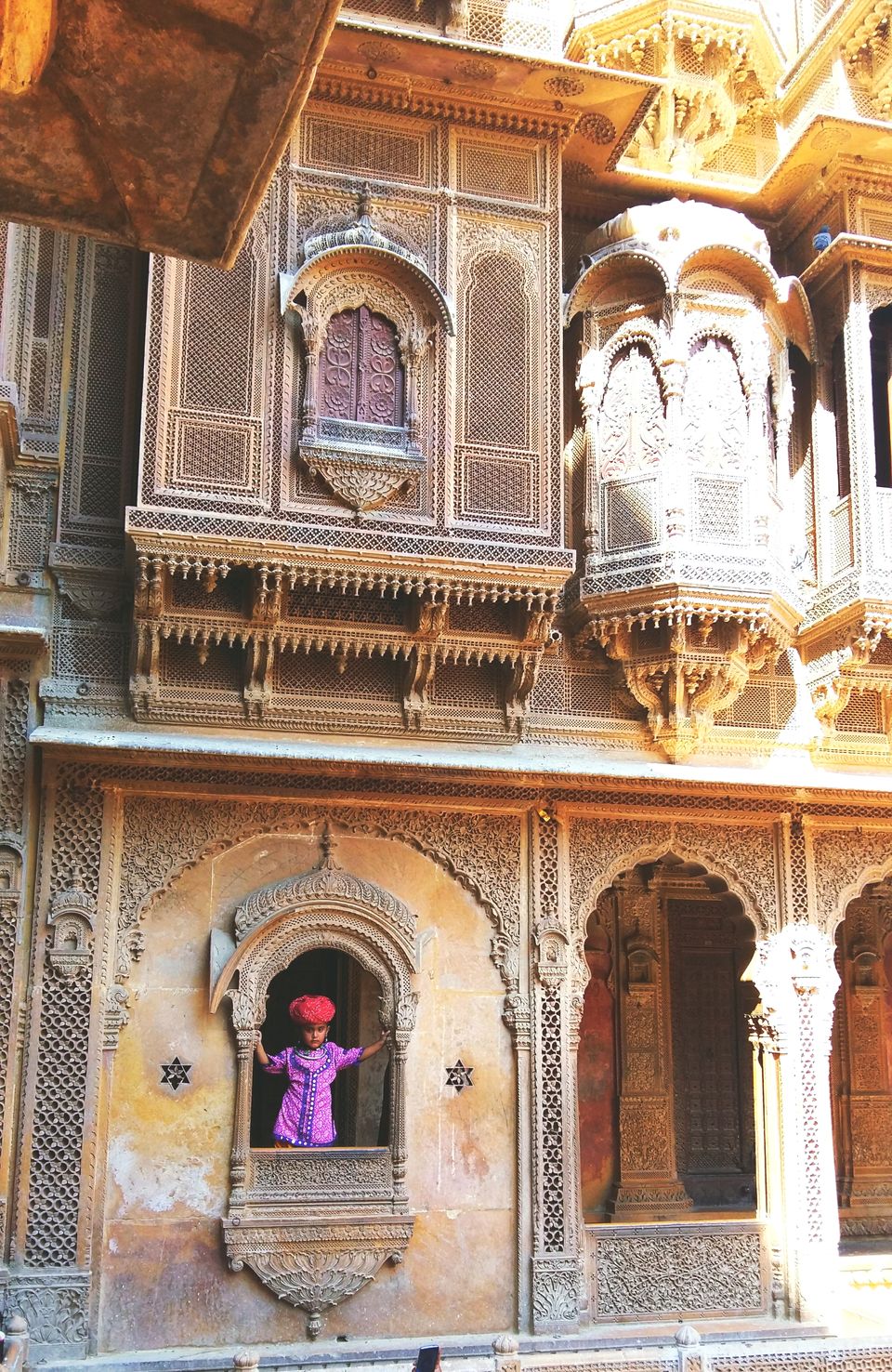 Day 6 - Sam Sand Dunes
The ride from Jaisalmer to Sam is deserted but the roads are fantastic and well maintained. The entire stretch is embedded in a giant piece of dry land. There are many desert camps situated in the area which offers, camel riding, desert safari, stay, food, parasailing, paramotoring, quad biking and cultural performances. In Sam Sand Dunes evenings are craziest, sunsets are chaotic but sunrise is equally peaceful. After nightfall when the moon rises, the complete desert shines like a collection of pearls. You can also visit Kuldhara, the abandoned town which is en-route Jaisalmer. Rejuvenated from the relaxed stay at Sam, I headed back to the city.
The same day, post lunch I boarded my bus to Jodhpur which is at a distance of 290 kms. I reached the blue city by 6.00 pm, on time to experience the night life.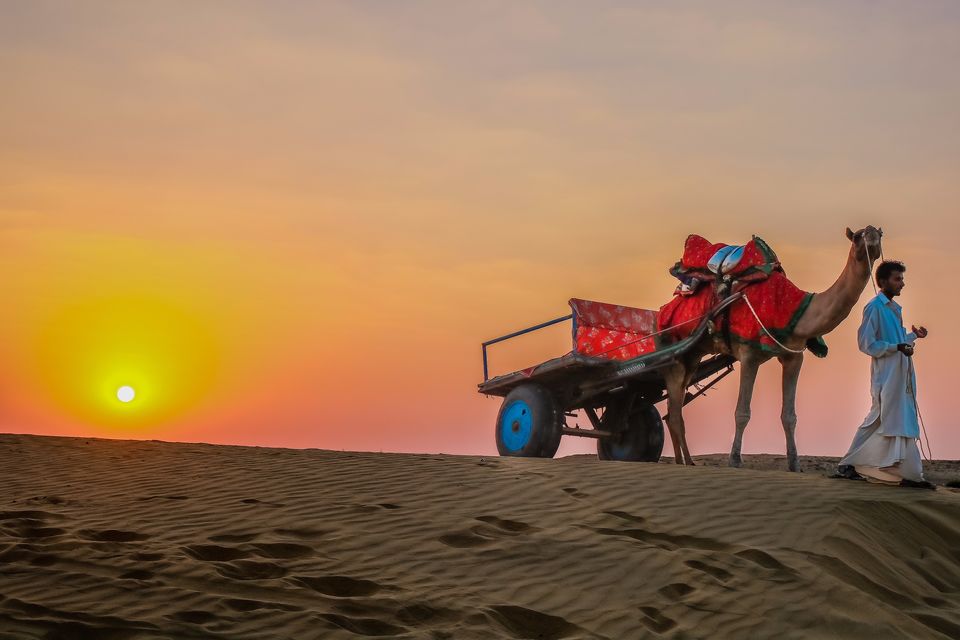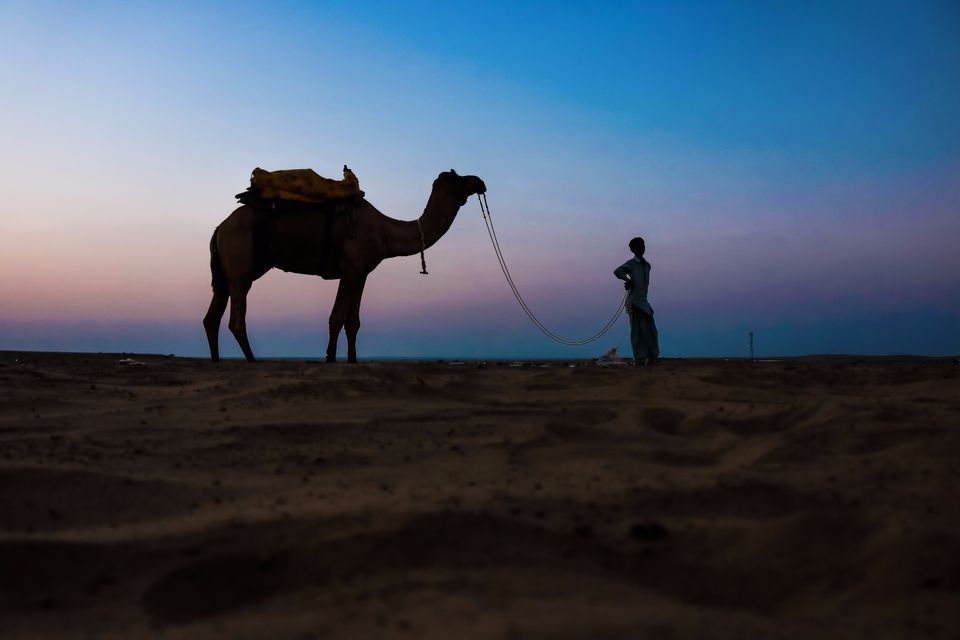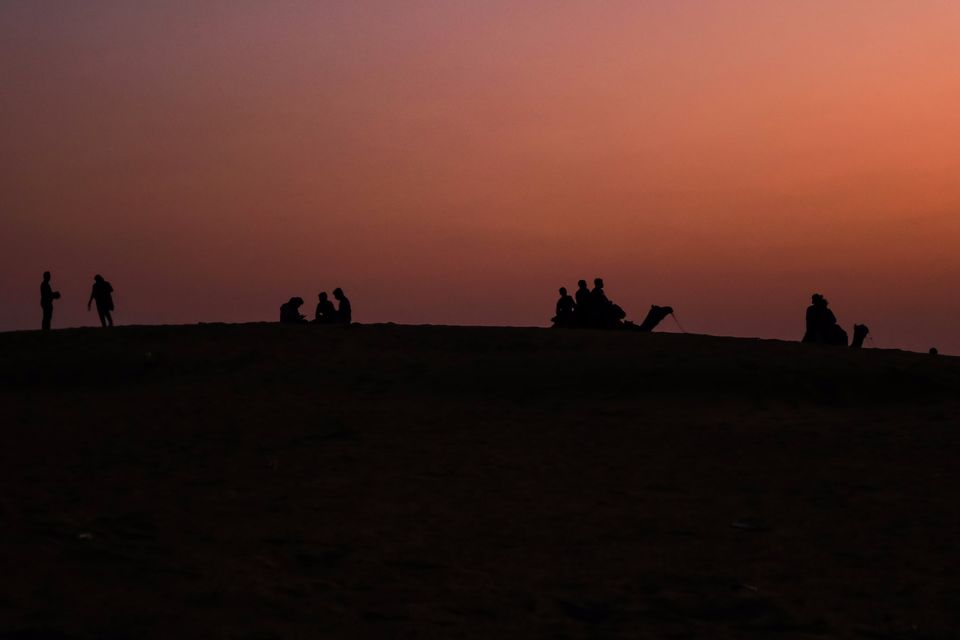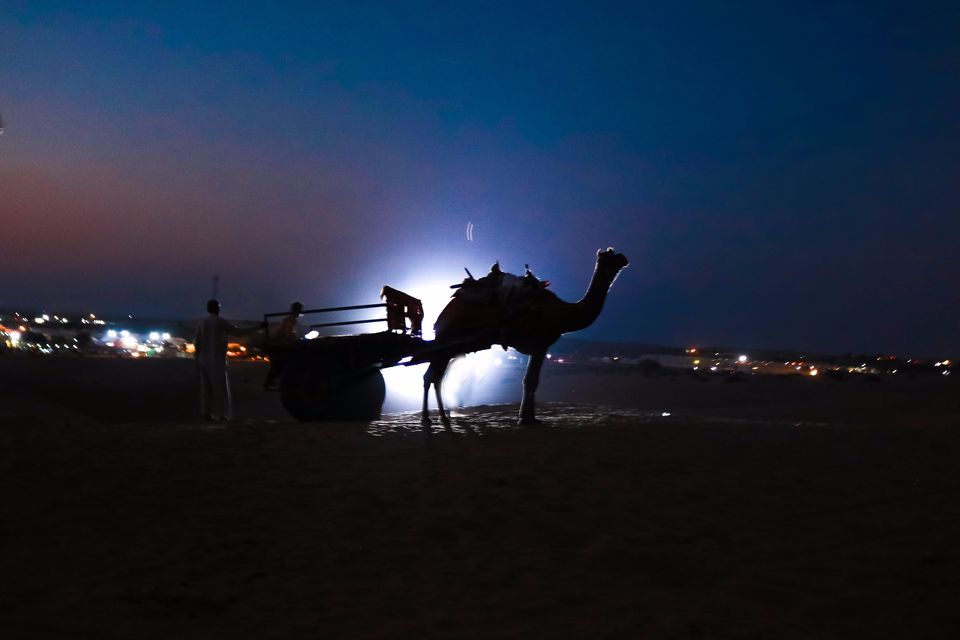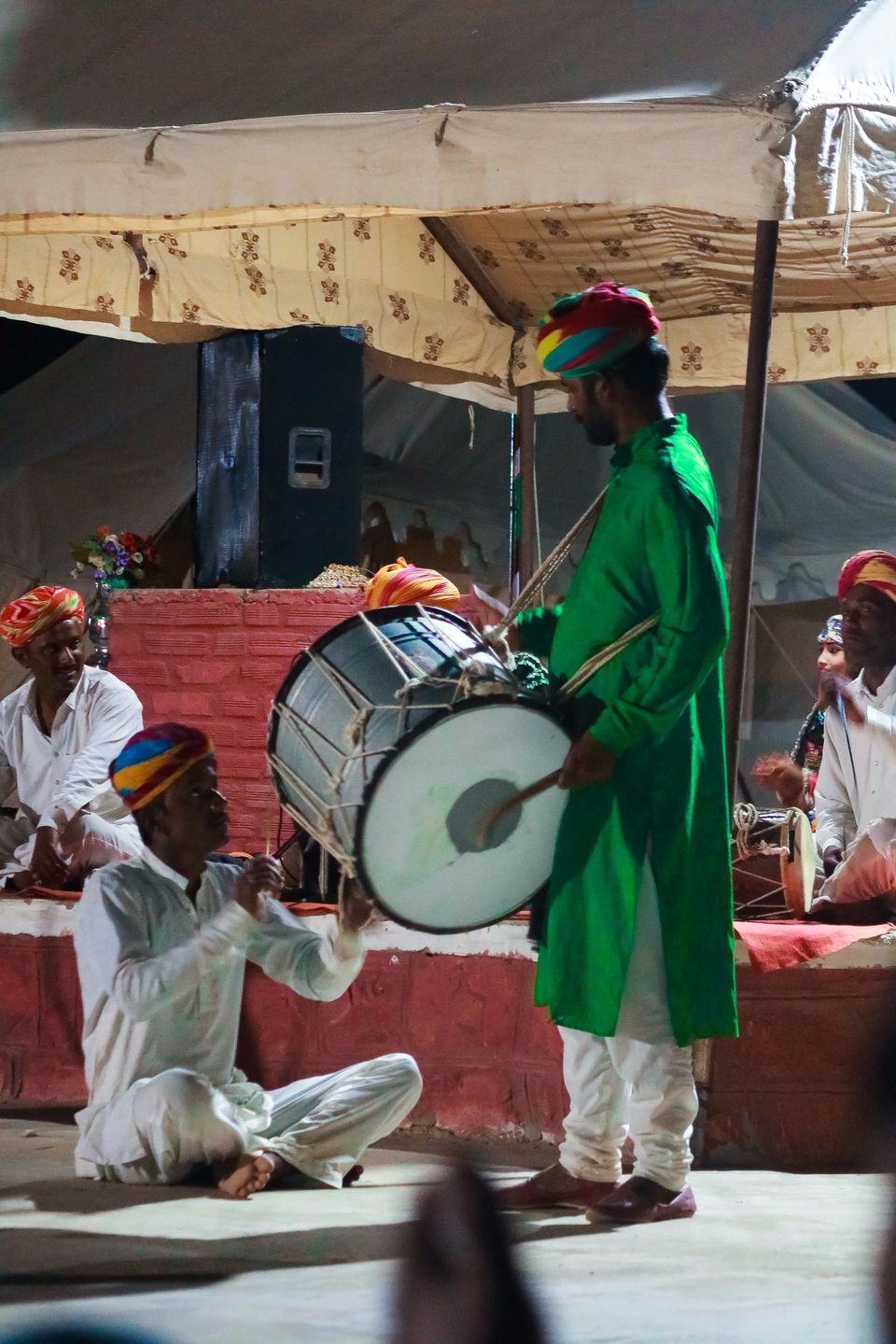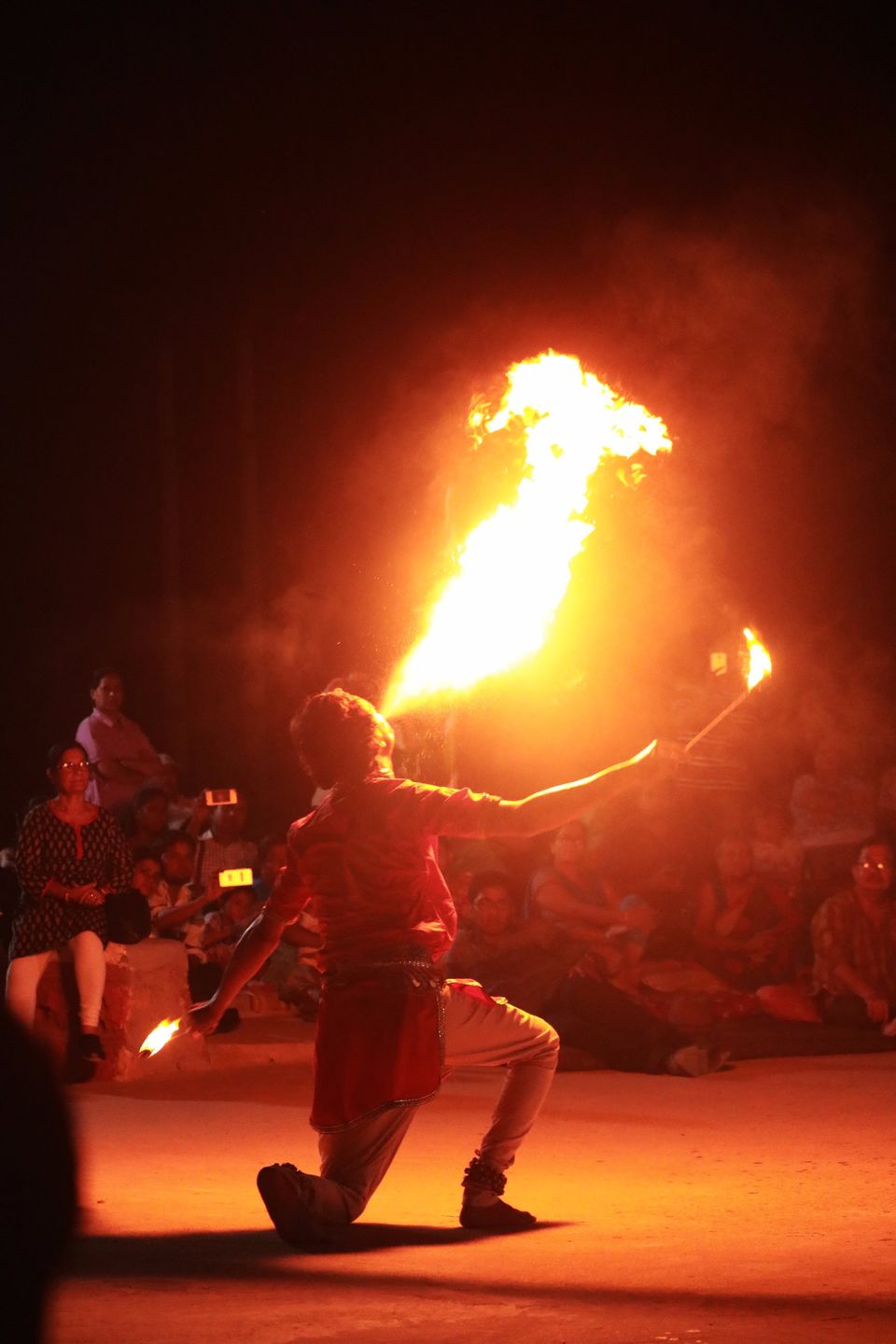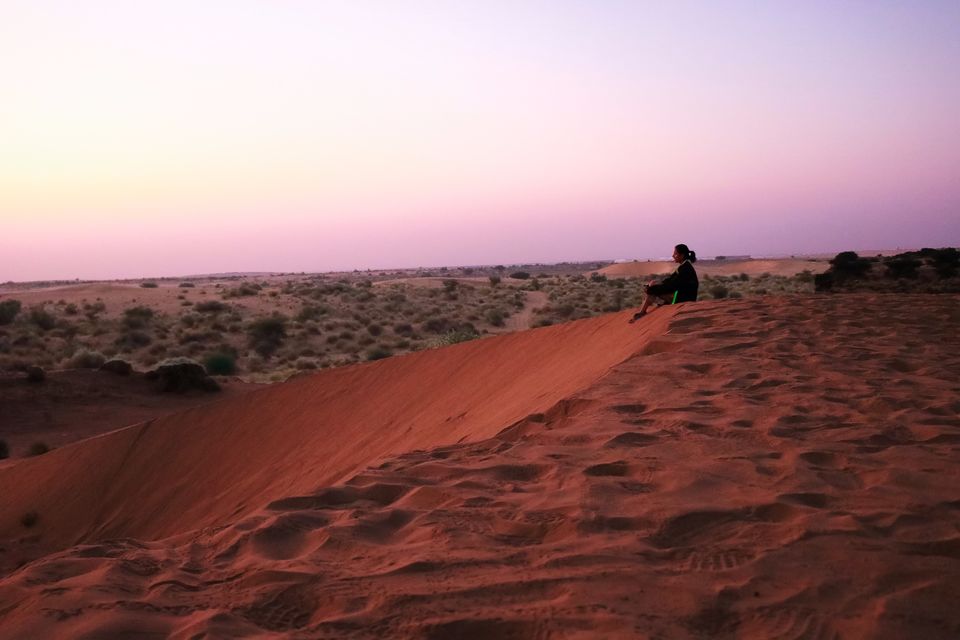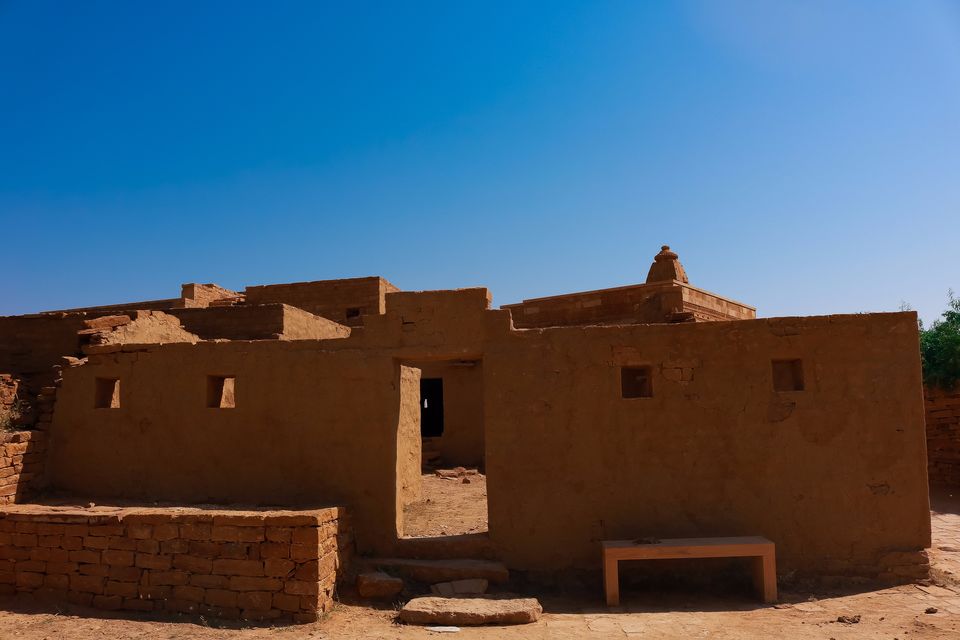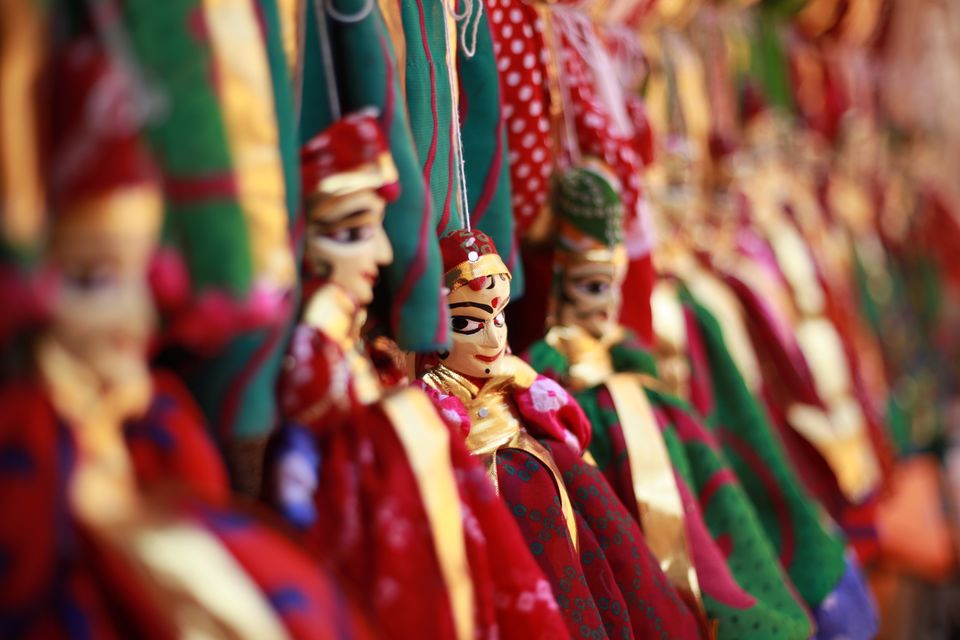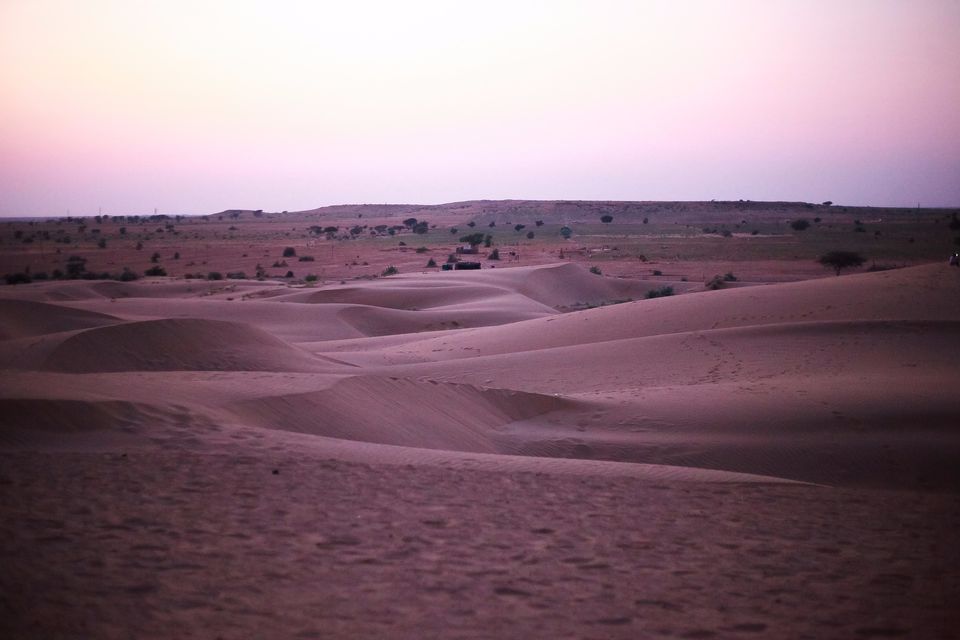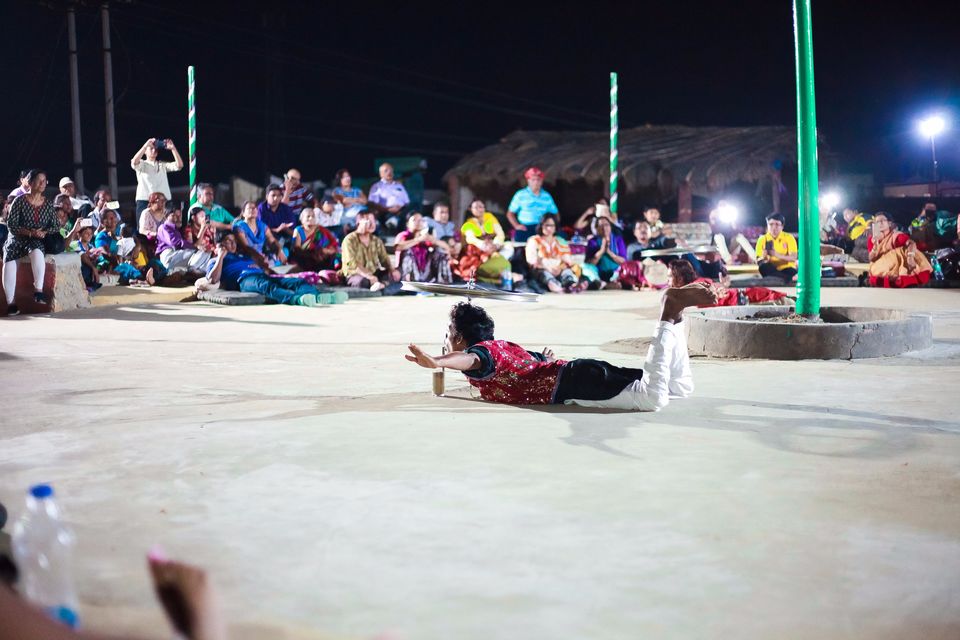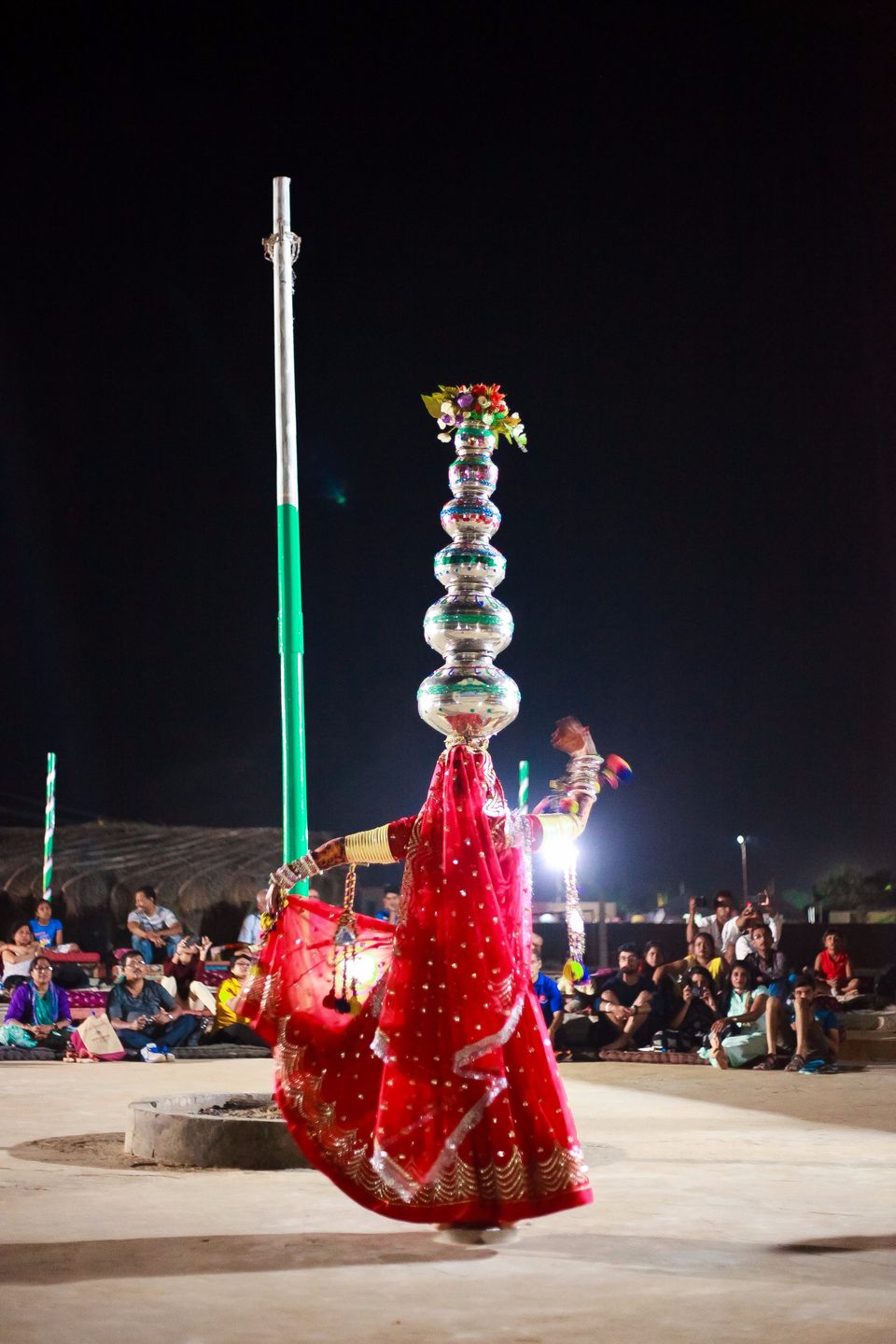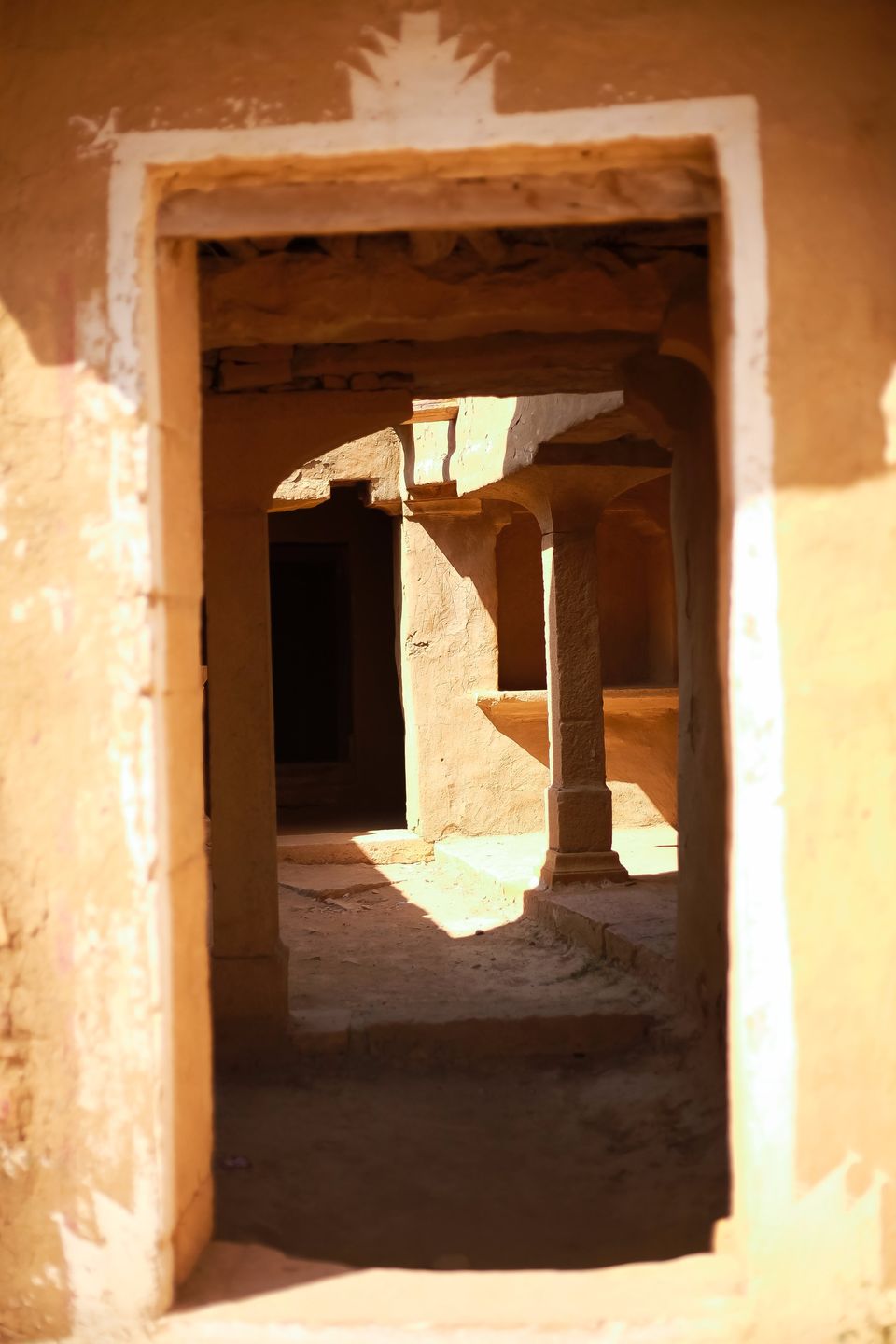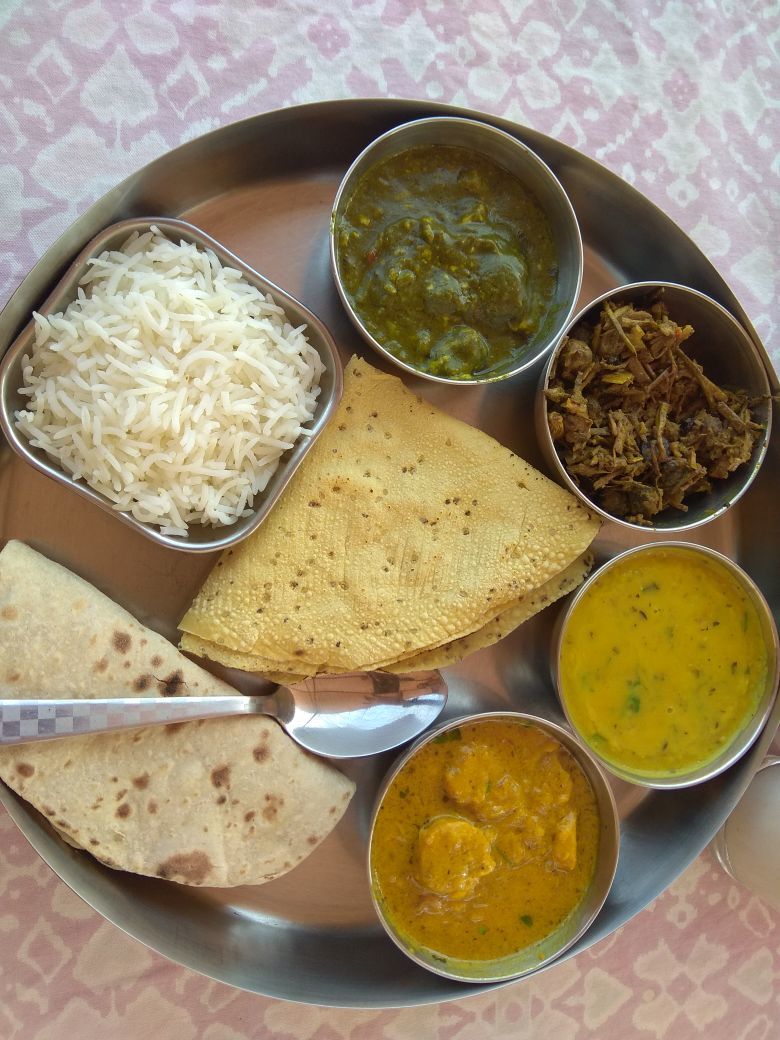 Day 7 - Jodhpur - the Blue City
Although a city, Jodhpur still breathes the royalty that once existed. Right from the grand Mehrangarh fort to Umaid Bhavan, this city has contained its culture and tradition. Visit one of the roof top restaurants surrounding the fort for a spectacular night view of the fort on one side and the iconic Clock Tower on the other. Go zip lining from the fort which takes an hour, have delightful pani puris and go street shopping. The blue houses are extremely difficult to find, start walking the lanes around the fort and if you are in luck, you might find one.
Jaswant Thada, Rao Jodha Desert Rock Park, Pukhraj Durry Udhyog and Mandore Gardens are some places to visit. Circling back to the start, I headed to Udaipur in an overnight bus.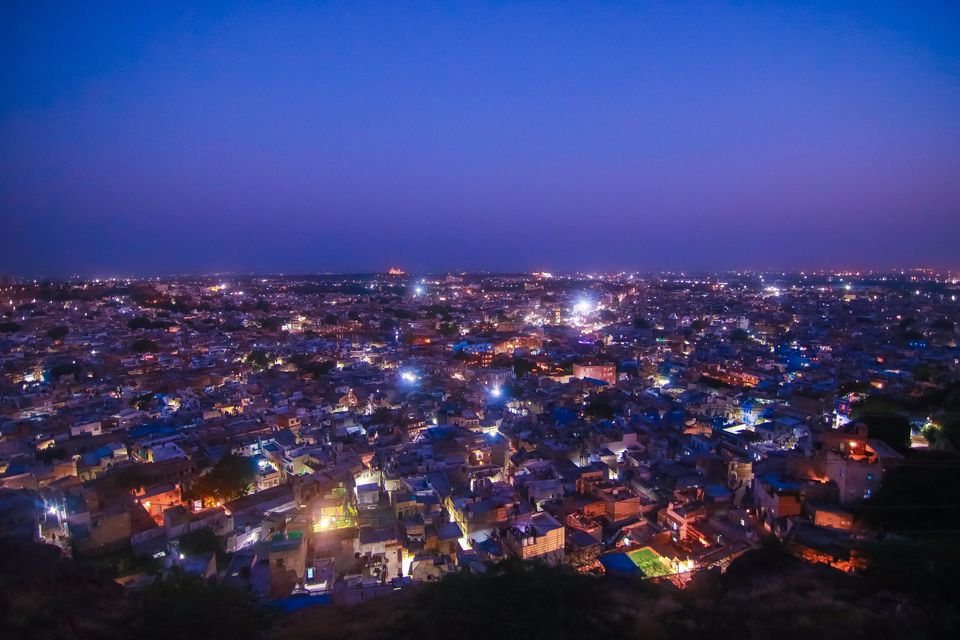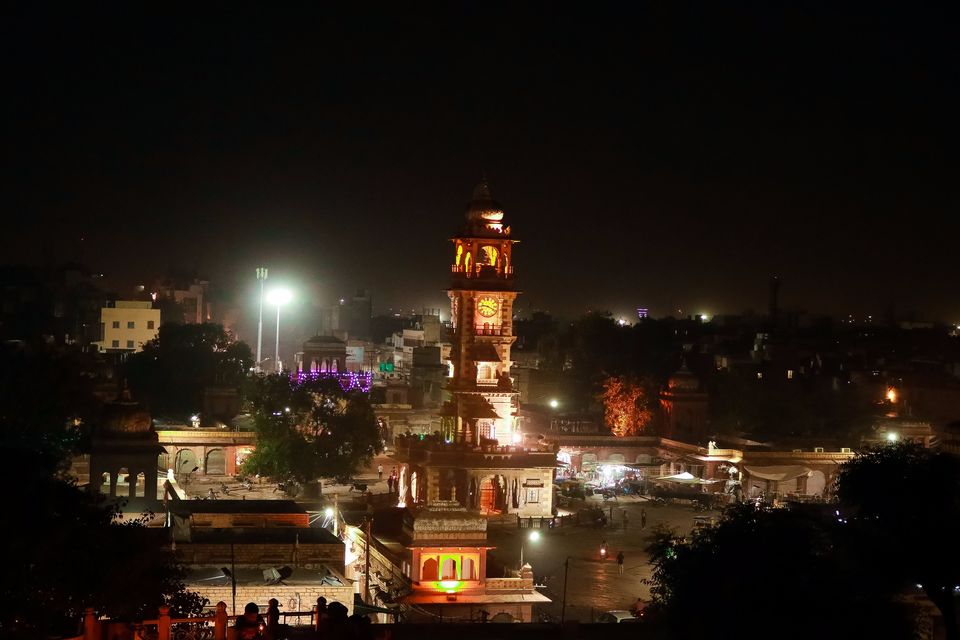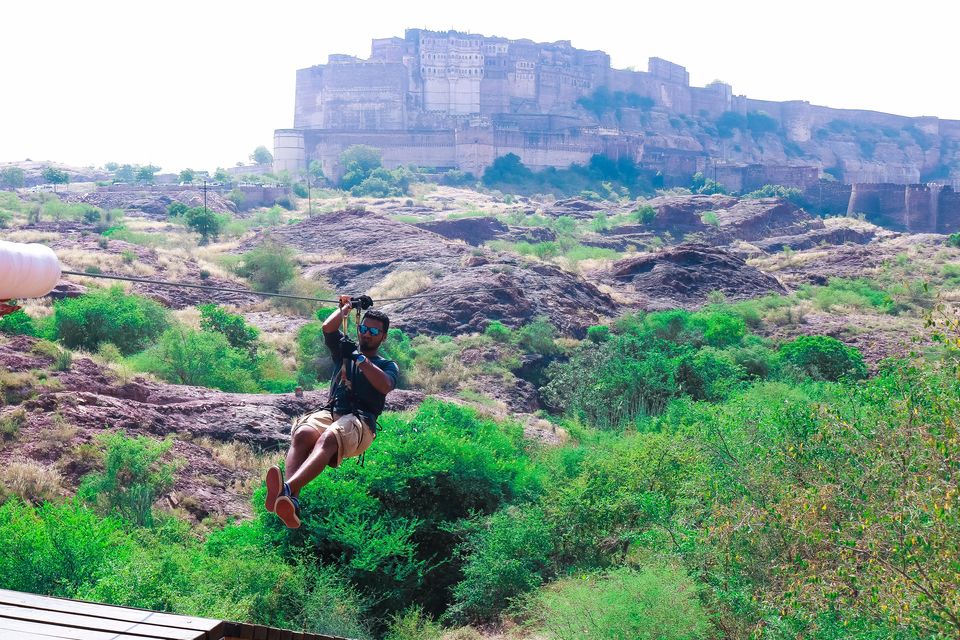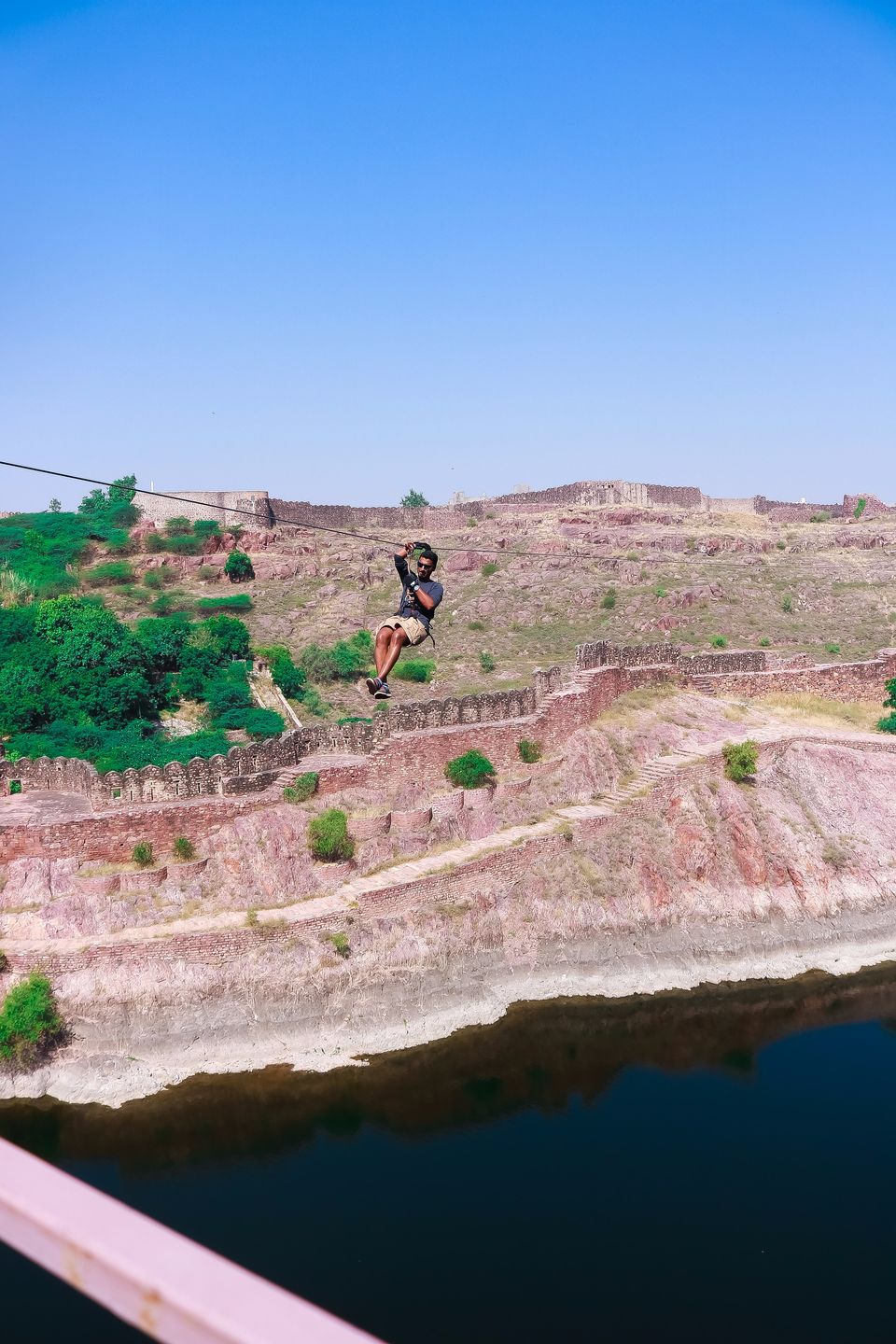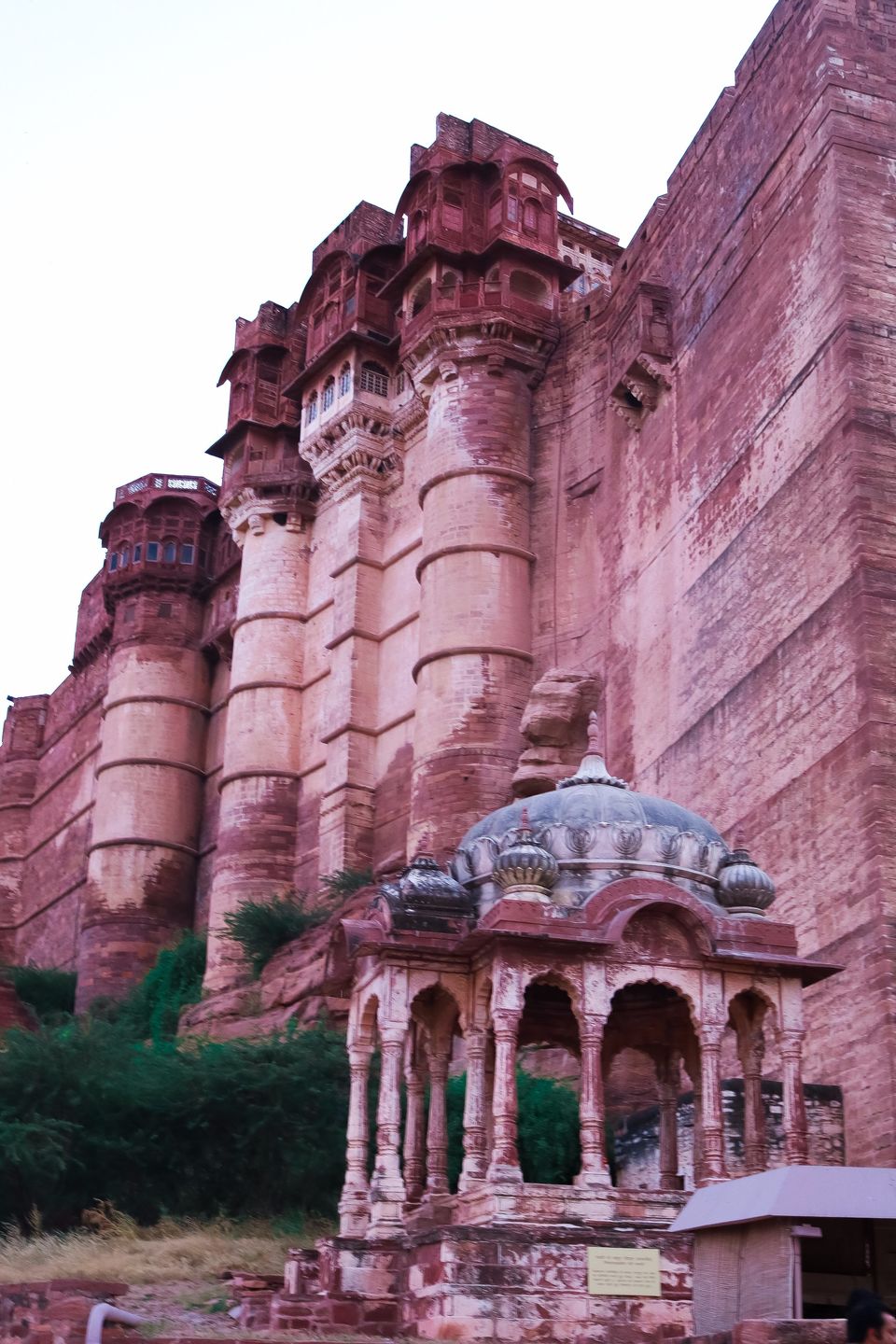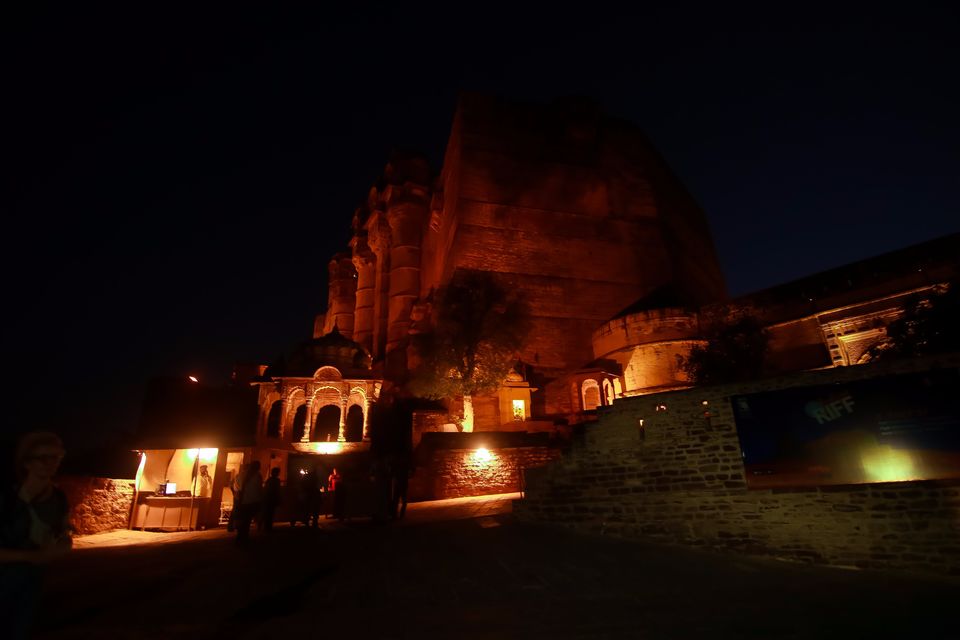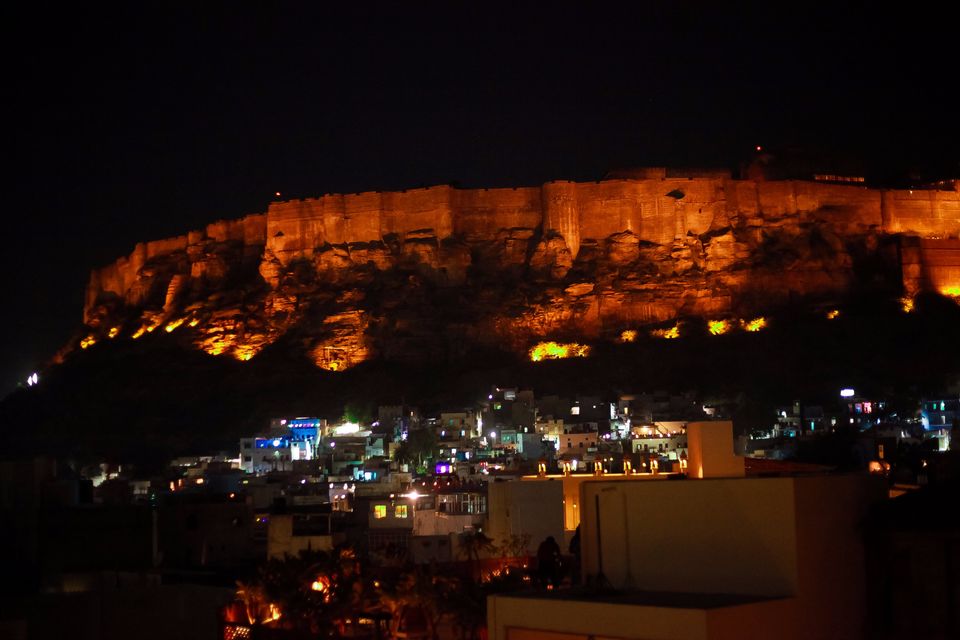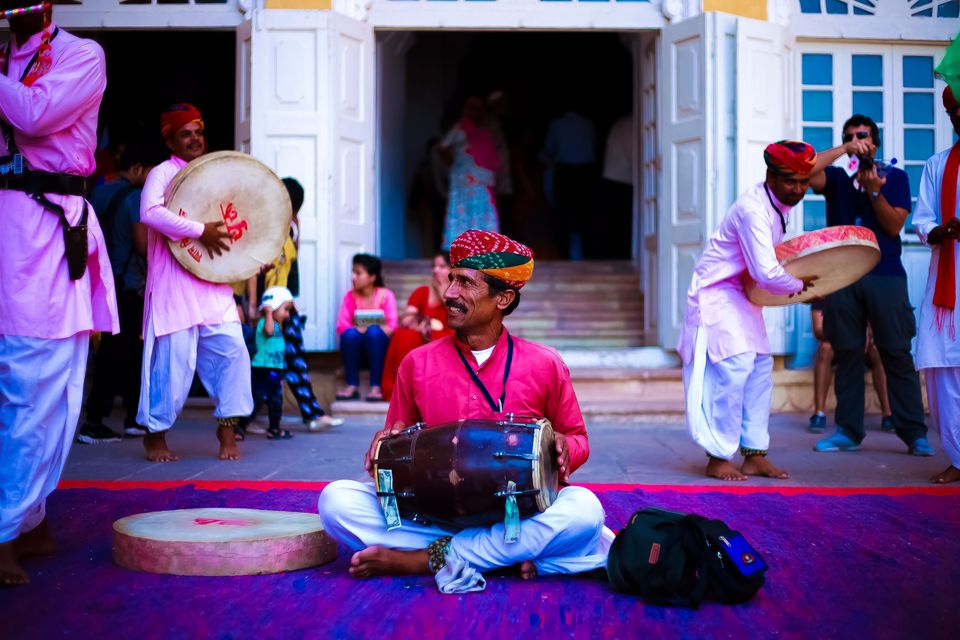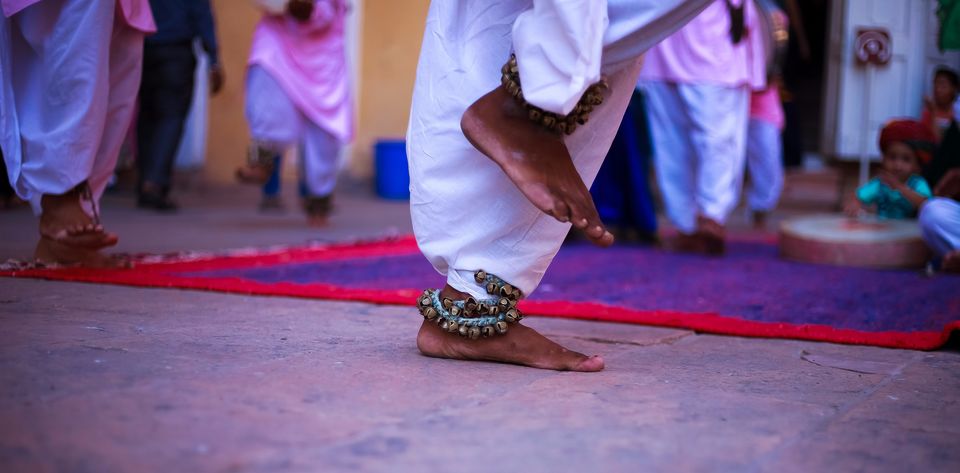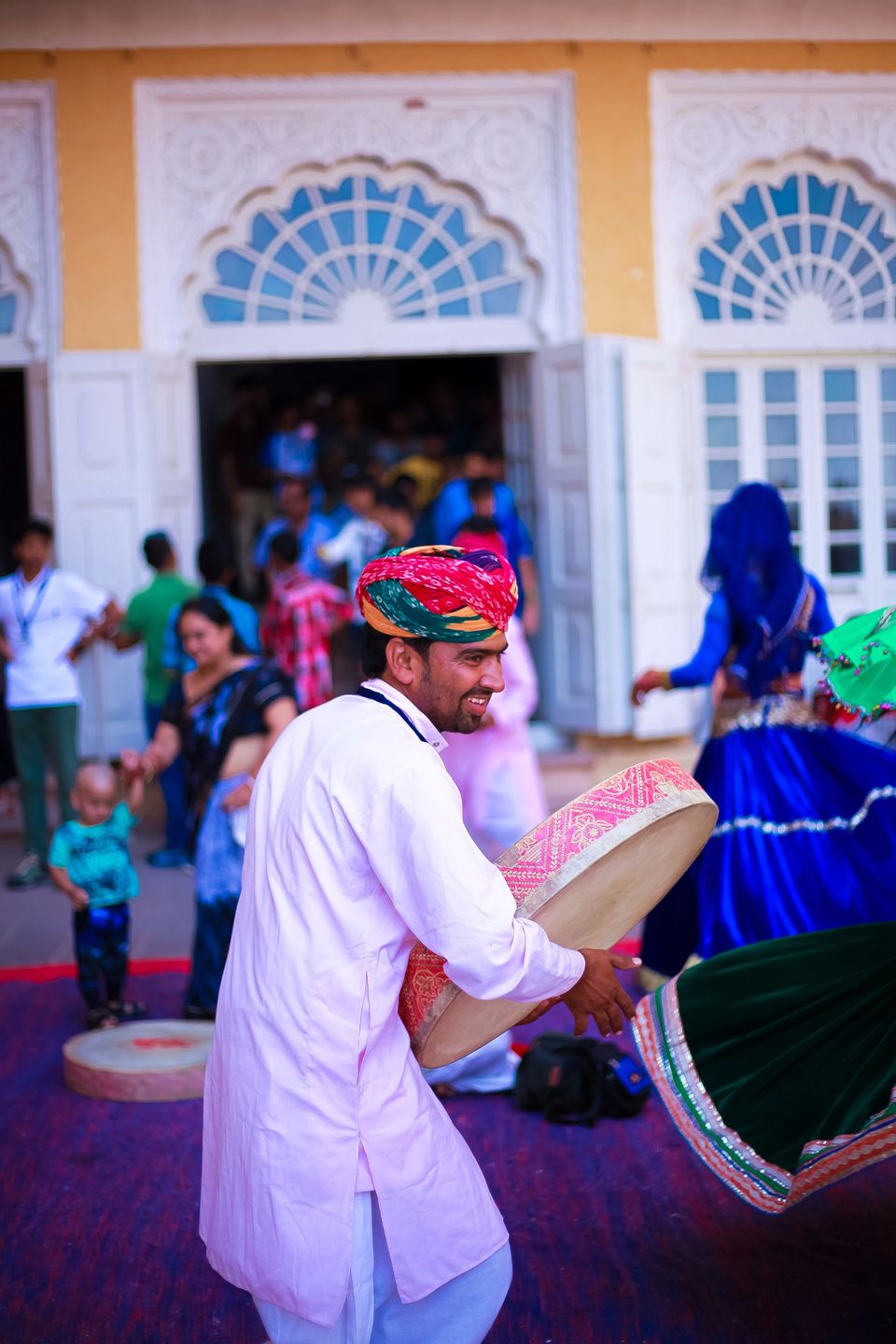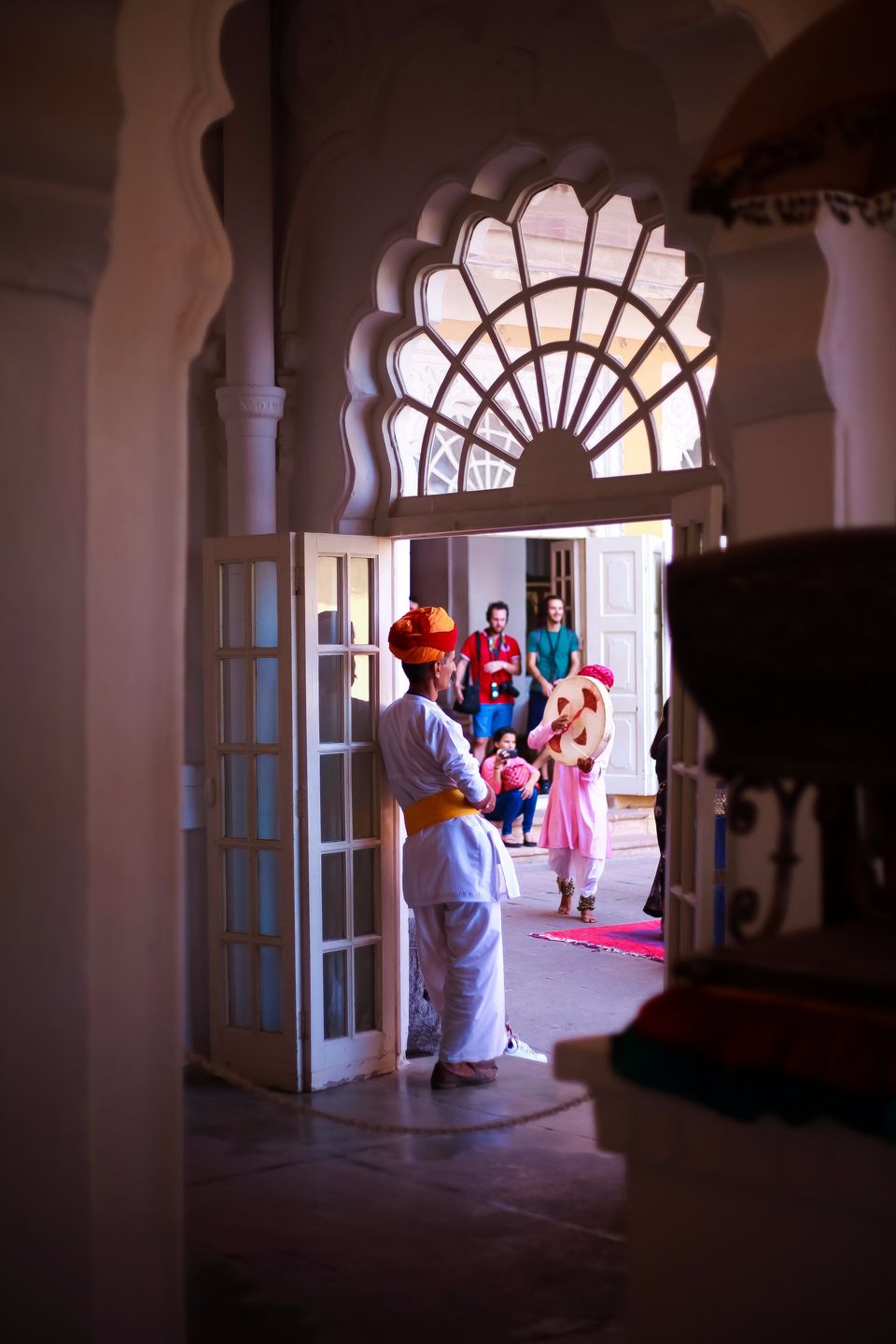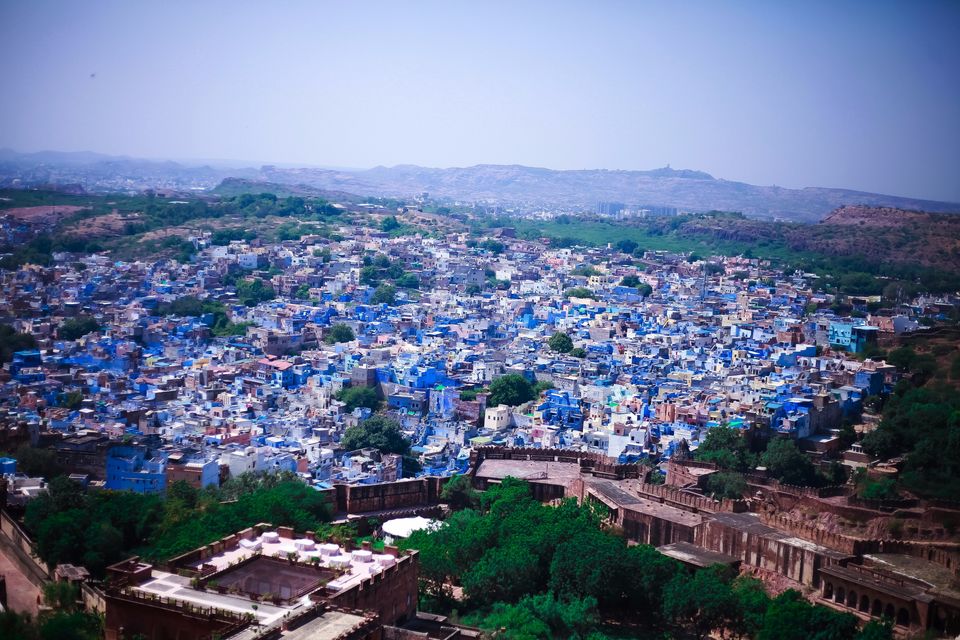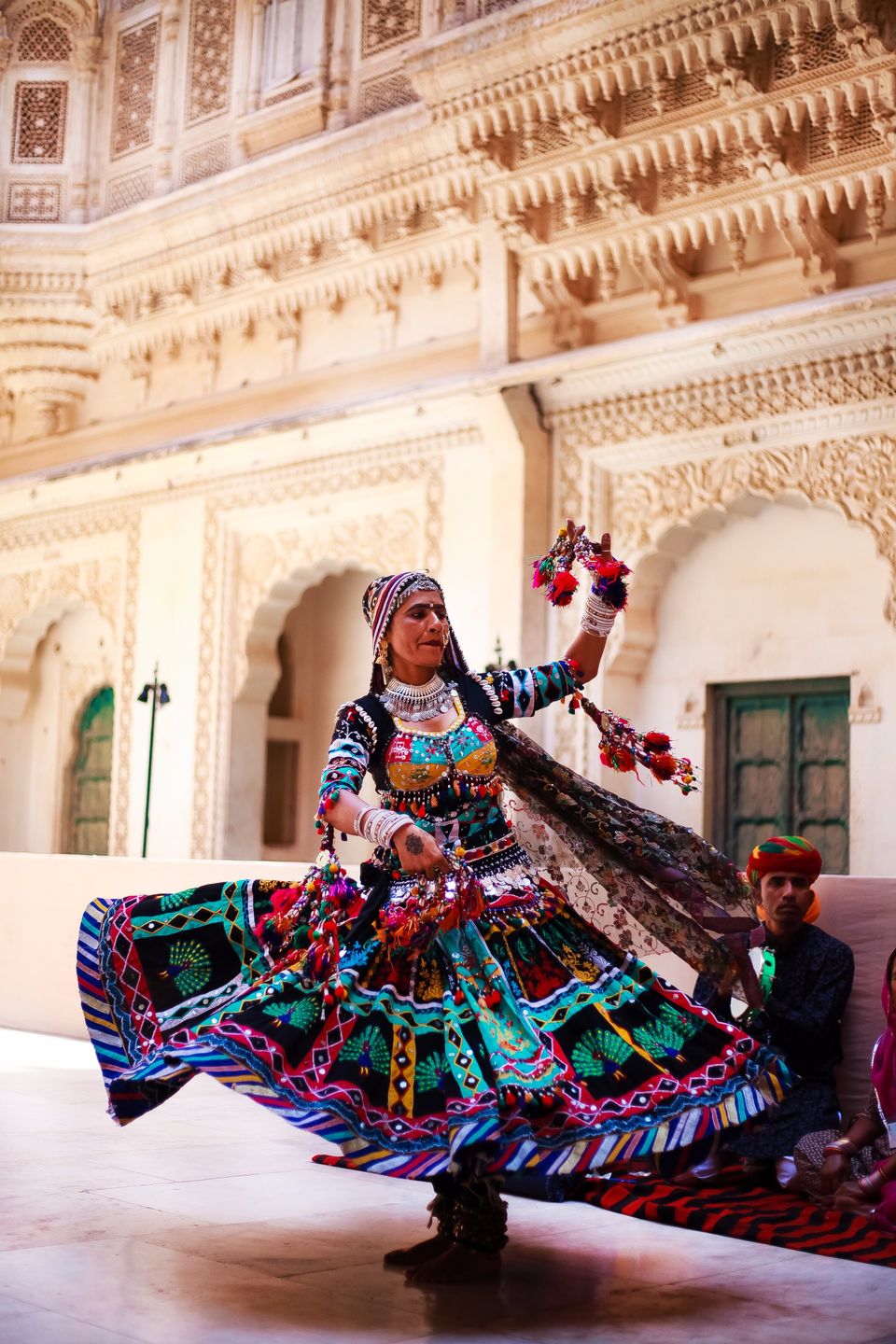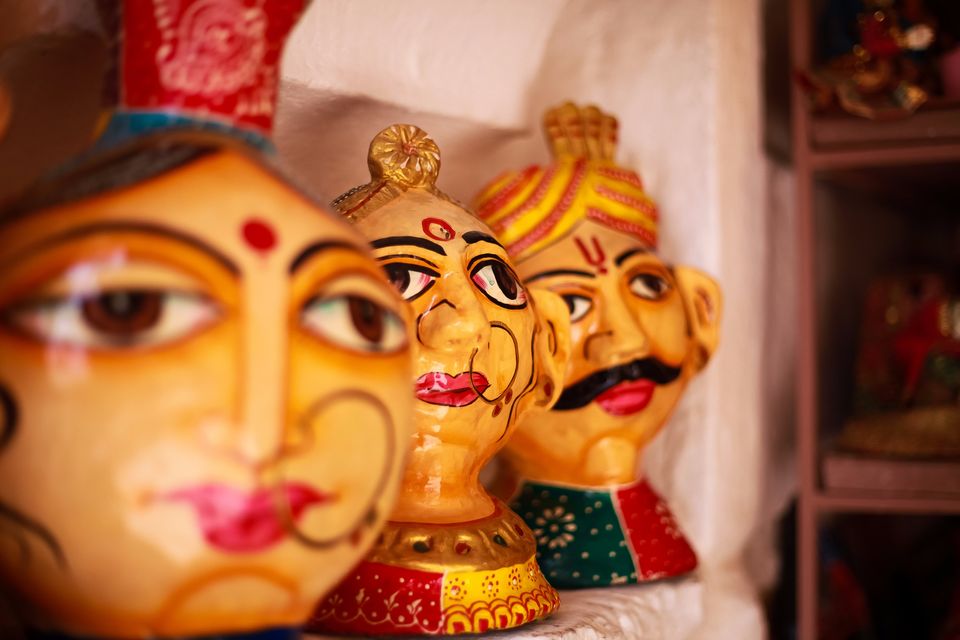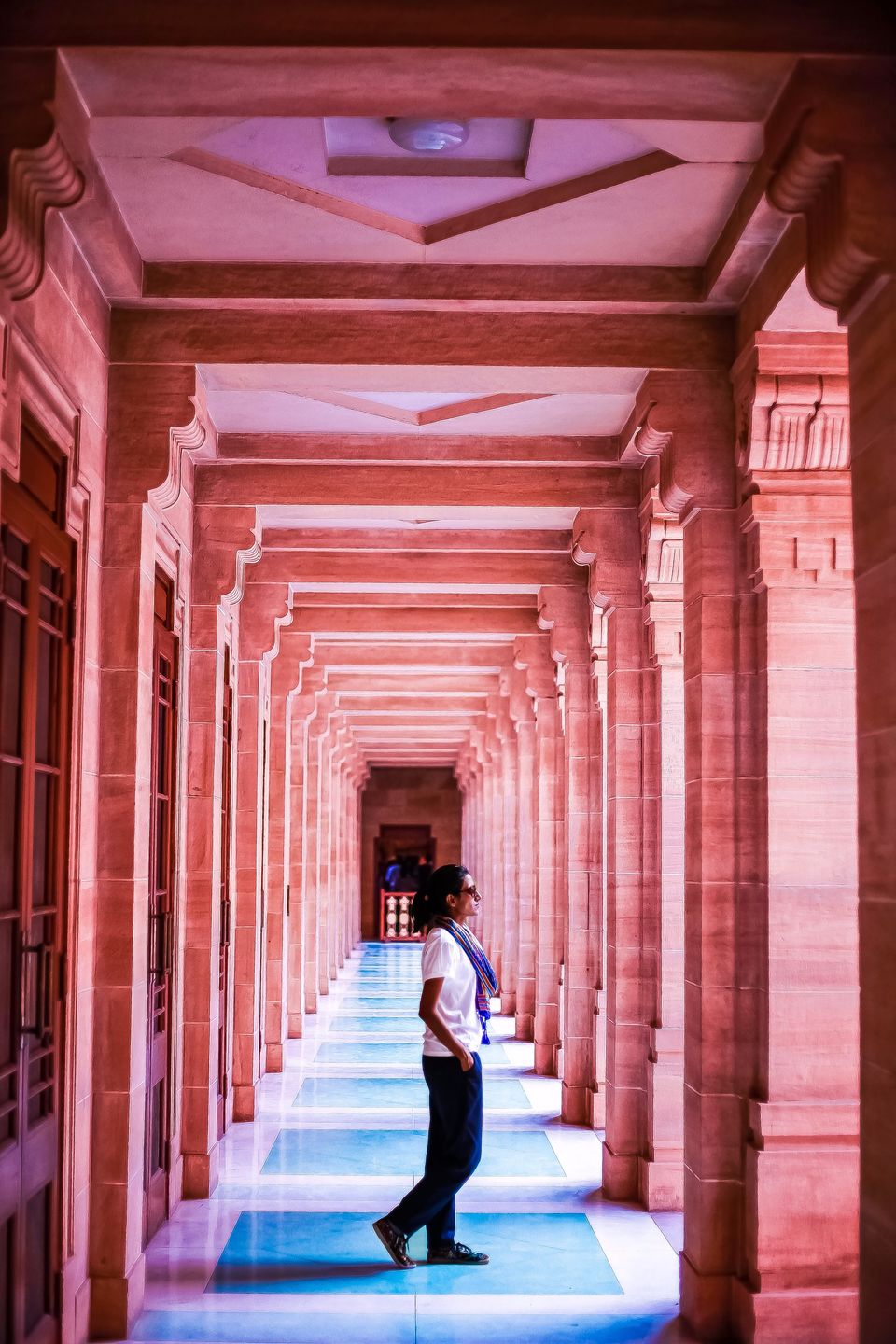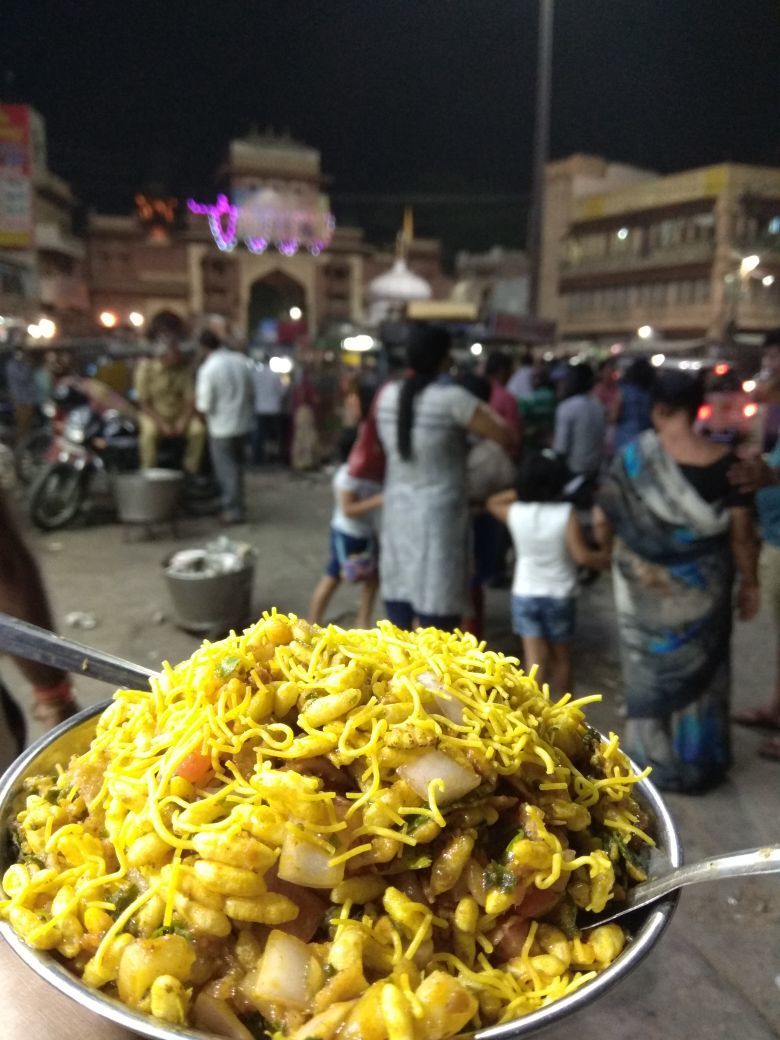 DAY 8 - Udaipur - the city of lakes
It is amazing how one can experience both sides of modern culture and history at the same time in this city. City Palace which is currently a museum gives you an insight to the rich history of the land. By nightfall, Lake Pichola is a man made beauty, the entire area is well lit by pink and yellow lights, it's a treat to the eyes. There are restaurants at the river front lit only with candles, one can enjoy a pleasant evening here, you can also go on a boat ride at sunset. Jagdish temple, Jag Mandir, Saheliyon ki Bari and Bagore-ki-Haveli are some of the other places to visit.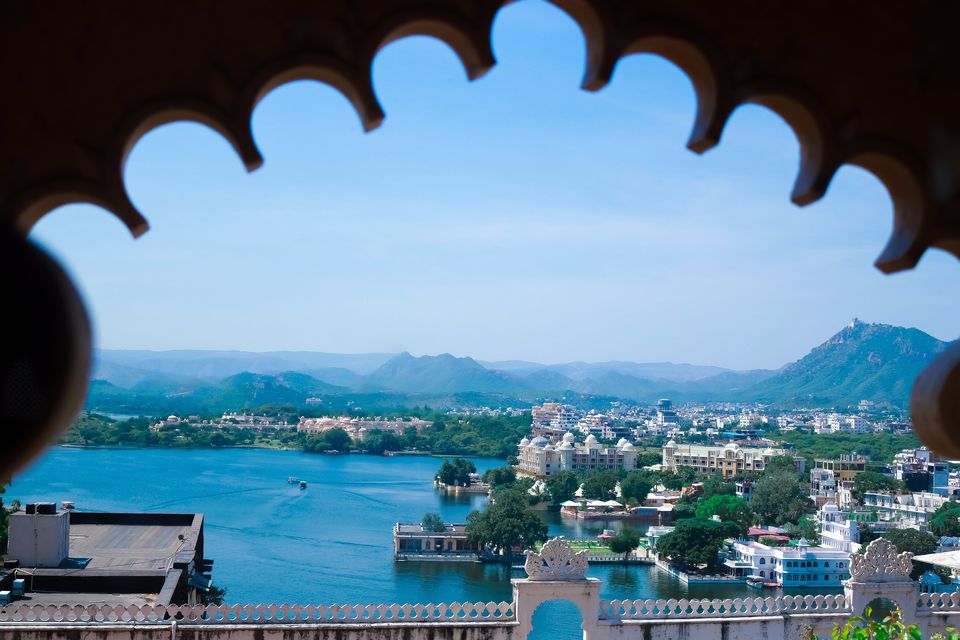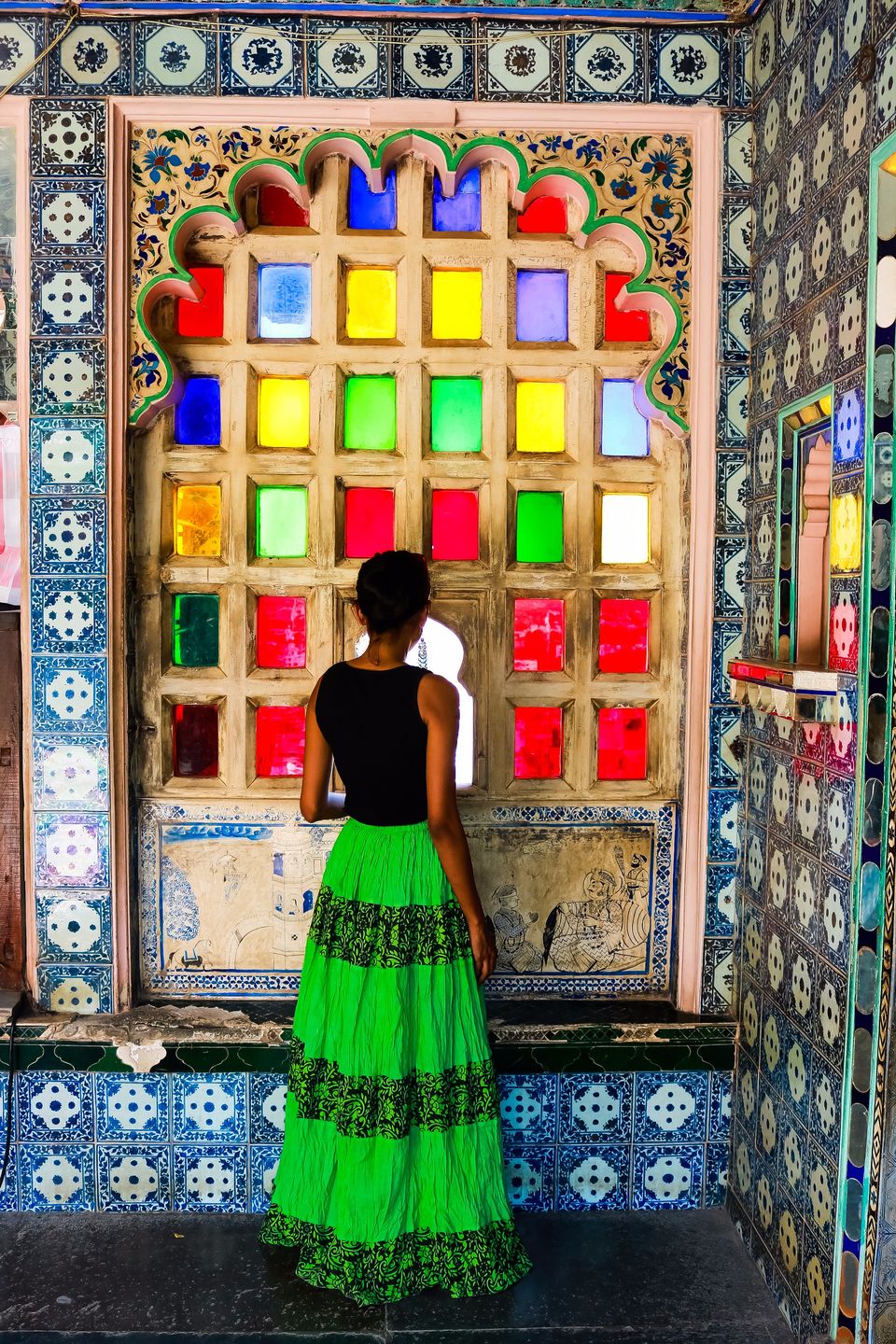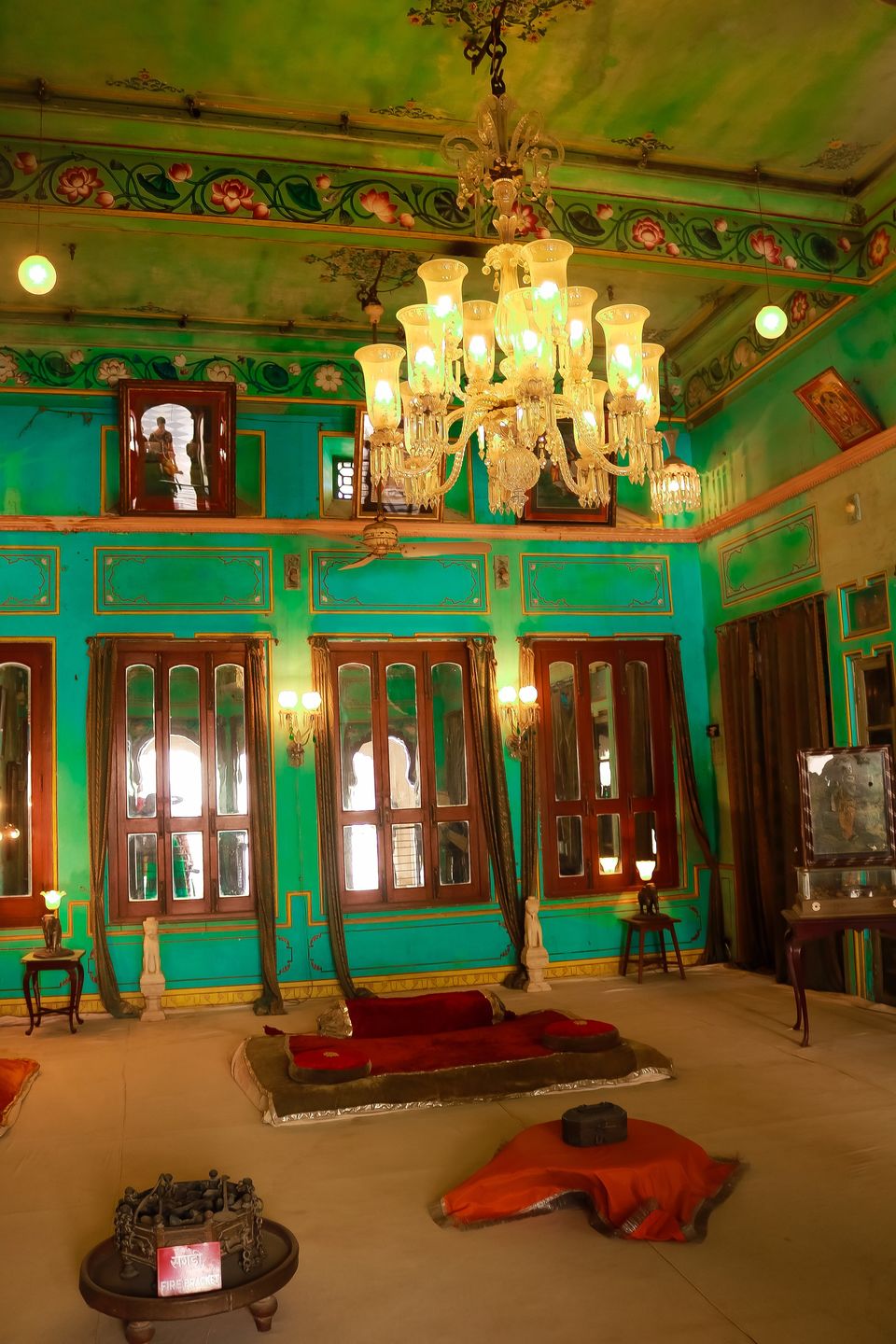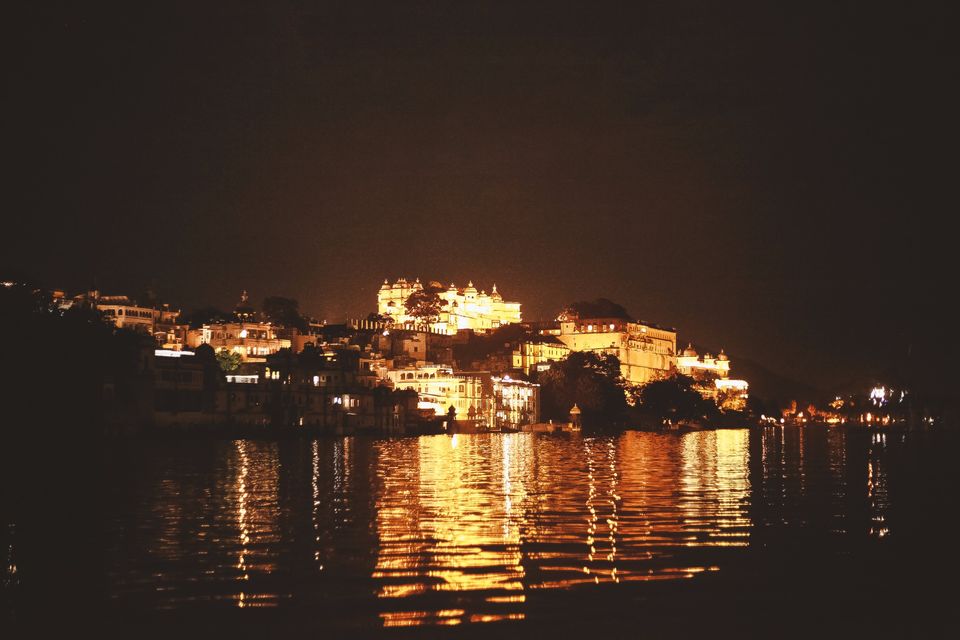 And thus came the end of my journey in the land of the Kings. I still have much more to explore in this kingdom and will soon be back for a different story.
Highlights:
Travel from Bangalore to Udaipur (2 way) by bus - ~5,500 INR
Transport to Kumbhalgarh - 600 INR
Bus from Udaipur to Ajmer - 350
Auto in Ajmer - 500 INR
Bus from Ajmer to Pushkar - 16 INR
Bus from Pushkar to Jaipur - 440
Transport in Jaipur - 600 INR
Bus from Jaipur to Jaisalmer - 700 INR
Transport in Jaisalmer - 500 INR
Bus from Jaisalmer to Jodhpur - 270 INR
Transport in Jodhpur - 200 INR
Bus from Jodhpur to Udaipur - 430 INR
Stay in Jaipur, Jaisalmer and Jodhpur - 5,000 INR
Entrance fee to all the forts, museums and palace - 1000 INR
"The land is wearing anklets, the sky is wearing bangles, the clouds in a happy frenzy have taken different shapes, the beautiful revolving and round earth…"
Bon Voyage!
Signing off rucksackdiaries.