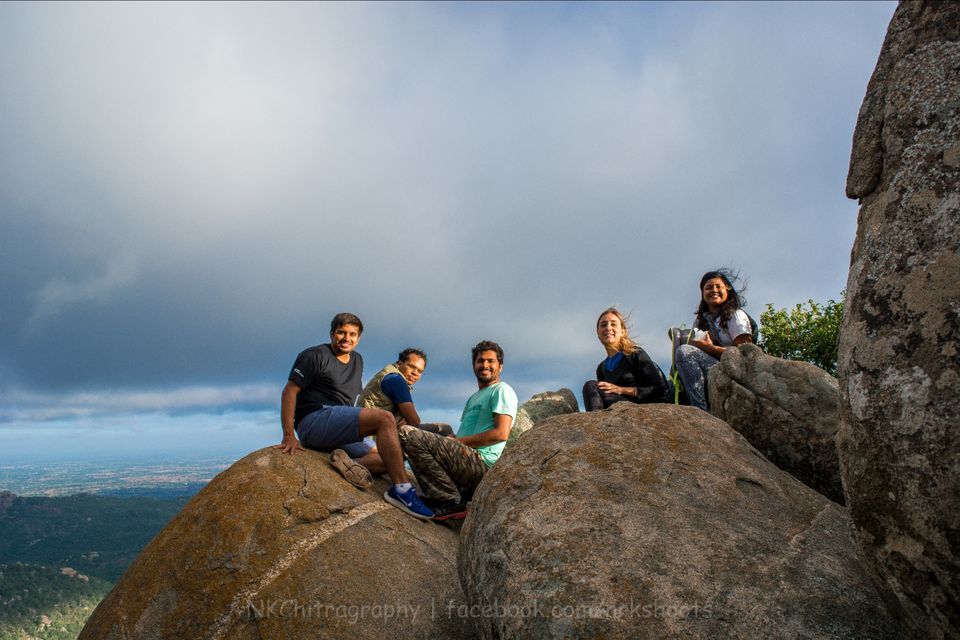 Avalabetta is one of the famous trekking destinations around Bangalore. So if you are looking for an early morning or a day trip, staying in Bangalore, here you go.
It is around 100 km from Bangalore, you have to drive through the Airport Highway approximately 80km and then take left for your destination. Just keep following google map which has made human life easy to reach the destinations :D. Once you reach the base of Avalabetta, you can find a big parking area.
We started our journey from Bangalore around 5 am and reached the destination around 7.15am. The drive was really good and freshen up. We missed the sunrise because as we reached late.
The road is good and vehicles can reach till the top, but the gate is usually kept closed so that the place is not crowded with vehicles rather than people. So here you have a choice of either keep walking on the cement road or take up the stairs. Going upstairs is shorter and it passes through the trees, keep walking and enjoying the nature.
And here you reach the first temple. To reach the viewpoint and famous cliff point, you have to take right from the first temple which is at the backside of the temple. Keep walking with the beautiful view till the cliff. When we reached here we saw many people on a cliff taking photos. But there is a board mentioning don't go on the cliff. So we didn't go on it. We kept walking towards the top.
If you would have taken left from the first temple and continue to climb up, you will reach the top temple from where the view is really good. You can sit here and enjoy the sunrise and nature.
We got disappointed by looking at the garbage (plastic bottles) thrown all over the places here and there. So we collected the bottles and some other plastics bags around the place while walking back. But there are lot of monkeys around and they snatched the garbage bags and again spread the garbage around. We did collect it again and carried with us as much as possible. So be careful, monkeys all around.
Please don't throw garbage anywhere, keep the earth clean and if you find any garbage please carry with you as much as possible and keep in dustbins.
So depending on what you do, it takes around an hour to cover the entire trek.
On the way back to home we stopped for our breakfast at Indian Paratha company which is on Airport highway and we reached back around 12 pm.
Time to visit? - Will suggest morning sunrise but you can visit any time of day.
What to carry? - Water and some snacks, but don't throw garbage anywhere on your way and be careful of monkeys if you are carrying food/snacks.
What to avoid? - Don't go on cliff point because it is restricted.
Destination on Map - https://goo.gl/maps/ZYuqe2LcWWkuZPbW7
Follow me on Instagram if you like my post and photos. https://www.instagram.com/nkchitragraphy/