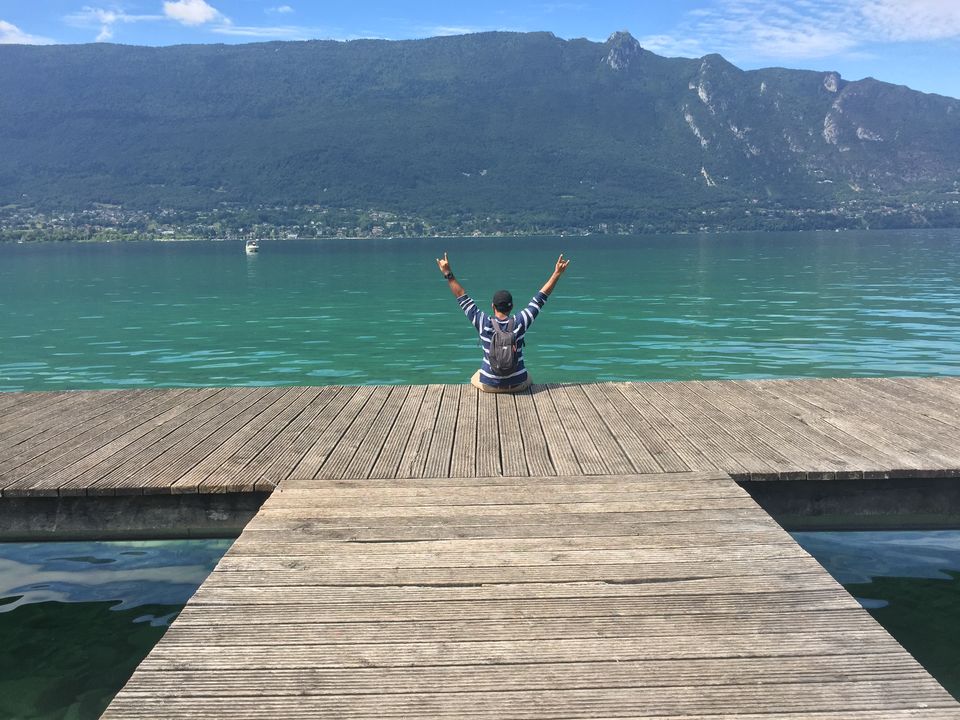 Everyone wants to backpack through Europe to explore the beautiful cities and also the natural beauty it has to offer, it is just the right blend of urbanization and nature. Also, I believe Europe is best explored if you are traveling on budget - Backpacking your way through different cities, staying in hostels and meeting new people, shopping in super markets and cooking your own food to save money, etc - Something that will create a memory of lifetime.
It was my first trip to Europe and I was a bit anxious of how I will be able to manage my way around with limited budget on hand.
My first destination was Paris - A city which I always wanted to explore since the time I started traveling. I had heard that french people are not helpful when you ask them something. But I can say that it is just a myth. I was unable to figure a way on which Metro should I board to reach Montmarte and when I asked few people around, they actually came along with me to show from where to board the metro even though it was in opposite direction for them.
With help from Locals I reached my hostel and started to see what are the things I can explore and how to travel.
First place I visited was "The basilica of Sacré-Cœur" - A place which is the home to all the artist in France. You will see people from all over the world displaying their skills and for some it is the way of living. Just to give a glimpse of few of the artists check out these video here;
It is the 2nd most visited church in France after Notre - Dame cathedral. You can actually get a view of the entire city from here and it looks really pleasant during sunset.
As you walk down from the church and start exploring the streets of Montmarte you will experience a different kind of vibe as you will be entering the birth place of Cabaret - Moulin Rouge. You can witness some of the best performances here and every single penny you spend will be worth it.
If you are looking for a descent place to stay, you should definitely book your stay at Le Montclair hostel. It is one of the best hostels I have ever stayed in. You can get free food here which is left over by other travelers and if you are lucky you can also get a free upgrade.
Next day I made my way to the center of the city and the place which I had always on my list - The Eiffel Tour. As soon as I got down at Bir-Hakeim metro station my enthusiasm went up to another level. The first site of Eiffel made me fall in love with this beautiful wonder.
You can go to the top of Eiffel and get a bird eye's view of the entire city. The city looks the most beautiful from here.
But I must say, watching Eiffel from the outside is more pleasant especially when it glitters in the evening. It looks like the brightest shining star you can ever see. I was in awww when I saw it glitter and I stationed myself at the same place for 3 hours to see it over and over again (P.S. It glitters for 5 minutes every one hour starting from 1900 hrs).
I started heading back to my hostel and traveling via metro is so much fun. You will see local artist showing their skills even on metro and it is fun to watch them perform.
Next day it was time for us to walk as much as we can. First thing we went to explore was the symbol of love - The Love Lock Bridge or also known as Pont Des Arts. Couples from all around the world write their first name on the lock and attach it to the railing of the bridge. Once locked the keys are thrown in the river as a romantic gesture. This gesture is to represent committed love between couples. But unfortunately in 2015 it was banned and you won't see much locks on the bridge anymore. But it is one place in Paris if you want to spend some quite time.
Next up was some art and it was time to see the beautiful painting of Monalisa at the Louvre. The Louvre palace was the main residence of the french kings until 1682 when Louis XIV chose palace of Versailles for his household. Leaving the Louvre as the place to display Royal Collection.
We were then headed to explore some latest collection in Fashion at Champs Elysees Paris - The street where you can find all the latest collection in the world. However, we decided to talk a walk on the sides of the main street which was equally pleasant.
The street actually starts from Arc De Triomphe which was made to honor the fighters who died during french revolutionary and Napoleonic wars. It's right at the center and there are 8 ways to exit from this point which takes you to different parts of the city.
We were then headed to see the standing lady or better known as "Statue of Liberty". Yes there is one in France! The actual statue of liberty was gifted by France to Americans in 1886 and then in 1889 the Americans return the favor by gifting a smaller version to France.
And the last stop before we check out from Paris was the most visited church in Paris - Notre Dame. It is considered to be one of the best examples of French Gothic architecture.
Paris was just amazing for us. And to explore some more beauty that France has to offer we moved to the southern most part of France - Grenoble.
We went on a road trip from Paris to Grenoble and the entire trip was just beautiful. Just before we reached Annecy, which has the cleanest lake in Europe, we explored one of the most under rated destination in France - Lac De Bourget! The view of the mountains were to die for and the color of the water was turquoise, something we never saw before. If I had a chance to settle anywhere in the world, this will surely be the place. If you are planning a trip to south of France, make sure this unexplored destination is on your list.
From one beautiful lake to another - The view of Annecy was mesmerizing and something that I always dreamed of. If possible go for a boat ride and peddle your way to the middle of the lake and you will understand why is it called the cleanest lake of Europe.
We wanted to explore the french alps, but due to ill health condition I couldn't go forward. Which now gives me a reason to visit France again.
From France, we took a long ride back to the city of cycles -Amsterdam. The moment I reached Amsterdam, the atmosphere just lit me up. There were people all around and everyone was happy. Everyone had a smile on their face. We straight away went to our hostel and dropped our bags to explore the city. The first view that had our attention was bicycles parked across the bridge. We had to stop to click a picture to have a life long memory.
There are many places that you can explore in Amsterdam - Bull Dog Cafe, Red or Blue light area, Vondelpark (specially for people who wants to fly while they are on the ground) and the landmark I Love Amsterdam sign. The best way to explore these places is during mid-night.
From one beautiful city to another - from Amsterdam we left for Rotterdam and the first look of the city was mesmerizing. We stayed at one of the best hostels in the world i.e. Hostel Ani & Haakein. You can read the story of how two travelers decided to invest their savings to open up their dream hostel. When I was there, I even inquired for a job thinking if I can work there at least for a year. And Yes, you can do it. They will take care of your accommodation and you need to supervise at the hostel. Someday I will take a sabbatical from my job and live this dream.
But for now let me tell you more about Rotterdam. Some may say Rotterdam is not scenic and I may agree to it. But it does not mean it is boring. Rotterdam has a different feel which you need to experience once. You can have a bird eye view of entire city from Euromast.
You can also go and check out the unique Novotel hotel which has rooms in really awkward shape. It will look as if different cubical have been attached to each other. Its an architectural marvel. Please go and see the room from inside, they are quite unique.
Just some distance away you can witness another architectural masterpiece in form of Markthall. It combines residential space, office space and a shopping mall all under one roof. Just strolling through Markthall was fascinating.
If you are a beach bum, you would like to go and explore Den Hague which is only 30 mins away from Rotterdam. The Hague is a surfers paradise and the atmosphere here is all energetic. We almost walked the entire stretch of the beach and it was soothing in its on way.
Mind you, please take care of you money. I had kept few currency notes in my pocket and while taking out my phone it fell off and in just few seconds it went miles away from me. I did chased to get it back but I wasn't lucky enough. And for a backpacker like me, it was the cost of next 3 meals. Damn!
To forget the tragedy and to get some cheap meal I decided to go to the most ancient village in Netherlands - Zaanse Schans OR as I call it the city of windmills. It is a small ancient village situated right in the middle of a city. In like 100 meters the vibe changes completely. Zaanse schans offers one of the best cheese market in Netherlands. If you are a cheese lover, Zaanse schans is a heaven for you. I liked the way houses are built here and how villagers uses their own boat to have a quick escape to the city. One of the best pictures I took till date was here. Try and spend an entire day here, just to get the vibe of this place.
I guess I was enjoying the village vibe so I decided to go to a real village where you will be a bit more disconnected from the city life - The venice of Netherlands - Giethoorn. A village where there is no road transport and the only way to travel is by foot or by boat. When I read about Giethoorn before my trip I was fascinated and I had to visit this place.
And the first look of Giethroon made me fall in love with this beautiful village. It was so colorful that you can feel the freshness just by looking at it.
We had not booked our stay before reaching here as there are not much options that are available on line. But when we reached there we found one of the coolest hostels to stay - The Black Sheep Hostel. Here is a funny story!
Few people from Arabic countries entered the hostel when we were chatting with the receptionist. And they asked one of the craziest questions - How much do you sell one sheep for, we would like to buy all of them? We started laughing and couldn't control ourselves and the funny part was they also started laughing with us. But after a while they asked again, why are you laughing? And that was the time we realized they were not kidding when they asked for the price of the sheep! The receptionist had to make them understand that they were not selling sheeps. They were disappointed to know that but at the end we all had a good laugh :)
After settling down we went to explore this magnificent village and we tried to do as much justice as possible to capture the beauty of this village through our lens.
Every house here was so beautiful that you would be in Awww just by looking at them. Just imagine the feeling of staying in a house at this quaint village!
Well if you are from Mumbai, just like me, you won't find the prices of the house that expensive. You can buy a big, decent house here in the same price of 1 BHK flat in Mumbai. Think about it :)
Weekends are full with people and you might experience traffic jam even if there are no roads here.
If you are a Popeye fan just like me, you would love to go on a sailing trip here with your Olive :)
As I told you earlier, Giethoorn is one of the most colorful places that I have been to and the picture here can give you an idea of what I am trying to tell you.
Well after 2 days in Giethoorn, we had to say bye to this beautiful place and head to the next destination which is equally beautiful but not as popular as other European countries - Belgium!
Well Belgium is known for its Diamond market and the country is a gem in itself. We wanted to explore places which are not on everyone's radar and that why we decided to explore 'Dinant - The place where Saxophone was invented'. Dinant is also as colorful as Giethoorn and the river that goes through the village has a different shade of blue than usual.
Dinant also has some of the best cafes and the location is just perfect - Imagine you holding a glass of wine, just by the clear blue river, with fresh air blowing through your hair, on a sunny day, with love of your life sitting by your side. Would you ever want to be out of that moment? I surely would like that moment to stay forever.
People of Dinant are calm and are satisfied with what ever they have. I saw people coming out with chairs, parking themselves by the river and reading books. They are way away from the regular hustles of city life. Look at this lady who is just enjoying her book with a glass of wine on the side.
Dinant is like a valley but not literally. It is covered by small mountains on each side and the beauty of the mountains is enhanced by colorful building right in front of it.
The ride back to Antwerp from Dinant is beautiful and it will give you a chance to experience countryside of Belgium. We came across this beautiful spot and we had to take a picture to get some more likes on Instagram :)
We took few days off in Antwerp and tried our hand at cycling. The best of European cities is that they have a separate lane for cyclists which encourages people to consider Cycle as their mode of transport and which helps them to stay fit. Something we will have in India, Someday!
From Antwerp, we left for one of the places which I often heard people saying that it is one of the best places in Belgium and for a change I do believe they are right - Brugge! It is not the beauty of Brugge that made me fall in love with this place BUT it is the waffle that you will get here that will make you fall in love with this place. Believe me when I say this - Waffles that you get in Brugge are the original Belgium waffles! Period! Go for Banana Strawberry Chocolate waffle and you will understand what I am saying. I had waffles in other parts of Belgium as well, BUT BUT BUT, waffles in Brugge are at another level. I will go back to Brugge again only to have waffles here.
One of the places which are good in Brugge is the Minnewater Lake - The lake of Love. I forgot the story behind why it is called the lake of love and that is why I can't mention it. But if you find it out, please feel free to Inbox me.
The picture below is of Minnewater Cafe and the same picture was picked up by Lonely Planet India and it was featured as the cover picture in its 100th issue. One of the proud moment for me which will make me travel again and motivate me to take more pictures.
We spent our last few days exploring Gent (The City of Graffiti as I call it) and Antwerp. We could have explored more but our body was giving up on us and my love for my parents was urging me to head back home. Also, the smell of Pav Bhaji, Pav Vada, Pani Puri was kind of calling me back.
So there we were, enjoying our last sunset with a local Belgium beer in our hand, saying good bye to one of the most memorable trip that we ever had. There are so many other countries on my list that I am yet to explore and I don't know when I will be able to visit these places again. But I promise, given a chance I will never say No to visit these places again.
So in case if anyone of you need help in planning a trip to any of these countries you can inbox me your queries and I will be more than happy to help you.
There are few more blogs that I will be uploading in next few days, hope you like them as well.
But till then keep traveling like the tripster! :)
Frequent searches leading to this page:-
Europe honeymoon tour packages, Europe honeymoon tour packages from Delhi, Europe honeymoon tour packages from Mumbai, Europe honeymoon tour packages from India, top things to do in Europe in winter, best things to do in Europe in winter