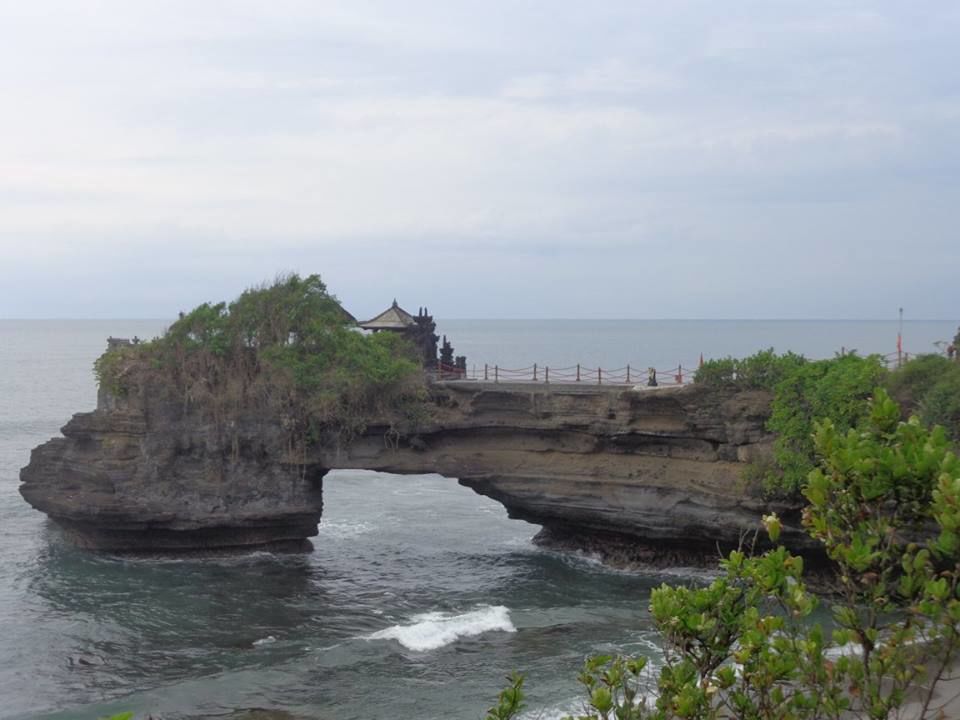 Bali has, in recent times, gained a spot in the top ranking international honeymoon destinations. A trip to Bali is definitely an exotic experience without having to burn a hole in the pocket.
Any couple would want a beautiful, quite and romantic place to stay at while on their honeymoon. The Legian Kriyamaha villa promises just that. The rooms are furnished beautifully with a living and bedding space, open bath and a heavenly private pool complete with a Jacuzzi. The Vila has warm and friendly staff who pamper you with their "breakfast-in the pool" luxury!
When we visited Bali in January, the climate was generally cloudy with occasional light showers. On our first day at Bali, we checked into to our lovely villa (20 mins drive from Ngurah Rai International Airport) and went out to explore the town. After roaming around Seminyak for sometime, we found out that the Balinese spend money in millions! and that a buffet meal for a couple in Bali can cost you close to 1 lakh Indonesian Rupiah. Don't panic! That's only around 4k in INR. Nasi Goreng and Mie Goreng are some Indonesian dishes that are worth a try ; Nasi Goreng is basically fried rice with a smooky soya flavor accompanied by chicken, pork or prawn satay and chips (we got to try Beetroot chips for the 1st time! )and Mie Goreng is the noodle variation .
We converted some cash at an authorized dealer, there are plenty of options available on the streets but be sure that you go only to those marked "Authorized Dealers". There are several other conversion spots which offer a better exchange rate but they will cheat you out of your money and if you are too observant, they will refuse to accept your money for conversion. After buying some souvenirs (millions spent), we dined at the Library restaurant at Seminyak and returned to the vila by taxi. Taxis are easily available at Bali and the taxi drivers and all other drivers for that mater, are extremely patient and wait by the road without honking (even if the road gets blocked because of you) till you are done settling on the price and destination.
Being inclined to adventure, we decided to start our next day with river rafting at the Ayung river. The rafting itself takes close to 2 hours, is at beginner level (rapids are less) and is extremely exhausting because the hours of rowing ends with us having to carry our ores up on a rather uneven path. Though we felt that we did all the hard work, there were these very experienced rowers who actually did most of the rowing and controlling of the raft. About half way down the river, there is a hidden water fall where the rowers park the rafts . They call it a natural massage and my god it was! The force of the falling water relaxes every aching muscle of the body and is a real treat after all the rowing.
Our next stop was the Kintamani volcano area. This, for me, was a disappointment. There wasn't much to see except for a far away volcano which was not even clearly visible from the place our cab stopped for pictures. We had a lunch buffet in the area which was as disappointing as the place itself and proceeded for our next destination.
After a short drive from Kintamani, we reached the Temen village, famous for its coffee plantation. We were given a short tour of the place and demonstrated the various steps of coffee making. There, we learnt that the world's most expensive coffee, the "kopi luwak" that Edward Cole of "The Bucket List" so proudly drinks, is actually made out of coffee beans collected from the droppings of a cat-like animal called the Civet (It was sleeping when we visited). The Civet eats the berries but the beans do not get digested. These beans, enhanced with the digestive juices of the Civet, are collected and processed to produce the world's most expensive coffee! (Yes, I know what you are thinking!). We got to taste Kopi Luwak (Its very strong and you have to pay to taste it), mangosteen tea (Pink liquid with a sweet-sour taste), ginger tea etc. These were available for purchase as well.
The Monkey Forest,a short drive from the Temen village, is a sanctuary for monkeys of all sizes! The best advice I can give you is not to have anything that looks like a banana on you!If you are curious, there was this lady who thought of wearing shoes with stuffed bananas hanging from it and boy! I found out how tough it is to walk through the entire length of the park when you are holding an umbrella covering your feet!
We spent the the 3rd morning in Bali at the Basuka water sports centre at Tanjung Benoa. They offer many water sports like banana boat ride, snorkelling, parasailing, sea walk etc and the better your bargaining skills, the better deal you get! The other sports were tried and tested so we decided on sea walk. It is much more comfortable than a Scuba dive and offers a better view when compared to Snorkelling. We also visited a turtle island and that is the day I found out how heavy that little animal actually is!
The last stop of our trip was the Tanah Lot. It is beautiful place where the land goes out to meet the sea. Though the temple was closed when we visited, we still spent some time (few moments :-) )staring at the waves and enjoying the wind. The place is crowded so a few moments is as good as it gets but it was something we cherished before we got back to the hustle and bustle of the IT engineer life the next day.
Bali is truly and experience with wonderful people and beautiful scenery. A quick last note about the people in Bali; they are very religious and everyone house in Bali has a temple complex attached to it. Sculptures showing scenes from the Ramayana and Mahabharata has been built in the junctions and circles on the main roads and their gods are portrayed as being muscular and bearded (quite the opposite from how it is portrayed in India).
We loved every bit of Bali specially the Legian Kriyamaha villa. Hope you all enjoy it too.
Frequent searches leading to this page:-
Bali honeymoon package cost from India, Bali honeymoon packages with private pool, 4 days 3 nights Bali honeymoon package, best places to visit in Bali Indonesia for honeymoon