I truly believe in the "Law of Attraction". When you truly want something from life, the entire Universe conspires us to fulfill the dreams. Just work on it until you get it done. I recently started my blogs about traveling because whenever am doing this I feel satisfaction.
"Orophile for life"
Started from unplanned
This Trip Isn't Pre-plan, it just happened. Wait, let me share with you the little incident behind this trip. I was just totally frustrated from my current job cause I was experiencing negative surroundings, Unmanageable works, especially facing loads of work, work & work. I wasn't even getting any offs & whenever I got offs then I had to do work from home.Rings of calls the whole day on your off is quite irritating. These make my priority worsen.
So I decided to leave my current job & I started Hunting for my favorite work as a Content writer or as a blogger. With the Grace of God & lots of blessings, I finally found a job that I can create things by myself & can learn so much. So I decided that it's the perfect time to leave that previous job. So I got the Salary & left that work. The next day after leaving the office I went to my Tattoo Artist Mr. Tanuj from Tattoo Elysium & carved my wanderlust Tattoo on my back of the neck, and decided to go somewhere so that I can celebrate the discovery on myself. I decided to go Uttarakhand for wandering & celebrating my new journey.
SATURDAY NIGHT
I started my Journey on Saturday night & buy a book "The Alchemist- by Paulo Coelho". It's truly the package of adventures & fantasies. The story is about Shepherd who wants to wander around the world & wants to know the various cultures & people. I recommends this book personally.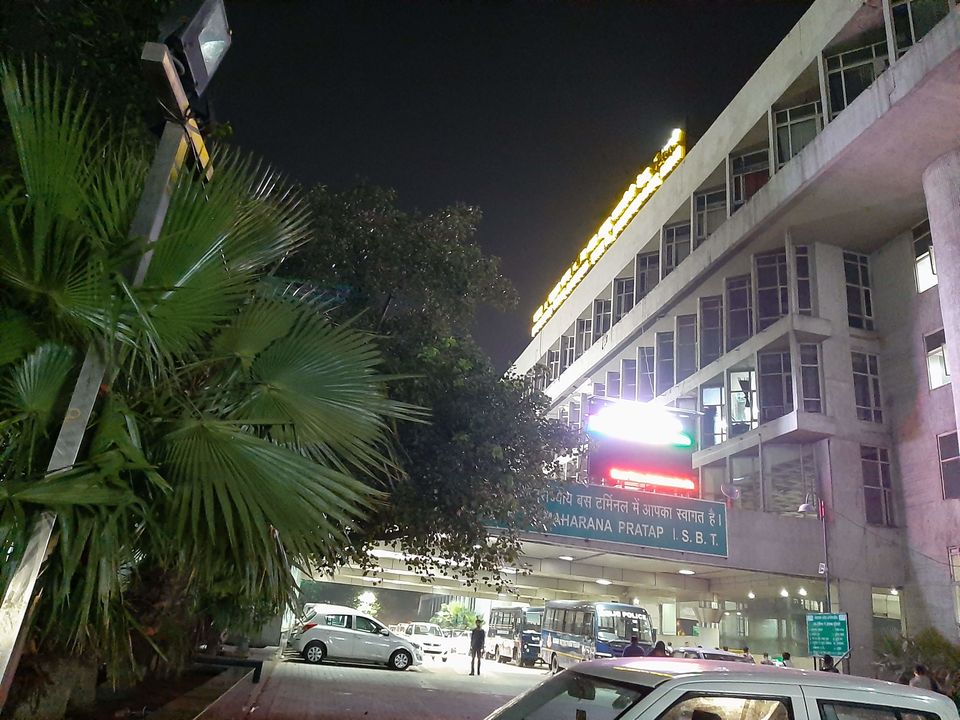 Saturday night at 10:00 pm, I reached Interstate Bus Terminal (ISBT) Kashmiri Gate, New Delhi. I was waiting for my Travel fellows but they were late (-_-) & I was waited for an hour. So, finally, they come & I was thinking like "They are like water in the thirsty desert" that time they were for me.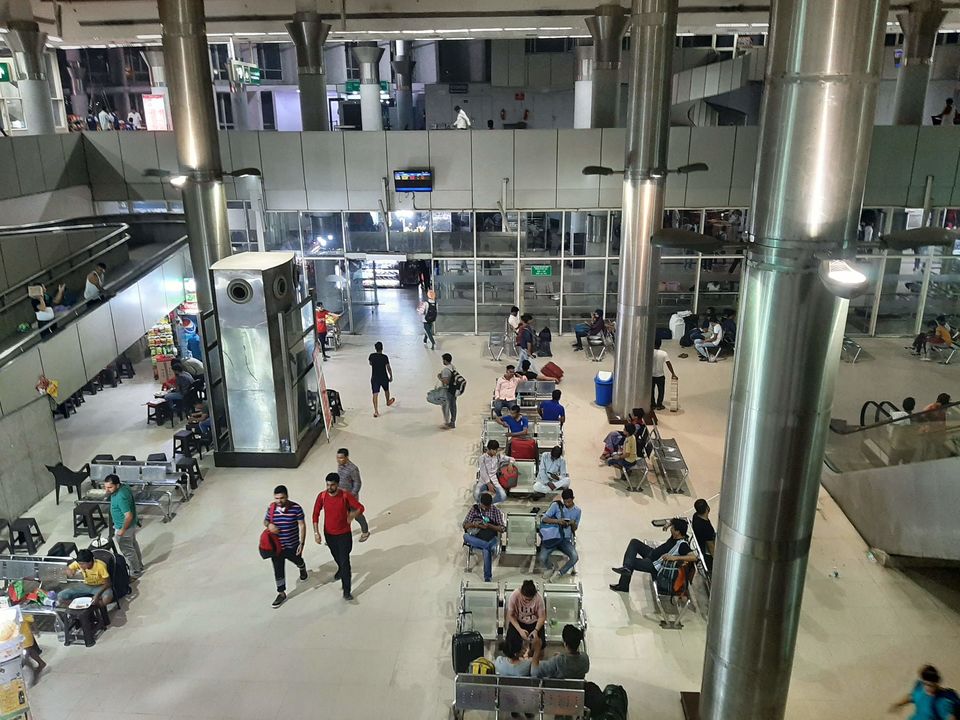 After that, we take a bus from ISBT to Haridwar. As this was my first journey as a Travel blogger & I was totally excited about it. We clicked some selfies in the bus & enjoyed a lot they bring savories for the long way through Haridwar, Uttarakhand. Lots of passengers were arrived. We were traveling from 12:00 am whole night.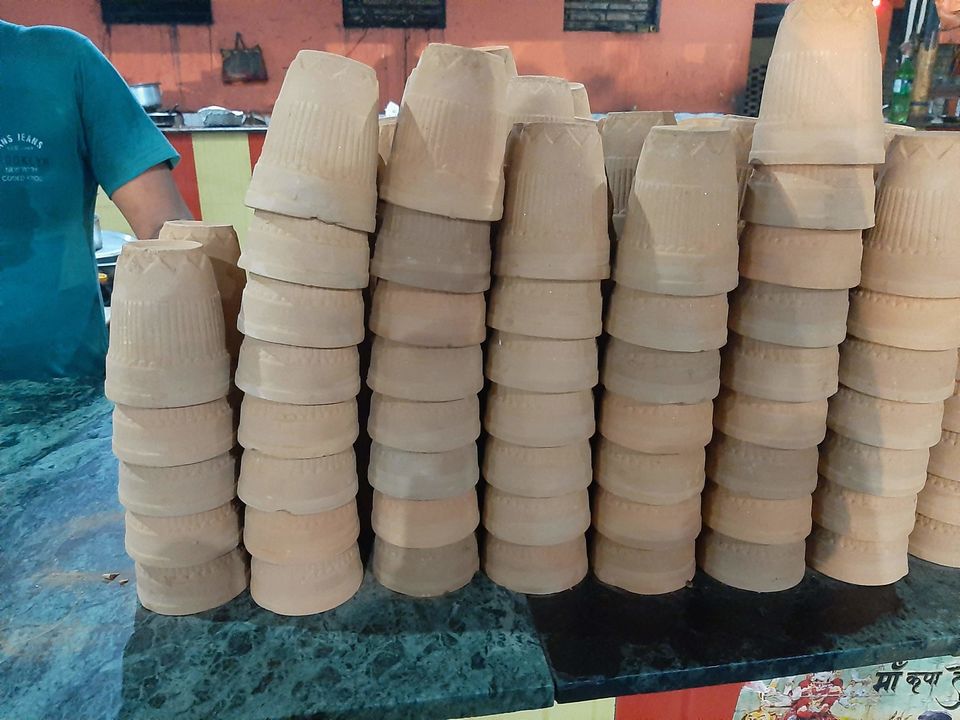 After, 2 hours of continuous journey we took a break of 1/2 hours at Masurpur highway Dhaba at 2:42 am. Whenever you go Uttarakhand via bus, the bus driver stops the bus for half an hour for short refreshment in the nearby Dhaabaa of Masurpur. We took relaxation of half an hour, My fellows buy some refreshments from the shop around the Dhaabaa & as a Tea lover, I buy a cup of tea worth Rs. 10/-. They served the Tea in Earthen vessels & it makes it more Delicious.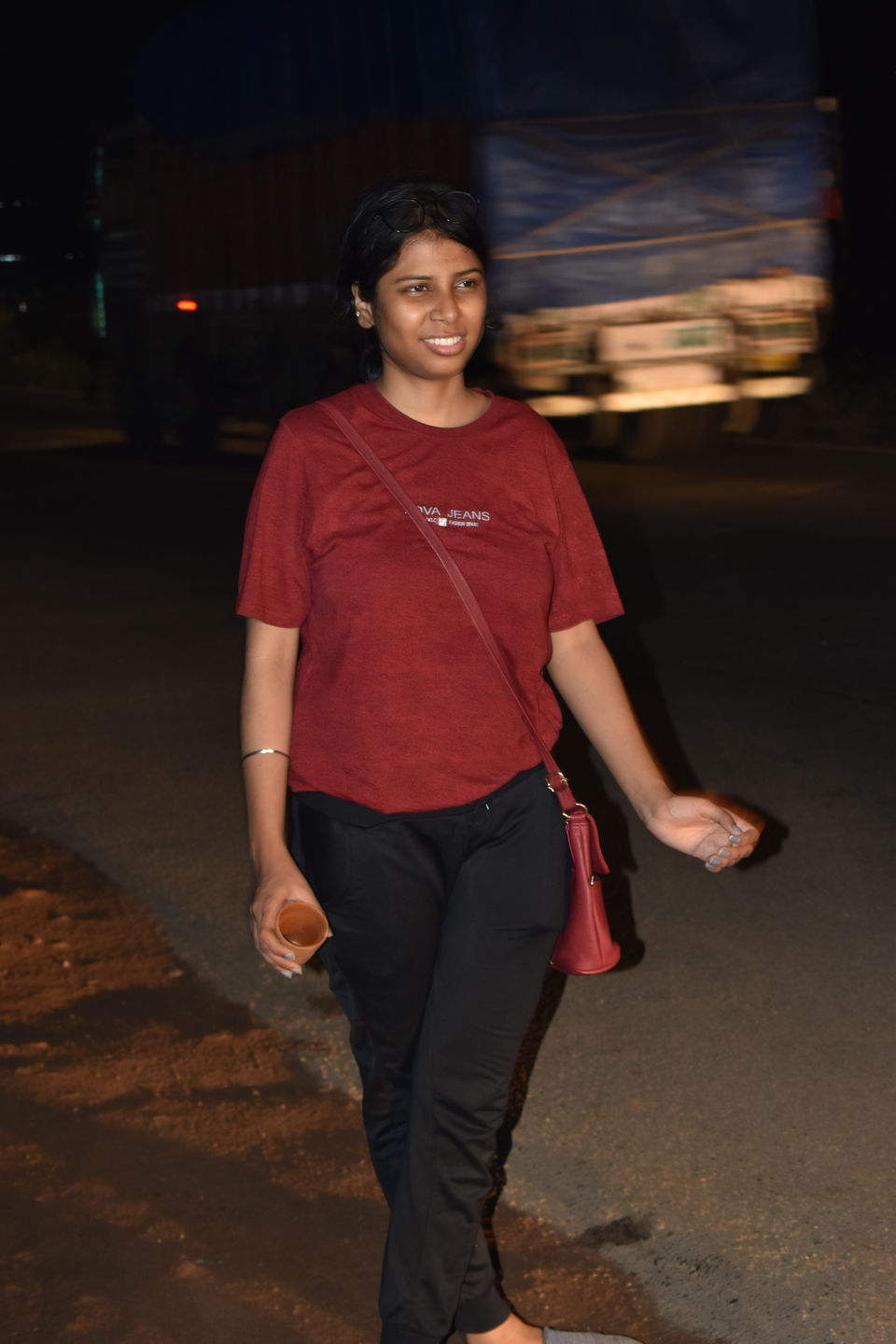 In the dark night right on the Highway under the dark blue sky full of twinkling starlight it was a great peace & pleasure. When I was on the highway with my travel buddies I was feeling like one of my dream come true. Literally it was amazingly beautiful. After the break we are ready to go to Haridwar.
We reached at 4:49 am at Haridwar Bypass. From there we take E-Rickshaw worth 10 rs. per person. He drops us near "Har ki Pori". Some shops are open at night for sanitary use & also for food as Haridwar is the most visited tourist attraction. So, there were the good facilities for toiletries. After getting fresh we seated at the bank of the river. The light of the moon makes the Holy River Ganga more attractive & beautiful. I can hear the singing of The River Ganga she's singing beautifully that no one human can do.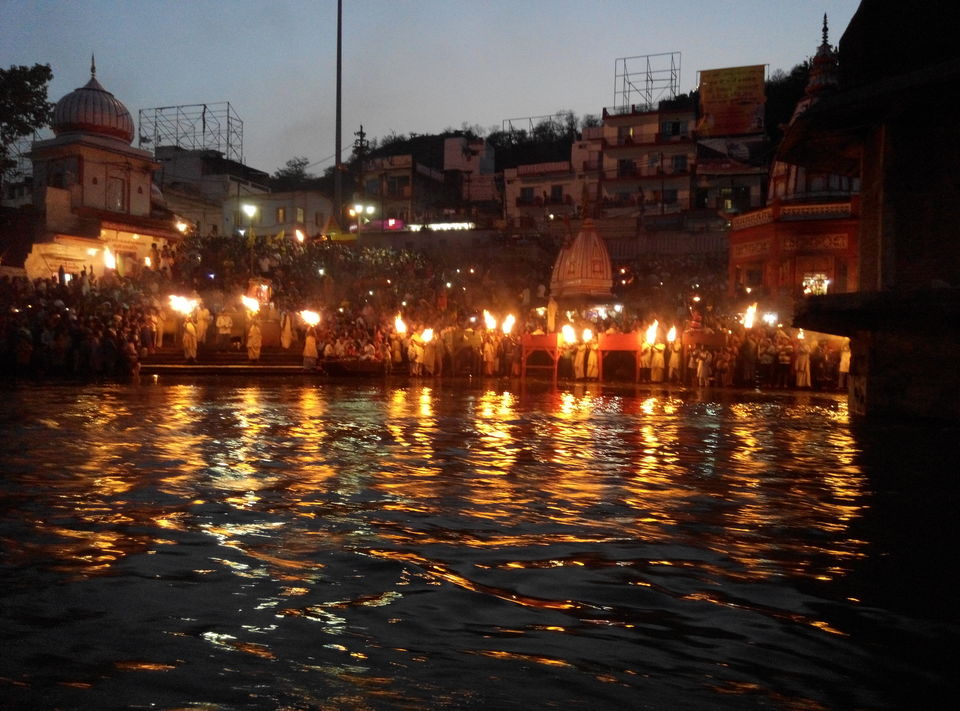 Now it's time for the most magical moment "The Morning Aarti" (morning worship). Lots of Devotees came here, especially for this magical moment. People take part& cheers the Aarti with their positive vibes. When you worship positively from the depth of the soul at that time we all become equal doesn't matter if some are foreigners, having a different mother tongue or different standards. That time we understands only one language and that is Universal Language the soul language of the universe so that we can understand the language of various people from different regions.
TIPS:
• Keep some cash with you especially changes of 100 rs.
• Keep power backups with you it's necessary.
• Keep at least one shawl because at morning time the temperature are low there.
EXPENSES:
• Approx 275 Rs. per person bus ticket from Delhi Kashmiri Gate.
• 10 Rs. per person from bypass to Har ki porhi.
SUNDAY MORNING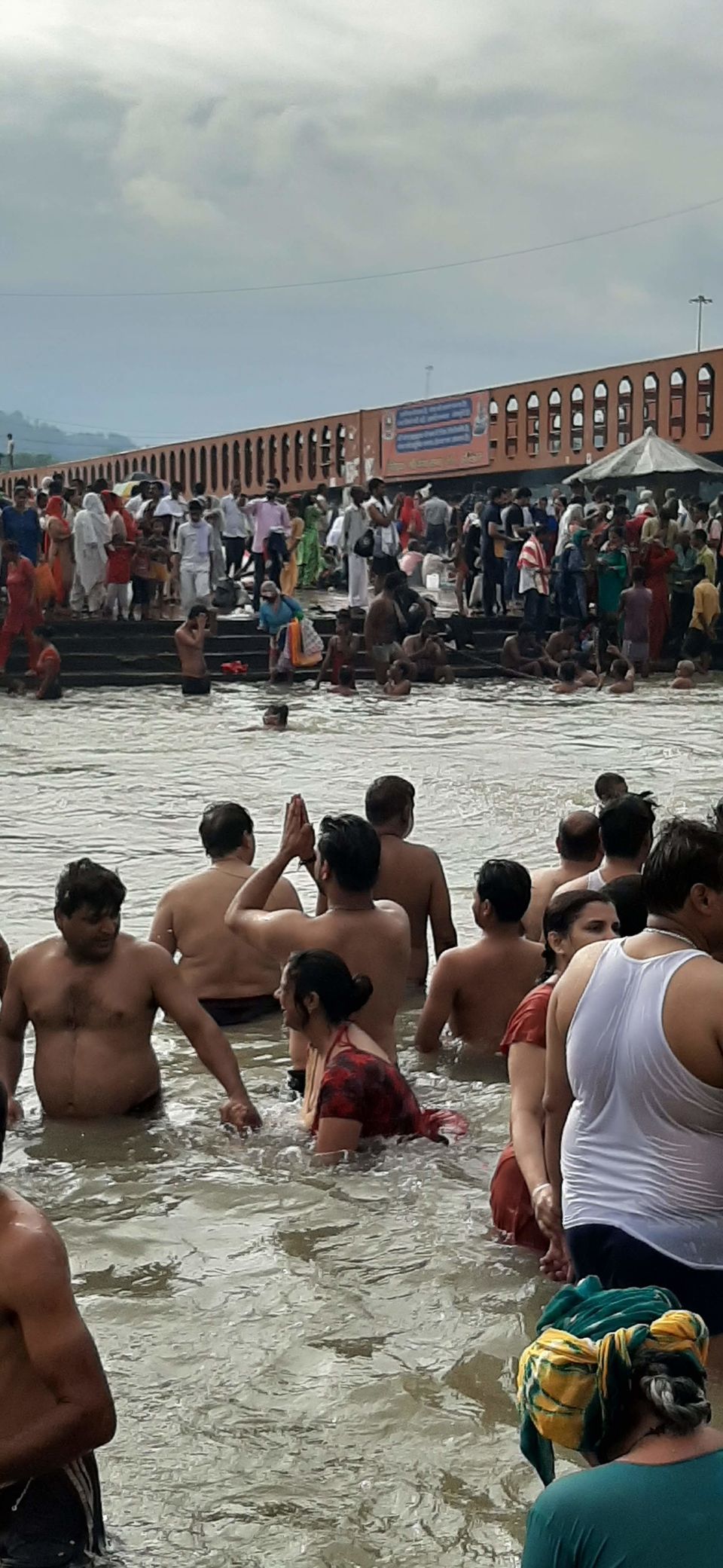 Now, It's time to dive in the river Ganga. After the morning worship, people started to dive in the Holy River Ganga. Lots of people came here to dive in. According to mythology the river Ganga takes all the diseases with them & makes you healthy. It purifies the soul. If you know more about the river Ganga then you'll be starting to know about your inner soul, Inner peace, and inner beauty.
MANSA DEVI TEMPLE
The temple is situated between the mountains. It is said that Goddess Durga in the form of The Goddess Mansa Devi, As she was visited at this place above the mountains & existed there always. After Spending time with River Ganga we started Journey of Mansa Devi &Mansa Devi's ascent. The way was so breathtaking. I was totally exhausted but my lovely fellows hold my hands & help me for the ascent of Mansa Devi's temple.
Lots of Devotees came here for the blessings as per the ascent of Mansa Devi that was little bit high & many of us was totally exhausted. We need water within ever 10 to 15 minutes. Here, I want to share some tips: try to wear comfy clothes & carry minimal weight of bags. Trek more & exhale from nose & keep some energetic drink with you it will surely help you within the ascent of Mansa Devi. After we reached the hill of Mansa Devi Holy Temple, we placed our bags to the trusted stall which was free of cost. After the circumambulation & worships we end up the Mansa Devi trip with udan khatola which was 30 rs. per person. After the ascent of Mansa Devi, we started our next journey towards Rishikesh which is next to Haridwar.
RISHIKESH HARIDWAR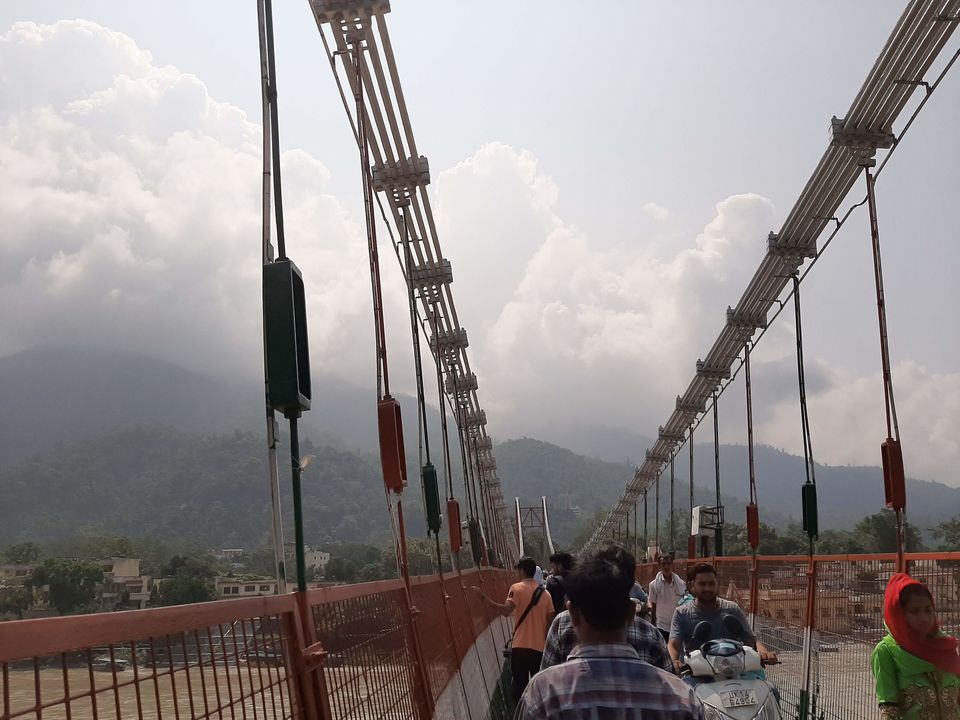 After wandering at Haridwar we took an auto worth 100 rs. per person towards Rishikesh. The traveling time was about 1 hr from Haridwar. The view between haridwaar & Rishikesh is pretty much magnificent. The moment was so beautiful it I was feeling like the entire universe is waiting for me & I have to explore more & more. Apart, from this auto dropped us at Rishikesh bypass. We were exhausted completely & booked a hotel named Sri Ganga worth Rs. 1400/- for trio. Well, rest is best during traveling. We take a long nap after the nap; we just go for the street visitation for food. Then we have a great meal at 40 Rs. including a full thali.
THE NIGHT ERA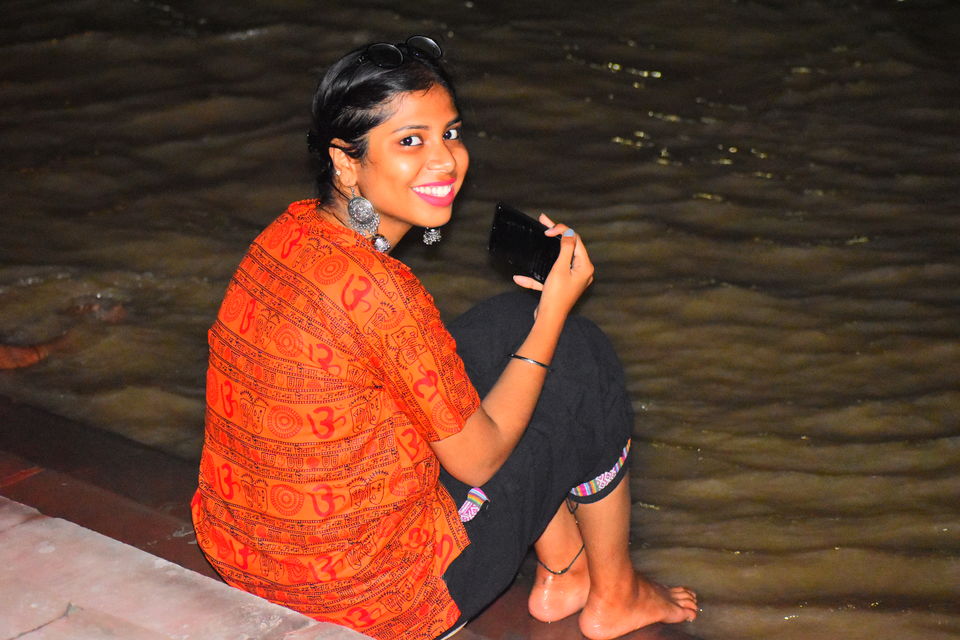 Our hotel was nearby to the Ganga bank that was completely worth of money & time. We started wandering at the bank of the river Ganga at 8:00 pm. The moment was unexpected phenomenal. The voices of flowing water & the peace around us we were just seat there dipping our feet in the river. The moment I will never forget. We clicked many pictures. The breezes of air, the flowing sound of the river & the night era was mesmerizing & unexpected phenomenal. Don't forget to have a night walk at the bank of the river Ganga.
RAM JHULA & LAXMAN JHULA
After Checking-out from Hotel, we started our next destination towards ram jhula & Laxman Jhula. It takes only 30 minutes by walking. We enjoyed a lot there & the big rocks enhance the beauty of the view. Then we took some dives & spend 2 hrs there & started playing with water & did some photo shoots. The place was best for photo shoots as well.
OFF TO NEELKANTH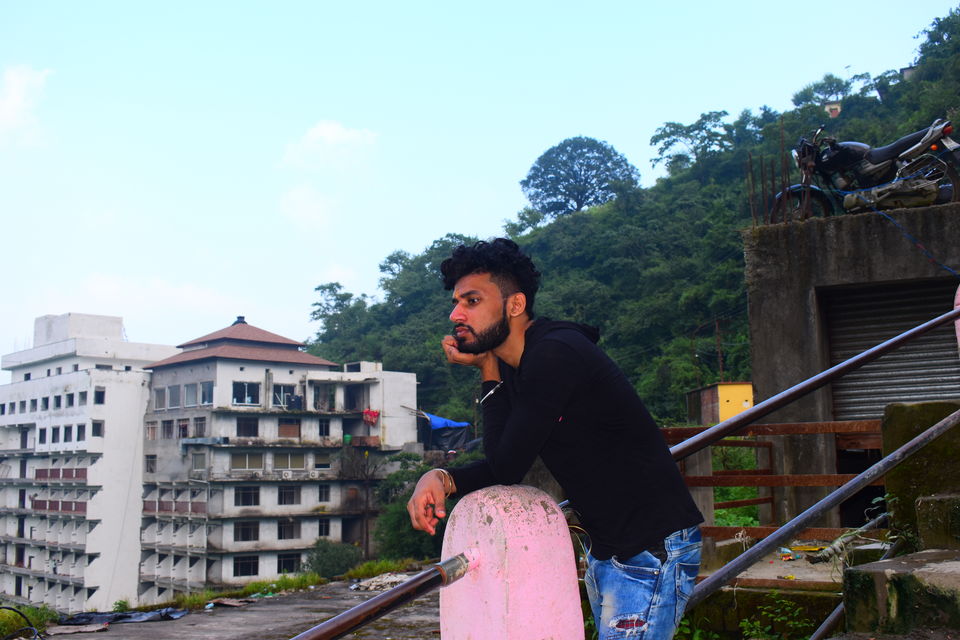 We took a Gypsy Car from the taxi stand of Rishikesh for Neelkanth & it took 450 Rs. of us. The period of the distance was 1 hour & the view was totally magnificent. The Mountains & the roads were mesmerizing. When we reached the clouds covers the entire Neel Kanth the voice of waterfalls was spiritually peaceful. We visit the temple & worshiped there. Lots of devotees visit there once in a lifetime. But, it is a better budget-friendly place for traveling.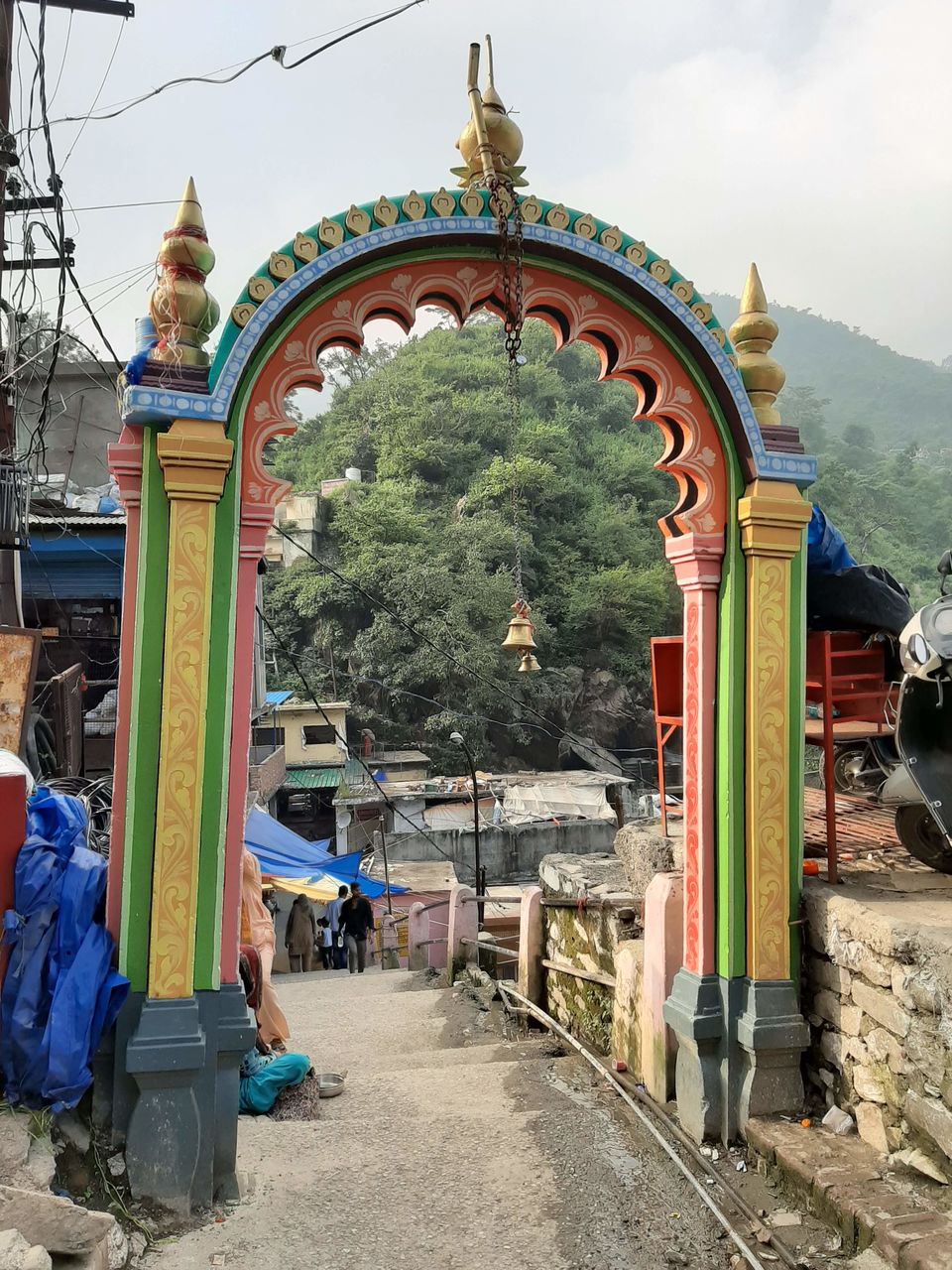 After the worshiping of Lord Shiva, we again took a Gypsy Car towards Ram-Laxman Jhula & took a bus Directly for New Delhi. The entire trip was Amazing & in-budget. Travelers who want to begin their journey they can explore here uttrakhand is the versatile place for travelling. Haridwar & Rishikesh is based on with the concept of Yog-Shiksha, Ayurveda & Spiritual Balance. It is he best place for Solo Travelling as well.
Many People want to travel in the mountains within budget. Uttrahand would be the best place for visit & wandering with nature. You can travel Rishikesh & Haridwar 12 months anytime. This is the best place to know the value of significant phrase of life "Go with the Flow as River Ganga".
Important Note:
Keep the nature neat & clean use recycled equipment & keep the wrappers & plastic waste within your bag & use dustbins. Respect the Holy place & make it more beautiful & clean. Don't dump in the river it all starts with you keep the nature clean & maintain.
"Sometimes it's better to go with the flow we don't know what will happen next, where we belongs for the next day. keep going never stop. Everything happens for a good reason."
-Mansi Alpha