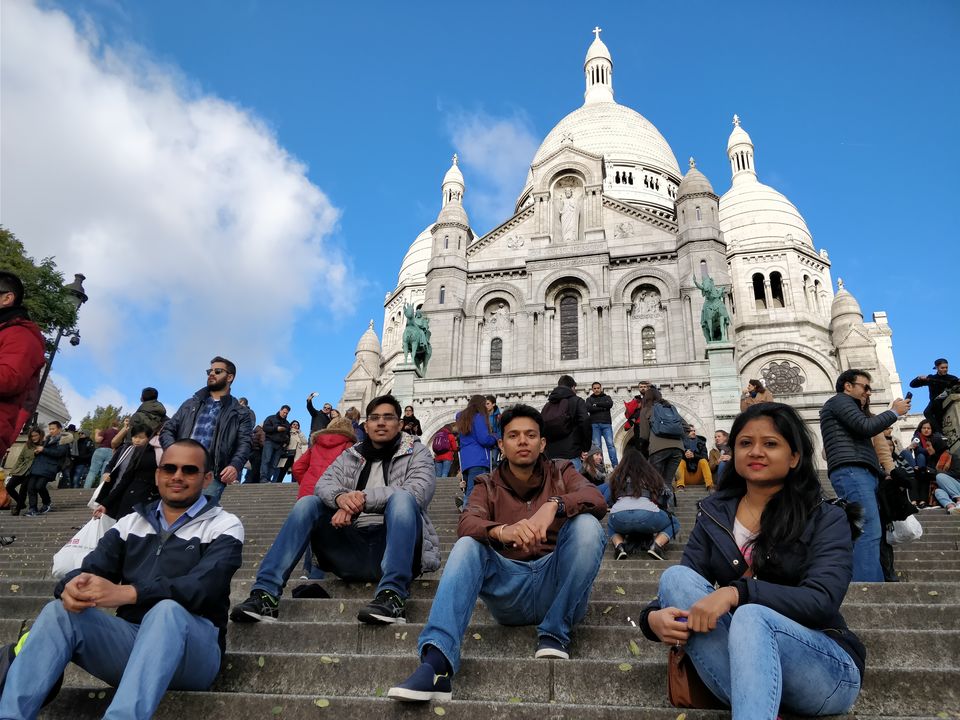 THE PROLOGUE:
This blog is written from the point of expenditure made during the Europe tour. After extensive research and planning for almost a year with my wife, Archana, and two college friends, Rajarshi and Vishal, itinerary for Europe was finalized. Vishal suggested to keep one countryside location in the itinerary. So, Cesky Krumlov in the Czech Republic was included in the trip. We decided to stay in hostels, as it was really economical and gave us chance to interact with fellow travellers. The trip was for eighteen days starting from 10th November 2017 to 28th November 2017.
Countries included:
1. France
2. Netherlands
3. Czech Republic
4. Austria
5. Italy
6. Vatican City
Cities included:
1. Paris
2. Amsterdam
3. Prague
4. Cesky Krumlov
5. Vienna
6. Venice
7. Pisa
8. Rome
9. Vatican City
For flight ticket from Mumbai to Paris, I had booked through Jet airways as there was some discount going on. The cost of ticket per head was Rs 17,569. The ticket was for an economy class and refundable.
For flight ticket from Rome to Mumbai, I had booked through HDFC diners club website, since this was the only website where I was getting the ticket on a refundable basis. The cost of ticket per head was Rs 20,861. The ticket was for an economy class and refundable.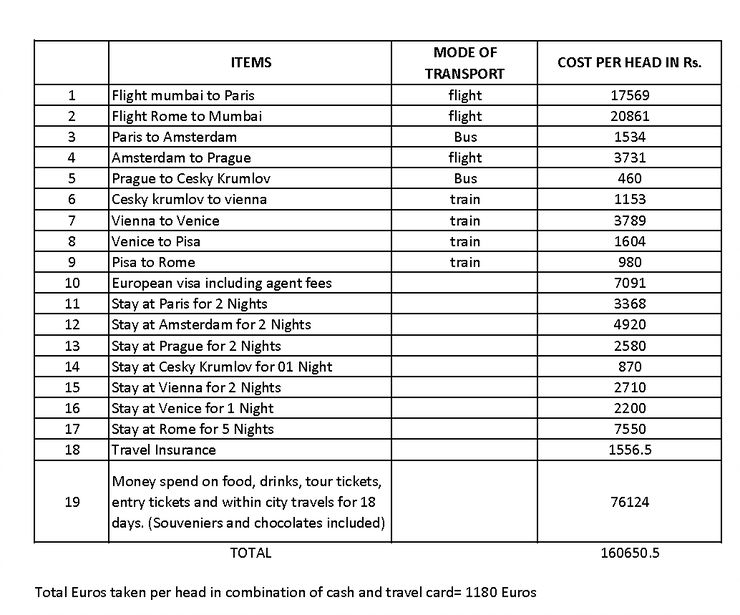 The Route taken: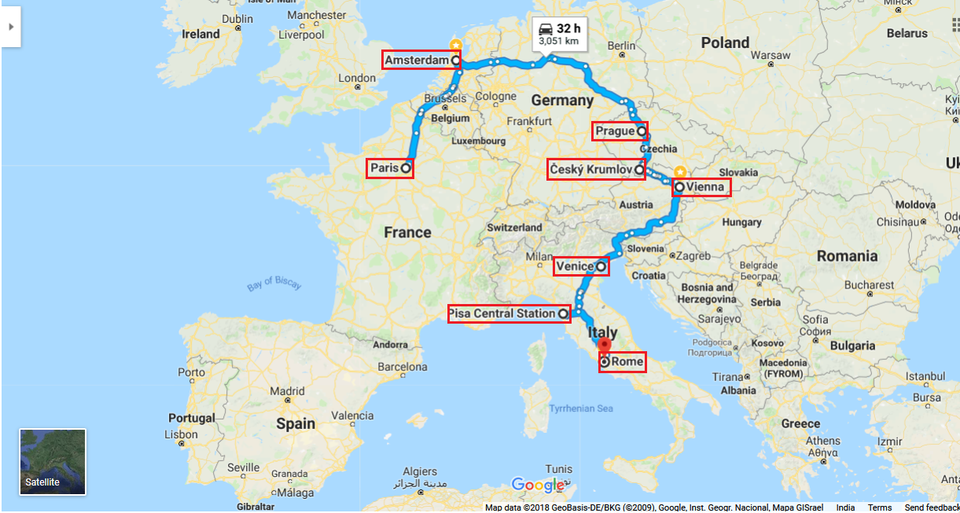 THE TRIP: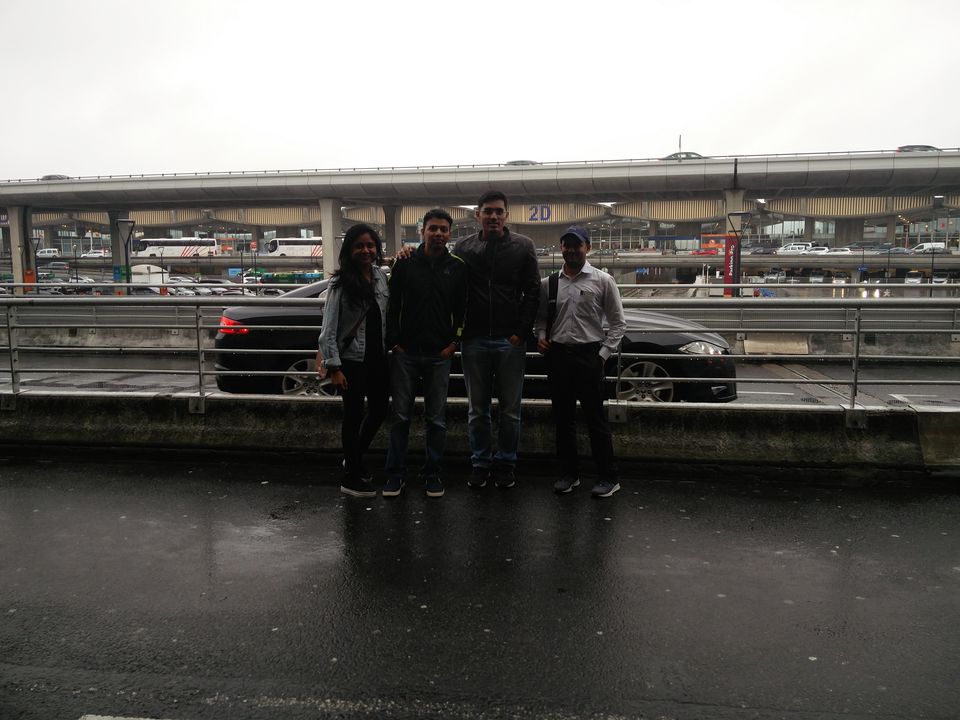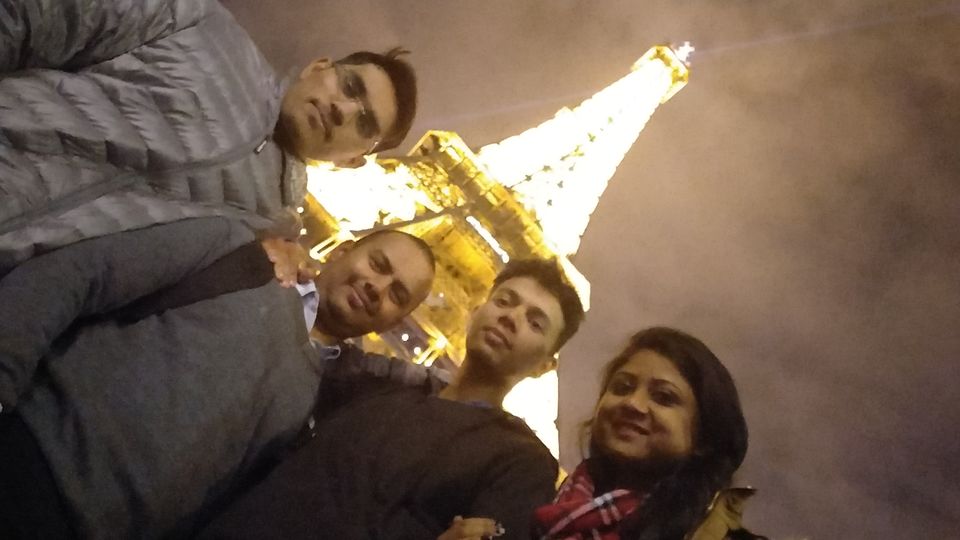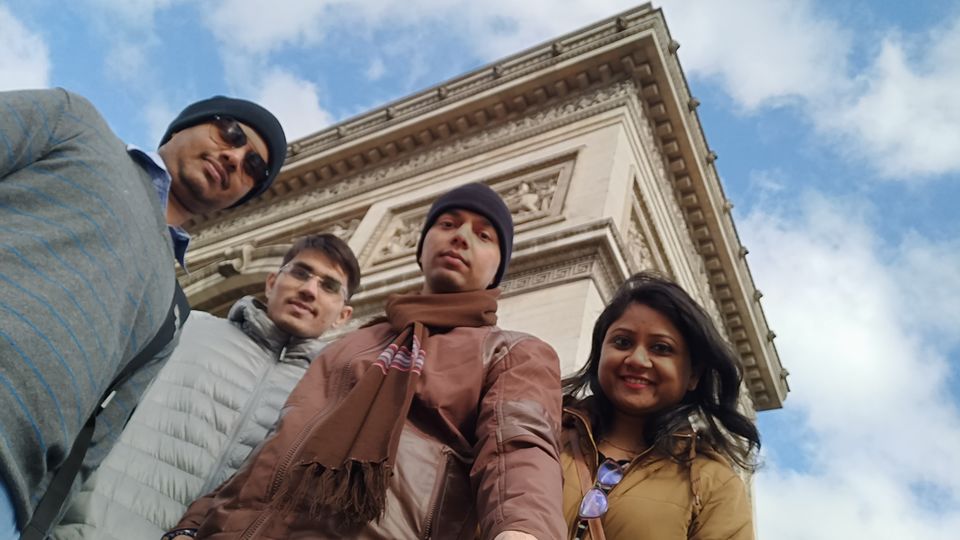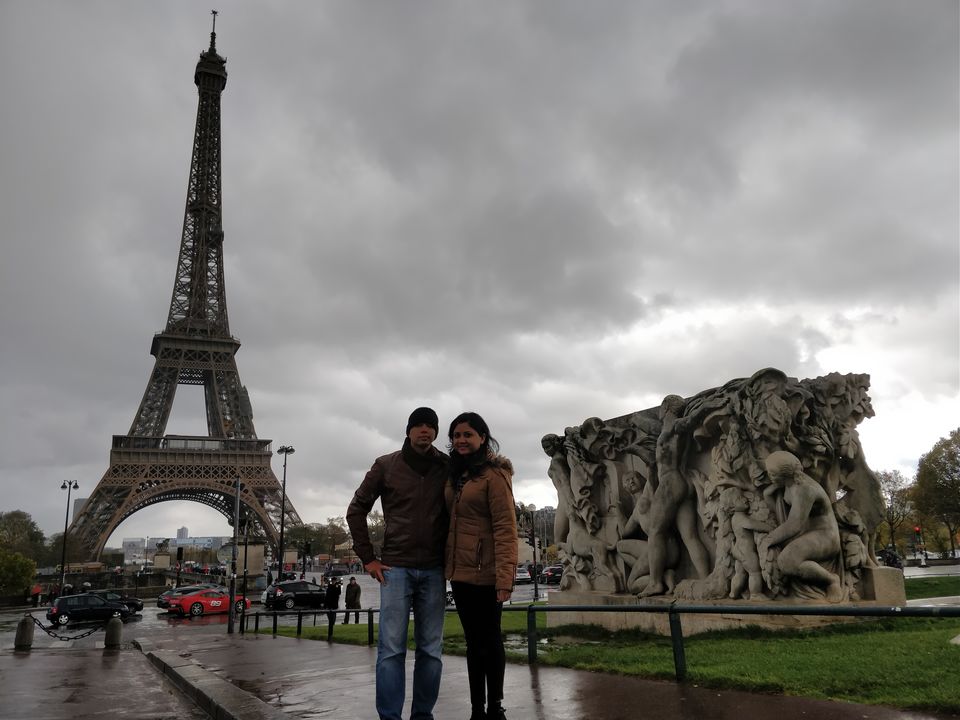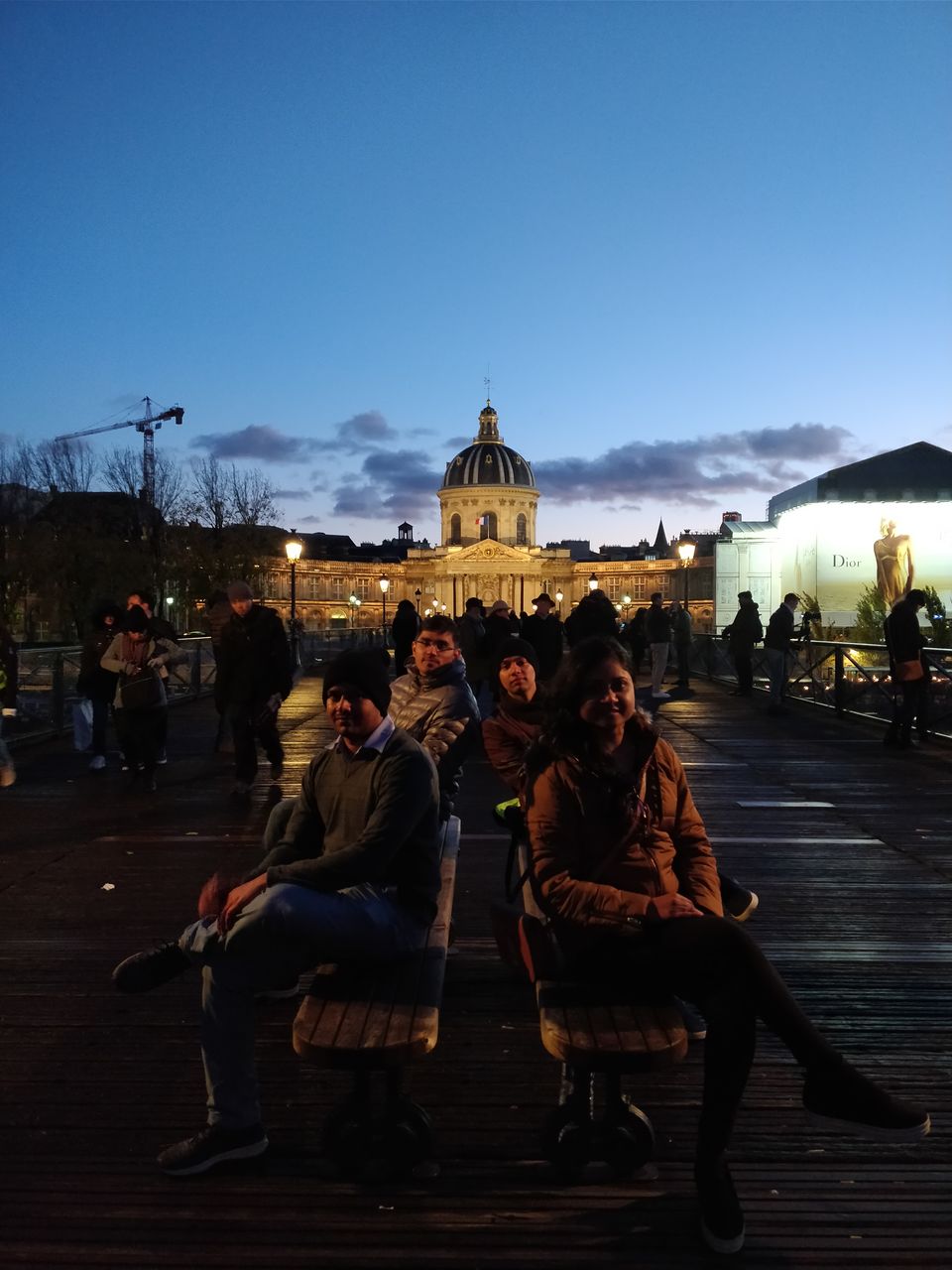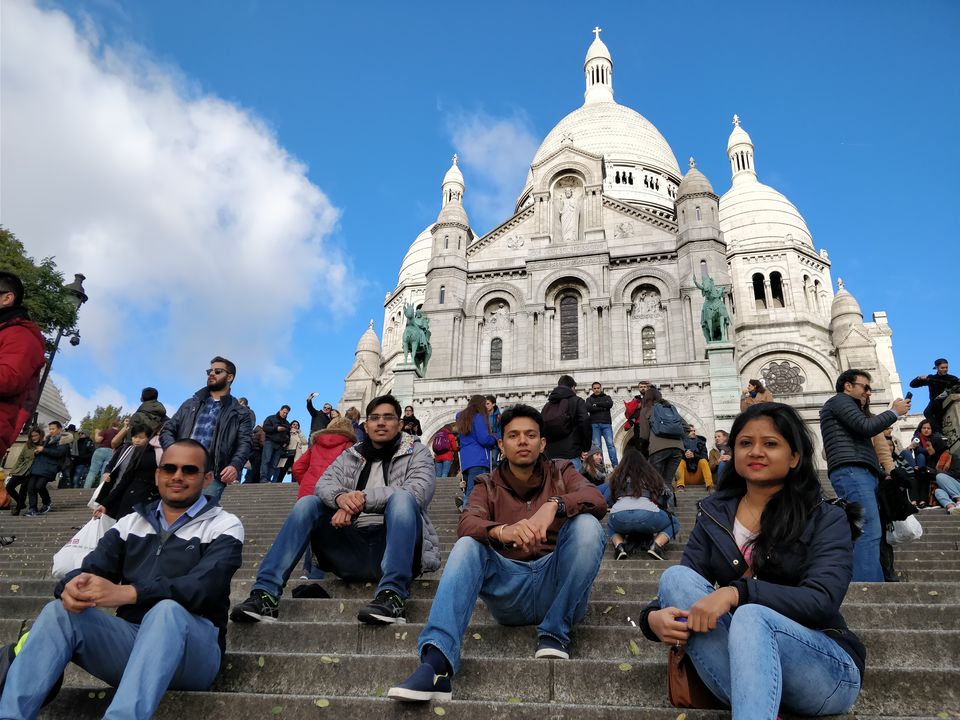 We landed in Paris at 0830 Hrs (local time) on 11th Nov (Saturday). The queue at immigration counter of Charles de Gaulle airport was really long and unexpected as only two counters were operational. Finally, after 80 min waiting in queue, we got through immigration, collected our luggage and started looking for the most economical way to get to our hostel- Plug-Inn Hostel. After inquiring at tourist information Centre, French Cab windows, metro help desk and Uber App, we decided to take a local cab from exit gate as it suited our budget. The cab took 50 Euros (Approx. Rs 3800). The cost of metro tickets from airport to hostel was approx. 12 Euro per head. Keeping in mind that the distance between Charles de Gaulle airport and Plug-in Hostel was 27 km and it will be more comfortable to throw luggage in trunk of the cab than to carry it in metros, we decided to go for the local taxi cab. It took 35 min to reach Plug-Inn hostel. We reached the hostel by 1300 Hrs.
Details of Hostel in Paris:
Stay- Two nights (11th Nov and 12th Nov.)
Name- Plug Inn hostel located at 7 Rue Aristide Bruant, 75018 Paris, France.
Landmark- Near Moulin Rouge Theater/ Near Blanche Metro Station.
Cost per head- Rs 3368 for two nights. This includes 1.66 Euro per head per night tourist city tax which has to be paid at the time of check-in in cash only.
Complimentary breakfast was provided in this hostel. Stayed here in six bedroom dorm. Shared room with an American dude and a solo traveller girl. Booked this hostel through its website- http://plug-inn.fr/
The best way to see a country is on foot. Mostly, we walked to see places. For longer distances, Paris has excellent network of public transportation system- Buses and Metros. Cost of both public transports was same, 1.9 Euro for one way irrespective of the distance travelled. It's your choice what you want to choose for conveyance. We chose to travel by bus as you can also see the beautiful city while travelling. We almost spent three days in Paris- Saturday, Sunday and Monday. Bus to Amsterdam was on Monday Night.
Places visited in Paris:
1. The Louvre Museum/ Glass Pyramid - Famous for Mona Lisa Painting. Cost of entry to museum was 15 Euro (Approx. Rs 1150). If you are a serious art lover, its a must to visit this museum.
2. Eiffel Tower- Obviously, a must visit in Paris. Eiffel Tower gives a magnificent sight during day as well as night. After sunset, Eiffel tower lights up/ glitters every hour for five minutes till 1 am. You can also go to top for 25 Euro (Approx. Rs 1900). You get a panoramic view of Paris from top. It's amazing.
3. Notre-Dame de Paris- It's a must visit church built in 1163. The best way to reach Notre-Dame from Eiffel Tower was by boat, so we bought hop-on-hop-off boat pass valid for 24hrs.
The pass was for 17 Euros (Approx. Rs 1295). With this pass, you can also visit Louvre, pont des arts bridge and Champs-Élysées.
4. Pont des arts bridge- It's a pedestrian bridge built across Seine river. It's that famous bridge where people attach locks to the railing of bridge, with their first names written or engraved on locks, then throwing the key into the Seine river below, as a romantic gesture. But recently Paris administration has banned this activity and all the old locks have been removed from the bridge. #lovewithoutlocks
5. Arc de Triomphe- Built in 1836; this monument is like India Gate for Parisians. Basically it is Tomb of unknown soldiers. It stands at one end of the Champs-Élysées. The top of this monument is open to visitors at the cost of 12 Euros (Approx. Rs 915) and you have to climb a lot of stairs to reach the top. From the top, one can enjoy a panoramic view of Paris.
6. Champs-Élysées- It is one of the famous streets of the world known for shopping. Arc de Triomphe and Champs-Élysées are like India Gate and Raj path for Parisians. Champs-Élysées is 1.9 km long and 70m wide with shopping centers on both sides.
7. Pantheon- It's a museum containing the remains of distinguished French citizens. Built in 1758. Pantheon of Paris- There's one more Pantheon in Rome.
8. Montmartre- It is the largest hill in Paris, primarily known for its artistic history. The white-domed Basilica of the Sacré-Cœur is situated on its summit.
The White-domed Basilica of the Sacré-Cœur.
View from top of Montmartre.
We had pre-booked our late night bus tickets for Amsterdam through Flixbus app approx two months back. You can book the tickets on the spot too, as they aren't based on dynamic pricing. Cost of ticket per head was Rs 1534/-. Traveling by buses in Europe is really economical. The bus was semi-sleeper and it was really comfortable. Paris to Amsterdam was overnight journey with travel time of 7 hours and 35 minutes. Bus started at 2355 hrs and reached Amsterdam at 0730 Hrs.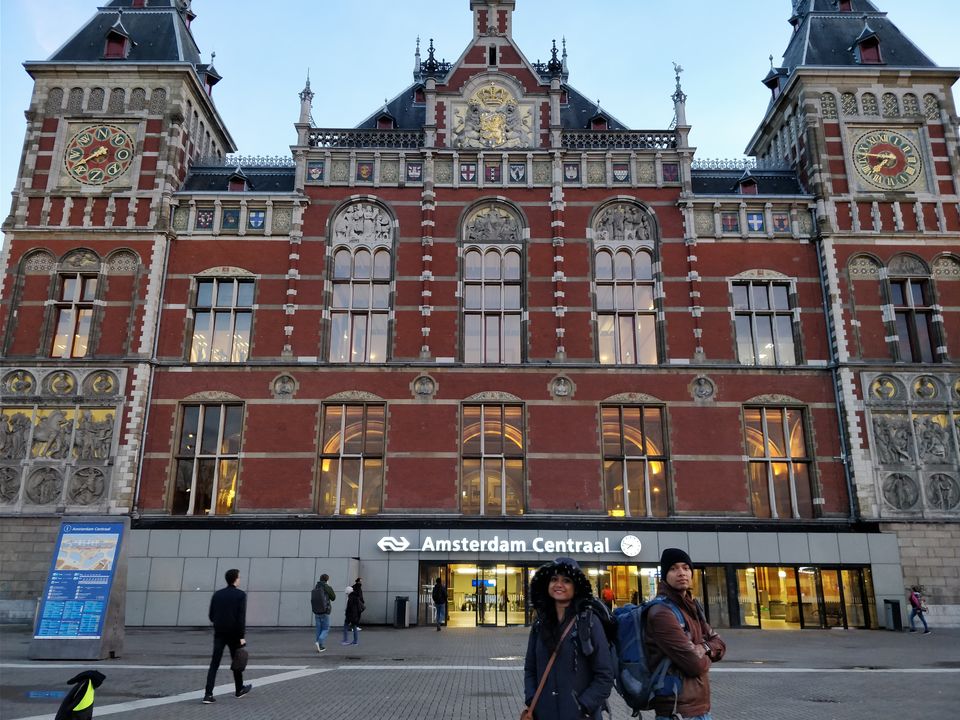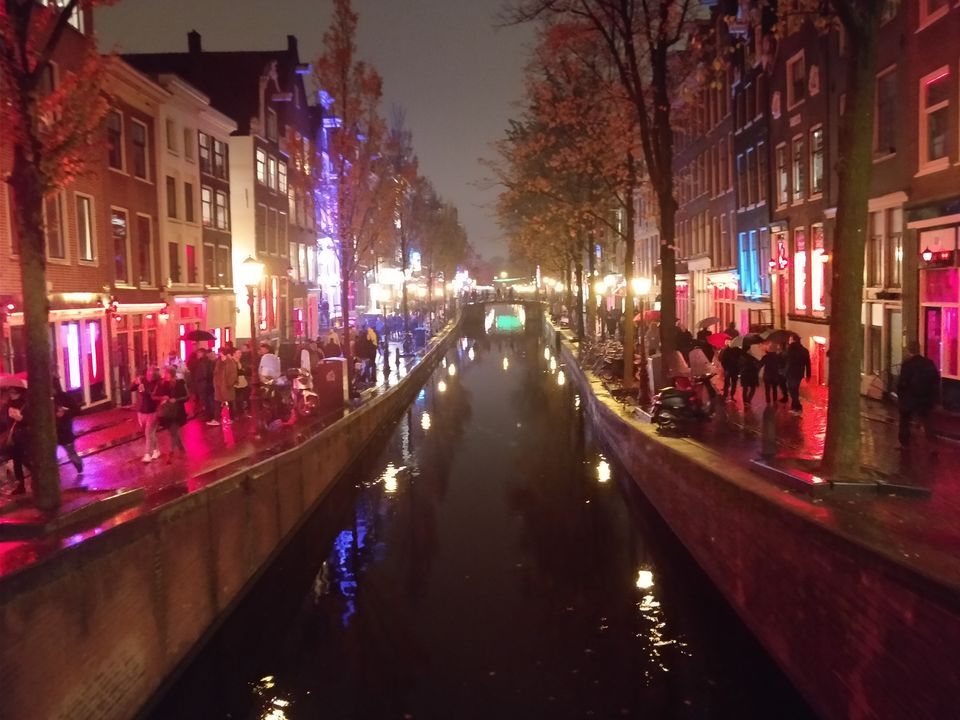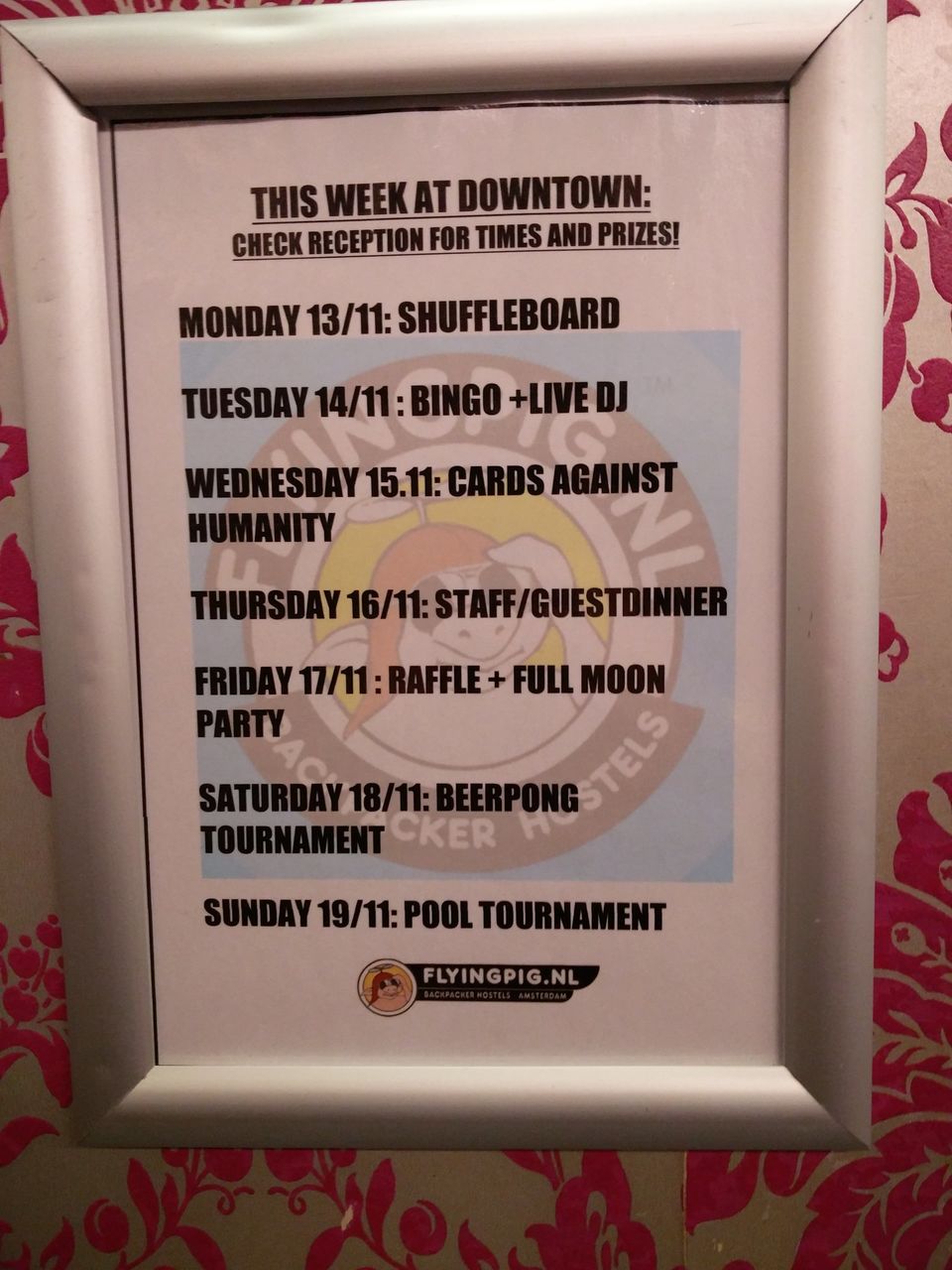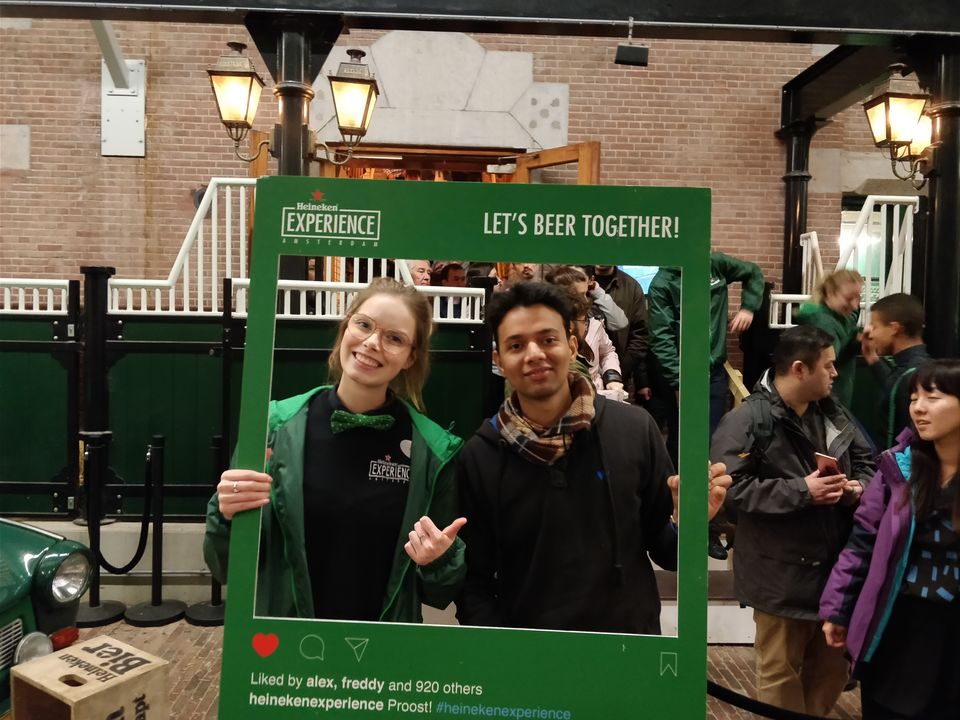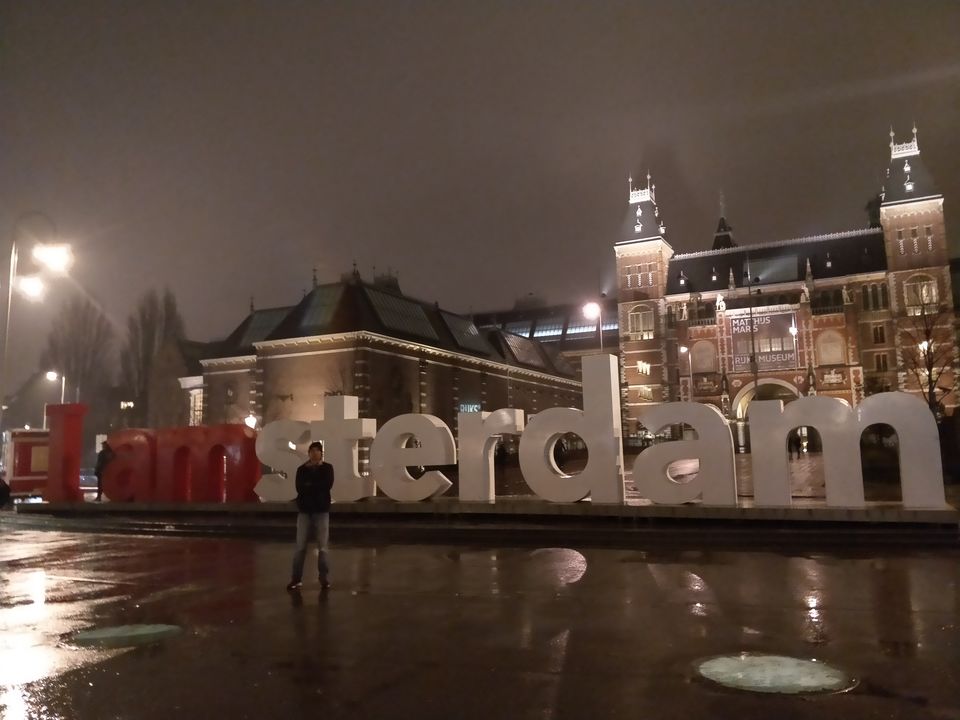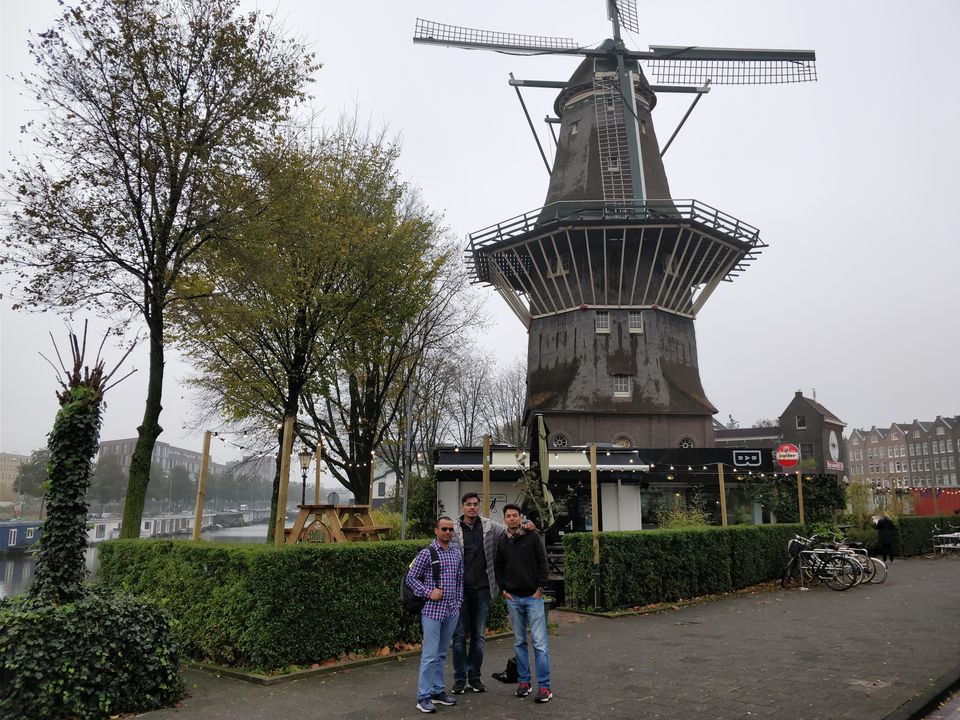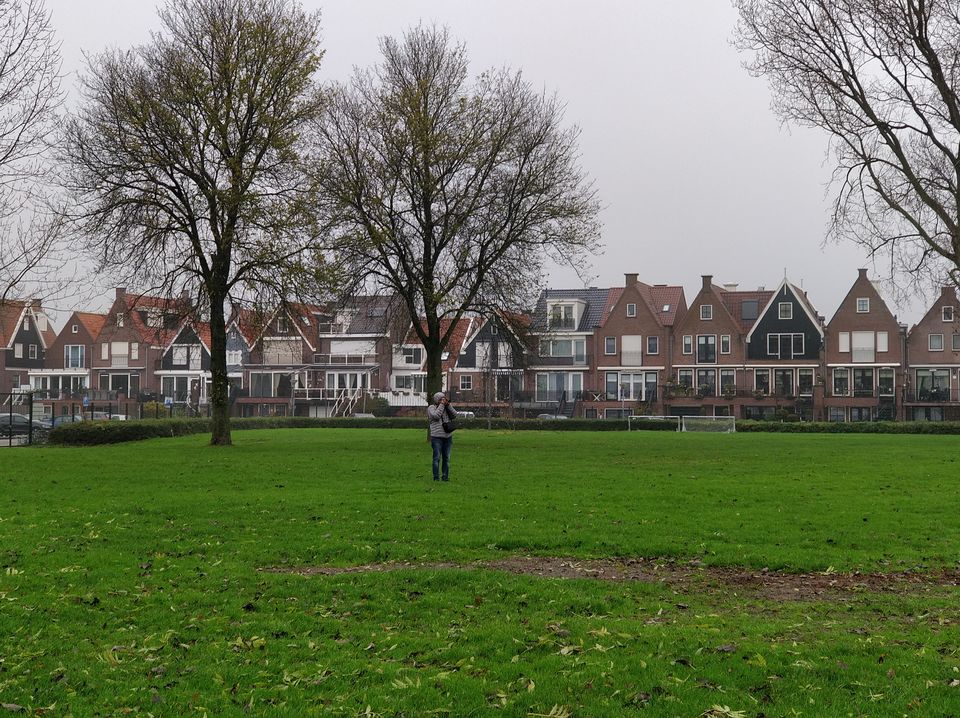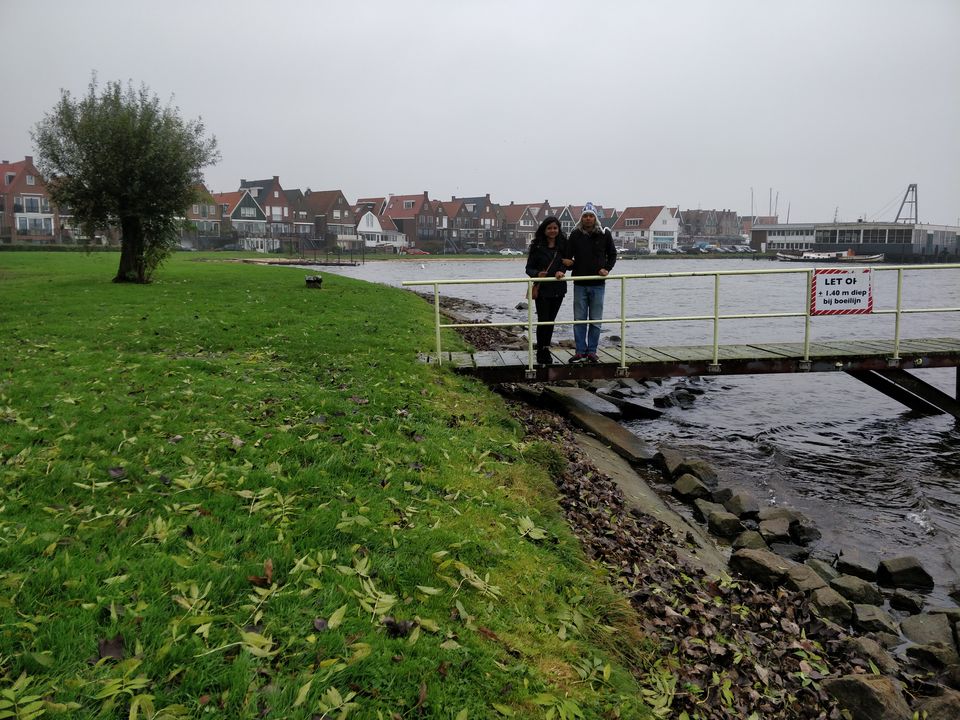 Bus dropped us at Amsterdam Sloterdick railway station at 0730 Hrs on tuesday morning. Our Stay in Amsterdam was for three days (Tuesday, Wednesday and Thursday). In Sloterdick railway station, we enquired about tourist passes. Different types of tourist passes were available. We bought a weekly tourist pass which was valid in metros, buses, trams and also covered airport metro (Pass was valid in Amsterdam and Volendam Region). Since, we had booked a flight from Amsterdam to Prague , we preferred to buy this pass. Cost of pass was 33.5 Euros ( Approx. Rs 2555). Our hostel in Amsterdam was near Amsterdam Centraal Station. By train it took 10 minutes to reach Amsterdam Centraal station from Sloterdick station. Hostel Flying Pig Downtown was 10 min walking from Amsterdam Centraal station.
Details of Hostel in Amsterdam:
Stay- Two nights (14th Nov and 15th Nov.)
Name- Flying Pig Downtown Hostel located at Nieuwendijk 100, 1012 MR Amsterdam.
Landmark- Near Amsterdam Centraal Station.
Cost per head- 64.5 Euro (Approx. Rs 4920) for two nights. This includes 0.90 Euro per head tourist city tax which had to be paid at the time of check-in in cash only.
Complimentary breakfast was provided in this hostel. Stayed here in 8 bedroom dorm.
Booked this hostel on its website- https://www.flyingpig.nl/
Best part about Amsterdam- Weed is legal here !! Marijuana could be bought at any coffee shop. Such coffee shops were ubiquitous in almost every street near Amsterdam centraal station. Identity proof is required for entering coffee shop. Any ID proof will do, even Aadhar card is valid. They just check your date of birth.
Amsterdam Centraal Station
Places visited in Amsterdam: Mostly travelled by trams.
1. Dam Square- Many restaurants and pubs are located here.
2. Anne Frank House- The Anne Frank House is a writer's house and biographical museum, dedicated to Jewish wartime diarist Anne Frank. Entry Ticket Costs 9.5 Euro (Approx Rs 720). Book tickets online in order to avoid queue.
3. Heineken Experience- It is an interactive journey through the world of Heineken beer. The tour consists of familiarizing us with brewing process which is quite exciting. Also, we get to drink two mugs of beer per person in tasting room. Entry ticket costs 14.5 Euro ( Approx. Rs.1110).
4. I Amsterdam Sign-
5. Red light Districts- Visit is free unless you are upto something.
6. De Gooyer wooden windmill- "Free".
7. Volendam- It is a small coastal town located 20km from Amsterdam. It's known for its colorful wooden houses and the old fishing boats in its harbor. Reached Volendam by bus from Amsterdam Central Station. Bus travel was included in our tourist pass.
In our three day stay at Amsterdam, we were mostly munching on these cakes. It costs around 6 Euro a piece. It is strong enough for two person.
Flight to Prague was on thursday (16/11/2017) evening. Flight duration 90 minutes. Flight ticket was booked five months in advance. Per head flight ticket cost was Rs 3731. Airline was Easyjet. Ticket booked through Easyjet Airlines website. If you are carrying extra baggage you may have to pay extra for baggage charges.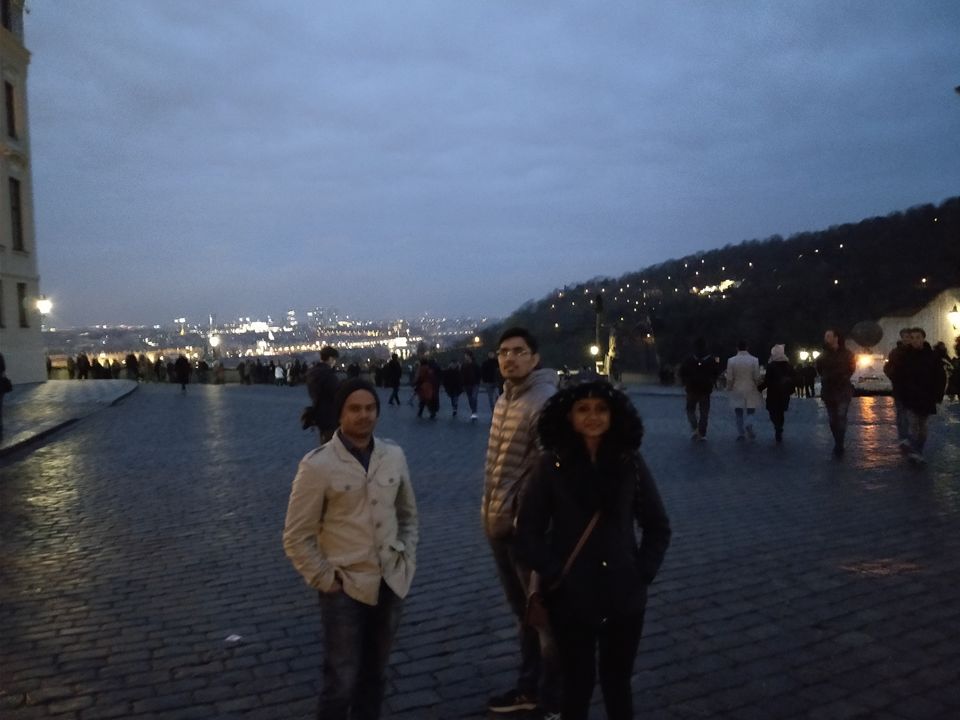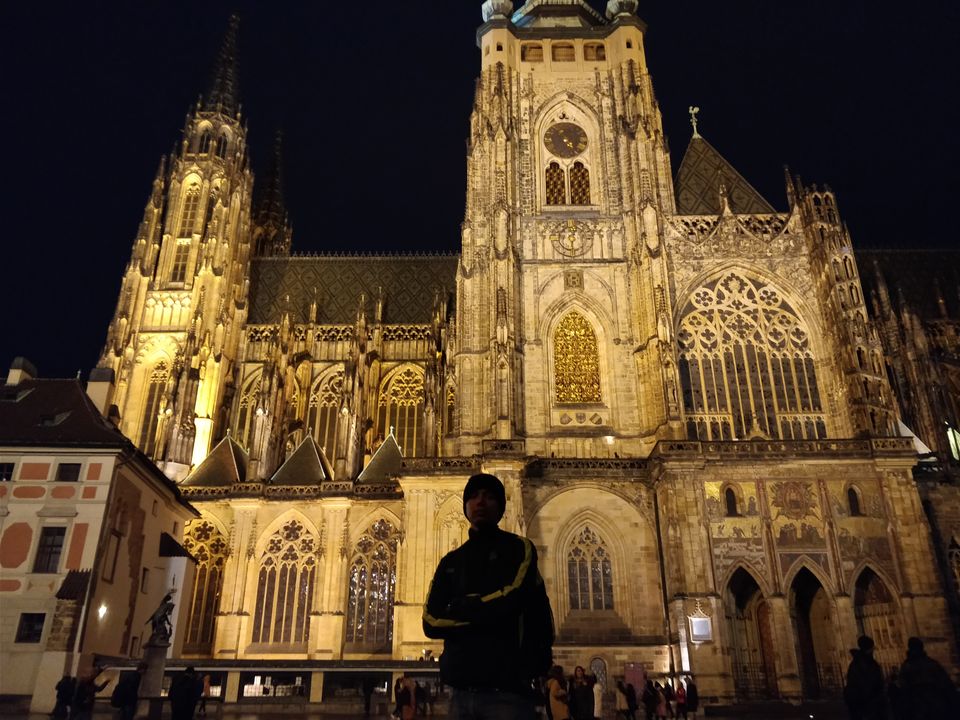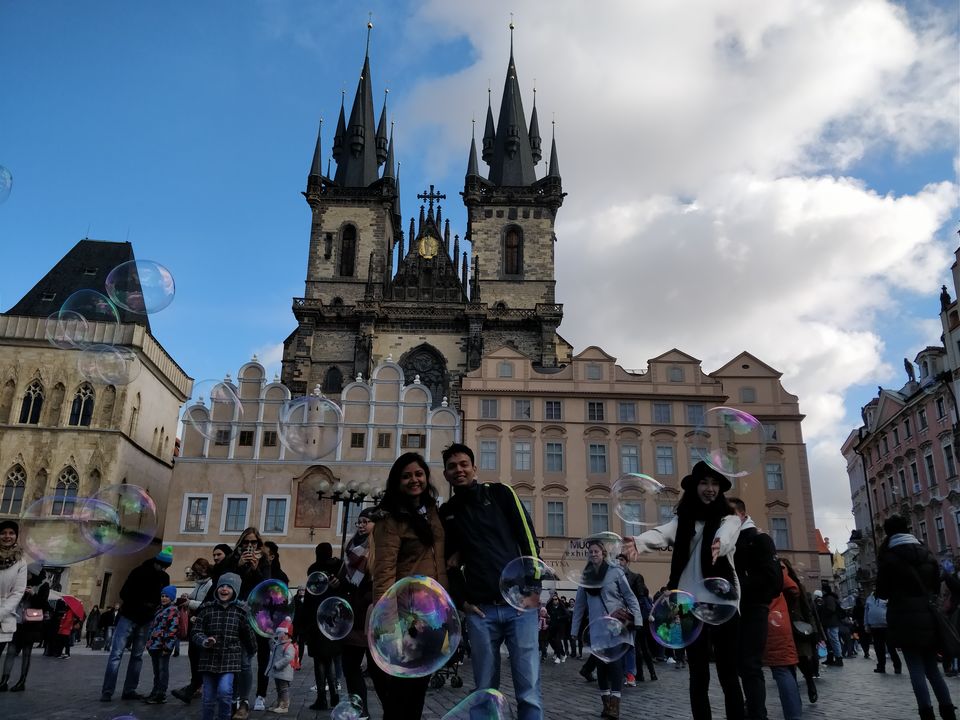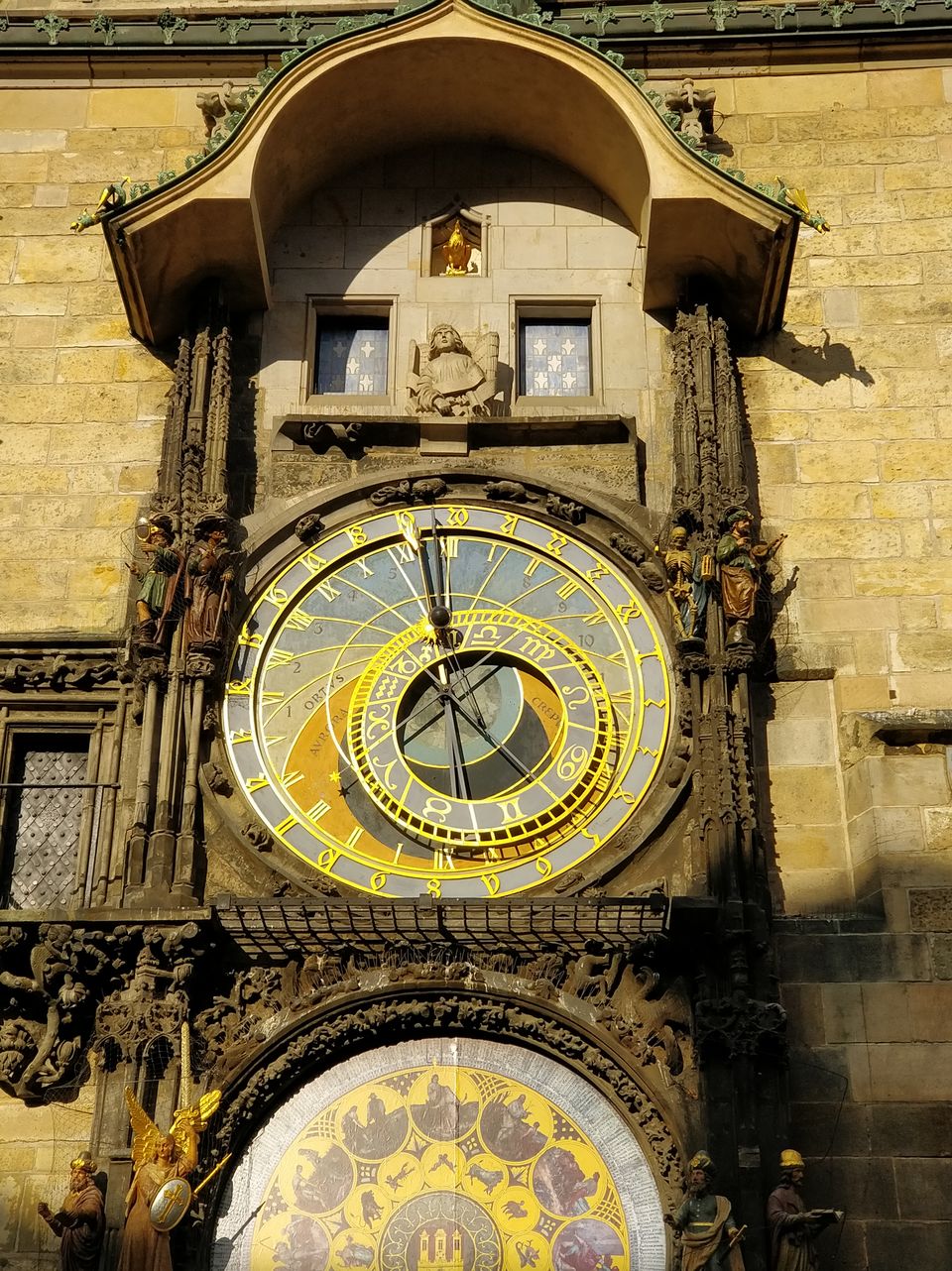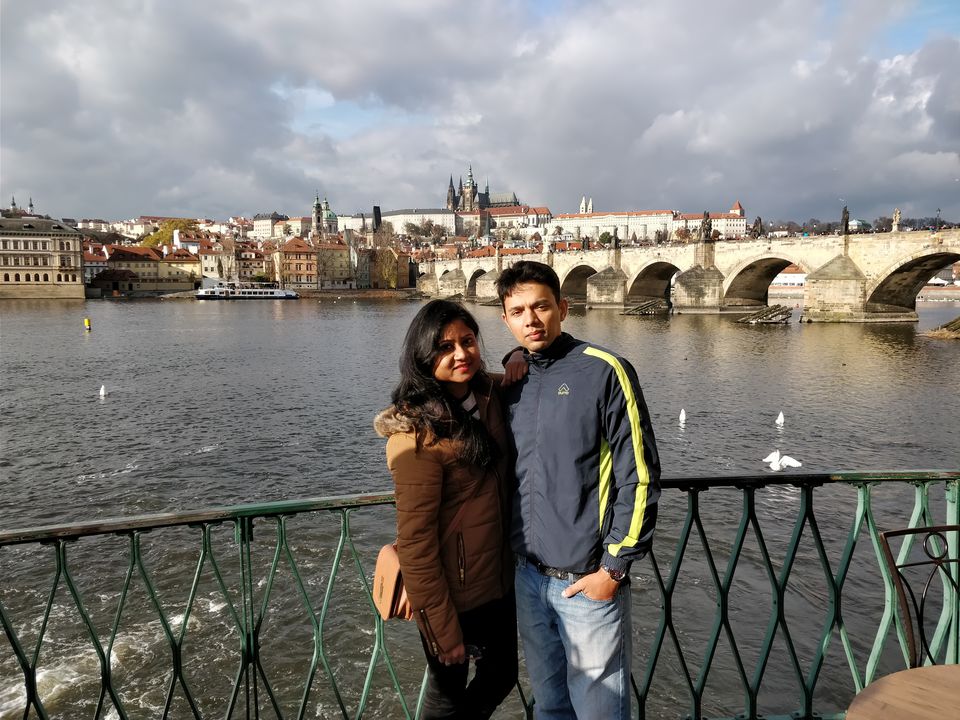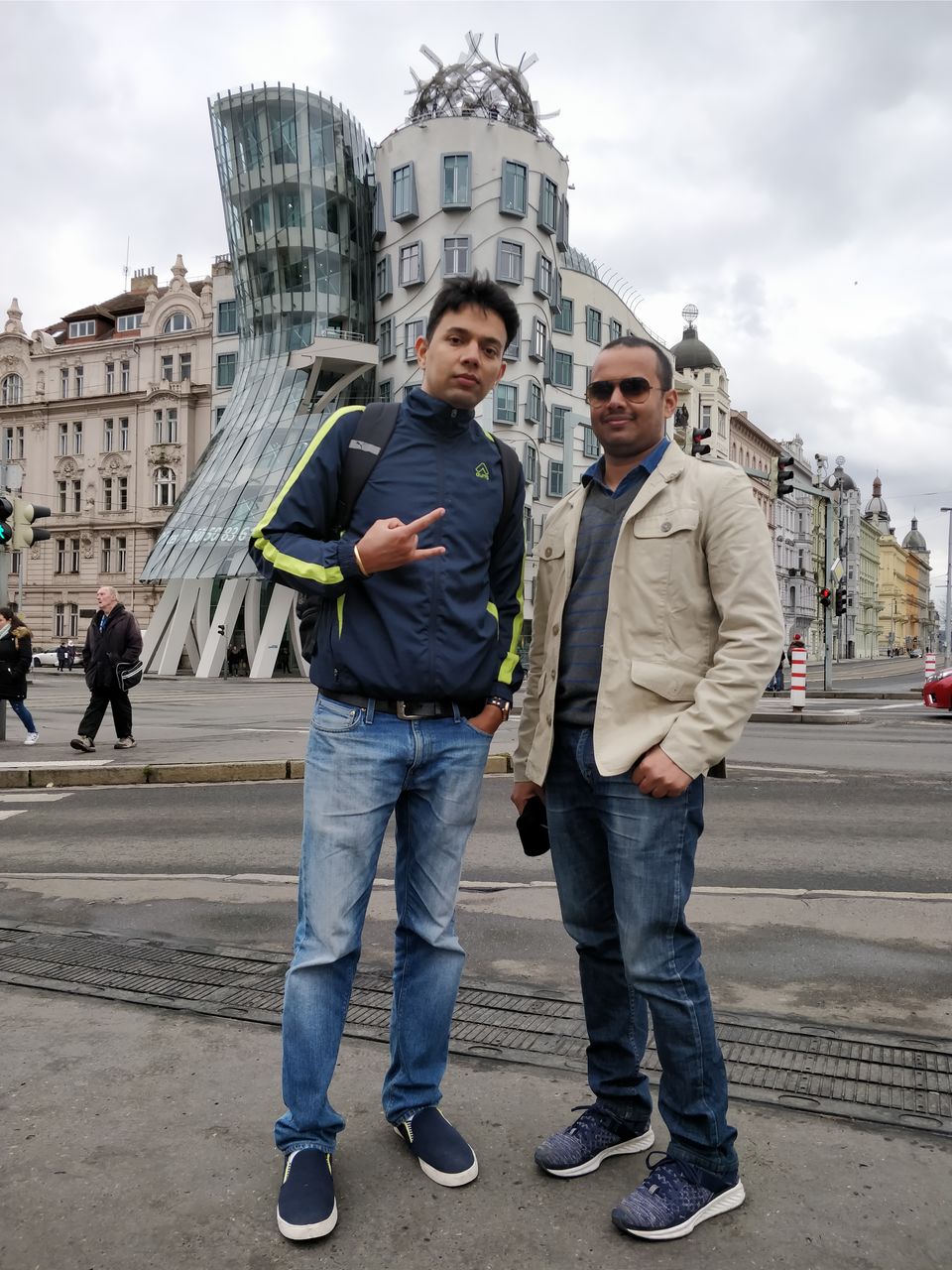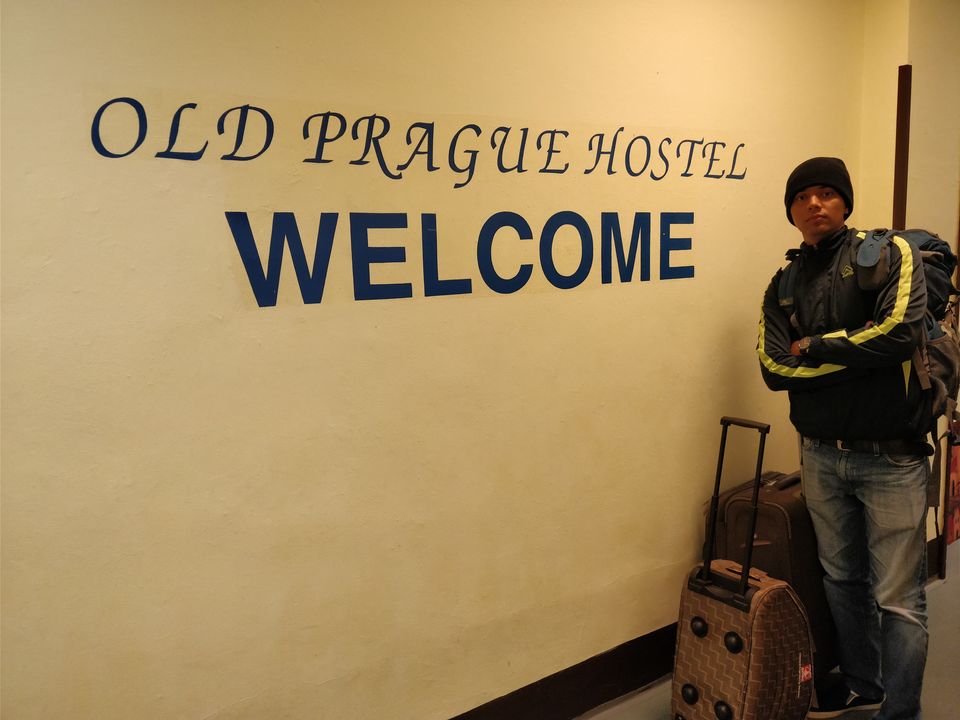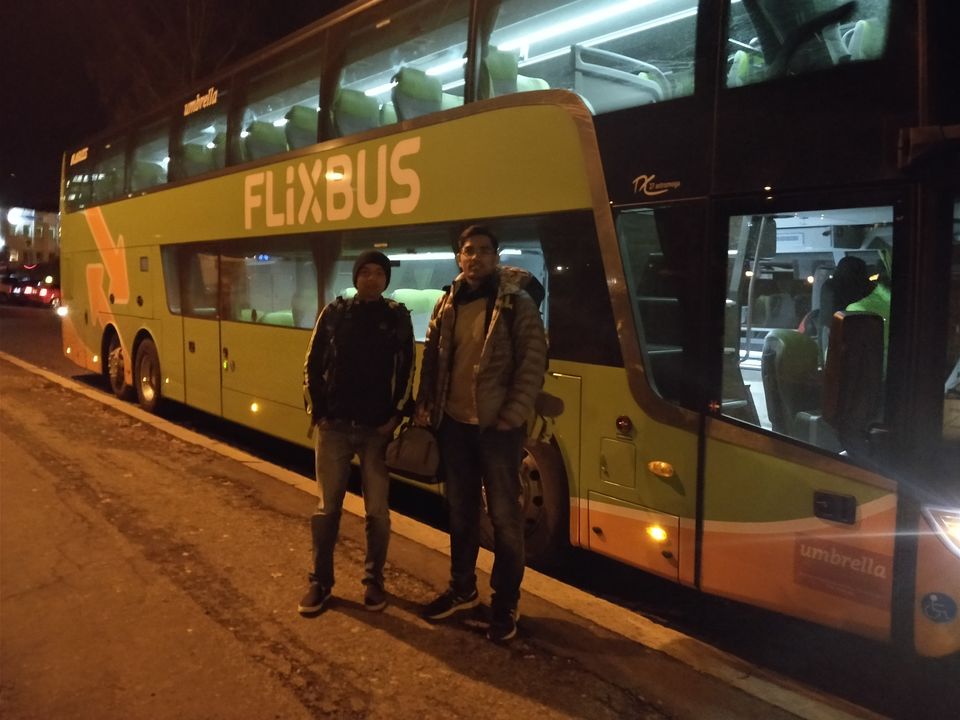 Landed in Prague at 2030 Hrs. Booked an Uber to hostel. It took 15.45 Euros (Approx. Rs1180). Reached hostel by 2200 hrs. No tourist pass was required in Prague as all attractions were within walking distance. Stayed in Prague for Two nights. Our bus to next destination Cesky Krumlov was at 1900 hrs on 18/11/2017.
In Prague, the centre point of all attractions was the Old Town Square. So we booked our hostel which was 5 minutes walking from Old Town Square. Czech Republic has its own currency- Czech Koruna. People here accept both Euro and Czech Koruna.
Details of Hostel in Prague:
Stay- Two nights (16th Nov and 17th Nov.)
Name- Old Prague Hostel located at Benediktská 685/2, 110 00 Staré Město, Czechia.
Landmark- Near Old Town Square.
Cost per head- 33.75 Euro (Approx. Rs 2580) for two nights. It was really budget friendly. This includes 01 Euro per head tourist city tax which had to be paid at the time of check-in in cash only. Complimentary breakfast was included in hostel package.
Stayed here in 4 bedroom dorm. Booked hostel on this website- www.hostelworld.com
Places visited in Prague: Traversed Most of Prague on foot.
1. Old Town Square- It is the heart of Prague city. Most beautiful square in Prague.
2. Astronomical Clock- It is located within the old town square.
The clock is the third oldest astronomical clock in world, installed in 1410 AD and the oldest one still operational.
3. Charles Bridge- It is approx. 15 mins walking from Old Town Sqaure. It's a historic bridge that crosses the Vltava river in Prague. It was built in 15th Century. Many scenes in bollywood movies were shot on this bridge Eg. Rockstar.
4. Dancing House- A simple building which some how managed to get lot of tourist attraction. Its 10 mins walking from Charles Bridge.
5. Prague Castle- It is a castle complex in Prague, dating from the 9th century. It is the official office of the President of Czech Republic. Entry fees into the palace is 140 CZK. (Approx. Rs 450). As castle is located on a small hill, you have to climb some stairs. It takes about 30 min to reach the castle.
Many excellent restaurants and pubs are located throughout the streets of Prague. My suggestion would be to try local beer of Prague. And if you are craving for Indian food, visit Dhaba Tynska, located near Old Town Sqaure.
Prague has some of the best strip-clubs in the world. My suggestion- Goldfingers Prague.
Bus to next destination- Cesky Krumlov was at 1900 hrs on 18/11/2017. Cost of bus ticket was Rs 460. Ticket booked through Flixbus App. Distance from Prague to Cesky Krumlov was 180km, covered in 2hr 30mins.
CESKY KRUMLOV (Czech Republic):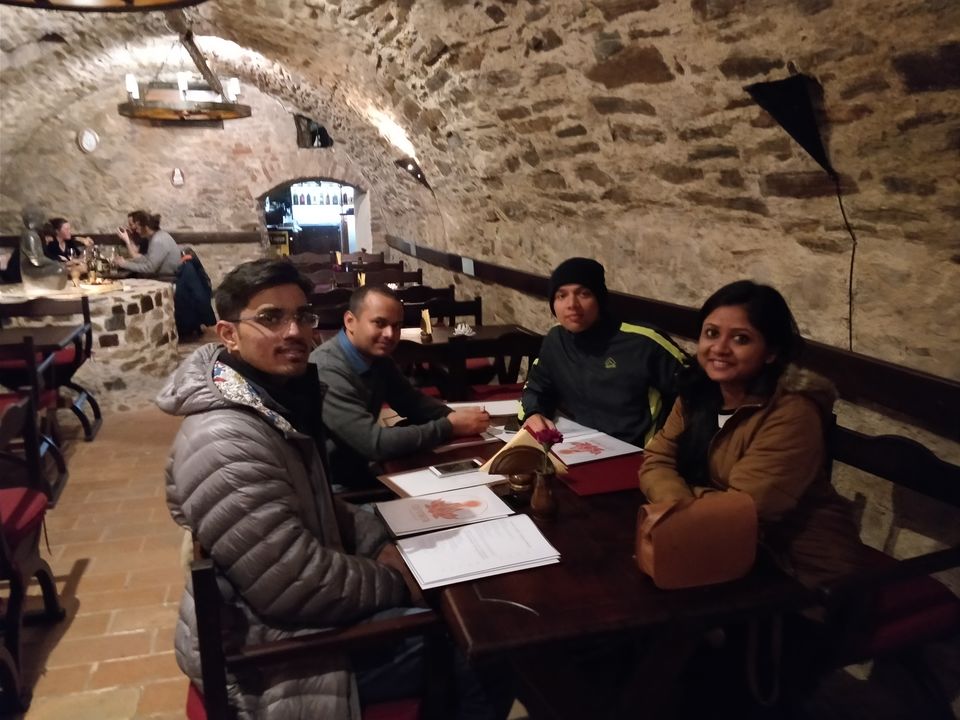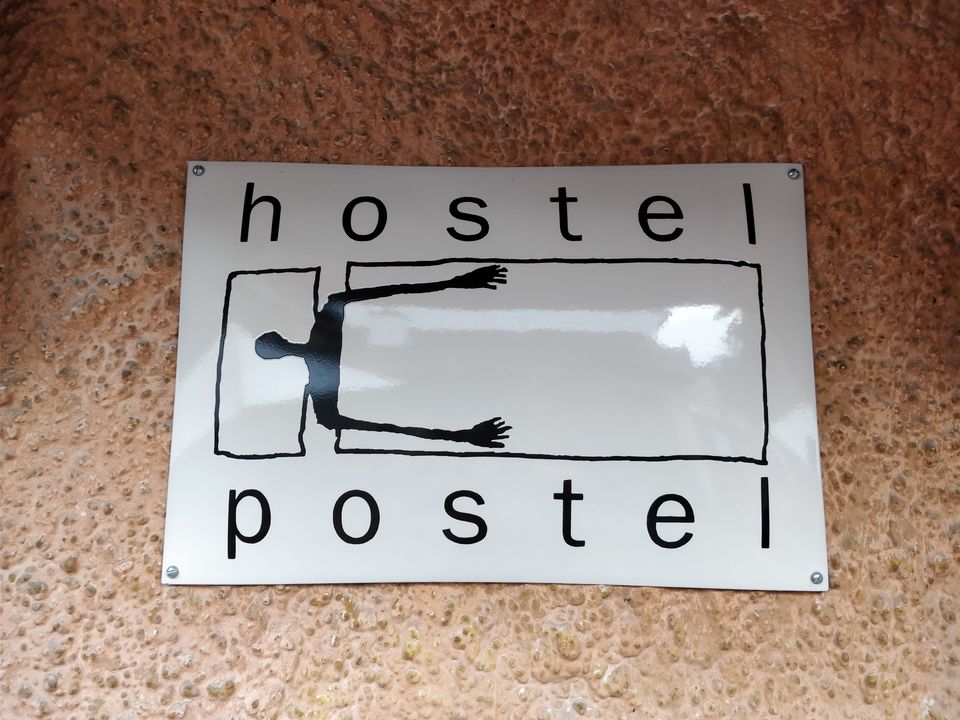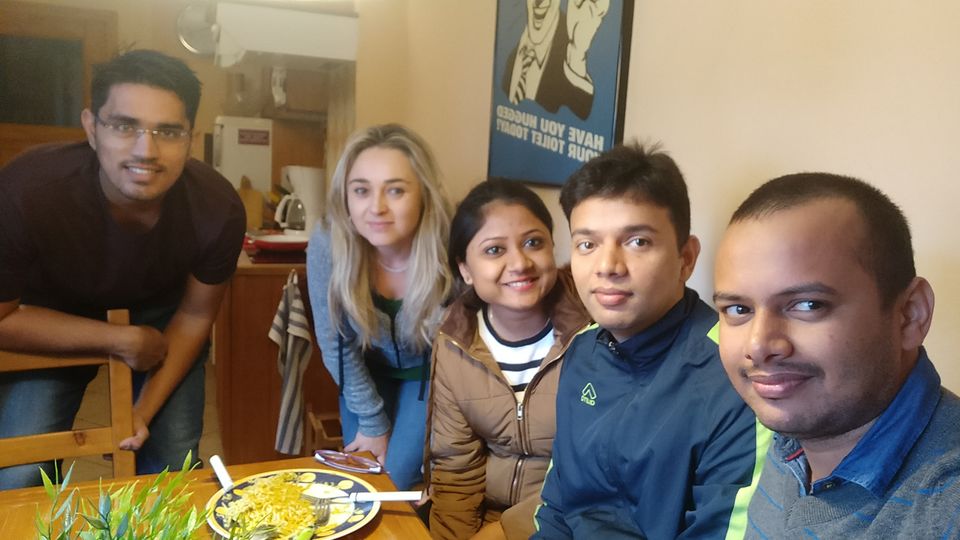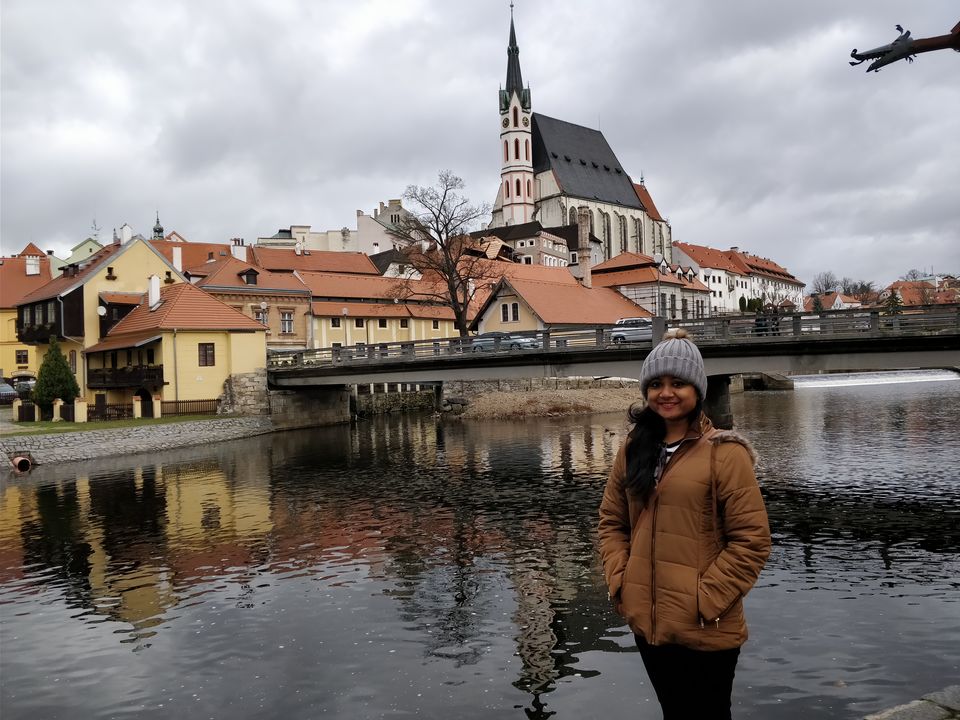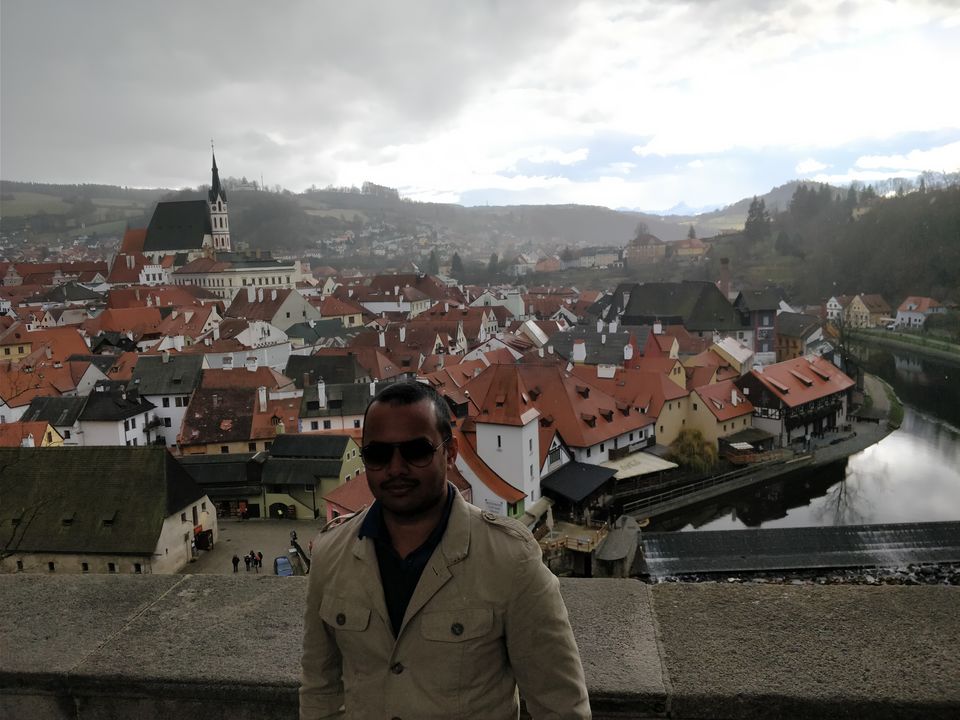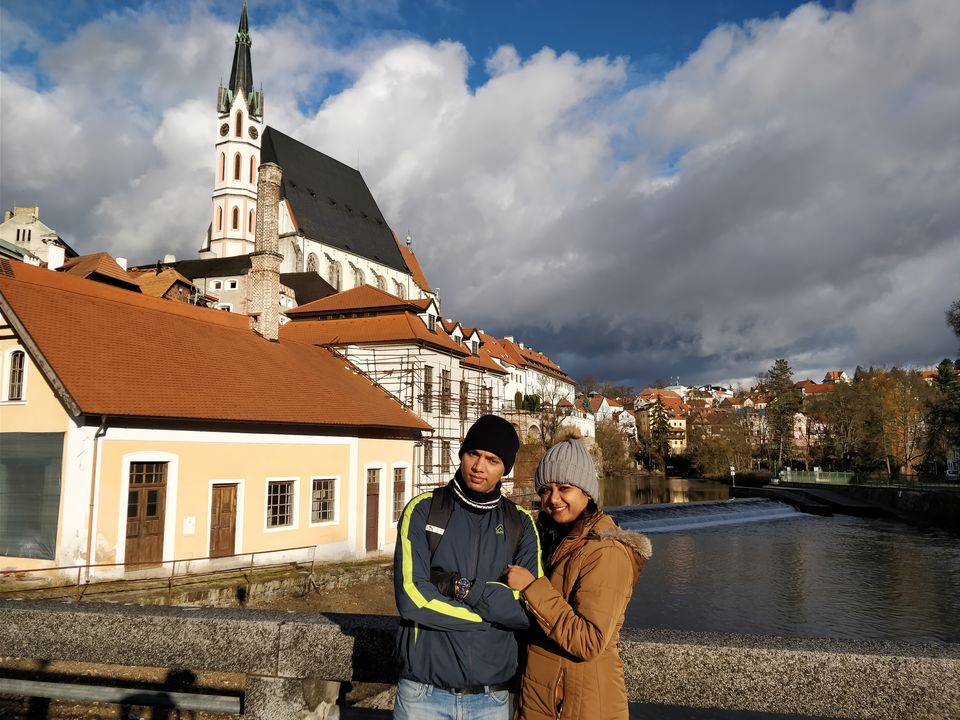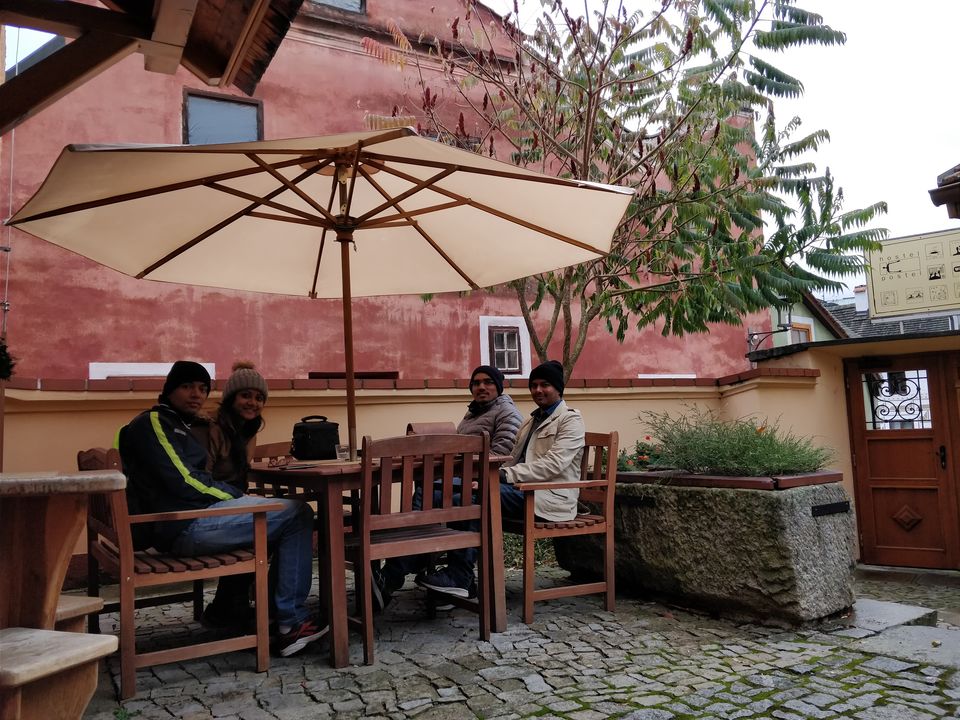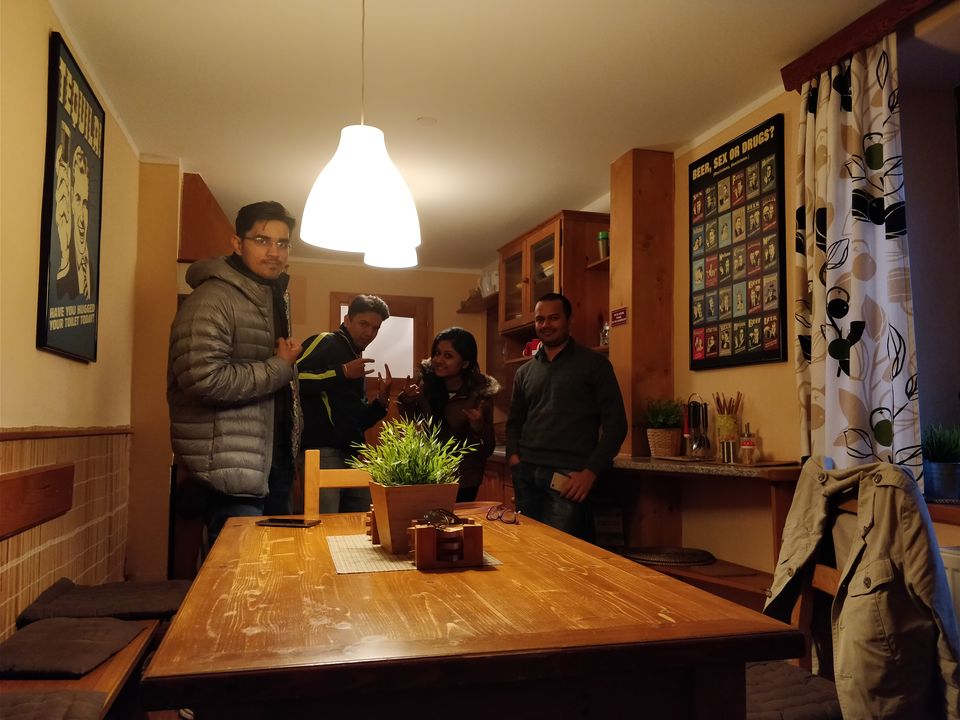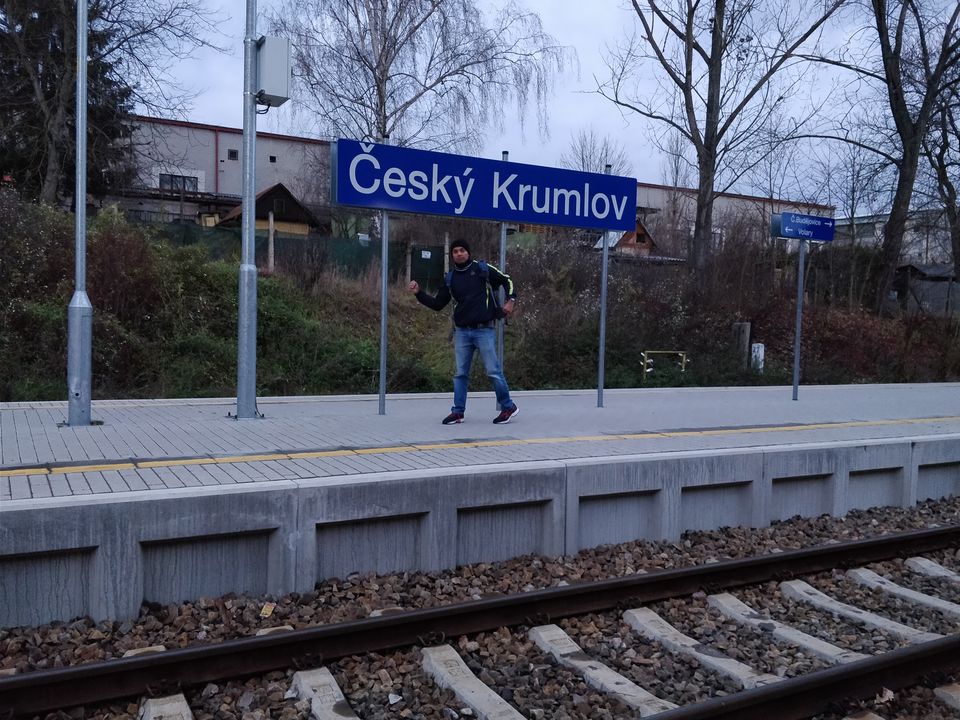 Reached Cesky Krumlov at 2130 Hrs. Cesky Krumlov is a small countryside town famous for its castle. This town is so small that you can cover entire town on foot. Bus dropped us a little outside the town. So, we had to walk for 20mins to reach our hostel- Hostel Postel.
Details of Hostel in Cesky Krumlov:
Stay- One night (18th Nov.)
Name- Hostel Postel located at Rybářská 35, Plešivec, 381 01 Český Krumlov, Czechia
Landmark- No landmark needed.
Cost per head- 11.4 Euro (Approx. Rs 870) for one night. Again, its really budget friendly. Complimentary breakfast was not provided in this hostel. Hostel had its own kitchen where we cooked Maagi and "MTR Ready to eat" which we had brought from India. Stayed here in 6 bedroom dorm. Shared Room with Amazing Chinese guys. Booked hostel on this website- www.hostelworld.com
In Cesky Krumlov, luckily we found very good Indian Restaurant for dinner- Nirvana Indian Restaurant. Run by a Delhi Guy. It was located in an underground bunker. Excellent food.
Places visited in Cesky Krumlov: Covered town on foot.
The hostess of hostel provided us with all tours and activities scheduled for next day in the town. Luckily we found a free walking tour with English speaking guide, which covered important places in town. Its almost 2 hours walking tour. Tour finished at Cesky Krumlov Castle. At the end of tour, we tipped the guide 11 Euros (Approx. Rs. 850). The tour was amazing, the guide gives every minute detail of the town, its architecture and culture. You can get more details about the tour on this site.
http://www.wisemanfreetour.com/
With the tour guide in castle. Carrying a red umbrella was their identity.
The Cesky Krumlov castle is located on a small hill, so you have to climb sloped pavements. It is 20mins to the castle top. Luckily, we experienced little snowfall on top.
We had booked train to our next destination- Vienna. Train was at 1700 hrs on 19.11.2017 (Sunday). We had to change train at two stations. First Cesky Krumlov to Cesky Budejovice, then Cesky Budejovice to Cesky Velenice and finally Cesky Velenice to Wien Franz-Josefs-Bahnhof (a station in Vienna). Cost of train ticket was Rs 1153. Ticket booked directly on railways website. ( http://www.oebb.at/en/ ). Duration of train journey was 4 hrs and 30 mins.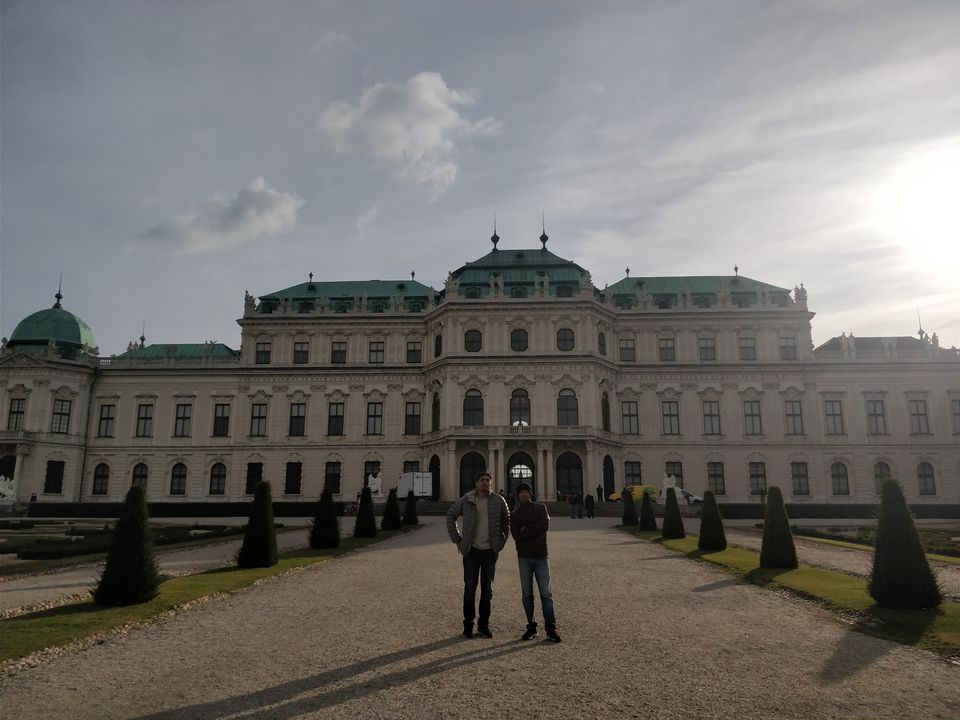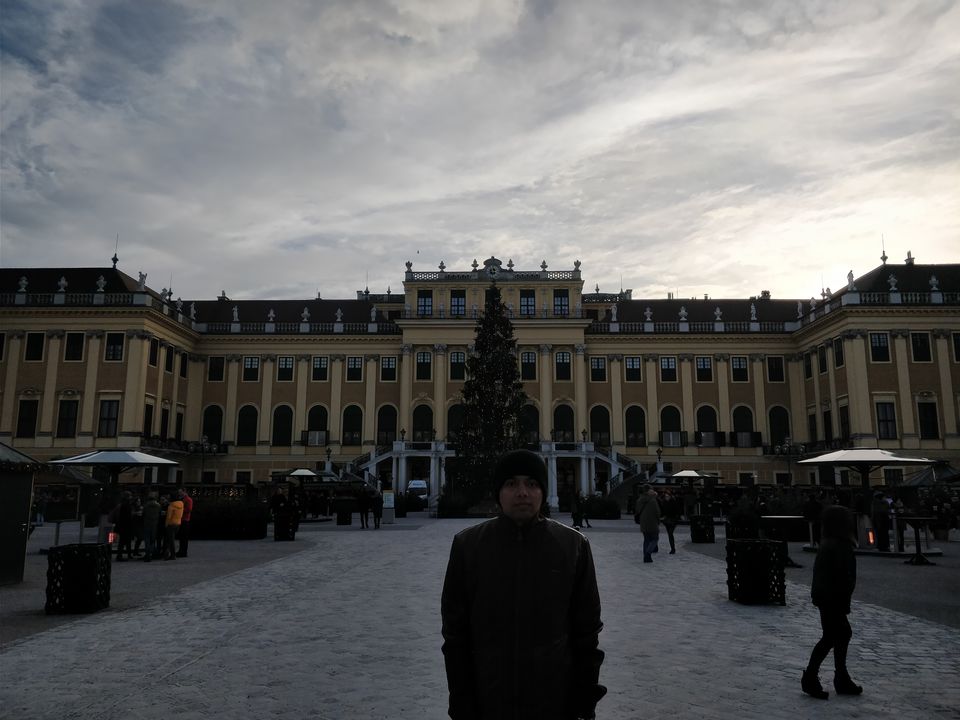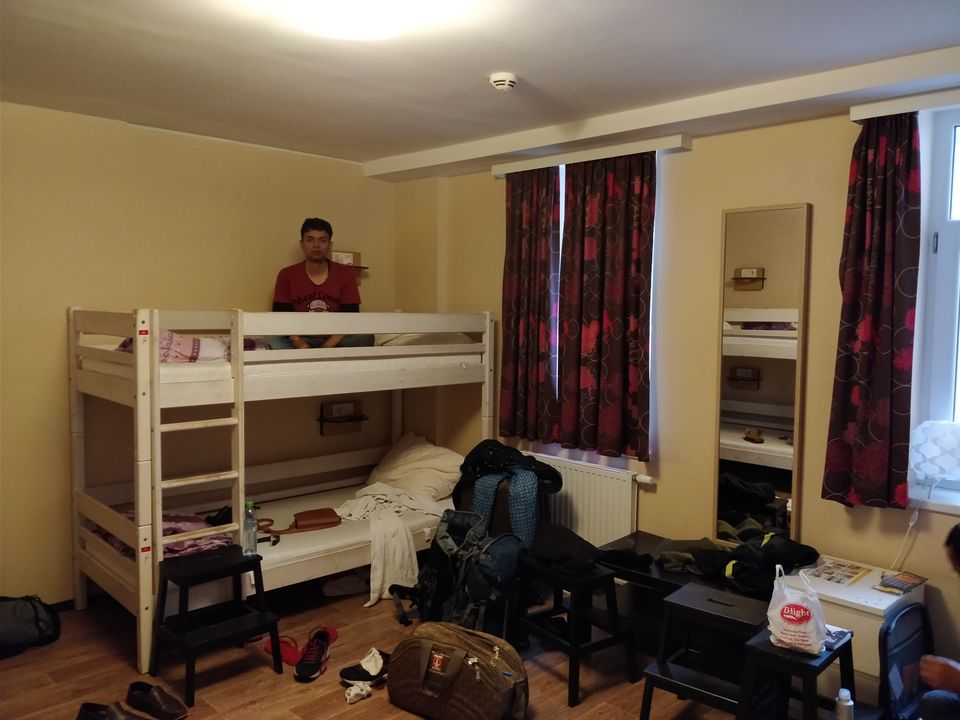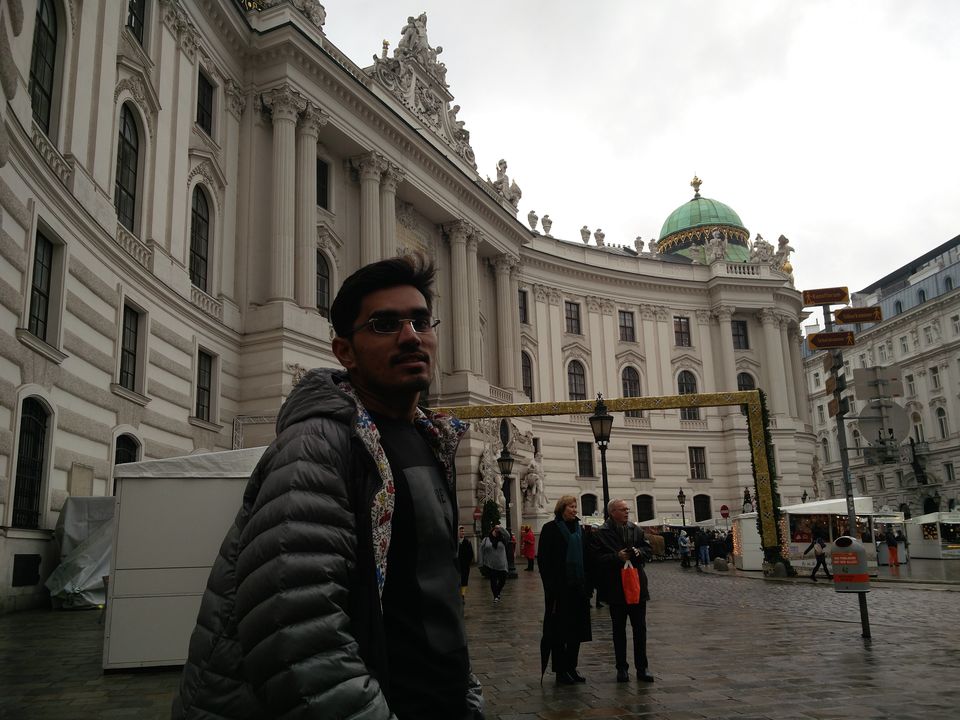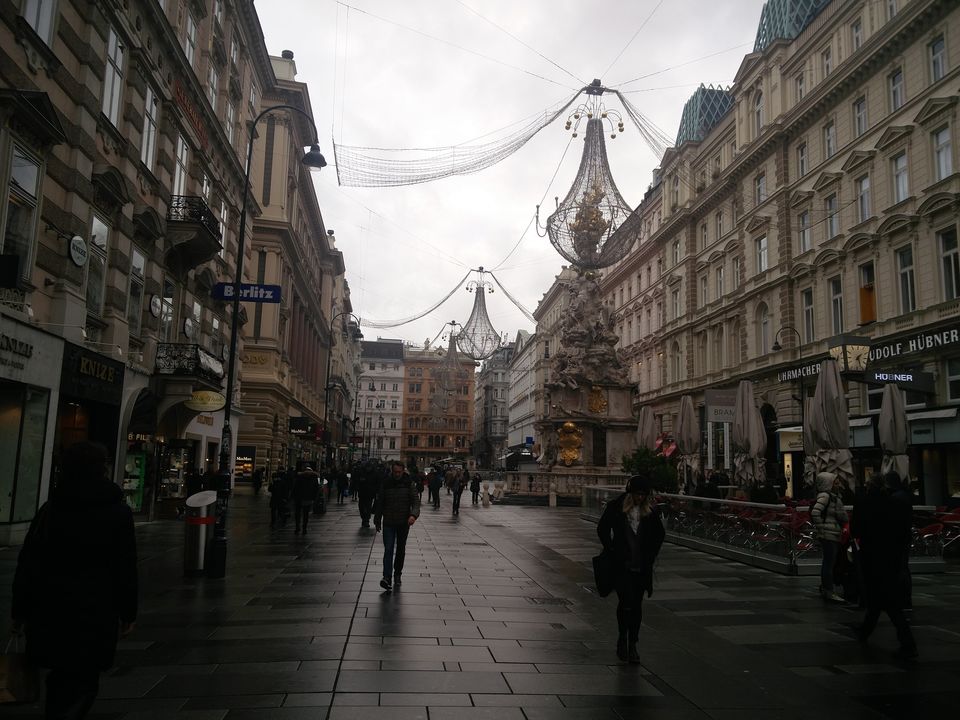 Finally we arrived in Vienna at 2130 Hrs on 19.11.2017. We booked an Uber to our Hostel- Wombats City Hostel -The Naschmarkt. Distance to hostel from station was approx. 6km and the cab took 8.32 Euro. (Approx. Rs 640).
Details of Hostel in Vienna:
Stay- Two nights (19th Nov and 20th Nov.)
Name- Wombats City Hostel -The Naschmarkt located at Rechte Wienzeile 35, 1040 Wien, Austria
Landmark- Near Kettenbrückengasse metro station.
Cost per head- 35.41 Euro (Approx. Rs 2710) for two night.
Complimentary breakfast was provided in this hostel. Breakfast was amazing.
Stayed here in 5 bedroom dorm. Shared Room with an awkward Iranian Guy for a day and some unknown dude for next day.
This hostel in Vienna was one of the best hostel in Europe. It had its own full fledged bar with pool table. Everyday it organizes various events and tour activities. It also had free walking tour of Vienna city. You can find more details about this hostel below.
https://www.wombats-hostels.com/vienna/the-naschmarkt/
Places visited in Vienna: Covered places in Vienna mostly on metros. Did not take any tourist pass here as we had decided to cover only few places for which metro tickets was bought when required.
1. Naschmarkt - It was food market located just outside hostel. Its not very famous. We visited here as it was just outside hostel. Naschmarkt is Vienna's oldest and biggest food market.
2. Belvedere Palace- This palace complex was built in 18th-century which houses art from Middle Ages to today. TO see art collection, entry fees was there. But otherwise no entry fess for palace.
3. Schönbrunn Palace- Schönbrunn Palace is a former imperial summer residence located in Vienna, Austria. The 1,441-room Baroque palace is one of the most important architectural, cultural, and historical monuments in the country. It also had entry fees but we didn't go inside.
4. Hofburg Palace - Vienna's Imperial Palace in Hofburg is one of the biggest palace complexes in the world. The oldest parts date to the 13th century.
5. St. Stephen's Cathedral - One of the biggest church of Vienna , built in 1173 AD. No entry fees. It is to be noted that there is no entry fees in any churches.
Vienna was very beautiful city. It had amazing building architectures. Oprah house of Vienna is amazing. But we found Vienna little boring as by the time we had reached Vienna we had already seen many castles and palaces and Vienna had lots of palaces.
For our next destination "Venice", we had booked night sleeper train known as Nightjet. We had booked tickets in 6 bed coach with breakfast. It was Indian equivalent of 3rd AC but with a cabin. Per head train ticket was Rs 3789. Train started from Vienna at 2130 hrs and reached Venice at 0830 hrs next day (22nd Nov). Travel duration of 11 hrs. Booked train tickets on railways website.
http://www.oebb.at/en/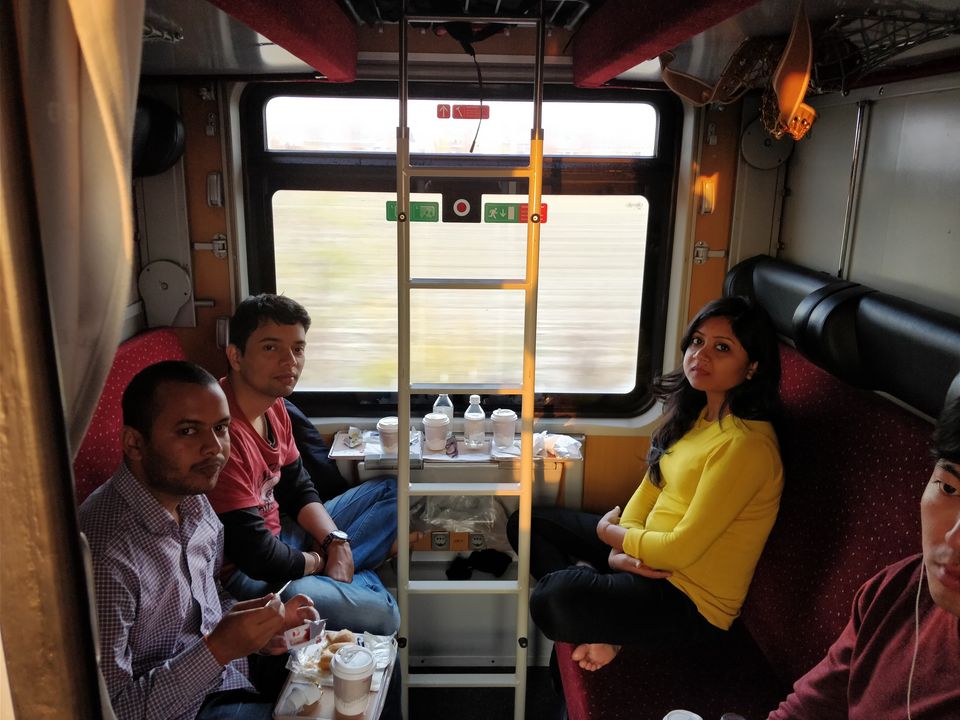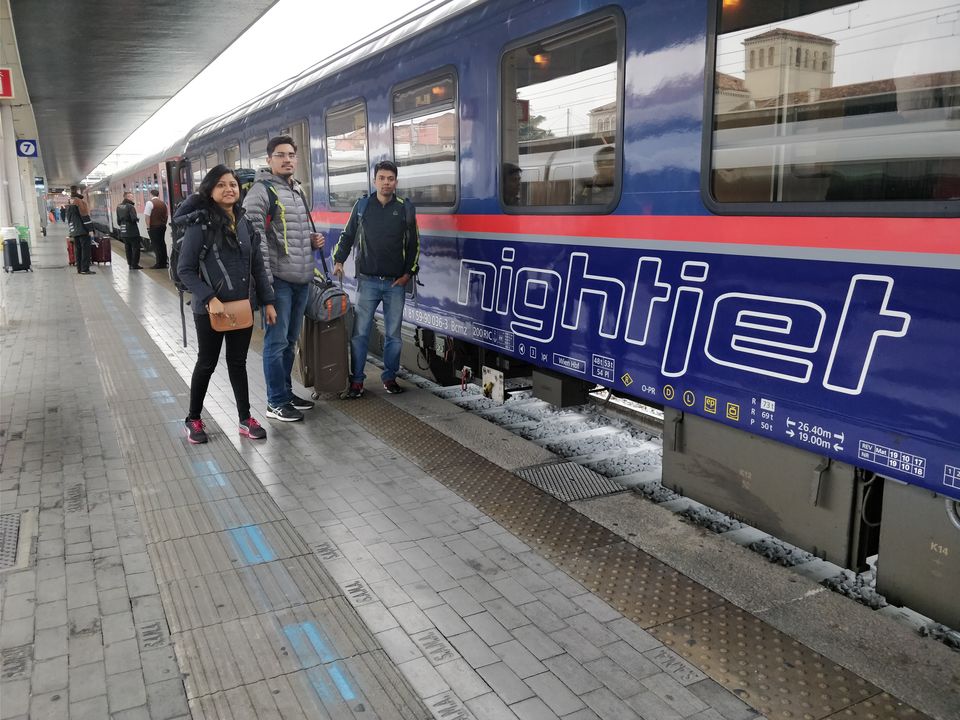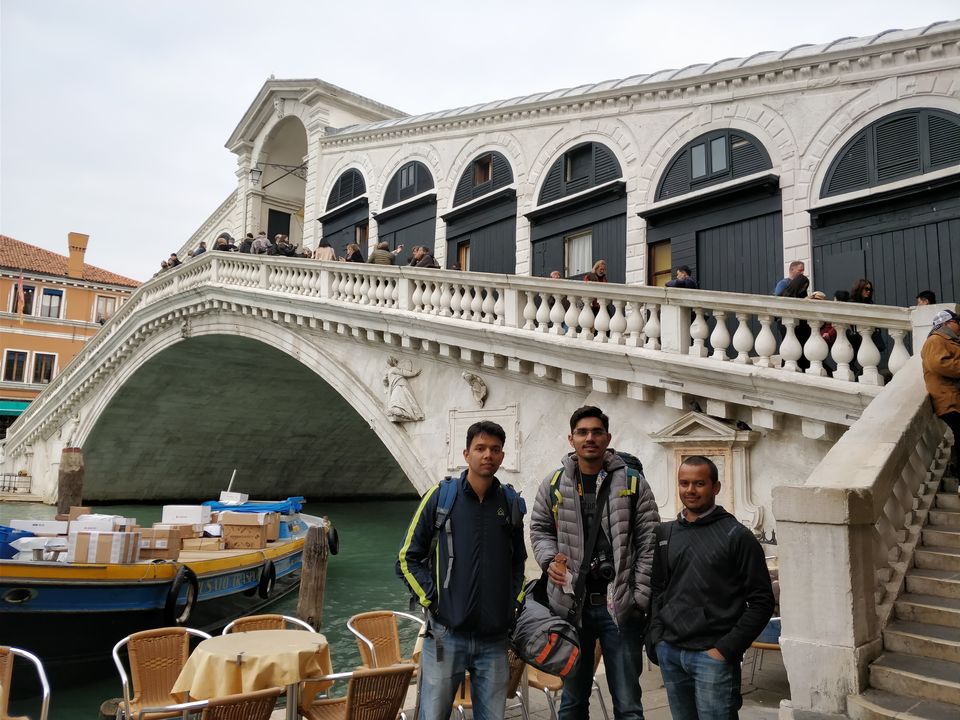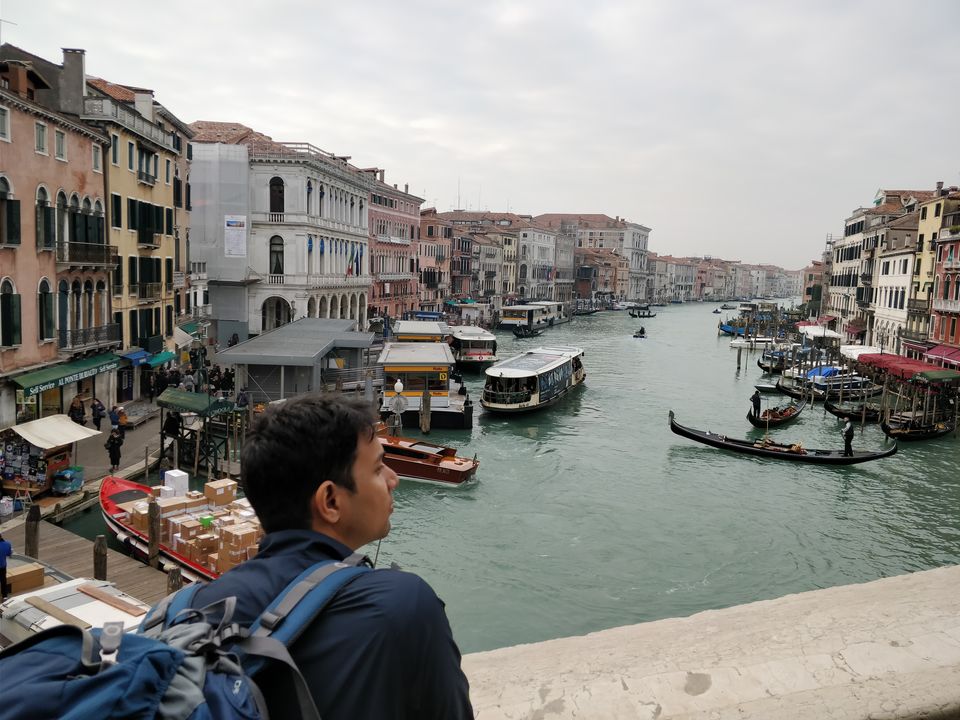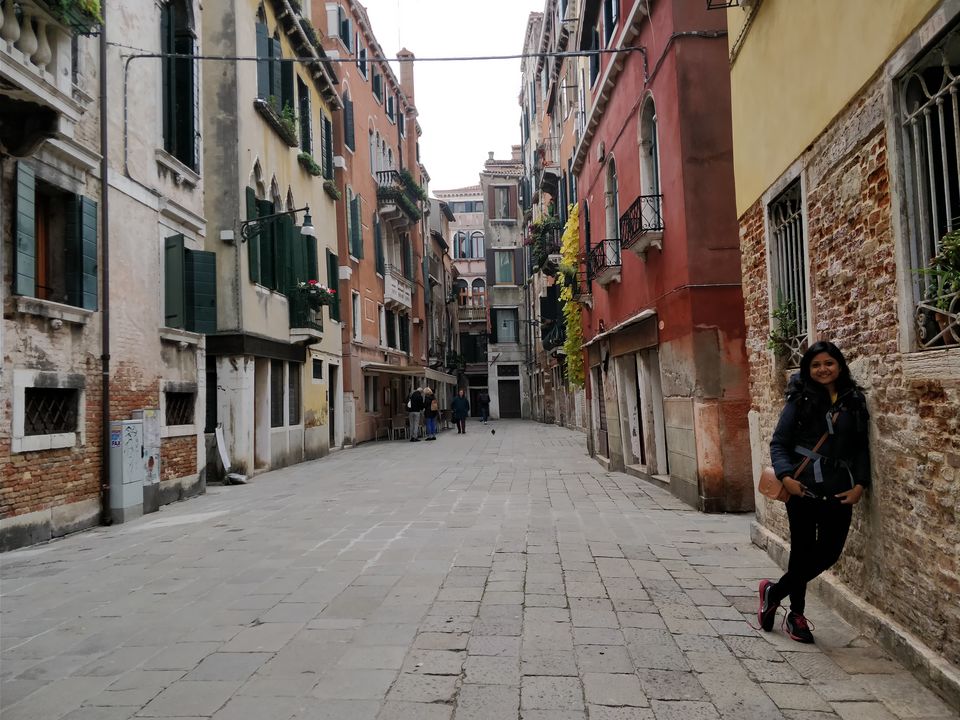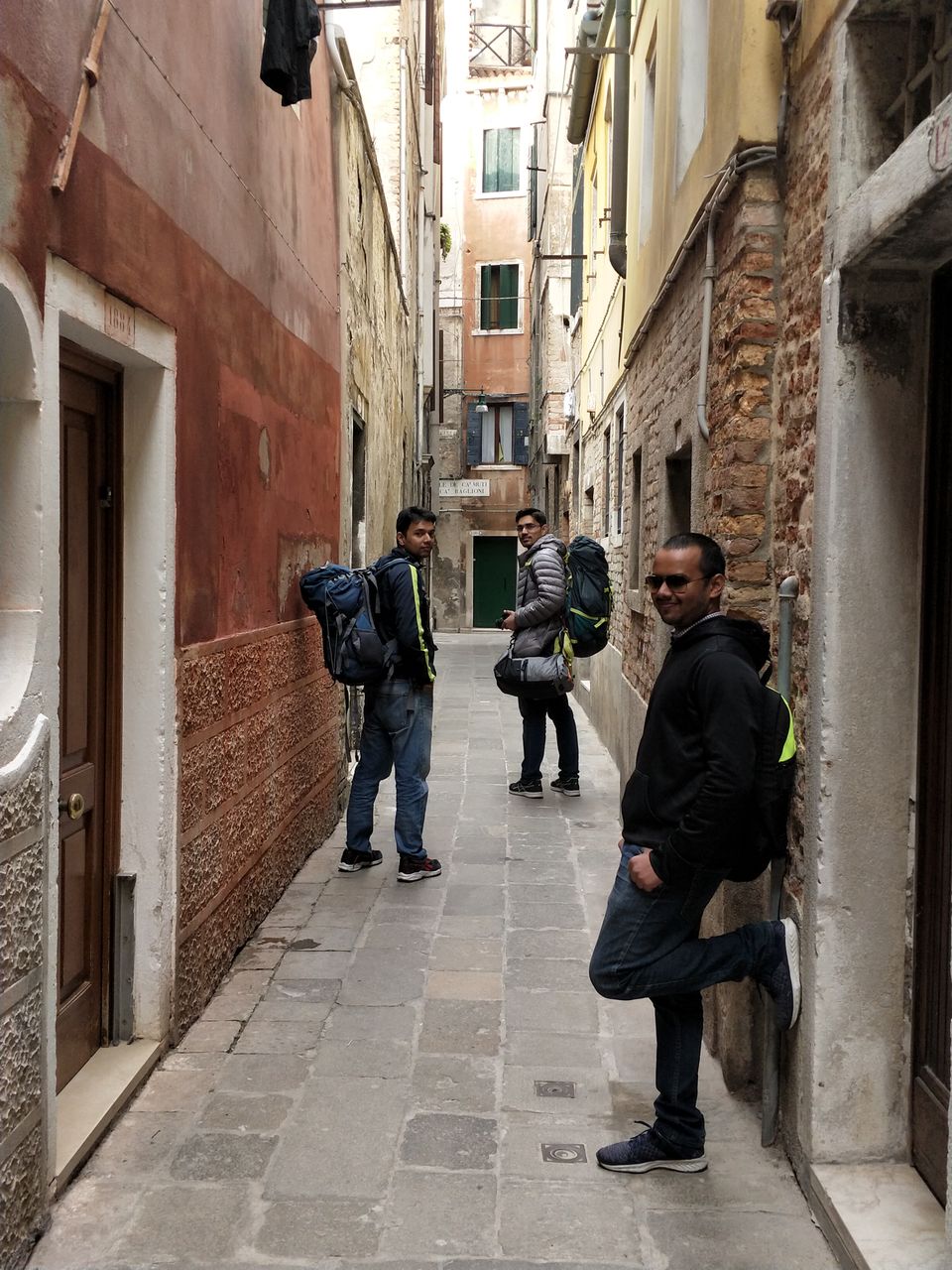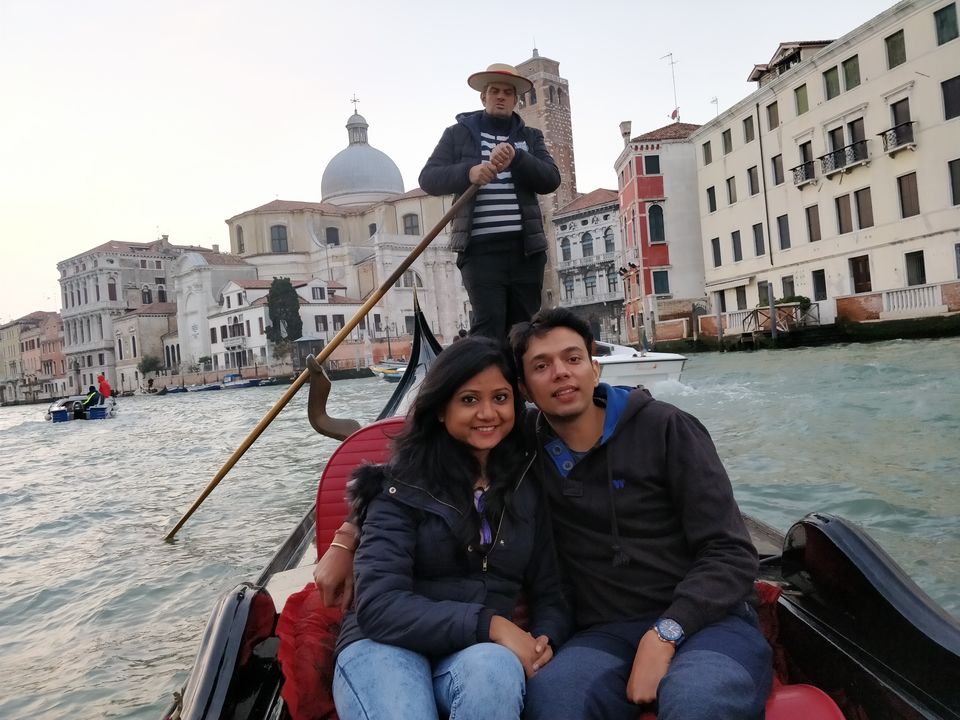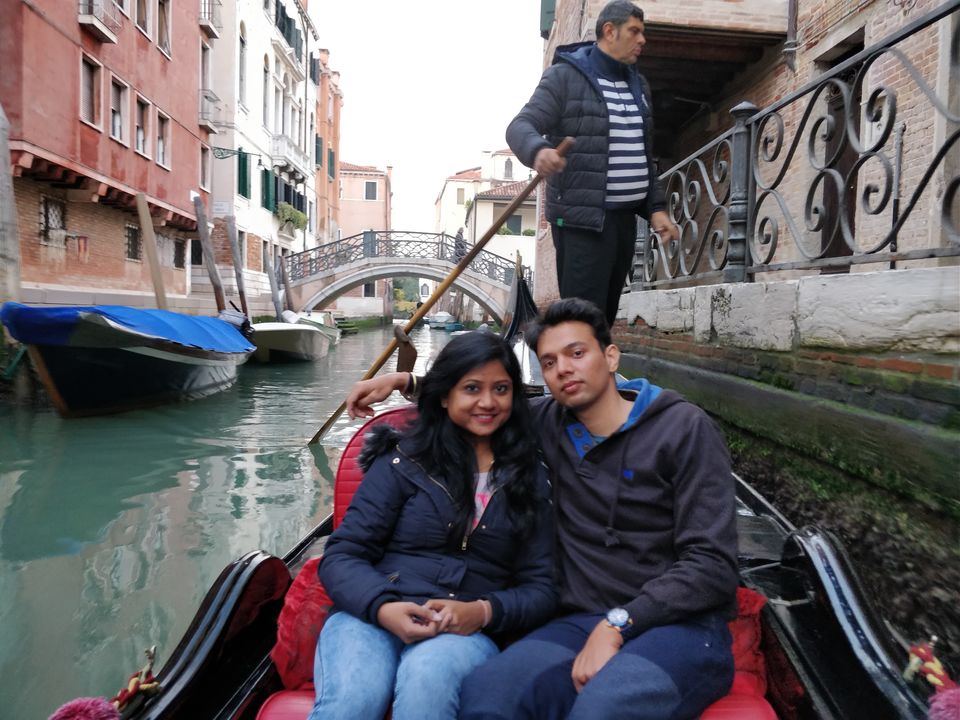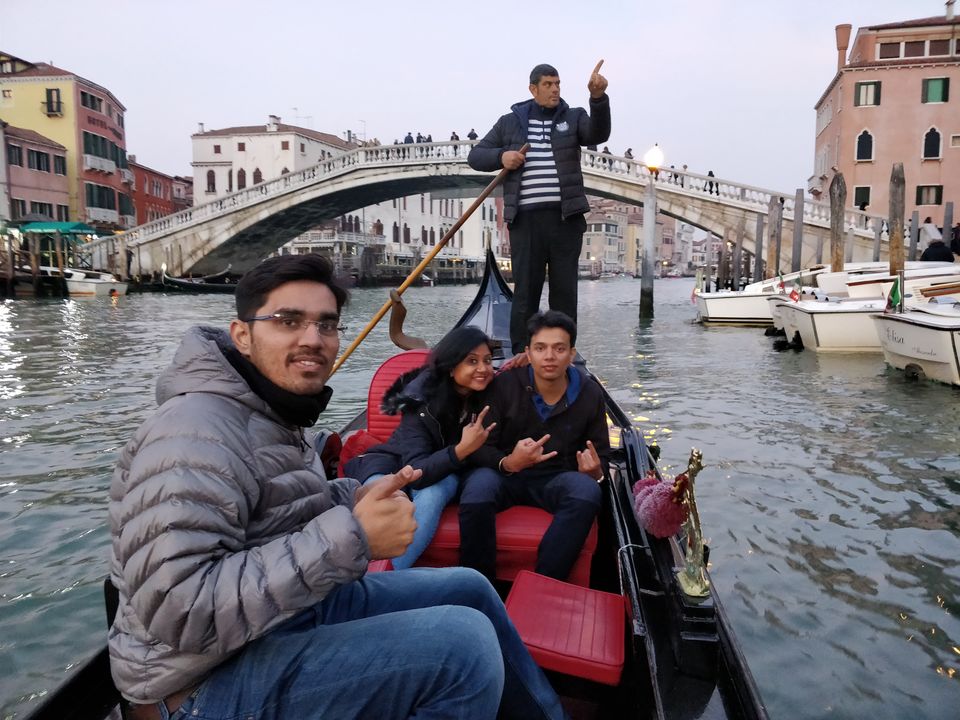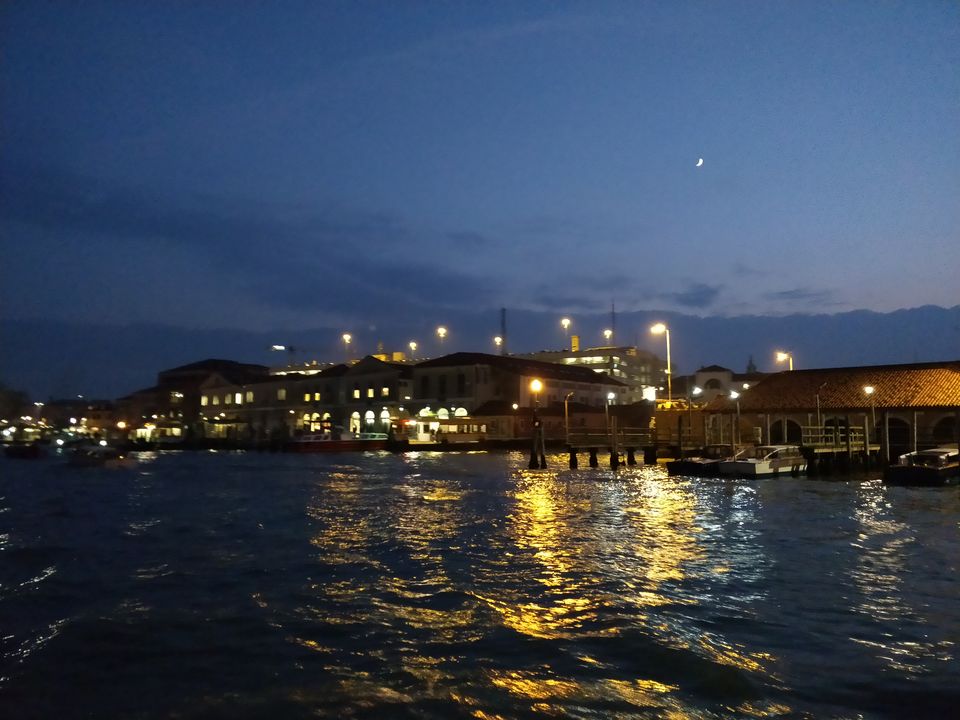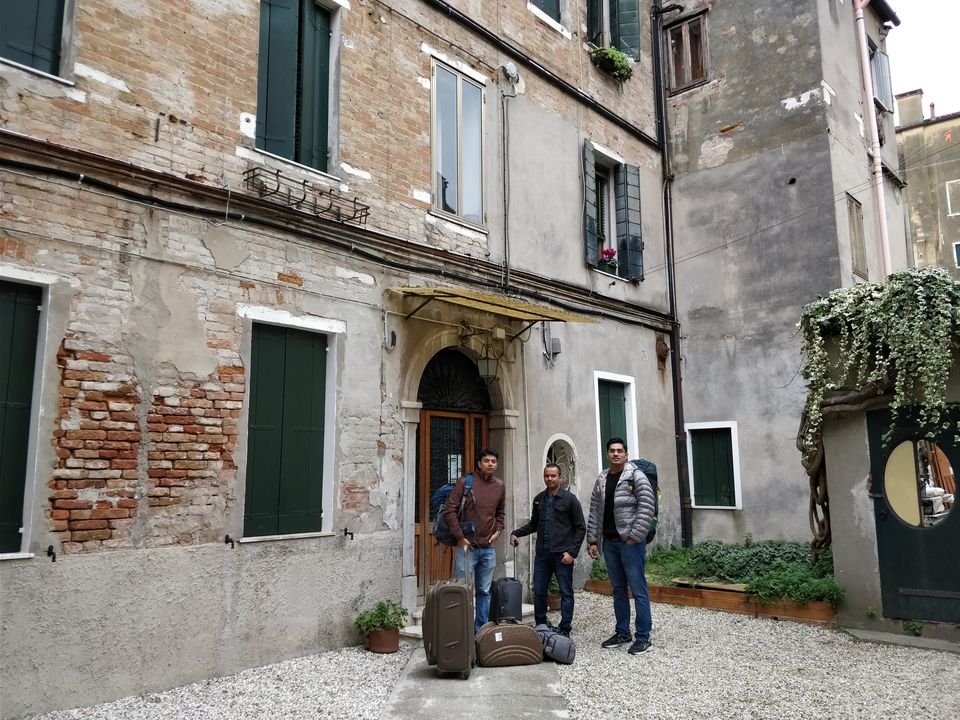 Reached Venice at 0830 Hrs on 22nd Nov. Venice is situated across a group of 118 small islands that are separated by canals and linked by bridges, of which there are 400. We had booked an Airbnb Apartment here. Make sure you book your accommodation on island part of Venice i.e around Venzia Santa Lucia Station. There is a bridge separating mainland of Venice and island part. It is better to stay on island part of city around Grand Canal. Vehicles are not allowed on part of Venice which is around Grand Canal. Either you have to walk or take a boat (known as ACTV here). So, we decided to take a ACTV pass valid for 24hrs. Cost of each pass was 20 Euros. (Approx. Rs 1530) Our checkin at Airbnb was at 1300 hrs, so we kept our luggage at locker room (5 Euro per bag- little costly) just outside the Venzia Santa Lucia Station and started exploring the city.
Details of Airbnb Apartment in Venice:
Stay- One night (22nd Nov.)
Name- Airbnb Apartment located at Cannaregio District, Venice
Landmark- Near Guglie Bridge.
Cost per head- Rs 2,200 for one night. (Rs 8,800 for whole apartment). No city tax was paid here.
Complimentary breakfast was not provided in this airbnb apartment. Apartment had kitchen where we cooked Maagi and "MTR Ready to eat". Also, we did our laundry here.
Most important thing about airbnb apartment is its host. Luckily our hostess was very kind and cooperative. She even came half way to take us to the apartment when we lost our way (Venice is very confusing). More details about the apartment in this screenshot.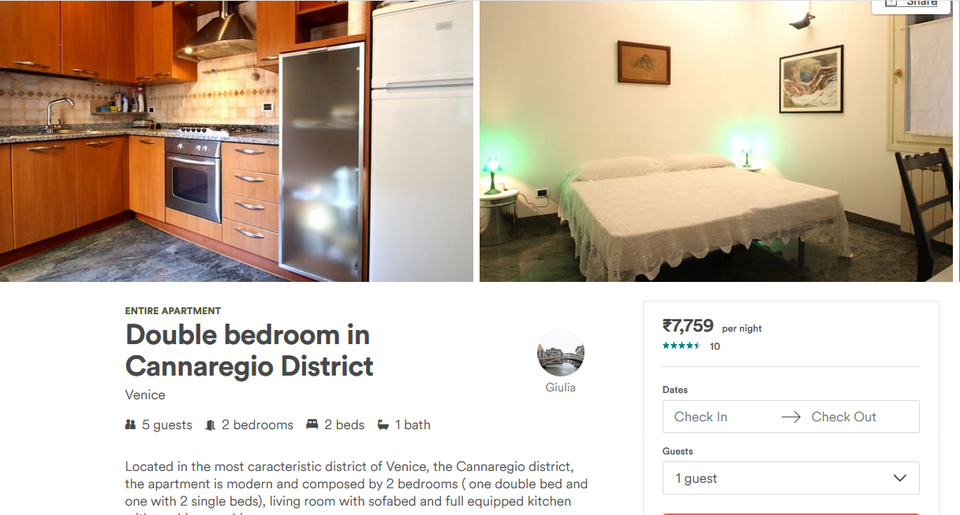 Things done in Venice: Covered places in Venice by boats and on foot.
1. Rialto Bridge- Venice has almost 400 small and large bridges. Out of them, Rialto bridge is the famous.
2. Streets of Venice-
3. Gondola Ride- A must try in Venice. For Gondola ride, you have to reserve it completely. Each Gondola can accommodate maximum of 6 persons. We reserved a Gondola for four of us. The cost of Gondola was 80 Euro. (Approx. Rs 6120). Throughout the ride, the Gondolier tells about the history, culture and stories related to Venice city.
4. Must try- Italian dessert - Tiramisu- There is a restaurant by the name of "Trattoria Alla Palazzina Venice" just by the side of Guglie bridge which serves amazing Tiramisu.
Website of the restaurant- http://www.ristoranteallapalazzina.it/en/
5. Venice at Night- We had got a free entry pass to casino with the ACTV pass. Tried our luck at casino also.
We had booked train tickets to Pisa for the next day morning at 0900 Hrs on 23rd Nov. It was 4 hr 30 mins journey to Pisa with one stoppage at Florence. First, train from Venice to Florence, then from Florence to Pisa. Cost of train ticket per head was Rs.1604. Ticket booked on trainline website. https://www.trainline.eu/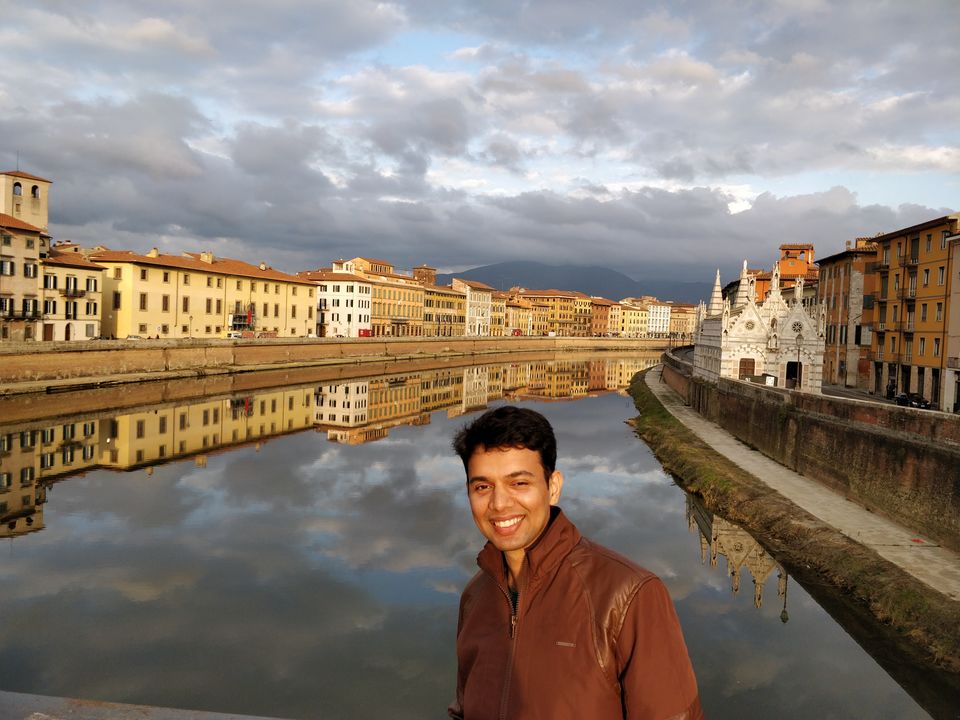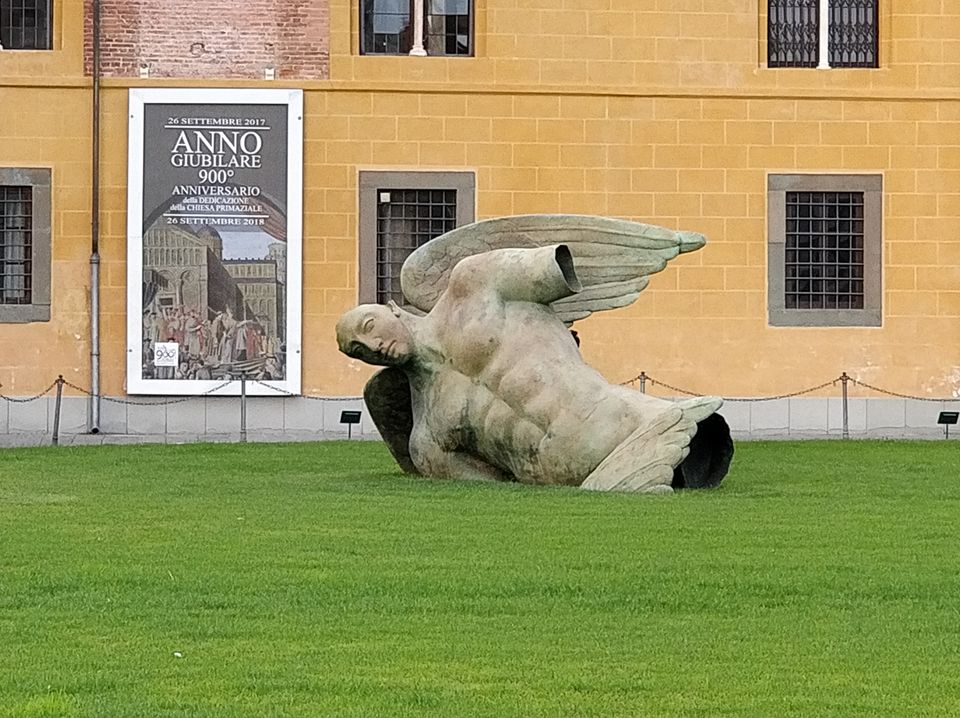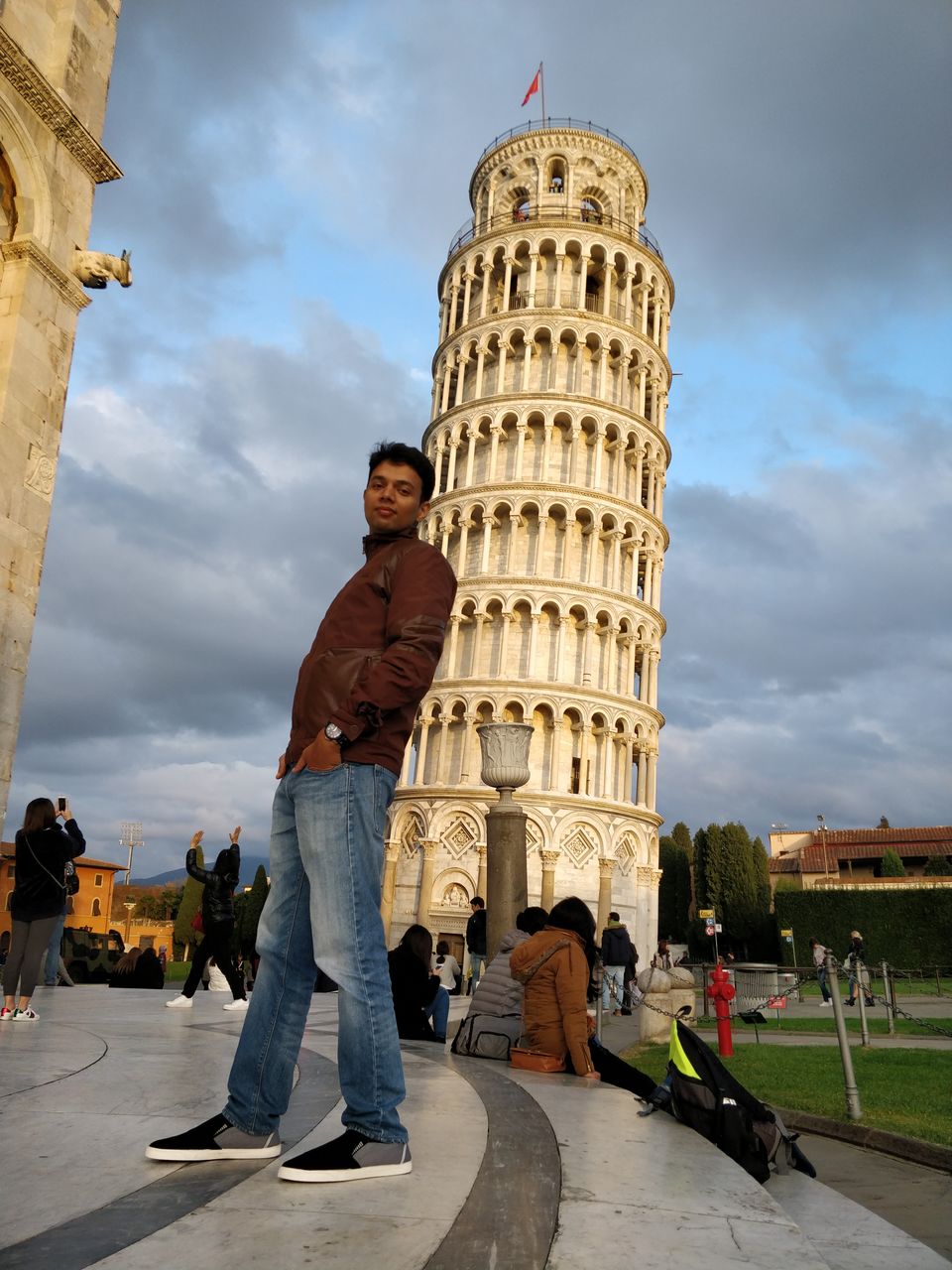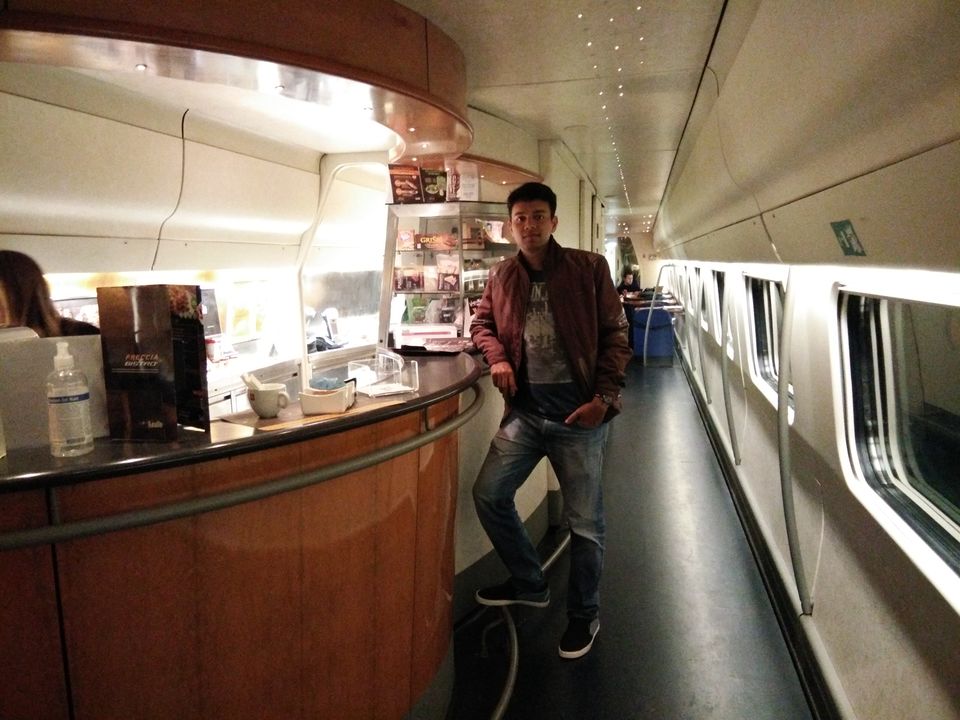 Reached Pisa at 1330 Hrs on 23rd Nov. We had booked our train to Rome on the same day. Train to Rome was at 1900 hrs on 23rd Nov. So, we had approximately four good hours with us to explore Pisa city. We took lunch at an Indian restaurant - "Gandhi Ristorante Indiano Pisa". Run by a Punjabi Guy. For the first time in Europe, we had "chai". Tea was not on the menu but he offered us tea after hearing that we couldn't find Indian tea anywhere in Europe. He didn't charge for the tea.
Leaning Tower of Pisa is about 20mins walking from Pisa Centrale station. You can take the bus also but we chose to walk. We kept our luggage in a locker room at the Pisa Centrale station. (Per baggage- 6 Euro).
There are three things to see in Pisa:-
1. Leaning tower of Pisa.
2. Cattedrale di Pisa
3. Pisa Baptistery
All these three monuments are located in the same complex.
Leaning Tower of Pisa- The freestanding bell tower leans at about 3.99 degrees from the vertical. The height of the tower is 55.86 meters from the ground on the low side and 56.67 meters on the high side. The width of the walls at the base is 2.44 m. The ticket to the top of Pisa tower was 18 Euros. (Approx. Rs 1370).
Fallen Angel of Pisa was part of a temporary exhibit by Polish artist Igor Mitoraj
Our train to Rome was at 1900 Hrs from Pisa Centrale Station. Journey duration was 3 hrs and per head ticket was Rs 980. Ticket booked on trainline website. https://www.trainline.eu/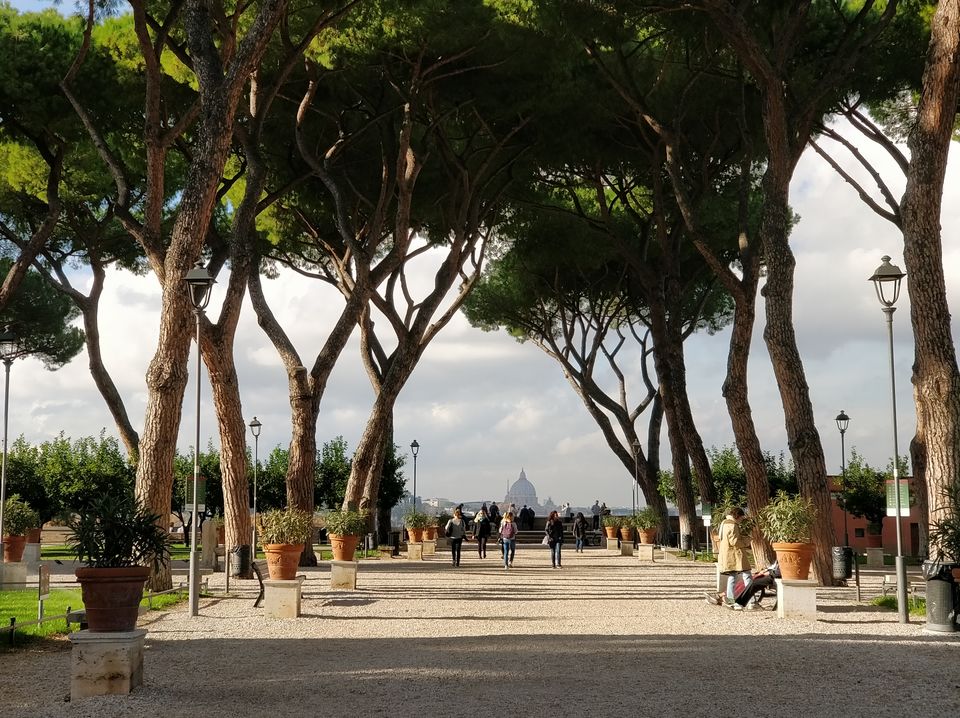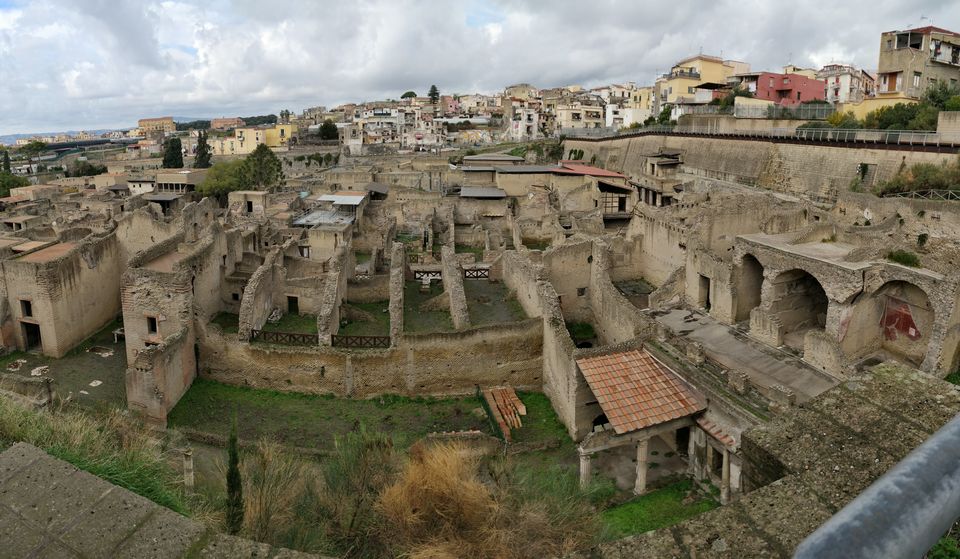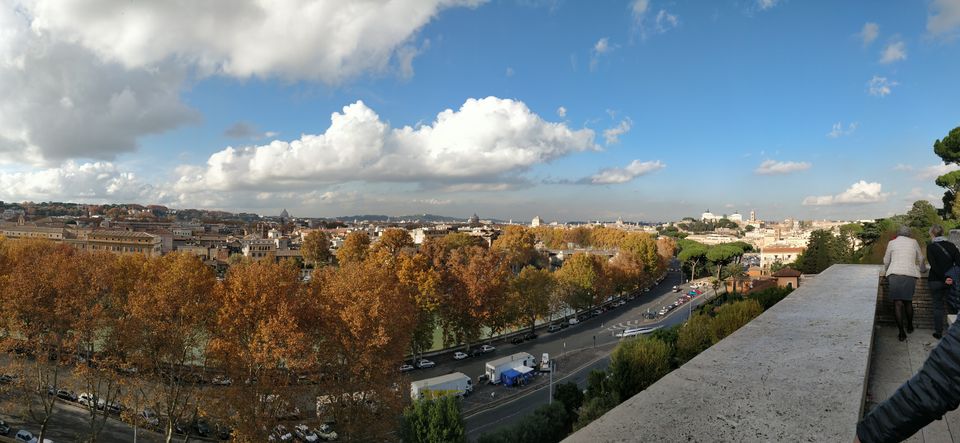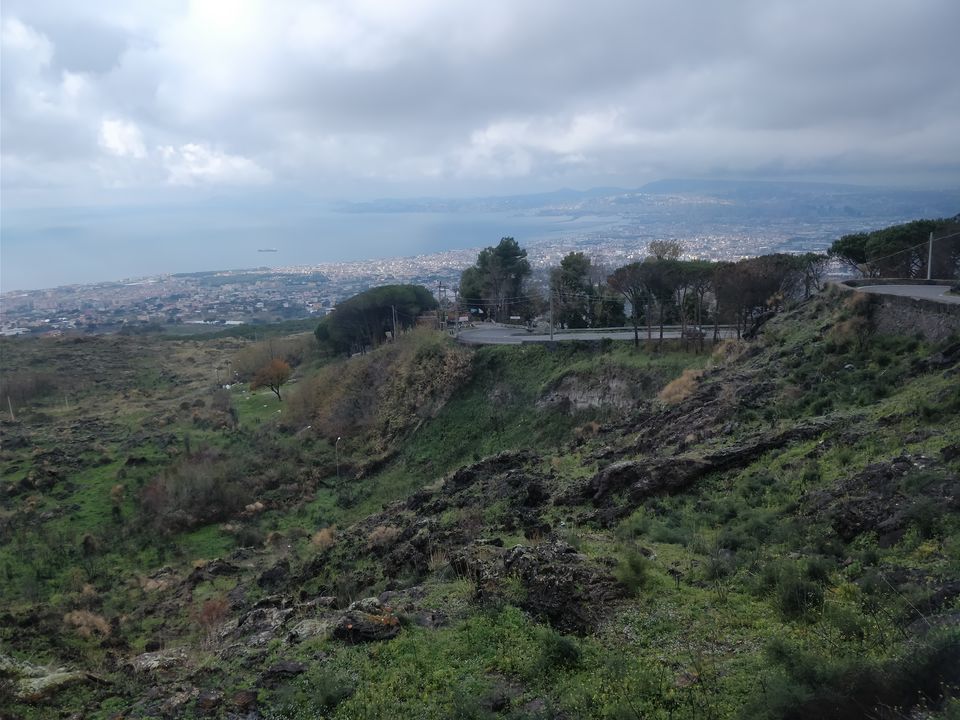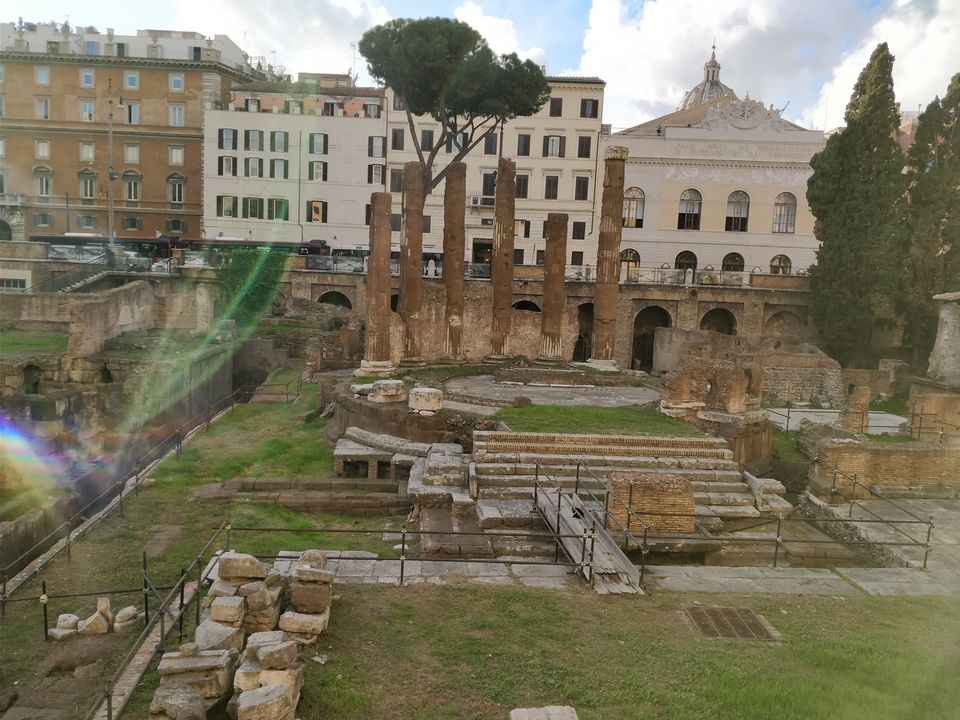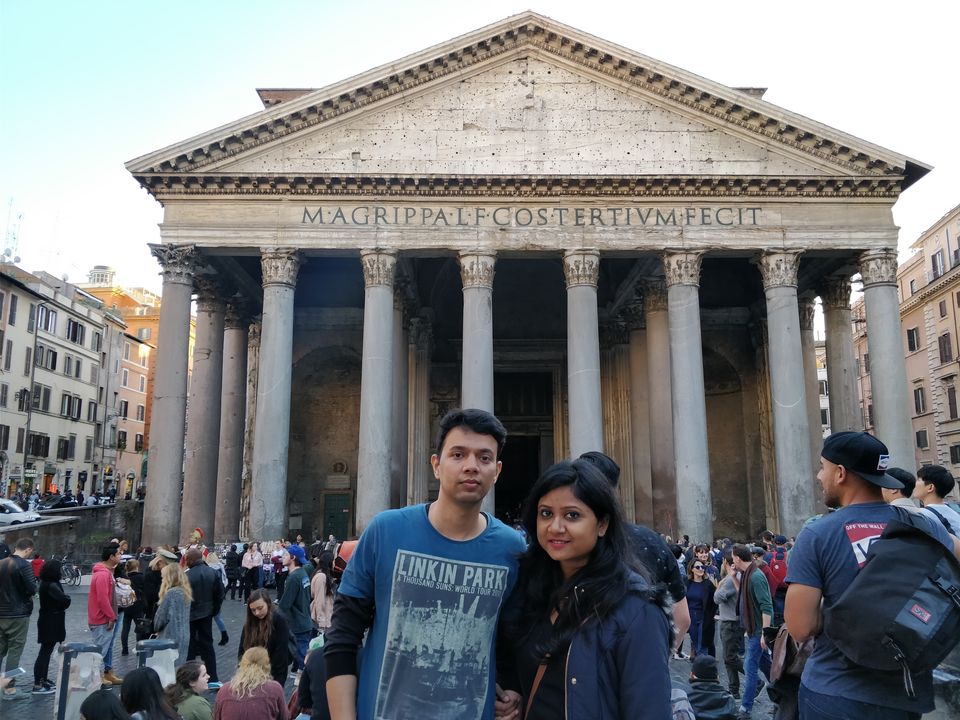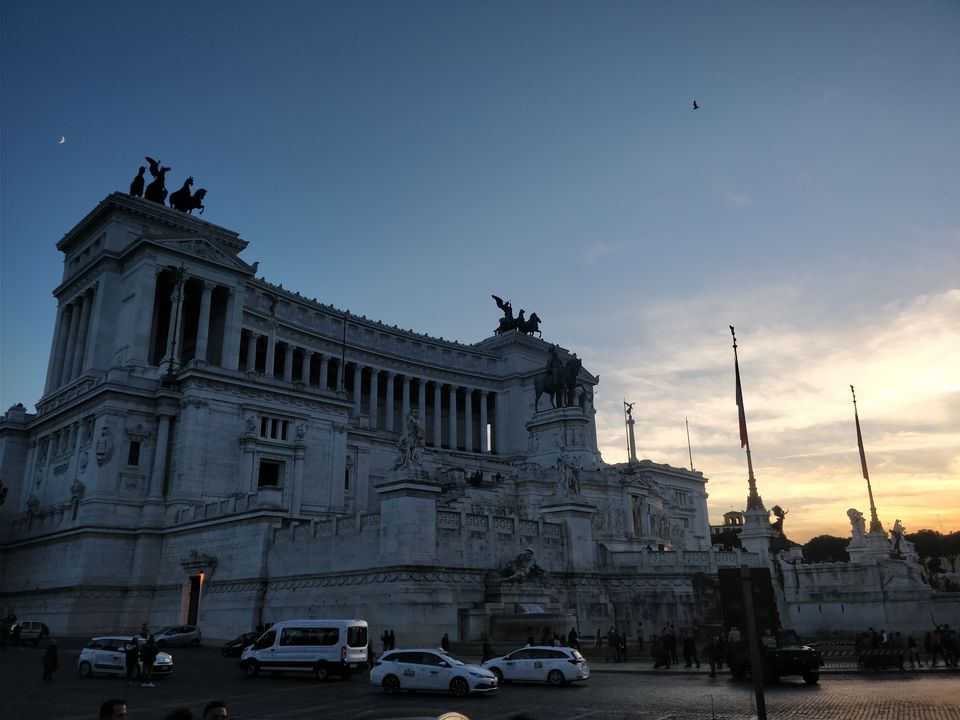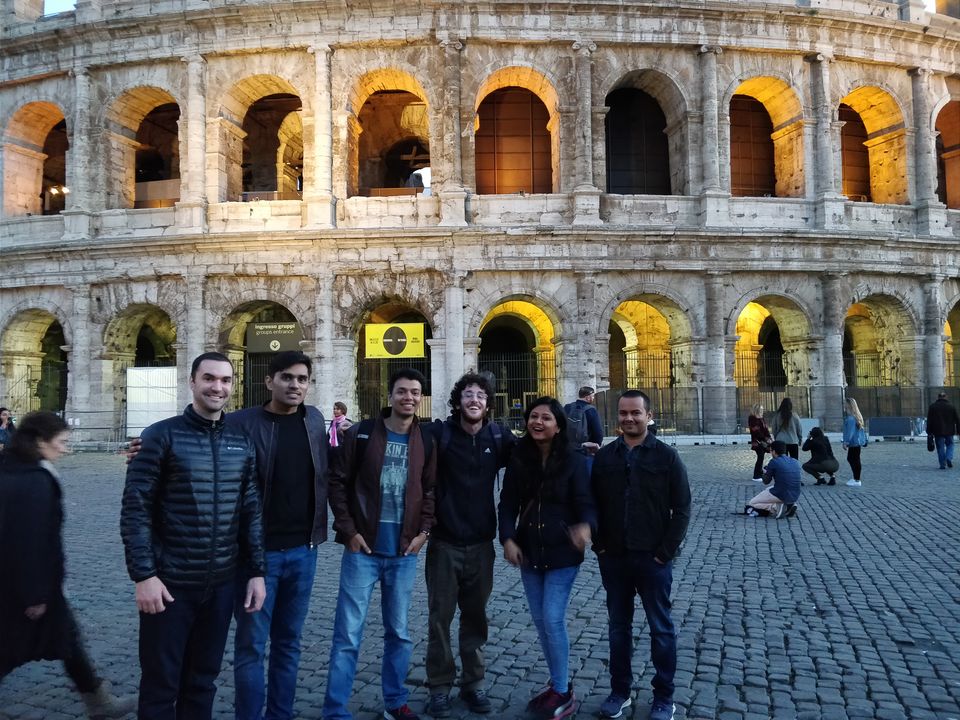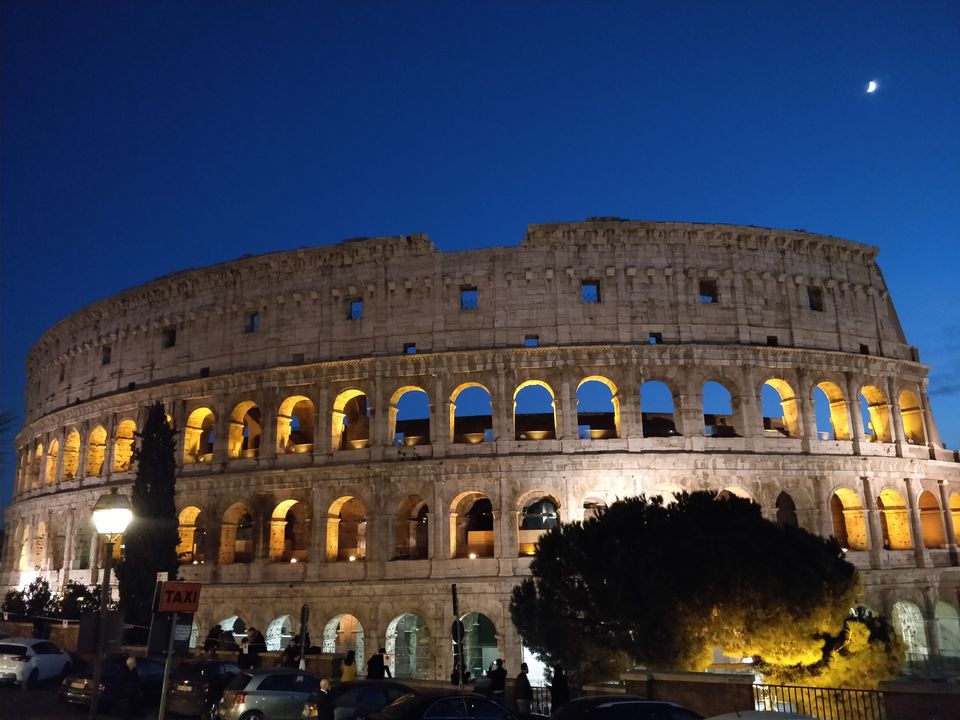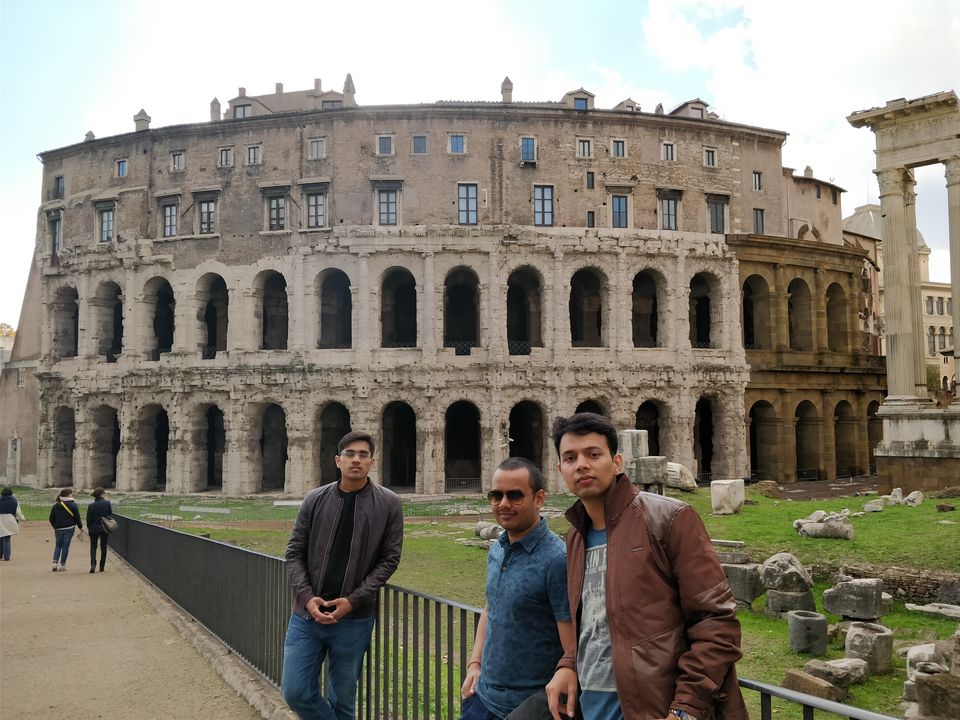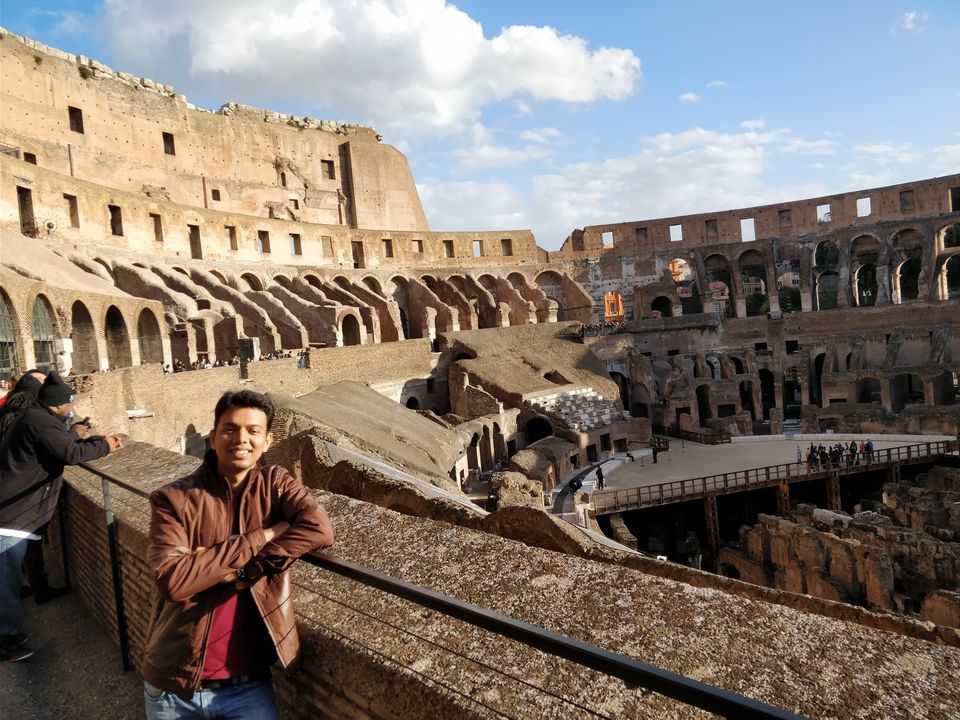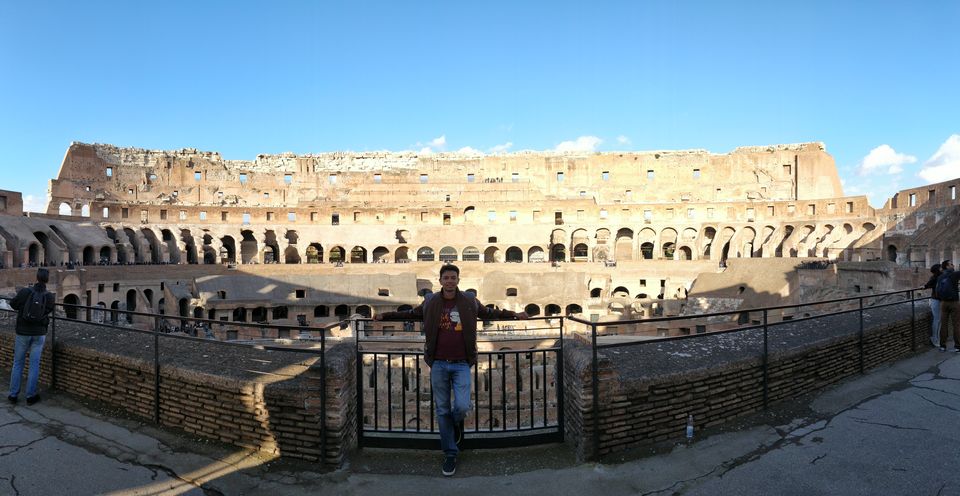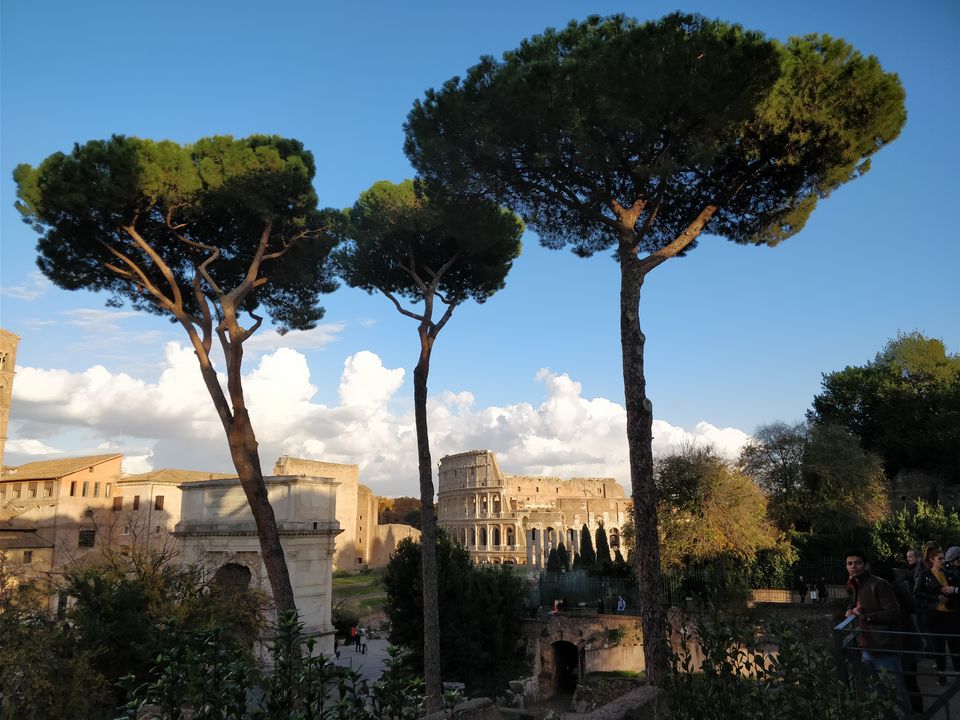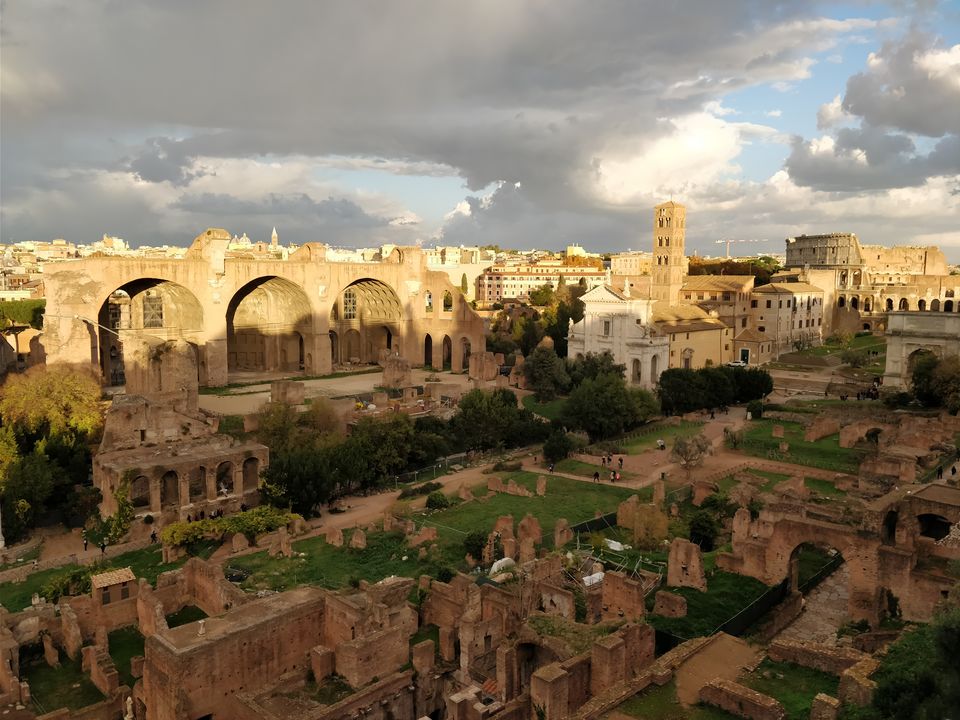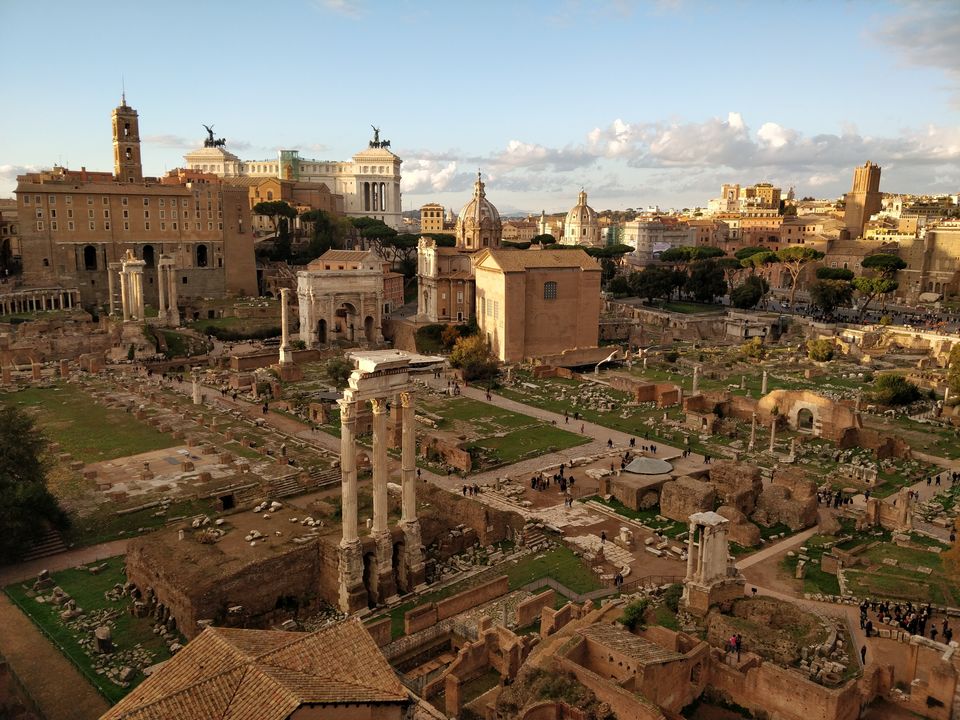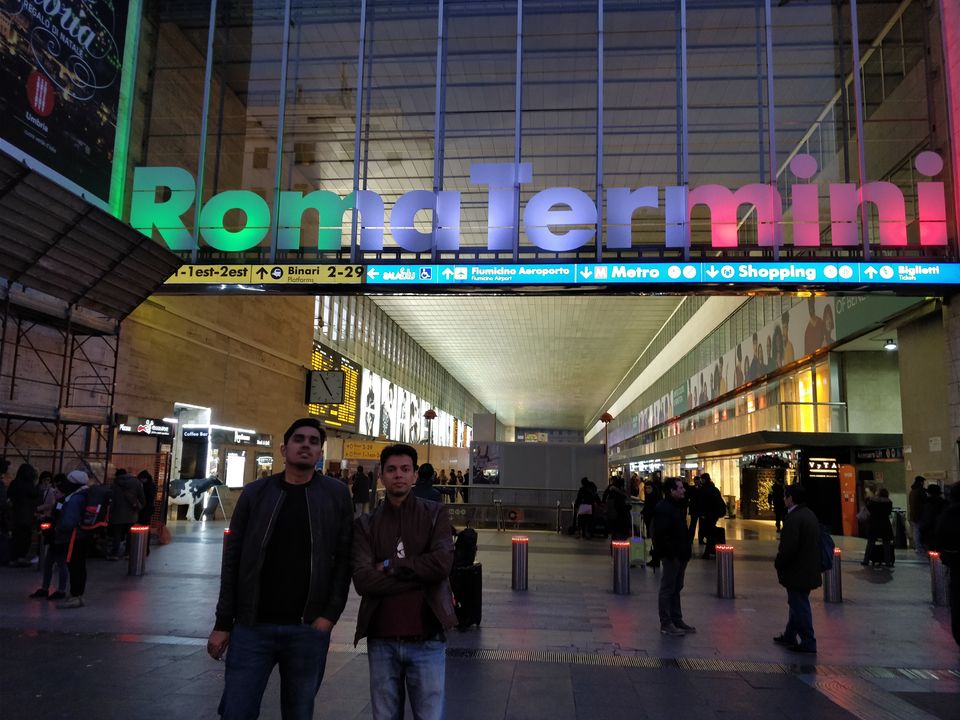 Reached Rome at 2200 hrs on 23rd Nov at Roma Termini Station. Our hotel- The Yellow Hostel was 10 minutes walking from Roma Termini station.
Details of Hostel in Rome:
Stay- Five nights (23rd, 24th, 25th, 26th and 27th Nov.)
Name- The Yellow Hostel located at Via Palestro, 51, 00185 Roma RM, Italy
Landmark- Near Roma Termini.
Cost per head- Rs 7550 for five night. (Rs 1510 per night). It includes city tax of 3.5 Euro per head per night.
Complimentary breakfast was not provided in this hostel. But hostel had a restaurant which served really good and economical breakfast (approx. 6 Euro per head). The Yellow Hostel in Rome is one of best hostels in Europe. It is better to book this hostel through their website as they offer many discounts (like on alcoholic beverages and food) and free entry to their pub which has daily live performances. Website of the hostel- https://www.the-yellow.com/
This hostel organizes daily activities like city tours and pub crawls.
Day 1 in Rome (24th Nov) -
We decided to take city tour provided by the Yellow Hostel. It is a 4-hour walking tour covering almost all important monuments of Rome. Per head ticket was 22.4 Euros.
More details available on this link- http://theyellowguides.com/romeing-all-over/
Following were the places included in the walking tour- (Entry ticket to any of the monuments was not included in tour.)
Circo Massimo, The Palantine hill, The Aventine hill, The Garden of Oranges, The Mouth of Truth, Forum Boarium, The Theater of Marcellus, The Jewish Ghetto, Largo di Torre Argentina, The Pantheon, Piazza Venezia, Trajans Column, The Roman Forum, The Colosseum.
The Palatine Hill is the centremost of the Seven Hills of Rome and is one of the most ancient parts of the city.
The garden of Oranges is located on the Aventine Hill. The park offers an excellent view of the city.
The Theater of Marcellus- It resembles The Colosseum
Largo di Torre Argentina - It is said that Julius Caesar was killed here.
Pantheon- It is a Roman temple- built during the reign of a Augustus (27 BC – 14 AD)
Piazza Venezia- It is the central hub of Rome in which several important roads intersect.
The guy with curly hair (in the middle) was our guide. He excellently described each and every monument visited in the Rome.
Day 2 in Naples (25th Nov)-
Naples is a city located approx. 225km from Rome. We went to Naples to see the crater of Mount Vesuvius, the still-active volcano that destroyed nearby Roman town Pompeii.
We had booked train tickets to Naples from Rome at 0900 hrs. Duration of the journey was 2 hours. Cost of train tickets was 25.26 Euro (Approx. Rs 1935) for to and fro journey. Reached Napoli Centrale Station at 1100 hrs. From Napoli Centrale Station, its three-stage journey to the top of Mount Vesuvius.
1. Train from Napoli Centrale Station to Ercolano Scavi station- Journey duration was 35min and ticket cost was 4.4 Euro. (Approx. Rs 335) for both to and fro journey. Name of the train was Circumvesuviana railways.
2. Bus from Ercolano Scavi station to the point from where trekking has to be done to reach the mouth of the crater. The cost of bus ticket was 20 Euro per head. ( This included entry to trekking also)
3. Finally, 35 minutes trek to the mouth of the crater.
Ruined City of Pompeii.
Unfortunately, due to clouds we couldn't see the crater. But it was fun doing all the trek. So my suggestion, if you are going to Mount Vesuvius, check out for sunny weather.
We returned back to Rome on the same day by 2130 Hrs.
Day 3 in Rome (26th Nov)-
The Colosseum and The Roman Forum Tour- Both these are must take tour in Rome. It is to be noted that on Day 1 of Rome, we didn't go inside the Colosseum and the Roman Forum. Combined entry ticket to both these places was 17.5 Euro per head. (Approx. Rs 1340). We bought the tickets online through this website.
http://rome.ticketbar.eu/en/home/
The Colosseum - It is also known as Flavian Amphitheater. It is an oval amphitheater in the center of the city of Rome and could hold approx. 50,000 spectators. It was built in 80 AD and used for gladiatorial contests.
The Roman Forum- It is a rectangular forum (plaza) surrounded by the ruins of several important ancient government buildings located at the center of the city of Rome. For centuries the Forum was center of day-to-day life in Rome.
Day 4 in Rome (27th Nov)-
A guided tour to Vatican City is a must when in Italy. You will need a complete day for guided Vatican City tour. Nearest metro station to Vatican city is Ottaviano. You can get a direct metro to Ottaviano from Roma Termini. Outside Ottaviano metro station you can ask any guide for a tour of Vatican City. Bargaining can be done for tickets. We got our tickets at 35 Euro (Approx. Rs. 2700) per head from a Pakistani guide.
The guided tour includes a visit to Vatican Museum, Sistine Chapel and St. Peter's Basilica.
Sistine Chapel- It is a famous chapel in the Vatican City, best known for Michelangelo's 16th-century painted ceiling. No photography is allowed in Sistine Chapel. The painted ceiling of Sistine Chapel was really mind-blowing. All hard work of painting the ceiling was done by a single person, famous painter and artist, Michelangelo.
Day 5 in Rome (28th Nov)-
28th Nov was our last day in Europe. Our flight to Mumbai was at 1400 Hrs. Best and economical way to reach Fiumicino Airport of Rome was to take a bus from Roma Termini Station. Cost of the bus was 6 Euro per head.
THE CONCLUSION:
So, this was a brief description of my Europe trip with a major emphasis on budget, places to visit, lodging and platform for booking tickets for different avenues and destinations. These 18 days will be one of the most memorable days for me and my companions.
I believe everyone should travel at least once to this beautiful continent which encompasses exquisite culture, history and geography of mankind.
And if someone asks me in which city we should have stayed more, its definitely Amsterdam. We should have skipped two days of Vienna and added these days to Amsterdam.
Little Tips:
1. Don't buy matrix sim from India. It is heavily priced and not worthy of it. All airports, hostels, restaurants and pubs have free WiFi, so you can do Whatsapp call from that. If you really want a sim, buy it from any local telecom shop in Europe. It's much cheaper.
2. Book your flight tickets at least three to four months in advance as prices are low and always go for a refundable ticket. Always keep an eye on upcoming offers.
3. Take 70 percent of Euros from India in traveller's card and rest 30 percent in cash. Traveller's card is convenient and safe.
5. Beware of pickpockets especially in Paris.
6. For currency exchange and traveller's card in India, use www.bookmyforex.com. Rates are reasonable compared to others.
7. Hostels can be booked on this. www.hostelworld.com.