Experiences by solo trippers shared via articles have always infused energy into my travel-kheeda... And after years of just pondering, my travel-kheeda finally pushed me to plan a solo trip to Dharamshala... Having read alot about the said place and its serene & untouched beauty, it became my first destination for the solo trip...

I preferred to stay in a homestay rather than a hotel as I wanted to explore the place this time rather than chilling indoors... And 'Himalayan Homestay', located in the quiet village - Naddi near McLeodganj made my stay perfect with not only offering me a beautiful view of the entire city but also being a perfect blend of calm, super clean and comfortable place... And a co-operative & helpful owner was the icing on the cake!!!
Being a Mumbaiite, my body can't bear cold climate for a longer period of time and that was the precise reason to plan Dharamshala trip in the second week of March as that marks the end of winters and the beginning of summers making it nice pleasant weather to visit...
I spent 5 nights in Dharamshala and the last day went to Amritsar…
Day 1 started with a road journey from Gaggal Airport to the homestay... The road journey gave an insight into the untouched beauty of Dharamshala... After resting for a few hours at the homestay, I stepped out... Being aware of the temperature dropping with the day, I had properly insulated myself with thermals layered with a woolen jacket, gloves, socks, shoes etc...
Naddi harbors a sunset point and to witness the view, I planned to reach the point well before the time... Waiting for the sun to set, I binged upon yummy veg. momos along with a cup of nice, soothing ginger tea at a nearby tea stall... It gave me a chance to indulge in the 'me-time' which I hardly get time for in the hustle-bustle life of Mumbai... Sunset point made a picturesque view of the sun sinking down and spreading its redness all over the sky... Felt as if somebody had painted it!!! I was fortunate enough to capture the moment that viewed to date makes me nostalgic!!!
Unlike Mumbai, darkness spreads too early in the mountain areas and people call it a day at 8ish... Not feeling much hungry, I chose to have just a bowl of Manchow soup at a nearby restaurant – 'City Heart', located barely at 5-10 minutes walking distance from the homestay... A nice, cozy place that served delicious soup apart from amazing delicacies which were my meal on the other days... Day 1 ended with a walk back to the homestay in the cool freezing night!!!
Day 2 was packed for sightseeing... Since the time I had read about 'St. John's Church in the Wilderness', I was too eager to visit it and so it topped my list for sightseeing... Churches have always attracted me, mainly because of its architectural work and the inner peace & a sense of happiness it fills me with... Located amidst dense deodar forest, the Church gave a perfect scenic view… It is an ancient church with amazing architecture and beautiful glass windows which made me gaze at it... Sitting behind the Church, amidst tall deodar trees and feeling the fresh, the unpolluted breeze against my cheeks & my hair refreshed me... The day had started on a very good note...
For breakfast, I had yummy Maggi with a cup of hot tea at a small food stall located exactly outside the Church... Maggi never tasted so delicious!!! More than the Maggi and the tea, the conversation with the stall owner is still memorable... His genuineness, warmth, and story about his life at Dharamshala made my breakfast more interesting... What I liked more about Dharamshala were its people, be it the owner of the homestay, the cab owner, vendors etc are very warm & genuine which makes one feel homely and doesn't give one a feeling of tourist at all... In fact, such conversations only make a trip more cherishable... The same was the case with my cab owner who himself had driven me to the tourist places as he was a close friend of the homestay owner and so wanted to personally accompany me to tourist attractions and provide information about the places...
After having breakfast, I went up to the 'Tushita Meditation Centre' to meditate but found it to be closed due to the day being a Sunday... Got disappointed but nevertheless, I waited behind to spend some time amongst the pine trees and unwind... Quite refreshing it was!!!
I am not a cricket lover but seeing a few kids playing cricket nearby made me join them... The child within me played a few bat strokes and thoroughly enjoyed running for a score... I was all energized to chalk out the next place on my list – 'Dalai Lama Temple', one of the main tourist attractions of Dharamshala... A divine place and a very well architectured temple... Hugely known for its beauty and magnificent statues of Buddha & other idols... Temple is surrounded by the prayer wheels, a ritual which I always wanted to do after watching it in a Bollywood movie... They are cylindrical wheels inscribed with Tibetan mantras and one has to rotate it (it is quite heavy to rotate) while taking a walk around the temple to complete the ritual... Apart from offering prayers, meditating and visiting Dalai Lama's religious teachings (during his visit), the temple also harbors a library wherein ancient religious books can be found and a Museum...
From the temple, I directly went to the cricket stadium - HPCA... It is known to be the world's highest cricket stadium surrounded by snow-clad Himalayan mountains... Though the place wasn't on my list, I visited it only upon the insistence of the cab owner... And I was in complete awe of the beautiful view the stadium offered... It was almost late afternoon and I had to tick off more two places off the sightseeing list... Second last being 'Norbulingka Institute' and last being 'Dal Lake'…
Have had read alot about 'Norbulingka Institute', I couldn't contain myself when I was physically there... It depicts Tibetan culture wherein one can find a temple, workshops, museums, shops etc displaying Tibetan art and culture... It allows one to have a look into the beautiful, artistic Tibetan world... I fell in love with the place instantly... Encounter of inner peace while meditating in the temple was worth the wait for my visit to Norbulingka... But yes, one needs to take out good amount of time from their schedule to explore the entire institute and it's a must-visit place in Dharamshala...
Since it was turning dark, I moved swiftly to the last destination for the day – 'Dal Lake'... Before moving towards the lake, I went to a cafe to grab a cup of Cafe Latte and Pizza… Which I enjoyed while reading my book – 'Inner Engineering: A Yogi's Guide to Joy'…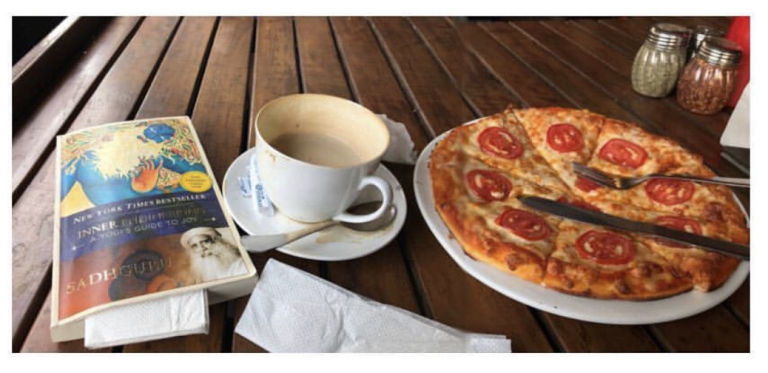 Dal Lake is one of my favorite place at Dharamshala for which I can always come back to... Sitting on the bench placed alongside the lake, I started reading the book – 'Inner Engineering: A Yogi's Guide to Joy'... Its all about Sadhguru's insights and teachings... Basically a spiritual, self-help book wherein one can learn to align his mind & body with energies to create new possibilities and be powerful... Engrossed into Sadhguru, I did not even realize when the sun had set... The cab owner had to literally shout out my name from the other side of the lake to inform me that it's too late to be outside considering the cold temperature and the darkness... Sitting alongside a beach or a lake with a good book is what I enjoy the most!!! On my way back to the homestay, I relished over some good food at City Heart restaurant...
Early morning the other day, I headed towards 'Bir Billing', the Paragliding Hub of India and the capital of the world... In spite of being afraid of heights and a total fattu, I have always pushed myself beyond my limits & comfort-zone to experience something new and also to level myself up... And I attribute this trait of mine to my sun sign Leo...
Billing is the take-off place located at a height of 2400 meters whereas Bir is the landing site... One can opt for either Solo Paragliding or Tandem Paragliding... I had opted for Tandem wherein a trained pilot accompanies you which allows you to enjoy the thrilling experience of flying whereas they manage the paraglider... The ride is usually for 30-40 minutes... Mere a thought of jumping-off from such a height had almost killed me but still, I challenged myself to give it a try before quitting... When we took off from billing, a strong wind current flew against the flight that pushed us backward... And unable to hold myself, I fell down hurting my knees... I decided to quit but my pilot lifted my spirit and we tried taking-off again… Within a few seconds we were flying in the air... It was a thrilling adventure I have ever had experienced!!! I felt like a Bird… Up above in the air, holding GoPro in one hand to click pictures of myself and simultaneously looking over the tiny houses, tiny people from above the sky was overwhelming... Paragliding consumes an entire day as its two hours drive (one way) from Dharamshala but it's worth an experience... I went back to homestay with bruised knees and new thrilled myself...
I had already booked for 'Triund trek' before flying to Dharamshala... It was a trek plus camping in the night... An easy trek and best for a beginner... But it proved difficult for me to trek owing to my increased weight... Trekking is approximately 7-8 km long trek which usually takes 3 hours but I took good 5-6 hrs thanks to my weight!!! While trekking, one can have a spectacular view of the Kangra valley and forest areas... Upon reaching Triund, one can visualize a scenic view of huge spread of Dhaulandhar ranges which is simply mesmerizing... I was gazing at it in awe until it was pitch dark as I couldn't take my eyes off the snow-clad mountain ranges... It was freezing cold while camping in the night...
And when the Sun rose up in the sky, we decided to trek up from the Triund base camp to be on snow-clad mountains… It was tiring but we somehow made it to the place… It was simply WOW!!! I had for the first time in life been on a snow-clad place… Though it was freezing cold and I was shivering from head to toe, I played in the snow, with the snow, over the snow like a 5-year-old kid!!! Then to warm myself, I had a hot cup of tea over a bowl of Maggi… Whoa, flashback of memories!!! Want to re-live those moments again…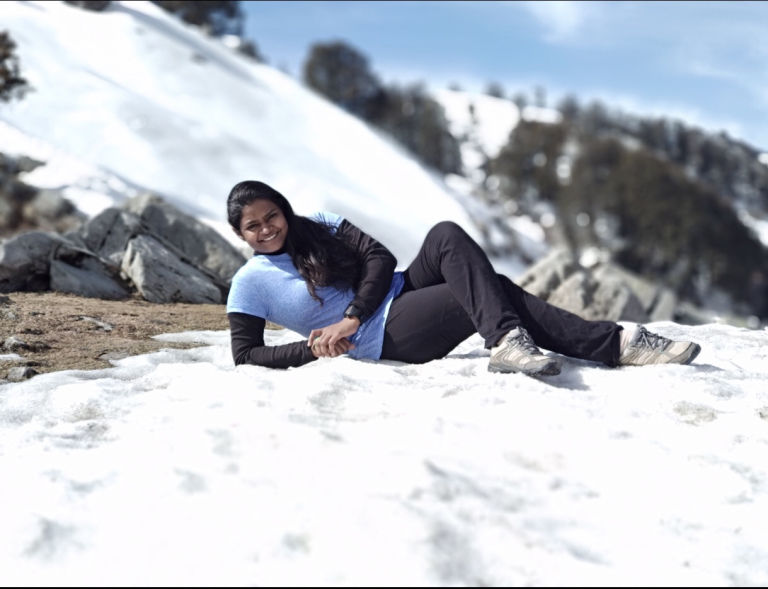 We came back to our tents to pack and descend but I did not feel like leaving the place mainly because of two reasons – firstly due to the new-found friends and secondly due to the spectacular view my eyes were witnessing… While descending, one can also pass through Bhagsu waterfall… Triund trek is an exciting as well as fun-filled trek & a camping gateway…
At the end of the trek, had to board the bus to Amritsar but did not want to leave the company of the newfound friends... Was in dilemma - to stay back & cherish the newfound friendship or to move ahead & fulfill the wish to visit 'Golden Temple'... And yes, I had chosen the first one and allowed myself to miss my bus!!! Enjoyed chatting all night around the campfire, singing and eating... Currently while jotting down about the trekking is making me recollect the beautiful moments spent there... Nostalgic!!!
It was the last day of my trip... Boarded an early morning bus to Amritsar and reached Golden temple on time... But it was my bad that I couldn't enter the shrine as it was overcrowded and it would have taken at least a few hours to complete the temple visit owing to the big queue and I had a return flight to Mumbai... With a promise to visit the Golden temple soon in the future, I left the holy shrine with a heavy heart...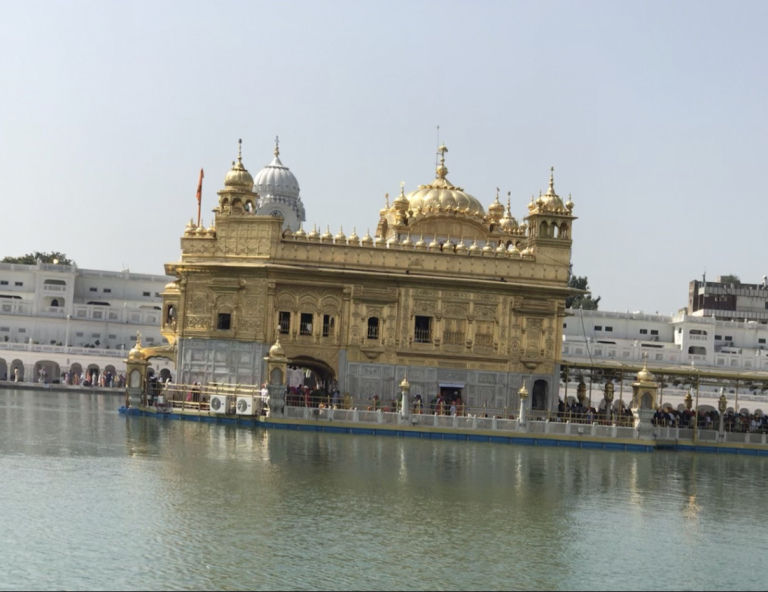 And that's how my trip came to an end!!!
Apart from the destination, nothing else was planned... The itinerary wasn't ready before flying or before planning the trip... Itinerary for each day was planned a day prior as I feel it not only leaves room for improvisation of the itinerary but also gives you a breathing space to relax as per your mood and timings...
Travelling opens new ways to explore oneself apart from providing you an opportunity to know more about the places you visit, its culture, its people, etc... It is actually a practical platform to learn things that you cannot learn in any syllabus or at the workplace... And traveling solo has helped me find a new myself who is free to experience new adventures, free to explore... To sum it up, I am a free bird!!!
My only advice to you is to plan a trip, put on your shoes, pack your trekking bag and set yourself free to explore places, its beauty, try new adventures and allow yourself to completely immerse into it, to experience a different side of yourself and most importantly to relax & unwind as that is the utmost need in this ever-growing, competent world!!! This is what I have done and experienced a new myself and I am sure you would also feel the same... All the best!!!
About the Author:
Pooja Bathula is born and bred in Mumbai. Works as an International Business Manager in a Pharmaceutical company which keeps her on her toes always but that doesn't deter her from following her passion for reading, writing, traveling & shopping. Her friends describe her as an engaging story-teller and you may read more of her stories on her blog at WordPress [https://bathulagirl.wordpress.com].