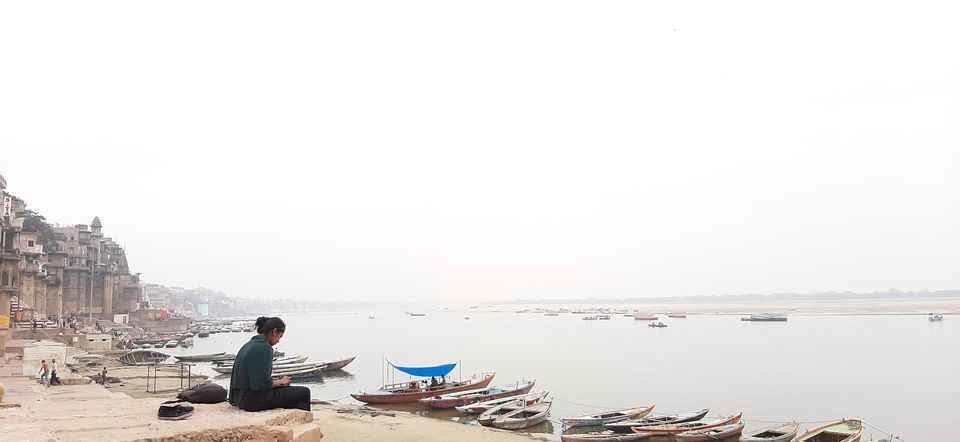 So this happened one fine day when I randomly said "Banaras chalte hai" to a friend of mine , to which we didn't plan anything but anyways,
We were lucky enough to visit this place during Holi, RIGHT BEFORE THE LOCKDOWN!
This place, BANARAS - It is spiritual, it is full of mixed feelings and vibes. There is just so much happening here, it makes one feel so happy and content! You feel like holding that moment, wishing it would just stop,
When you could just sit on ghats the whole night watching the view but everytime you see you fall in love with it a little more than you last did, it never is enough!
Watching the moonlight strike the holy water of river Ganges, the ghats that come down, the colourful boats, some banarasi people who are so happy and carefree.

That is the beauty of Banaras, my friend.
THINGS TO DO WHEN IN BANARAS
- 1. TRY THE AMAZING FOOD AT LUCY'S CAFE (near Assi Ghat )
2. Do not miss the energetic GANGA ARTI. The vibe is amazing and the aura is extremely plesant.
3. Sit on the ghats during the evening time and enjoy the beautiful view of the colourful boats near the ghats and the reflection of the moon in the holy Ganges and the sound of Ganga Arti .
4. Go for a boat ride at the time of Sunrise. (I know it can be early since you always tend to spend late nights on ghats, but trust me its worth it)
5. You can visit Kashi Vishwanath Temple which is said to be a very important place in Varanasi.
#banaras #visitvaranasi #uttarpradesh #uttarpradeshtourism #incredibleindia #incredible #incredibleuttarpradesh #ghatsofvaranasi
https://youtu.be/dlYyfKf1cnw