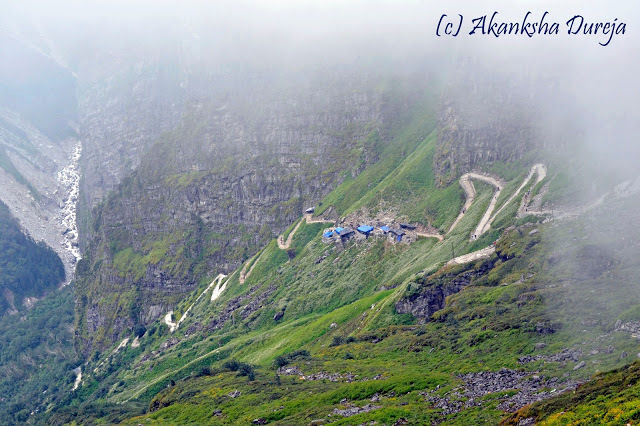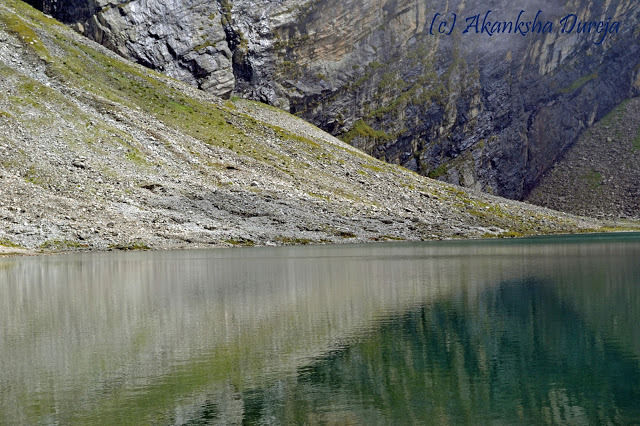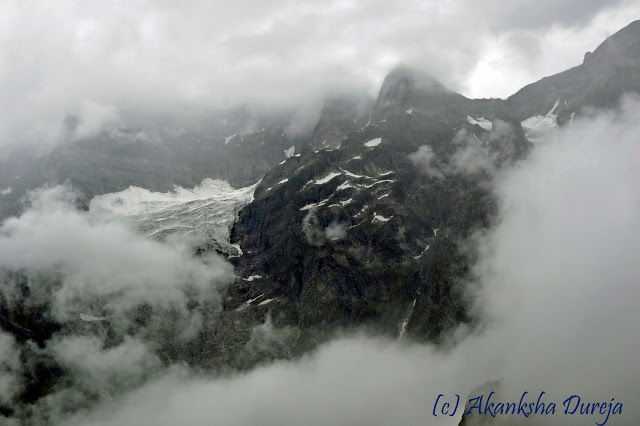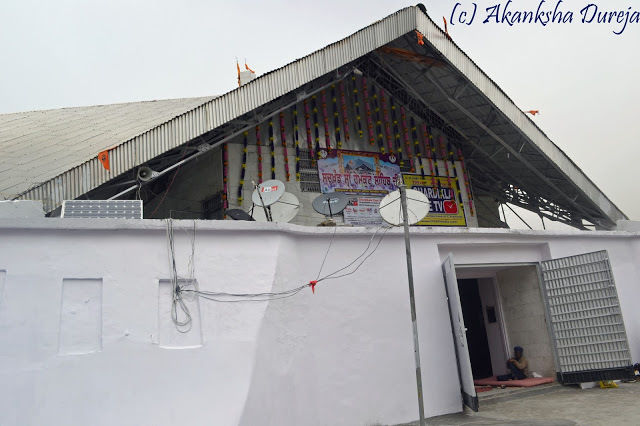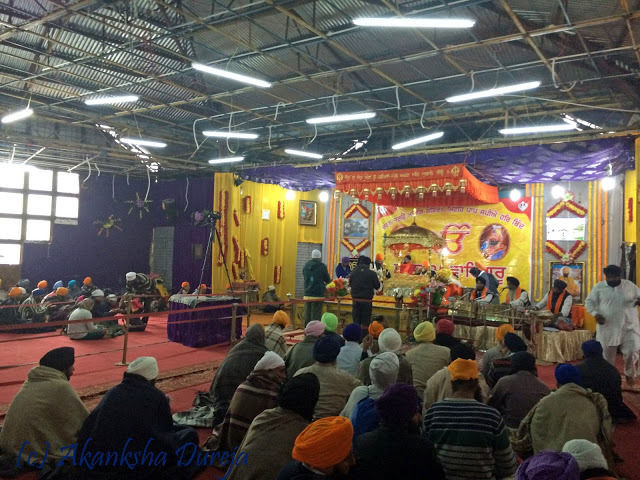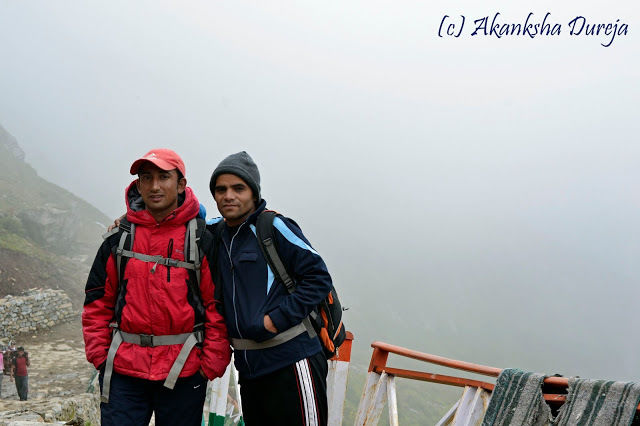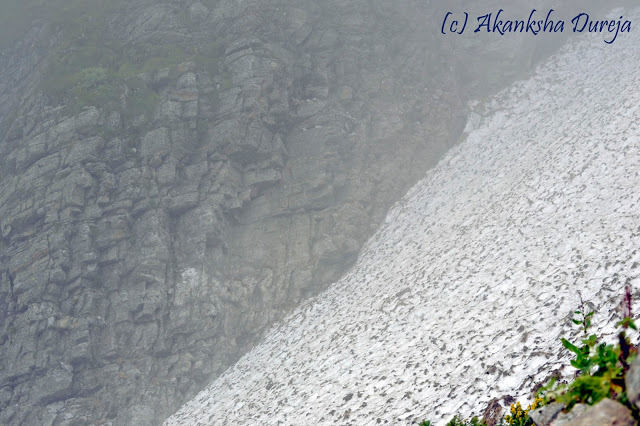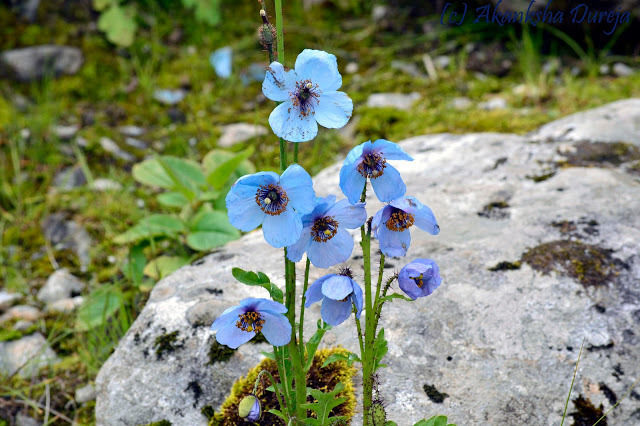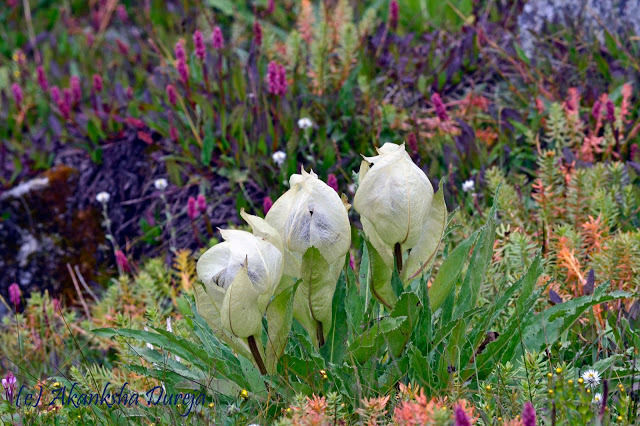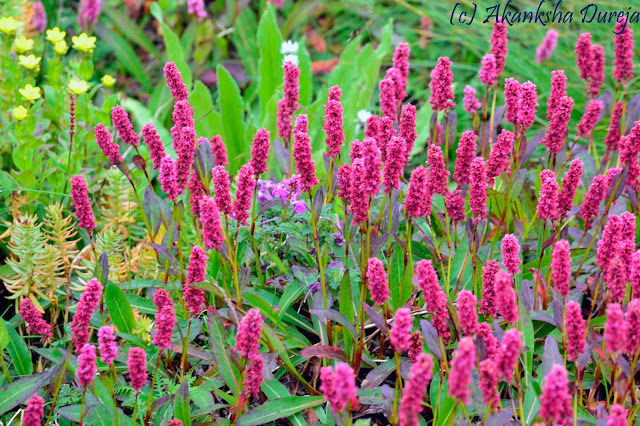 There are beautiful places and then there are beautiful places that take your breath away. At Hemkund Sahib, I was at a loss for words as well as breath. It took a couple of minutes to acclimatize myself to the high altitude of 4329 meters. As soon as I was back to normal, the serenity of the pretty surroundings engulfed me. My heart felt overwhelming and peaceful at the same time and I didn't even know how to decipher my own body and soul. And there was this strange calm in not knowing. As always, water attracts me like a magnet and I headed towards thesarovar (lake). I could have spent the entire day, just sitting by the side and staring. Transparent, freezing waters of the lake were showing a mirror to the huge peaks that surrounded it. It felt their pride was all gone, the clear waters teaching the mountains a lesson to still be humble in spite of their height. 
Zoomed in on the peaks,I saw such beauty! It seemed it won't be long before the water freezes and the imagery all converts into a white panorama. 
Two days back, when we had started from Govindghat, it was evident that most of the people we met on the way were headed to Hemkund or coming back from there. Some would chit-chat, some offered water, dry fruits, candies or advice, some encouraged to keep going, some told their stories but every single one of them greeted us with a smile. Maybe that's the effect peace has on people; that happy, contented smile which connects strangers. Here, at 4329 meters above sea level, there were just a few humans but a lot of humanity.  
When we entered the Gurdwara complex, a patth was in progress and I along with a friend, settled down at a quiet corner after offering our prayers. There was this huge pile of blankets donated by people. We grabbed a couple of them and covered ourselves. My mind wandered to thank the strangers who had made the efforts to carry these blankets here. A mental thank you note to these gentle strangers later, I concentrated on the soothing effect the recital was having on me. The last two nights were mostly sleepless as I twisted and turned on a folding bed in my tent.How much ever I try to romanticize this to be because I fell in love with the mountains, deep down I knew the real reason why sleep eluded me. It wasn't the hauntingly beautiful valleys, or lush green forests but plain old tea. Yes, tea. The dipping temperatures made it impossible to survive without that dosage of warmth and having tea in the evenings made sure I stay wide awake the whole night. The calming effect that the chants had on me was magical and I finally fell asleep after 48 hours. But, The mind was alert of it's surroundings even though the body had retired. After around five to seven minutes, I got up remembering listening to Gurbani in a dream. The fatigue was all gone.
Soon, the patth was over and it was time to head back to Ghangaria. But, not before a healthy and hearty lungar of khichdi laden with ghee. Needless to say, this was the best khichdi ever. With a stomach full of delicious food, a heart full of love and a soul full of peace, we started the descend back to Ghangaria. It was really a dangerous one. Pictures don't lie. Do they?
Our guides Surendra and Mahaveer from GIO, made sure we were always safe, secure and well fed in spite of adverse conditions. They were always ready to lend a helping hand and without them, we would have not been able to handle the mountains so well. They taught us to study the signs of nature and react accordingly. They pushed us to our limits, so we could see or experience something beautiful. They even bluffed us at times so we stop clicking pictures and move ahead to reach back the base camp safe and sound before dark. 
On the way to Hemkund, we found this huge glacier and forgot all logic. We made snow balls and threw at each other. It was like childhood, all over again!
Blue Poppies, considered to be a Himalayan Myth because only a handful of people have been fortunate enough to see them. When I didn't find them at the Valley of Flowers, I was disappointed. But, then disappointment had nothing to do with this adventure trip. I found them on the way to Hemkund, touched them, clicked them and smelt them. 
I first spotted Brahmkamals in a vase at Himalayan Eco Lodges, Auli and right away inquired if we'll see them in the Valley of Flowers. On the way to Hemkund,they were spotted in plenty. It is said that one plant flowers only every six years. It's even worse than being born on Feb 29th. But, aren't they just plain beautiful? 
Couldn't help but notice these pretty ones making a pink carpet. Even though no one really paid these beauties any attention, I think I fell in love with their vibrant colors.
The descend down to Ghangaria was eventful as well. We met many interesting strangers and chit-chatted along the way. One gentleman told us he visits Hemkund three times a year, once in June when it opens, then again in August/September and lastly in Oct, before they shut it down for the winters. A true traveler, this gentleman also visits Kargil every year, on Vijay Divas. I stood there, in awe, listening to the stories. A huge salute to that inspiring spirit.  Bad weather had accompanied us every time we began descending down a mountain and this time was no exception. Rain Gods must be testing us, for sure. Once again, it was slippery rocks, twisted ankles and the shoes now felt like they were my worst enemy. It was a difficult few hours and somewhere on that way, I almost gave up. No amount of cajoling could have made me walk. But then, one has to do what one has to do. A tea break later, I started along, taking baby steps towards the destination which was at least 3km away. Suddenly, I remembered something and started a chant of my own. The rhythm really got me moving. It might be just a name for people, but for me, that name brought me down to the village again when I had zero willpower to even take a single step. I even found a horseshoe on my way back. Picked it up, and it now rests along with the various souvenirs of my travels. I believe it was because of the chant that I found this horseshoe which is a good luck charm. The one who brought me back wasn't a famous God but my very own hero. Don't the words Shah Rukh make a great beat to perk one up? Well, I don't care if anyone agrees, but SRK had a role to play.  We reached the village Ghangria by the evening and refused to enter the camp without a stopover. Fifteen eggs and two plates of maggi later, the three of us headed towards our tents to call it off a day. 
This travelogue was first published by Direct Dil Se .