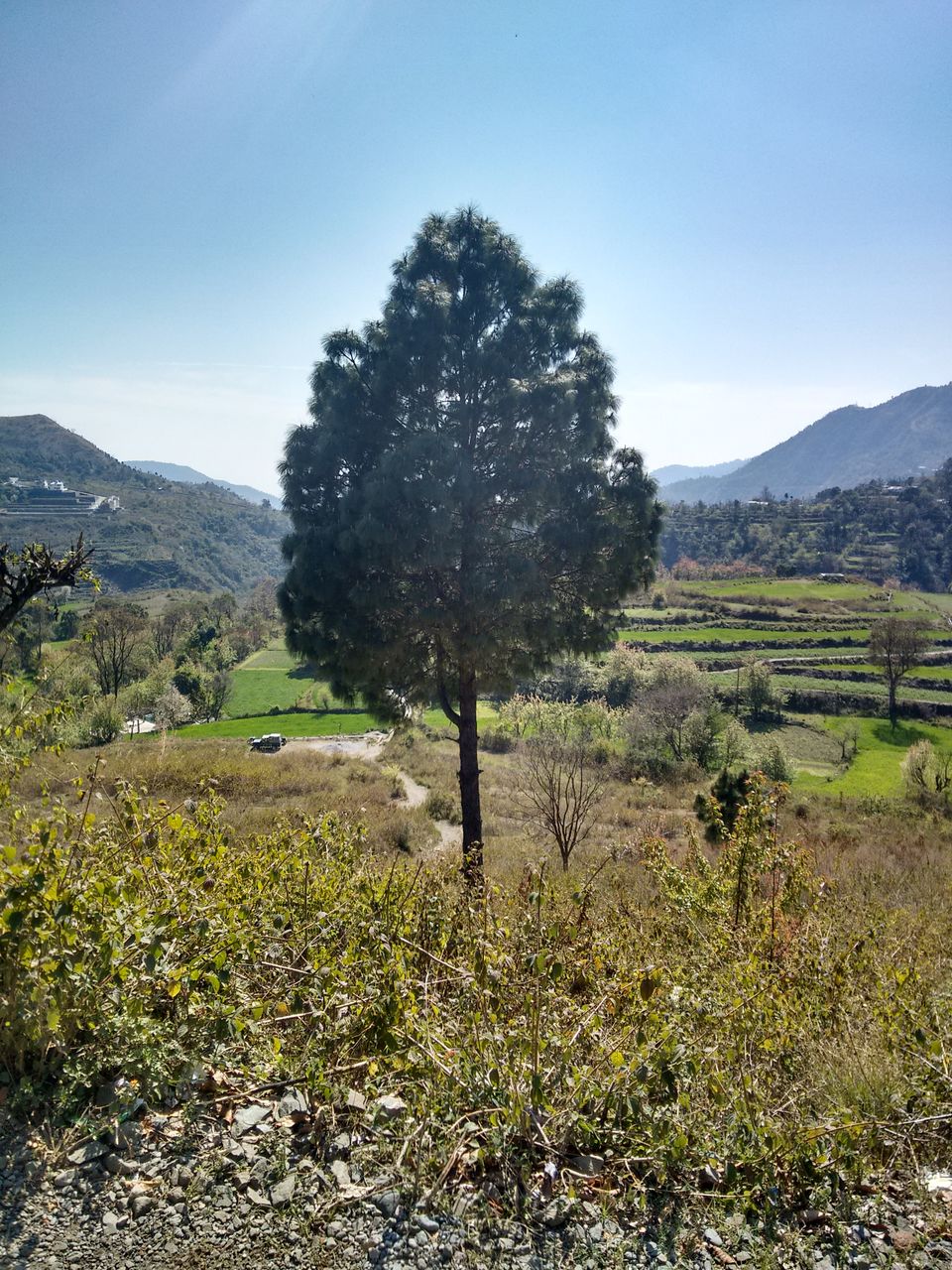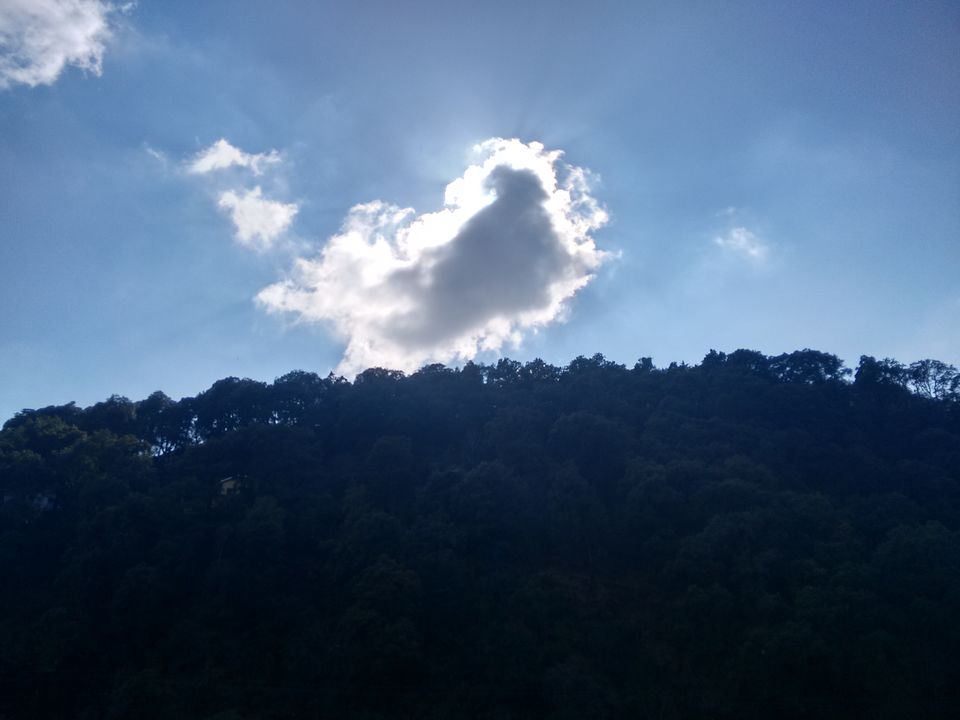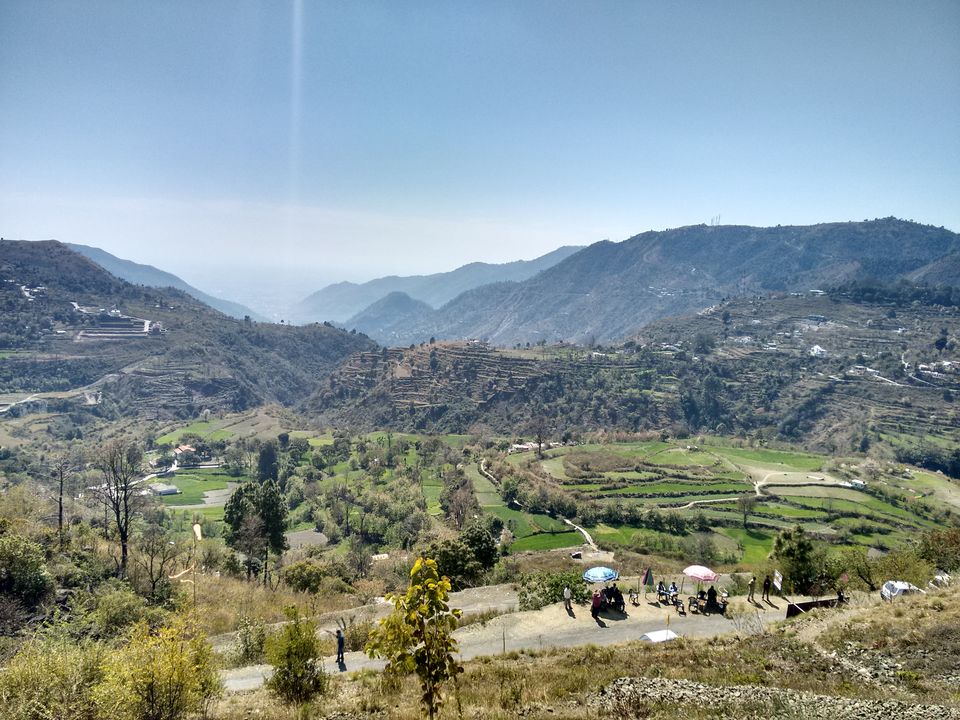 Considered to be just another crowded hill-station in India, Nainital has lost its place as a 'must-visit destination'. And yet, we decided to travel to the City of Lakes with full enthusiasm in the first week of March. It was quite cold in Delhi and I assumed Nainital would be freezing (I am not very fond of fogged mirrors) and so I packed a suitcase full of warm, suffocating sweaters, jackets, socks, caps and gloves.
Our bus left Delhi at 9:45 pm and reached Haldwani at 5:30 am sharp. With not a soul around and it being Holi, every cab driver asked us for Rs. 1500 till Nainital (It shouldn't cost more than 500). Being the stubborn bargainer that I am, we waited for the local bus for the next 45 minutes and set off on the road to Nainital for only Rs.250 (yay!). The bus like any state transport bus was rickety, smelly and full of sleepy passengers. Thankfully I was as sleepy and even the glittering glimpses of the mountains couldn't keep me awake.
When we reached Nainital, the sun still hadn't decided to rise and the sky was a beautiful hue of orange and blue. My first question the moment I set foot in Nainital was "But where's the lake?". Bewildered and cold, as we walked towards our hotel I caught sight of the magnificent lake. It's a moment I will never forget and a sense of calmness that I'll always hold on to. As we made our way to the hotel, all I wanted was the warm bed and some sleep. The hotel was great, the bed even better and I was in la la land in 30 seconds.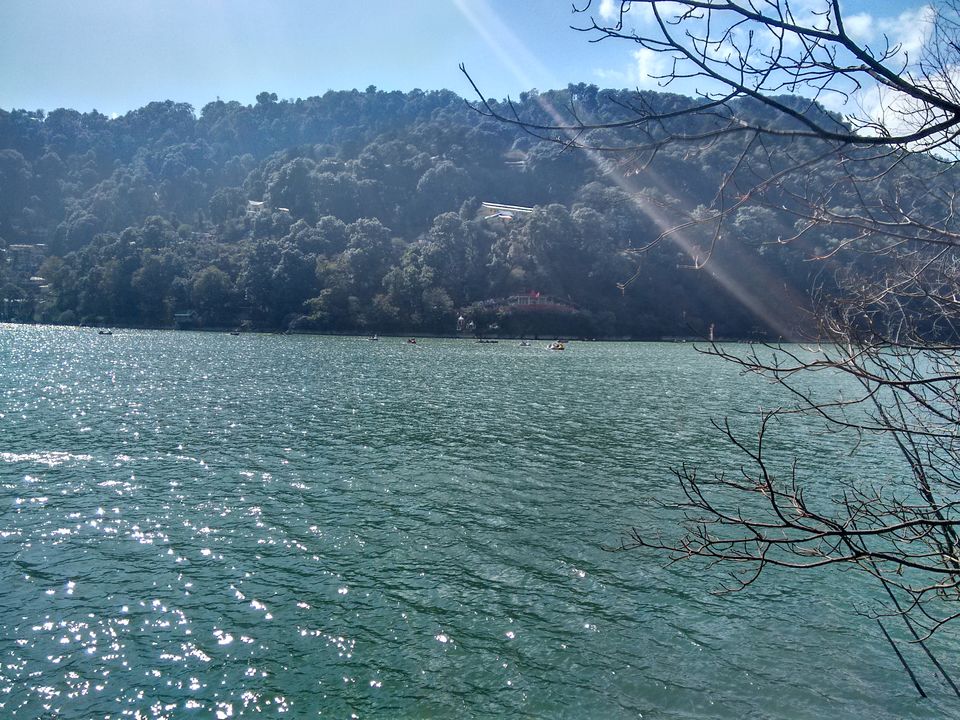 How it began?
My first surprise in Nainital was the absolutely stunning lake, the lack of tourists and a row of welcoming shops (I enjoy my shopping).
The afternoon brought with it a bright, sunny sun (apparently it had rained all morning) and a day full of surprises and stunning beauty. As we stepped outside and saw the grinning lake, I knew I was in love. As debatable as this is, the Naini lake just brings in a sense of peace for me and its beauty surprises me every time I look. We walked along the fenced side, did the touristy boat ride, had an awesome conversation with boat person and fed an absolutely adorable pup.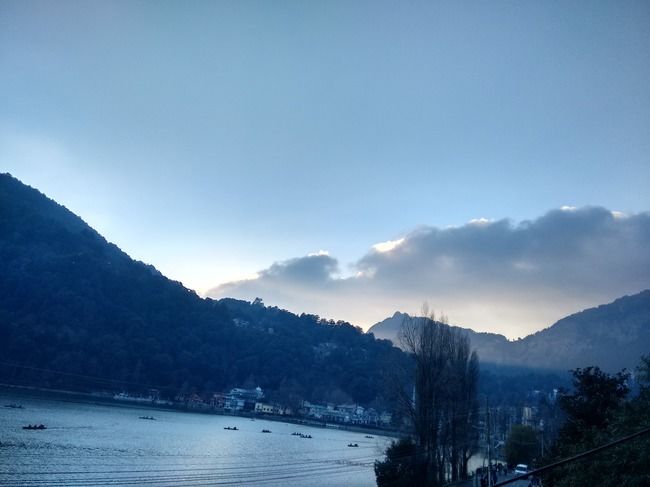 The mall road wasn't crowded, wasn't dirty and in fact was quite welcoming. Now, being a regular at the Queen of the hills, Shimla, I was expecting a huge mall road full of branded shops and chirpy tourists. What greeted me was candle shops, old bookstores, shops selling antiques music stores and gift shops. It was a pleasant change and a quiet walk.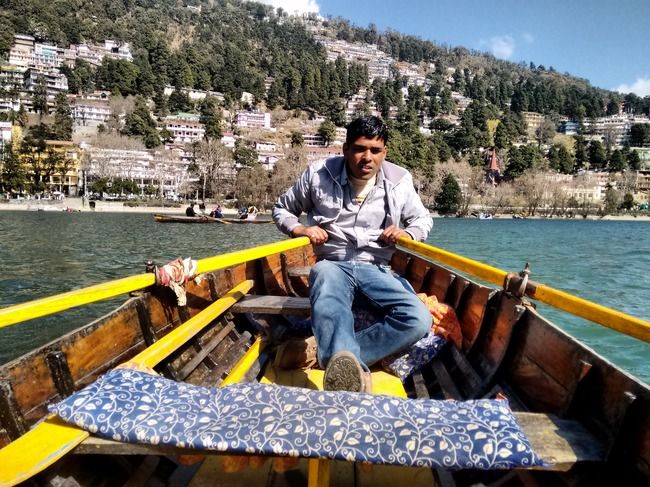 I was searching for Sakleys - the original mountain cafe but unfortunately it was closed on that day (since it was Holi). We had coffee, dessert and settled down for a book at a coffee shop, bang opposite the lake. And I was ecstatic! Imagine looking up from your book and instead of finding a blank wall, you were greeted with a myriad colours, mesmerizing beauty and the hills in conversation with the skies (I am allowed to be poetic). The sight of the lake against the mountains is one that you can't forget. The sun playing hide and seek was a fun element but a little annoying for someone who feels extremely cold!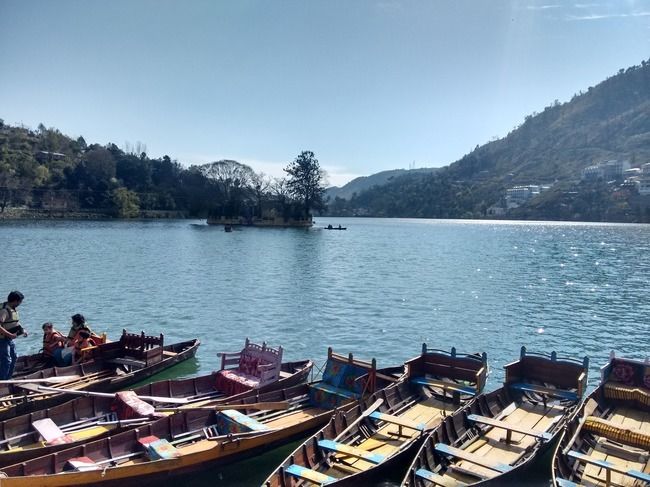 We had booked a taxi the previous day for INR 1000 (which included a tour of all the Taals). Quite a bargain since everyone had warned us how expensive Nainital is. Our driver was at the hotel precisely at 9 am and was an old fellow who enjoyed talking and playing guide. Wasn't a problem this time since I was in the mood to know everything about this lovely town. We set off towards Naukuchiatal where husband and I were going to try our hand at paragliding and unknown to us then, at Kayaking. The views on the way to Naukuchiatal reaffirm what you are missing out in the city. Every curve brings with an unpredictable sight and every meadow makes way for another.
As we neared Naukuchiatal, we noticed scores of paragliding companies making a beeline for potential fliers. As we had already fixed a trip, we made our way to the peak, paid and waited patiently for my tryst with whatever adventure I could find here. The paragliding ride in fact was quite a hit and since this was my first time, I wasn't in the least bit disappointed. The winds favoured my excitement and we were in air for much longer than expected.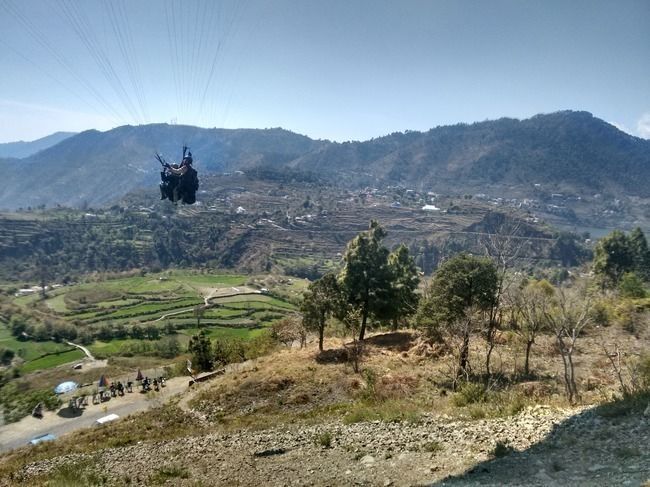 Next we moved on to my second surprise which was waiting for us at Bhimtal! Bhimtal is like any other small district with a row of shops, dhabas and two famous temples BUT there is something here which you will not find at any of the lakes - Kayaks! Now I know this is still water and kayaking here is the simplest thing ever but it was a start and my excitement knew no bounds.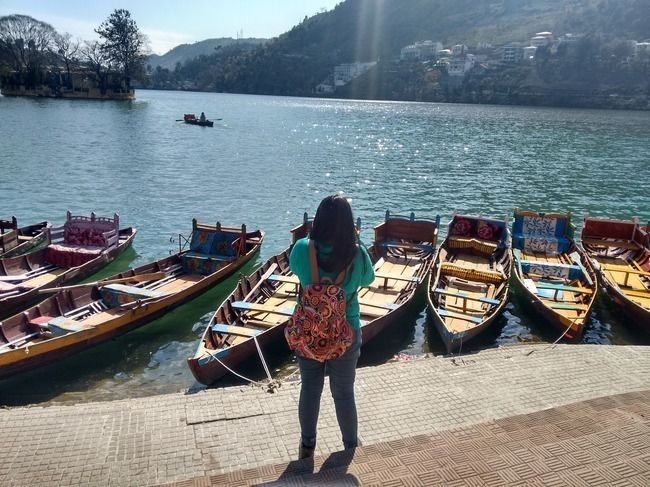 We set off with our instructor in one kayak, my husband and I in two separate kayaks. Kayaks are tiny and slippery - it feels as though you are sitting in water with nothing but plastic holding on to you. We understood the basics of this complex skill and did the best we could! The instructor was informative, encouraging and gave us details about some interesting hideouts around Nainital :D
As soon as the ride was over, it was time for a scrumptious plate of Kadi Chawal at one of the many dhabas here. If you visit Bhimtal, do stop for a meal. It's definitely worth it.
Next we drove to Sataal and Kamaltal. Surrounded by huge, overwhelming pine trees on one side and a cliff on the other, the journey is overwhelming to say the least. Chai and monkeys greeted us along with a few tourists. The aroma of food told us the dhabas here served excellent food and we regretted stuffing down so much food. Boating is not allowed in Sataal due to the depth of the lake and uncertainty of land around the lake. But Sattal is where you need to come if you are looking for a luxurious stay in the midst of peace and serenity. A number of resorts have made this tiny district home and it's truly perfect for a tryst with nature (next on the holiday list).
As we headed back to Nainital, I realised that even the most touristy places have something to offer - only if we are willing to look. And I am glad I was open to whatever it was that Nainital had to offer!
Our last day was reserved for shopping, eating and reading. With our treasures from a cute little bookshop, we settled down at our favourite spot in Nainital, opposite the lake, to take in the last few hours of the stunning beauty.
As commercial as Nainital may be, there is a little something here for everyone. Even though there was nothing special in our trip and we followed the tourist route, it was much more than I expected and this trip is going to be with me for a long time to come.
Places not to be missed:
1. A walk at Thandi Sarak
2. Naukuchiatal (even if you don't want to paraglide)
3. A walk on the High Court road
4. St. John's Church
5. Tibetan Market
6. Aloo tikki/Omelette guy right opposite the main chemist shop