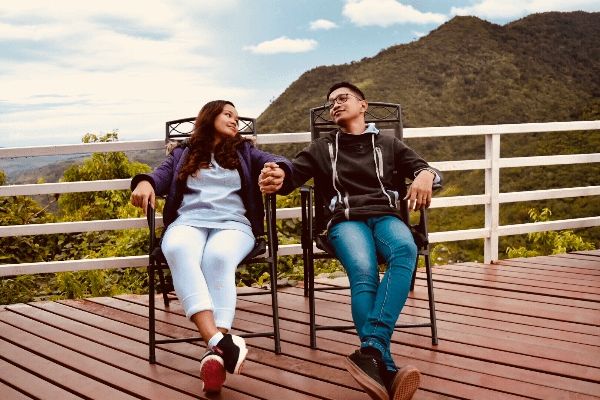 Traveling is something that is not new to me, ever since I got my first travel experience, I got hooked to it. It made me realize what fraction of this world did I only got to see. Seeing the beauty of the  world, gaining new experiences, and meeting new people is something I desire. But I don't do this alone, most of my trips is with my girlfriend/fiance. And these are some of the things that I think are the advantages when traveling with your girlfriend.
1. This is one of the best way to get to know each other and see the other side of my partner. If you're sick of your girlfriend/boyfriend routine, Travel!
2. I want us to build good memories that we can share to our kids together and maybe give them tips about traveling too someday. 😁
3. I am not a loner and I can't stand to be alone walking or waiting for along time, that's why I travel with my girlfriend most of the time so that I can have someone to talk to and depend on. Yes, depend on! 😁
4. Girls are great in organizing stuffs and having your girlfriend with you will help you out with the entire trip. From your OOTD's, passports, tickets, toothbrush and even reminds you to bring your underwear. 😂
5. Girls are good in bargaining with vendors. Sometimes if I wanted to buy something and I know that the price can be bargained, I ask her to do the bargaining for me because most of the time her charm works. 😁
6. Having a good blanket of hugs in a cold place or in a beach makes a good vacation worthwhile. Who would not love that right? Especially with a hot cup of drink and a foggy window pane. 😍
7. Getting lost in a new place together is an adventure with a feeling of security rather than being lost alone. Two heads are better than one and problems are solved more easier by helping each other.
8. Someone's gonna take your photo. Tho I admit that I am the better the photographer between the two of us(sorry babes) having her to take my solo photo is a no other choice. 😂
9. Im not good in budgeting while traveling so I leave all that to my girlfriend. Especially on a tight budget. I let her have all our money because she's just good with it.
10. For me, even how beautiful a place is, it is still not perfect if I'm not with her, I get the feeling of "she has to be here with me" or I will say to my self that "I will come back here with her nextime". 😘
How about you?