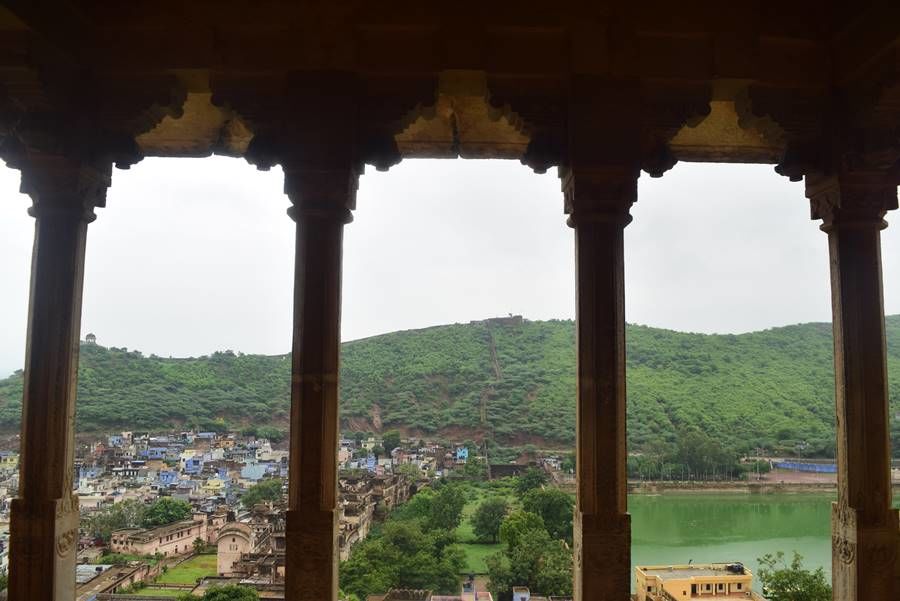 It was the third week of July, I was done with exploring Himachal and was planning to do a Valley of Flowers trek in Uttarakhand. A week before my trek was supposed to start, I started hearing the news reports of cloudbursts in the region I was supposed to explore. For someone whose only plan is to be on the road, travelling, I made some quick adjustments to my plan and decided to visit Rajasthan.

I was expecting a humid state with relief from Kangra's rainfall but instead I saw lightening strikes in Jaisalmer, a flooded Jodhpur and Aravalis coloured in the most beautiful shade of green.

For a state that is often mistook for an absolutely dry region is a treat to visit in monsoon. I started my trip from Jodhpur and was welcomed by clouds hovering over Mehrangarh Fort. It was the most beautiful sight to behold. Exploring the blue city is a treat in the monsoon because the houses are all washed up in the rain and you get to see the bluest of blue.

Monsoon is a treat for bus journeys, you cross green fields with occasional drizzles in between. These showers become wilder as you move towards Kota. You know that you are in the heart of Aravalis. One can only imagine how Mount Abu would look amidst all the mist and clouds. The night I started for Kota, three direct buses for Mount Abu cancelled and I had to change my plans and I went to Bundi instead.
When I reached Bundi, I was almost confused. For once I felt that somehow I am teleported back to Himachal. I was back between green mountains covered with clouds. This was a bluer city than what I saw in Jodhpur. For three days I stayed in Bundi, I kept wandering on the top of the fort to see clouds play hide and seek with the city below. For a traveller, Bundi is a mesmerizing place to be and during the monsoon the beauty simply multiplies.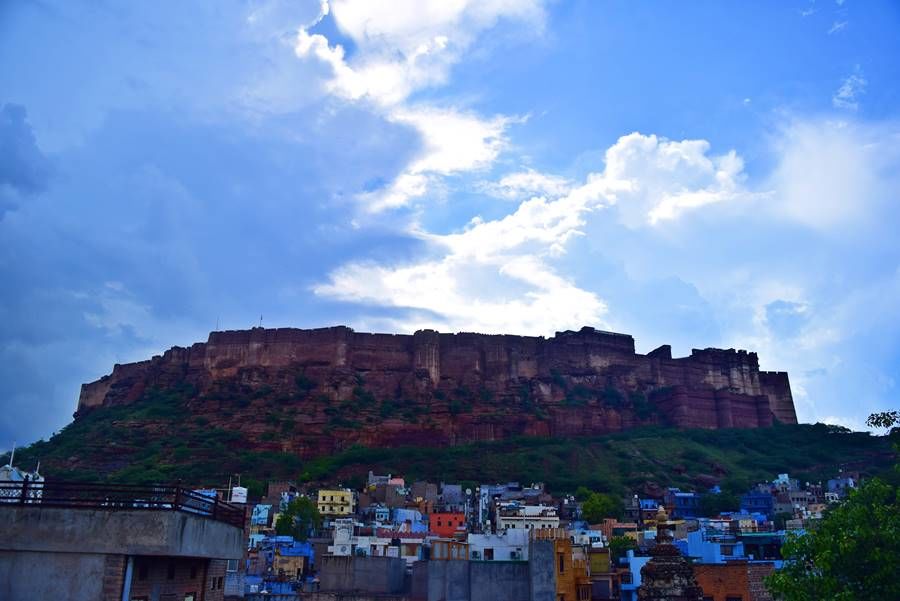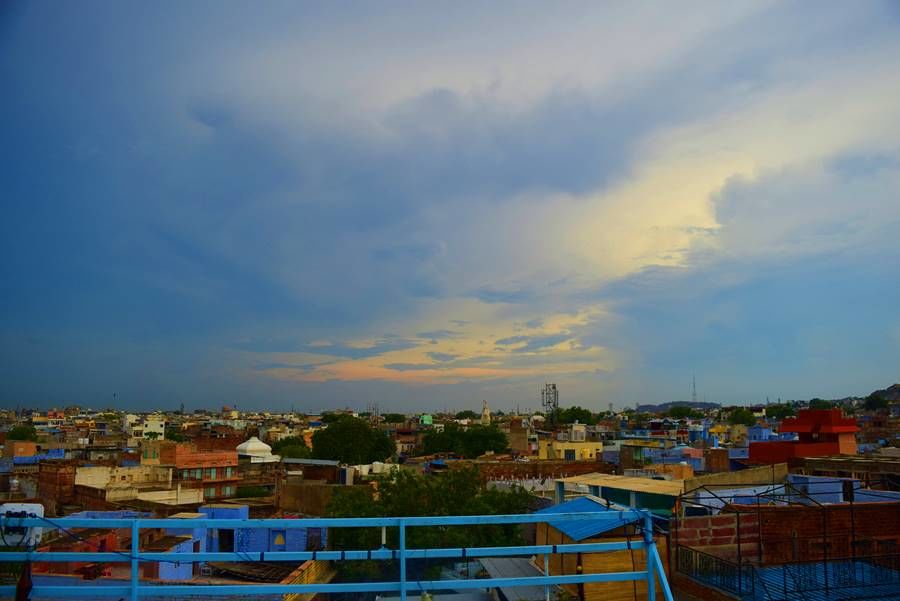 I had no expected to see waterfalls in Bundi, but I saw one. Ramgarh is 50 kilometers away from Bundi and the manager of my guest house was nice enough to help me reach that place. His friend took me to the Ramgarh waterfall. The cascade is a gorgeous mighty sight to behold, as it rains the water level on the top of the mountain increases and the volume of the waterfall increases. This waterfall is known to be an adventure spot as it makes a perfect plunge pool. If you know swimming, you can jump from the top and dive straight in the water. I saw a couple of foreigners making the jump, I decided to enjoy the view from a corner. Although you cannot do it in your swimming costumes, the locals are not that open minded. :P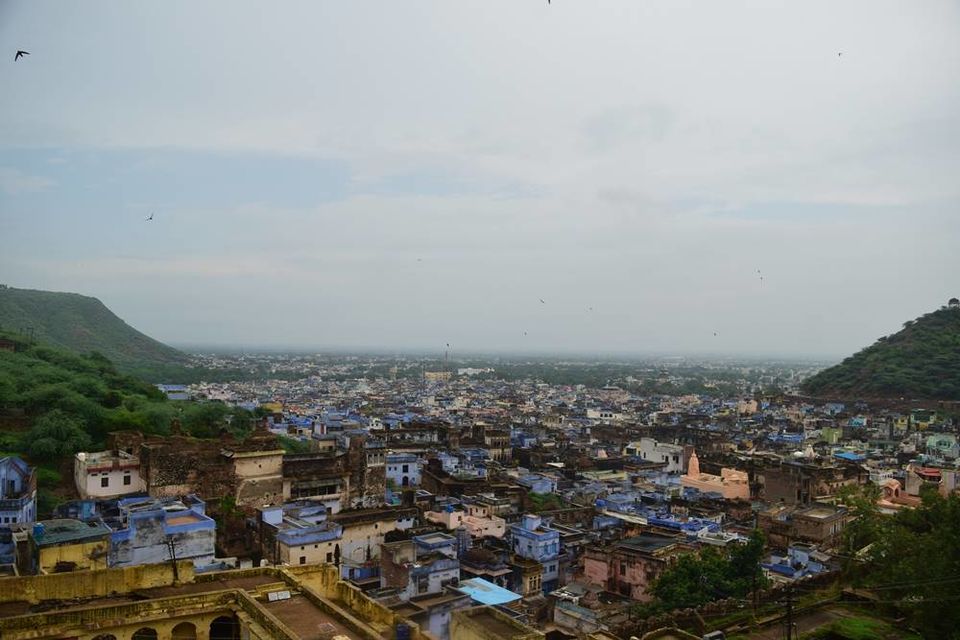 Looking for a relief from the rain, I decided to go to the desert city of Rajasthan, Jaisalmer. Surprisingly I was not spared by the monsoon here too. Although the rain felt kind of different over here. Jaisalmer is known to be one of the hottest towns in India. The road becomes so hot that it is known to melt rubber slippers. When it rained, the streets of Jaisalmer were filled with water. The cold water evaporated as it ran across the hot road. At first I enjoyed the sight of steam forming on the road but suddenly I realized that the hot surface has turned the water hot too. My feet started burning. I had to take cover in a safe spot.
Jaisalmer fort is a mighty structure. It gives you the sight of entire Jaisalmer City and Sam Dunes. I stood on the top of the fort. At a distance I could see raining in the middle of the desert.
Next evening I took a bus for Jaipur, I didn't expect a rainfall this heavy while I was travelling from Jaisalmer. I saw multiple lightening strikes in the middle of the desert but it did.
Rajasthan is a dream monsoon destination. The washed up forts, beautiful monuments and the beautiful Arawalis makes it a perfect place for a road trip. Other than the places mentioned above, there is a lot one can explore here. Although I got drenched multiple times and ended up with a running nose and cough later but the trip was worth it.
Travel tip – If you are travelling multiple destinations in Rajasthan in one go, never opt for a journey that is longer than six hours. The bad condition of road is enough to break your back and dim you unwell for further journey.
Best Itinerary for Rajasthan – Jaipur –Jodhpur – Udaipur – Chittorgarh – Bundi – Jodhpur – Jaisalmer – Bikaner – Jaipur (you can mix Deeg, Shekhawati, Ajmer and Pushkar in this itinerary as per the distance and travelling time)