I asked my friend, Anurup, 'Did you see them?' He replied, 'Yeah! Quite a few of them!' And I was awestruck. He added, 'Don't be concerned. You will find them as well. But be sure you take the morning safari. They come out for morning walk everyday!' We were talking about the Asiatic Lions of Gir National Park. No sooner did we have this conversation than we booked our morning slots for Gir jungle trail. And one fine October evening, we drove from Vadodara to Junagadh in search of Asiatic lions.

Gir National Park, also called Sasan Gir, is a wildlife sanctuary spreaded over an area of 1500 kilometer square located in Gujarat, India. At the end of 19th century, only a countable number of Asiatic lions survived in India due to consistent hunting expeditions of the British Colonials. All of the lions were in Gir forest, which was then the private hunting ground of King of Junagadh. After the mass deduction in lion population, with the help of the King of Junagadh and British Viceroys, conservation measures were taken to protect the animal. Today, Gir remains the only National Park in India where one can find an Asiatic lion. Presently, there are over 600 Asiatic lions in the jungle and the percentage is gradually increasing!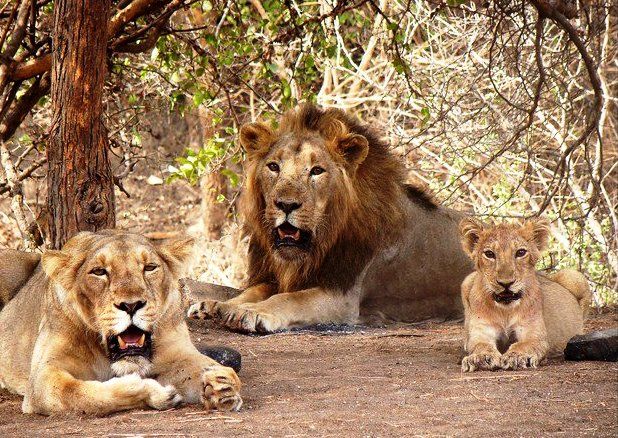 Our resort was a few kilometers away from Sinh Sadan, the government guest house cum reception centre from where the safari started. It was six in the morning when we reached Sinh Sadan from our resort. Our morning trail was scheduled from 6 am to 9 am and we were already late. In spite of the chilly weather and the dark sky, there were already thirty people queued outside the counter to collect vehicle passes, along with another hundred loitering inside the premises.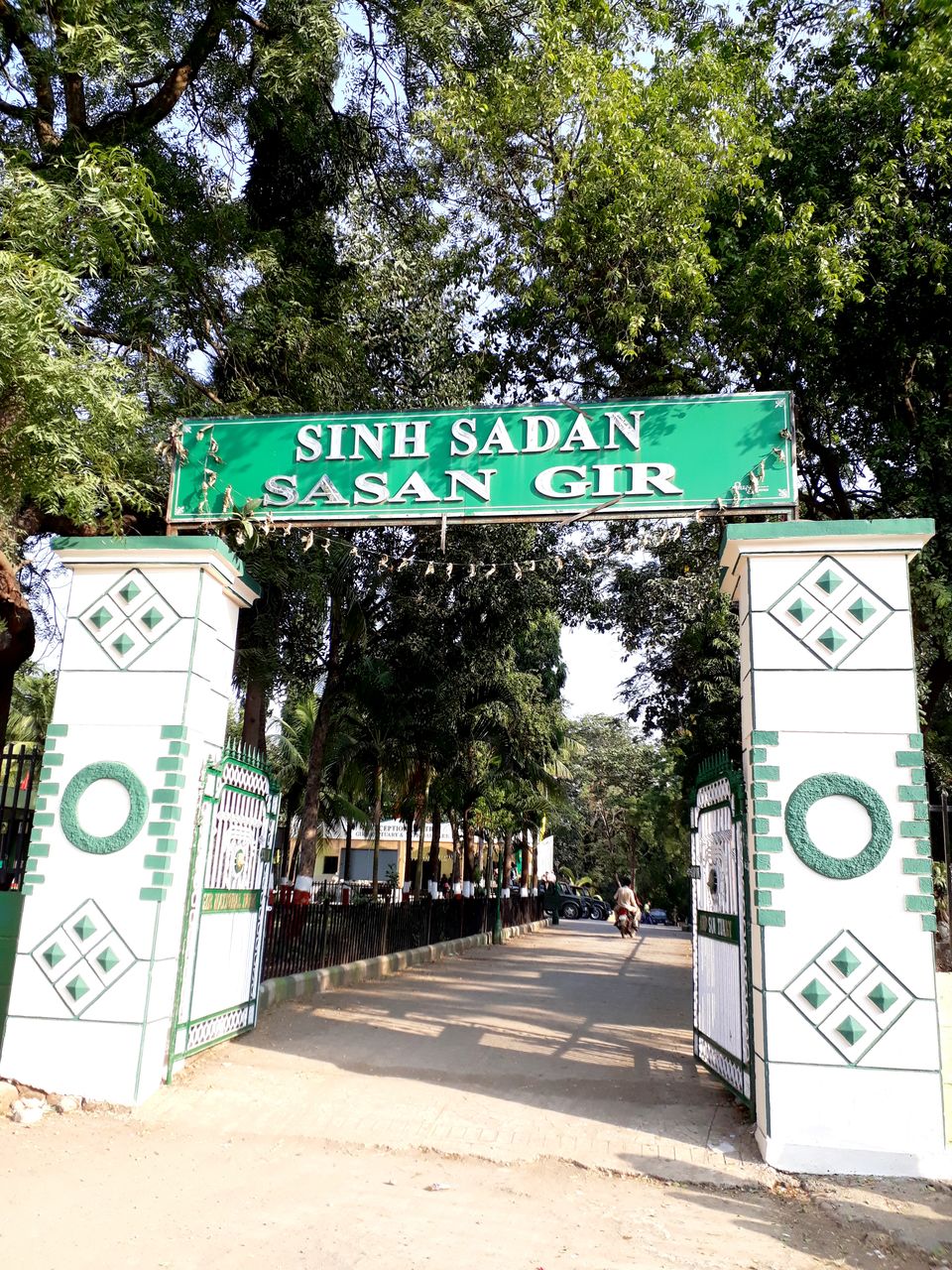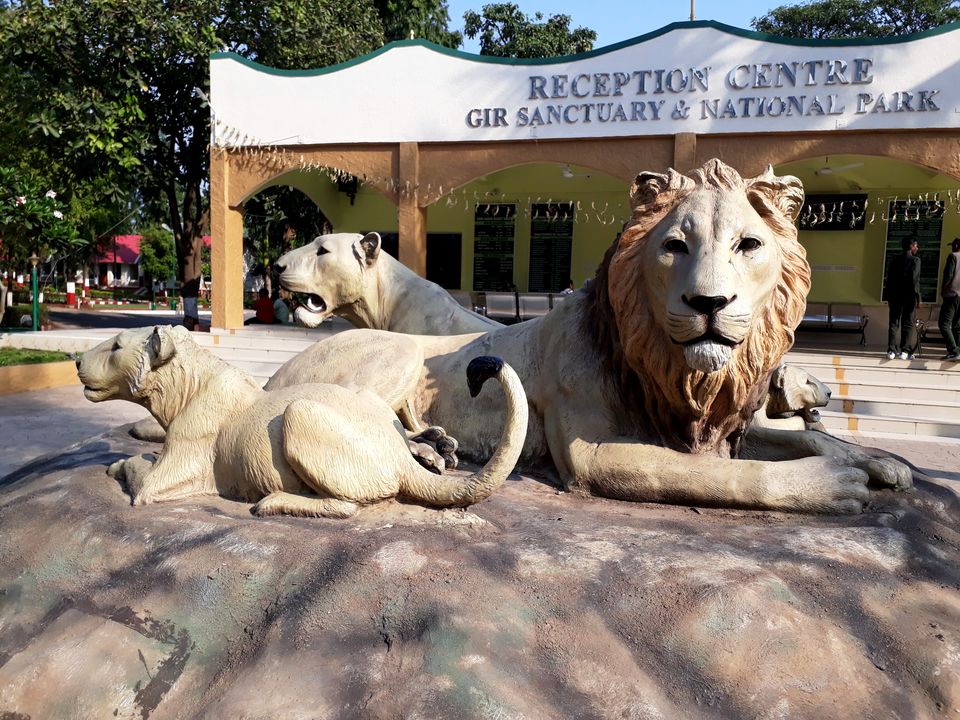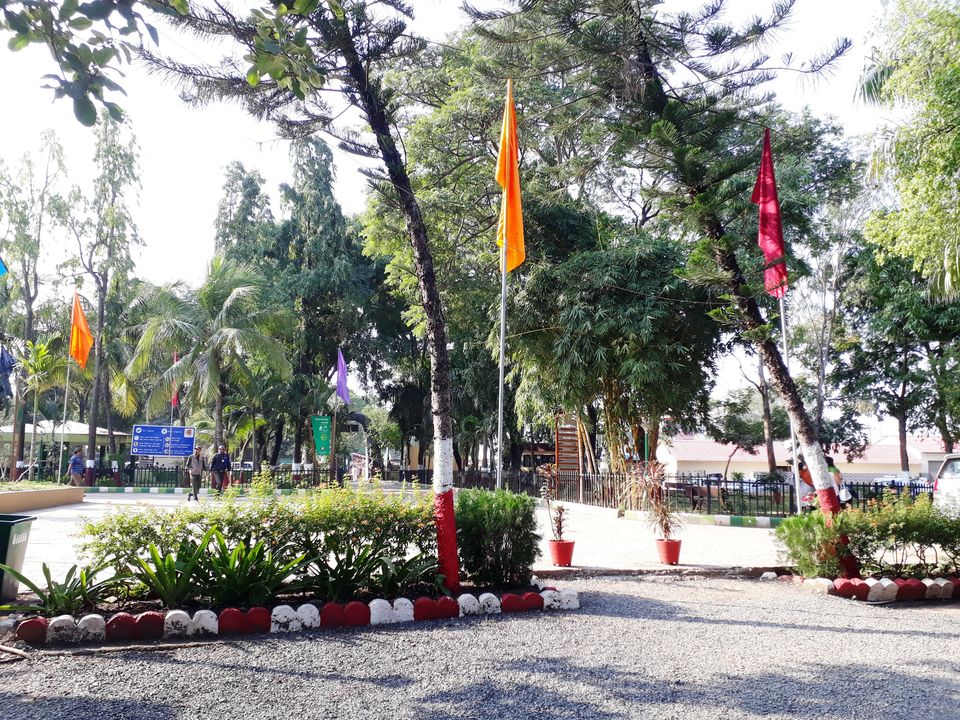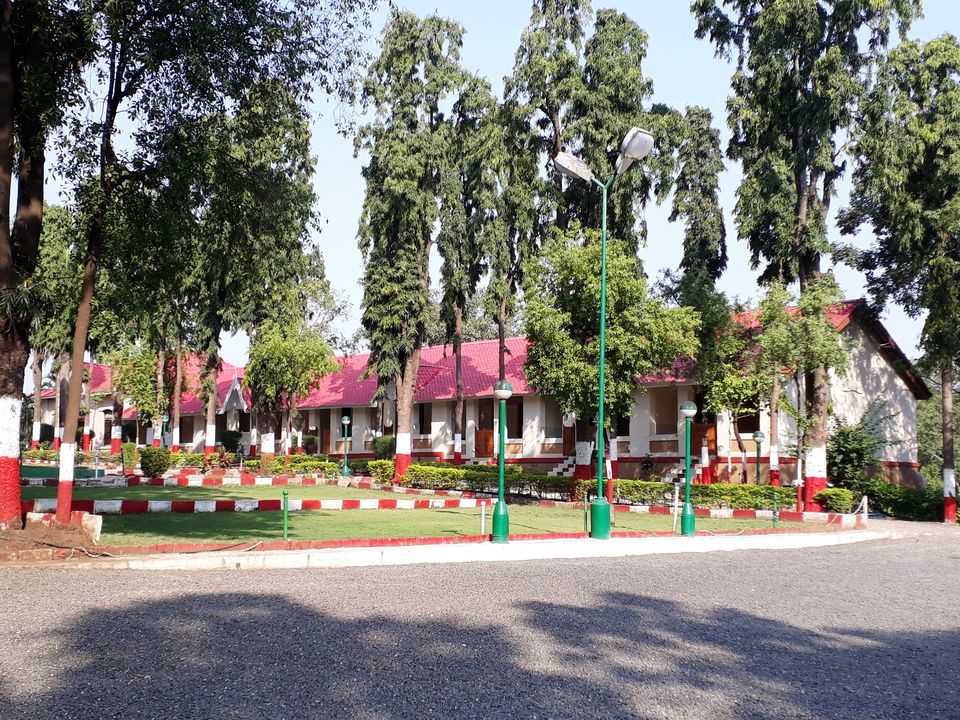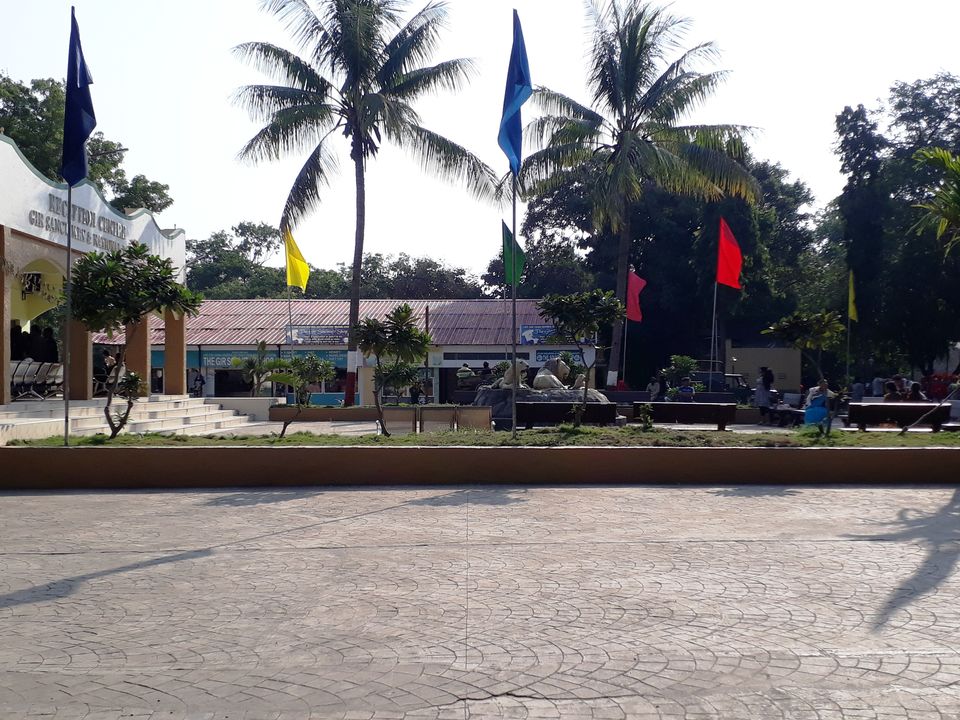 'How many people are there with you? We have vacant seats in our jeep. You can join us if you want', I insisted an unknown visitor who was accompanied by 6 people excluding him. His jeep accommodated six of them and he was left behind. He was struggling hard to get an extra seat by sharing with others.
'No madam, you cannot do that. Single automobile is allotted for a family. No sharing is permissible,' said a security personnel shaking his head. The visitor looked helpless as we left the counter gloomily with our passes. Our jeep was open hooded and we were accompanied by a driver and a guide. As the engine started, our tête-à-tête with our guide and the driver gained momentum. After introducing himself and the driver to us, he continued, 'There are all total 13 routes within the forest that are open for the tourists to explore. Each vehicle follows a single route and cannot cover beyond that. It may happen that sometimes one route intersects another, but one cannot stroll in a route other than the one assigned. Now we are following route number 10.'
'What else can we see apart from the lion?' I was so excited about the trail since I had the conversation with Anurup that I could not stop myself from asking him more. 'Have any of them been spotted in this route? When do they come? Will they turn up this early?'
'Apart from Asiatic lion, one can find Indian leopard, hyena, deer, jackal and crocodiles. Among the birds peacocks are the most traced creature after pelicans and pea fowls. Apart from these, flycatcher, woodpecker, Tawny eagles, vulture and hawks can also be spotted. More than 400 species of plants including teak, ber, jamun, babul, flame of the forest, zizyphus, tendu and dhak can be found here.' The guide added, 'Spotting the carnivore is a matter of luck I believe. But you don't need to worry; they come out in the morning only. They hunt early and as the day carries on they hide themselves in the bushes and rarely come out. Let's wish we can spot one.'
Our jeep was moving steadily along a narrow muddy path which was surrounded by trees and thick bushes on both sides. The path was dusty at some places, with thin trees lining the roads. We could see wetlands at a distance where cranes had crowded to drink water and catch fish. Somewhere else, the road was not properly illuminated due to the dense canopy. Numerous birds cawed here and there, some that we could recognize, and some others that we could not.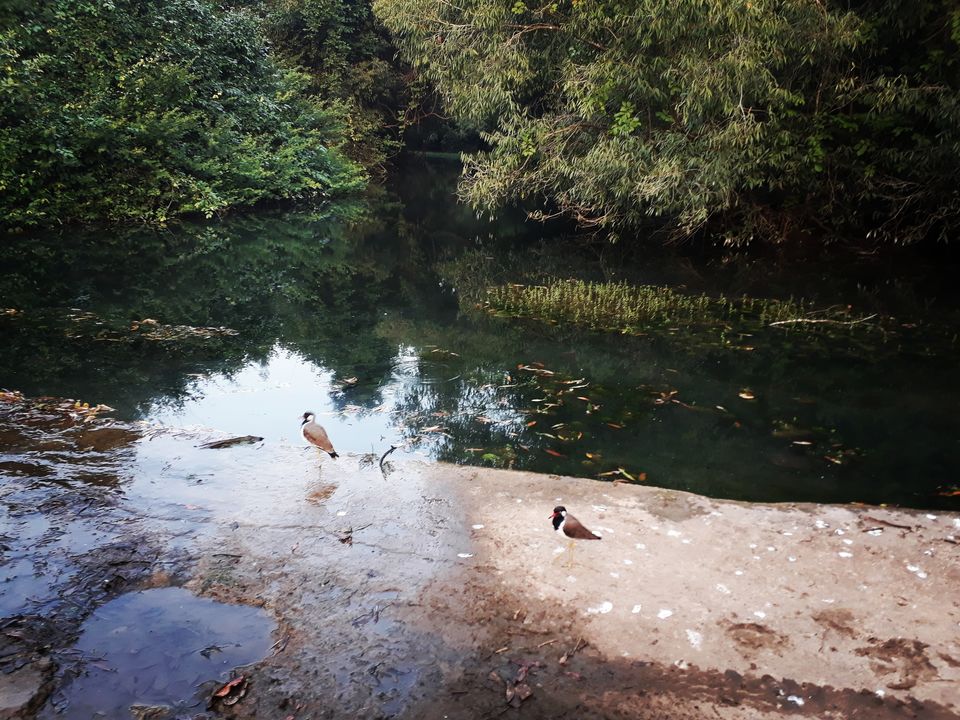 Besides the barking of deer, the forest reverberated the calls of other animals unknown to us. We kept an eye on the dry greens with our fingers crossed.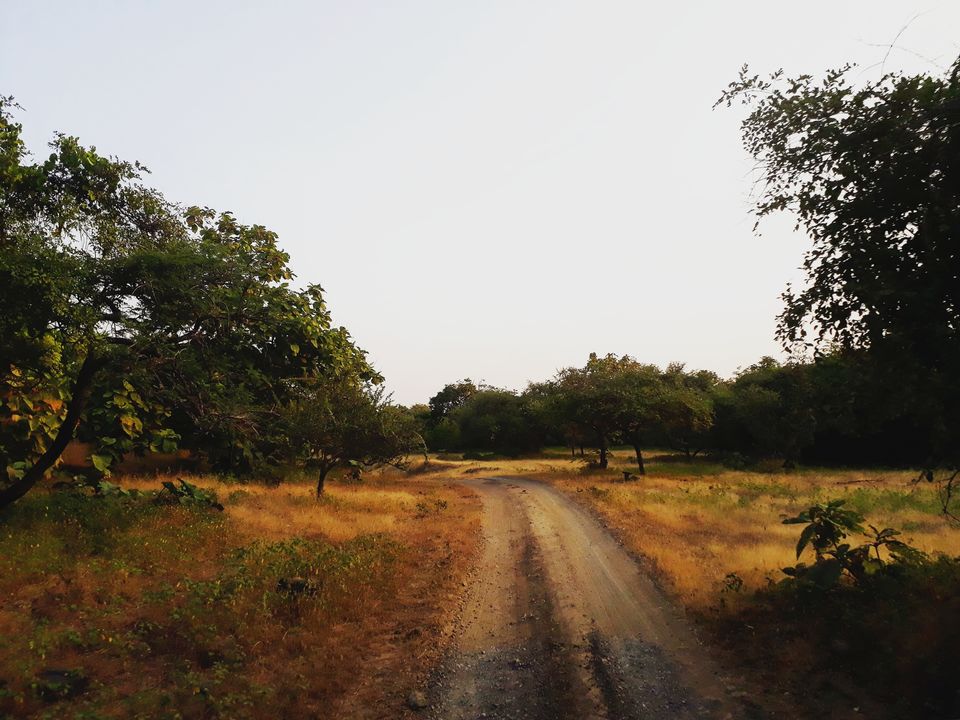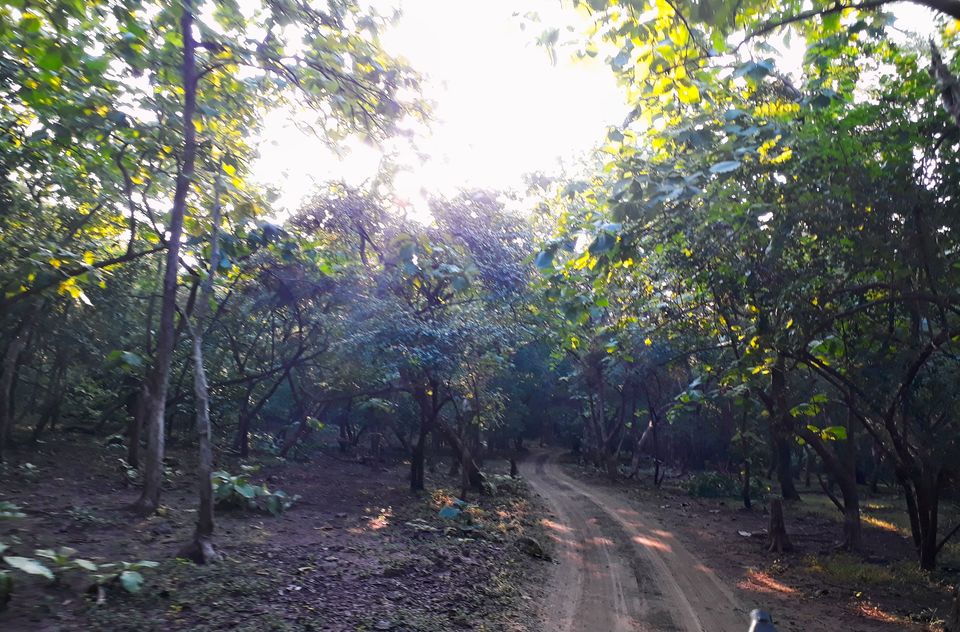 'We are moving deeper in the woods. You will be able to mark deer and peacocks very easily. If you watch closely, woodpeckers can also be found,' declared our guide. No sooner did he finish his words than we spotted a herd of deer. For the first time in my life I was watching them from such a close distance (outside the zoo of course)!
They were busy with their breakfast and barely noticed us. Our jeep stopped in front of them for a while and subsequently crossed them making minimum noise. Another jeep was coming from the opposite direction and stopped in front of ours.
'Did you see any?' our guide asked theirs. 'No, not till now,' miserably replied the other driver. 'Don't know why they did not come out yet, did you see?' 'Not yet. We have just started. Let's see what is in there', our driver changed the gear and moved on.
It had been forty five minutes since we started. We crossed a small pool and the driver said that they come here often to drink water. Our eyes quickly looked around but in vain. Trees were getting thicker and the branches were drooping down on us. We often had to lower our heads to stay away from those dry branches. Our chitchats with the guide continued with our eyes fixed on the woods. We asked about our safety if we spotted any carnivore, and if any precautions are there to prevent an attack.
'I am working here from past 15 years and no such incident has occurred. They know that we come here, take photos and then leave. They know that we won't harm them. And even if they are spotted we have CCTVs all over the 13 routes. If any of them is noticed in any of the routes, we get the information and take necessary safety steps, both for the animal and the visitors.'
In the mean time we found some more herds of deer, a bunch of peacocks, few parrots and a pelican. We crossed more than four gullies of water with no sign of any carnivore. After travelling through more of the undulating road, we caught a glimpse of another jeep which was approaching us from the opposite direction. Before we could ask anything, the driver shouted, 'Hurry up, there's one resting right there!' We quickly asked the passengers on the other jeep, 'Did you see?!' To which they replied, 'Yes, we did! There is a lioness with her cubs! Go fast!'
Our driver told us, 'Hold tight. I'm going to drive with speed.' With this, he pushed the accelerator and in no time we reached an open area where two other jeeps were already standing. The people on those jeeps were whispering among themselves, and one of the drivers pointed towards the left. Our guide then got down from the jeep and began looking at that direction anxiously. He beckoned us and pointed towards the woods. And. Then. We. Saw. It.
A lioness strolled in along with her cub. They were barely ten to twelve feet away from us. They sauntered leisurely for half a minute and then looked around. The lioness wagged her tail around, and then took a seat under a tree. The little one was still loafing about her, unmoved by our presence.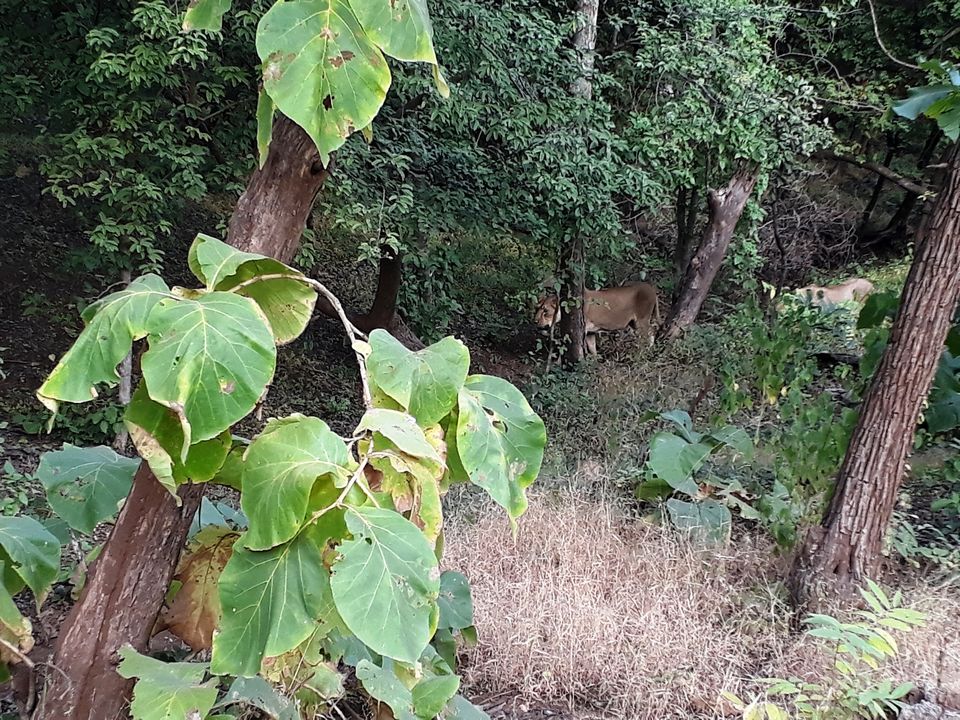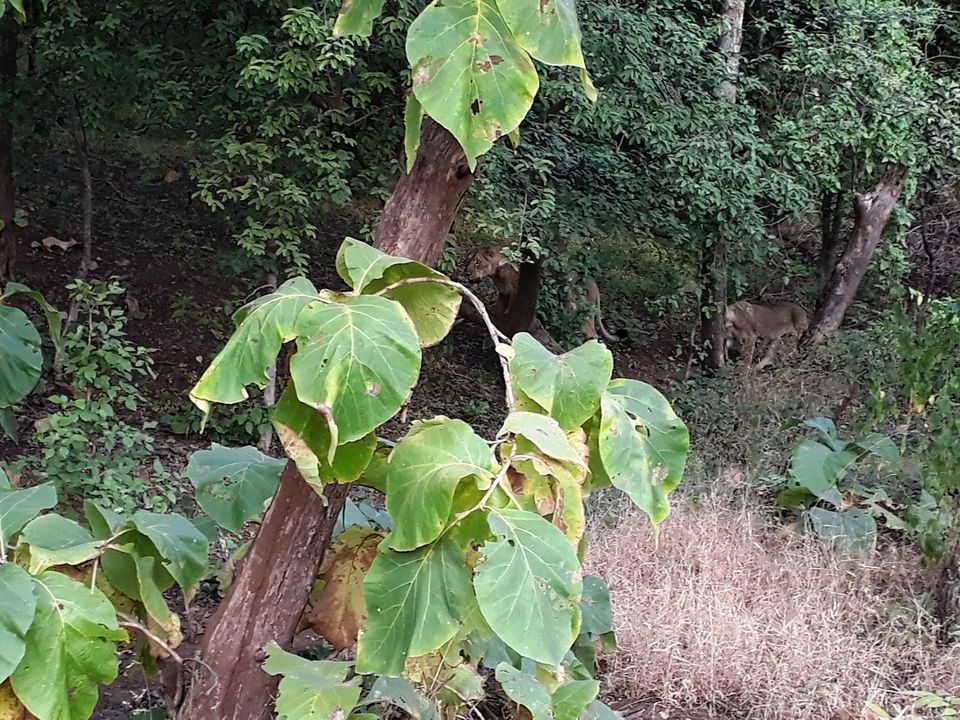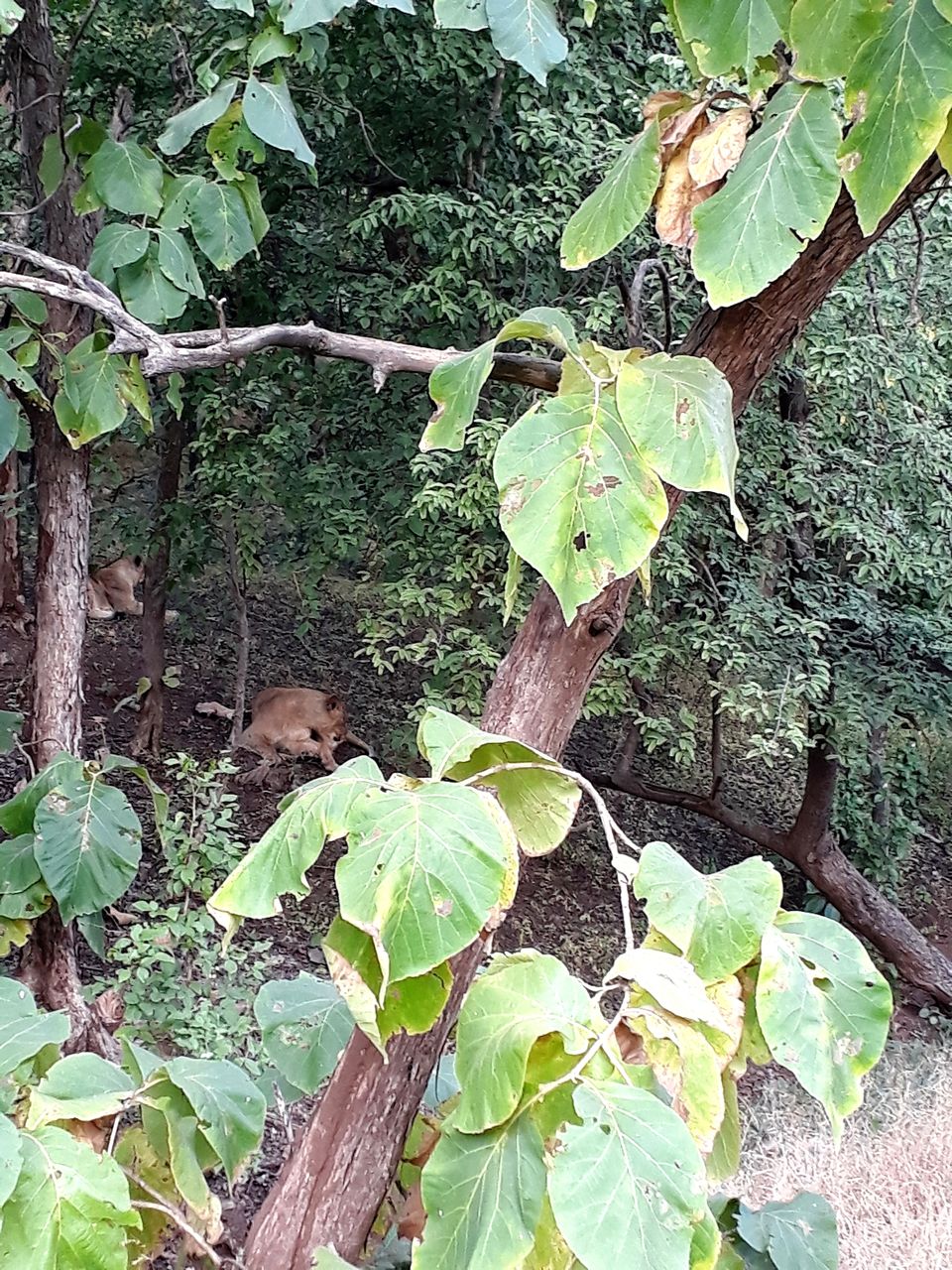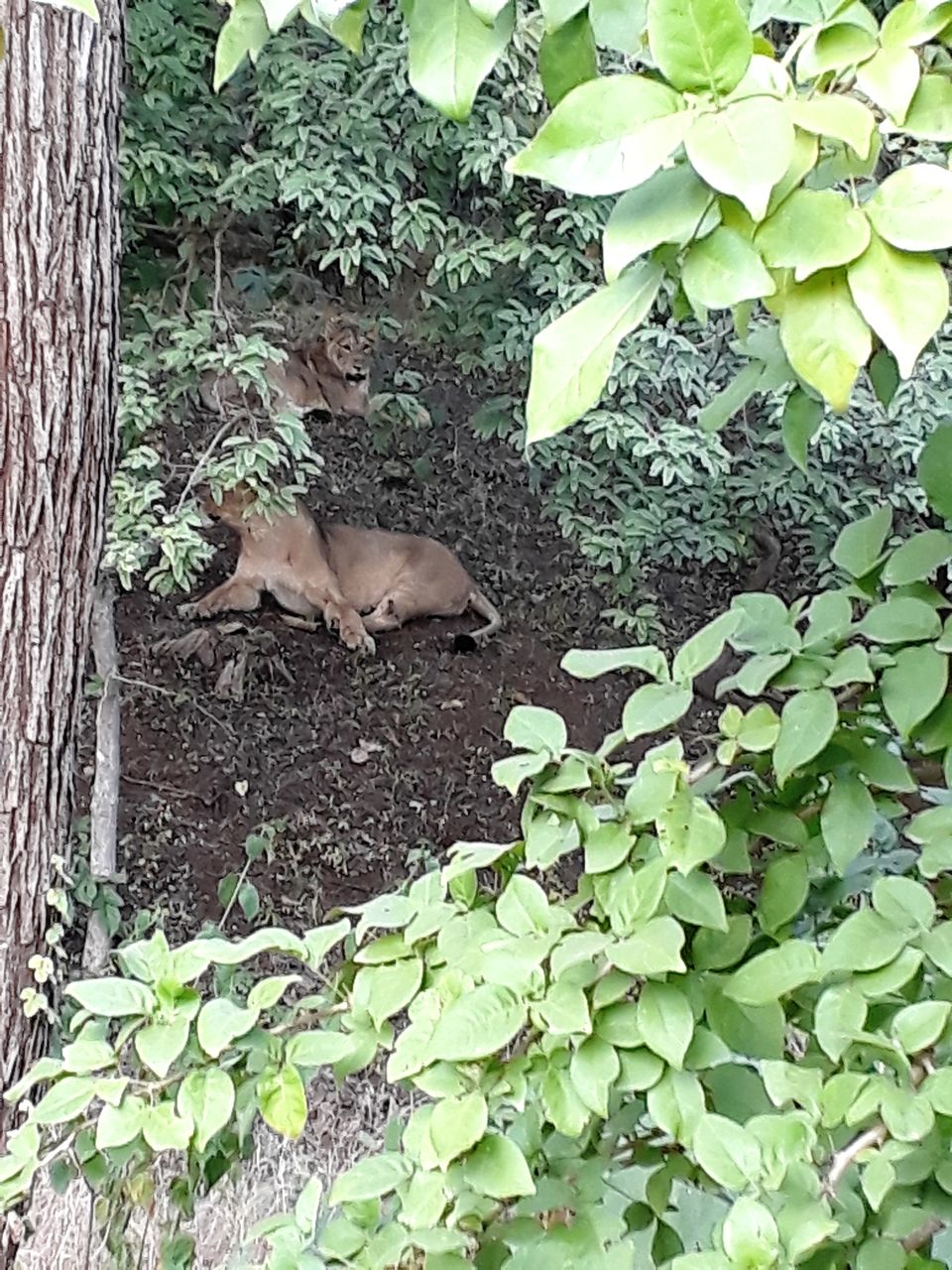 The adrenaline rush was crazy. We couldn't decide whether to jump or scream, and I almost yelped until the driver asked us to keep quiet, or else they may leave. He also instructed us not to move closer to them. He said that we could take photos and shoot videos in silence.
We remained at the spot for another five minutes, taking photos and observing their movements. The lioness was seated all along, and her cub was playing around her. Meanwhile, one of the jeeps had already left, and the driver of the other gestured us to leave. Gazing at the lions for one last moment, we got on our jeep and left with the other.
Truthfully, we never thought we would be able to witness something like this, and we were captivated by the sight. We were so much overwhelmed and satisfied that it was fine even if we were not able to see anything else in the remaining forty five minutes of our trail.
'How was it?', our guide asked us with a big smile. 'Too good, unexpected, thank you brother!,' we exclaimed. 'It's all about luck I told you. No need to thank me! As a guide your contentment is my greatest reward. You can visit Devaliya Safari Park after you finish this safari. There you will find many of them', informed the guide. 'How far is it from here? How long will it take to move around the park?', I eagerly asked. 'It's about half an hour from Sinh Sadan by car. It is an open area where visitors can take bus safari of 40 minutes to move around. One can spot the animals from the buses and are not allowed to get down like in the jeep. You will definitely enjoy it!', he added.
In another 15 minutes our jeep took the path back to the Sadan. The down road was similar to the up road, except that the air carried the essence of our joy. While returning, along with some more herds of deer, we again spotted peacocks and some brightly colored unknown birds. Despite the joyous environment, our hearts still cried for more of the wonderful safari. I was already missing the lioness and her little cub! The milieu was getting warmer as the sun shone bright. We were back at Sinh Sadan as the clock stroke 9. Sinh Sadan was too much crowded now. Numerous jeeps were departing for the day safari of 9am to 12 pm. There were souvenir stalls near the reception centre and we decided to look around it before we started for Devaliya. Mementos like Gir forest booklets, customized key rings, coffee mugs, soft toys, key chains, T-shirts and caps were being sold. Jackets, trousers and T-shirts with 3d print were also available.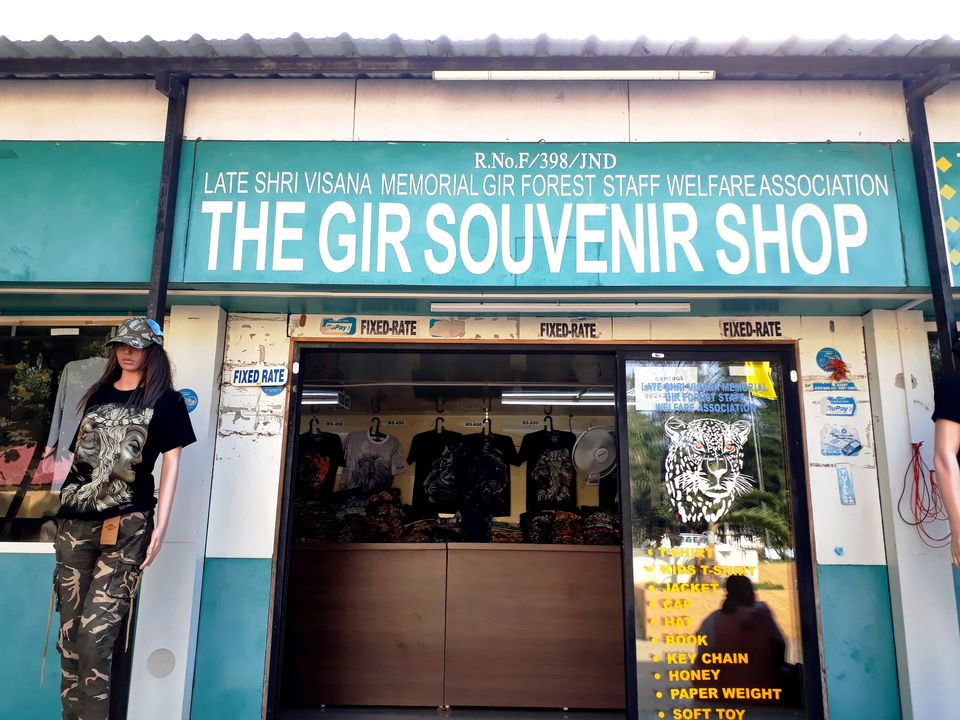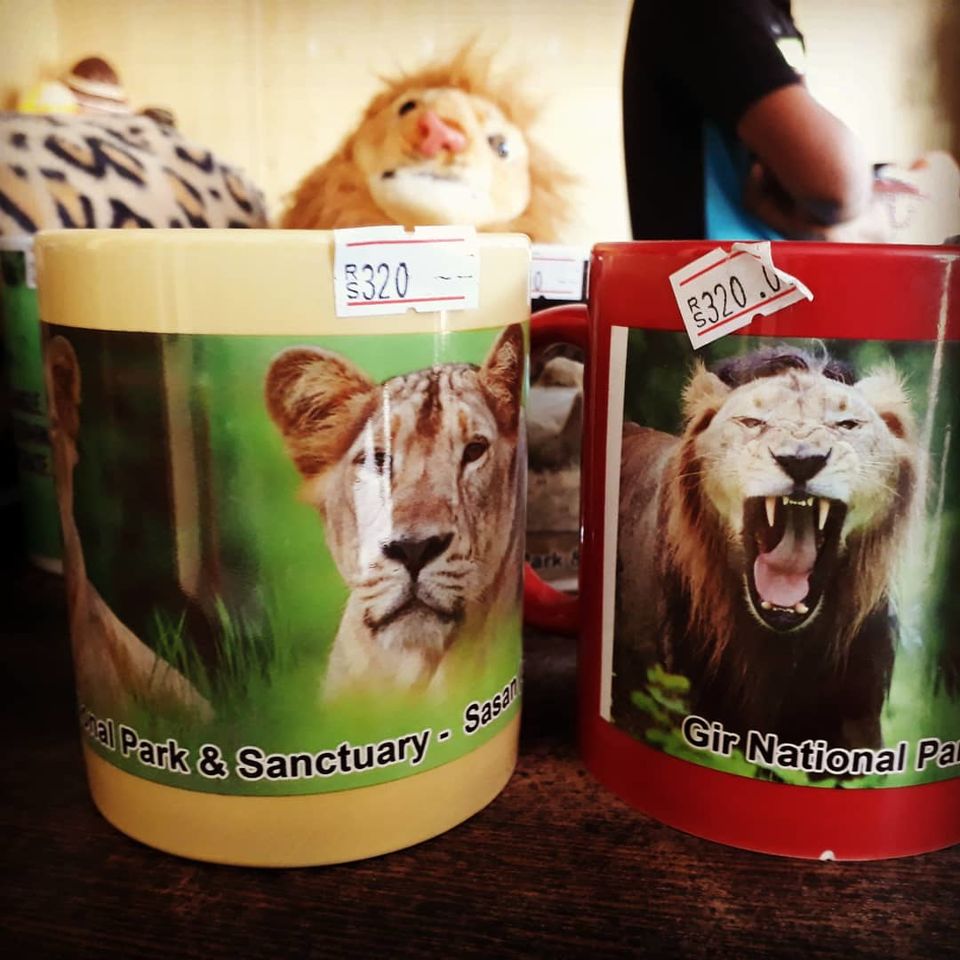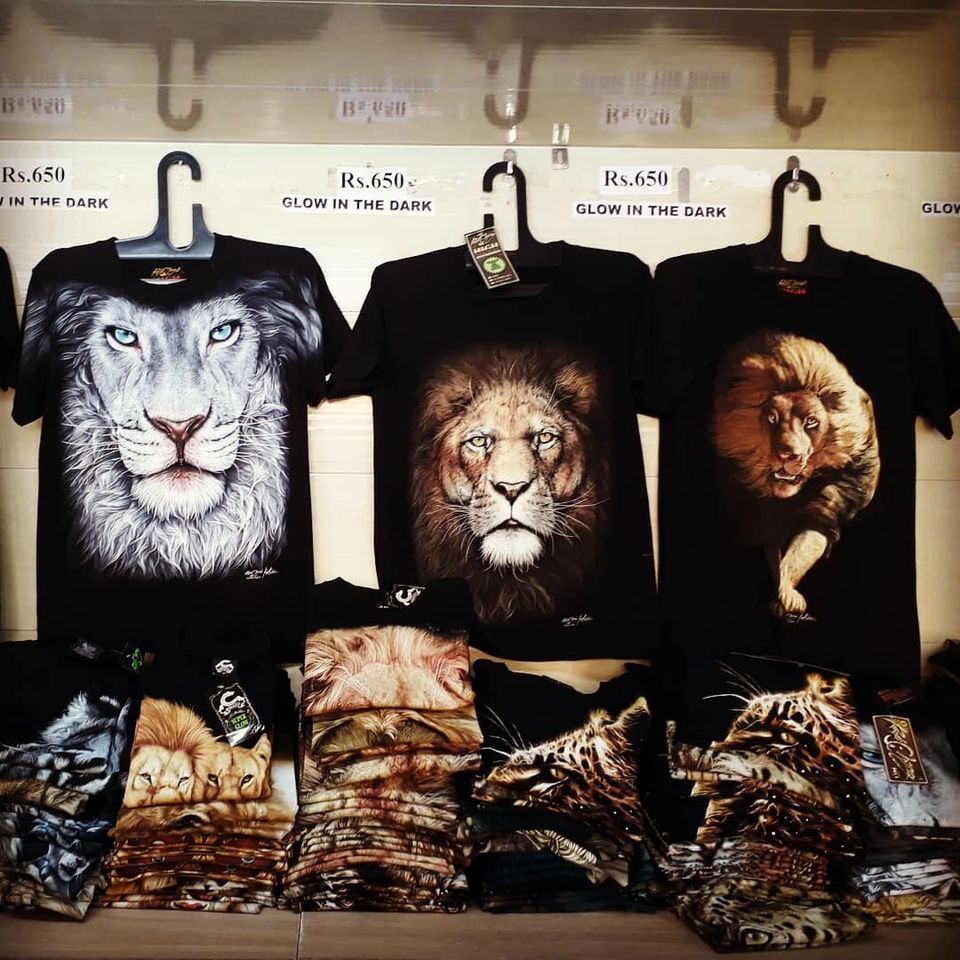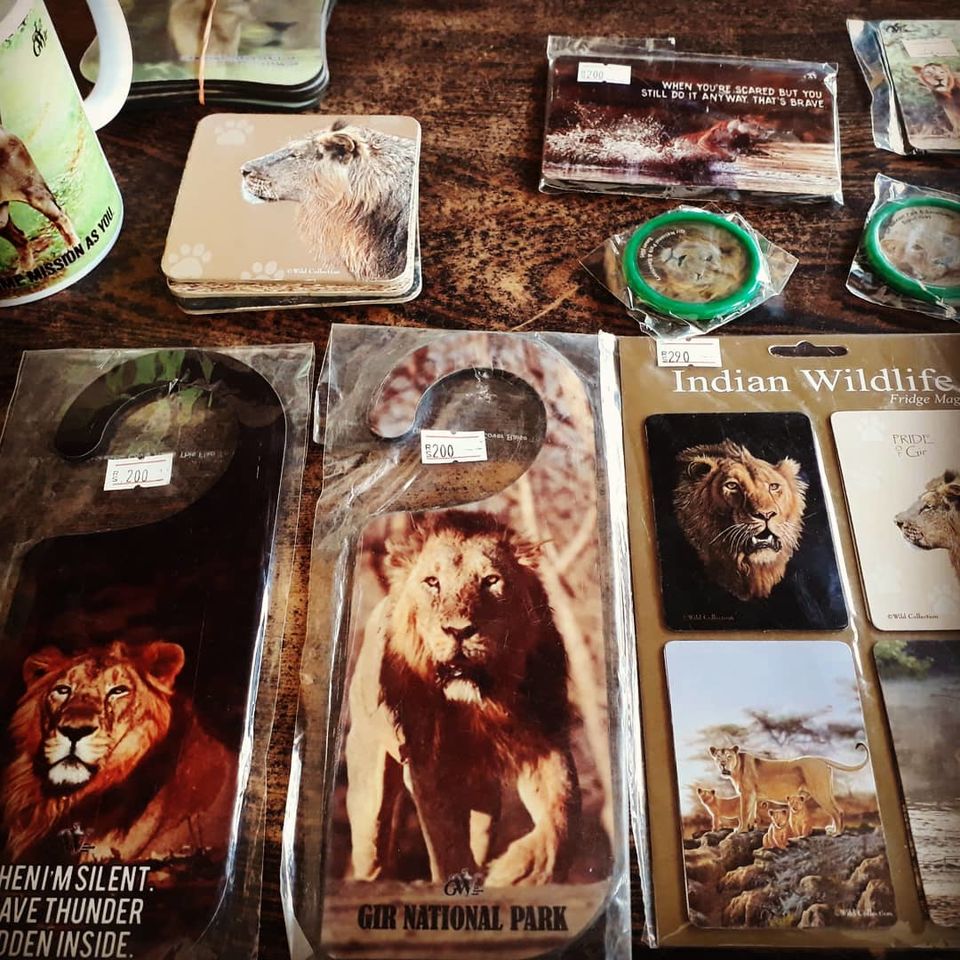 In no time we finished our breakfast and set out for Devaliya Park. Quickly we booked our safari tickets and got seated in the bus. Inside, there were around 20 people along with some kids. The driver blowed the whistle as the bus started for the safari.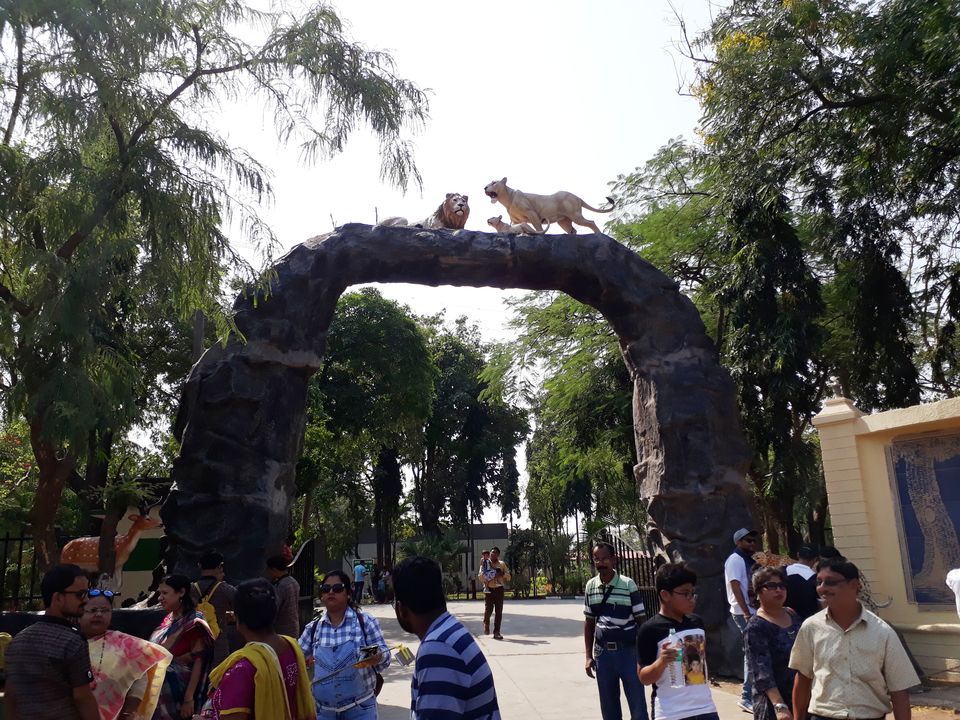 After a brief description of the park, the driver warned us not to make any noise or throw food items at any animals. Devaliya Park, a part of Gir National Park is a stretched open ground and less dense unlike Gir forest. Trees were much less in number and tall bushes covered large part of the region. In fact, it did not have the charm of a forest; rather it was like a savannah.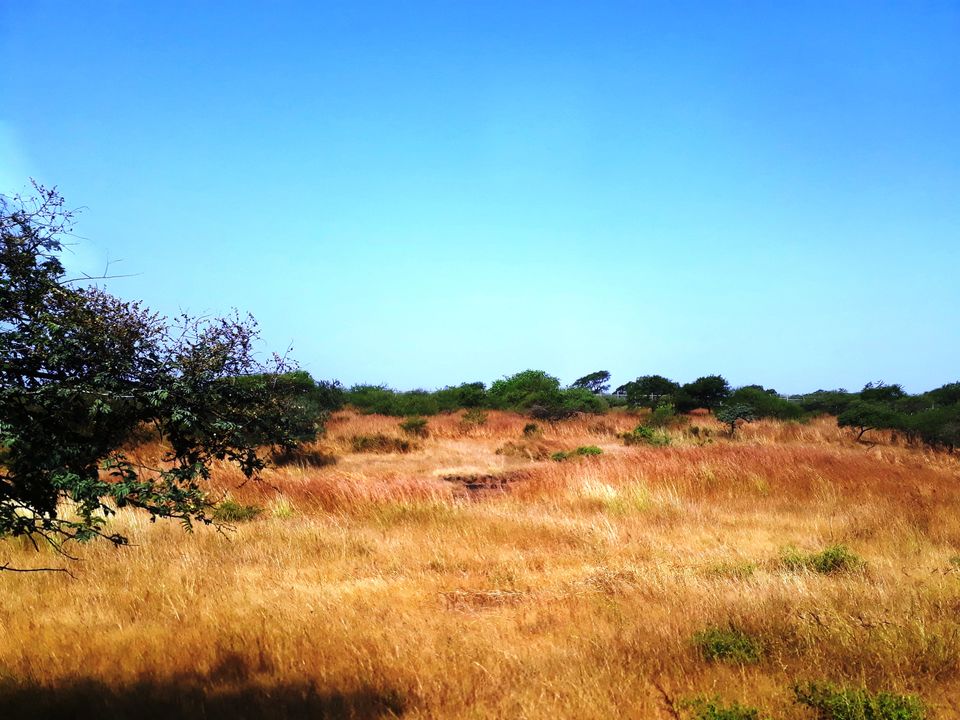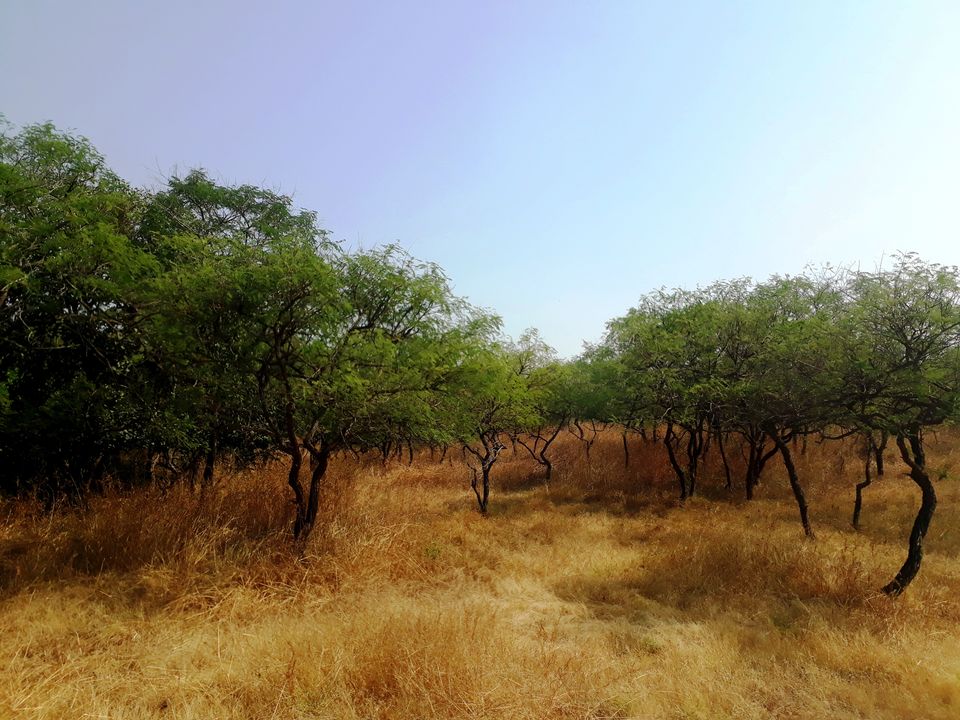 Our bus was moving with moderate speed. I was sure about the fact that my fellow passengers did not take the jungle trail as their faces gave an anxious and restless look which was missing in mine! Nothing could be spotted for the first 10 minutes. The bus then stopped in front of a closed rather fenced area, some feet down to us. We peeped out from the window and spotted a leopard strolling within the railing.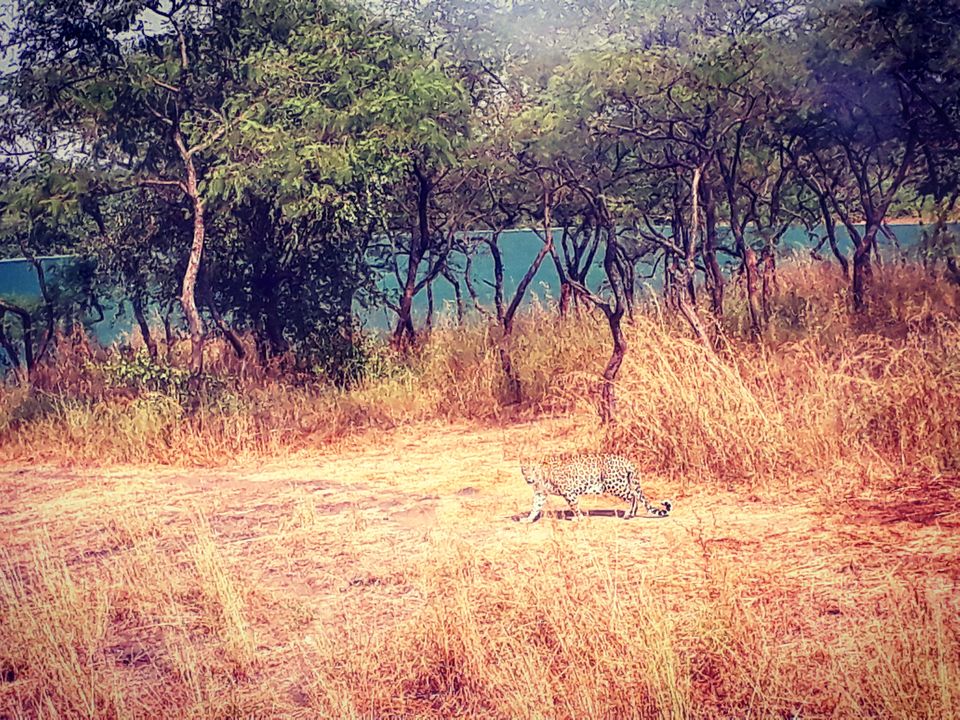 The leopard was quite a distance away from us. People got busy in taking photos of the animal. The bus stopped there for a few minutes and then left. All of us were super excited and eagerly waited for our next sight. The bus took speed and braked in front of a large tree. The driver pointed us toward the giant flora. All eyes moved towards it. A full-size lion was lying under the shades wagging his tail.
This time also, the animal was at a large distance from us dissimilar from the morning trail when they were at a few feet from us. The kids were so happy that they started singing rhymes on lion. We observed the king for some time and then the driver accelerated. Last ten minutes of our safari was plain and simple as we did not spot any animal, neither herbivore nor carnivore. It was almost 11.30 am when the bus brought us back to our starting point. Our faces reflected the joy and satisfaction after the Gir jungle trail. The Devaliya Park did not disappoint us either, we greatly enjoyed the sight-seeing.
There is an Interpretation Centre both at Sinh Sadan and Devaliya Safari Park. Replicas of species of flora and fauna observed in the forest along with their facts and features are demonstrated here.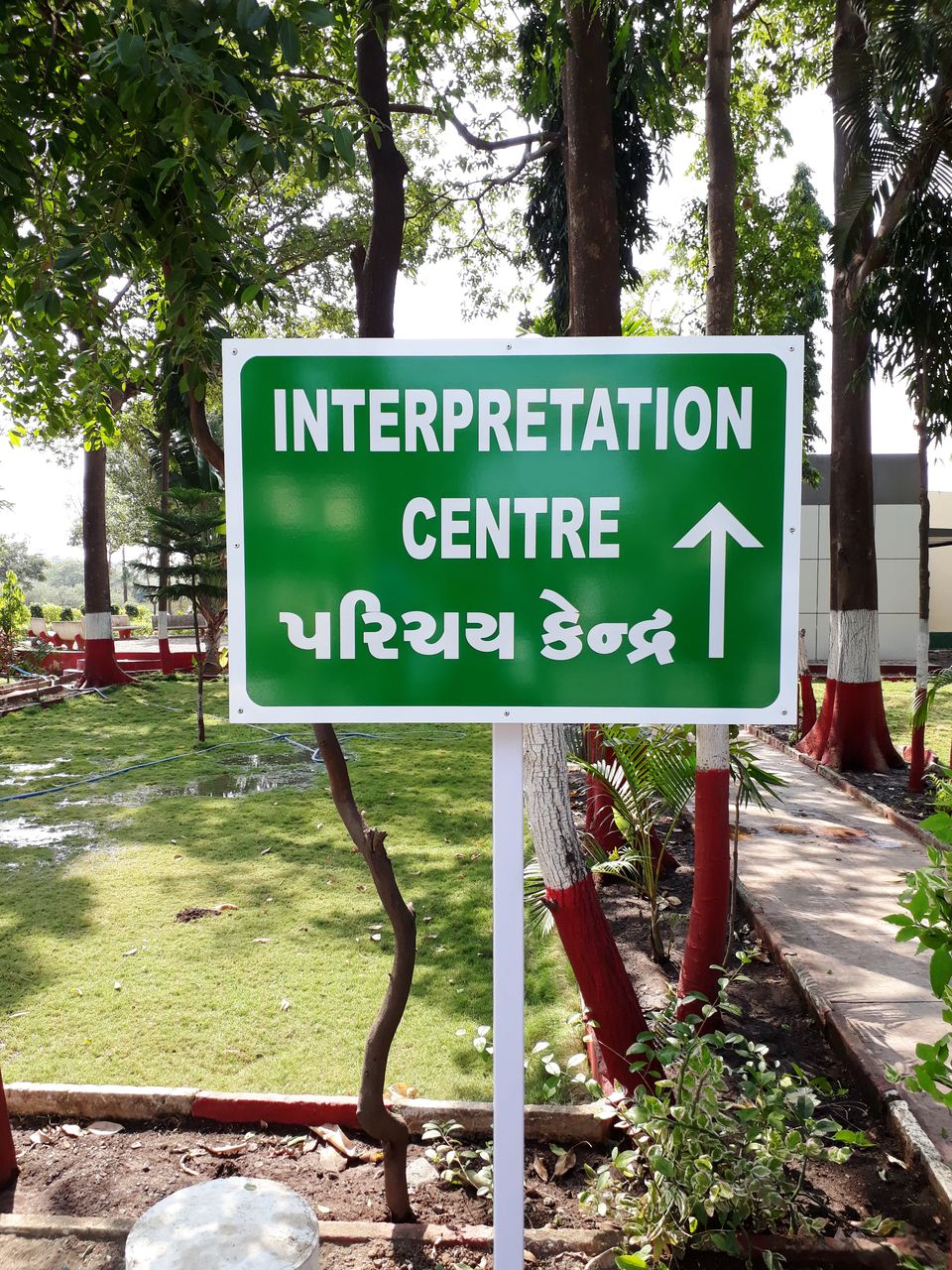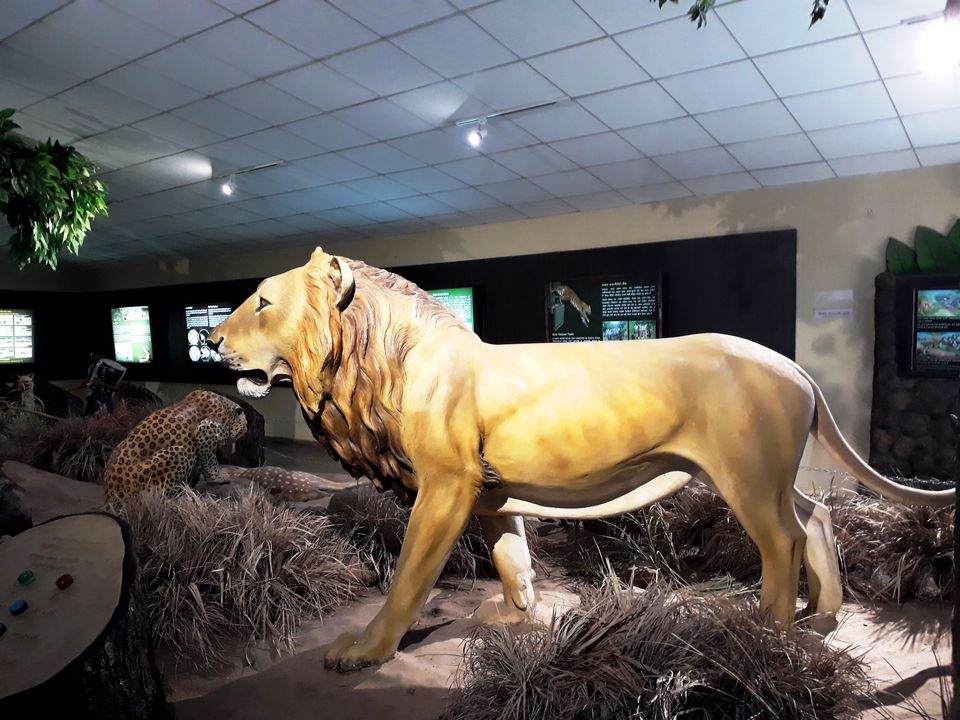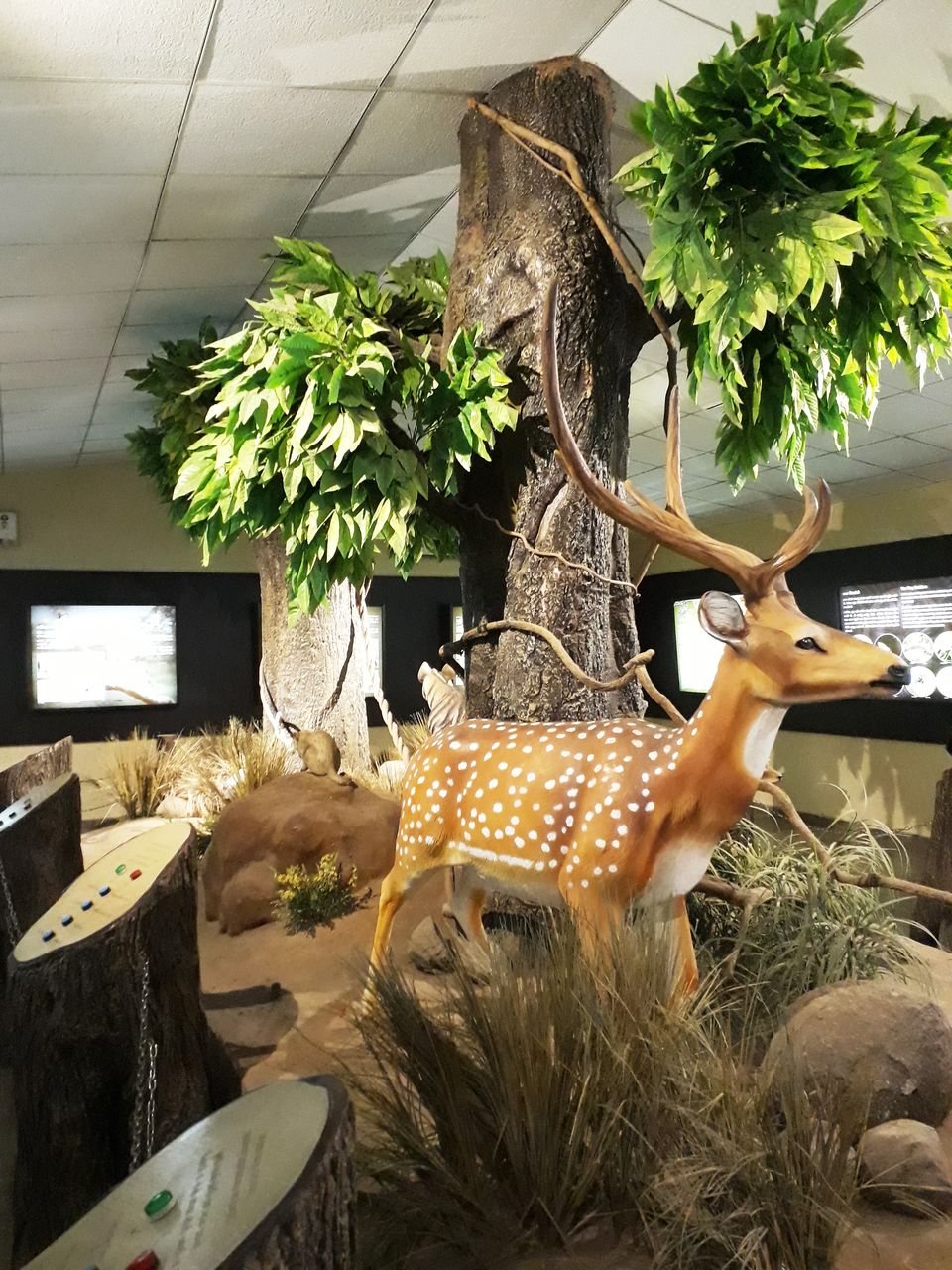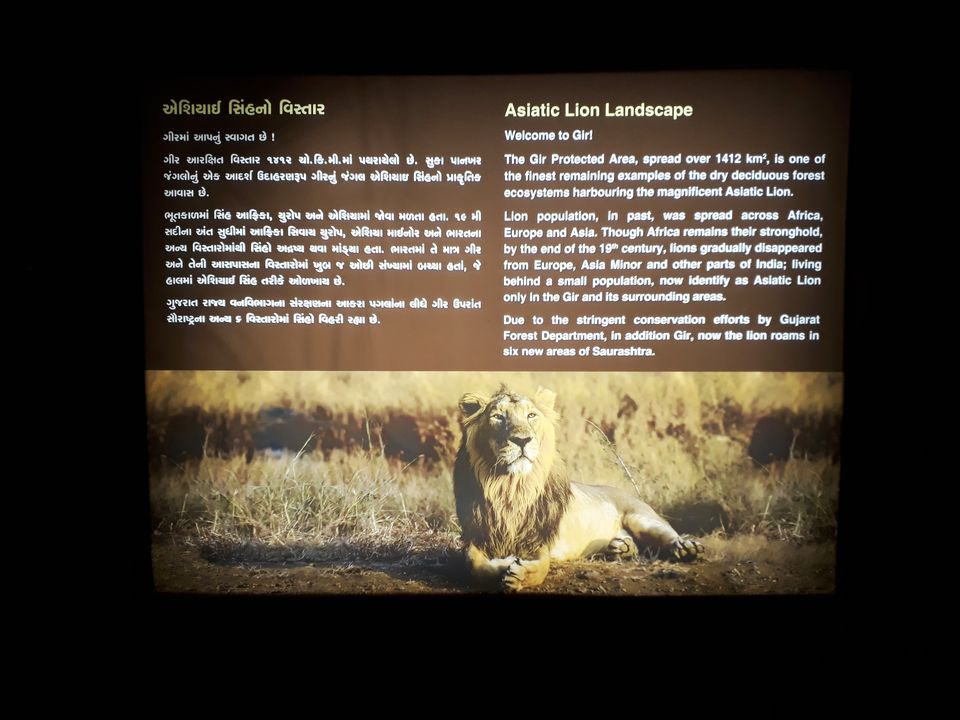 Like Sinh Sadan there is a souvenir shop here as well from where visitors can buy mementos of their choice. A small snacks bar is there where small refreshments are available for a price. We took a quick look around in the gift shop and went for snacks.

Our Gir trail was gleefully over! As we were gearing up towards our car, we caught sight of the visitor whom I met early morning at Sinh Sadan and offered him to share the jeep with us. He looked somber and approached us. 'Did you see any in the morning trail?', he asked unhappily. We shared our story upon which he became more miserable. 'We followed route number 5 but did not find any except some deers and peacocks. I wish I shared your jeep.' We encouraged him to take the bus safari with a hope to spot a carnivore. As he left desolately, we remembered our guide's words, 'Spotting a carnivore is a matter of luck!'
Before you go:
How to reach Gir: The best option to meander at Sasan is with a car. One can hire a car from Junagardh or Somnath and explore the place.
When to go: The park remains closed from mid of June to mid of October. Avoid summers of Gujarat as it becomes dry and impolite. Months from November to February are the best occasion to enjoy Gir.
Entry and vehicle permits: Both entry and vehicle permissions for the forest trails are available online at http://girlion.in/ and http://www.girnationalpark.in/ . We only booked the entry passes online and took the vehicle passes from Sinh Sadan, the Government Reception centre cum guest house at Gir. No outside vehicles are permitted except those open jeeps provided from Sinh Sadan. Any other booking except online is not acceptable inside. Prices are fixed and no negotiation is done.

Tickets for Devaliya Safari Park are available at the park only and no prior booking is required.
Lodging and Fooding: For lodging, one can book rooms at Sinh Sadan. Otherwise one can choose from multiple resorts available at Sasan. But the permits for trail are only given at Sinh Sadan which is also the preliminary point of the trail.
We booked our cottage in http://www.thebrookville.com/ . It is an eco friendly resort among the greens and one of the best places to retire after a fatigued day. Its open gardens and lawns amidst mangroves blushed with beautiful flowers and plants. With an open dining area, the resort serves a variety of finger licking Gujarati food to rejuvenate us for the day.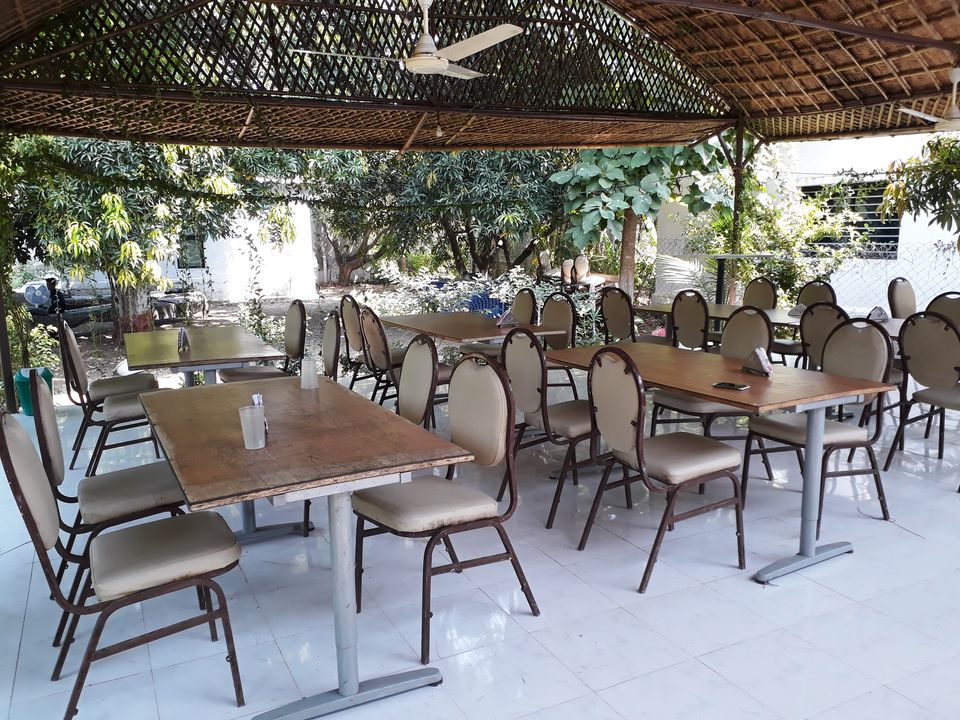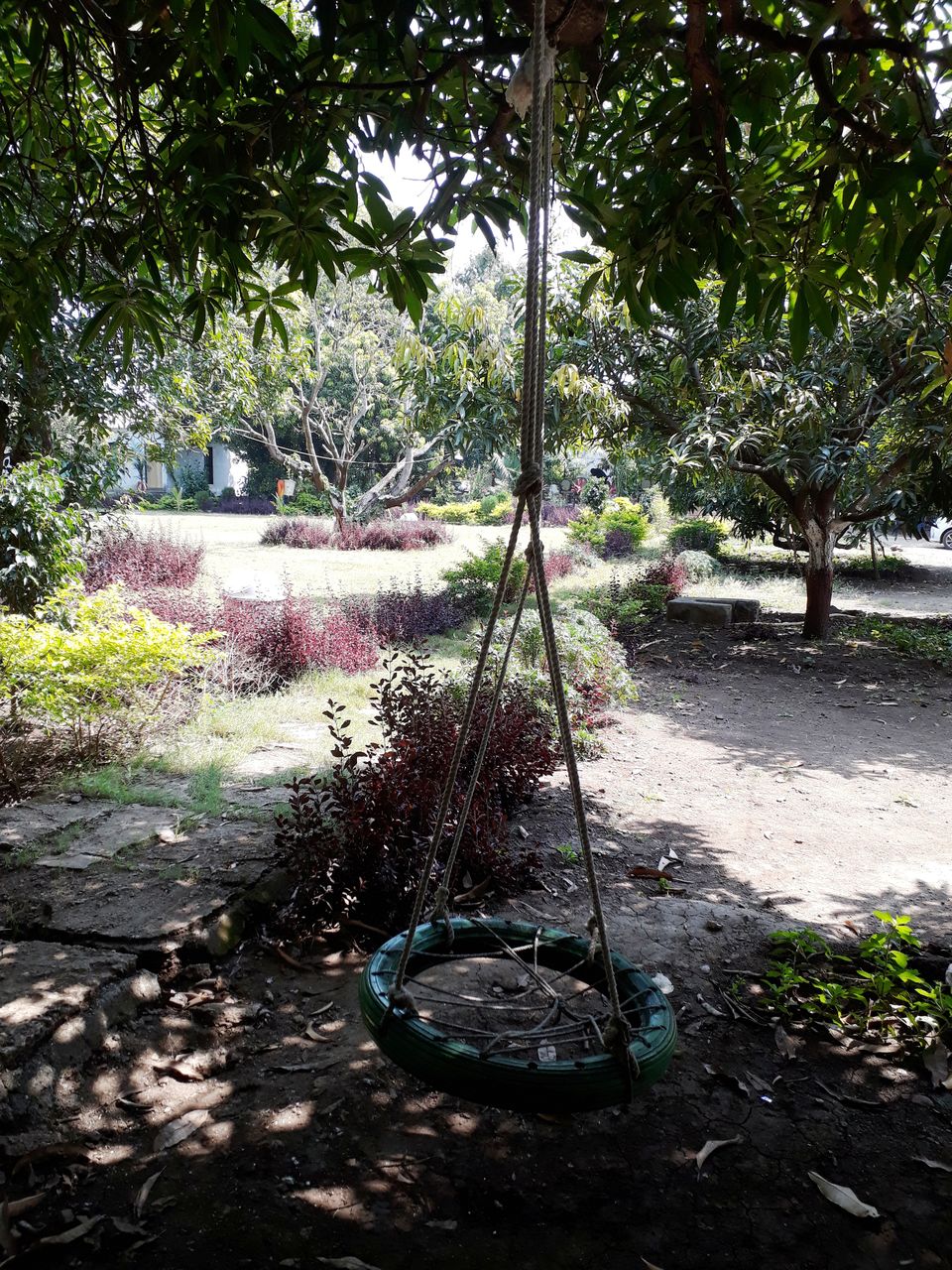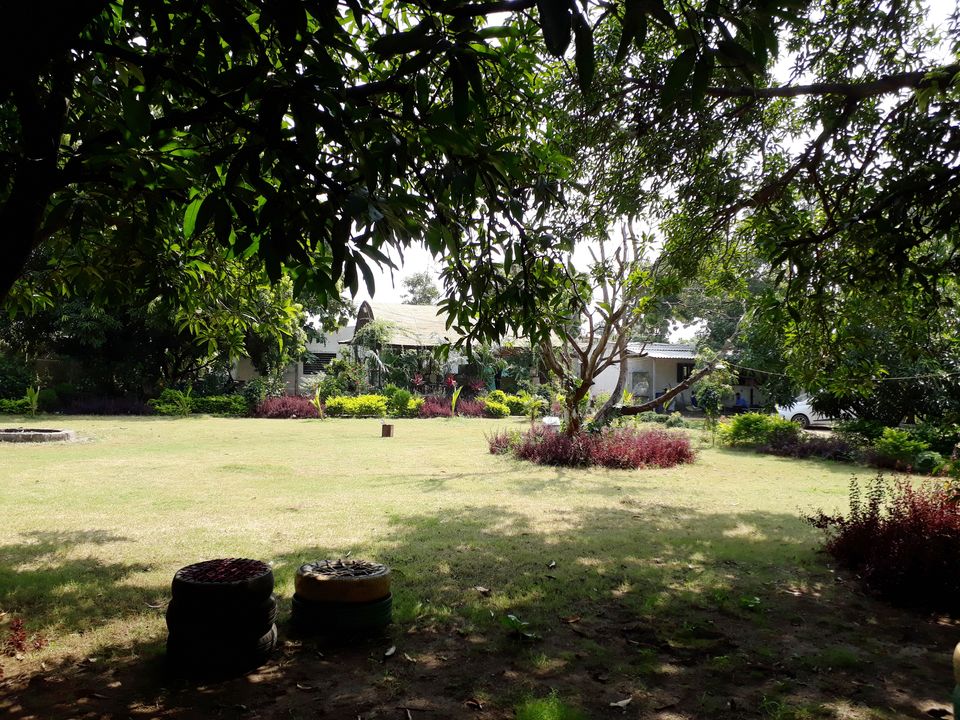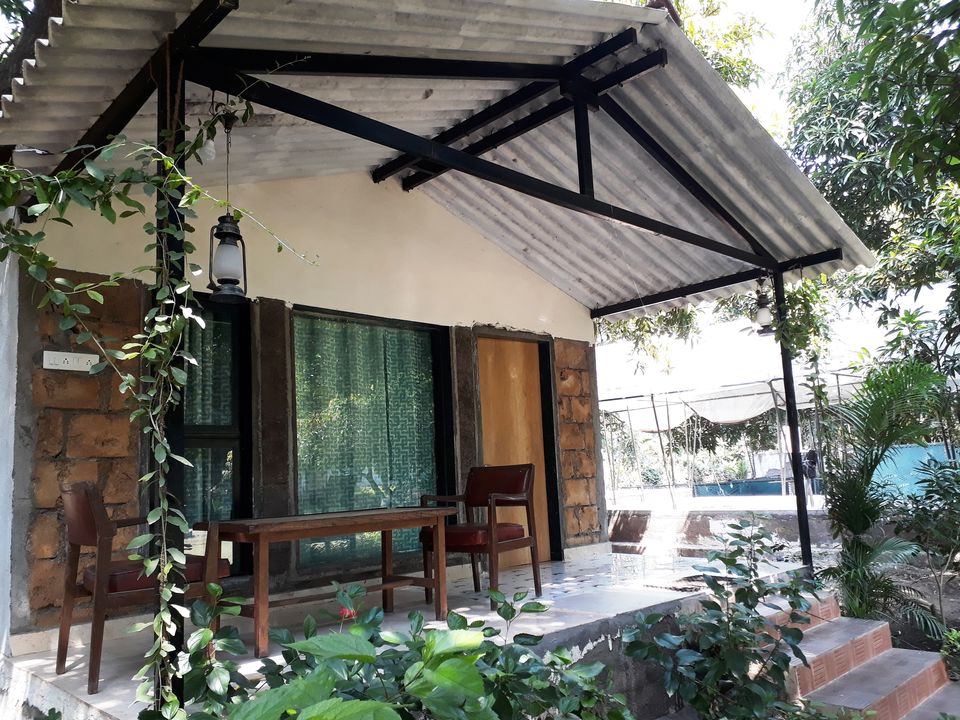 Do's and Dont's:
Do's:
1. Always make safari booking from the above mentioned Government portals and not from any other private travel agents.
2. Having an identity card is mandatory.
3. Carry dry snacks and enough water for the safari. But please don't throw the packets there only!
4. Try to abide by the jeep driver and guide. Please don't make your own rules!
5. Wearing a scarf and sunglasses will put a stop to both the sun and dusty roads.
Dont's:
1. Don't throw any food items or other things to the animals.
2. Kids must avoid making faces and shouting at animals.
3. Try not to make reverberation on sighting any animal. Be calm and patient.
4. Avoid wearing too brightly colored garments and strong perfumes.