Part 1
That's it!I have to go there, decided a 15 year old boy when he first had the sight of the magnificent white plains, which he never had heard of and here he is after 6 long years!
This place in particular needs no introduction!The infinite white plains,the untamed ecology,the mystery of its origin still bewilders everyone who just thinks of it!For some of those who are still unaware of this(am just kidding) Rann of Kutch is situated at a distance of 86 km from bhuj,the headquarters of India's largest district Kutch and is touted to be world's largest salt desert and shares its border with our friendly neighbour Pakistan!
I am not gonna get to the part how I got to Bhuj because everyone knows how to get there!The means of transport from Bhuj to White Desert or Safed Rann is very limited.I know this is a place where one would like to hitch hike or go solo but having partners is preferred, for you need to hire a taxi from bhuj onwards to Rann and Kalodungar which can be done in day's trip but we stayed at kalodungar to get soaked in its much said about sunrise.We were 7 in the group and hired a Toyota Innova for the journey onwards!The plan was simple
1)Reach Dhordo/Great Rann of Kutch by 4pm and stay till moonrise
2)Stay at Toran Resort,Dhorbana
3)Sunrise at Kalo Dungar and a visit to Indo-Pak border 60kms from Kalo Dungar(prior permission required)
First thing that strikes you at Rann is you are not alone !The solitude that pictures promise of is totally absent at Rann!There will literally be thousands of people wandering,chattering and blocking your bliss shots!Even with all these interferences this place is definitely one of the best sights to the human eye and even more better when the moon starts rising and the white salty earth starts glowing in the dark!As decided earlier we helped overself with cart loads of pics for Facebook Whatsapp Instagram etc etc!A little strolling at Rann Utsav and few Dhabelis(Kutchi Hamburgers) concluded the first part of the list.From Rann ,the Toran Resort at Dhorbana is 40 km. The whole journey from Rann to Dhorbana is someplace where you wish your car never breaks down!
Toran offers twin sharing kutchi bhungas and 12 bed Dorms!A bhunga typically costs around 3k per night whereas a 12 bed dorm is around 300/person excluding meals.We stayed at the dorms,owing to the size of the group and availability of bhungas!Booking prior is better!You can contact Mr. Vijay Soni(+91 9898629858) for bookings.He owns a travels and has arranged vehicles for the movie MOHENJODARO when they shot around Bhuj!The night was pretty eventful with a little campfire story by an elderly person, who used to work for IB/BSF and had been in Karachi Jail for 4 years.The next day we left the resort pretty early for the highest point in Kutch flats,KaloDungar.
Kalo Dungar offers a panoramic view of the lake of rann,which is also a salt marsh within which lies the Harappan trading site of Dholavira!The very thought that, once this place was flourishing with civiliazation is literally unbelivavble!Till the 1819 earthquake the river Indus used to drain these areas, but all that remians now is the barren salty marshes which gets flooded during monsoon and becomes bone dry in summer!Pakistan border is around 25kms from here and on a clear night one can observe the lights of pakistani rangers posts from toran itself(with the help of locals)
A 30 km drive from Dhorbana lies The India Bridge!The last accesible place for civillians without prior permission in Kutch!We had accquired permissions from BSF Kutch range few days prior,local travels would assist you in that matter!The whole area from Dharmashala to Vighakot is a restricted zone.One needs to provide the valid IDs and surrender all electronic devices at the BSF outpost after India Bridge!The road here is full of bunkers and army tetra trucks plying around.We even got sight of the endangered Blue bull or the Nilgai en route!There is a memorial at Dharamshala which resembles India Gate and 60 odd kms from there is the last Indian outpost which is a half km inside towards the Indian side of the International Border and one can see pakisatni villages and posts from here!The lack of human movement except BSF troops has made a positive impact on this regions's sanity and wilderness!This completes the fisrt of many places in my bucket list.Though I had Dholavira,Narayan Sarovar etc in mind we left for the coastal town mandvi from here,thus concluding the Kutchi adventure in style!
Part 2:
Every social science or geography book in every Indian language gives the same answer for the home of asiatic lions-Sasan Gir!!!The only place where the wild ASIATIC lions were protected from the rifles of imperial and desi shikars of pre independence era!From being reduced to a few dozens( This is said to be exaggerated by local ruler for conservation purposes) in early 1900s to 523 in 2016 and extending beyond the 1412 square km of protected area,finding new home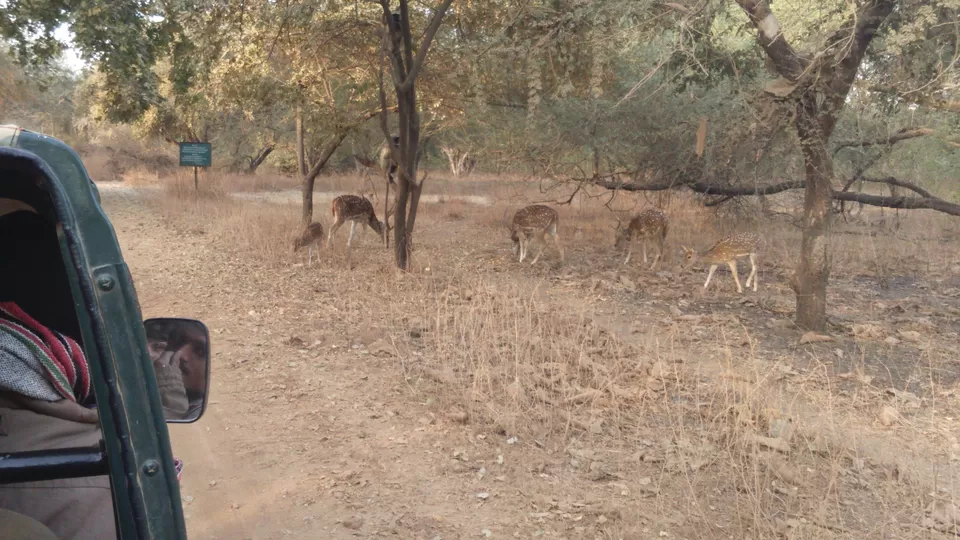 After Rann,the trip was pretty uneventful as we travelled across gujarat covering Mandvi,Dwarka,Okha,Bet Dwarka(ferry ride was fun) etc and finally to the erstwhile pricely state of Junagarh!The Jungle town of sasan is 55 km or a pretty nasty hour and a half bus ride away from Junagarh. The bus was filled to its brim and people look at you like alien, when they here you speak any language other than gujarati(in my case I was speaking Kannada).Gir forests resemble typical thorny bush forests,commonly found in northern Karnataka and is nowhere eye pleasing like the magnificient forests of Western Ghats like Agumbe/Kuduremukha but the USP of these forests is its wildlife.Apart from flagship Lion, Gir is home for hyena,sambar,chital,blackbuck,leopard among others!Our first sighting was a porcupine roughly 10m from Sinh Sadan entrance, mid town, Sasan at 5am.We had booked for 6-9 am safari and were assigned to route 6(Gir Jungle Trail has 8 routes which are arranged randomly by authorities) which approximately is 42-45 kms.Each group max of 6 is provided with a guide and driver with the total cost of INR 1800 plus INR 800 for online permit.
The first hour of the journey was in dawn and was pretty dark.The only animal that we saw during the first hour n half was the Indian Hare/Rabbit. Gir safari in particular requires a lot of patience to start with for it is not even eye pleasing and game is also scarce for the initial part.After an hour and half the Chitals and the peacocks appear and they are abundant after that,According to our guide,Gir is home to 50000 chitals and they occur very commonly.Till 8:15 all we saw were 100s of chitals and peacocks and pug marks of a leopard.Most of us had already given up on seeing a lion and plans for Devaliya (Gir tourism zone) were discussed.The time was 8:17am and our guide asked us to stay calm and there it was 20ms away walking towards us on the jeep trail ,THE KING OF THE JUNGLE,an adult,handsome male Asiatic Lion!The adrenaline filled nervousness is the best feeling one can experience ,when a lion walks at you at a distance of 4-5m and does not even bat an eyelash at you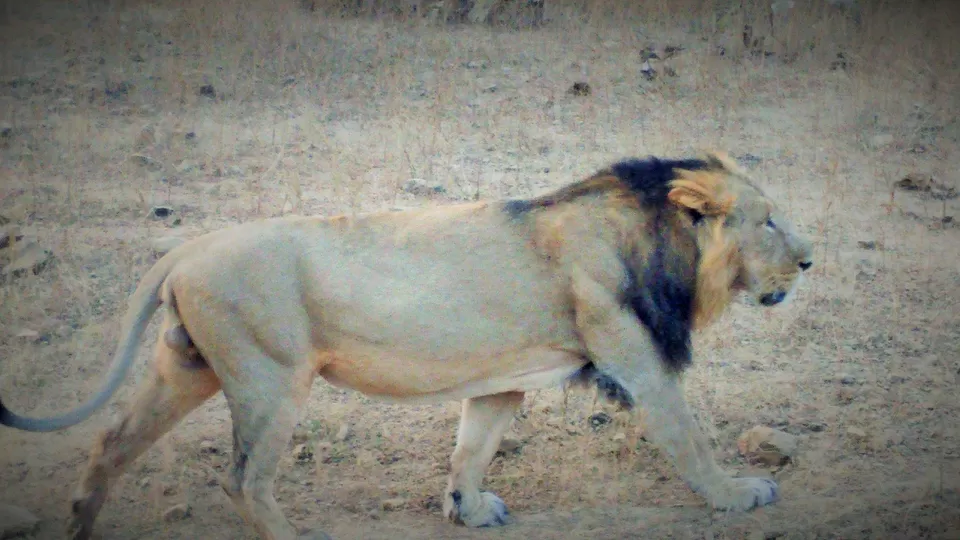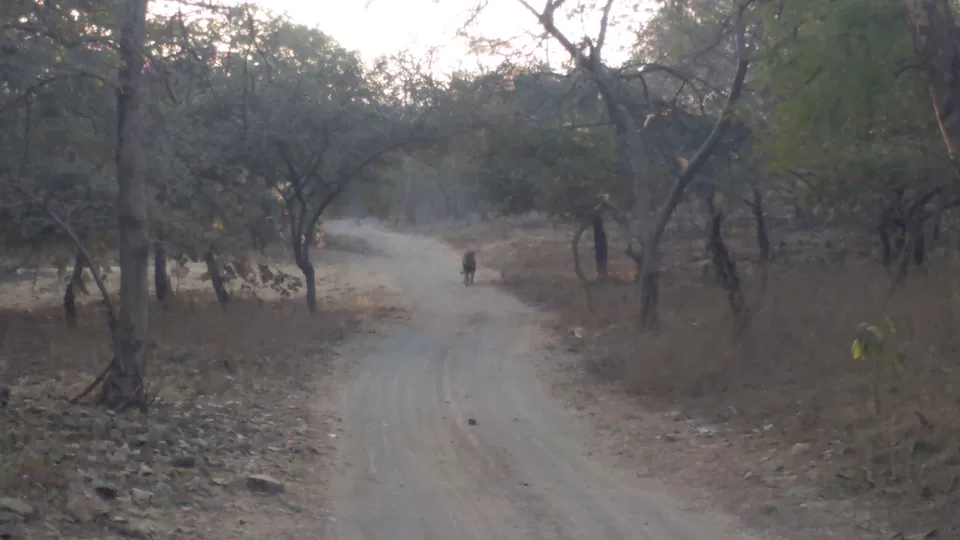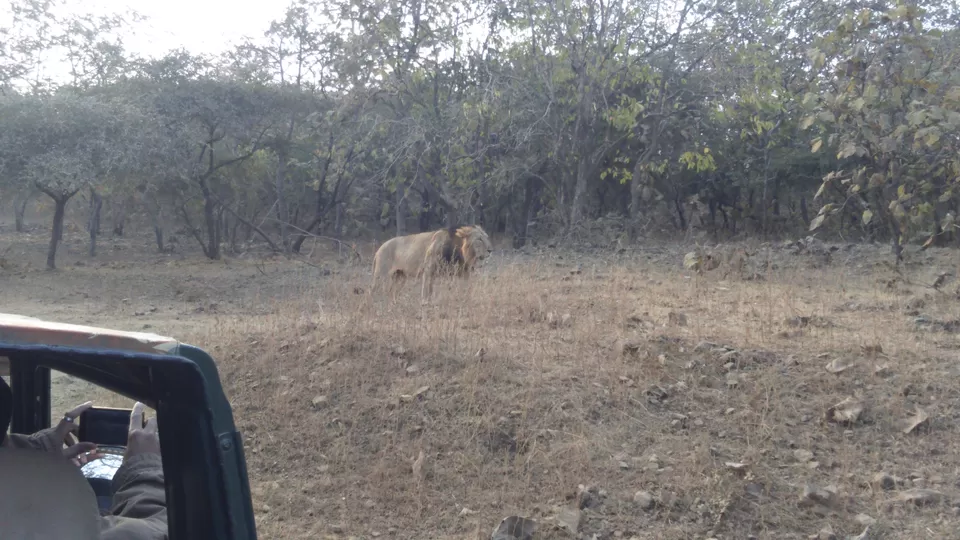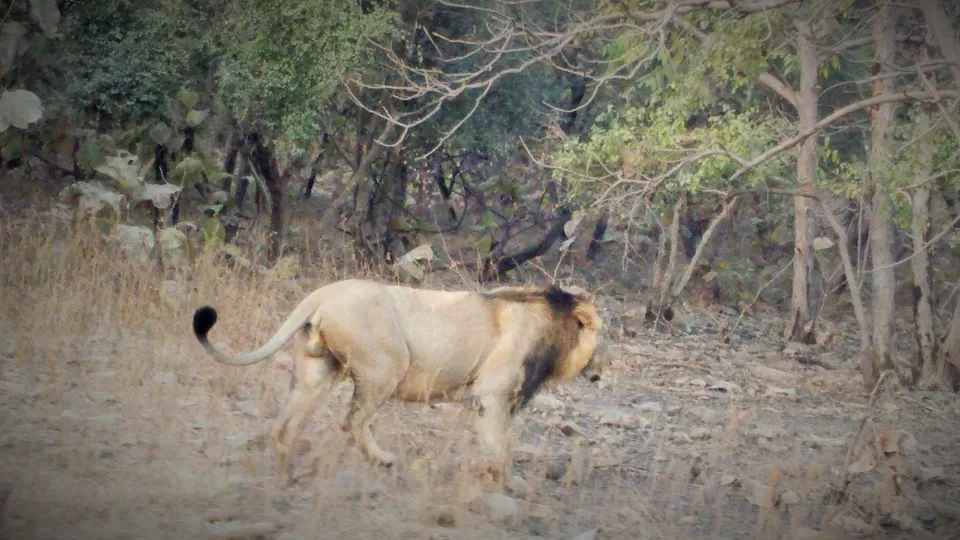 The age old tradition at any safari is that you pay tip to your guide if there is sighting of big game and our guide started the negotiations with INR 1000 since it was a male lion and sightings of male lions are very rare.It is said that tourists are eluded of these magnificent cats even though they are 523 in number and even after multiple safaris,so we considered our self very lucky and settled for INR 200.
Thus,the Gabbar Sher provided a Blockbuster Climax to otherwise uneventful safari and astonishingly a Maldhari Ness(Maldharis are a semi nomadic pastoral community who live inside Gir) was just a few hundred meters away from the spot where Lion was spotted.This co existence of Lion and Man, along with adaptability of lions to survive in this oasis of jungle surrounded by human habitats is the success story of Asiatic Lion conservation in India.
The sighting of the Asiatic Lion ticked off the second item in my bucket list and concluding the eventful Monday!
Tips:
Kannadigas, get ready to be surprised by astonishingly cheap auto rides(INR 10/head for up to 10 km),Unlimited Thali with infinte roti and sabzis ,costing around 70-80 bucks which would cost upwards of 200 back home and unlimited Chaaz(Butter milk).
Dev Sach Travels,Bhuj-98255359569(They have all variants from hatchbacks,sedans and SUVs and they charge around INR 11/km