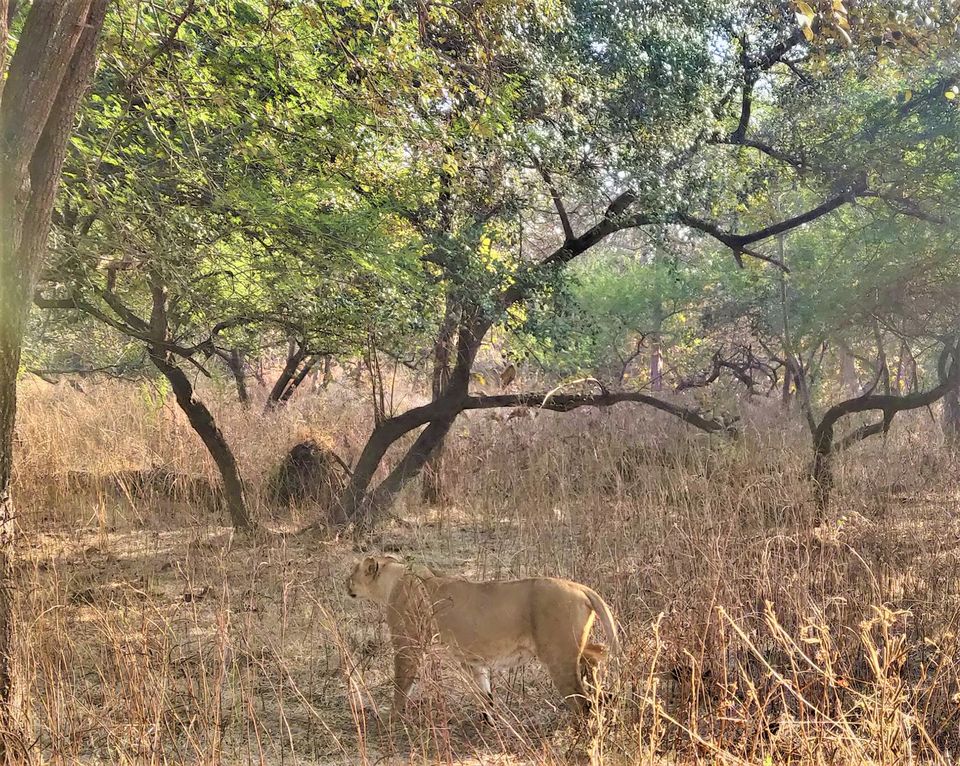 674 of them. 4 of us. 35 km of the trail. 258 square km of area. And the most awaited trip to the Gir National Park begins with excitement & desire to meet up the Jungle King - Asiatic Lions which are scientifically named as Panthera leo persica.
This place holds a notable position on global map, as it is one of the only 6 wildlife parks in the world where one can catch up with the Lion King.
Lions made significant appearance in many fairy tales , fables & now it was time , we were there to share the land of Asiatic Lions.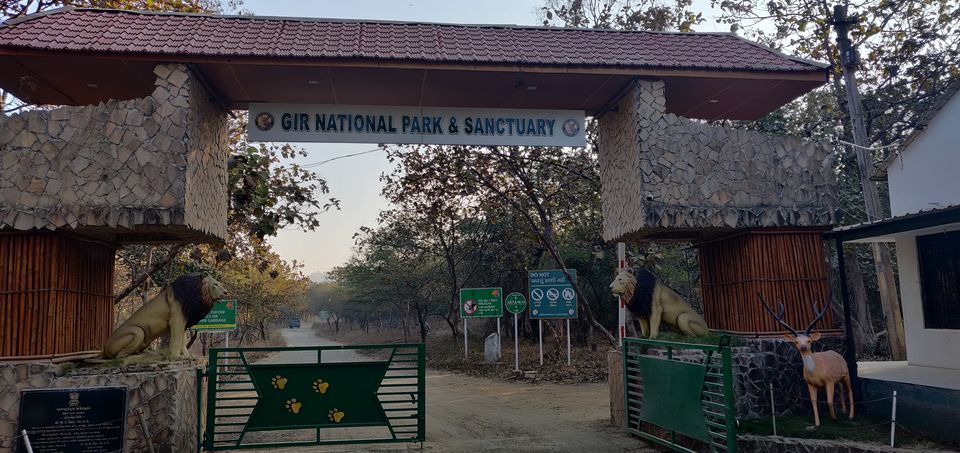 Yes, for us , the year 2021 began in the lap of mother nature , with the exciting and thrilling journey to the Sasan Gir - Home to the wild Cat , the only place in the world to meet up the " Rajasaab "
This is our first ever trip to Gir Forest and with high hopes we reached to the destination the day before. One can visit Gir Interpretation Zone - Devaliya park or opt jungle safari with permitted gypsy or can choose kankai track with private vehicle. We went with second option to try our luck for spotting the big cat.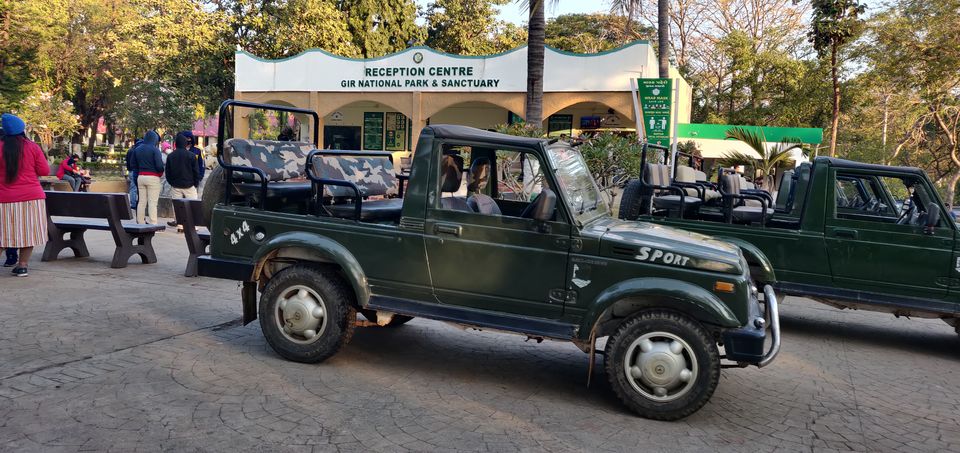 For this , online permit is to be obtained through the government website https://girlion.gujarat.gov.in/ , please beware of other fake sites which can charge you extra bucks. Plan the trip well in advance to make sure you get the permit, as there is a huge rush and mostly slots are pre-booked in peak season. If you really do wish to have high chances of spotting the lion , please make sure you book multiple slots , like morning and evening.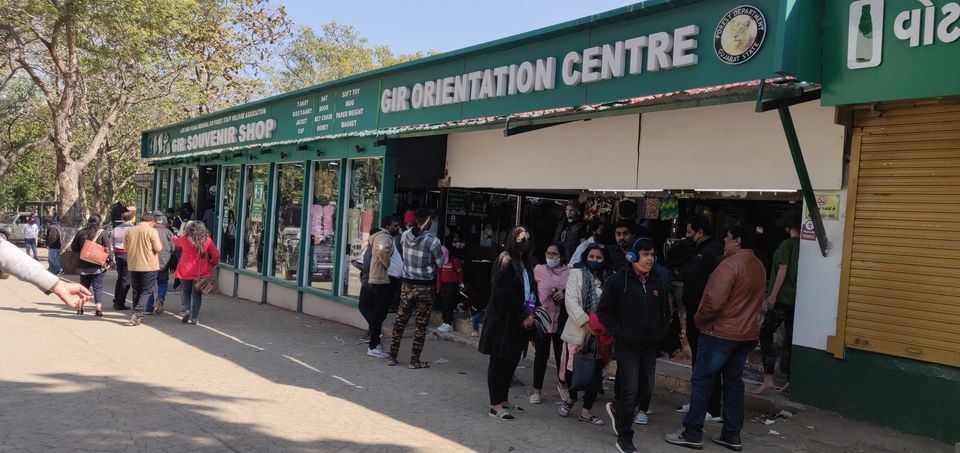 Off course, this does not guarantee you to achieve it , as there are stories of people who have taken multiple trips like 4 to 6 trips or even in 10th or 11th trip , some group spotted the animal. This is the jungle & it takes only few seconds to grab the chance or to miss the chance.
Other than the King , Gir national park boasts wild animals like spotted deer ,leapord , wild boar, Sambhar deer,nilgai,jackal , indian fox,stripped hyena , four horned antelope, large variety of birds , marsh crocodiles and other raptiles.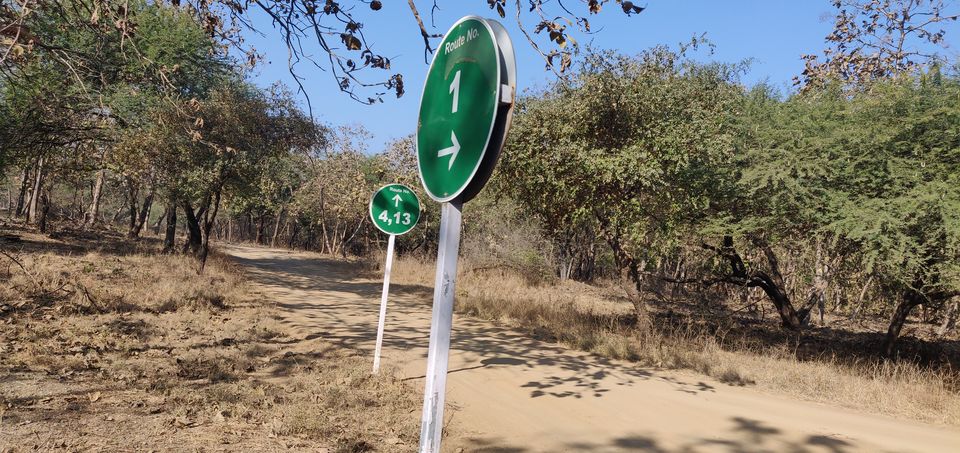 Sinh Sadan is the central point from where the Safari trail begins. Total 13 different trails are defined. We already had e-permit, paid for gypsy and guide at the center, got water bottles from the Water Kiosk. All set to embark upon the jungle trail. A gypsy can accommodate 6 adults & a kid at Max.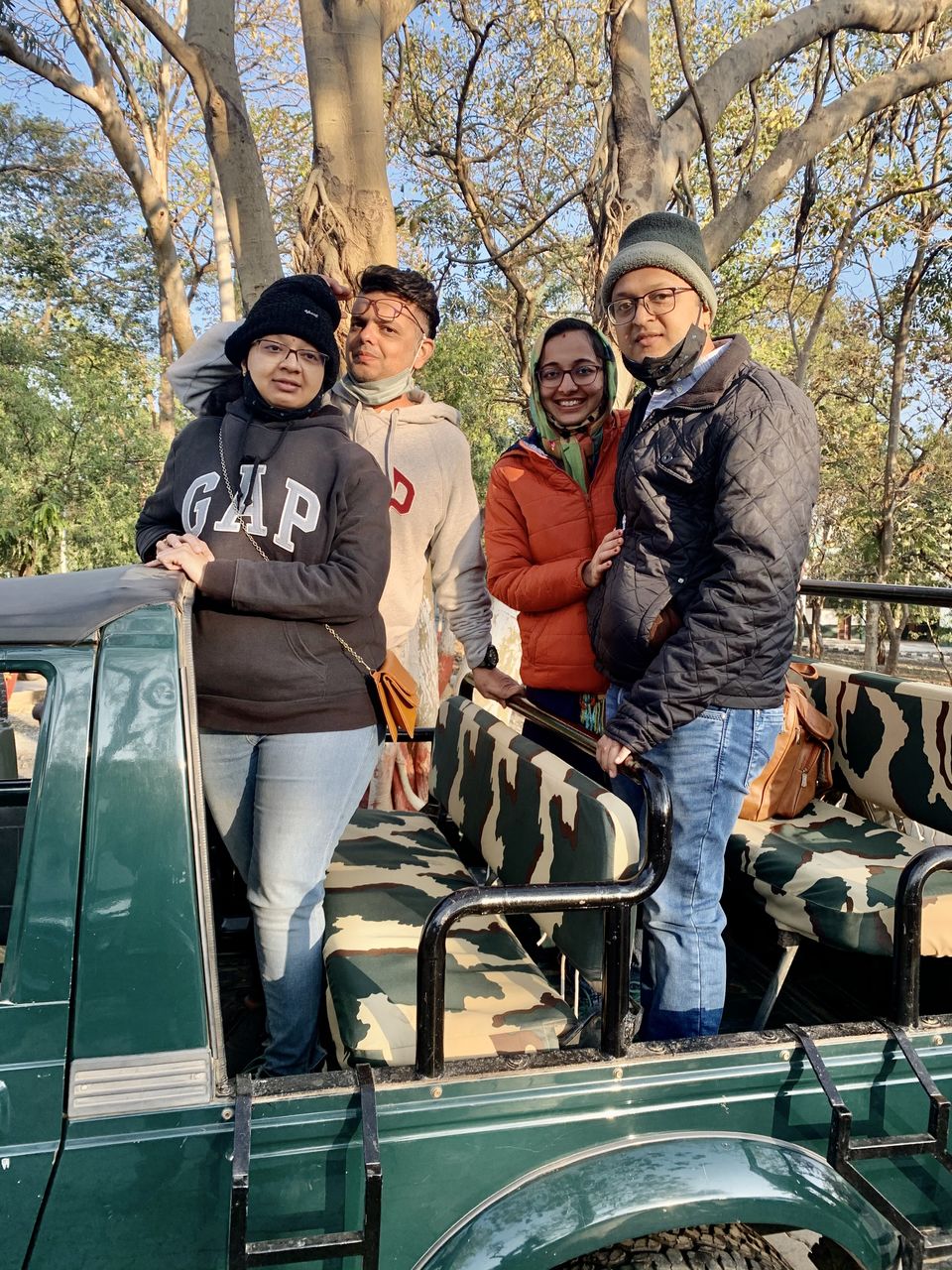 Sharp 8:30 AM . All check. Gypsy ready. Driver & Guide on place . We were inside the vehicle & our Gir Jungle safari begins on Route no. 1.
Dialogues from guide were - keep calm , do not move body parts when near the big cat, look for all the wildness of the jungle , rather than keeping only lions in the radar.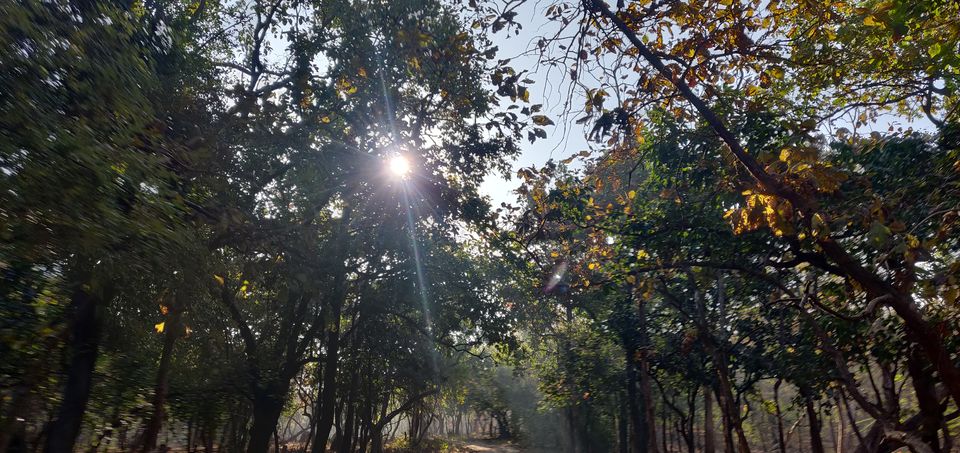 We started to feel our eyes with all the colors of the Jungle. Just after few minutes , our guide & driver started to talk in very low volume & immediately stopped the vehicle. And guess what , there were the fresh footprints of the lions. We also observed the marks on the side of our trail where they were supposedly sitting before they moved into the shrubs. We all got silent and curious now to get the glimpse , Our gypsy moved forward & reverse for a couple of times, spent few minutes but we couldn't spot them.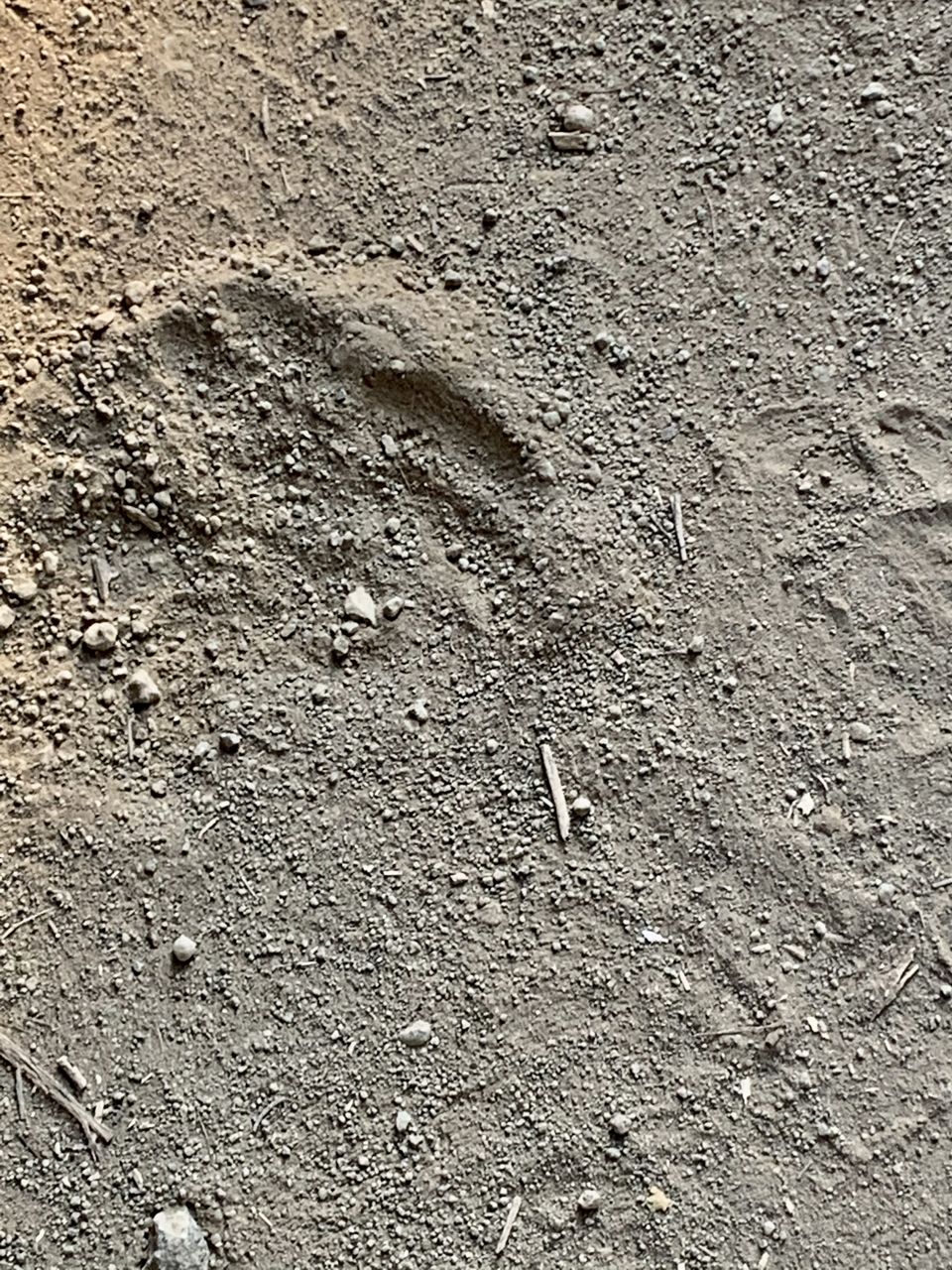 Disappointed. But , the guide gave us hopes again that this is just the beginning , let's keep moving. As per their suggestion , we didn't stop the vehicle to get snaps of deer or peacocks en route. and our search continued to spot the Asiatic lion.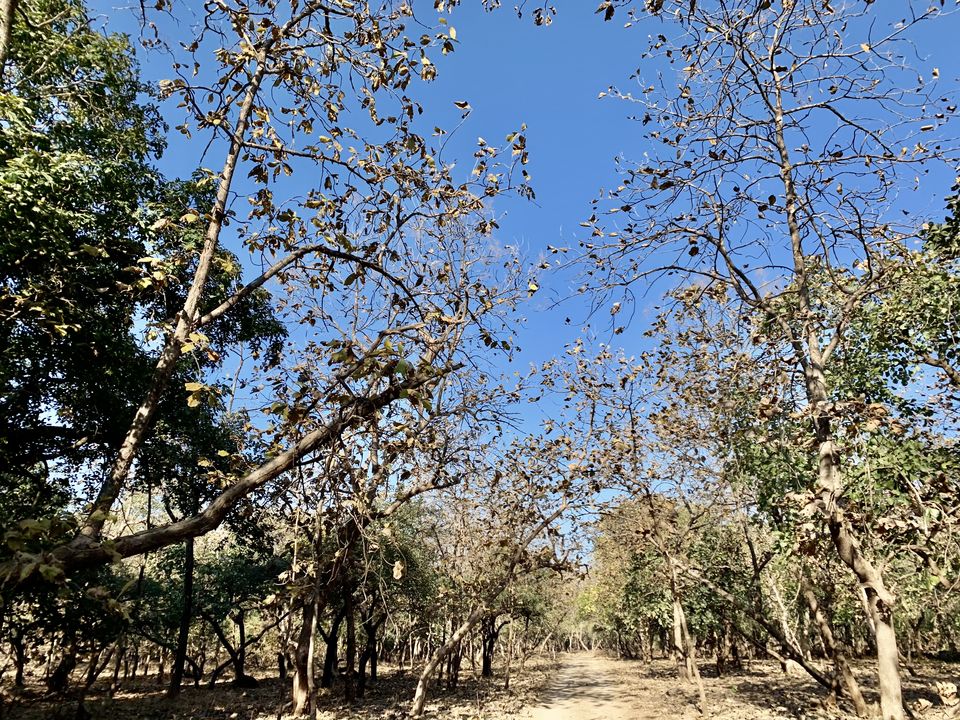 & suddenly, post a good turn , we directly had a vision of a leopard sitting on the rock fencing , enjoying the sun bath & having some lazy time. It was huge , cinematic. But , in a single moment we lost him , as it got vanished by the sound of other two gypsy behind us , people in those gypsy were exciting but that only made us all loose him instantly.
We learnt a lesson and advised our driver to keep distance between all gypsy , to be silent and not show the excitement at all. We were guests there, in their home , if we break the rule , they won't allow us to spot them.
Along the trail , we found some homes and we were surprised to see the community living in the middle of the jungle area. We stopped by and met the locals. It was Negro village , when we spoke to them , they were culturally grown up as Gujarati but they looked African. We also met some Maldhari tribe along the trail.
This route started at sasan, goes till Khokhra, Sirvan, Devadungar, sirvan, Khokhra, bavalwalachowk, Kamleshwar, Check post of Kankai and ends with Sasan.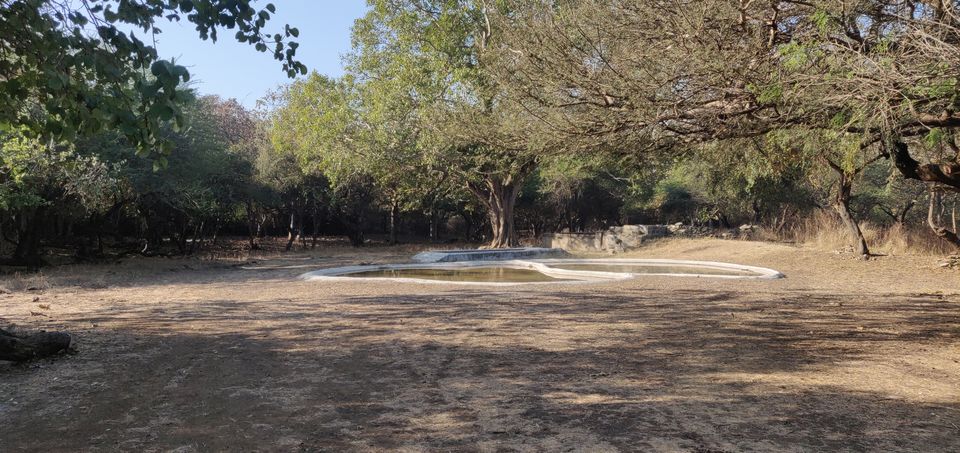 We were near devadungar, at last point from where we needed to make a U-turn , we were told that there is a water spot , that made some sense to us.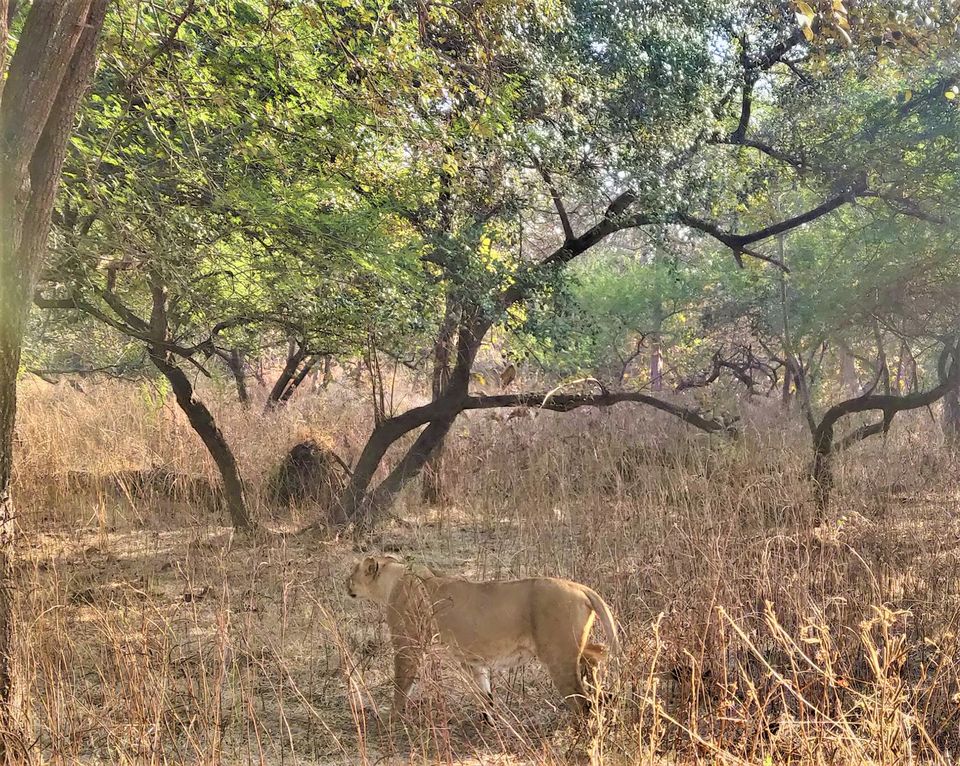 And just then , we caught a lioness , which we assumed was returning post her visit to the water reservoir. Vehicle made shut. Silence in the air. We were fully available to see the movements, this was the moment we were waiting for , we lived it very well and then slowly & fearlessly , she kept going inside the jungle area. Happy moment . Post we lost her visual , we took a U turn from that water spot ahead and again without wasting more time on deer and other such animals , we were on our tail to try our luck once more.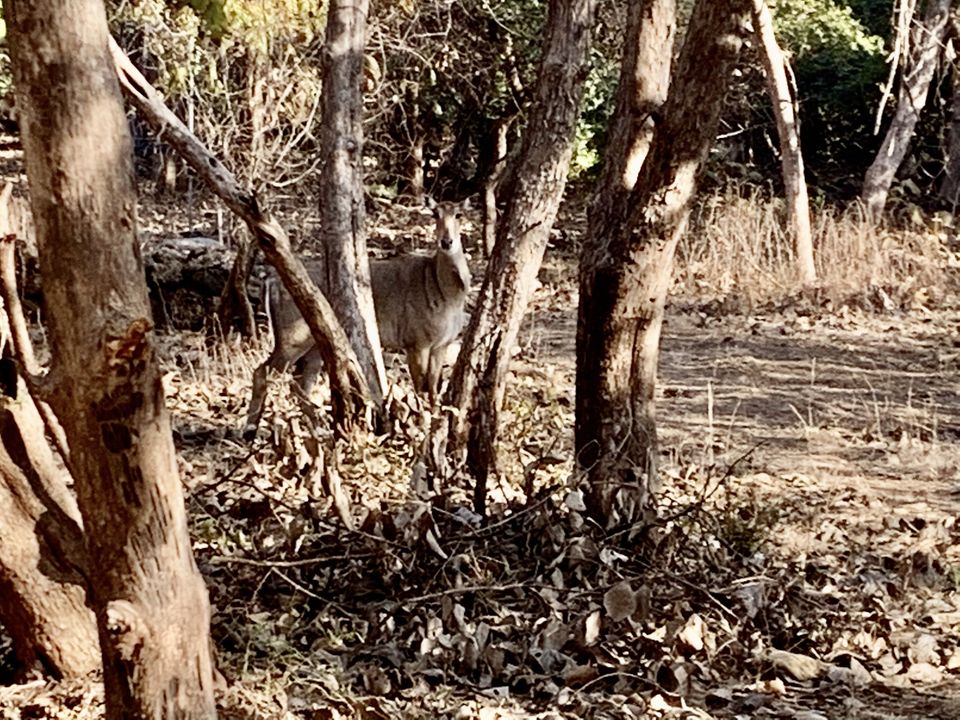 At a point along the trail, nilgai was happily standing to gave us a great pose to capture it. Langur monkey was sitting on the route , while our gypsy was near , it had to clear the path & so , it made some seriously angry expression to made us realize that being guests how could we disturb their privacy and how could we made it to move away. We even missed that moment to capture in camera as our eyes were continuously on it to receive that angerness and apologize for our misdeed.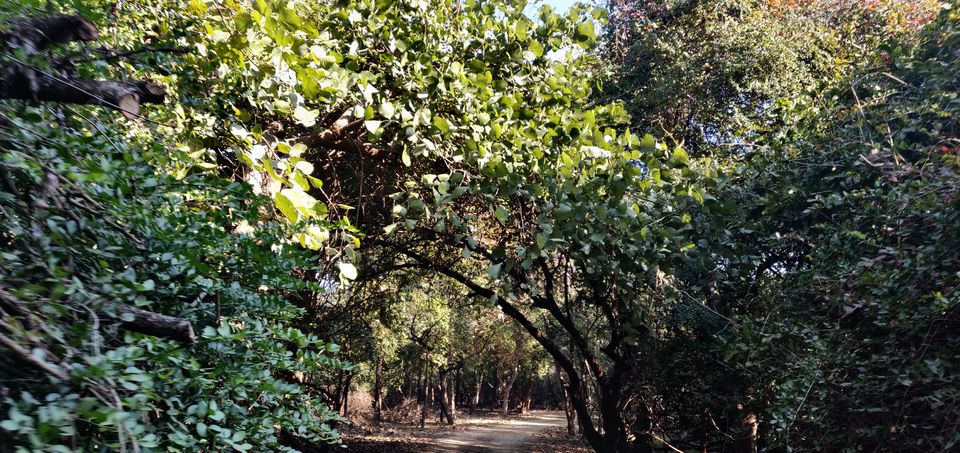 We kept moving and spotted a couple of people and a bike parked on the right side of our vehicle , they were from forest team doing their duty and they signed us to stop , at one moment we thought they would check our permit , but , they gifted us the golden moment. & there was the showstopper on the left side of our vehicle.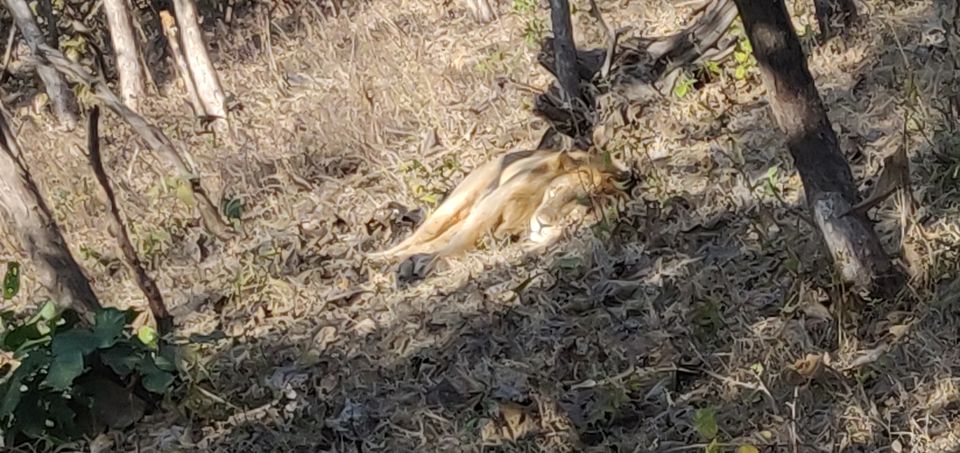 Meeting with the king fixed finally. He was in sleep mode & lazy mood. No body movements from our side. 30 feet distance . Golden rays were on him , and our curiosity got increased to see his movements. & then , the way he understood our wish , moved his head , saw us and surrounding , we gave friendly vibes and he again went in sleep mode after all check done. We did not intend to move a bit. We spent 4 to 5 minutes there , and guide suggested us that it was time to say bye , as the charisma when king was in sleep mode would not be the same when he would roar.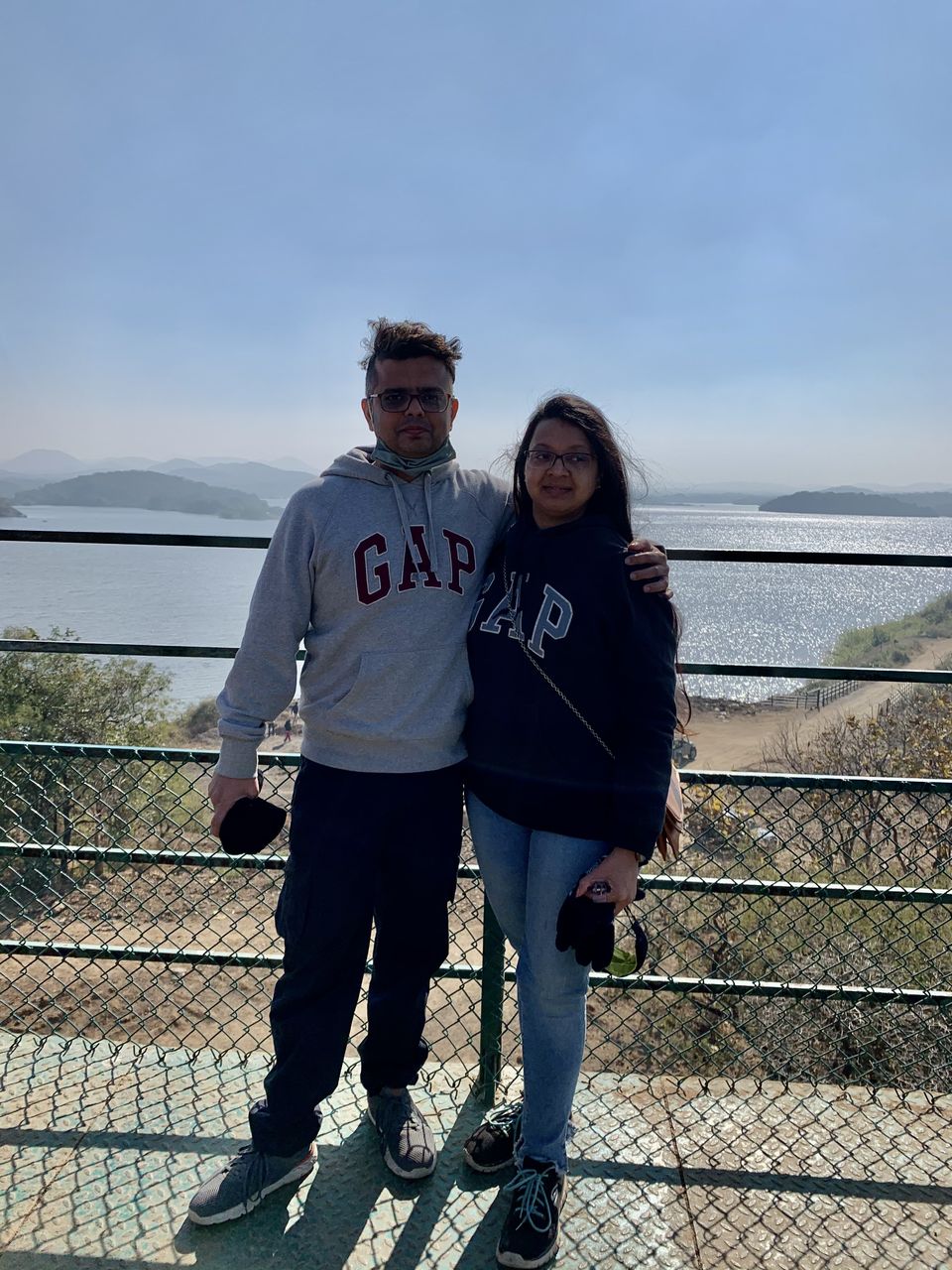 We restarted our trail in the dry , deciduous forest to the next pitstop - Kamleshwar Lake on Hiran River. A scenic and serene place with watch tower. Well maintained washrooms were set up there. Greens , blues, silver and earthen shades gave us soothing ambience.
While returning to the sasan point, now was the time to spot , sambar deer, nilgai, peocock,wild boar,spotted deer groups and such.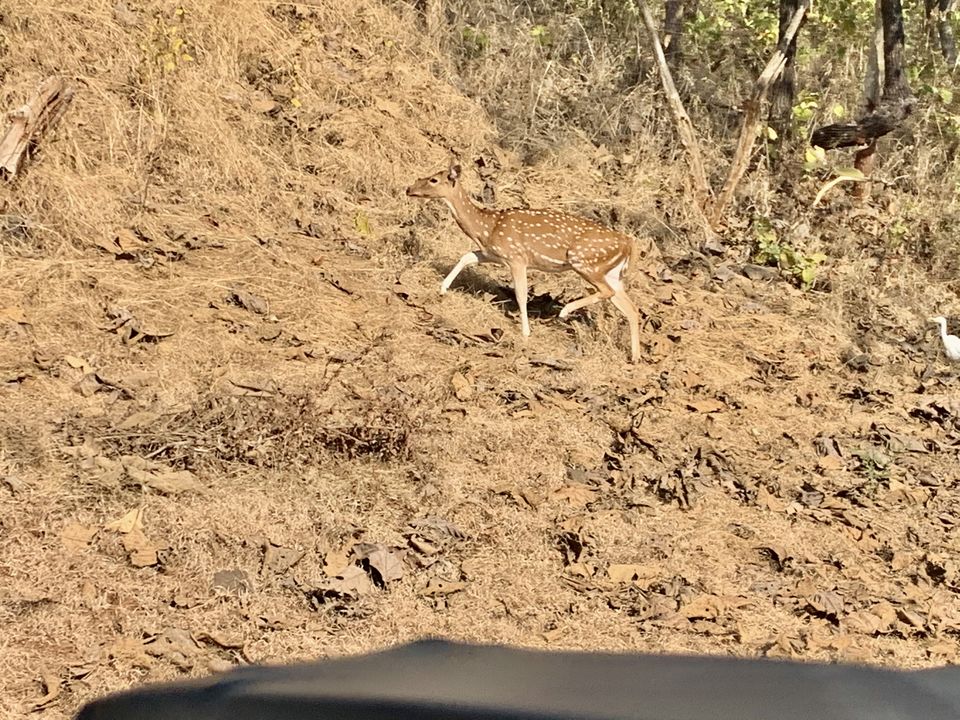 We all including guide and driver were happy , satisfied and contented. A great time well spent. Truly experiential journey. This was a call to return to the wildlife again soon.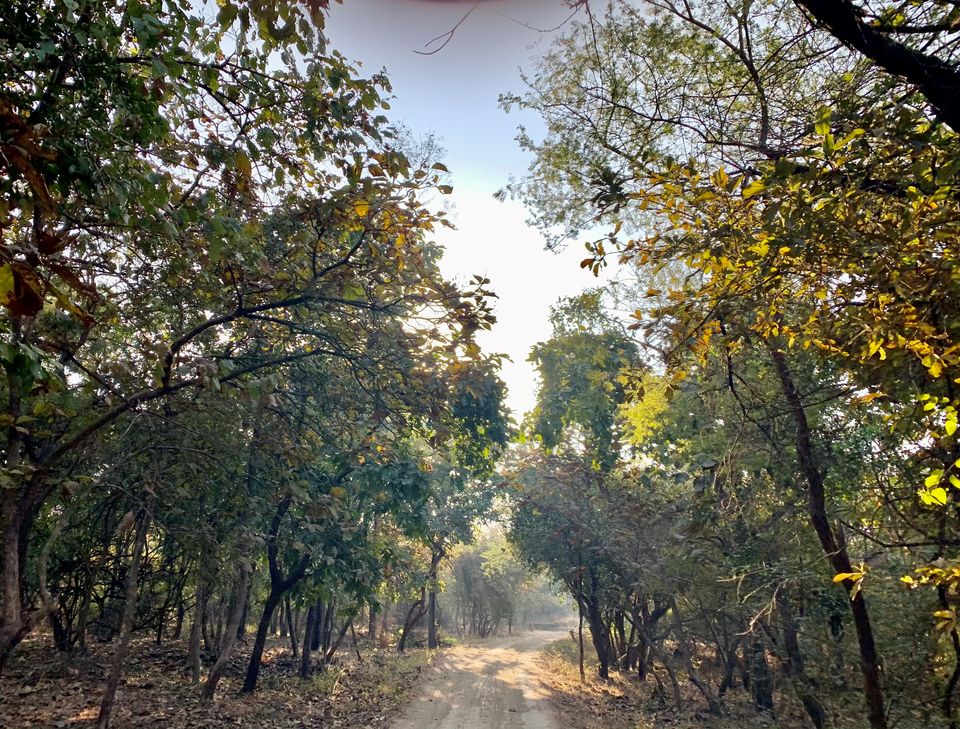 For writer , nature lover , conservationist , wildlife photographer , curious watcher ,adrenaline junkie , researcher , wildlife lover and above all , for humans , this place should go in bucket list definitely, this would be undoubtedly lifetime experience to fulfill all those wildlife fantasies.
My Takes...
Follow the Jungle Rules..
Respect that it is the home to the large amount of species & beings..respect the jungle , wilderness and its residents , and give yourself reminder that we are humans , show humanity when in national park or wildlife sanctuary. They are very important to keep the human race..
Keep note that Lockdown of a few months has given a new life to the nature , let's try to help it continue in unlock period too.
Leave nothing behind & take great memories along with..
Do not step out of the gypsy in any condition.
When wild cat is nearby , do not move, do not make any noise , do not disturb the privacy , do not throw any stone to see the movements, make sure you are a guest , be the good one.
Happy Travelling Folks...
Happy #2021
#Stronglyrecommended