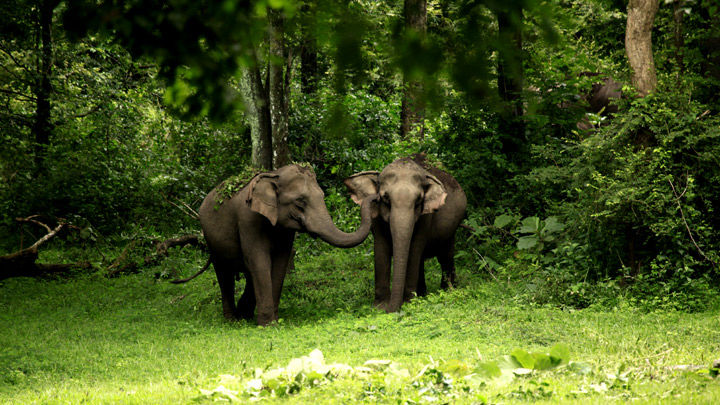 On the western edge of Deccan Plateau, rests the Western Ghats. It begins from Gujarat and ends in Kanyakumari. Listed as a UNESCO World Heritage Site, this destination is rich with wildlife diversity and is a world in itself. One can enjoy endless wildlife experiences in various sanctuaries, reserved forests and national parks that together form a part of the Ghats. Go on a wildlife expedition in the Indian rainforests and let nature take over. Here is a list that will help you shortlist a few places for the trip.
Located in the state of Kerala, the Thattekad Bird Sanctuary is claimed to be the 'richest bird habitat of India'. This bird sanctuary is a paradise for all bird lovers and nature lovers alike. The 25-sq km sanctuary has recorded to have 284 species of birds. The sanctuary is home to several migratory birds through the months of October and March, which are also the best months to travel to the place. Apart from birds, there are several other species of butterflies, fishes, mammals, reptiles and amphibians that are a part of the faunal world of Thattekad Bird Sanctuary.
Main Attraction: Ceylon Frogmouth and Malabar hornbill
Website: www.thattekadbirdsanctuary.org
Located in the state of Tamil Nadu in the midst of beautiful Nilgiris, Mudumalai National Park is spread over 321 sq-km and shares its boundaries with other forested areas. It is a part of the three-part Nilgiris Biosphere Reserve, the first Biosphere of India. This reserve is only 240km from Bengaluru. Apart from tigers, the place has more than 260 species of birds. Wildlife enthusiasts can go for jeep safaris or elephant safaris to enjoy your time in the jungle. The reserve also offers trips to elephant camps, where one can learn about elephants. Avoid rainy seasons and summer months when planning a trip to Mudumalai Tiger Reserve.
Main Attraction: Tiger, Asian Elephant, Black Panther, Hyena and Indian Gaur
Website: www.mudumalaitigerreserve.com
Located in the state of Kerala, in Cardamom and Pandalam Hills, Periyar Tiger Reserve is one of the biggest tiger parks in the Western Ghats. The place is spread over 925 sq-km and is not just known for tigers and elephants. The tiger reserve has two catchment areas of river Periyar and River Pamba which attracts diverse species of birds in the region. The national park offers several eco-tourism activities for all the visitors who want to experience the best of the ghats. Apart from going on a Periyar Tiger Trail, one can also go for jungle camping, bamboo rafting, jungle patrolling, nature walks and green walk. Visit the Periyar Tiger Reserve during the dry seasons for a comfortable tour.
Main Atrractions: Tiger, elephant, lion-tailed macaques, sambar deer and leopards
Website: www.periyartigerreserve.org
Located in Kerala, Chinnar Wildlife Sanctuary is the only rehabilitation centre for star tortoise in India. Surrounded by Anaimalai Hills, this wildlife sanctuary is home to several tribes. Apart from star tortoise, the place is rich with 519 species of animals, all combined. In this sanctuary, adventure enthusiasts can go trekking along the Chinnar River. Marayur Heritage Safari is another popular attraction among the tourists here. Also, one can enjoy few nights in the ethnic huts of Vasiyapara and in the tree houses of Karakkad, to make the most out of their jungle experience.
Main Attractions: Grizzled giant squirrel, star tortoise, tufted grey langur and gaur
Website: www.chinnar.org
With 13 reserved forests and four surrounding mountain ranges, Wayanad spreads over 344 sq-km and forms a part of the Nilgiris Biosphere. Wayanad Wildlife Sanctuary, located in Wayanad district of Kerala, is home to several tribes whose livelihood depend on the forests here. The Sanctuary is also a part of the Project Elephant aimed to protect Asiatic Elephants and their natural habitat. Jeep safaris, elephant camp visits and accommodation are offered to all the guests visiting the sanctuary. Best time to visit the place is from August to February.
Main Attraction: Tiger, Elephants, King Cobra, Indian Bison and Peafowls
Website: www.wayanadsanctuary.org
Considered as the most picturesque reserves of the Western Ghats, Anamalai Tiger Reserve rests in the Anaimalai Hills of Tamil Nadu. In 2007, the National Tiger Conservation Authority declared the park a tiger reserve. The Reserve is over 955 sq-km with evergreen forest and high-altitude grassland. One can explore the place on elephants or vans. You must accompany a trained guide if you wish to explore the park on foot. The botanical diversity in the region is unprecedented. The park is rich with 400 species of medicinal plants and 2000 other plant species. If you are looking to spend a night or two in this reserve, then visit Topslip for accommodation.
Main Attractions: Nilgiri langur, lion-tailed macaque, elephant and flying squirrels
Website: www.topslipist.com
Located in the state of Kerala, Bandipur National Park attracts plenty of tourists for its location near Ooty and suitable weather. It is also a tiger reserve listed under the Tiger Project of India. The park is spread over 874 sq-km and forms a part of Nilgiris Biosphere Reserve. To enjoy the wildlife, one can go for wildlife safaris or guided trekking. Animals like grey langur and elephants are easy to spot here.

Main Attraction: Tigers, sloth bears and four-horned antelopes
Website: www.bandipurnationalpark.in 
Have you been to any of these destinations before? If yes, then please share your travel experience with us here. Also, subscribe to Tripoto's Youtube Channel for more travel tips and ideas.