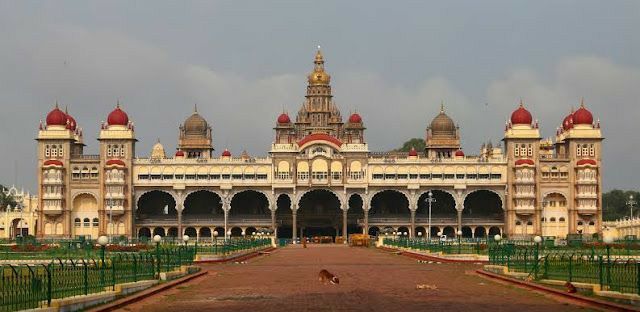 That adrenaline rush and excitement, I couldn't sleep whole night in journey of the train 🚂🚋 next day we all 13 friends woke up fresh and had already a TEMPO TRAVELLER booked we hopped in it and frist destination was CHAMUNDI BETTA and TEMPLE we reached bit late and it was so crowded that why we paid 100RS per head and got VIP passes took blessing and and stright away went to nandi statue (beaware of Macaques out there), trekking went well and we were in a flow and at noon we stopped tempo for lunch and unknowingly we paid too much for that and we were out of budget already in middle of the journey.
           
                   After that However arranging some more money we visited:
1) SHUKA VANA (3-5km from center)
2) MYSURU PALACE
3) st.PHILOMINAS CATHEDRAL(2. 5km from center)

4) A NEW BUILD CHURCH (3km form center)
5) HANUMAN STATUE (beside shuka vana)
6) UNDERGROUND JAIL (15km from mysuru)
7) RANGANATHA SWAMI TEMPLE 15km from mysuru in SHREERANGAPATTANA
8) VENUGOPALA SWAMI TEMPLE
(KANNAMBADI KATTE) located 35 km away from mysuru.
This temple was discovered in KRS and it is destroyed a bit so sone company is making a new copy of that temple beside the river and it's built gorgeous.
It is must see place in bangalore after mysuru palace
Please do visit and experience the peace of mind.
9) SAND MUESEIUM(3km from center)
10) WAX STATUES AND HORROR WORLD (4km from center)
11) THE KRS DAM MYSURU-(around 20km from center)
Don't miss out the beautiful garden and the spring water show there those are must watch thing's there
There are still more that 10 places we haven't visited  because of the Bad planning
So I request you guys to make a proper plan and budget accordingly and have fun..
And please don't miss out the THE MYSURU DASARA if you visit in a month of October