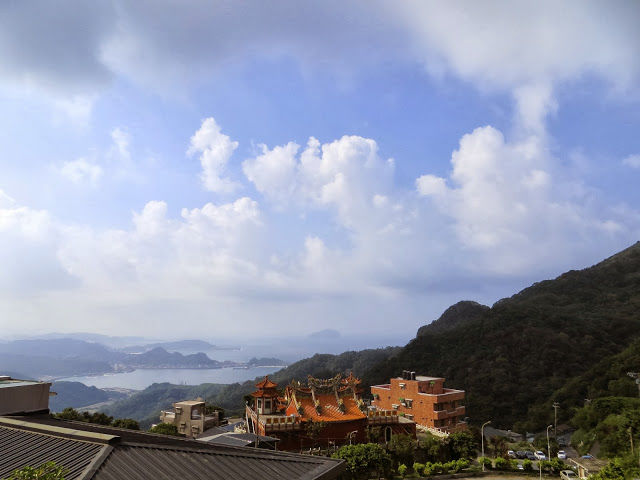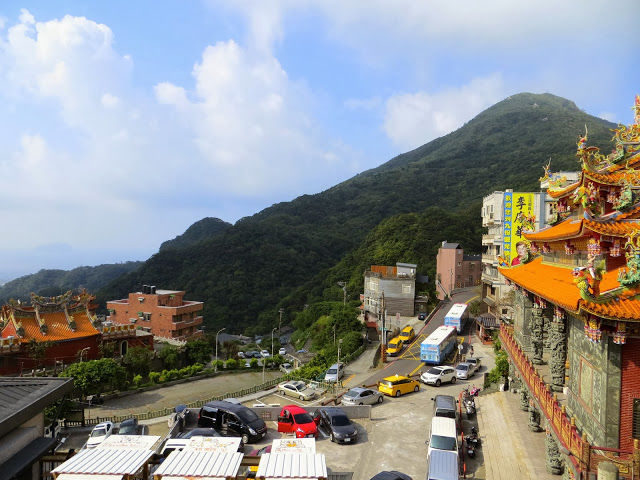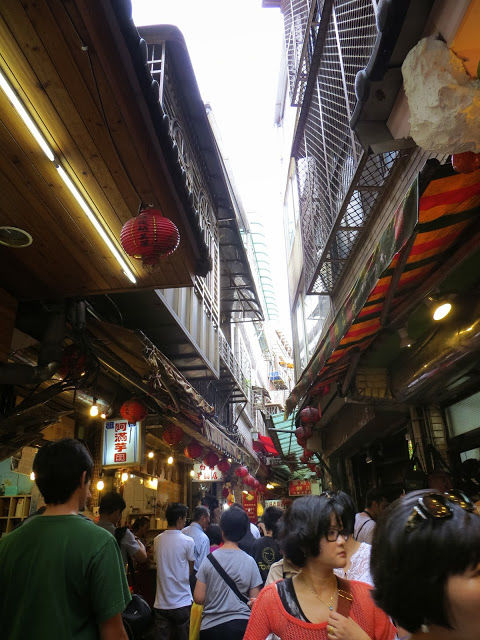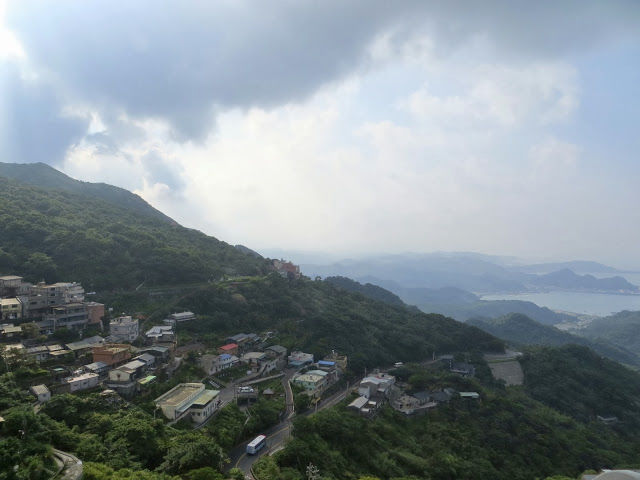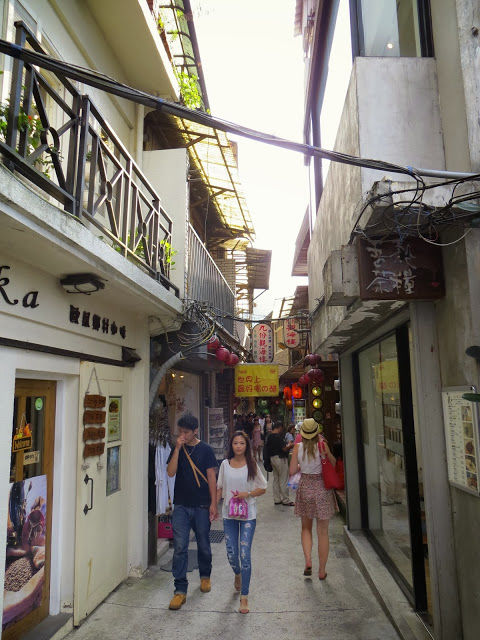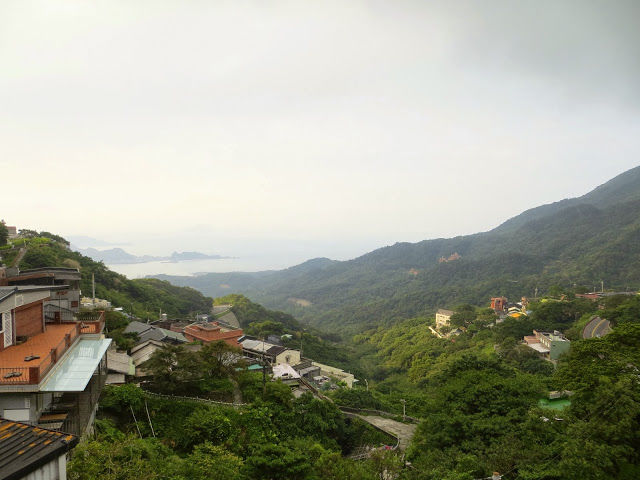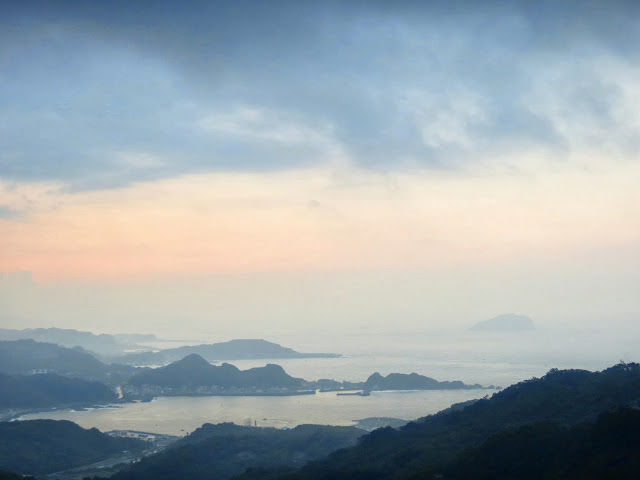 Jiufen (九份) is an old mining town just outside of Taipei. It's famous for its beautiful scenic views of the mountains and the ocean, the narrow cobbled streets surrounded by traditional teahouses and shops, and an almost Japanese feel in its peaceful and zen-like quality. In fact, the famous movie Spirited Away was modeled after this town.
It's an easy day trip from Taipei. We boarded an outbound train from the Taipei main station to Ruifang District, about a 40-minute trip. Once we reached Ruifang train station, we took a bus for about 20 minutes to get to Jiufen. Believe me, the trip was worth it for the view from the bus ride alone! We rode up winding mountain roads, getting breath-taking views of the coast and the ocean.

I'm glad such pristine landscapes can still exist alongside human societies. It was a beautiful misty scene, and a perfect ending to a magical afternoon.
Soon we arrived at the main town of Jiufen, surrounded by a large temple and a lovely mountain peak, partially shrouded in the clouds. The day was bright and beautiful, and there was a cool breeze. In fact, Taiwan weather as a whole has been a cool and welcome relief from the intense humidity of Singapore. The views are gorgeous from all sides. It is amazing that this type of natural beauty is so easily accessible from the capital of Taiwan. You definitely cannot find this environment in Singapore, regardless of how much effort the government puts into preserving nature and inserting gardens and parks into the city.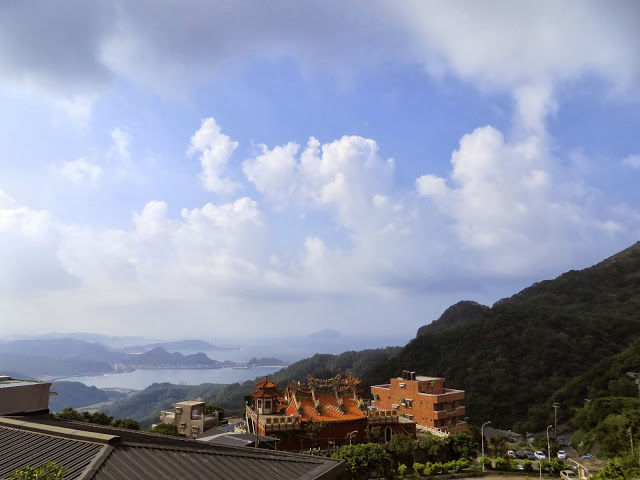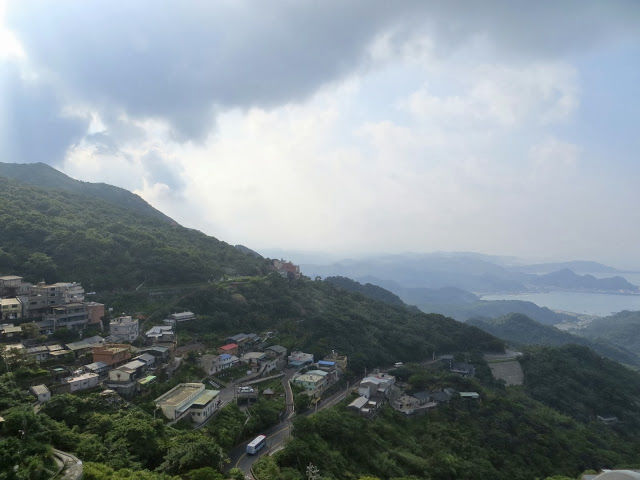 The famous "Old Street" winds through much of the town. It appears to be the main destination for many visitors, and is fringed with souvenir shops, teahouses, and lots of food! In the photo below you can see the narrow crooked streets, with the traditional architecture of the shop fronts. It did remind me a bit of Japanese building styles. Even on a weekday afternoon there were lots of people going up and down the street. The street stretched on for maybe half a mile, crammed full of things to see and eat. Unfortunately I didn't get good photos of the food, but there were interesting finds such as fried mushrooms, fish balls, and various fruit shakes.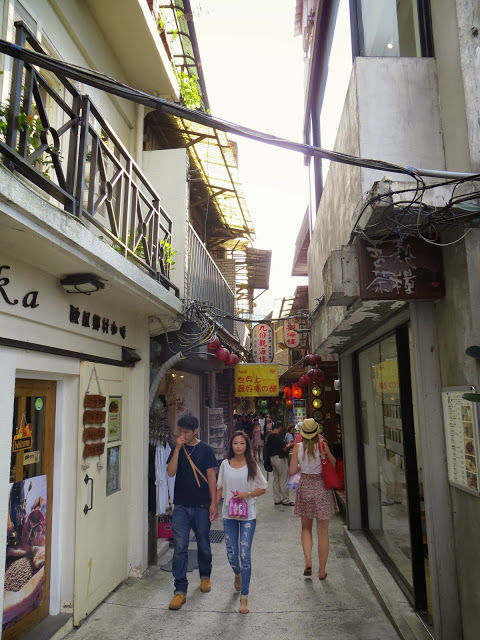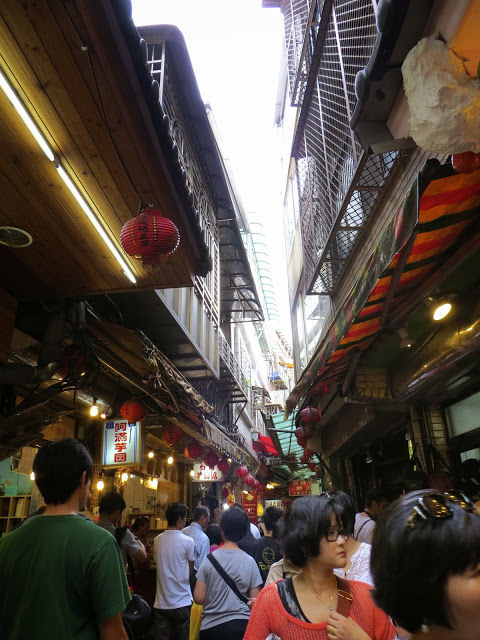 Here we get a panoramic view of the mountains.Here the number of visitors lessened and the atmosphere was quiet and peaceful. I found a roof near the pathway and sat on it for a little bit, admiring the mountain scene in the setting afternoon sun.